40 Fun Ways to Drop a Jeans Size, Stat!
Still wearing that extra layer from winter? Make the pudge go poof! with these rapid weight loss ideas.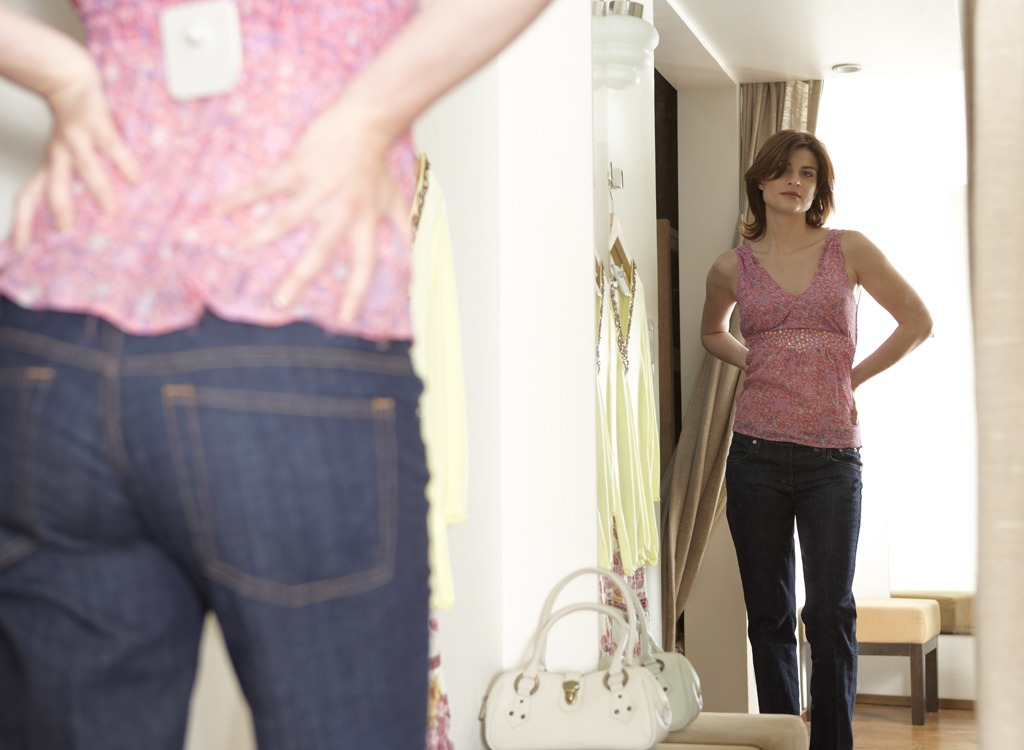 Transforming your body can be a major commitment—but if you simply want to drop back down to the jean size you always were, it doesn't have to be an overwhelming undertaking. Instead, it can actually be fun!
Don't believe us? Whether you're slimming down by getting sweaty outside with your pets or blogging about what you did today, there is a mountain made up of ways that can do wonders for your health and belly fat. The trick is finding which ones have a meaningful effect on your daily habits and motivation and then repeatedly doing them. Cherry-pick the advice below and find the ideas that could amuse you, make you feel more organized or on top of things, and fits in with your lifestyle. Steer clear of these 50 Unhealthiest Foods on the Planet, and you'll have dropped your jean size in no time!
Find a Healthy Food Obsession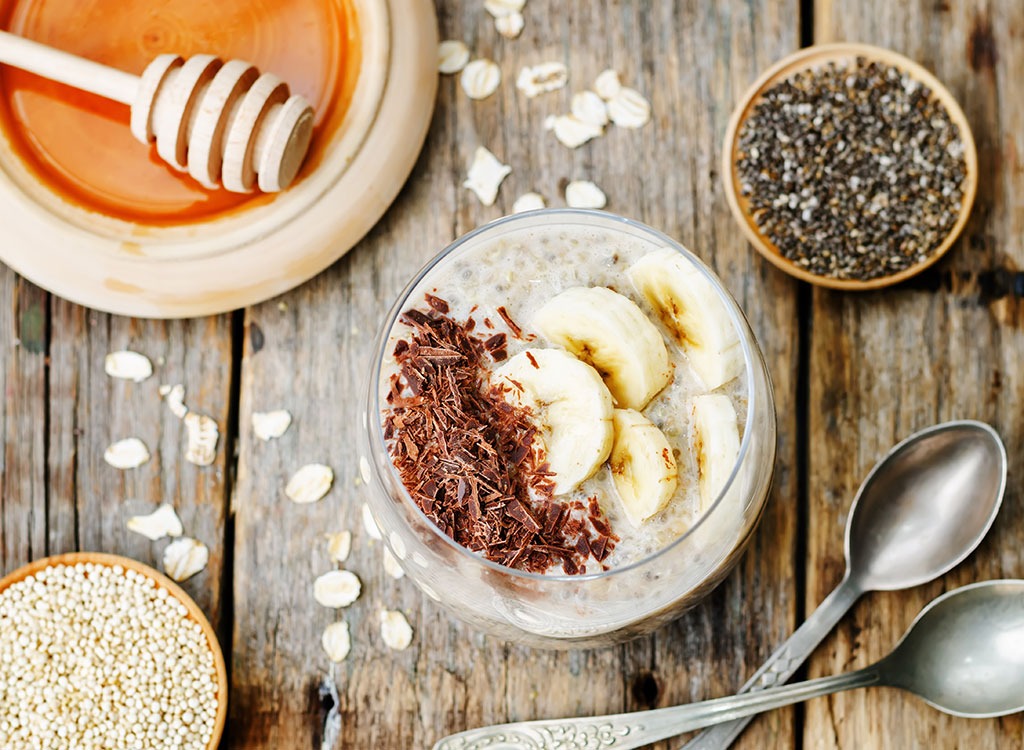 There are some amazing health foods that are all the rage right now, from turmeric to pulse pastas to apple cider vinegar. If we had to pick one that a ton of people swear by and seem to be obsessed with, it's overnight oats. All you have to do to whip up a bowl is fill a mason jar or Tupperware container with grains, toppings, add-ins and a liquid like milk or water. Then you throw it in the refrigerator overnight; while you're sleeping, the flavors fuse together. Start feeding your healthy obsession with these 50 Best Overnight Oats Recipes for Weight Loss!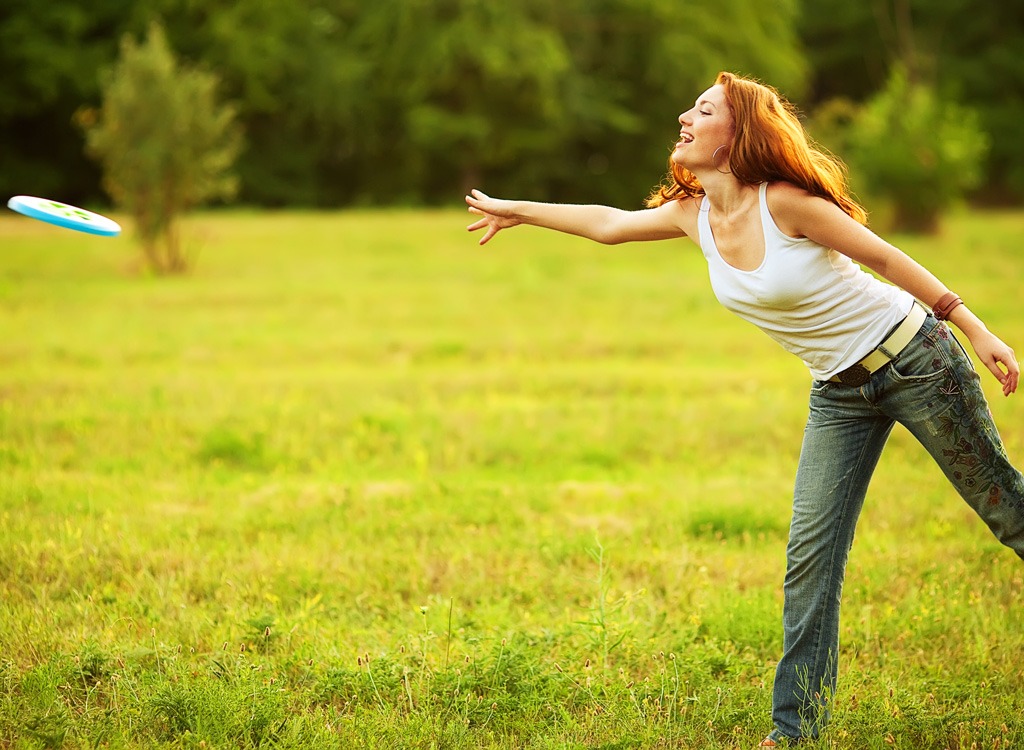 Instead of grabbing drinks or dinner with your friends, head to the park with a frisbee or a football and log some playtime. In the cooler months, hit a ping pong or pool hall for a bit of friendly, active competition—just steer clear of the beer and caloric cocktails.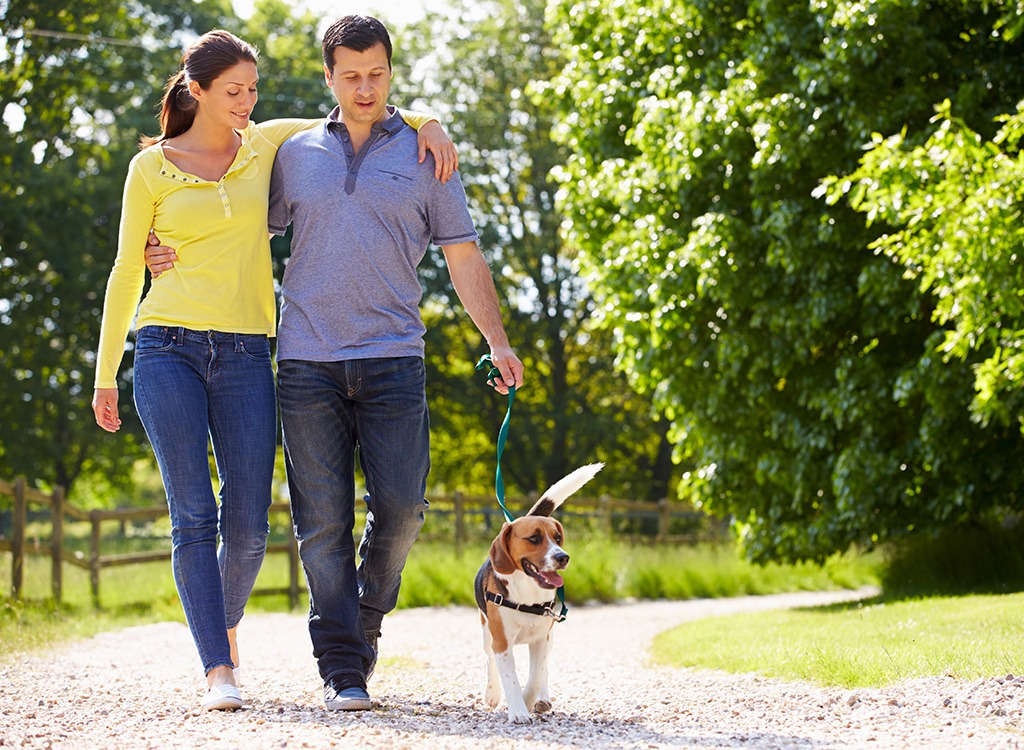 If you're already outside walking your pup, why not take an extra lap or two? The extra steps will aid your weight loss efforts and will benefit your four-legged friend, too! Bonus: Want to burn even more calories? Pick up your pace. Walking at 4 MPH, instead of 3.5 MPH can help you work off an extra 1,200 calories a month, assuming you move your feet every day for 20 minutes.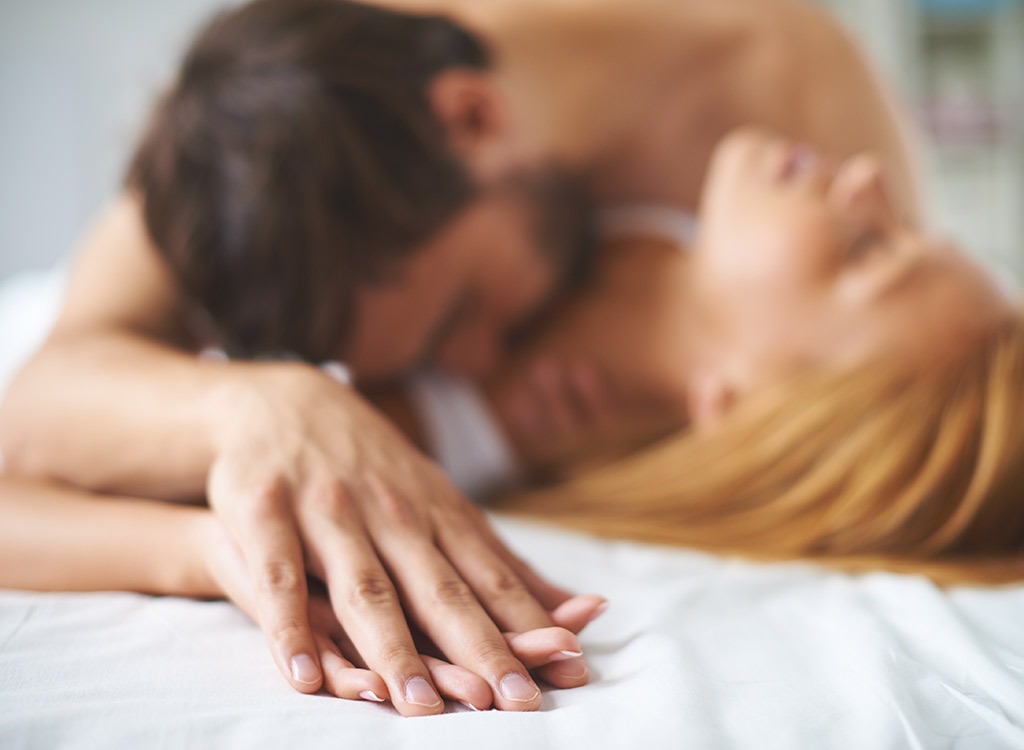 This is one of our favorites. Why? First of all, having sex is fun. Second, a romp between the sheets can help you stay lean by burning off the extra nibbles you take throughout the day. According to a University of Montreal study, women burn off 69 calories during the average sex session, while men burn off 100 calories. And as you likely assumed, the longer the session, the more calories you'll burn. To help extend your pleasure—and incinerate more flab—check out these 30 Best Proteins for Your Penis.
Do Random Acts of Kindness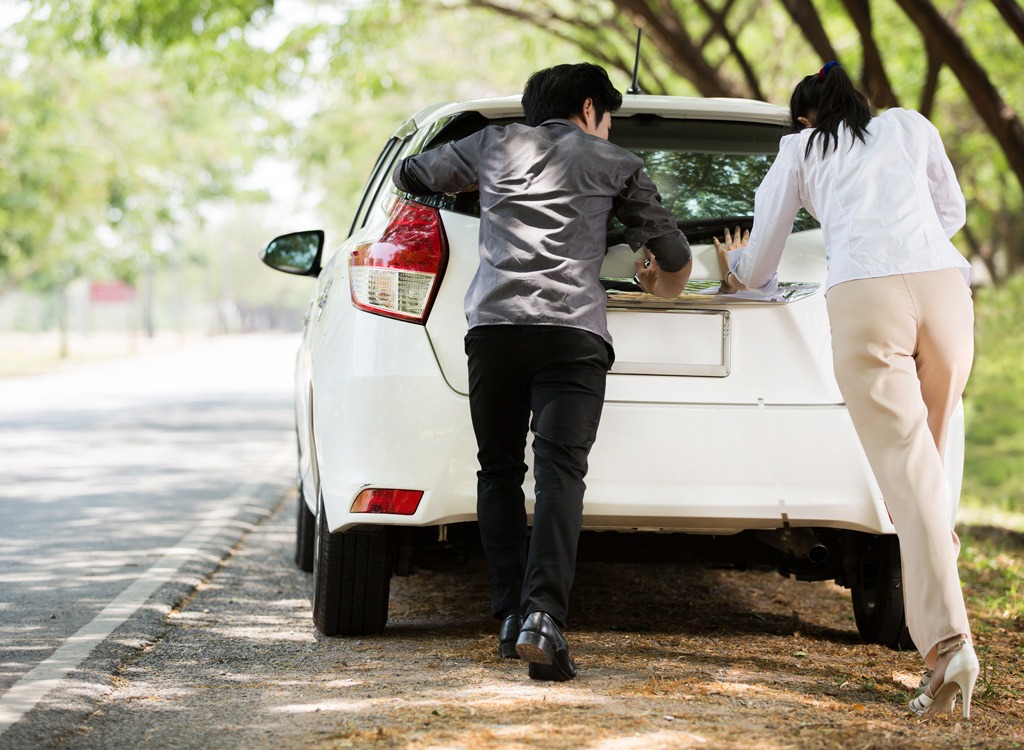 If you have trouble motivating yourself to move more—which is one of the most effective ways to burn calories—commit to doing one active act of kindness daily. Knowing someone else's happiness and wellbeing is on the line is a great motivator. Not sure where to start? Return your shopping cart to the store rather than leaving it in the parking lot, pick up your own coffee instead of asking an intern to grab it for you, or give up your seat on the bus or subway. Every bit of movement can get you one step closer to success! Note: Don't make your kind acts about baking cookies; that's just too much temptation!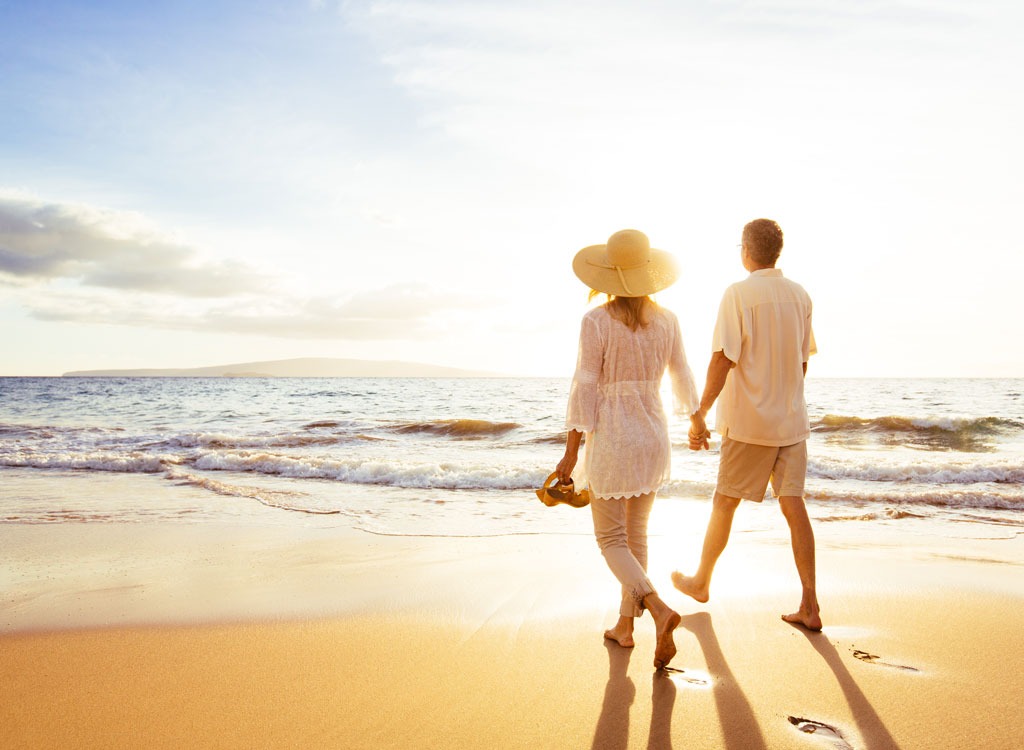 Grab the kids or throw in your headphone and take a quick walk around the block before sitting down to your next meal. Not only will you burn some calories and get your blood flowing, studies suggest that getting in some fitness before you nosh, increases the chances you'll reach for a healthier dish. Not sure what to cook? All of these healthy chicken recipes are solid picks!
Better yet, make it a full body shot (hello, #OOTD!). Why? Well, it turns out that a picture can be worth a lot of lost pounds. A recent study from a nutrition clinic in Colombia revealed that people who took routine photos of themselves while on a weight loss plan were more likely to finish the plan than the non-selfie snapping participants—and a whopping 71.3 percent met their goal weight. So instead of waiting for that one exciting "After" pic, get snappy with yourself right away!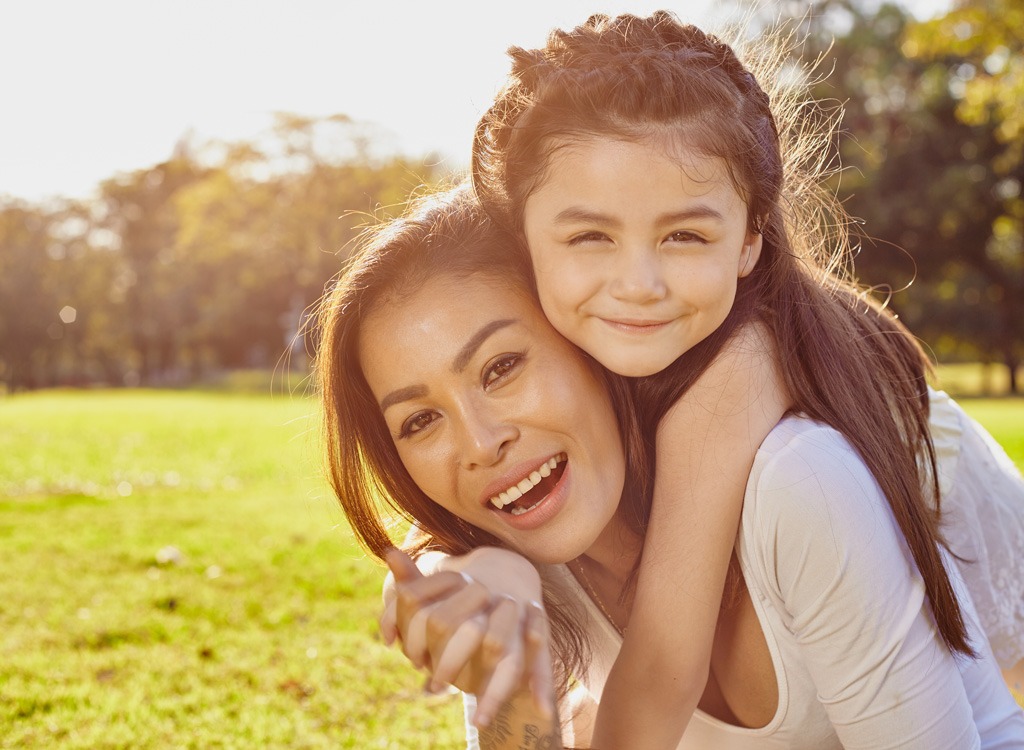 Instead of sending your little one to the backyard to play on his own, lace up your sneaks and head outside with him! Not only are backyard games like tag, hopscotch, and catch, enjoyable and fun, they can actually burn off a fair share of calories. Have some extra time on your hands? Head to the park to shoot hoops or hit the local mini golf course—your kids and your body will love it! This kind of quality time is also one of the biggest 25 Ways to Be Happier Now.
Next time you're in the mood for a night out on the town, why not hit up a dance club? From salsa and jazz to hip hop and trance, there's something for every type of music lover. The only caveat: You'll have to cut yourself off after one cocktail to ensure you burn off more than you take in. And speaking of calories, if you're trying to take in fewer of them, check out these 50 Snacks With 50 Calories or Less.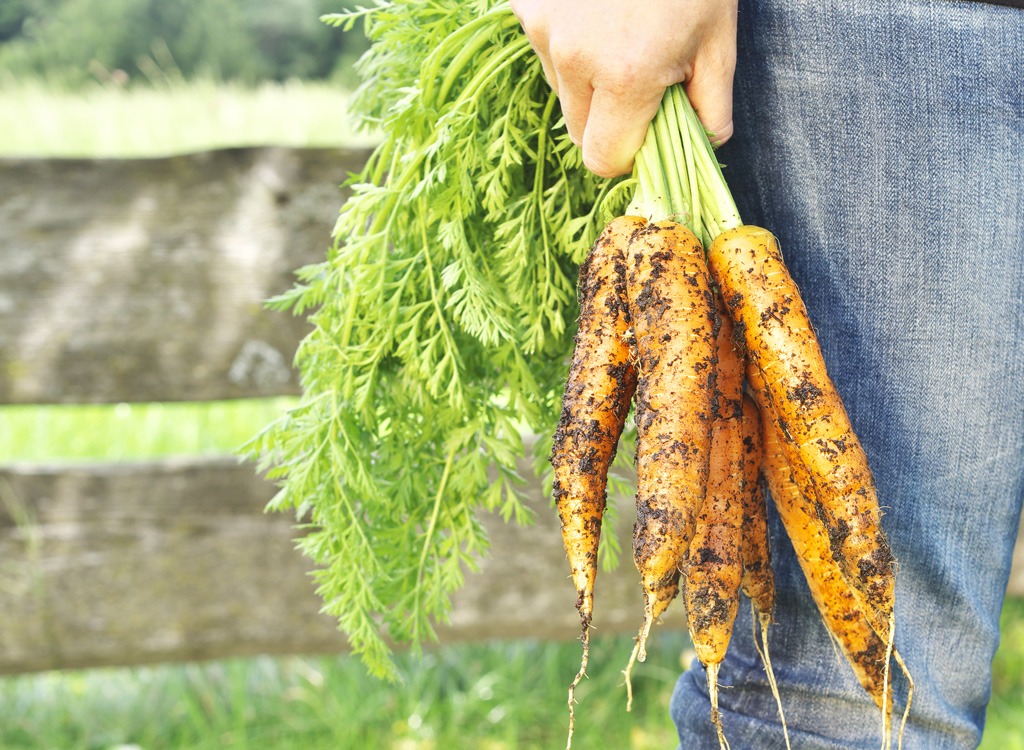 Growing your own fruits, veggies and herbs in your backyard is a win-win for weight loss. Gardening can actually burn between 200 and 400 calories per hour and once your crops are ready to be picked, you'll have an abundance of low-calorie, nutritious fare to add into your family's meals. That's what we like to call a win-win!
Take a Healthy Cooking Class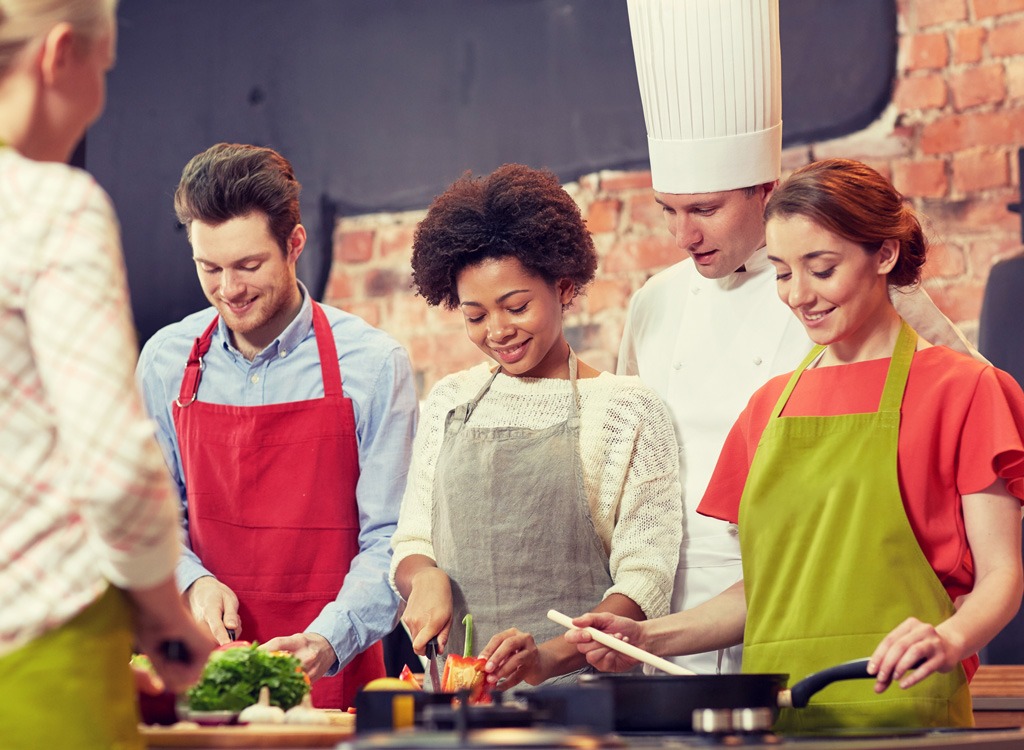 Need some help with your healthy meal prep game? Chains like Sur La Table offer a variety of cooking classes that can help. On a budget? You can get some awesome cooking class deals on Groupon. The best part is—aside from the eating, of course—cooking actually burns about 100 calories per hour (far more than you'll scorch ordering from Seamless), so honing your new skill can actually help you reach your happy weight is two different ways.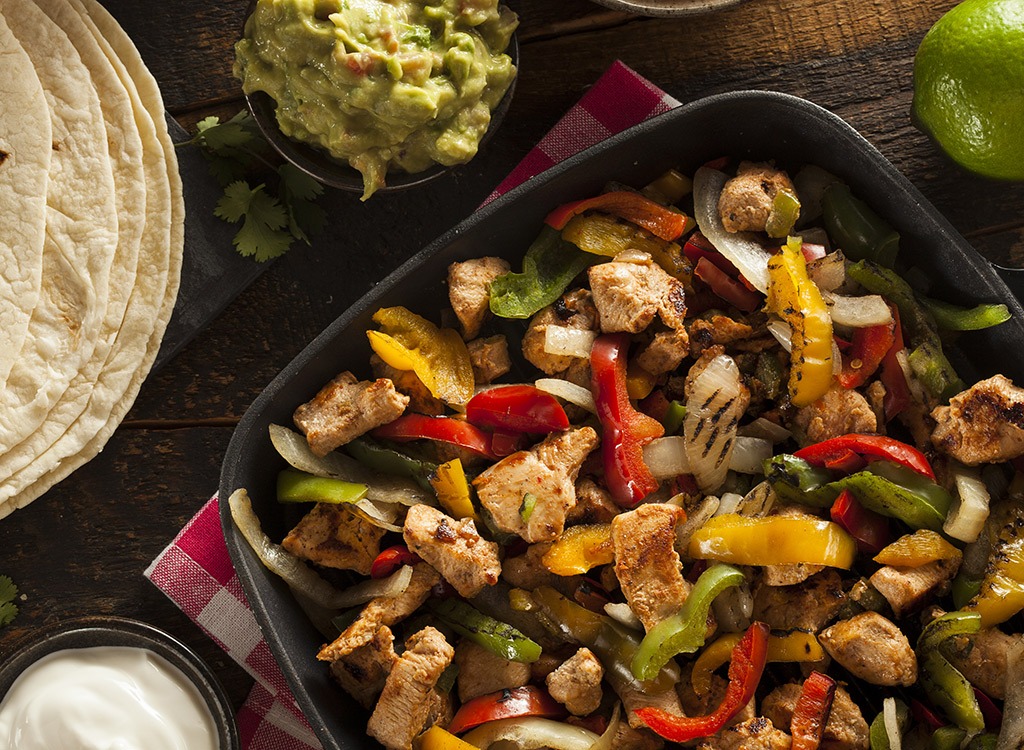 Trying to eat more low-cal foods like fruits and veggies can be a snooze—especially if you make the same few dishes over and over again. To keep your taste buds entertained, turn your meals into festive events, suggests Lori Zanini, registered dietitian and Spokesperson for the Academy of Nutrition and Dietetics. "For example, you could have an 'Italian' theme and incorporate a number of tomato dishes throughout the week." Or throw a fiesta with fresh avocado recipes and set the table with colorful plates and utensils.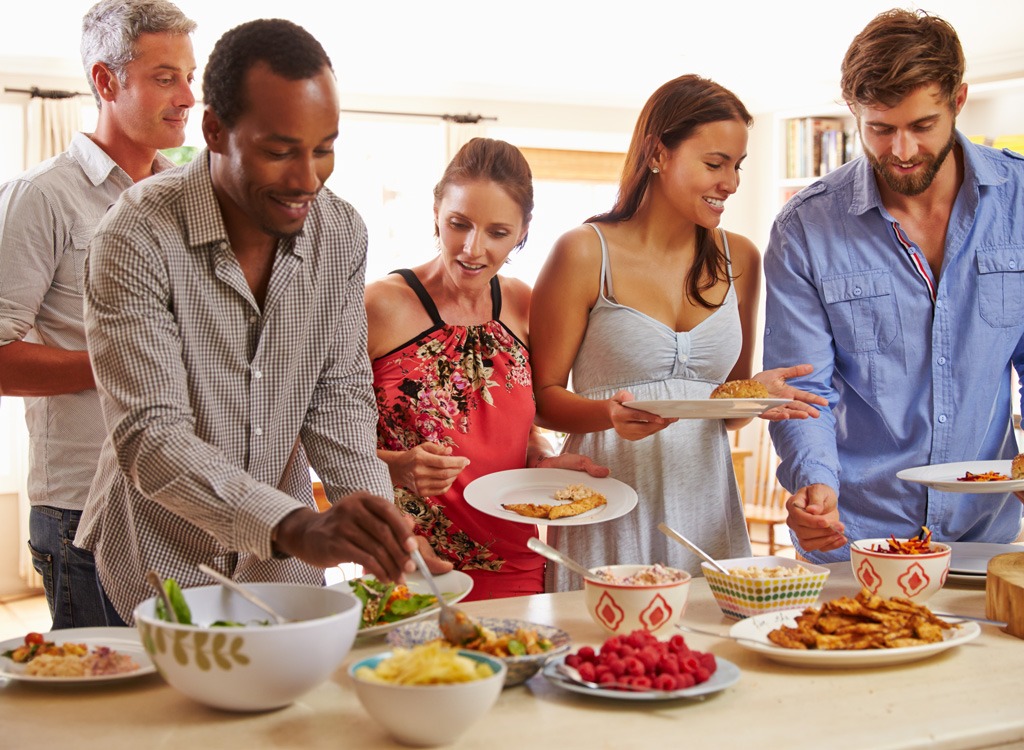 More often than not, you're likely catching up with friends over plates of fatty, sodium-packed restaurant food. In fact, a recent study published in the Journal of the American Academy of Nutrition and Dietetics found that the average restaurant meal contains a whopping 1,205 calories—about half the recommended daily intake. Yikes! To take in fewer calories—without putting a kink in your social life—offer to have your friends over for a healthy dinner. This way you can control everything that winds up on your plate. If your friends offer to contribute, put them on fruit salad or veggies-and-dip duty—it's near impossible for either of those things to go awry.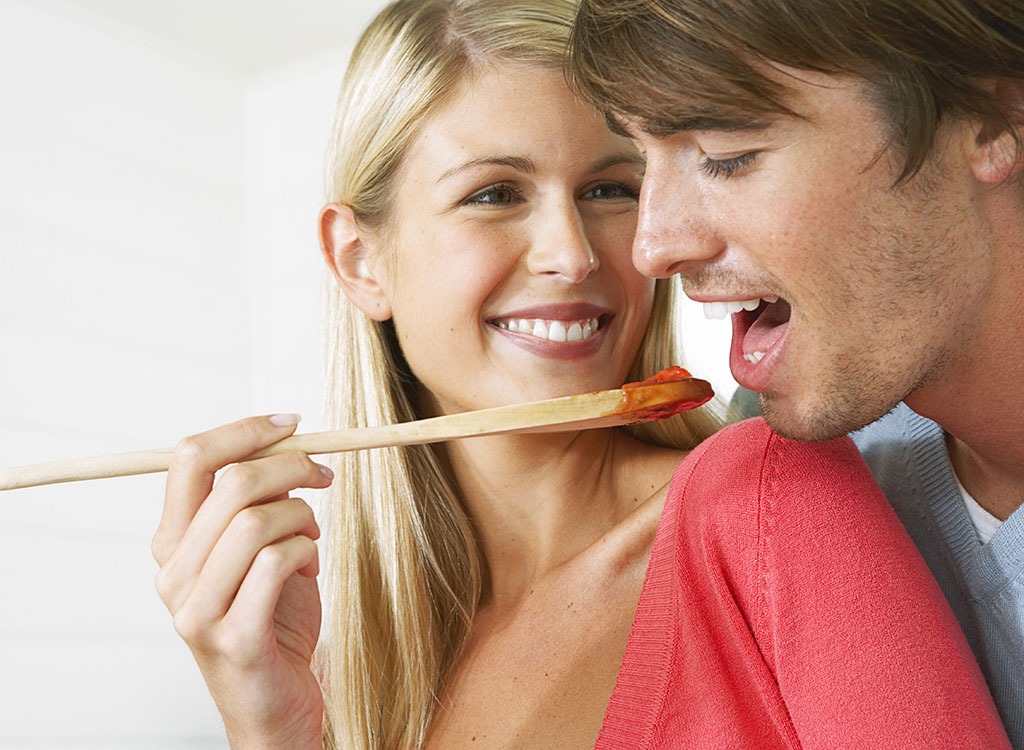 You know what's hotter than seeing your honey dice up a tomato or saute some shrimp? Absolutely nothing. Pick a one of these slimming 20 Best-Ever Recipes for Zero Belly, light the candles, cue up Netflix and have a waistline-friendly night in with your sweetie. To burn even more calories, skip dessert and take things to the bedroom for a sexy workout.
Check Out New Healthy Restaurants
There's a fast food boom happening—and for once, Eat This, Not That! is happy about it. Although burger joints and mall foods still reign supreme, a new breed of healthy, fast casual restaurants like Dig Inn and Sweetgreen are dominating the market. Next time you're friends suggest meeting up for a bite, why not suggest checking out one of the new, healthy eateries in your area? Not only will your meal be kind to your waistline, checking out a new hot spot is far more fun than going to the pizza joint in your neighborhood—yet again. And if you do still find yourself at a chain restaurant, be sure to have read up 20 Things You Should Never Eat at a Chain Restaurant, first!
Compete with Your Friends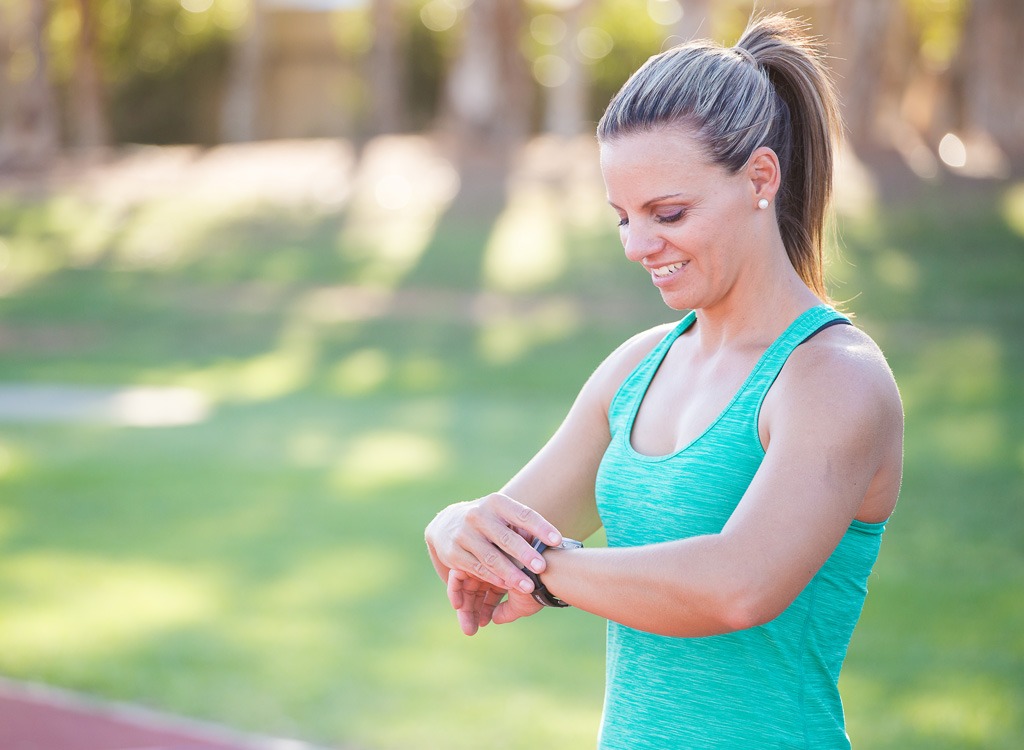 If you track your fitness with Fitbit, Jawbone, Misfit, iPhone 5s+ or Apple Watch you can challenge your friends to an activity duel on Matchup. The app allows friends using different trackers to go head to head on a shared leaderboard to see who moves the most. You and your friends can also complete as a team and challenge other groups of trackers to see who log the most steps.
Lace up your sneakers and play tourist in your own city! Check out historic walking tours in your area or find a nearby nature path with a killer view. Walking is easy on the joints, burns a fair number of calories and is a great way to take in new sites and sounds.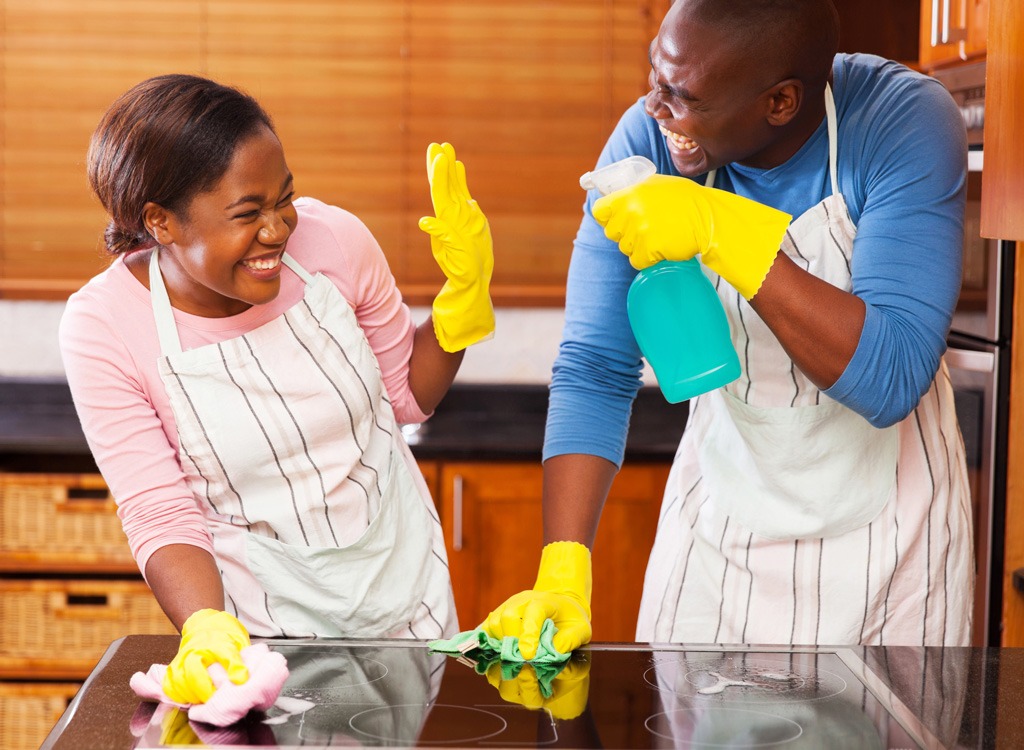 Scouring surfaces might give you bad Annie flashbacks, but it can actually be a good full-body workout, engaging your biceps, triceps, and core. Max it out by mopping the floor—for a 150-pound person, it burns 43 calories in 15 minutes. To make the scrubbing and sweeping more fun, enlist your roomie or significant other to help and turn on some upbeat tunes! If you really want to challenge yourself, do some burpees or lunges every time the song changes.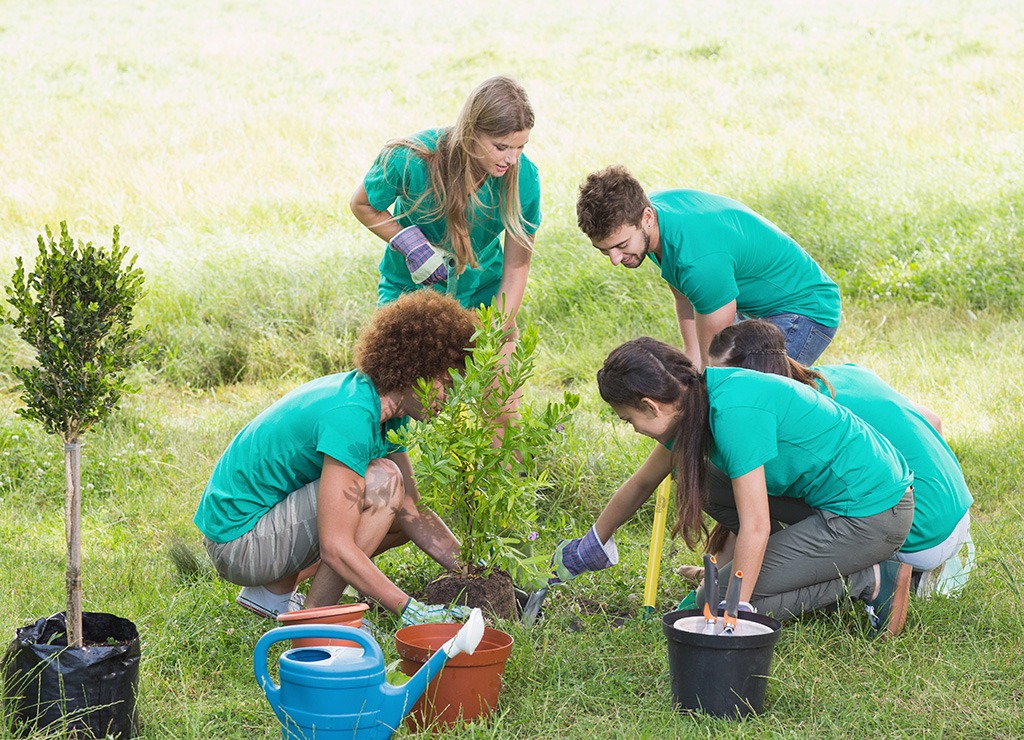 Volunteering at a dog shelter or lending a hand at a park clean-up is an engaging way to meet others, give back to your community and add some extra activity to your day.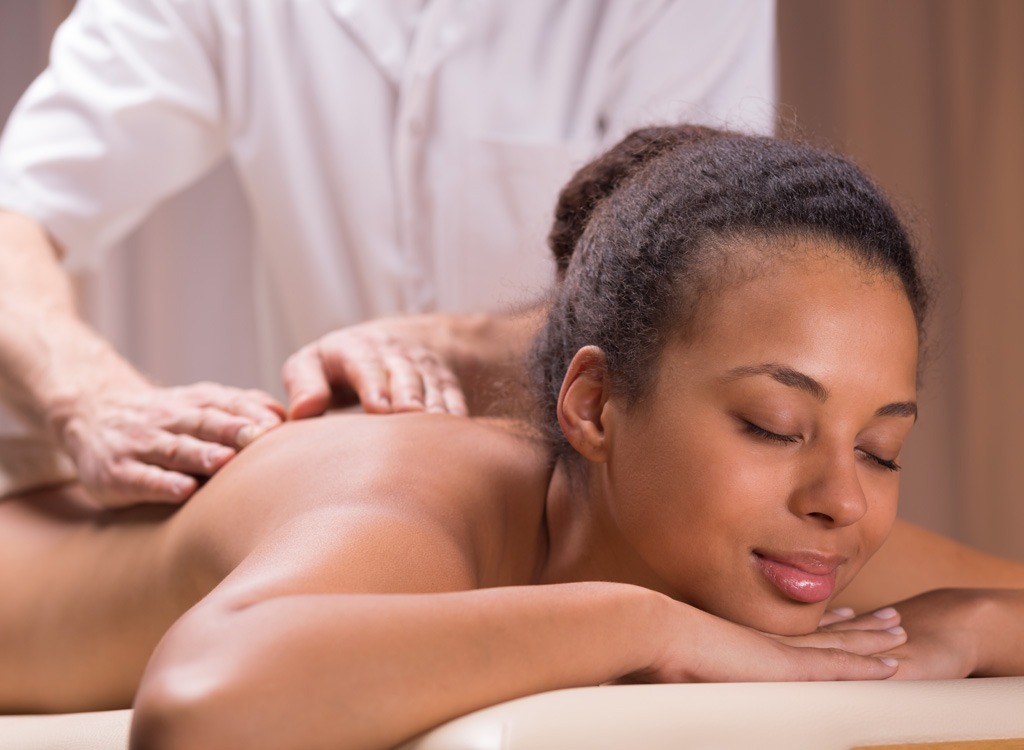 Strange but true: Women who are considered to be more accepting of their bodies are far more likely to stick to a healthy diet, say Ohio State University researchers. No, you don't have to recite a body image mantra every day to boost your self-esteem, a relaxing massage can actually do the trick. Experts say that when women allow others to touch their body it can help them feel more at ease with where they're bodies are at. So go ahead and indulge!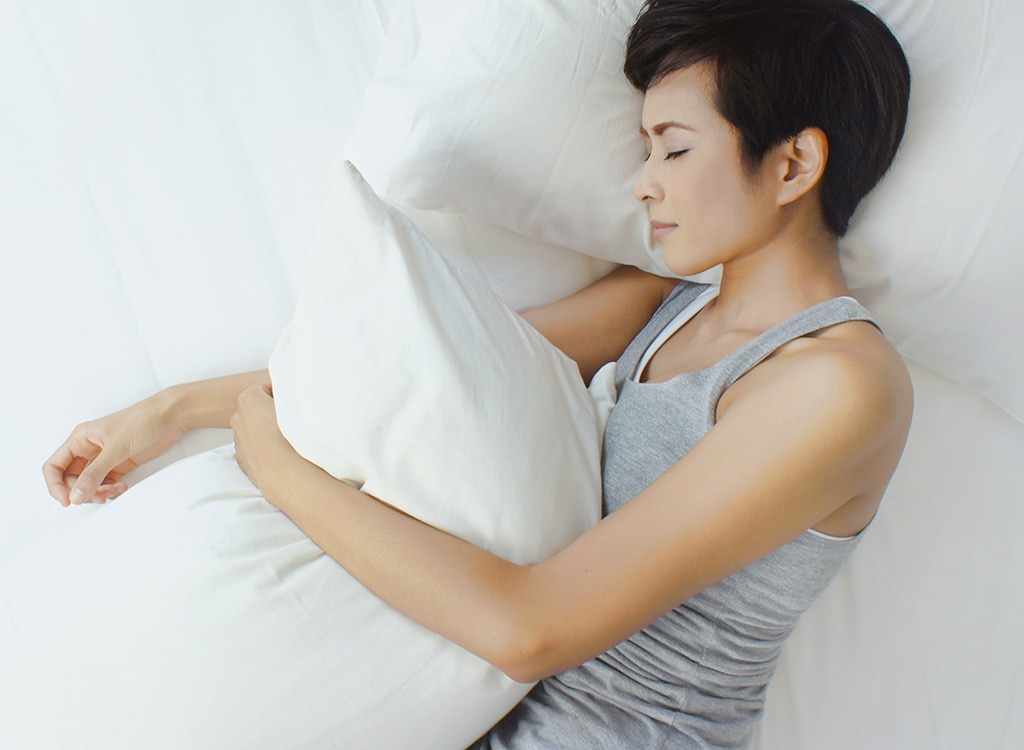 6254a4d1642c605c54bf1cab17d50f1e
Snuggling under the covers and dozing off is more than just relaxing—it's fun! And thankfully for all you sleepyheads out there snoozing more can help you eat healthier and lose weight. In fact, a recent study found that sub-par sleep could undermine weight loss by as much as 55 percent! The good news is just a few simple tweaks to your p.m. routine can mean serious weight loss success—like these 30 Things to Do 30 Minutes Before Bed to Lose Weight
Start a Social Diet Diary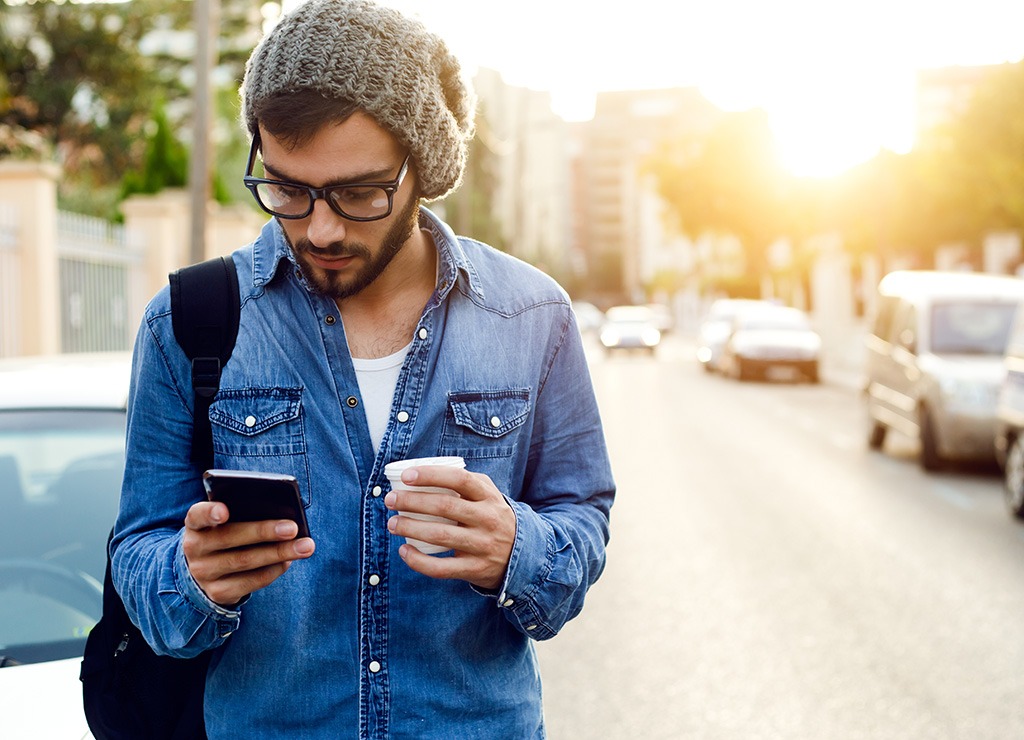 Sick of your food journal? "From time to time my friends and I start a message strand where we have to share our daily food intake and our workouts," says Shaun T, Insanity Trainer and host of last winter's "My Diet Is Better Than Yours". "We have to be completely honest, too. If we eat it, we text it. You are far more likely to make smart food choices and get your workout in when you know that there is someone on the other side of that text message depending on you." Not to mention, any way to make weight loss more social is bound to be fun, too!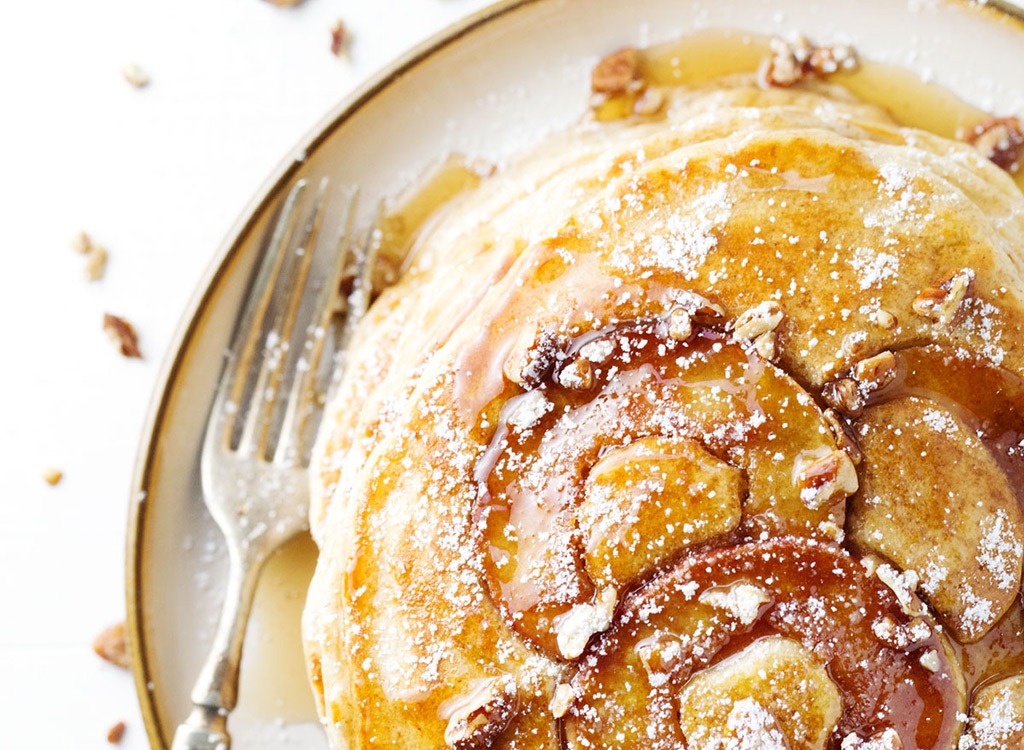 Pancake and waffle lovers, we've got some good news: According to a Tel Aviv University Medical Center researchers, dieters who eat a large breakfast that includes something sweet lost 37 more pounds in 8 months than study participants who consumed just as many calories but ate smaller, low-carb breakfasts. Not sure how to sweeten your morning? These 50 Best Overnight Oats Recipes are all delicious picks.
If you have trouble sticking to a normal portion of pasta, then it's time to try the guilt-free alternative. A hand-held spiralizer makes it easy to turn veggies into fun-to-eat spaghetti shapes that resemble pasta. Top with your favorite sauces and you can enjoy a healthy, lower calorie, more nutrient dense meal that will bring you closer to your weight loss goals. You can find a cheap spiralizer on our list 20 Life-Changing Weight Loss Tools Under $20!
Snack On Air-Popped Popcorn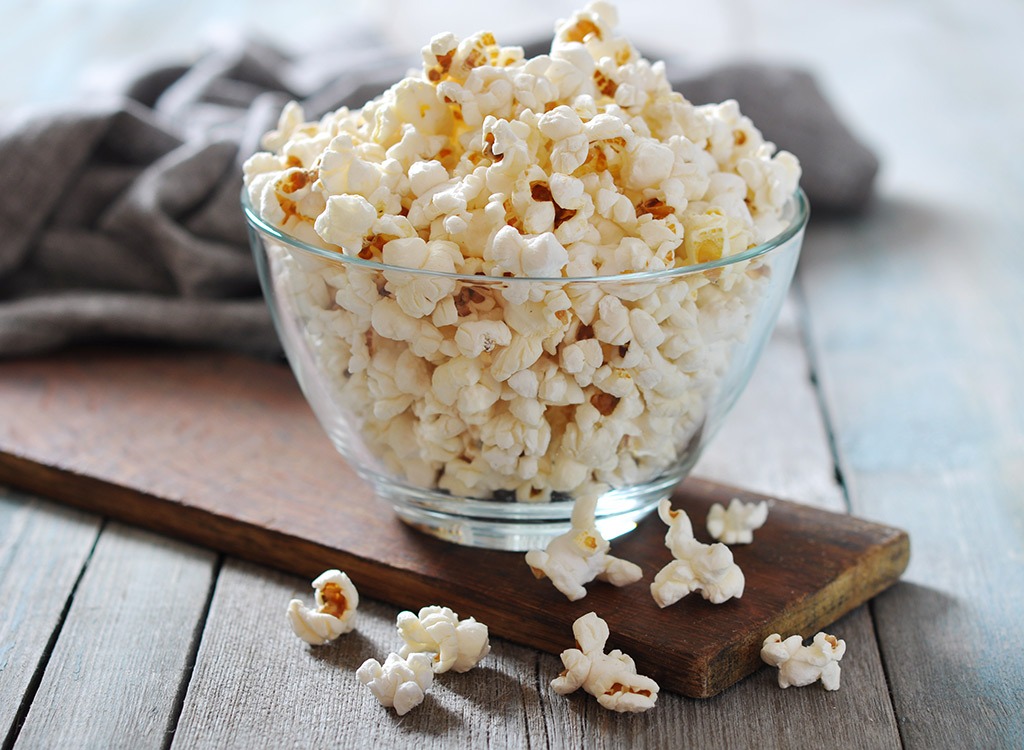 Another affordable tool on the above list we just mentioned is a popcorn air-popper. Snack time can often be a huge pitfall for most of us when it comes to weight loss. Crunchy, salty, calorie-laden, sugar-ridden temptations are around every corner. However, if you're armed with the right tools—and these 20 Delicious Ways to Dress Up Popcorn that are obsession-worthy—you'll be one step ahead of your cravings. So yum, so fun!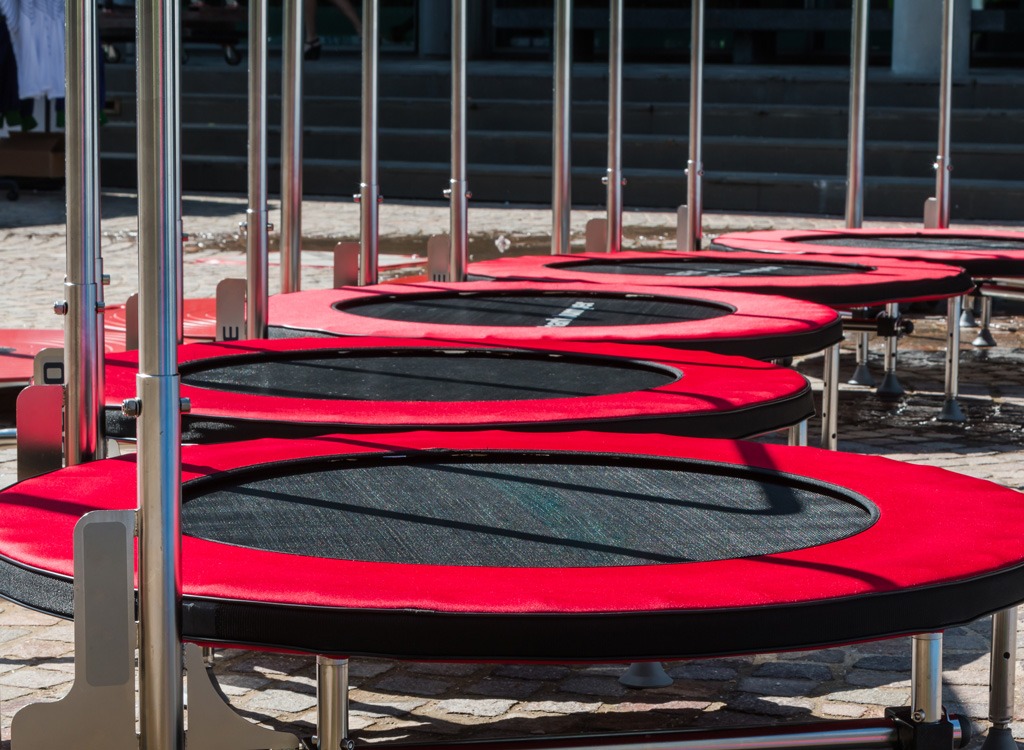 Want to add some bounce and fun to your fitness routine? Then urban rebounding may be for you! The low-impact cardiovascular workout uses a small trampoline to challenge your heart and your lower body in ways a treadmill or elliptical never could. Classes are offered at various gyms nationwide, so head to Google to find one near you.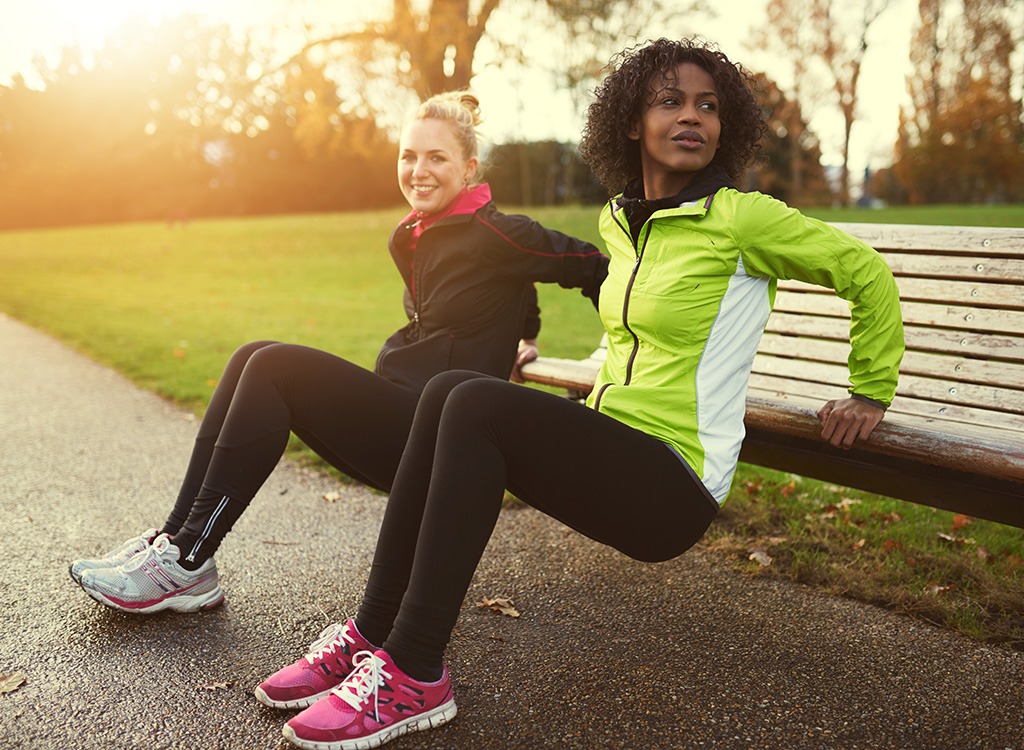 Join forces with a few friends who enjoy high-intensity workouts and create your own outdoor weekly boot camp club. Take turns coming up with the workout to ensure your sweat session stays fresh and fun. The best part? Your workout will be totally free and you get to spend time with your pals. You can all unwind and recover afterward with one of these 23 Best Protein Shake Recipes.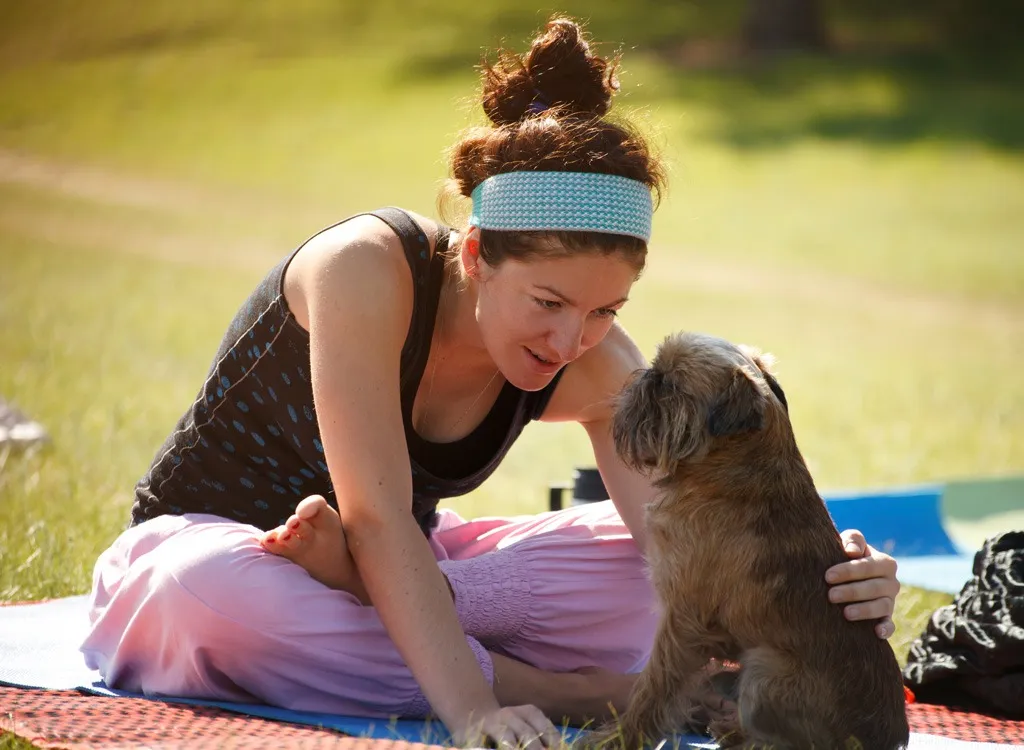 Doga, or "dog yoga" may sound a little eccentric, but it's actually growing trend—and a great way to take your yoga routine to the next level. In doga classes, dogs are used as props, which makes moves like warrior one more of a calorie-burner. And since you have to hold your pooch above your head, you'll build strength and burn more fat, too. For even more ways to tighten your bod, check out these 44 Ways to Lose 4 Inches of Body Fat,
For people who played a lot of sports growing up, hitting up the gym can be a major drag. Sound like you? Join an adult rec league! Soccer, softball, field hockey, basketball, you name it, there's a sporting league for it. If you missed the chance to sign up for the current season, offer to be an alternate. After the season gets underway, people are bound to miss games and need subs.
Looking for something that combines fitness with fun and adventure? Sign up for a themed race or obstacle course. Color run participants are showered with colored powder while Warrior Dash participants brave barbed wire fences and mud holes—talk about an exciting way to get your sweat on!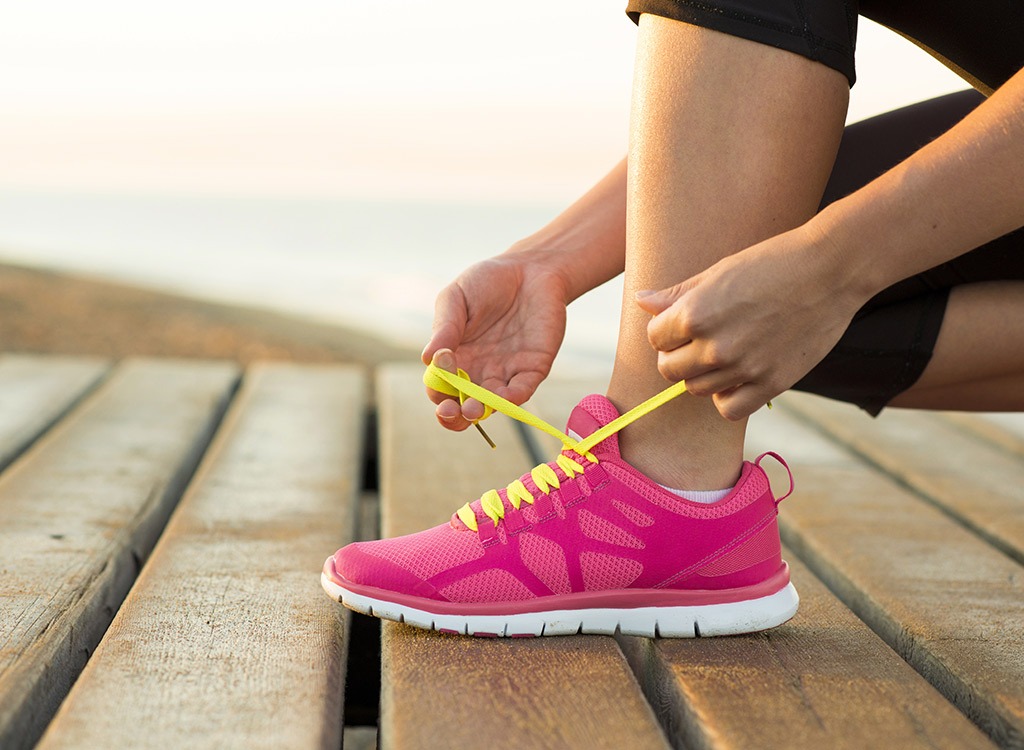 "Often times I see my patients reward a weight loss by indulging in foods they know aren't the best for their goals. Instead, I suggest using things like manicures, SoulCycle classes and workout gear as a reward for all their hard work, says registered dietitian Leah Kaufman. If you know you have a prize waiting for your at the week if you hit your workout goal, you're far more likely to stick to it! Plus, it's fun to give yourself little presents.
Join Class Pass or Groupon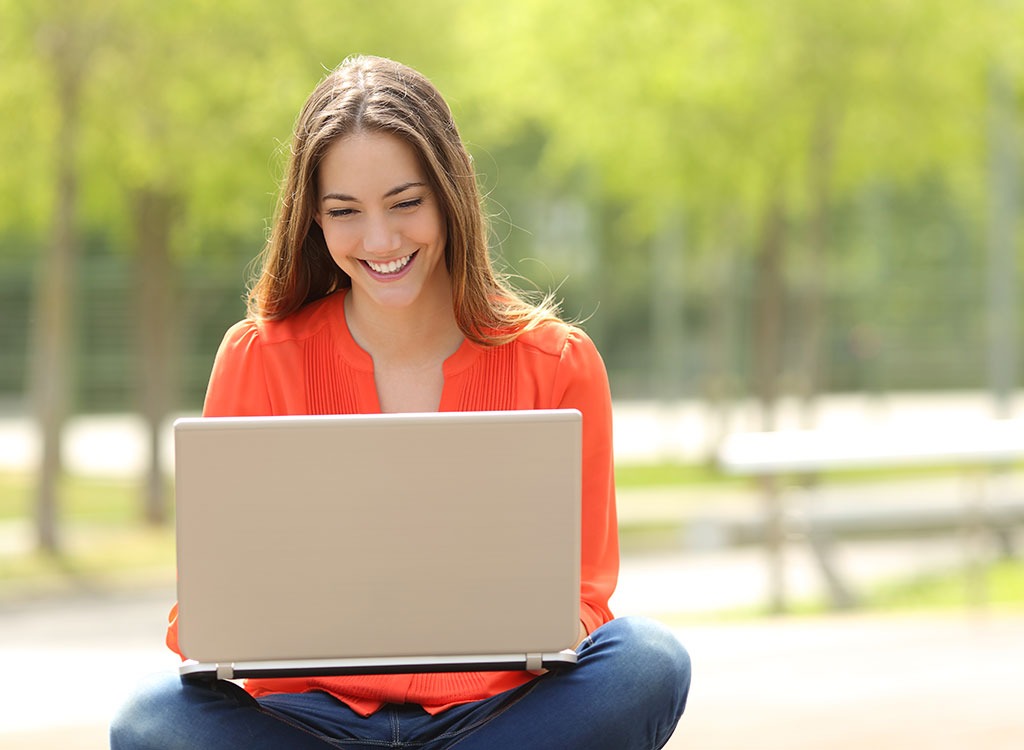 Online discounts sites like Groupon, LivingSocial and ClassPass offer great deals on fitness classes and can help keep your fitness routine fresh and interesting. You can get deals on anything from yoga and boot camp classes to sailing lessons and rock climbing gyms.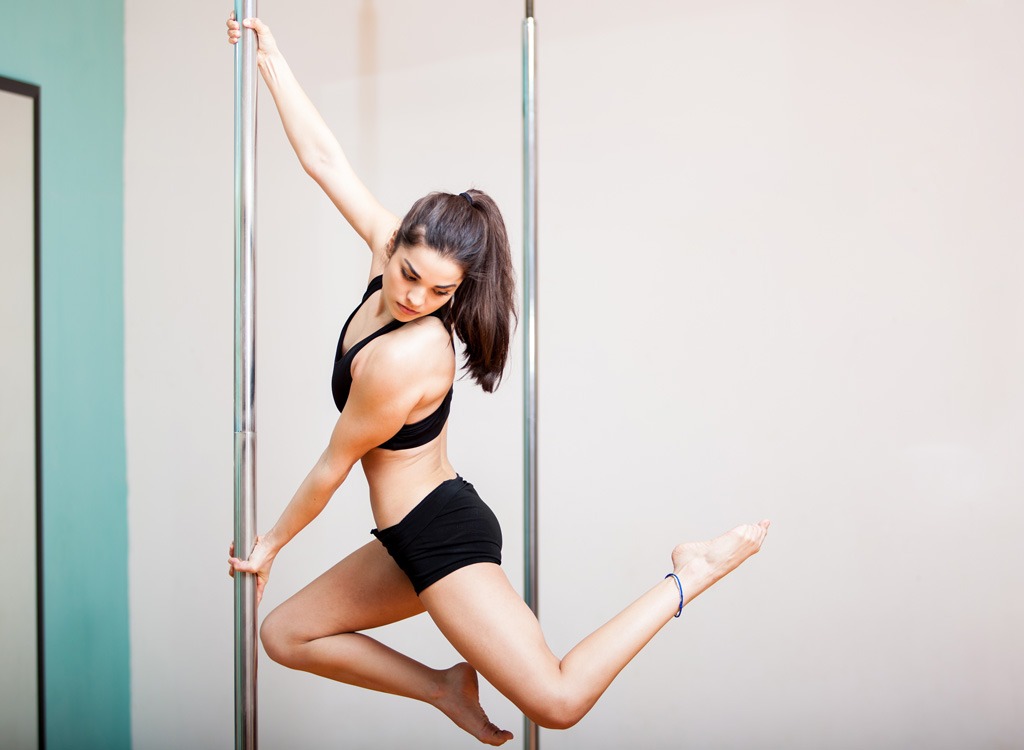 Unleash your inner wild child and work your upper body and flexibility at the same time. Pole dancing classes have been growing in popularity as of late and they're rumored to be a ton of fun and make you feel really sexy. Hit up a local class with a few friends to burn some calories and share a few laughs.
Rev Up Your Workout Playlist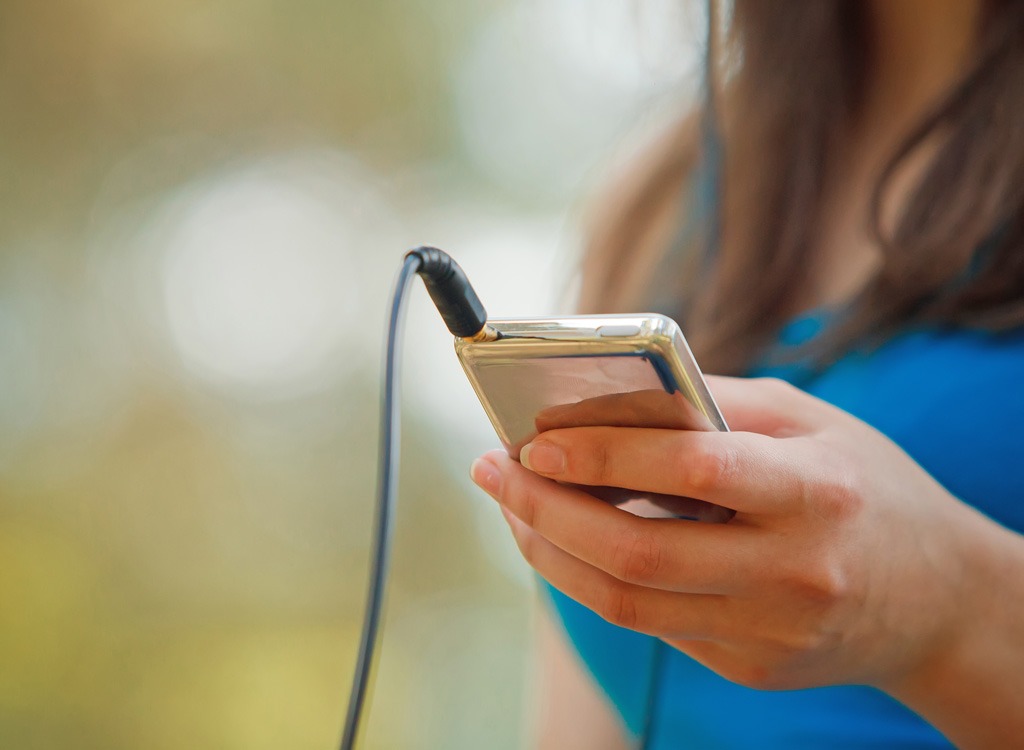 Sure, your time on the treadmill may seem like a great time to catch up on the news and your favorite sitcom, but doing so might make your cardio session less effective. (Cue the groans!) Research shows that people are more likely to stick to an exercise program if they listen to music while working out— especially fast-paced, motivational jams that include phrases like "push it," "I believe," and "work it." How's it work? One theory is that they help you move faster which subconsciously motivates you to keep at it which can help you lose 10 pounds—fast!
Sign Up For an Out-of-the-Box Class
How about trapeze? If you love a good adrenaline rush—or have always just secretly loved the circus—this unique class may be for you. It's a great upper body and core workout and something you definitely can't do at your local Equinox. Look for other ideas (Parkour, anyone?) that might blow your mind—and blast your belly fat!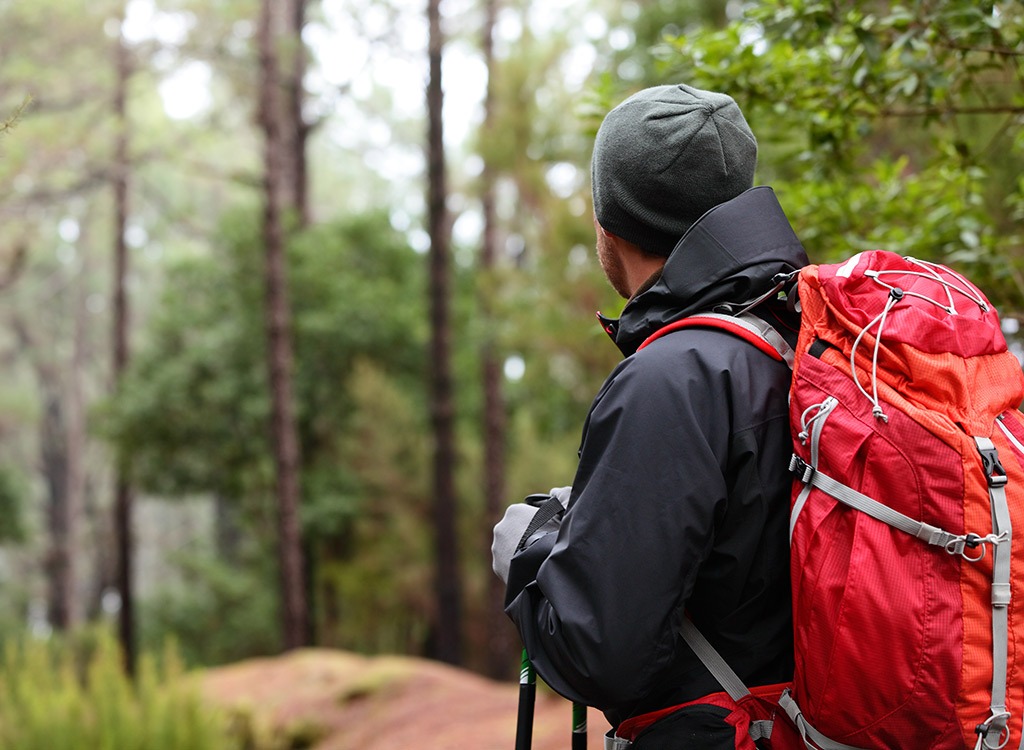 Round up some friends, head out to the country and get your hike on! Taking in the breathtaking views from the top of a mountain is far more satisfying and fun than spending your day in a gym. It also scorches major calories and works a ton of leg and back muscles you've probably forgotten all about.
Schedule Sessions with a Friend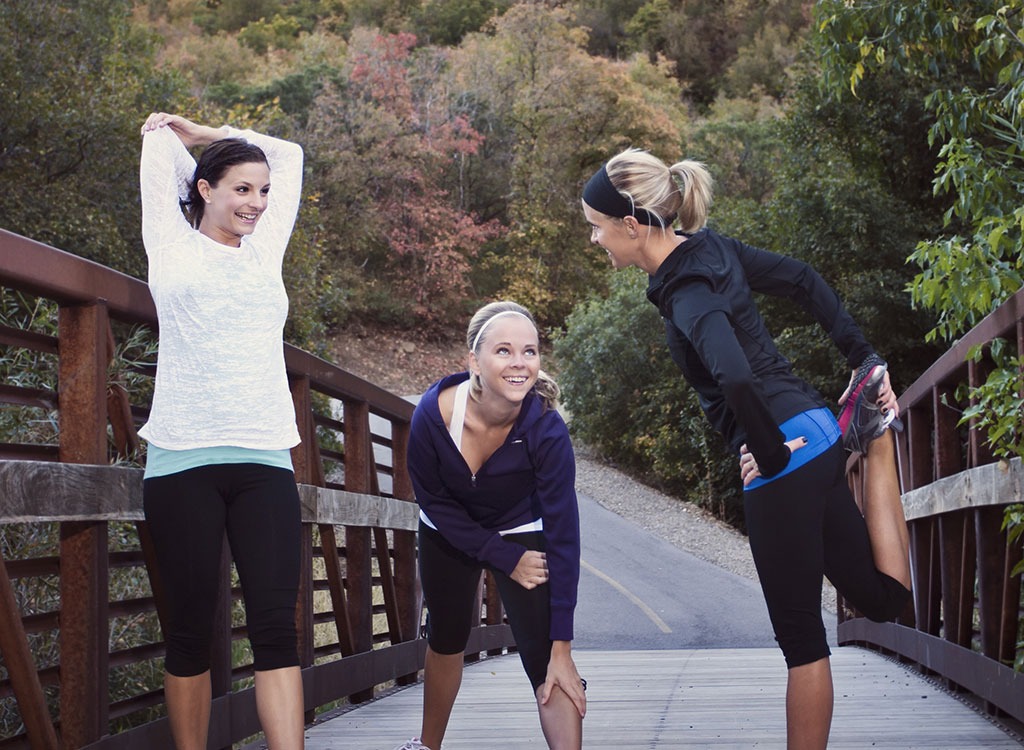 You wouldn't blow off your 6 a.m. run if you knew your friends were waiting for you at the park, would you? Of course not! Which is why it's a great idea to set up morning workout dates. Not only will it get your tush out from under the covers, it will make you sweat session more fun, too! And after your done with your workout, why not refuel with one of these delicious protein shake recipes?
Add Motivational Messages to Your Alarm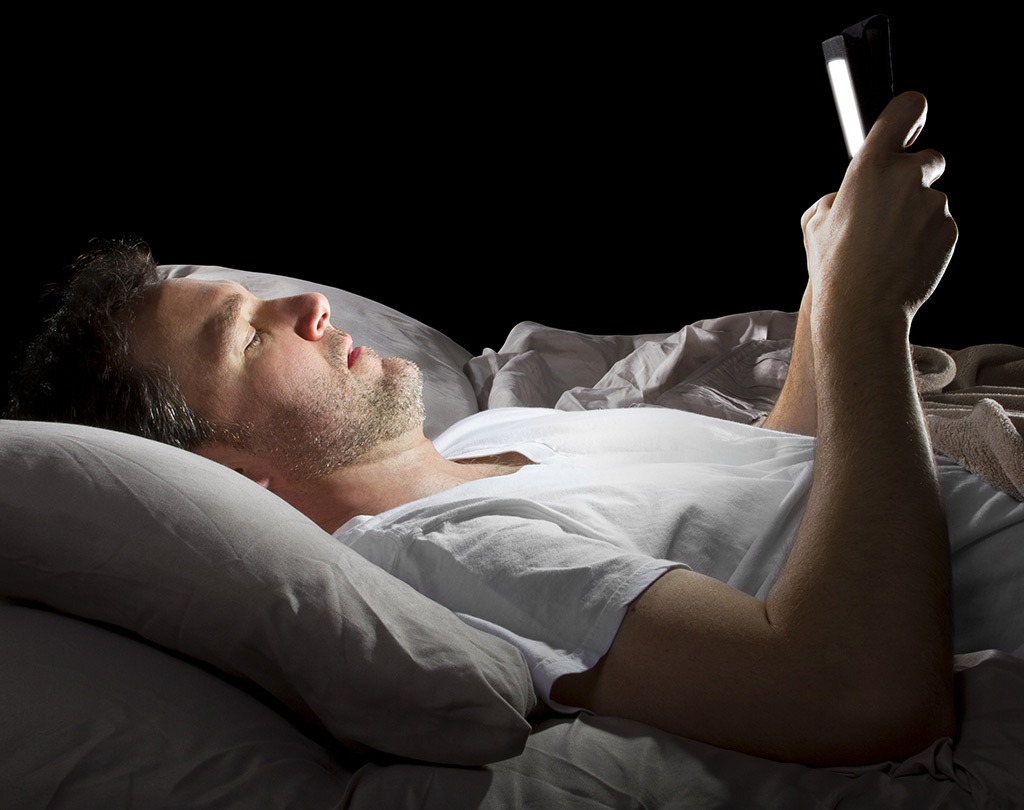 Make that blaring 5 a.m. alarm more tolerable by giving it a motivating label in your iPhone. "Wake up badass, it's time to hit the gym!" It may seem silly, but it's sure to motivate you and put a smile on your face every time you're considering going back to bed.
Set Out Your Workout Gear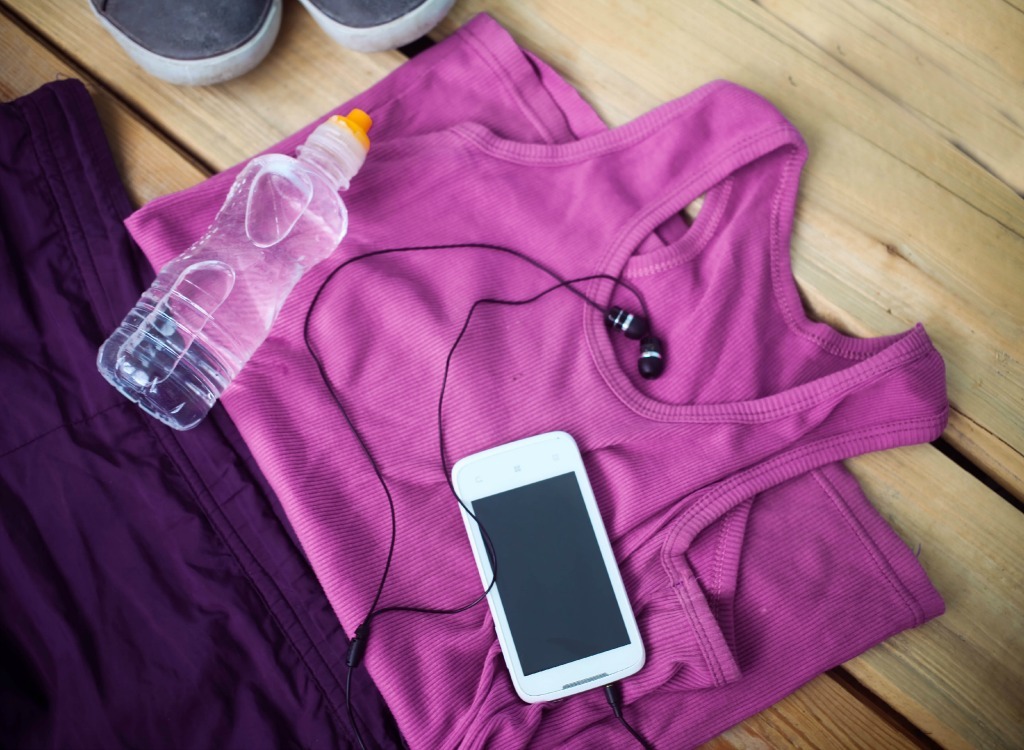 —or better yet, sleep in it. If you wake up dressed and ready to hit your Pilates class, odds are pretty low that you'll skip it. And speaking of getting fit and toned, be sure to check out these
30 Skinny Secrets from the World's Sexiest Women.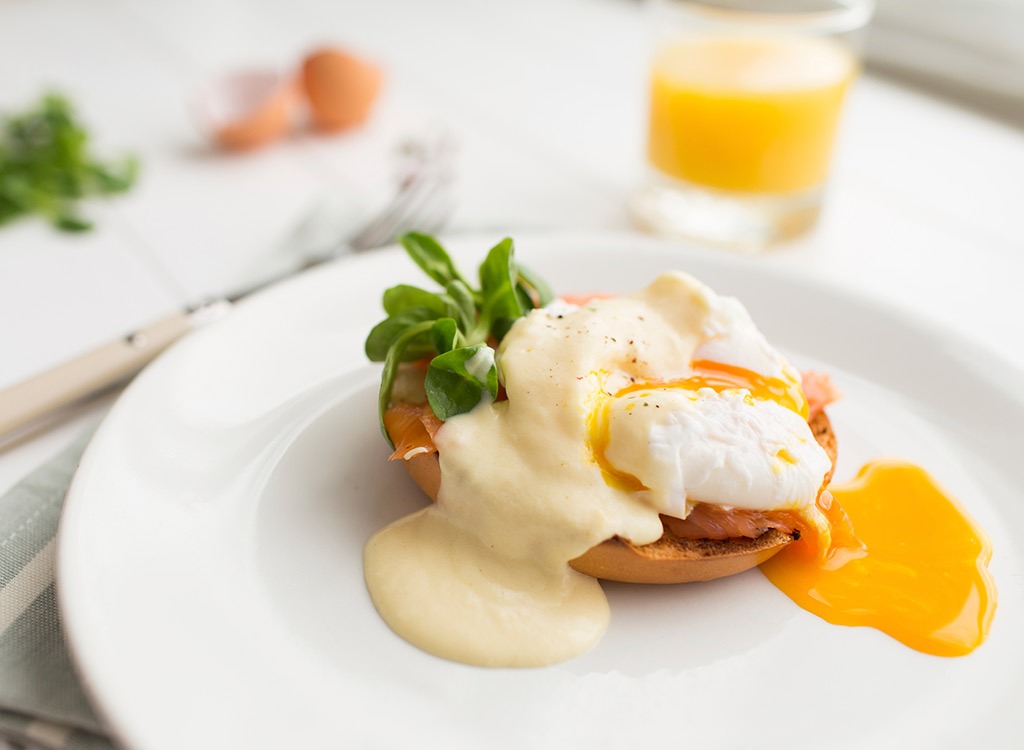 It may sound odd, but penciling in plans with friends for after your run will actually ensure you'll log those miles—especially if you tell everyone you'll be coming from a workout. Not only will it hold you accountable to your run, it will give you a great excuse to rock all of your new athleisure gear afterward. You may also find your workout more enjoyable, knowing you have some playtime to look forward to when you're done!
Eat This, Not That!
Inspired by The New York Times best-selling book series, Eat This, Not That! is a brand that's comprised of an award-winning team of journalists and board-certified experts, doctors, nutritionists, chefs, personal trainers, and dietitians who work together to bring you accurate, timely, informative, and actionable content on food, nutrition, dieting, weight loss, health, wellness, and more.
Read more about Eat This