12 Desserts That Actually Help You Lose Weight
Now you can have your cake and eat it, too—literally—when you're trying to slim down.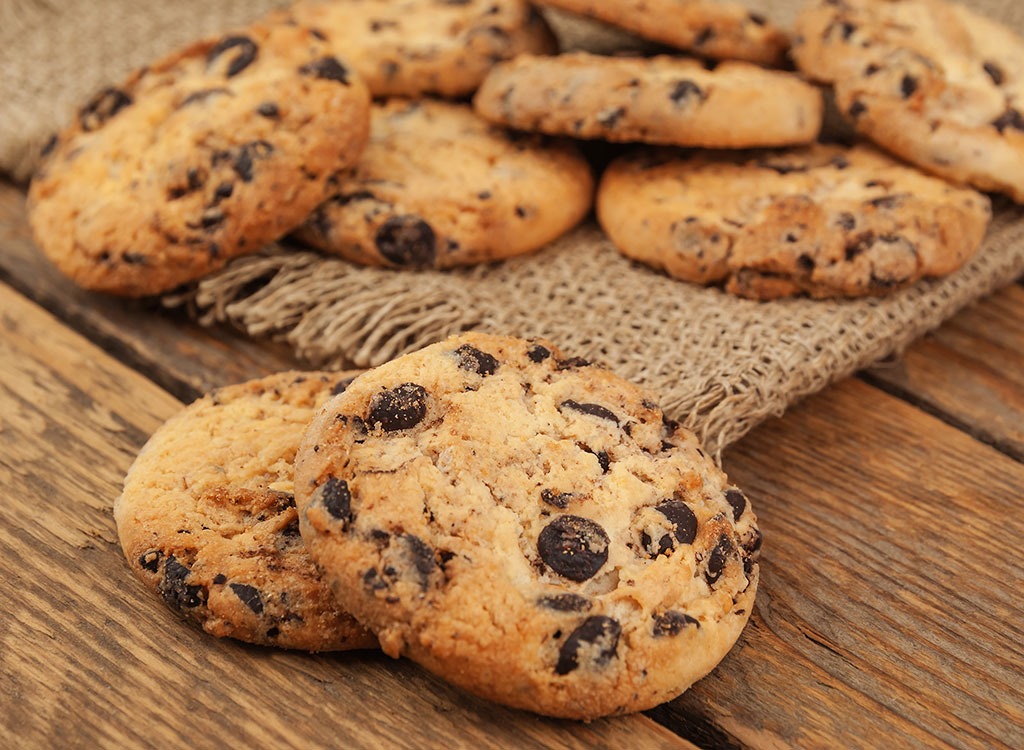 When people want to lose weight, one of the first things they cut out is dessert. After all, you assume that indulging in a treat typically high in sugar, fat, and calories will derail all of the hard work they've done to fit into their skinny jeans. But what if we told you that you could not only enjoy dessert, but also lose weight while doing so?
You can. These tasty treats will not only help satisfy your sweet tooth, but also help you slim down. Low in calories, packed with protein, or chock-full of fiber, these desserts can help accelerate your weight-loss goals, especially if you enjoy them within your daily calorie allowance. If you're looking to start off your day just as healthy as you end it, check out our 46 Best Breakfast Foods for Weight Loss
FlapJacked Mighty Muffin S'Mores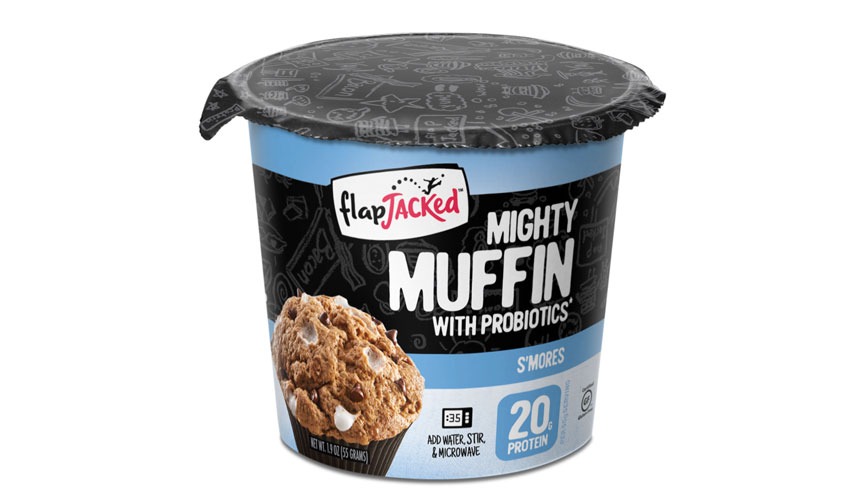 Per 1 container (1 muffin): 210 calories, 6 g fat (2.5 g saturated fat), 24 g carbs (5 g fiber, 10 g sugar), 20 g protein
Muffins are usually the kind of pastry you stay away from when you're trying to lose weight, but not these. The delicious muffins from FlapJacked come packed with 20 grams of muscle-building protein and an impressive 5 grams of filling fiber. Both nutrients will help you feel satiated, and the real milk chocolate will curb those sweet tooth cravings. At just 10 grams of sugar for one giant muffin, this Mighty Muffin is definitely an Eat This! Bonus if you enjoy one after an evening sweat sesh.
Halo Top Chocolate Chip Cookie Dough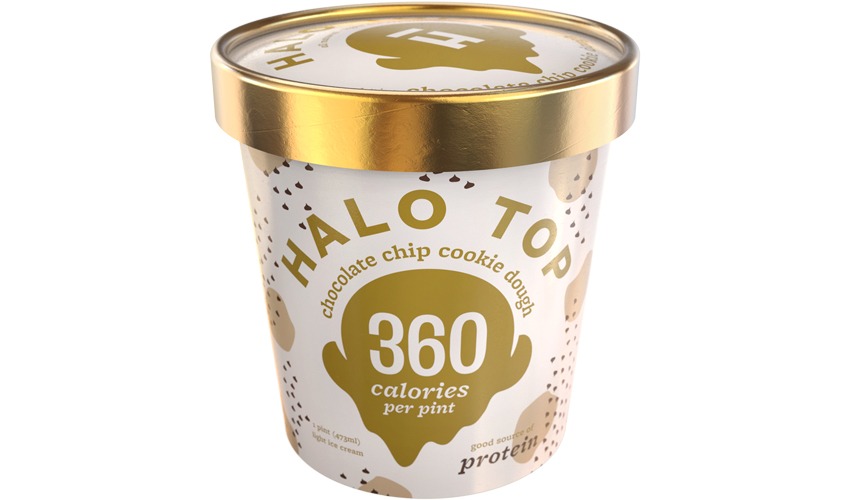 Per 1/2 cup (66 g): 90 calories, 3 g fat (1 g saturated fat), 120 mg sodium, 16 g carbs (3 g fiber, 7 g sugar, 5 g sugar alcohols), 5 g protein
For once, the health halo surrounding this ice cream is deserved, and actually a positive thing. This popular high-protein ice cream has earned a cult following for good reason: it's some of the lowest calorie, carb, and sugar ice cream you'll find, especially for the chocolate chip cookie dough flavor. Although we're not encouraging you to eat the whole pint, you could and it would still be less than 400 calories — much better than the other high-calorie pints on the market.
Arctic Zero Brownie Blast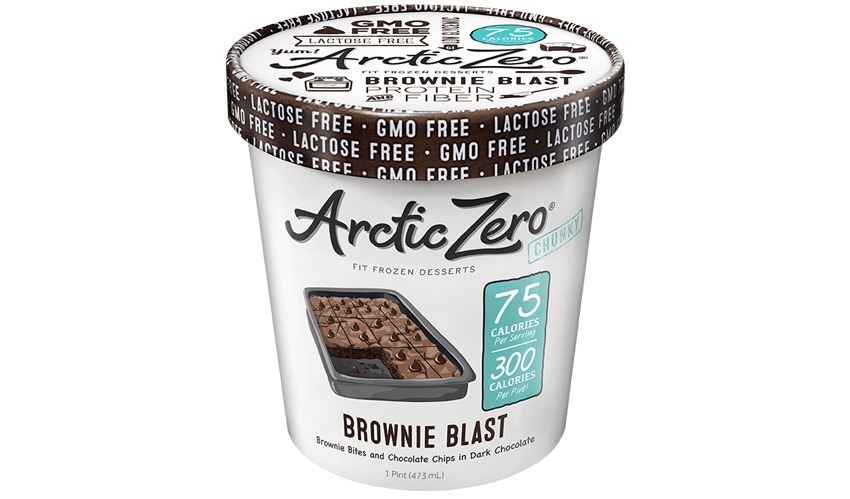 Per 1/2 cup (70 g): 75 calories, 1.5 g fat (1 g saturated fat), 135 mg sodium, 11 g carbs (3 g fiber, 8 g sugar), 3 g protein
This lighter ice cream alternative really does have 75 calories per serving, thanks to the water and whey protein replacing the typical milk and cream found in regular ice cream. Although it still delivers that sweet taste you look for in ice cream, staffers who tried this stuff out noted that the texture was more icy than creamy. Luckily, the yummy brownie bits made up for it.
Annie's Lemon Drop Cookie Bites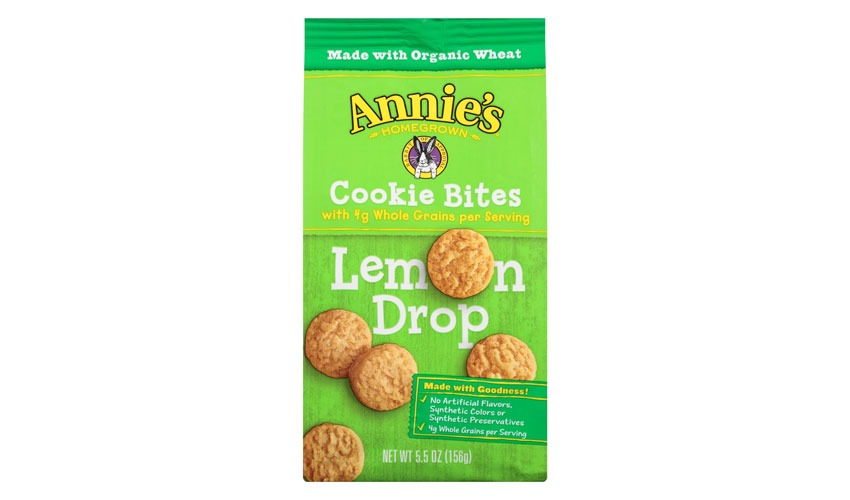 Per 7 cookies: 140 calories, 7 g fat (2.5 g saturated fat), 60 mg sodium, 18 g carbs (1 g fiber, 7 g sugar), 2 g protein
These cookies are on the smaller side, which allows you to indulge in 7 and feel like you're eating a lot more than you really are. Each cookie has just one gram of sugar, one gram of fat, and 20 calories which a nutritional profile that's tough to beat. We love that these treats are free of high fructose corn syrup, heart-harming hydrogenated oils and dangerous synthetic dyes, which are all commonly found in traditional cookies.
Kashi Chocolate Almond Butter Cookie
Per 1 cookie: 130 calories, 5 g fat (1 g saturated fat), 80 mg sodium, 19 g carbs (1 g fiber, 7 g sugar), 1 g protein
The bulk of these cookies are made up of nutritious whole grains like triticale (a wheat-rye hybrid) and buckwheat, a slow-burning whole grain. Creamy almond butter, dark chocolate chips, and crunchy almonds take the flavor to the next level, making this box of cookies one that's hard to resist.
Enlightened Frozen Hot Chocolate
Per 1/2 cup (73 g): 90 calories, 2.5 g fat (2 g saturated fat), 50 mg sodium, 18 g carbs (5 g fiber, 6 g sugar, 6 g sugar alcohol), 7 g protein
Frozen hot chocolate is a popular treat at restaurants and specialty dessert shops, but those frozen treats can set you back hundreds of calories. Enlightened cerion, on the other hand is less than 100 calories per serving. It's made with real skim milk and 7 grams of filling protein. Although there are 6 grams of sugar alcohols, which may cause some GI issues, be sure you stick to the serving size to not go overboard on the sweeteners.
FlapJacked Mighty Muffin Double Chocolate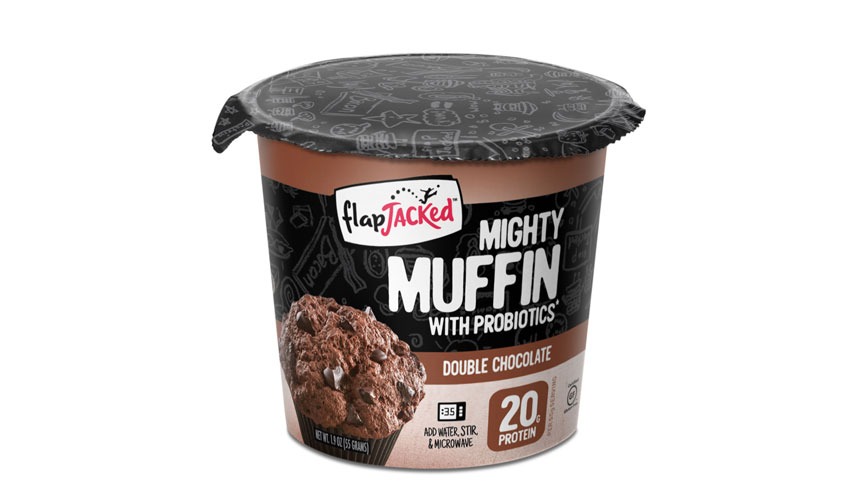 Per 1 container (1 muffin): 220 calories, 8 g fat, (4.5 g saturated fat), 21 g carbs (6 g fiber, 7 g sugar), 20 g protein
FlapJacked Mighty Muffins are so good, we listed them twice. The double chocolate flavor feels more like a sweet indulgence than a good-for-you dessert. Each muffin is made with a blend of whey and pea protein, which means 20 grams of protein per serving. The best part about these muffins is you add water right into the container of muffin mix and microwave for about 45 seconds, creating a warm, gooey, straight-out-of-the-oven taste. For only 7 grams of sugar, it can't be beat.
Enlightened Sea Salt Caramel Bar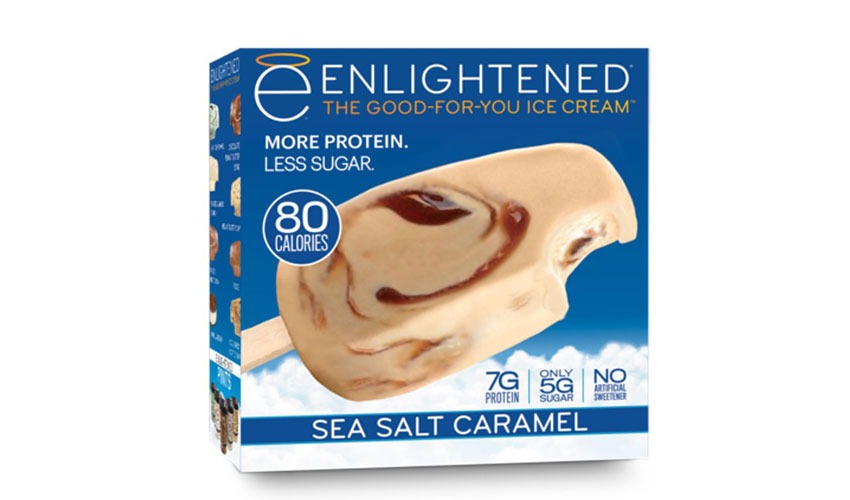 Per 1 bar (70 g): 80 calories, 1.5 g fat (1 g saturated fat), 120 mg sodium, 17 g carbs (5 g fiber, 5 g sugar, 6 g sugar alcohol), 7 g protein
If you love ice cream for dessert but aren't sure you can stick to a single serving size, then ice cream bars are a great option. These individually portioned pops are just 80 calories and 5 grams of sugar. It's also higher in protein than many better-for-you ice cream bars with 7 grams of metabolism-boosting protein.
Lenny and Larry's The Complete Cookie Chocolate Chip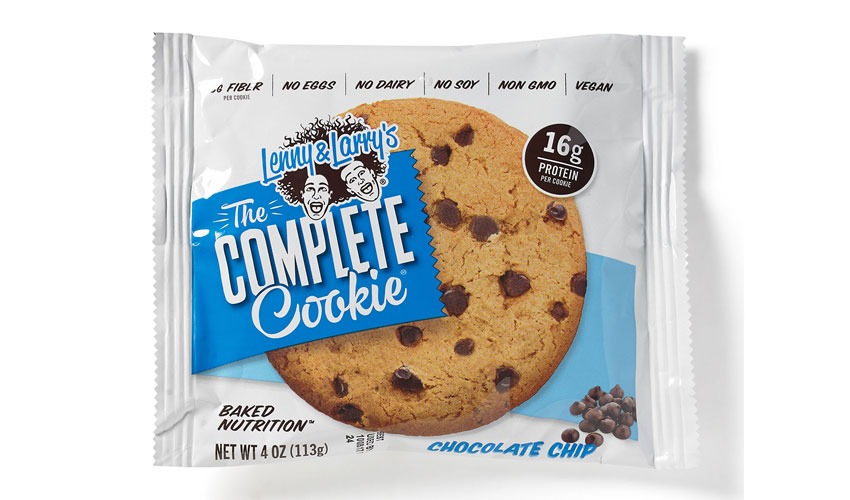 Per 1/2 cookie: 120 calories, 0 g fat (0 g saturated fat), 50 mg sodium, 14 g carbs (0 g fiber, 11 g sugar), 16 g protein
Lenny and Larry's Complete Cookie has made quite the splash since it hit shelves, and for good reason. Who wouldn't love a cookie with 16 grams of muscle-building protein and just 120 calories? It's also vegan-friendly, made without eggs or dairy. Instead, the protein comes from a plant-based protein blend of pea protein isolate and brown rice protein. The only issue is that one serving is just half the cookie. If you can stop yourself at just half a cookie, or have a friend to split it with, then this is a good option as a post-dinner treat.6254a4d1642c605c54bf1cab17d50f1e
Siggi's 4% Whole-Milk Skyr, Mixed Berries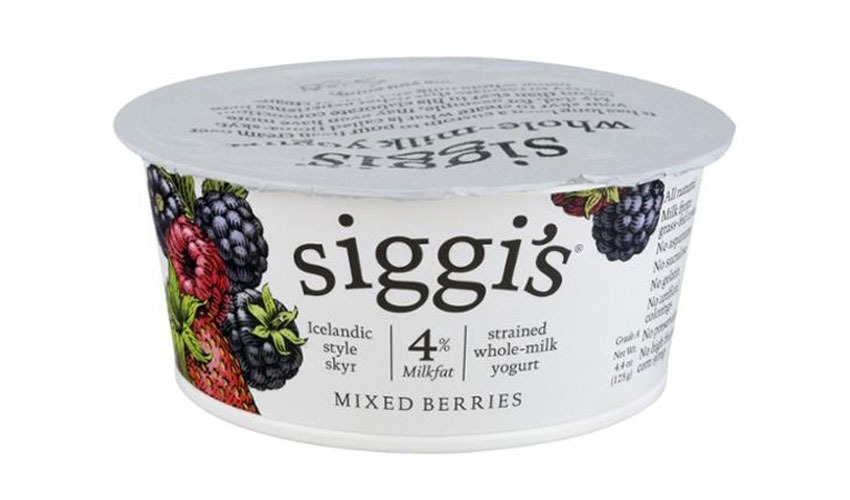 Per 4.4 oz: 140 calories, 4.5 g fat (3 g saturated fat), 55 mg sodium, 12 g carbs (0 g fiber, 8 g sugar), 12 g protein
This Icelandic-style yogurt is among the most creamy and concentrated on the dairy aisle, making it feel like a much more decadent and indulgent treat than it really is. Although it's full-fat, that still translates to less than 5 grams of fat and just 140 calories. Plus, the ingredients are simple; we love that Siggi's flavors this yogurt with real berries and just a hint of cane sugar, making it just 8 grams of sugar per serving.
Clif Bar Nut Butter Filled Chocolate Hazelnut
Per bar (50 g): 230 calories, 11 g fat (2 g saturated fat), 160 mg sodium, 27 g carbs (3 g fiber, 10 g sugar), 7 g protein
Clif bars tend to be high in calories and are typically reserved for a breakfast replacement or a replenishing snack after a particularly difficult workout. But this bar is 230 calories, which is more on the modest side for Clif. Plus, the chocolate hazelnut filling seems a lot more indulgent than it is at just 10 grams of sugar. Although this shouldn't be a regular after-dinner treat, it's a great alternative for people who crave Nutella.
KIND Caramel Almond and Sea Salt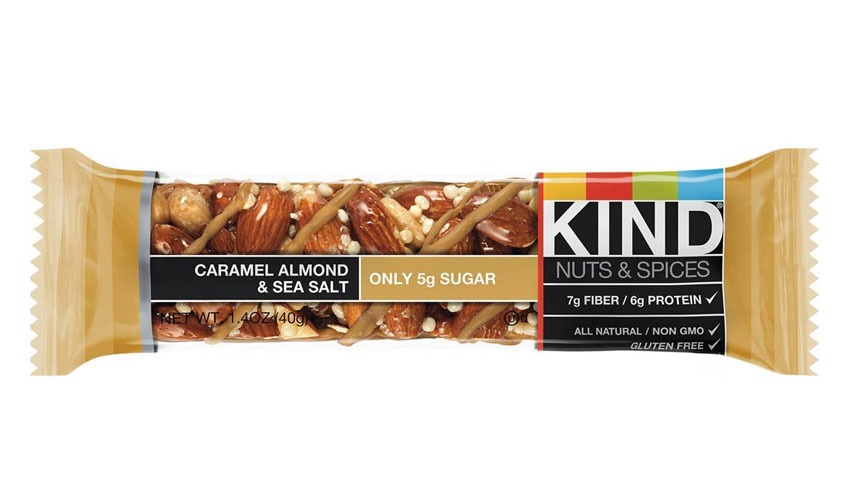 Per 1 bar: 200 calories, 16 g fat (3 g saturated fat), 125 mg sodium, 15 g carbs, 7 g fiber, 5 g sugar, 6 g protein
For a bar whose name contains a sugar-based ingredient, this Caramel Almond & Sea Salt bar is surprisingly low in total sugar while being high in fiber and protein. On top of fiber-rich chicory root, almonds are actually another addition to the high fiber content. With 7 grams of filling fiber and 6 grams of protein, this bar will leave you feeling satiated and satisfied after dinner.