Weight Loss Recipes for Frozen Banana Ice Cream
There's plenty of weight loss advice out there that sounds ridiculous to food lovers looking to slim down. Fast for 16 hours. Pass on the bread. Eat fruit for dessert.
That's where this creamy vegan staple, banana ice cream (or "nice cream") comes in; you can transform the frozen fruit into an all-natural ice cream that should satisfy your craving for something sweet – and something more indulgent-feeling than a simple piece of fruit. To feel truly smug as you enjoy your sweet, choose slightly underripe bananas. They pack more resistant starch than their ripe, spotted brothers. This type of carb, which resists the digestion process, improves blood sugar control, prolongs feeling of fullness and even leads to a great post-meal calorie burn. Slimming soft serve, anyone?
We found the best banana ice cream recipes from around the web, which range from deliciously simple to crave-worthy creative, to make sure you would have a healthy dessert for any and every craving. Break out the blender and enjoy.
Note: Two bananas, the typical serving in banana ice cream recipes, have 28.9 grams of sugar. Since the base and sweetener of this dessert is frozen bananas, we found recipes that called for no more than 5 grams of added sugar on top of the sugar count from the fruit.
Avocado-Banana Soft Serve Ice Cream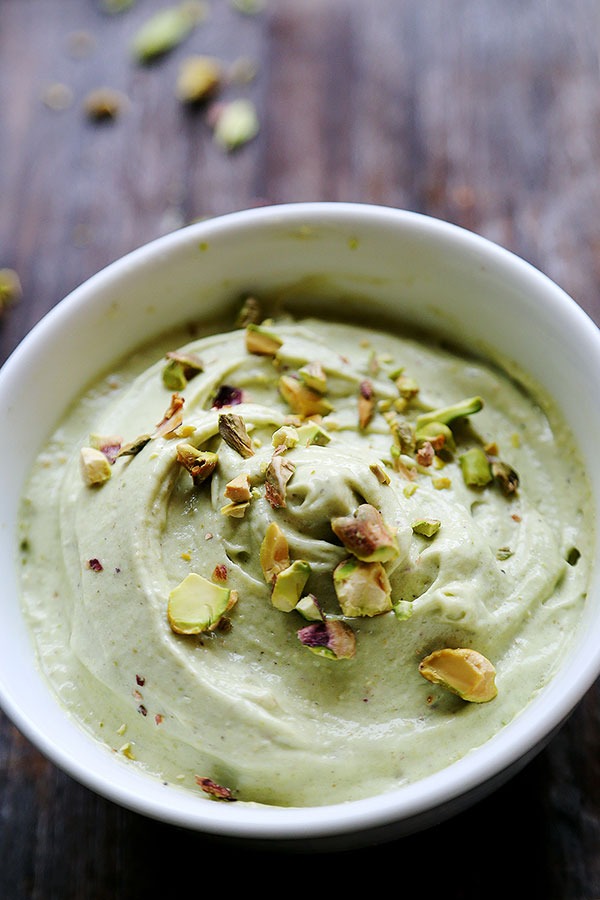 Serves: 2
Nutrition: 316 calories, 18.8 g fat, 4.4 g sat fat, 36.6 g carbs, 8.6 g fiber, 16.3 g sugar, 5.7 g protein
If you're willing to try a sweet take on this healthy eating favorite, you'll be rewarded with a creamy ice cream you'd never guess was dairy-free – that also packs all the impressive health benefits of avocado. And, unlike those sugar-sweetened pints that disappear in an episode of The Daily Show, this is one ice cream that will thoroughly satisfy with one serving. Avocado, pistachios and coconut flakes team up to squash your hunger and cravings with a dose of healthy fats and fiber (another thing missing from your Moose Tracks). All you have to do is blend, eat and enjoy – guilt-free.
Get the recipe from Divine Healthy Food.
Serves: 4 kids, or 2 adults
Nutrition: (recipe divided in 4) 121 calories, 4.6 g fat, 0.9 g sat fat, 18.7 g carbs, 3.1 g fiber, 8.7 g sugar, 3 g protein
Dessert's power duo – chocolate and peanut butter – team up to bring this banana soft serve a hefty dose of, yes, deliciousness, but also antioxidants and healthy fats. And with this ice cream alternative's velvety texture, the little ones will never know they're getting a healthy serving of fruit for dessert – and some protein. Just make sure you're picking a jar of the childhood favorite that has a simple ingredients label. Nut butter can hide trans fat, excess sugar and high fructose corn syrup if you don't read carefully. We love these healthy peanut butters for their commitment to the most important ingredient: peanuts.
Get the recipe from The Lemon Bowl.
Pumpkin Spice "Ice Cream"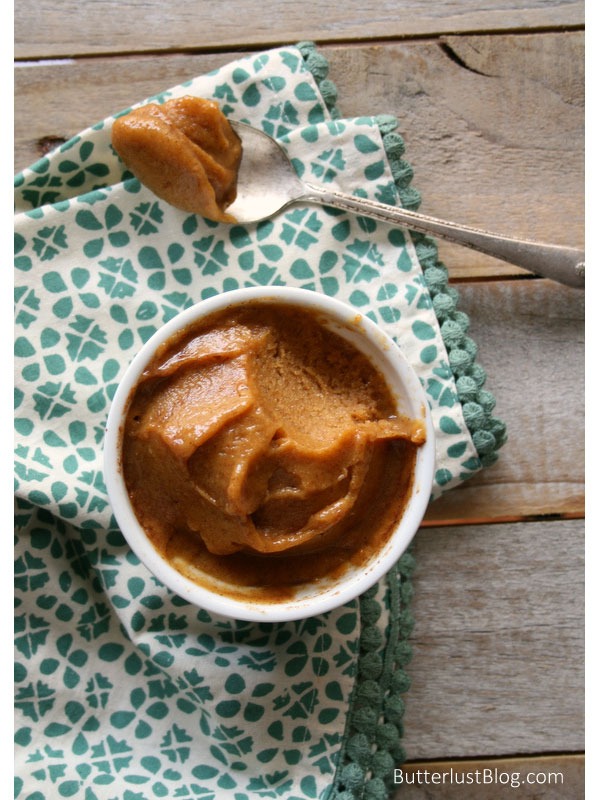 6254a4d1642c605c54bf1cab17d50f1e
Serves: 2
Nutrition: 140 calories, 0.7 g fat, 0.3 g sat fat, 35.5 g carbs, 6.4 g fiber, 17.6 g sugar, 2.4 g protein (calculated without sweetener)
Unlike the classic Thanksgiving treat it's inspired by, this recipe comes together in a matter of minutes, making it perfect for sweet tooth attacks. Pairing bananas with pumpkin amps up the fiber content of this dessert – which will keep you full and satisfied – without too many additional calories. That means, even if you go back for more, you won't undo your weight loss. Along with those spoonfuls of the fall squash you add to this recipe, you'll also get enough essential vitamins and minerals to boost immunity. There's your excuse to make a batch any time of the year.
Get the recipe from Butterlust.
Serves: 2
Nutrition: 329 calories, 11.9 g fat, 8.1 g sat fat, 53.5 g carbs, 7 g fiber, 14.9 g sugar, 3.6 g protein (calculated with 1 Tbsp unsweetened coconut flakes and 1/2 oz cacao nibs as garnish)
Just two natural ingredients go into this creamy dish: frozen bananas and cherries. (If you find that they're frozen a little too firm to blend, let them sit out for a couple minutes or add just a splash of one of these unsweetened milk alternatives.) We love that this dessert derives its sweetness entirely from nature (which comes hand in hand with plenty of fiber) instead of the sugar and high-fructose corn syrup you find in pints throughout the ice cream aisle at the supermarket. A sprinkling of unsweetened coconut flakes adds satiating fats to keep you feeling satisfied long after you've polished off your dish.
Get the recipe from The Casual Craftlete.
Lemon-Blueberry Banana Ice Cream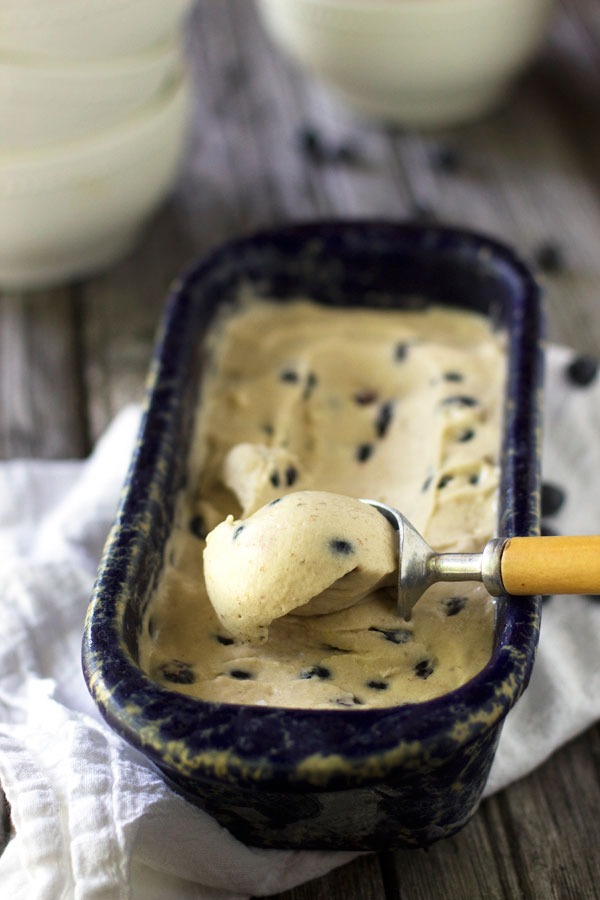 Serves: 4
Nutrition: 308 calories, 14.7 g fat, 12.2 g sat fat, 46.1 g carbs, 5.5 g fiber, 25.7 g sugar, 2.2 g protein (calculated without sweetener)
If you have more time on your hands or forgot to pre-freeze your bananas, whip up a batch of this zest-spiked "nice cream." Though you'll need an ice cream maker, the result is well worth the extra step. Since this recipe calls for very ripe bananas – which tend to be sweeter than their green-tinged brothers because the sugars concentrate as they age – we nixed the sweetener in this recipe. Trust us, you won't miss it. Paired with a gentle swirl of fresh blueberries, it will satisfy your sweet tooth naturally. Even better, these healthy fruits block fat cell formation and help prevent cancer, diabetes and age-related memory changes.
Get the recipe from Worth Cooking.
Chocolate-Banana Ice Cream
Serves: 2
Nutrition: 111 calories, 0.7 g fat, 0 g sat fat, 28.4 g carbs, 3.9 g fiber, 14.5 g sugar, 1.8 g protein
Chocolate ice cream without the guilt – or the ice cream maker. Two ingredients and some time in the blender are all it takes to sit down with a bowl of a classic creamy dessert. If you're running to the store, make sure you stock up on non-alkalized cocoa, which has all of its health benefits intact and a richer flavor than alkalized versions. Though green-tinted bananas provide the most healthy resistant starch, if you're worried about the bitter cocoa, you can use riper bananas to balance the flavor naturally.
Get the recipe from As Easy as Apple Pie.
Toasted Coconut Banana Ice Cream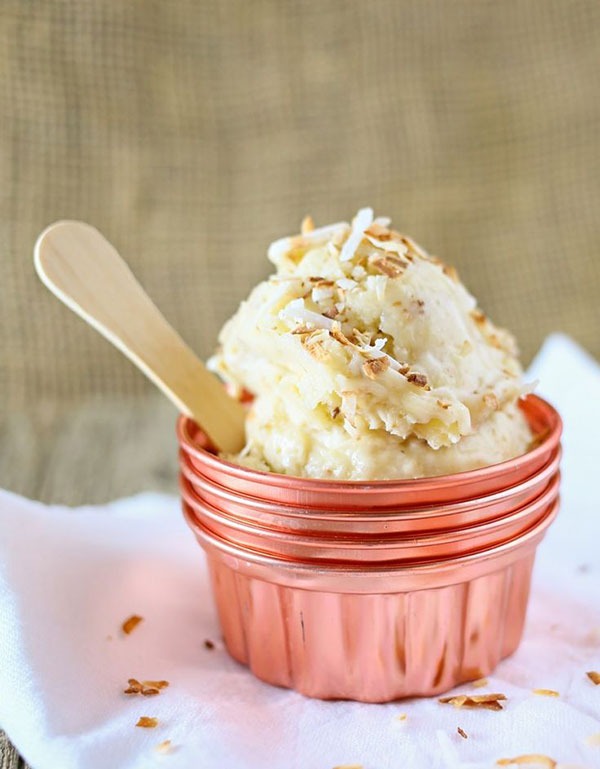 Serves: 4
Nutrition: 250 calories, 15.5 g fat, 13.4 g sat fat, 28 g carbs, 5.3 g fiber, 14.5 g sugar, 2.8 g protein
Digging into this soft serve is sure to remind you of two classic cream pies, all in one bowl. A generous amount of fiber and satiating healthy fats from the coconut milk keeps you full long after you've finished your treat so you'll feel satisfied cutting yourself off after one bowl. If you want to revel in a truly tropical treat, drizzle your bowl lightly with some spiced rum.
Get the recipe from Kleinworth & Co.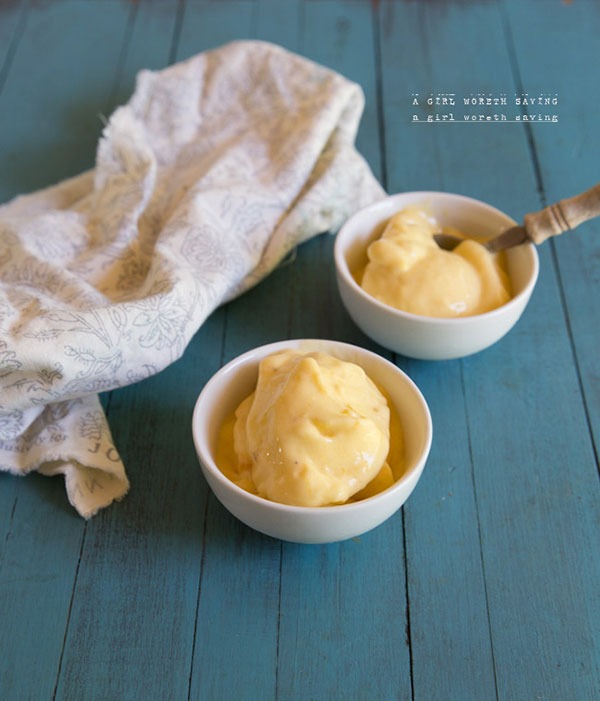 Serves: 4
Nutrition: 119 calories, 4.9 g fat, 4.3 g sat fat, 20.5 g carbs, 2.5 g fiber, 15.6 g sugar, 1.4 g protein (calculated without gelatin)
Enjoy the tropical flavors of summer with this easy and delicious combo. Frozen bananas and mango get a simple splash of coconut milk, and the blender does the rest. Don't let the saturated fat scare you away from this bowl, either. Coconut may be high in saturated fat, but more than half of that comes from lauric acid, a unique lipid you want battling for your total health. Lauric acid actually fights bacteria and improves cholesterol scores. Whip up a batch for your next backyard barbecue; they'll never know how easy it was. Note: If you're having vegan friends over, remember to omit the gelatin.
Get the recipe from A Girl Worth Saving.
Guiltless Banana Ice Cream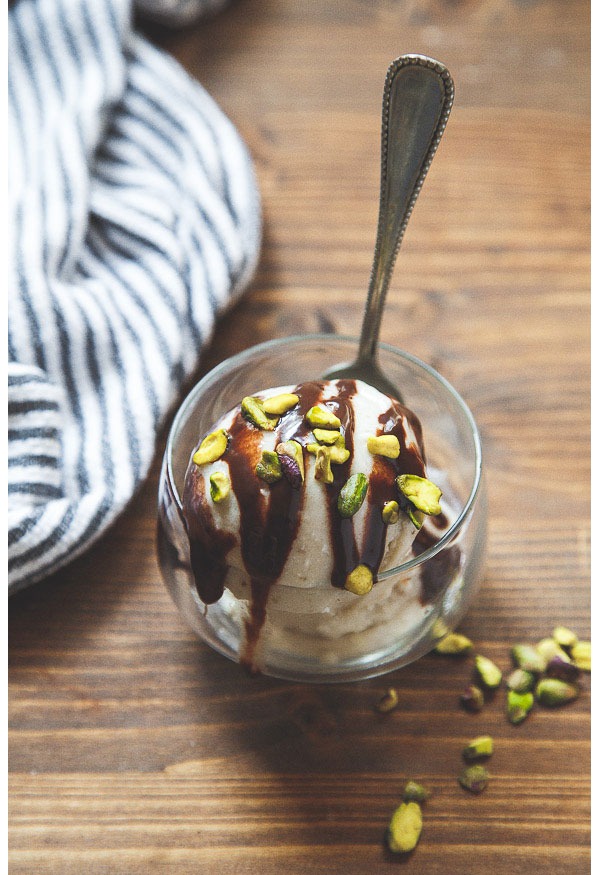 Serves: 2-4
Nutrition: (divided in 2) 338 calories, 10.9 g fat, 6 g sat fat, 60.8 g carbs, 8.1 g fiber, 33.8 g sugar, 5.3 g protein (calculated using coconut milk and with 1 Tbsp chocolate sauce from recipe and 1 Tbsp chopped pistachios)
Make these simple but satisfying sundaes when a small treat just won't cut it. Coconut milk lends velvety richness to the texture of the banana ice cream, and date-based chocolate sauce keeps the whole bowl vegan while adding a bit of an indulgence. Just make sure you don't ditch the pistachios just to save a couple calories. These verdant nuts boast a healthy dose of vitamin B6, which counteracts the stress hormone cortisol. This hormone grabs fatty acid that's released when you're stressed and stashes it in your stomach region, leading to excess belly fat over time. So sprinkle some nuts on your sundae to banish stress and protect your flat belly.
Get the recipe from Dessert for Two.
DON'T DIET. EAT! Discover 1,000s of slimming swaps and tasty recipes in the new Eat This, Not That! magazine—subscribe now and get half off plus a free cookbook!