19 Of The Weirdest Foods From Your Childhood You Totally Forgot About
If you had a Wonder Ball in your lunchbox, you were a king.
The '80s and '90s were weird times, with trends like frosted tips on your hair, denim everything, and purple ketchup for hotdogs. Even though some of the strange foods from a time not-so-long-ago aren't on shelves at the grocery store anymore, we couldn't help but take a trip down memory lane. We've rounded up 19 of the weirdest foods from your childhood you totally forgot about, so take a trip into the past and reminisce about some of these strange food offerings of yesteryear.
And for even more nostalgia, don't miss these 33 Super Popular Snacks From Your Childhood That Are Discontinued.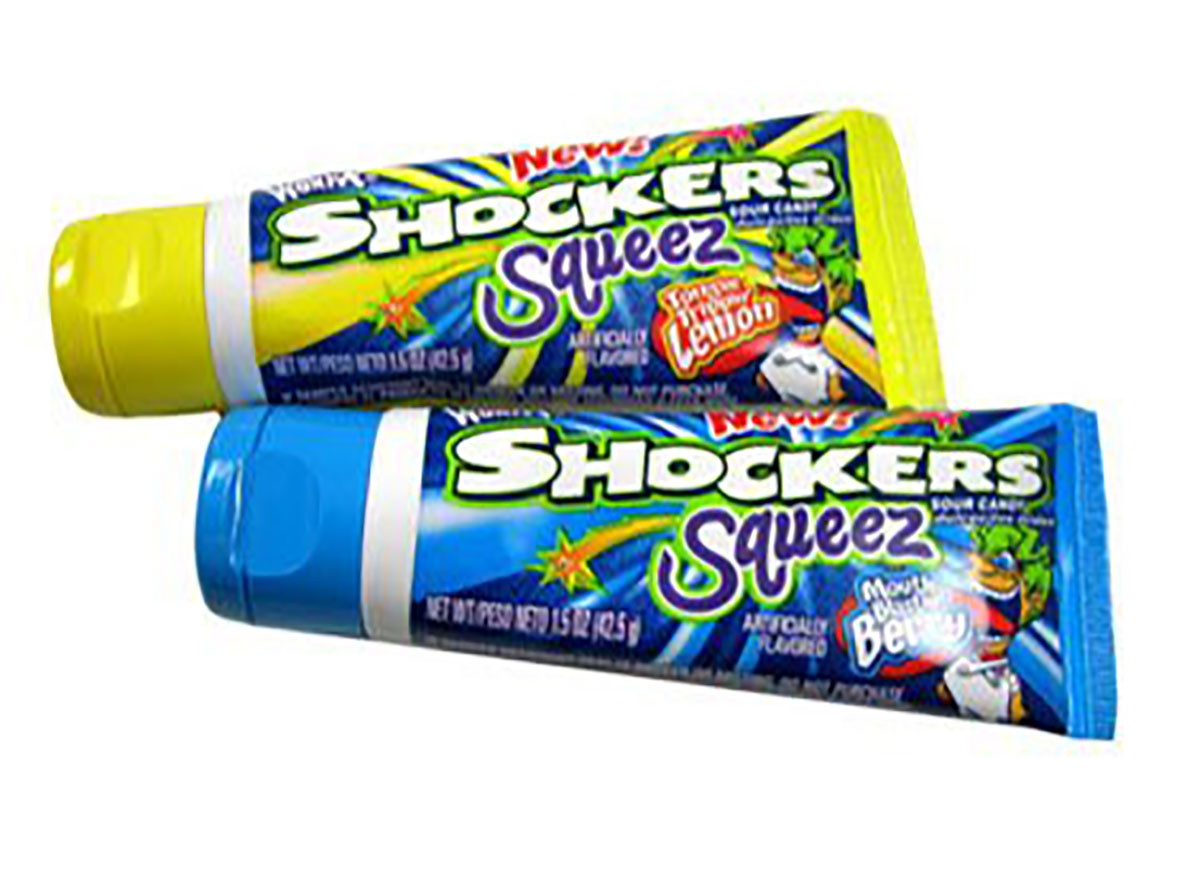 This weird '90s candy was supposed to be inspired by the candy tablets but in gel form. It was presented in a tube that looked similar to toothpaste and was super sour. The only thing that rivaled these in the sour candy category was War Heads. Most kids just squeezed the candy goo right into their mouths all at once, but more civilized kids in the '90s knew the best way to eat this was to squeeze a little at a time to make the candy last longer.
Jell-O was all the rage in the '90s, especially as molds or jigglers. The Jell-O Jigglers each had a separate recipe on how to make them on the back of the boxes. If you were a really cool '90s kid, your parents had the fun molds that were sold in grocery stores around holidays, like snowflakes and Santa for Christmas and beans for Easter to look like jellybeans. Honestly, these are still good and deserve a spot at any summer cookout.
EZ Squirt Colored Ketchup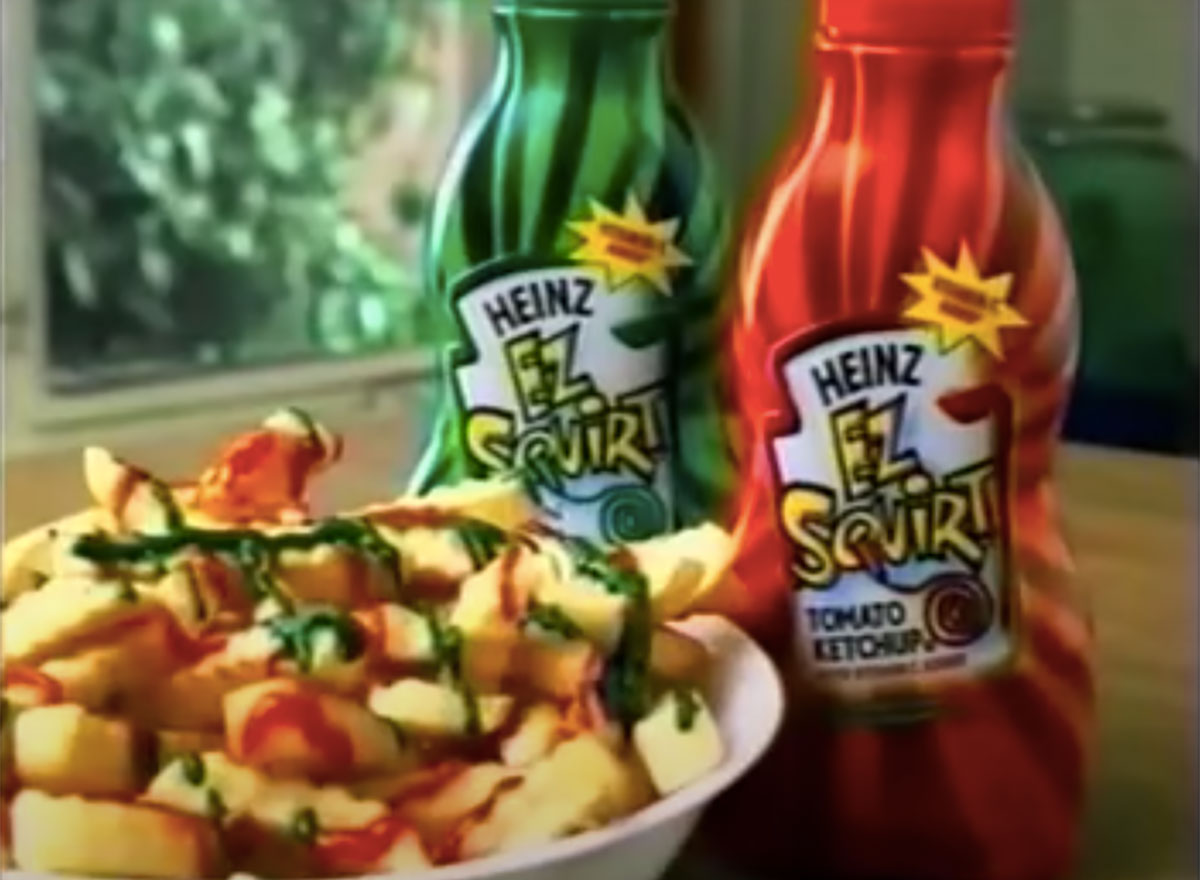 The late '90s and early 2000s were a weird time for food. Everything was brightly colored or had some sort of animal mascot. And one item really fits the bill on this: EZ Squirt colored ketchup. The condiment came in a Barney-like purple or Hulk-like green.
Most of the time, this weird food made its appearance at Scout meetings or swim parties, and kids would squeeze this all over boiled hot dogs and oven-cooked fries for lunch. Having the green or purple ketchup made most '90s kids feel like they were living in the lap of luxury.
And to keep the nostalgia going, here are 11 Childhood Ice Cream Treats You Totally Forgot About.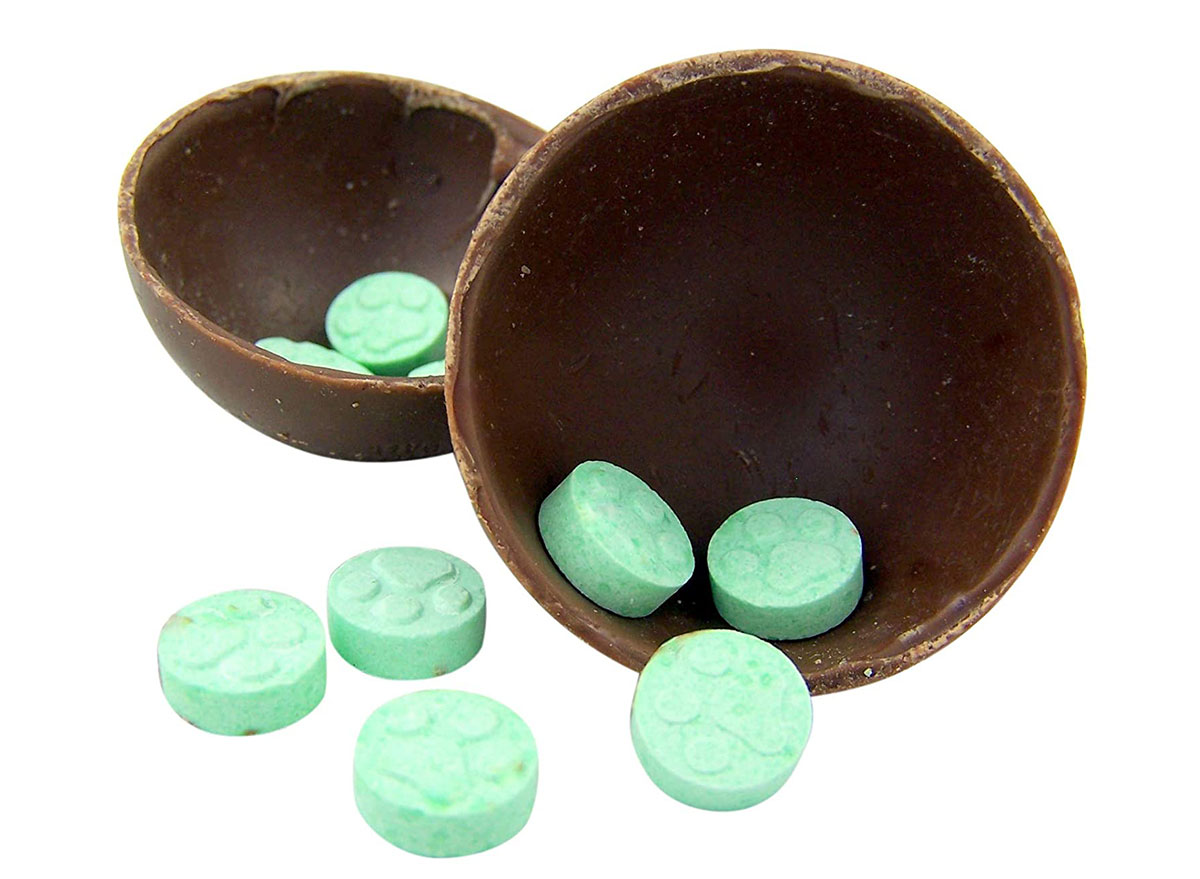 The candy aisle at the grocery store checkout was a treasure trove just waiting to be explored. One candy concoction that kids begged for was a Wonder Ball. The packaging had a theme, whether it was princesses, animals, or superheroes. Once inside the box, a chocolate ball was wrapped in foil, and inside that chocolate ball were hard, chalky candies shaped like the theme of the Wonder Ball. There was also some sort of prize, like a sticker or temporary tattoo that your parents usually ended up throwing away.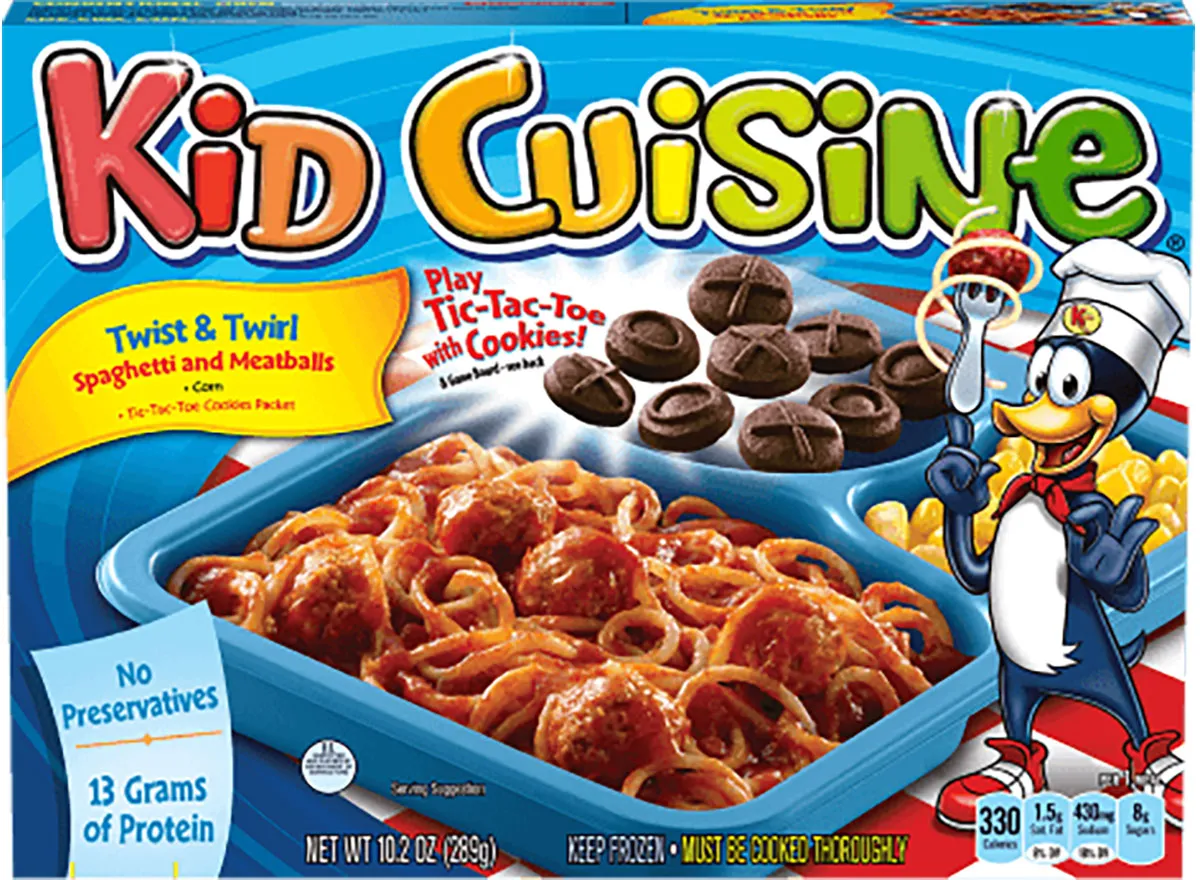 TV dinners were all the rage in the '90s, and coming home late after soccer practice sometimes meant your parents didn't want to cook. That's where these Kid Cuisine frozen dinners stepped in to save the day. Every kid knew the best one was the chicken nugget one with corn, macaroni and cheese, and that brownie with sprinkles. Somehow, your parents always watched you as you ate the TV dinner to be sure you ate all of the chicken and corn before diving into that sweet (but overcooked) chocolatey brownie.
And for more fond memories, don't miss these 35 Snacks From Your Childhood You Forgot You Loved.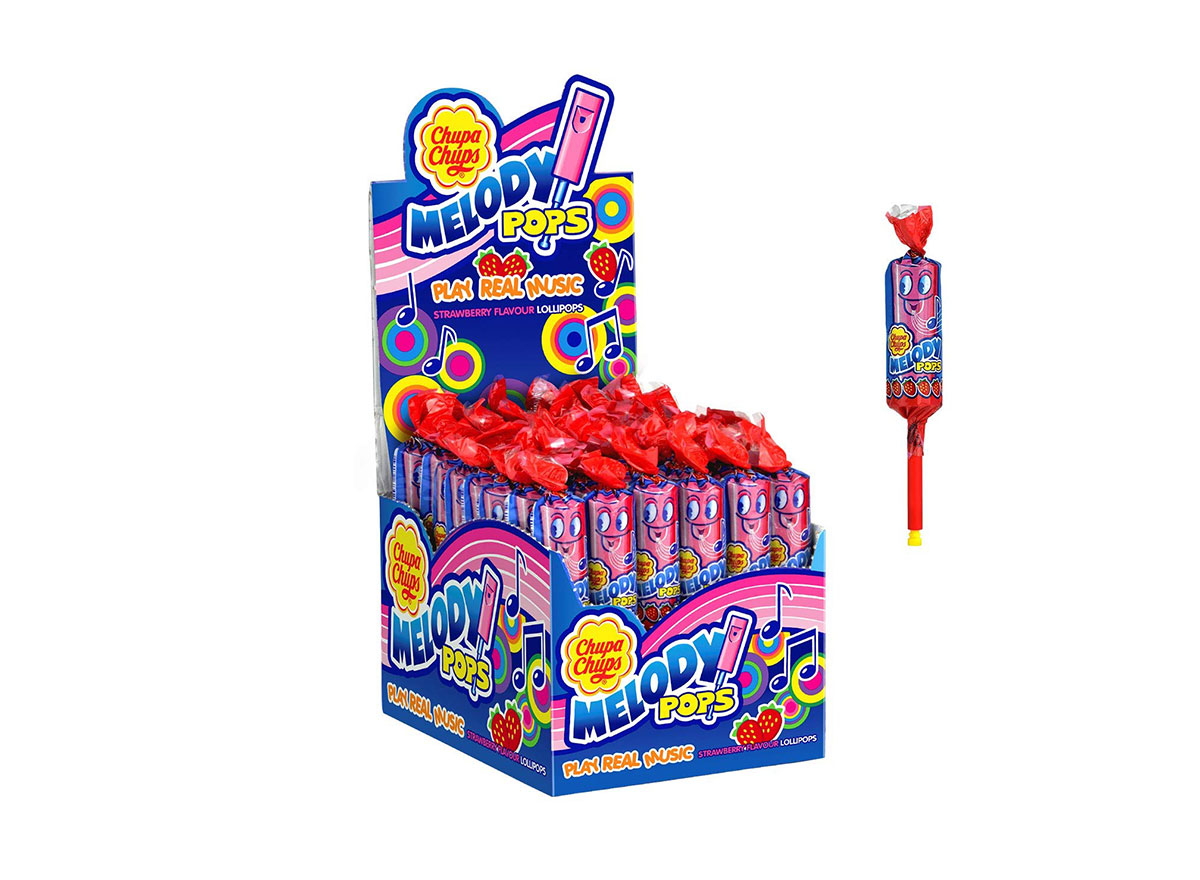 Melody Pops were the bane of parents, teachers, and pretty much anyone who had to be around kids. These weird lollipops looked kind of like a recorder but had a stick inside that was able to move up and down to create a different tone instead of using your fingers to cover holes. The sounds that came out of the so-called Melody Pops were anything but delightful. They were usually high-pitched squeals and ear-piercing scratches that '90s kids usually thought sounded great but never did.
The pops lost most kids' interest after the sugar began to disintegrate where you blew in to make the noise or the stick popped out of the pop completely.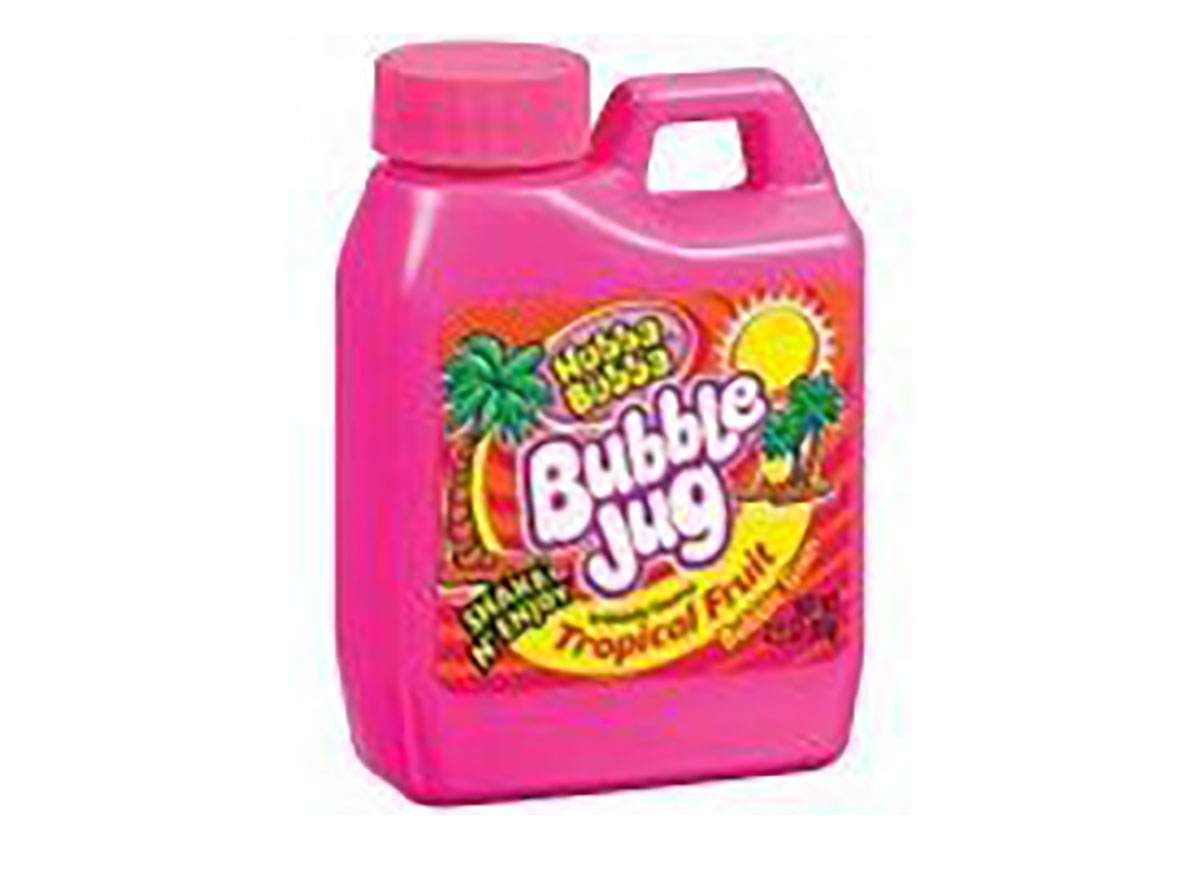 It's already weird that gum somehow got into a tiny jug, but the fact that it came out as a powder was even weirder. Then, as you finally got the powder in your mouth and started chewing, it magically transformed into real chewing gum, which was always an odd sensation to experience. Usually, your parents didn't buy this for you because it was messy, and the thought of swallowing a whole jug of gum without chewing it seemed dangerous. But if you had a cool aunt or uncle or could somehow convince a grandparent to buy it for you, it was a great day!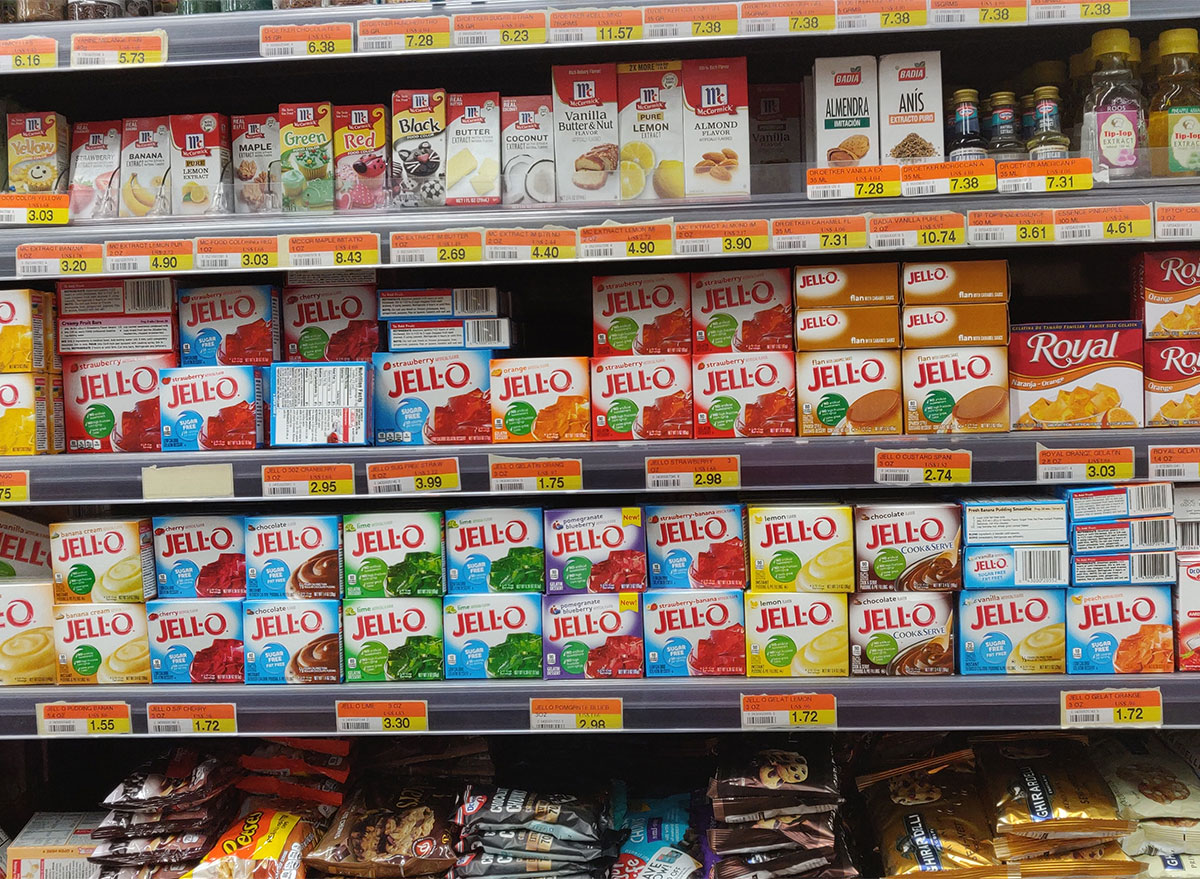 These strange chewy Jell-O snacks were never a hit but somehow still have groups of people wanting them back on shelves in the grocery store. The Jell-O gummies came in three flavors: chocolate, vanilla, and strawberry. The pudding bites had almost no flavor and were so chewy that it was a challenge to even get through one, let alone finish a whole package. These are one snack we're glad stayed in the '90s with no hope of coming back.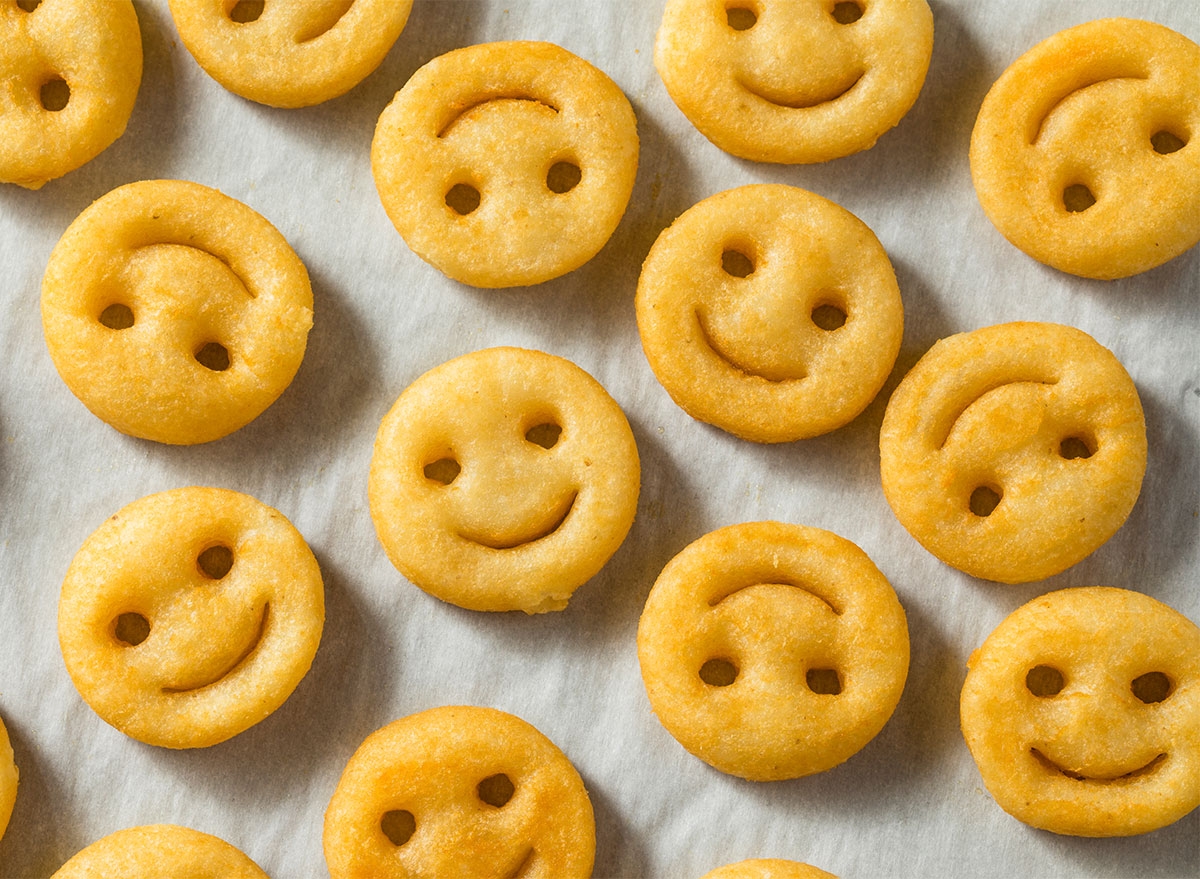 Kids who loved tater tots loved Potato Smileys even more. The strange little disks of potato were baked in the oven and placed on lunch and diner plates across the country. The best part about these was that there were cutout eyes and a smile right in the disk! Kids would try to take the ketchup from each other to draw out more unique features like eyebrows, a nose, or a mustache on these before devouring. Even though these are long gone, we not-so-secretly wish they would make a comeback.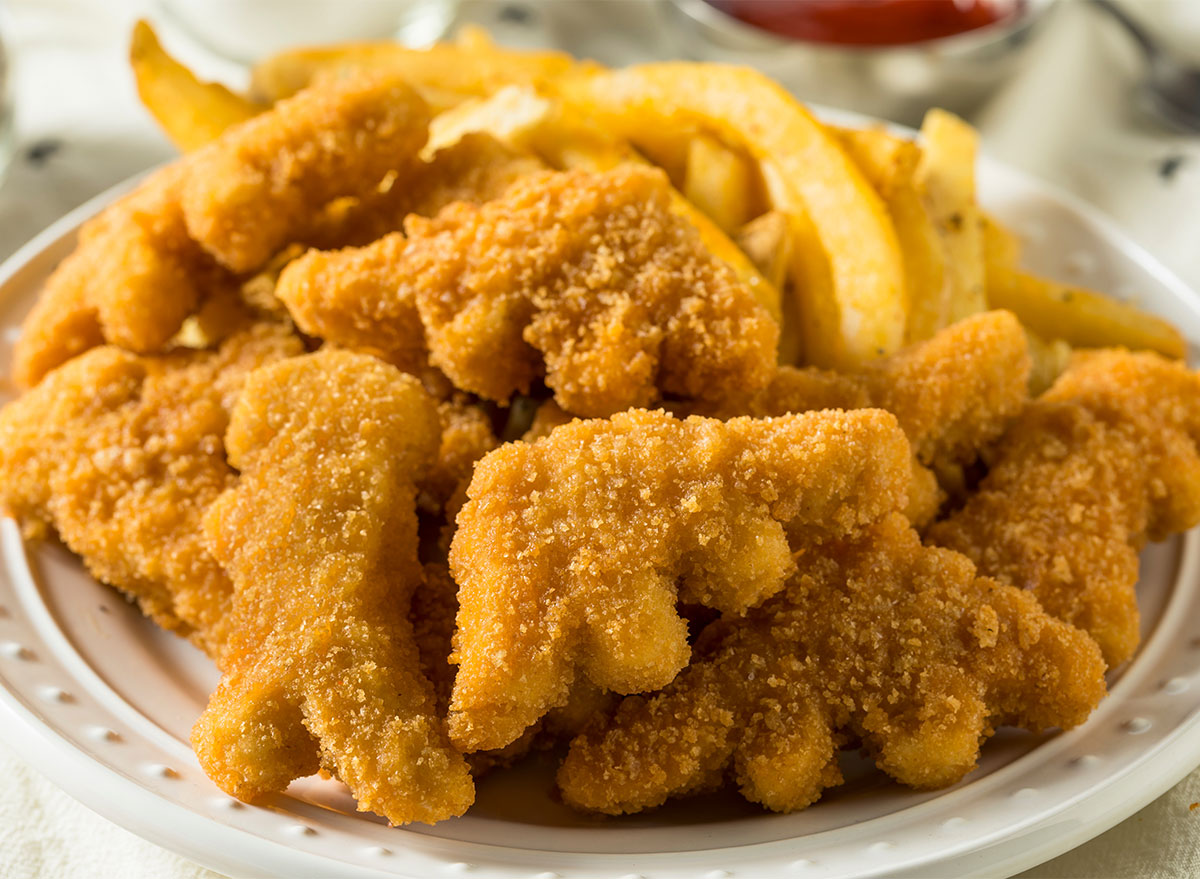 Dinosaurs have always been cool, but after the debut of Jurassic Park in 1993, dinosaurs became even cooler with the kids of America. When dinner time rolled around, the only thing worth getting was dinosaur nuggets so you could act out the scenes from the movie, with Jeff Goldblum and the massive T-Rex right at the dinner table. The dino nuggets have even made a resurgence in recent years at big-box stores.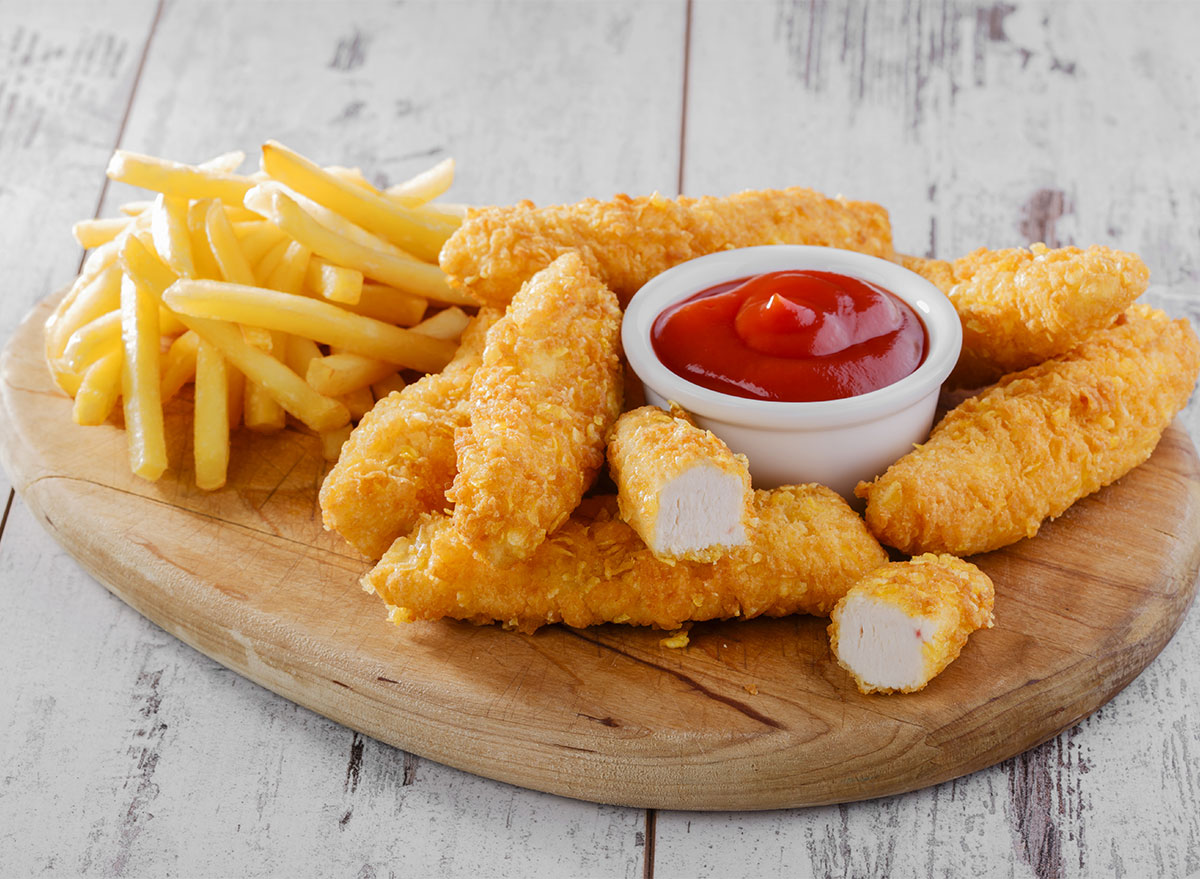 Chicken fries were one of the more interesting selections from the freezer aisle (and the Burger King menu) back in the day. The thin strips of chicken were coated, fried, and frozen to look just like French fries. Then when you got them home they were baked in the oven to reheat them before dunking into ketchup and eating. The shape might have fooled some kids into eating them, but after that first bite, everything usually went downhill. These are still on sale at some stores, but they should have stayed in the past.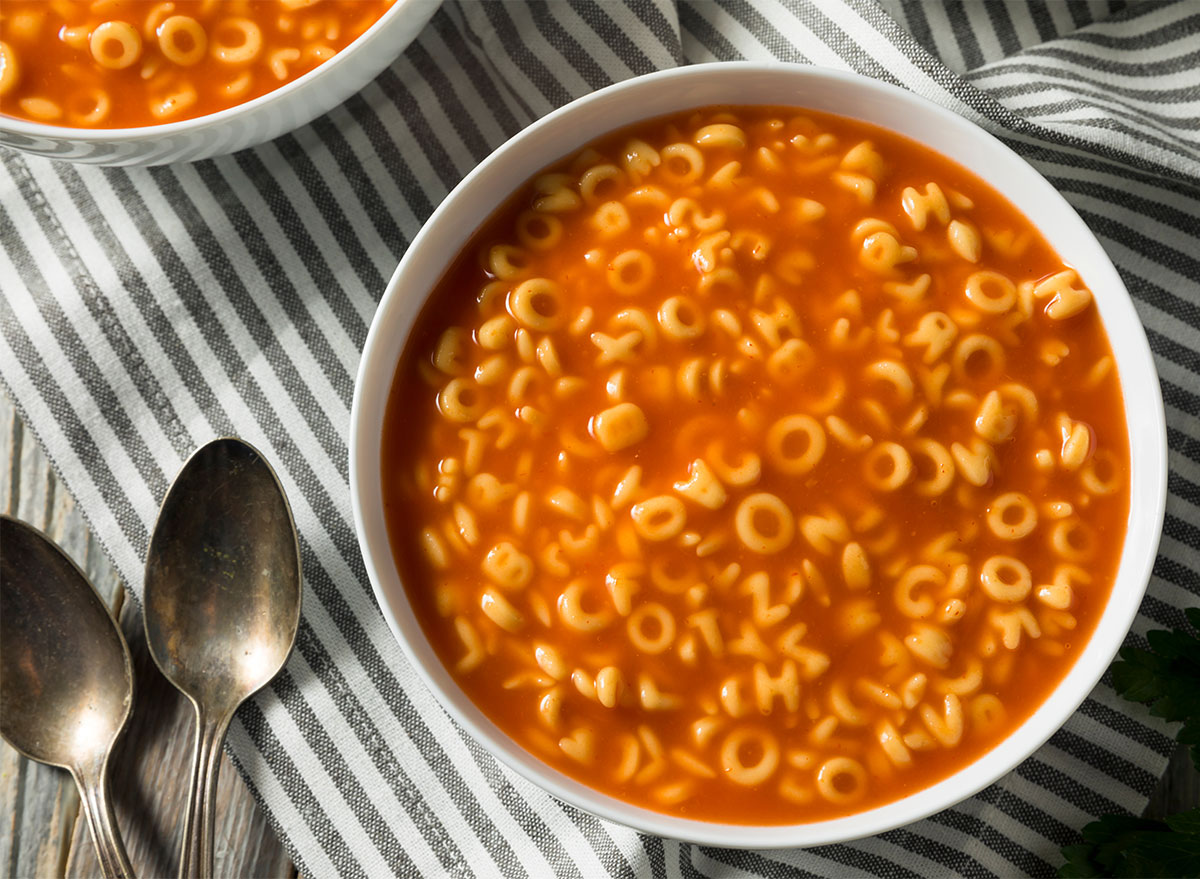 There was nothing like coming home on a cold day after playing outside with the other neighborhood kids to find out that your mom had heated up a can of alphabet soup for you. The tomato-based soup was filled with all 26 letters from the alphabet. The best part about this soup wasn't the taste, but spelling out words, names, or places.
Alphabet soup gave a whole new meaning to the term playing with your food. And usually, because you were spelling, your mom didn't yell at you for not eating your lunch.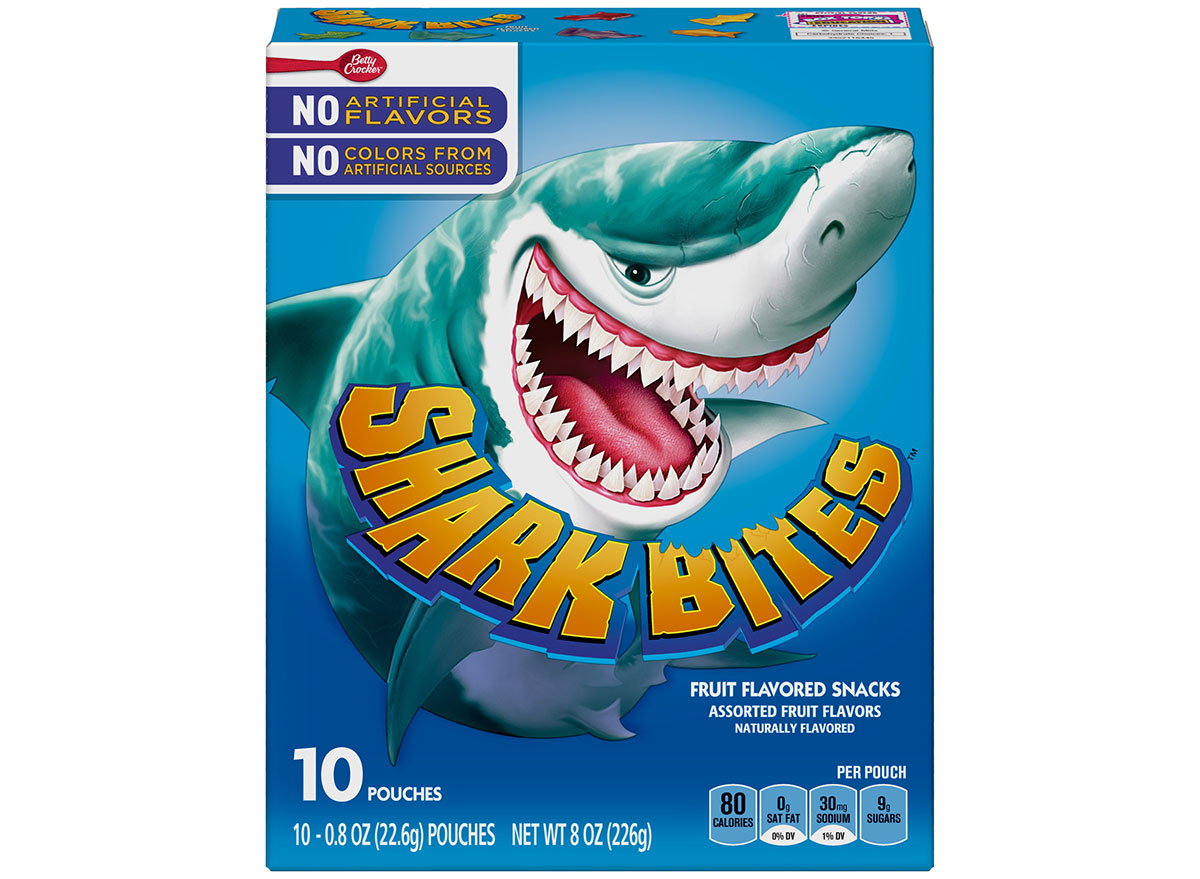 6254a4d1642c605c54bf1cab17d50f1e
If the name "Shark Bites" didn't freak you out as a kid, getting a whole pack of white gummy sharks sure did. These gummy snacks that made their way into a lot of school lunches were all shaped like different types of sharks, which automatically made them cool. Outside of the shape, the flavor of each shark wasn't great, and these were usually passed over for a better gummy snack like Gushers if you could persuade a parent to buy them at the grocery store.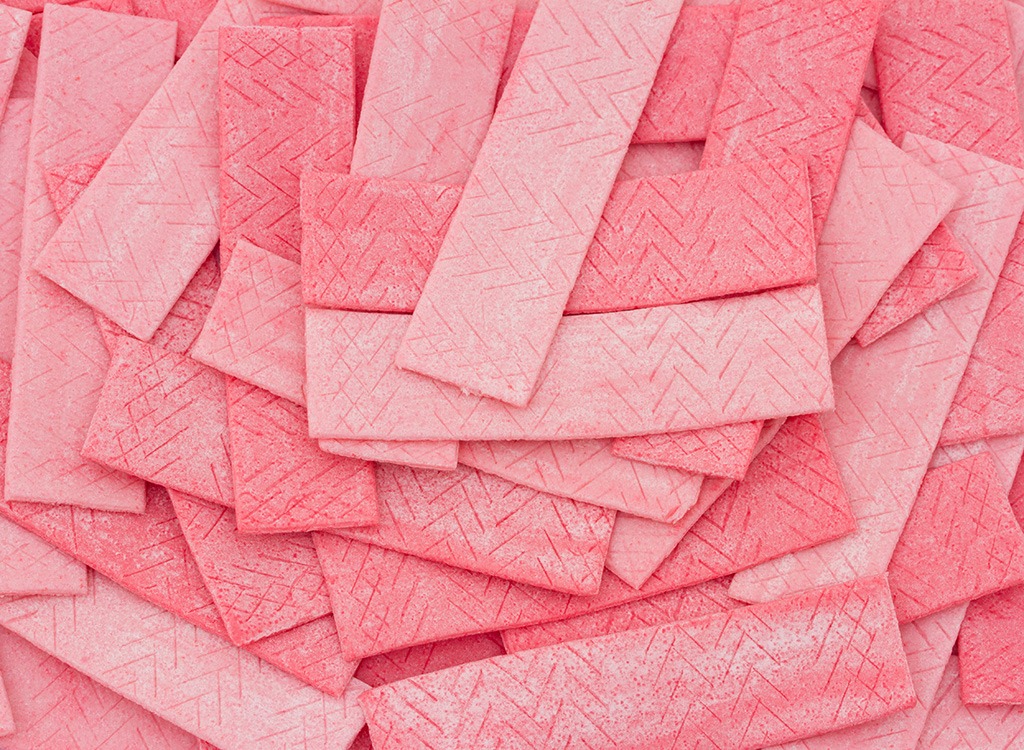 As if a jug of gum wasn't weird enough, putting the sticks of gum in a tin can that looked like a bandaid box was even weirder. The wrappers on each of the sticks of gum even looked like bandaids. This gum wasn't going to heal any scrapes you got out on the playground, though.
The gum came in three flavors—watermelon, grape, and strawberry—but the flavor only lasted for a few minutes before it was completely gone. This gum is still sold in specialty candy stores, but the tin can is no longer in production, so it's not the nostalgic gum we remember from our childhood.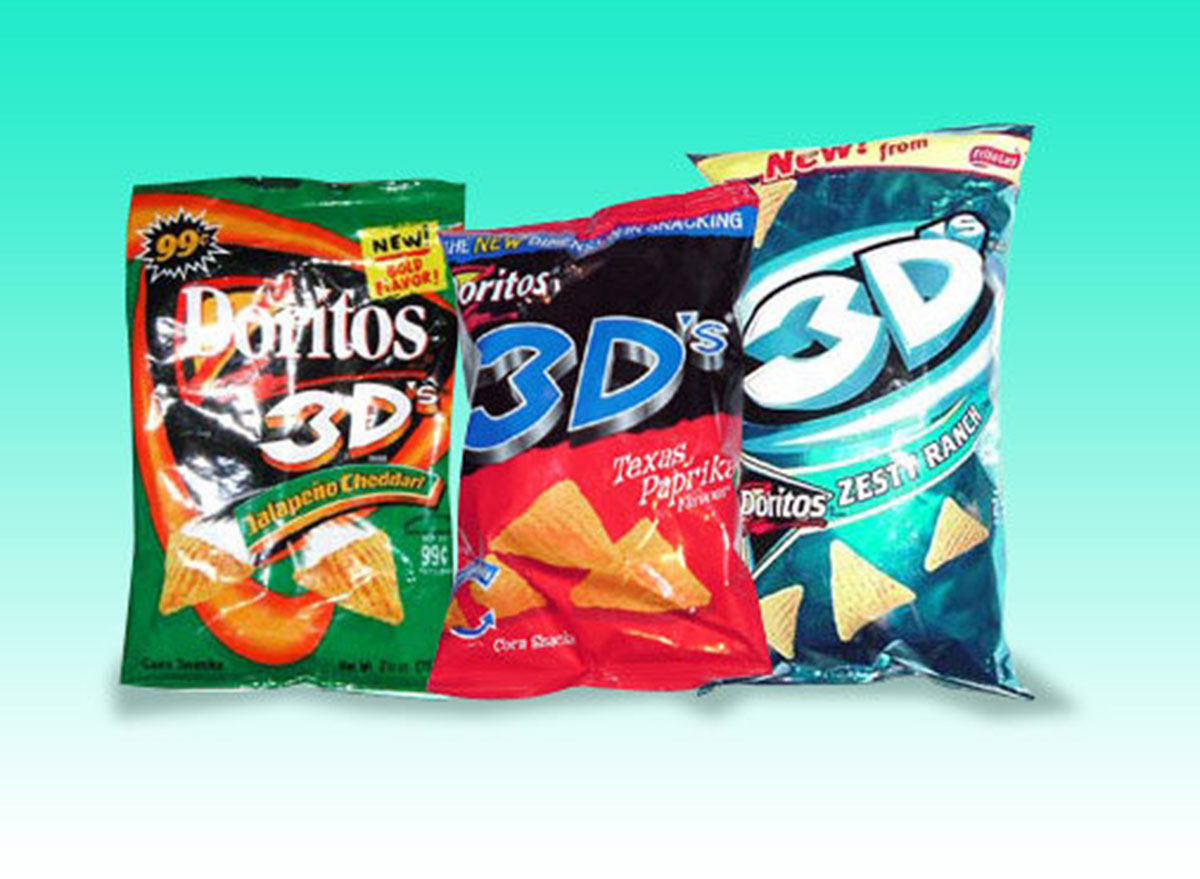 Chips have always been a favorite crunchy snack, but this was one of the weirder chip varieties to come out of the '90s. The chip was almost as if Dorito flavor dust had been sprayed on a Bugle. The chips came in a plastic tube that the lid popped off of and could be used as a serving vessel. That lid was the only real win of the chip, as most people's hands could not fit into the opening of the container to even get any of the chips out. Alas, these chips were discontinued in the early 2000s, only to remain a distant food memory.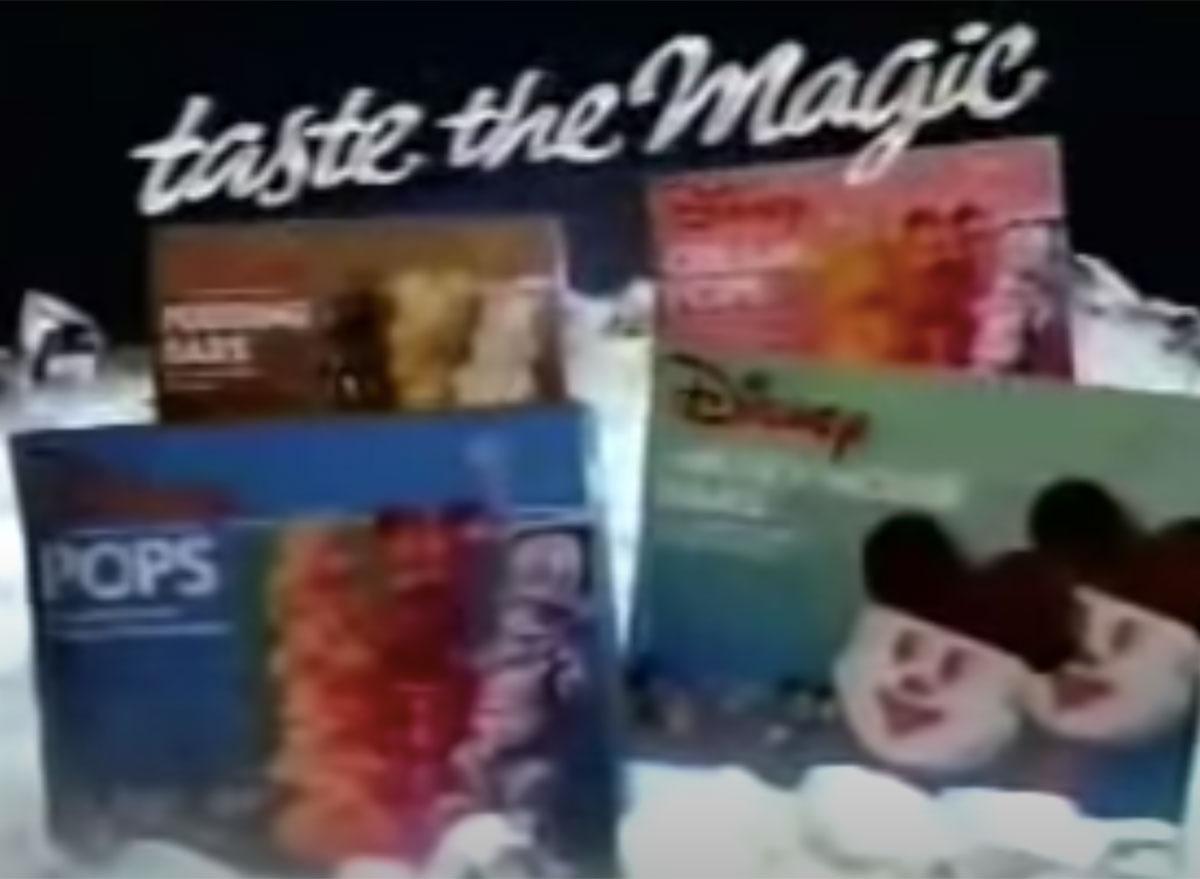 These looked so cool on the outside of the box, with Mickey Mouse, Minnie Mouse, Donald Duck, and Goofy all having a popsicle made in their likeness. Once the pops were out of the box, though, they never looked like the Disney pals we all know.
Each of the popsicles had a different flavor, and fighting over the best one (hello, orange) with your friends was always the worst part of eating these.
Hi-C Ecto Cooler Juice Boxes
Call the ghostbusters, because Hi-C Ecto Cooler Juice Boxes need to make a comeback from our childhood food dreams. The juice drink was made to help promote Ghostbusters, which premiered in 1984. The actual flavor was orange and tangerine, but thanks to some food coloring, the drink was bright green to match the color of Slimer from the movie. Drinking the Hi-C juice boxes made us feel like we could join Egon, Ray, Peter, and Winston on their next adventure.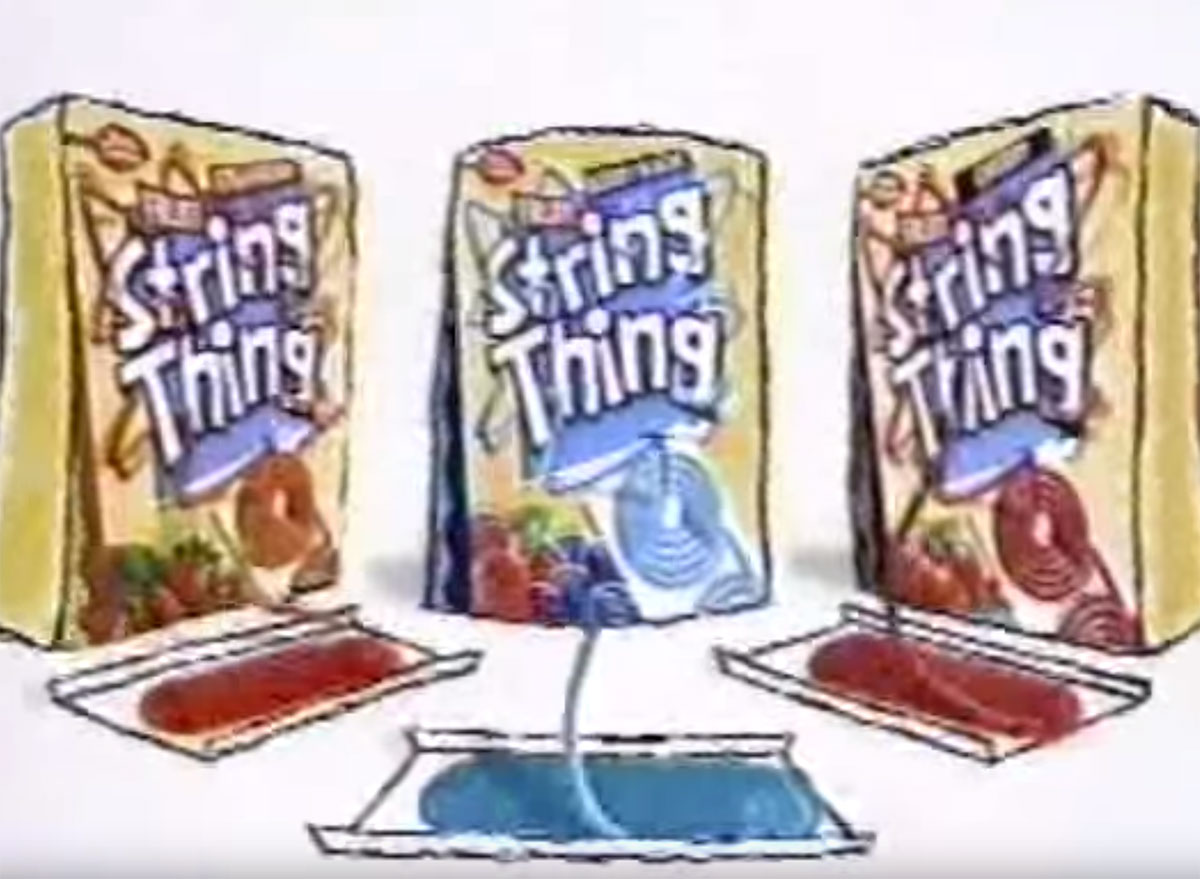 This was a rope-like fruit gummy that was twirled around like a fruit roll-up onto a plastic tray. These usually made it into lunch boxes but were never that great in the end. The gummy rope was hard to get through if you wanted to eat it a bite at a time. Even eating the whole thing at once was hard because of how chewy the snack was. Fruit Strings came in all sorts of flavors imaginable, but we still tried to trade them away at lunch.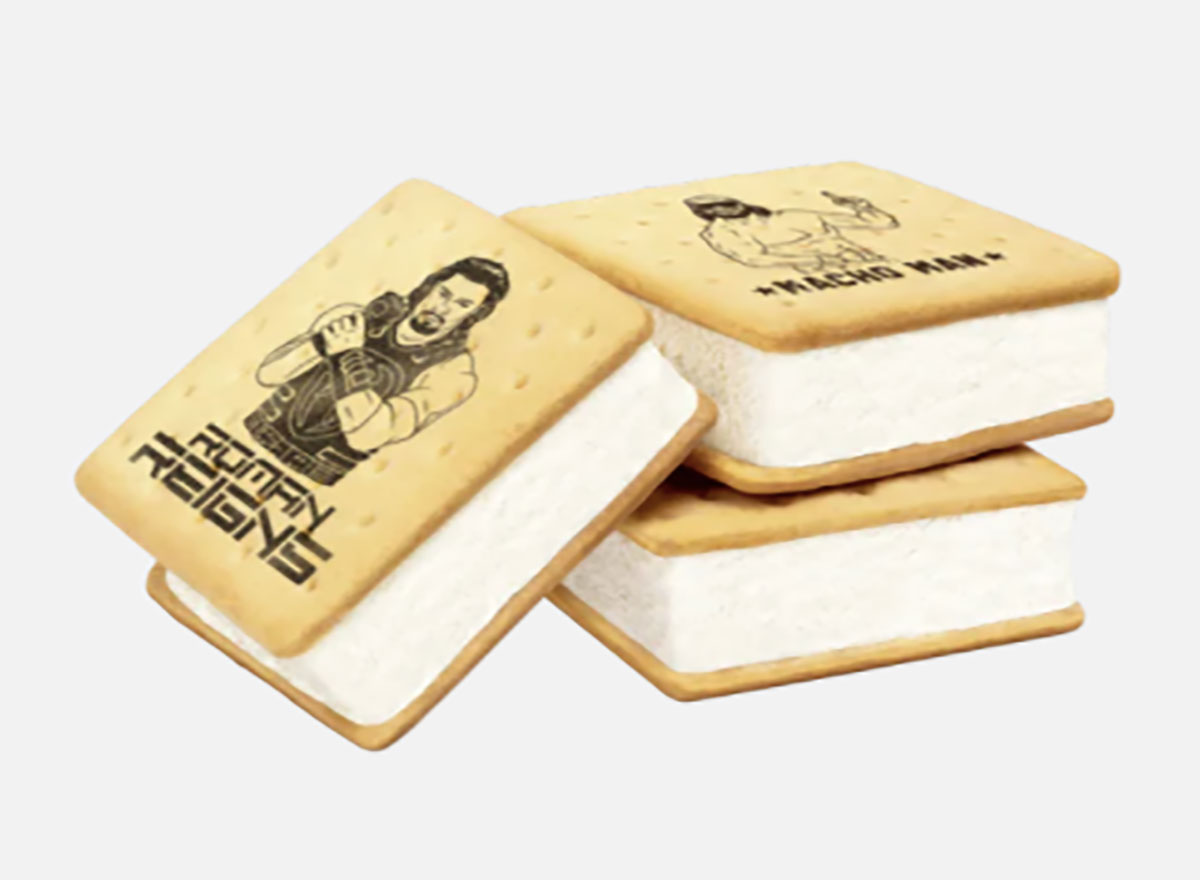 The ultra-cool WWE Ice Cream Bars, which were more like an ice cream sandwich on a stick, made their debut on grocery store freezer shelves in 1987. Each of the bars was imprinted with a wrestling star from back in the day, like Macho Man, Roman Reigns, Becky Lynch, and John Cena. Even though the ice cream bars were targeted to boys, little girls who used to watch wrestling with their parents would get these from the freezer whenever the fights came on, too.
And when you're cooking at home, don't miss these 52 Life-Changing Kitchen Hacks That'll Make You Enjoy Cooking Again.
Megan duBois
Megan duBois is a travel and lifestyle journalist with bylines across the internet and in print at Delish, Conde Nast Traveler, Travel + Leisure, Yahoo Lifestyle, and more.
Read more about Megan