20 Weird Frappuccino Flavors Starbucks Has Offered Over the Years
When Starbucks launched its first two Frappuccino flavors, coffee and mocha, in 1995, no one could have predicted the extent to which they'd explode in popularity and enter the mainstream. In the more than two decades since then, the brand has not been shy about experimenting with different flavor combinations.
Some Frappuccino flavors, like the limited-edition S'mores Frappuccino, have been met with great success. Others, like the Unicorn Frappuccino, were social media sensations. And some Frappuccino flavors have flopped entirely.
Here's a look at 20 of the weirdest Frappuccino flavors Starbucks has offered over the years. Some of them might look good to you, but others are sure to seem odd and unappetizing.
Fruitcake Frappuccino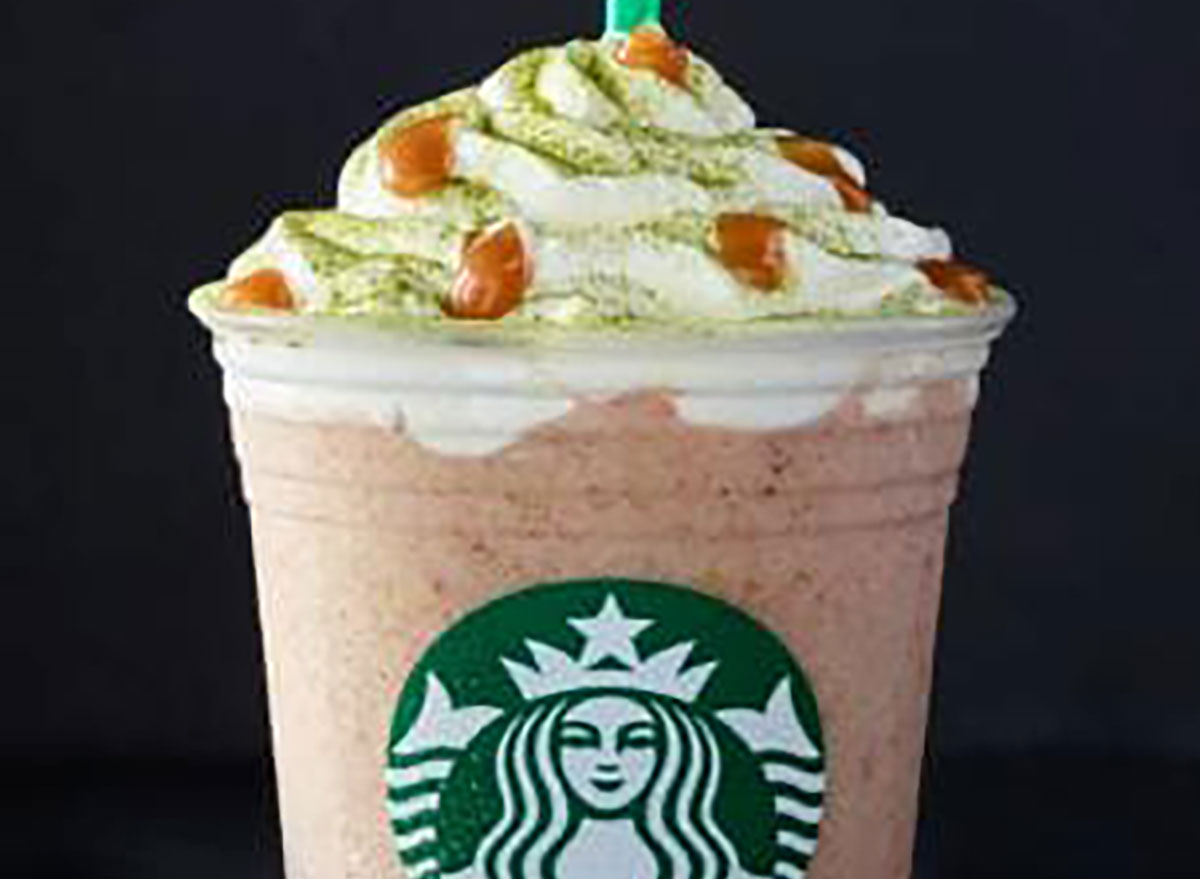 That's right, Starbucks created a Frap flavor modeled after the holiday cake that everyone loves to give and no one loves to receive. The Fruitcake Frappuccino featured a hazelnut crème base with dried fruit and cinnamon, topped with matcha (for some reason), caramel, and whipped cream. It was a super limited release, available only between December 15 and 18, 2016, at participating stores.
Cherry Blossom Frappuccino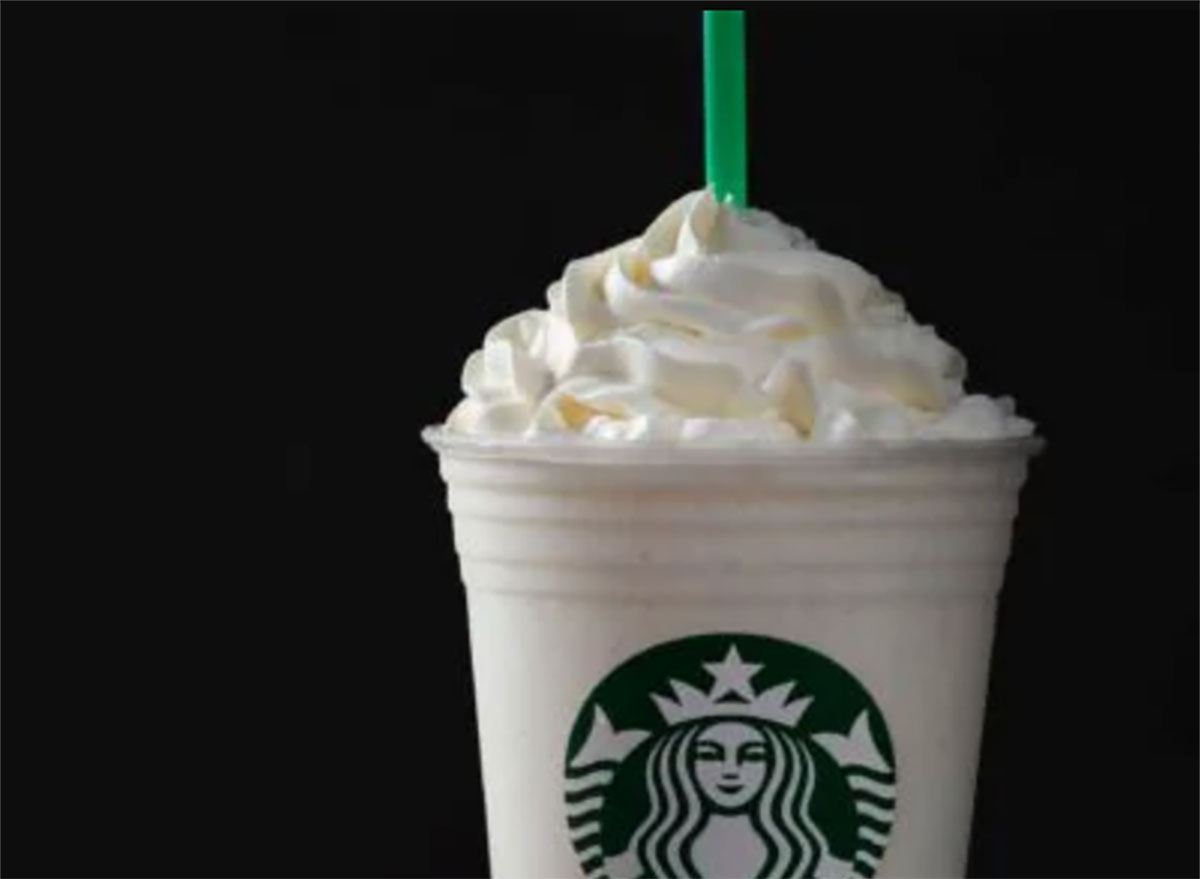 Let's be clear that this Frap isn't cherry blossom-flavored, but rather was inspired by cherry blossom season. The Cherry Blossom Frappuccino is usually only available in Japan during sakura (cherry blossom) season, but in 2016, the company brought it stateside for a limited springtime run, from March 15 to March 20. It featured a blended strawberry and cream base, a striped white chocolate sauce, matcha drizzle (which makes a bit more sense in this context), and, of course, whipped cream.
Red Velvet Frappuccino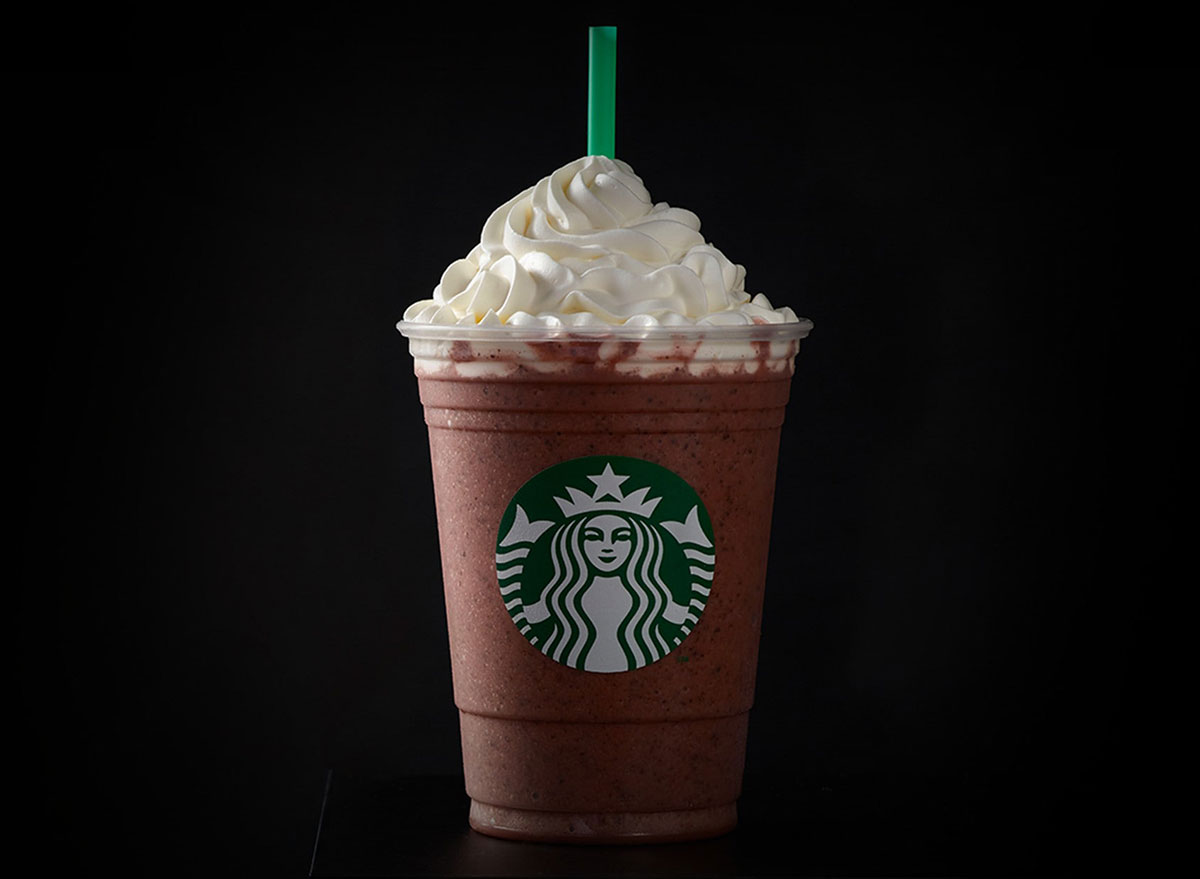 In 2015, to celebrate 20 years of the Frappuccino, Starbucks held a "Flav-Off" contest in which customers concocted flavor combos and voted on their favorites. The Red Velvet Frappuccino, which was already on the secret menu, got upgraded to full menu status, thanks to it being a fan favorite.
Available in the summer of 2015, the Red Velvet Frappuccino was a blend of chocolate chips, mocha sauce, and raspberry and vanilla syrup, topped with whipped cream. It was decadent and velvety, but it wasn't exactly the same as a red velvet cake flavor.
Cinnamon Roll Frappuccino
Another contestant in a "Flav-Off," the Cinnamon Roll Frappuccino was voted one of the top three customer favorite flavors (Caramel Cocoa Cluster ended up winning). Available in the summer of 2015, the Cinnamon Roll Frappuccino was a delightful blend of cinnamon dolce syrup, coffee, white chocolate mocha sauce, and vanilla bean, topped with whipped cream and a sprinkling of cinnamon dolce topping.
Cotton Candy Frappuccino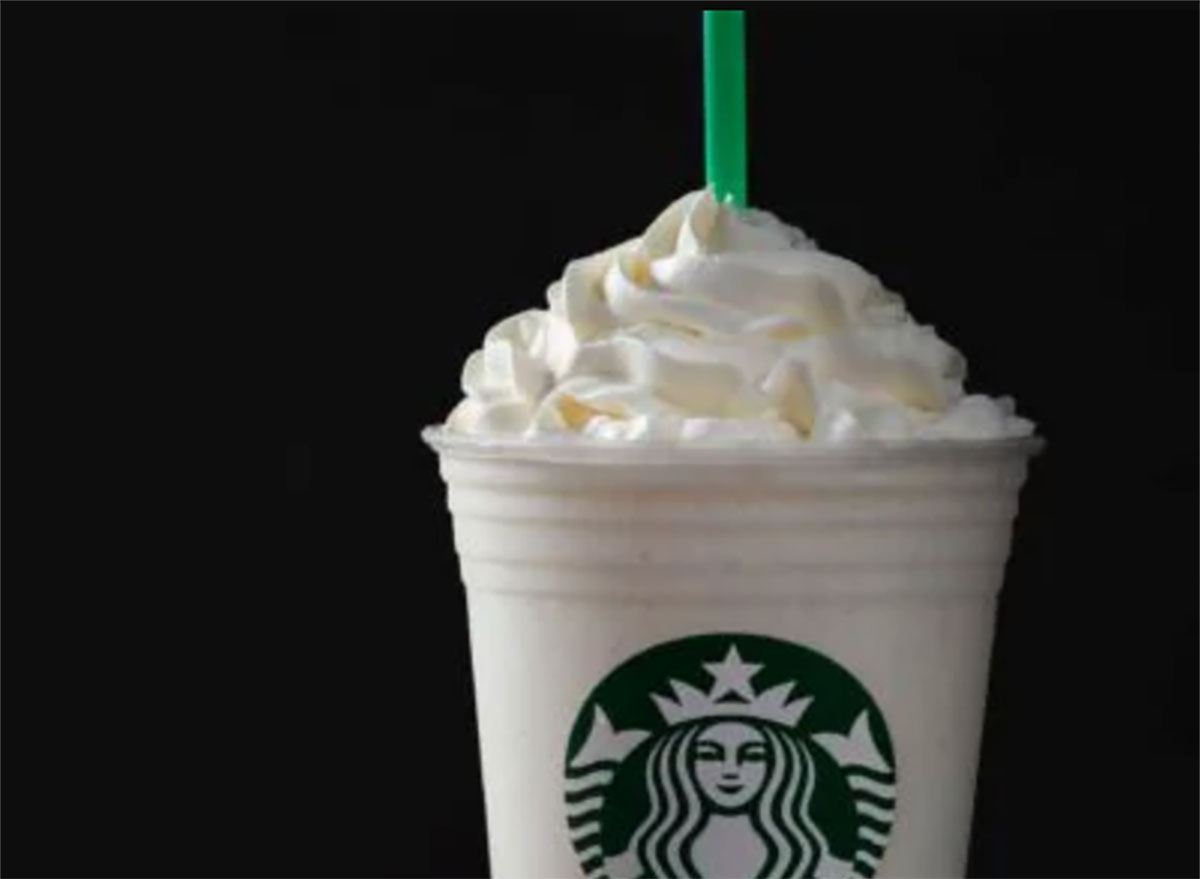 Yes, Starbucks briefly offered a Cotton Candy Frappuccino in the summer of 2015. Flavored with vanilla bean and raspberry syrup, this coffee-free beverage seems even closer to a milkshake than your average Frap. Most distinctive of all was its bright bubblegum (or, er, cotton candy) pink color.
Lemon Bar Frappuccino
This is the last one from the summer of 2015 Flav-Off contest, although you should know there was also a cupcake flavor on the list. But a Lemon Bar Frappuccino? This is another coffee-free one that made it off the secret menu. It featured a blend of lemonade, vanilla syrup, and milk; the toppings included whipped cream and caramel sugar.
Berry Prickly Pear Frappuccino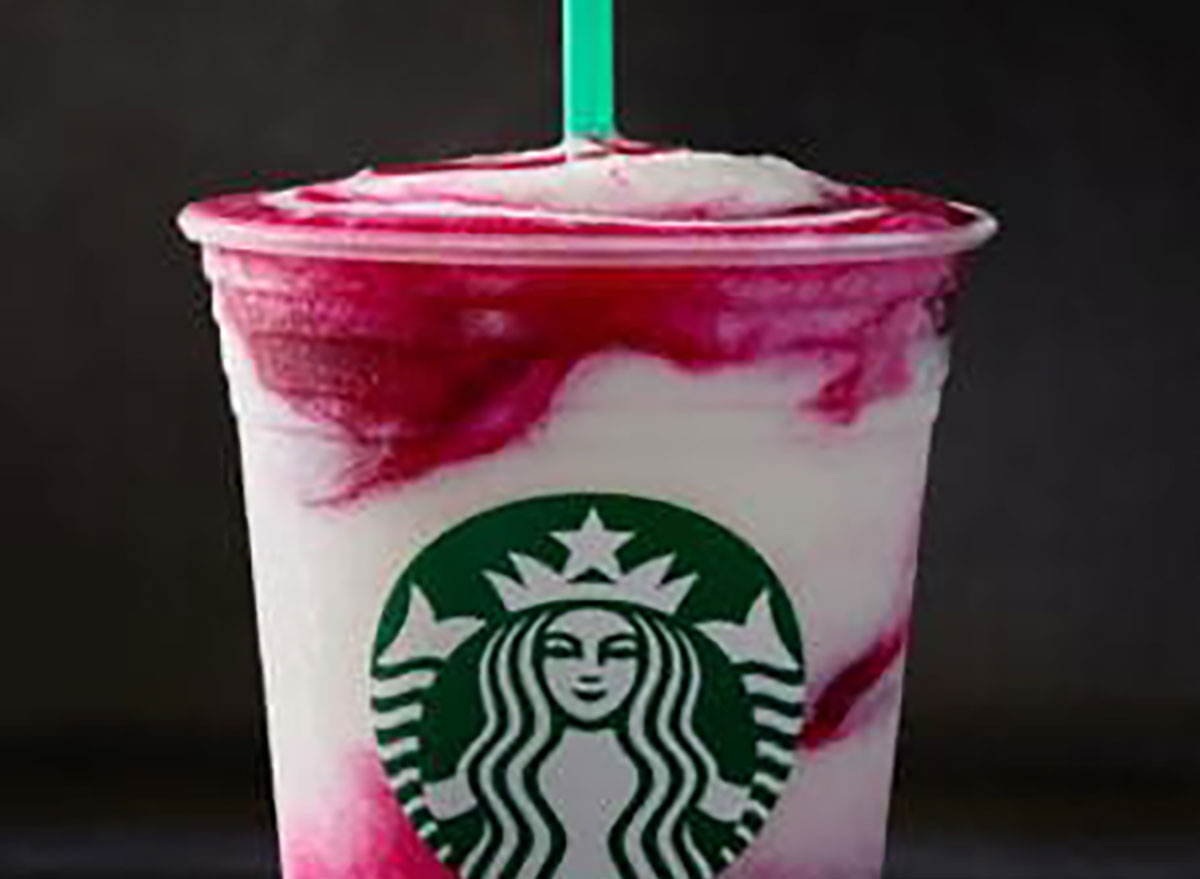 In the summer of 2017, Starbucks went tropical with a mango pineapple Frap and, even more head-turning, a Berry Prickly Pear Frappuccino flavor.
This layered, brightly colored, and coffee-free beverage was made with mango Frappuccino crème poured over a strawberry and prickly pear fruit puree and topped with another layer of puree. They left off the whipped cream on this one to allow the fruit flavors to come through.
Unicorn Frappuccino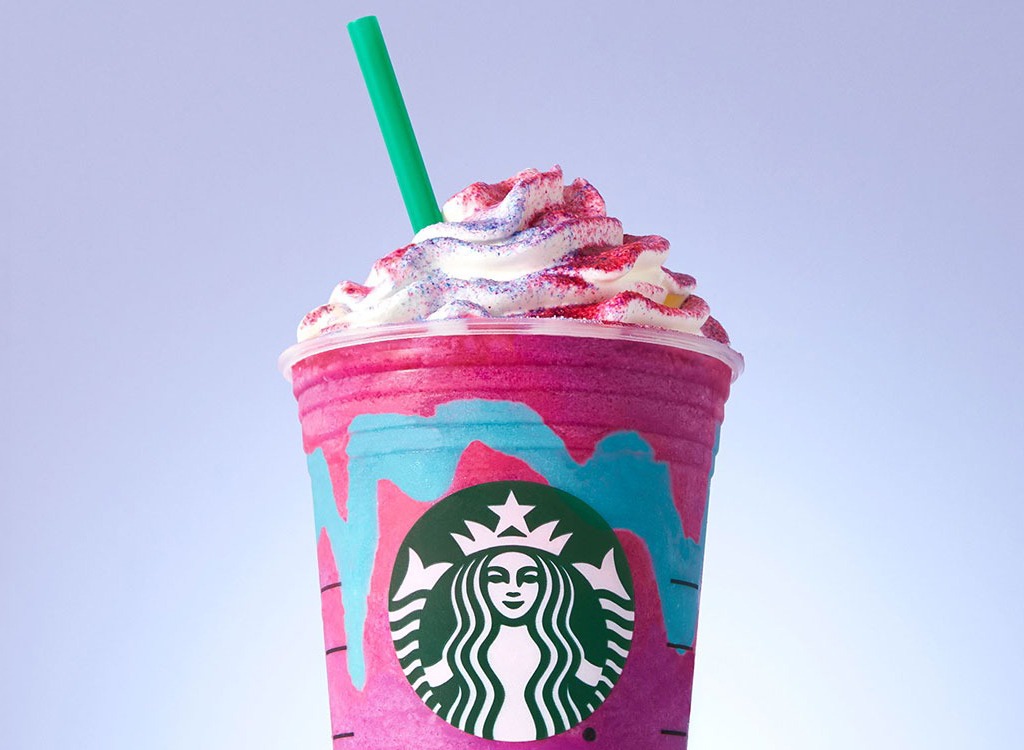 Starbucks practically broke the Internet when it released its Unicorn Frappuccino for just a few days in April 2017. It was a major commercial and Instagram success, as you can imagine.
So what was the Unicorn Frappuccino? According to Starbucks, it was "made with a sweet dusting of pink powder, blended into a crème Frappuccino with mango syrup and layered with a pleasantly sour blue drizzle." With whipped cream and sweet pink and sour blue toppings, it changed color as you drank and swirled.
Crystal Ball Frappucino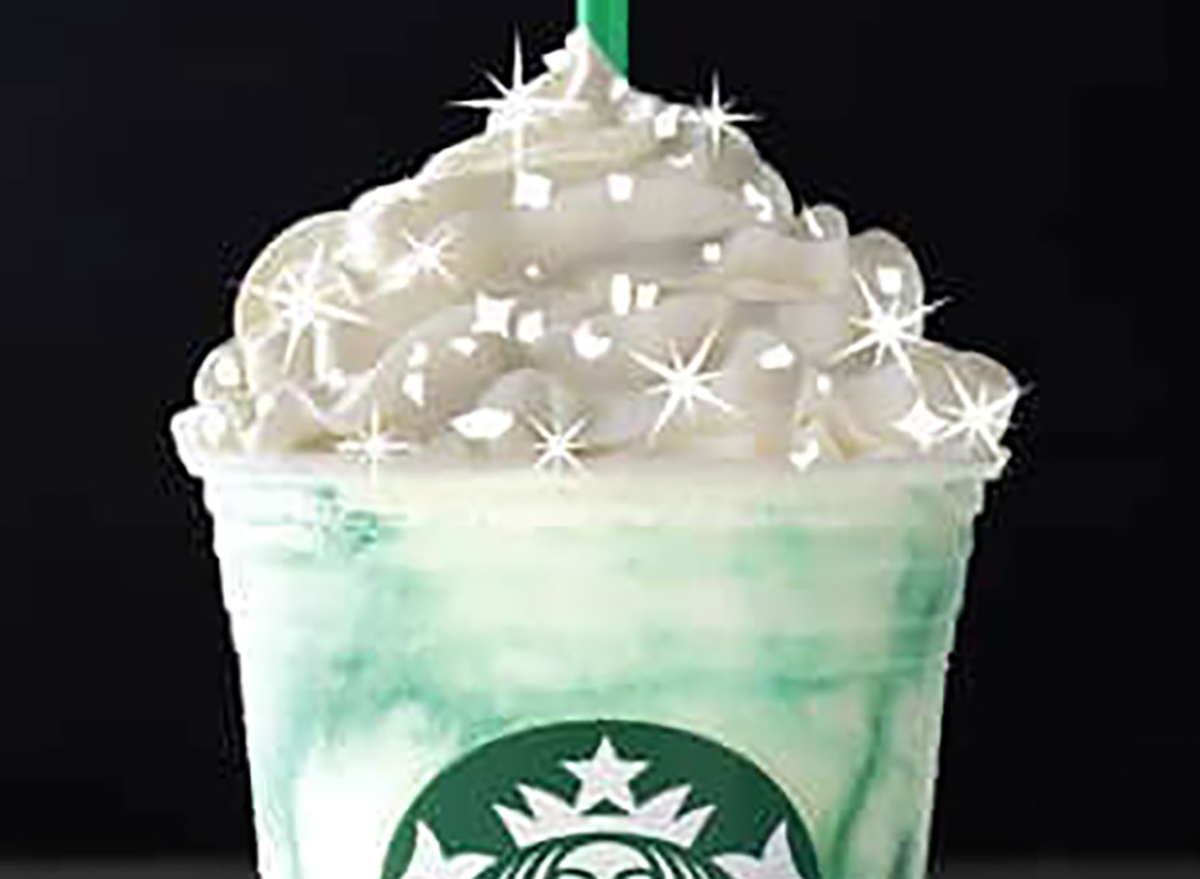 Following the viral success of the Unicorn Frappuccino, Starbucks decided to try its hand at another fantastical flavor. The company released a Crystal Ball Frappuccino for just a few days in March 2018.
Described by Starbucks as "a mystical, turquoise peach infusion," it was topped with peach whipped cream and "one of three different candy gems that reveal your fortune." What this meant in practice was that your drink would be topped with one of three colors of sprinkles, which would indicate good luck, adventure, or magic.
Zombie Frappuccino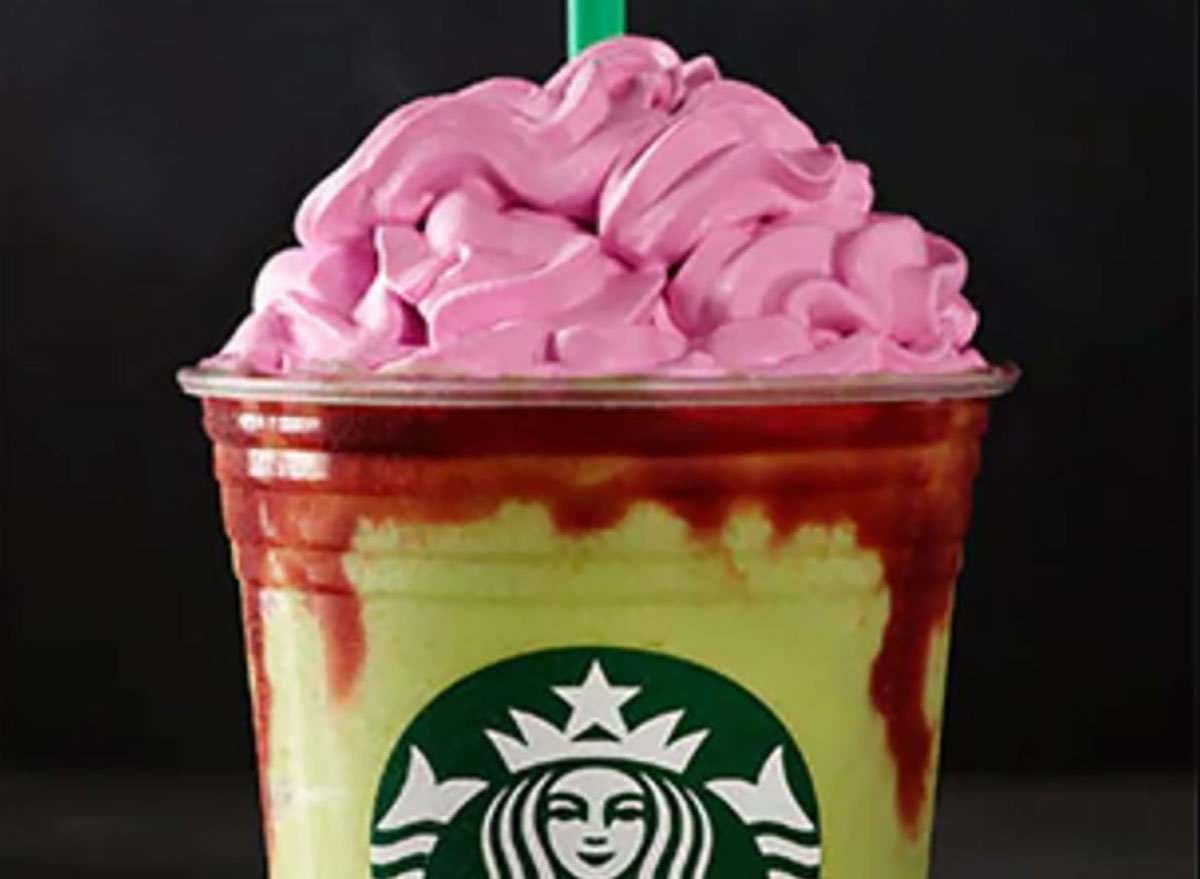 Just in time for Halloween 2017, Starbucks came out with a Zombie Frappuccino that hit stores just between October 26 and October 31. The "ghastly green body" was made with Frappuccino crème flavored with tart apple and caramel and was topped with pink whipped cream "brains" and red mocha drizzle. Spooky.
Caramel Flan Frappuccino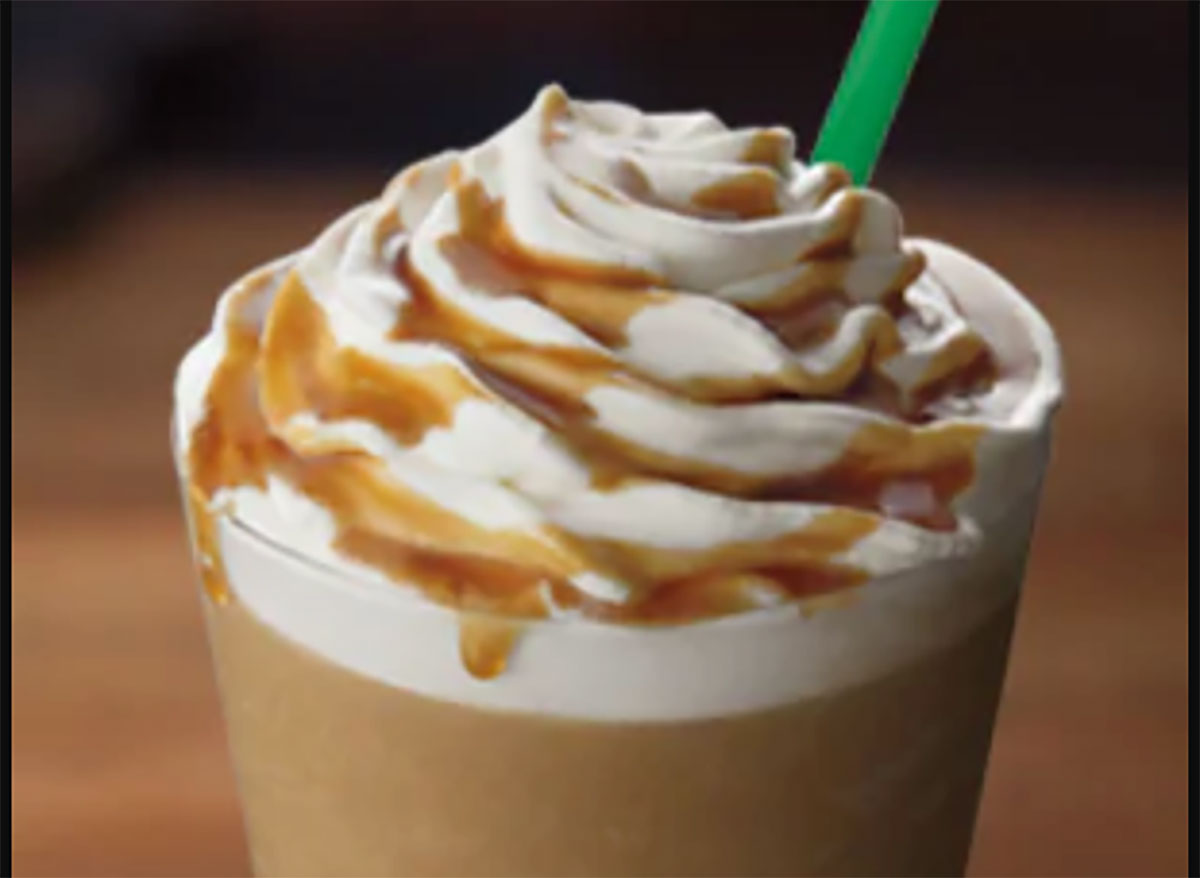 While imagining gelatinous flan as a beverage may seem ridiculous, when you think about the flavors, it's actually not so out there. First available in Japan in 2014, the Caramel Flan Frappuccino featured caramel flan-flavored syrup and milk. Its toppings included caramel whipped cream and caramel flan drizzle.
American Cherry Pie Frappuccino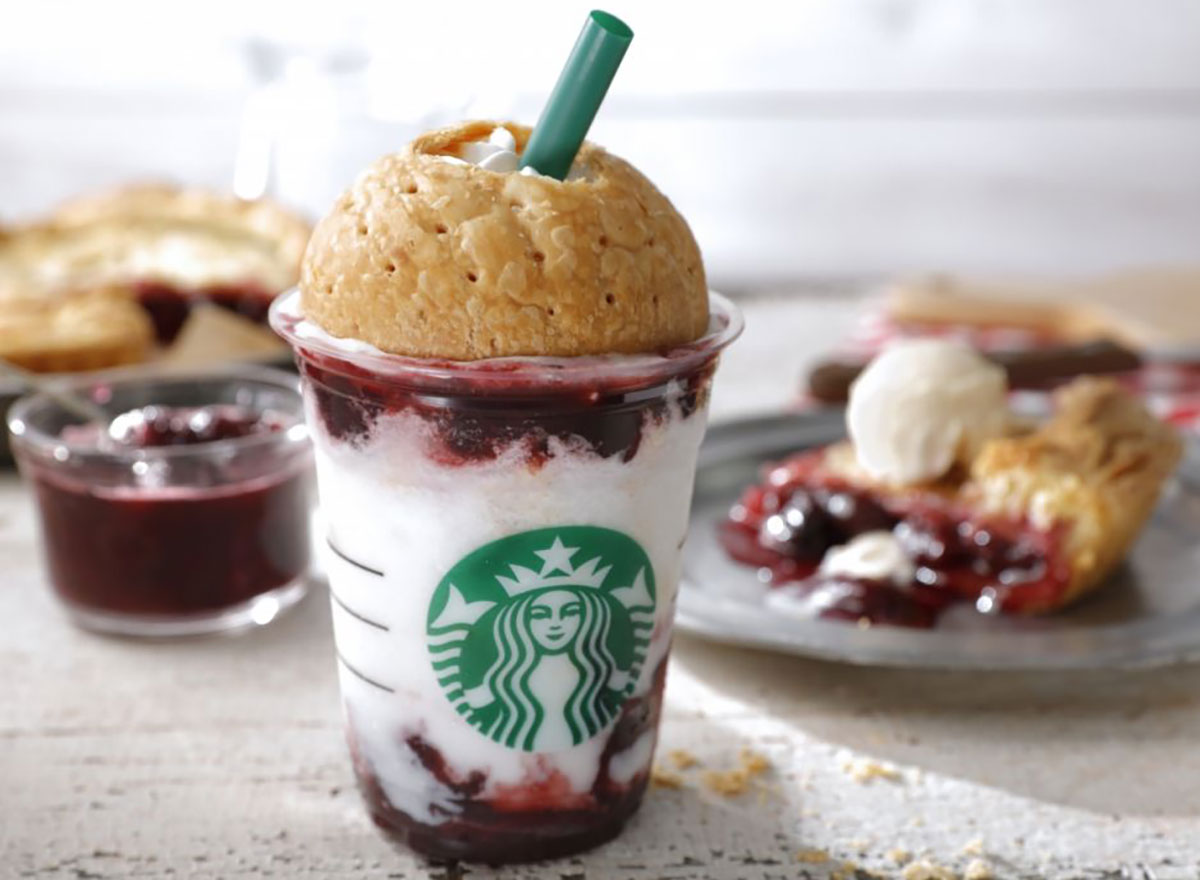 This one was only available in Japan from April 13 to May 16, 2017, but it's too out there not to mention. The American Cherry Pie Frappuccino included cherry compote, cherry sauce, vanilla cream, whipped cream, and—this is the best part—a pie crust topping. As in, instead of a domed lid, this one had a pie crust lid. Genius.
Tiramisu Frappuccino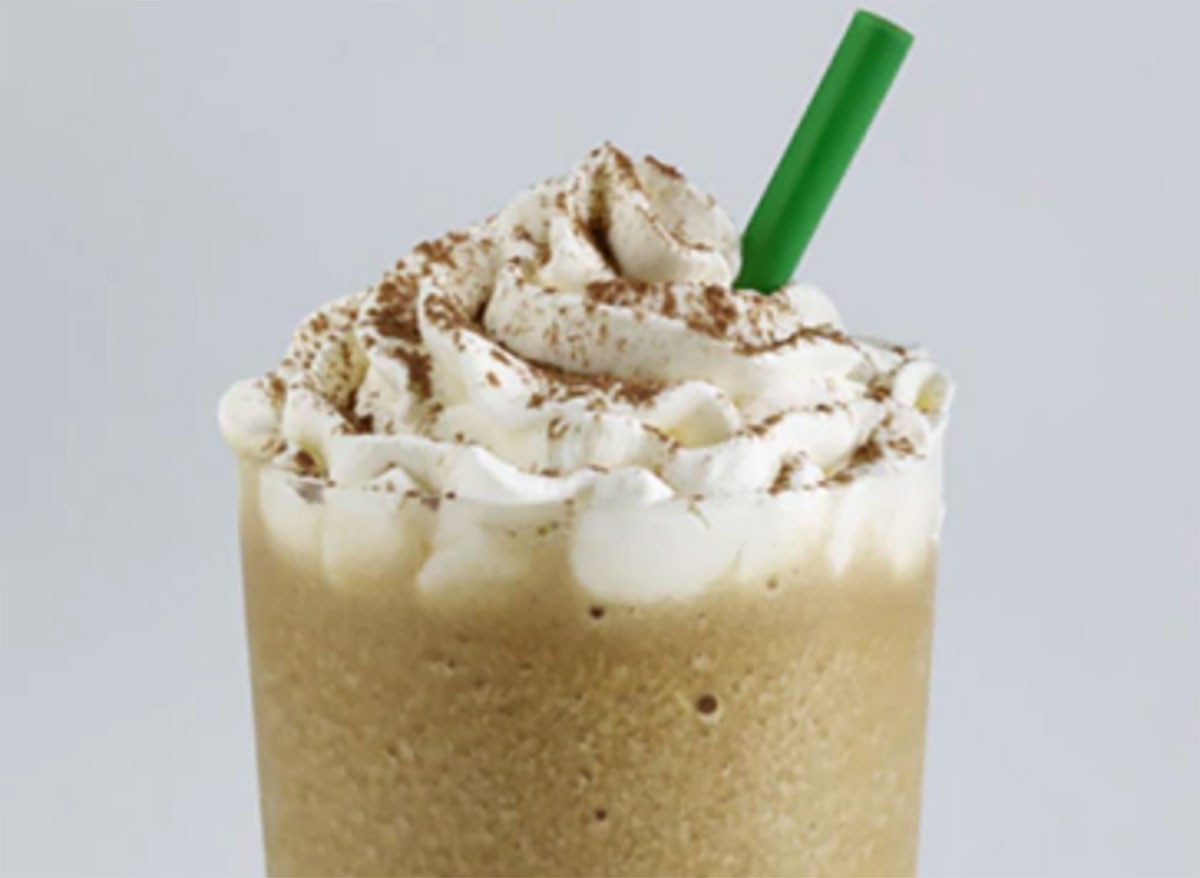 There are worse places to get inspiration for a dessert-like coffee beverage than Italy's famous coffee-flavored dessert, tiramisu. But instead of real mascarpone, this blended drink featured coffee blended with "mascarpone flavor" and topped with whipped cream and cocoa powder. Though it was met with success, the Tiramisu Frappuccino was only available in February 2015.
Seahawks Frappuccino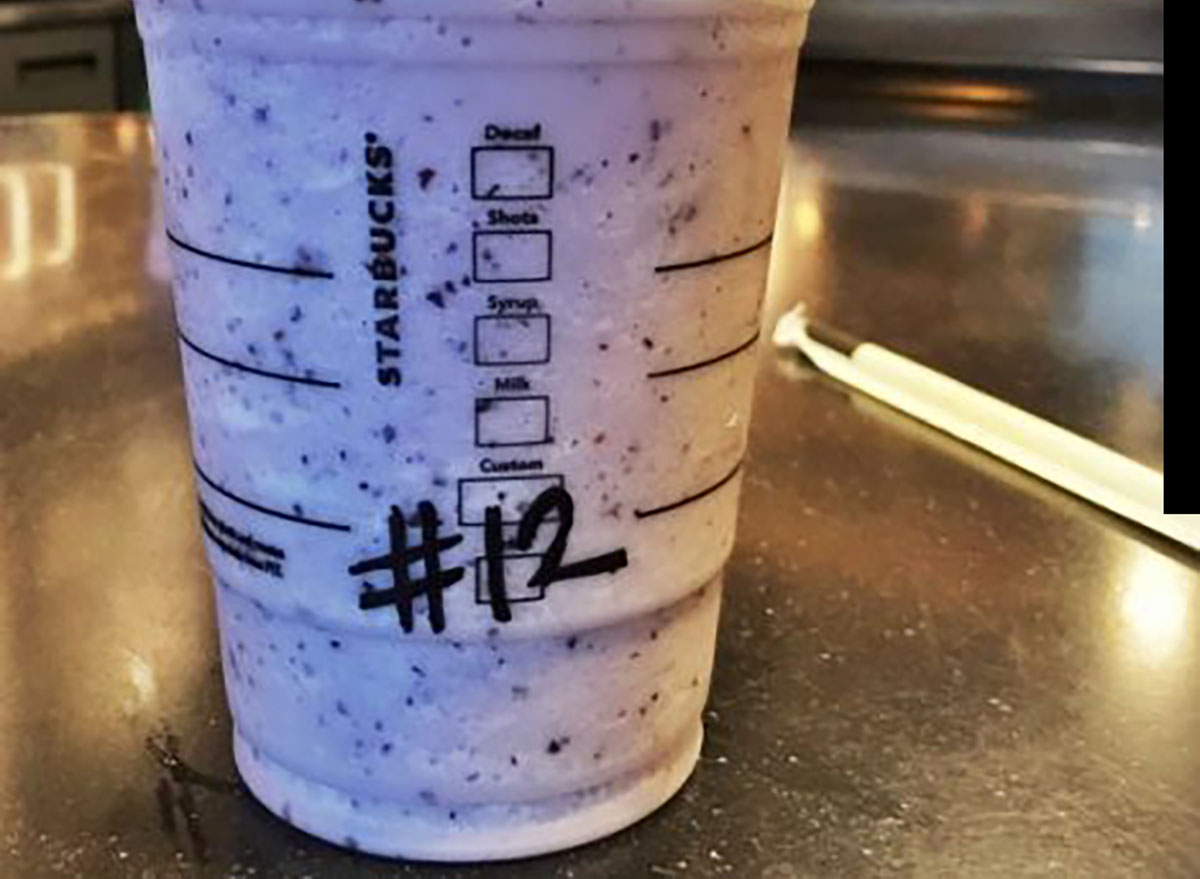 Seahawks fans were stoked when Starbucks introduced a flavor in honor of the Super Bowl. It was only available from January 30 to February 2, 2015, and only in Washington and Oregon. Seattle is, after all, Starbucks' home town.
The Seahawks Frappuccino featured vanilla bean crème blended with blueberries and topped with matcha whipped cream, to mimic the blue and green team colors.
Pokémon Go Frappuccino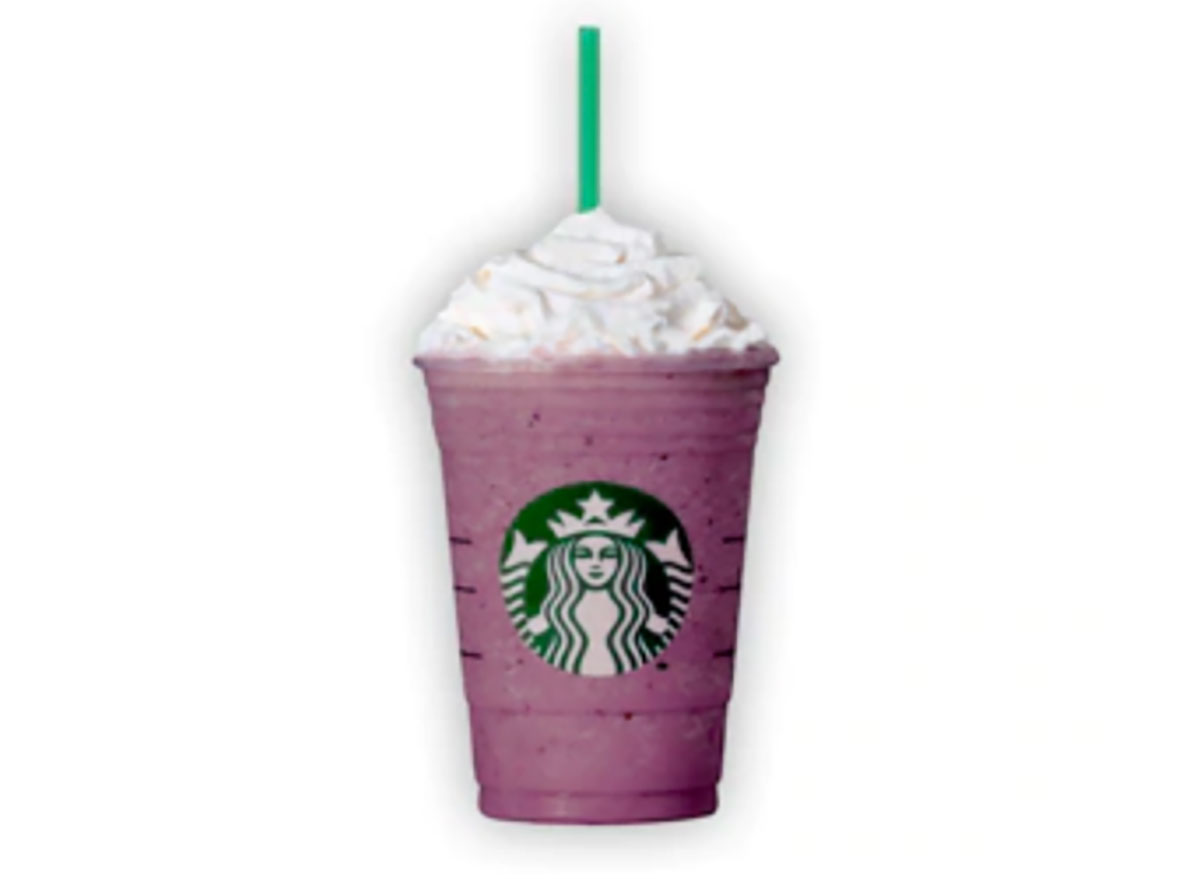 Even Starbucks couldn't resist cashing in on Pokémon Go's popularity in 2016. The purple-hued Pokémon Go Frappuccino featured raspberry syrup and freeze-dried blackberries to give it that vibrant hue.
Eggnog Frappuccino
During the holiday season, is there anything that can't be flavored with eggnog? Back in the late '90s, Starbucks started intermittently offering a seasonal Eggnog Frappuccino. Look out for it this winter, though, as it still pops up occasionally. The drink featured eggnog blended with coffee, spices, and milk topped with whipped cream and nutmeg.
Chocolate Cookie Crumble Frappuccino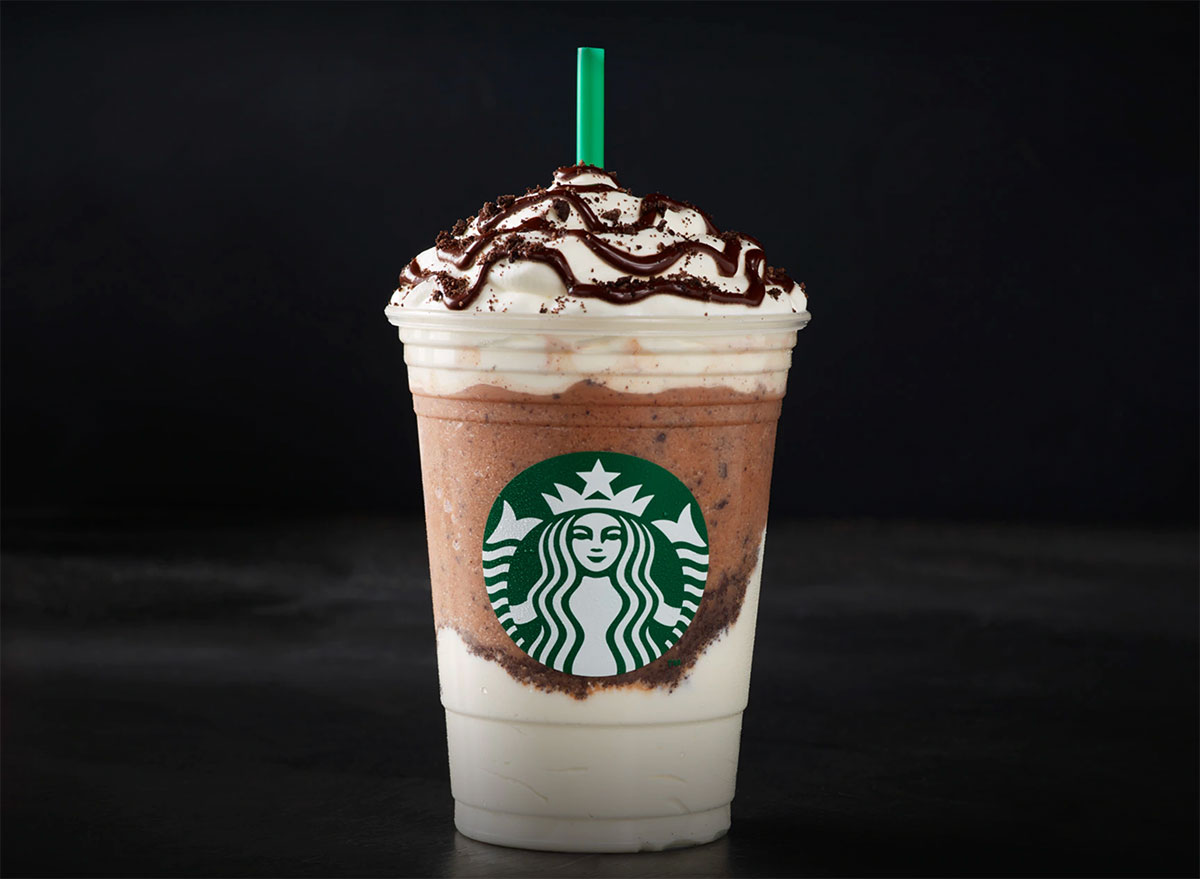 6254a4d1642c605c54bf1cab17d50f1e
Some Frappuccinos at least maintain the illusion of being a coffee beverage or, perhaps, a fruit shake. But the Chocolate Cookie Crumble Frappuccino—which is currently available nationwide—is firmly planted in the milkshake realm. Here, mocha sauce and Frappuccino chips are blended with milk, layered with whipped cream and chocolate cookie crumble, and topped with even more whipped cream and cookie crumble. Whether you sip this one or eat it with a spoon is entirely up to you.
Birthday Cake Frappuccino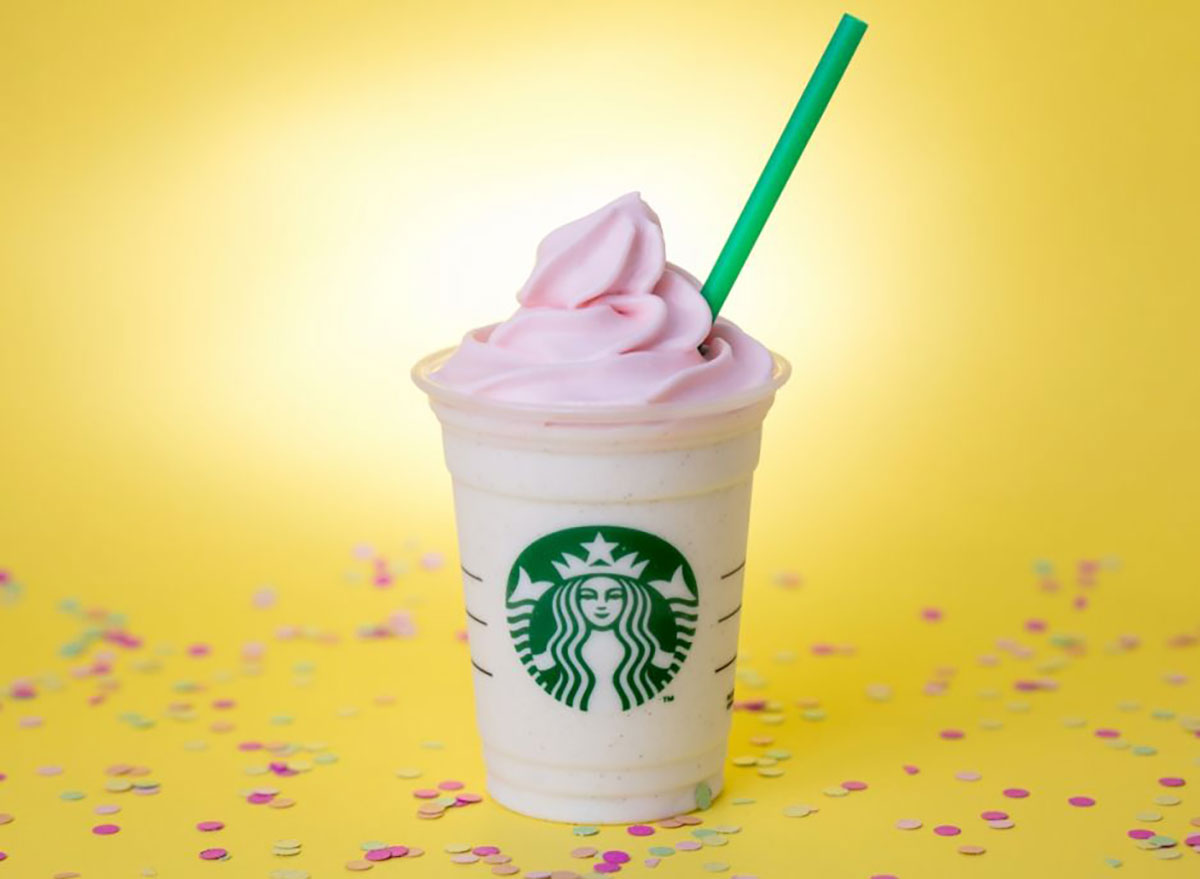 Even Frappuccinos have birthdays. And to celebrate the Frappucino's 20th birthday, Starbucks mixed up a Birthday Cake Frappuccino back in April 2015. (They brought it back again in April 2016, too.) It features a blend of vanilla and hazelnut and a pink whipped cream topping.
Christmas Tree Frappuccino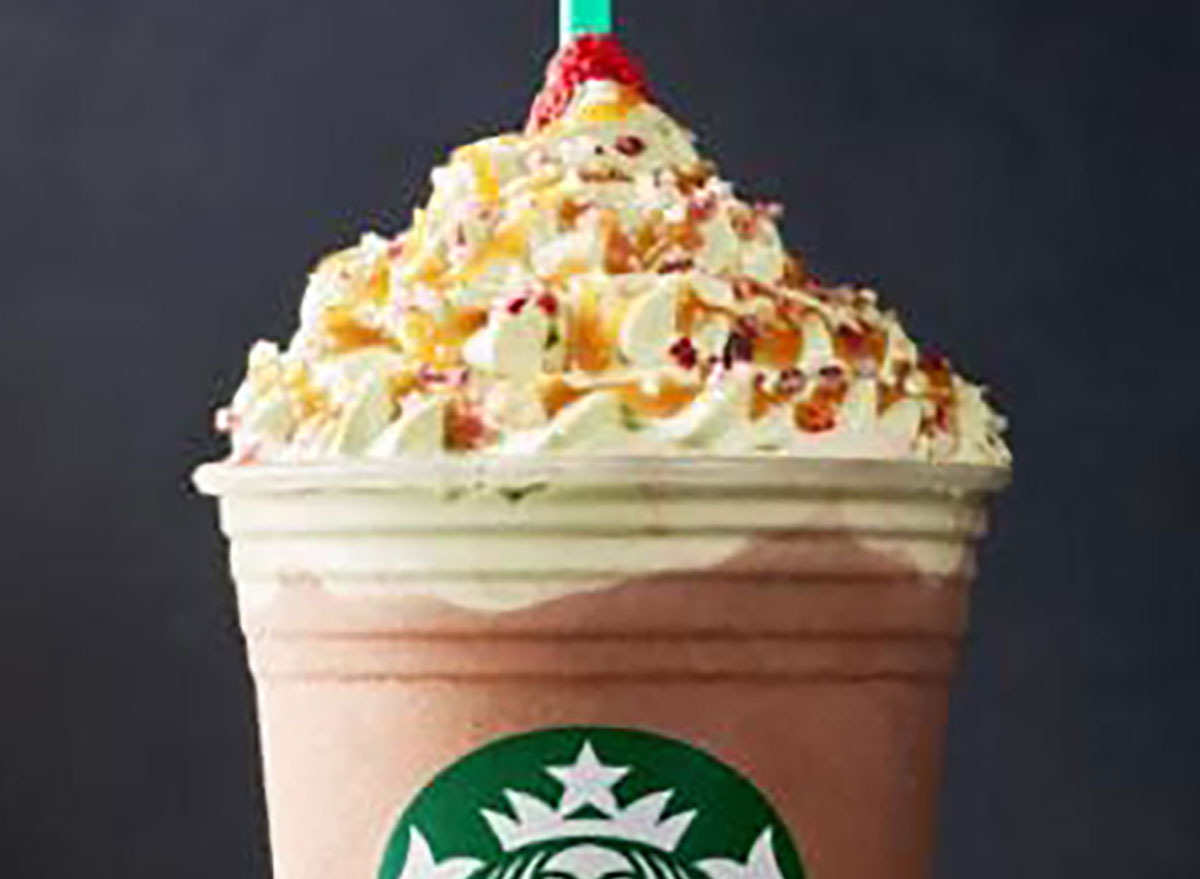 To be fair, the concept behind this one is weirder than the drink itself. The Christmas Tree Frappuccino featured mocha and peppermint flavors, with a matcha whipped cream for the actual tree portion. Candied cranberries and a caramel drizzle gave this Frappuccino a truly festive look.
Red Bean Green Tea Frappuccino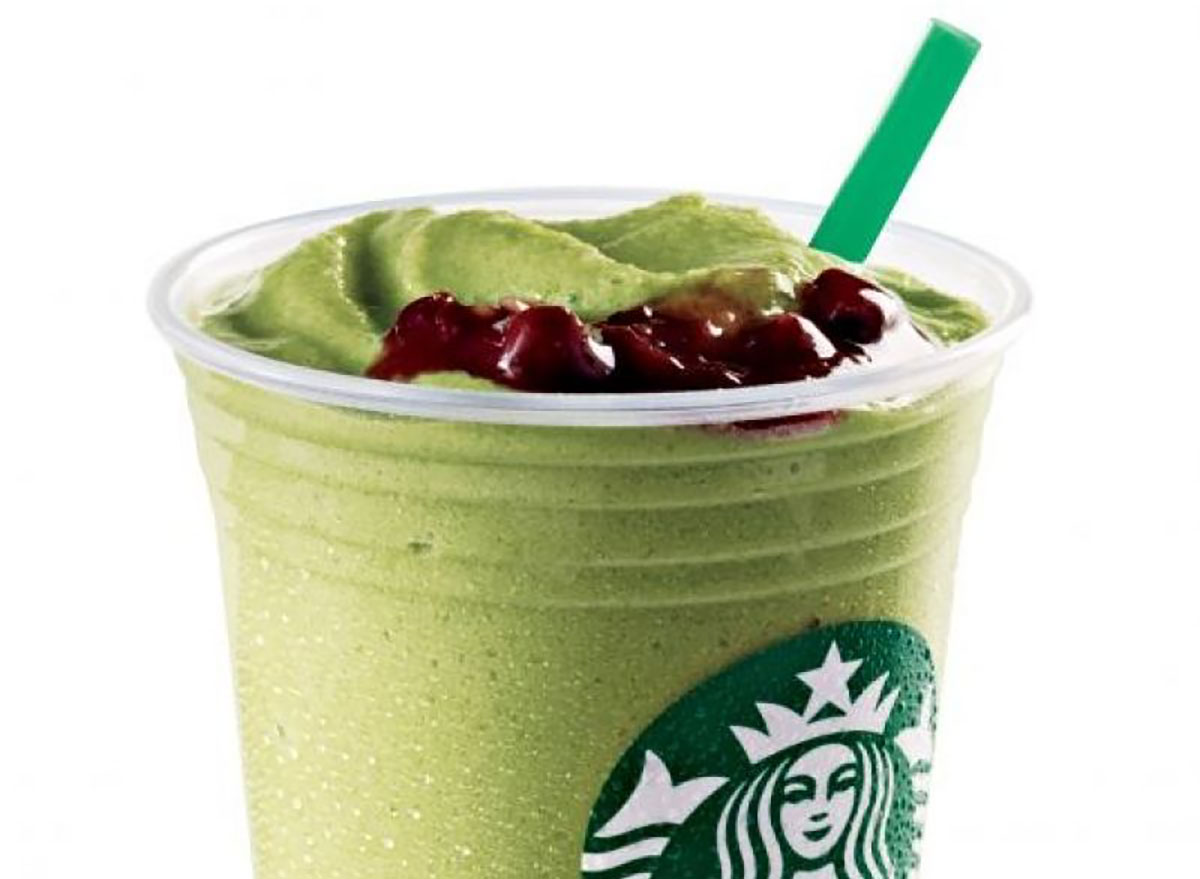 To wrap up, here's one last international flavor. In the summers of 2012 and 2013, Starbucks brought a Red Bean Green Tea Frappuccino to China. It included sweetened whole kernels of red beans scooped on top of a Green Tea Frappuccino blended beverage. Don't knock it till you've tried it!
Most of these limited-edition Frappuccino flavors are no longer available, but Starbucks still has plenty of other Frappuccino options that are sure to satisfy any sugar lover. Whether you love coffee or just want a yummy drink, Starbucks has you covered.
Katherine Martinelli
Katherine Martinelli is a recipe developer and award-winning journalist who spends her days dreaming and writing about food.
Read more about Katherine