What Diet Experts Eat at Red Lobster
Avoid nutritional shipwrecks with these RD-sanctioned picks.
Fresh-caught seafood sounds healthy enough, but if prepared without health in mind, low-cal shellfish and fillets can easily become nutritional shipwrecks — especially at chains like Red Lobster.
Earlier this year, the Center for Science in the Public Interest (CSPI) recognized the chain in their annual "Xtreme Eating" awards, which exposes the most fattening restaurant foods in the country. Their report called out the chain for offering a Create Your Own Combination platter that delivers 2,710 calories and four days' worth of salt. Eek.
But don't let that fool you: It's not impossible to stay on the straight-and-narrow while dining at Red Lobster. If you go in knowing which healthy dish you plan to order — and, most importantly, stick to your guns — it's easy to continue losing weight. To help you identify the best picks for your waistline and weight-loss goals, we asked a pool of top nutritionists and dietitians to tell us their go-to orders at the chain. Read on to get in the know and be sure to stick to their RD-approved picks!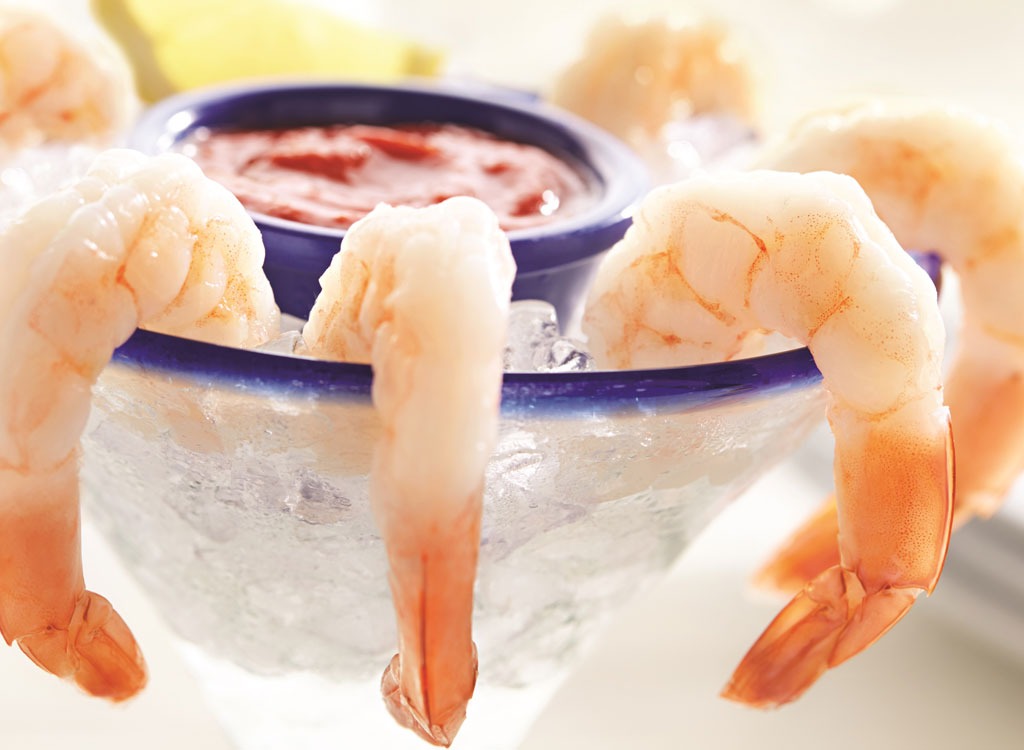 Signature Shrimp Cocktail
"For a quick happy hour treat, I'd order a glass of antioxidant-rich red wine and the shrimp cocktail. This delicious food-and-drink combination carries 220 calories and 22 grams protein, packing in important nutrients in an indulgent snack." — Weight loss dietitian and personal trainer, Stephanie Brookshier, RDN, ACSM-CPT
"Be careful when ordering appetizers. Many have enough calories and fat to be considered a meal. One of the best options at Red Lobster is the Signature Shrimp Cocktail. It's low in carbs, calories, sodium and fat, and is rich in protein. Protein-rich foods promote satiety, which means you're less apt to overeat when you receive your entree." — Kari Ikemoto, RD, Los Angeles-based Registered Dietitian specializing in wellness and oncology
"At Red Lobster, I would order a signature salad with grilled salmon and ask for vinaigrette dressing on the side. I always opt for salmon when I can because it's packed with heart-healthy omega-3 fatty acids." — Kara Lydon, RD, LDN, RYT, Nutritionist and Blogger at,The Foodie Dietitian
White Wine and Roasted Garlic Mussels
"When it comes to ordering a healthy restaurant meal, it's all about the preparation method. Stay away from anything that's fried, battered or loaded with creamy sauces. At Red Lobster, a healthy choice would be the White Wine and Roasted Garlic Mussels. Mussels are a great source of energizing B12 and selenium, a mineral that's vital to thyroid health. To avoid excess butter, order a house salad or side of steamed or roasted vegetables as a side." — Isabel Smith, MS, RD, CDN, registered dietitian and founder — Isabel Smith Nutrition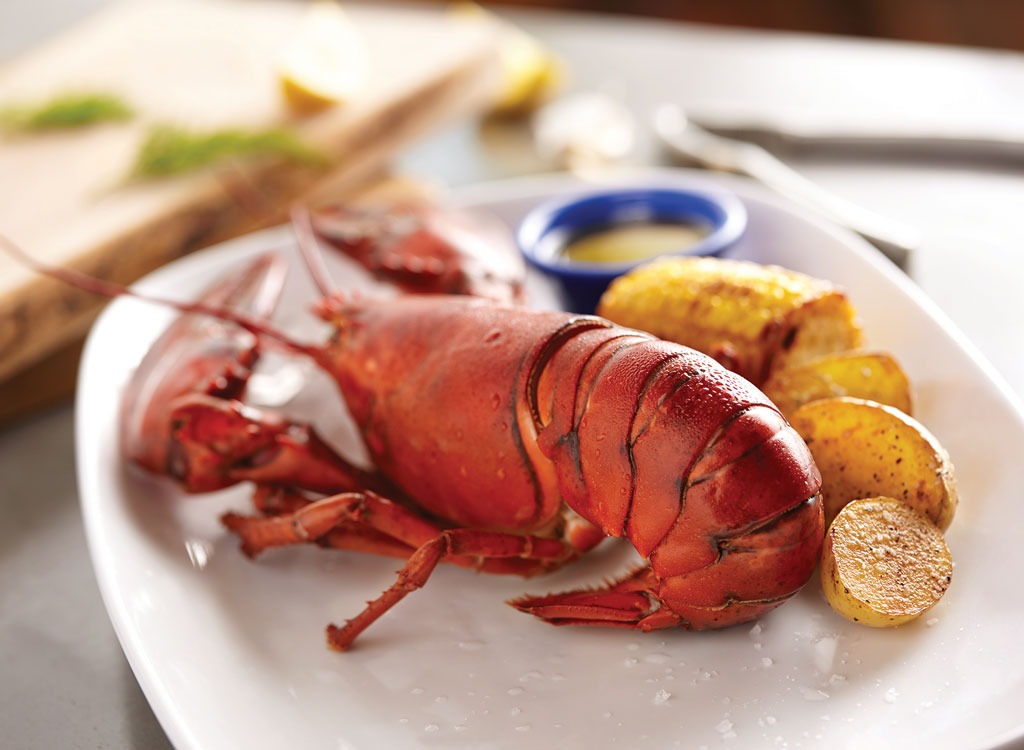 "You can make healthy choices at Red Lobster, you just have to look carefully. One of my go-to meals is the simply steamed Live Maine Lobster, which comes with a small Garden Salad. I always ask for dressing on the side, and sometimes I'll ask to substitute the potatoes for a side of steamed broccoli. The lean protein from the lobster plus the fiber and nutrients from the vegetables make this an extremely satisfying and healthy meal!" — Kristen Carlucci, RD-N, registered dietitian and nutrition expert for Bloomberg
"My first choice would be Live Maine Lobster, prepared simply steamed. Since lobster takes a long time to eat, it forces you to eat more mindfully and pay attention to your hunger cues. To round out the meal, I'd ask for a fresh vegetable and a small Garden Salad with red wine vinaigrette dressing. This low-carb meal comes in under 600 calories and is filled with protein and filling fiber." — Martha Mckittrick, RD, CDE, NYC-based nutritionist and blogger at City Girl Bites
Create Your Own Combination
"There's a part of the Red Lobster menu where you can create your own combination. Going this route is the best ways to ensure you get a healthy meal. I'd ask for the Wood-Grilled Fresh Salmon and the Garlic-Grilled Sea Scallops and pair it with a side salad. The meal combination clocks in at a respectable 480 calories, and since these dishes don't have any sauces, they are relatively low-sodium." — Jim White RD, ACSM HFS, Owner of Jim White Fitness and Nutrition Studios
Grilled Salmon & Broccoli
"Many items on the Red Lobster menu carry more than half a day's salt. The salmon with steamed broccoli, however, comes in at a healthy 190 milligrams of sodium. Plus, salmon is rich in omega-3s, which have a heart-protective effect. Opting for a side of broccoli instead of fries provides satiating fiber and vitamin C, making this combination a truly powerful antioxidant-rich meal." — Kari Ikemoto, RD, Los Angeles-based Registered Dietitian specializing in wellness and oncology
"The low-calorie Lighthouse Menu can help take the guesswork out of ordering a healthy meal. All items are under 500 calories and have less than 15 grams of fat. My favorite dish off the menu is the Wild-Caught Flounder, which is oven-broiled and comes with a choice of any vegetable. Depending on how hungry I am, I might also order a Manhattan Clam Chowder as an appetizer. It's very filling and only has 80 calories per cup." — Kristen Carlucci, RD-N, registered dietitian and nutrition expert for Bloomberg
"Ordering out can be challenging, especially if you're trying to eat 'clean' and avoid caloric ingredients like cream sauce and globs of butter. At Red Lobster, there are ample opportunities to combine lean, omega-3 rich protein from seafood with a small serving of a healthy starch and lots of fibrous veggies. The Wild-Caught Flounder from the Lighthouse Menu served with a side of asparagus, a small side of rice pilaf and a small House Salad fit this criteria." — Kristin Reisinger, MS RD CSSD, founder and owner of IronPlate Studios6254a4d1642c605c54bf1cab17d50f1e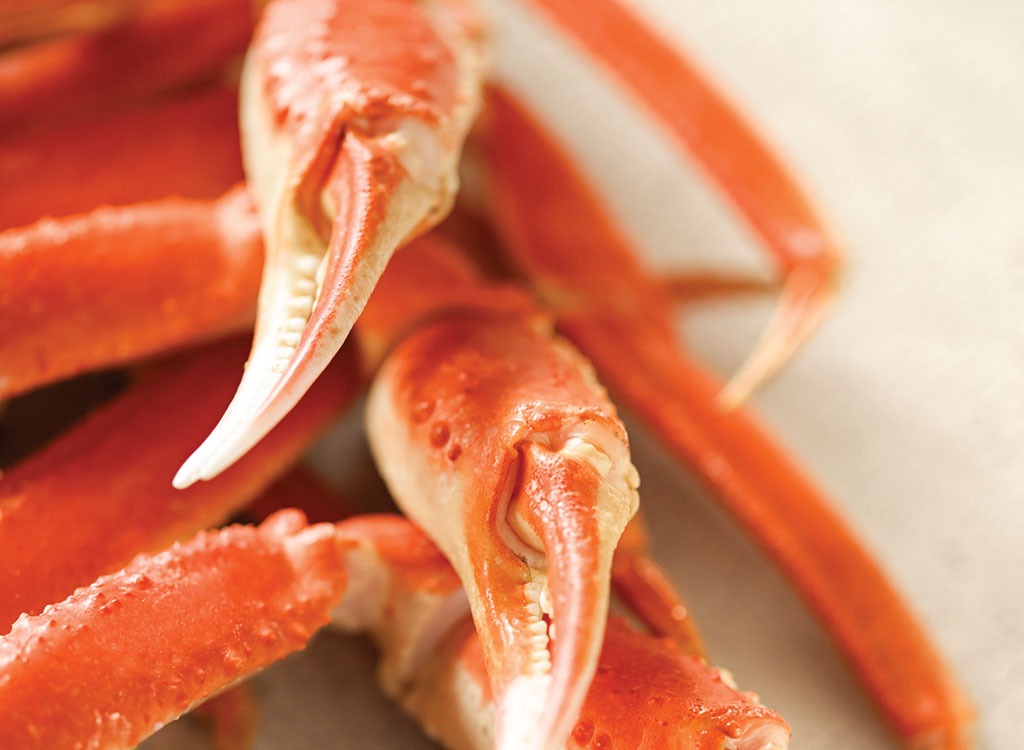 "The Snow Crab Legs paired with a side of broccoli, half a baked potato dry and a small House Salad provides a healthy combination of carbs, proteins and vegetables. Since it takes awhile to work through the shells, you're less likely to eat mindlessly or munch on things that may be lingering on the table!" — Kristin Reisinger, MS RD CSSD, founder and owner of IronPlate Studios
"Another 600-calorie-or-less favorite would be the Snow Crab Legs. Of course I'd add lemon instead of butter and ask for a side of vegetables. Thanks to the shells, this meal slows down your rate of eating, which can help you avoid noshing on more than you really need." — Martha McKittrick, RD, CDE, NYC-based nutritionist and blogger at City Girl Bites
Broiled Halibut with Broccoli
"If I were to eat at Red Lobster, I'd choose something from the Fresh Fish menu, like the broiled halibut. Pairing it with a side of broccoli would provide 300 calories, 46 grams of protein and 5 grams of heart-healthy fats. And for goodness sake, while you're there, skip the biscuits. They each have a whopping 160 calories and 10 grams of artery-clogging fat!" — Weight loss dietitian and personal trainer, Stephanie Brookshier, RDN, ACSM-CPT
More content from
Restaurants