What to Eat at the Mall When You Want Something That's Actually Healthy
When there's no other option than the food court, here's what you should eat and what you should avoid.
In a perfect world, you'd eat a well-rounded breakfast and power through your shopping without ever stepping foot in the food court. (In fact, when I reached out to RD's for this round-up about what to order at these food court staples, I could almost hear a collective groan—as if they wanted to answer "D. None of the Above…Just Pack a Healthy Snack!" They were troopers, though, and obliged!)
The reality is food court menus are just beckoning your inner-teenager: Greasy hamburgers, greasier pizzas, french fries, and shakes disguised as "smoothies." Our dietitian experts were largely concerned by the amount of sodium in orders at these fast food (or fast casual) restaurants. A quick reminder: When you take in too much sodium, your body retains water, which can make it harder for your heart and blood vessels to do their jobs. For optimal heart health, the American Heart Association says you should aim to eat no more than 1,500 milligrams per day.
But we get it: Long holiday shopping lines + being stumped on what to get your aunt who has everything can mean you end up at the mall for a fa-la-la-longer time than you planned. So here's what you should eat and what you should steer clear of at 12 of the most popular food court restaurants. Check 'em out and then discover these 20 Things You Didn't Know About Fast Food!
Panda Express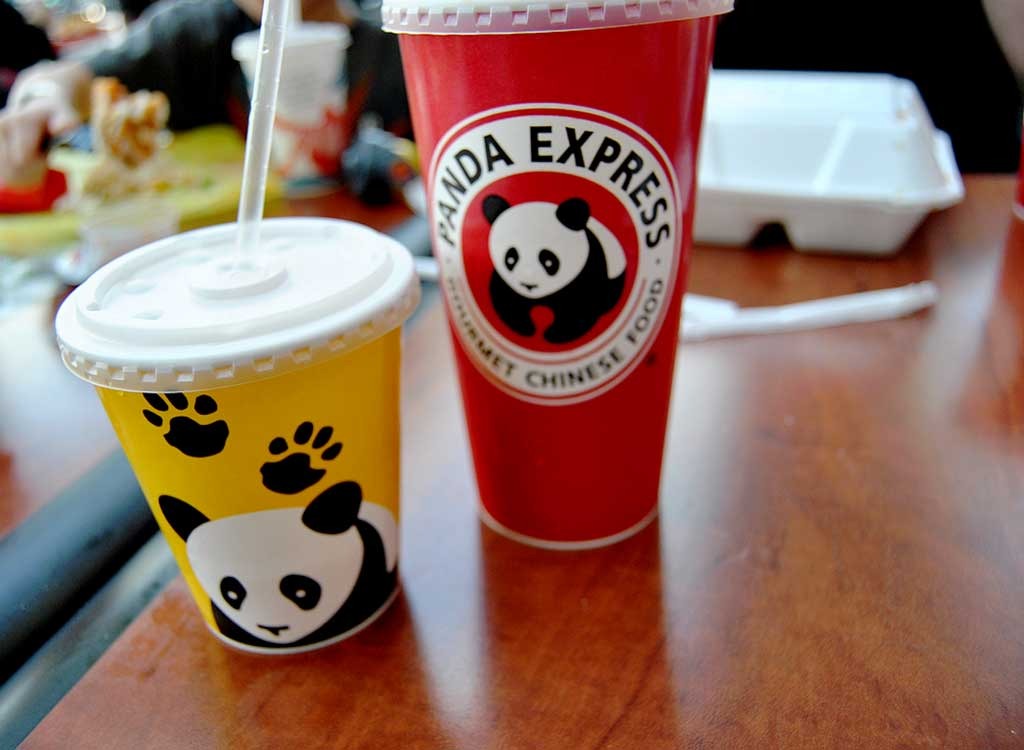 For the uninitiated, Panda Express is one of those places where you go through a buffet line of sorts, ordering sides and main meals. Fret not, though, because Jennifer Glockner, RDN and author of Teddy Tries a Veggie, is going to walk you through the entire line. First, a word of caution: The serving sizes at Panda Express are larger than the recommended portions, she says. "You may want to share with a friend or family member or take leftovers home," she says.
Panda Express Appetizers
Eat This: Pan-Seared Chicken Potsticker
Starting with the appetizers, your best possible option is the Pan-Seared Chicken Potsticker. It contains chicken, cabbage, and onions. You may want to eat the filling and limit some of the dough, Glockner suggests. These potstickers have 160 calories, 6 grams total fat, 1.5 grams saturated fat, 250 milligrams of sodium, 2 grams sugar, 6 grams protein.
Not That!: Crispy Shrimp
Most of the appetizers on this menu are fried, so it's best to skip them altogether, Glockner says. But the worst of the worst is the Crispy Shrimp with 260 calories, 13 grams total fat, 2 g saturated fat, 800 milligrams of sodium, 2 grams sugar and 9 grams protein. Glockner is concerned with the high sodium content and the fact that it's fried. "Also, 260 calories is excessive for just an appetizer," she says.
Panda Express Sides
Eat This: Mixed Veggies
Moving along to the sides, your best option is the Mixed Veggies, which has just 80 calories. But be on sodium-watch: They've got 540 milligrams. "Veggies contain vitamins, minerals, antioxidants, and fiber. This dish has 3 grams of fiber, which will keep you full longer," she says. If you're looking for a grain, choose the Steamed Brown Rice, but get just half of a serving, she suggests. "A regular serving is 1/2 cup but Panda Express serves 10.5 ounces, which is a little more than a cup," she says. "Steamed brown rice has more fiber and protein than the steamed white rice, which has no fiber at all," Glockner says. "The fiber will keep you full longer."
Not That!: Chow Mein
Skip the Chow Mein, which is loaded with 510 calories, 22 grams total fat, 4 grams saturated fat, 980 milligrams of sodium, 9 grams sugar, 13 grams protein. "The nutrition info resembles a whole meal rather than a side dish. This dish is caloric and high in sodium, fat, and sugar," Glockner says.
Panda Express Entrees
Eat This: String Bean Chicken Breast
Your best meal option is the String Bean Chicken Breast, Glockner says, with 190 calories, 9 g total fat, 2 g saturated fat, 590 milligrams of sodium, 4 grams sugar, 14 grams of protein. "This entrée is not fried and contains chicken breast, which is a better option than dark meat," she says. "Even though it's a reasonably good choice, it is high in sodium."
Not That!: SweetFire Chicken Breast
The worst entree choice is the SweetFire Chicken Breast, which has 27 grams of sugar. As far as sugar content goes, the new dietary guidelines recommend limiting added sugar to less than 10 percent of daily calories, Glockner points out. (These limits don't restrict natural sugars that are found in fruits and milk, she explains). It's not disclosed how much sugar is added to the SweetFire Chicken Breast, but the amount surpasses more than the daily allowance for many people, especially those who are overweight or obese or have diabetes, Glockner says. Kinda sounds like these 35 Restaurant Foods With Crazy-High Amounts of Sugar.
Subway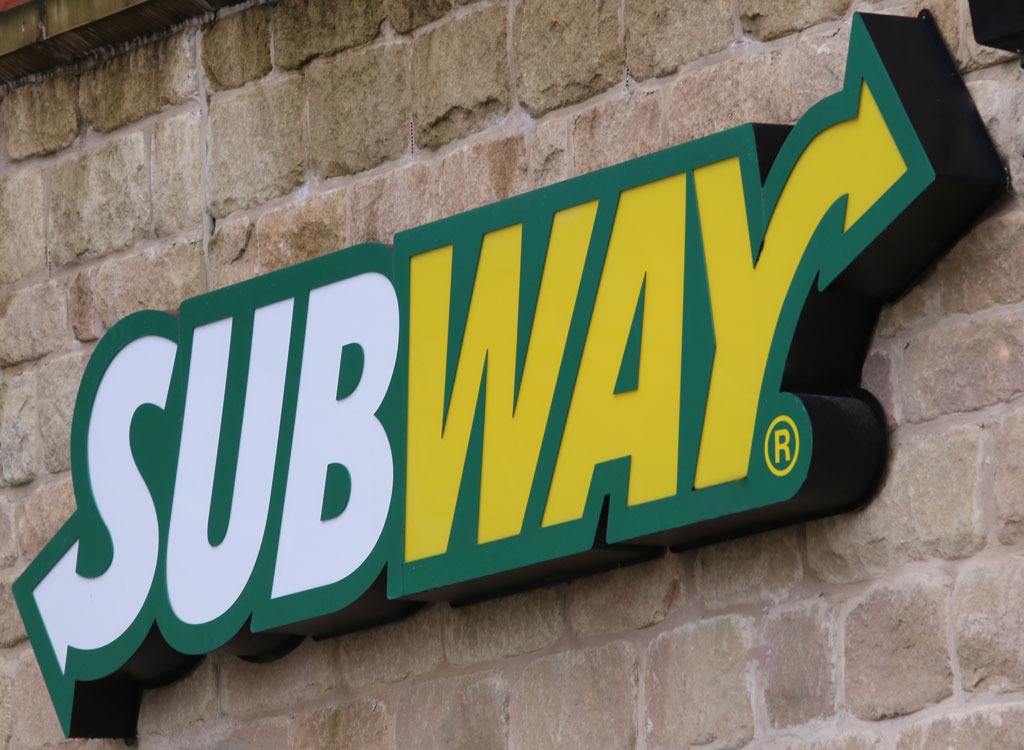 Eat fresh? Well, sure you've got some sandwich options to work with! But beware, the salads can be kinda' sneaky…
Eat This: 6" Rotisserie Chicken Sandwich
Opt for a six-inch Rotisserie Chicken sandwich on whole grain bread loaded up with veggies such as lettuce, tomato, cucumbers, and green peppers, says Christy Brissette, RD and President of 80 Twenty Nutrition. "For condiments, I try to keep it low on empty calories and high on nutrition and flavor with mustard, hot sauce, and avocado, if they have it." Boosting the pick? "I love knowing that the chicken is raised without antibiotics and is all white meat. All this for 350 calories, 5 grams of fiber and 29 grams of protein to keep me feeling fuller longer." You could also opt for other nitrate-free protein options like the turkey breast, carved turkey or oven-roasted chicken, Brissette suggests. "Nitrates are additives used in some cold cuts and are linked to a higher risk of cancer," she explains.
Not That!: Chicken & Bacon Ranch Melt Salad
"There's nothing I hate more than a salad pretending to be healthy when it's really the opposite. My clients will try to make a healthier choice by picking a salad over a sandwich, not realizing that it's all about the ingredients." Clearly, picking the Chicken & Bacon Ranch Melt isn't doing you any favors, but putting it all on a bed of lettuce doesn't serve you better. Before dressing is piled on, it registers at 330 calories, 17 grams of fat, 8 grams saturated fat, and 890 milligrams of sodium.
As soon as you add some ranch dressing, you're putting on an extra 220 calories, 23 grams of fat, 3.5 grams of saturated fat, and 400 milligrams of sodium. "This salad has the same amount of fat as eating a footlong meatball marinara and a third of your friend's six-inch meatball marinara!" Brissette says. Trying to bring the calories and fat down with a lighter dressing like honey mustard or sweet onion? Not so fast! "The tradeoff is you're adding 11 to 16 grams of sugar," Brissette says. "That's like piling 3 to 4 teaspoons of sugar onto your salad!" For more ridiculous salads to avoid, check out these The 20 Worst Restaurant Salads in America.
Johnny Rockets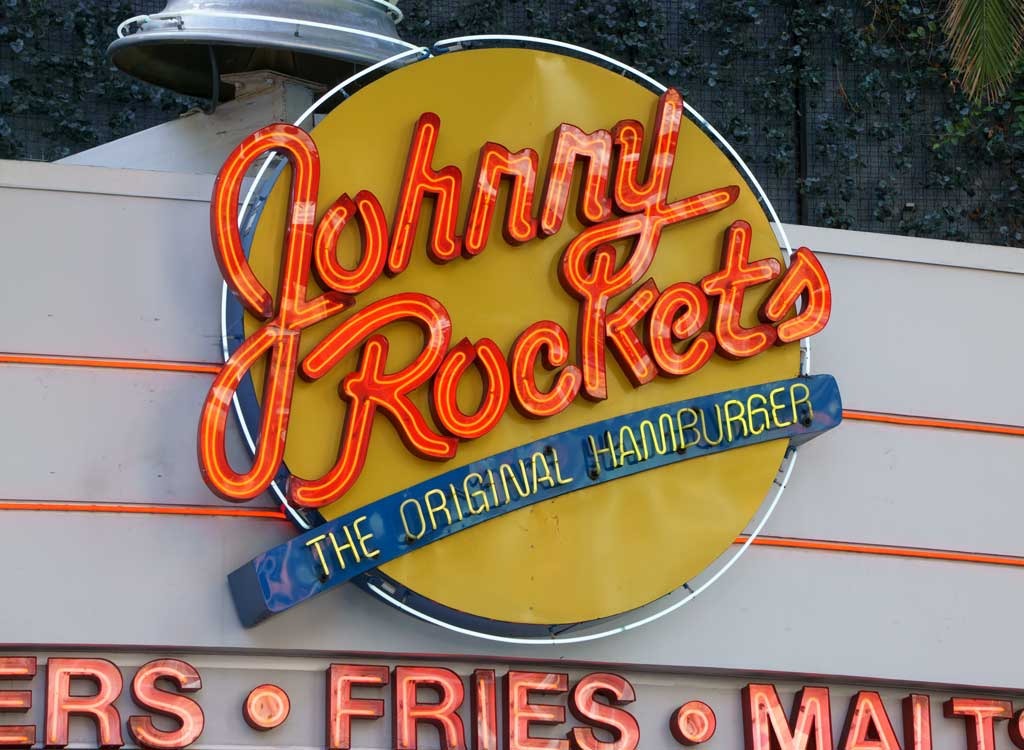 Dial back to the 1950's in this retro-style diner. Now, if only the portion sizes were as they were way back then!
Eat This: Grilled Chicken Sandwich
It's only got 420 calories, says Keri Gans, RDN and author of The Small Change Diet. But that's if you order it without mayo. "Compared to the other menu items, it's lower in calories and fat," Gans says. Believe it or not, it's one of the lowest sodium options at 1,280 mg, she says.
Not That!: BBQ Chicken Bacon Melt
"Honestly, I can't even believe it is on the menu!" Gans says. It packs 1,090 calories, 40 grams of fat, 13 grams of artery-clogging saturated fats and whopping 3,310 milligrams of sodium, she says. Ouch!
Cinnabon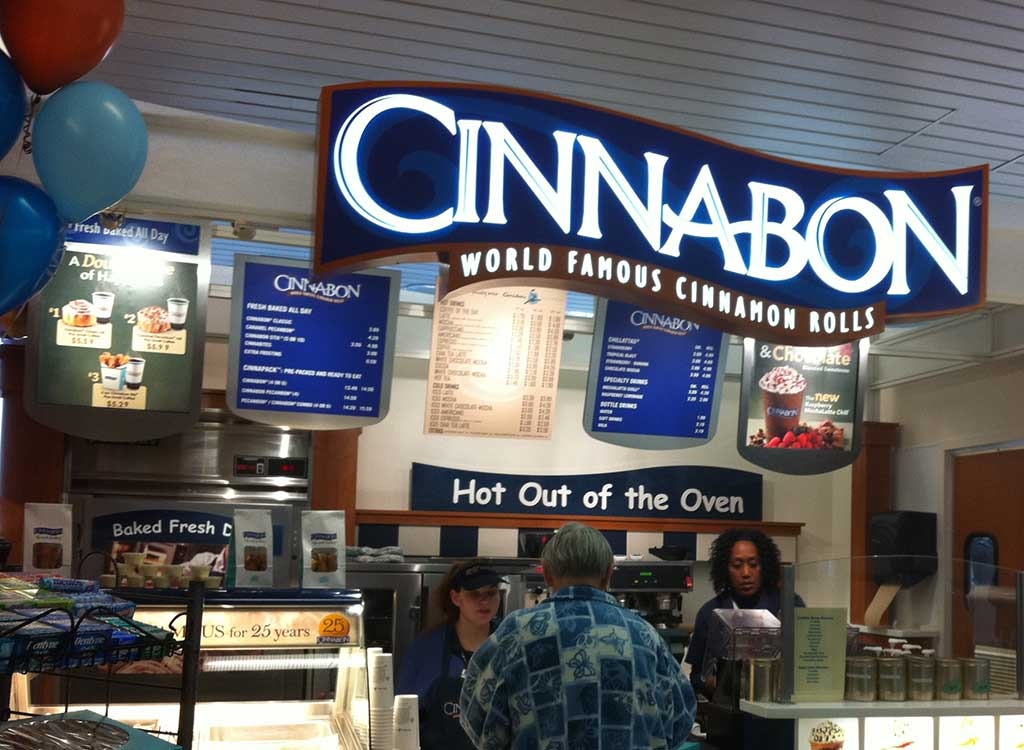 How about a mall showdown: When you step in the mall, do you first smell the cologne outside of Abercrombie & Fitch or the sweet, sugary aroma of Cinnabon?
Eat This: Churro
You could get one churro for 280 calories, says Ilyse Schapiro, RD and co-author of Should I Scoop out My Bagel? The sweet treat with cinnamon and sugar has 11 grams of fat and only 2 grams of saturated fat.
Not That!: Caramel Pecan Bun
It's packing 1,080 calories, 51 grams of fat, 146 Carbs and 75 grams of sugar, says Schapiro. We all know sugar is bad for us for a myriad of reasons, including weight gain and calories. But a study published in JAMA Internal Medicine found that a high-sugar diet may raise your risk of dying of heart disease, even if you're not overweight. Are you a sugar addict? Don't miss these 30 Easy Ways to Stop Eating So Much Sugar!
Mrs. Fields
Okay, cookie monsters, here's the scoop: Mrs. Fields cookies should definitely be considered a special treat rather than a routine pick every time you make it to the mall, says Glockner. The cookie ingredients alone are a reason for concern: Enriched bleached flour, instead of whole-grain flours; preservatives; artificial colors and flavors; and some hydrogenated fats, which aren't heart-healthy.
Eat This: Peanut Butter Bite-Size Nibblers Cookies
On the upside, peanut butter is a plant-based protein with monounsaturated, heart-healthy fats, Glockner says. On the downside, this cookie contains hydrogenated oils, which are not heart-healthy, she says. It has 170 calories, 9 grams total fat, 2 grams saturated fat, 180 milligrams of sodium, and 10 grams sugar. "The reason I chose this as the best option is because it has the lowest amount of calories and sugar," Glockner says. "Some of the other cookies have as high as 29 grams of sugar." The sodium content is also high for a sweet treat, something to be mindful of if you also ate lunch in the food court, Glockner cautions. "The serving size is 3 nibblers cookies. Maybe eat one or two nibblers and share the rest," she recommends.
Not That!: Enrobed White Chunk Macadamia Cookie
While nuts are usually heart-healthy because of their mono and polyunsaturated fats, macadamia nuts are one of the most calorically dense nuts and have a high amount of saturated fats, Glockner says. One cookie has 330 calories, 19 grams of total fat, 10 grams saturated fat, 170 milligrams of sodium, and 29 grams of sugar. "This enrobed cookie is dipped, which makes it higher in sugar," she says. "Twenty-nine grams of sugar is translated into about 7 teaspoons of sugar, which is more than the daily amount of added sugar allowed for most people." On a similar note, one of these 14 Starbucks Holiday Drinks with Tons of Sugar is equal to an entire box of candy canes!
Sbarro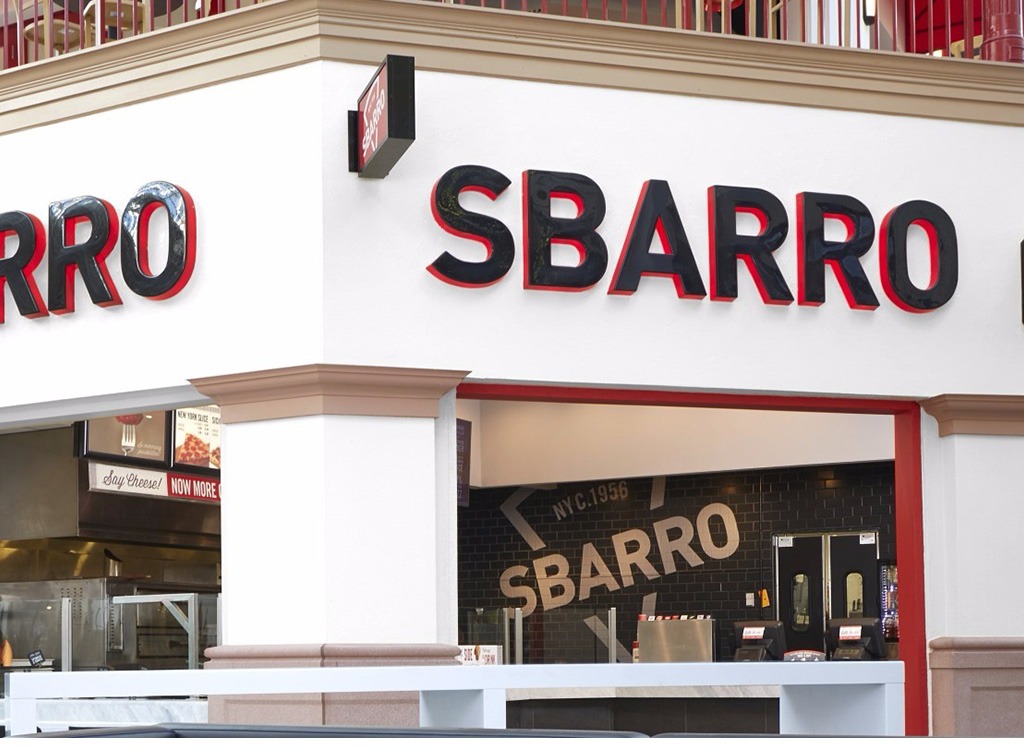 It doesn't matter how much you blot your pizza with a napkin; it's impossible to turn greasy food court pizza into a good meal. But on the healthy end of the menu at this pizza joint, at least there are some salads. Tipping the other end of the scale, though, are carb and calorie-heavy pastas.
Eat This: Garden Salad
"Sbarro actually has salads!" Schapiro rejoices. You can have the Garden Salad for only 130 calories, 7 grams of carbs and 5 grams of sugar. "I would pair this with a side of meatballs for 110 calories, 9 grams of fat, 4 grams of carbs and 1 gram of sugar," she says.
Not That!: The Chicken Vesuvio with Ziti pasta
Don't let the chicken fool you. This meal totals 1,510 calories, 93 grams of fat, 117 carbs and 18 grams of sugar, Schapiro says. The sodium will blow you away, though: It's got 3,720 grams. If you insist on pizza, here's 6 Easy Ways to Cut Pizza Calories.
Auntie Anne's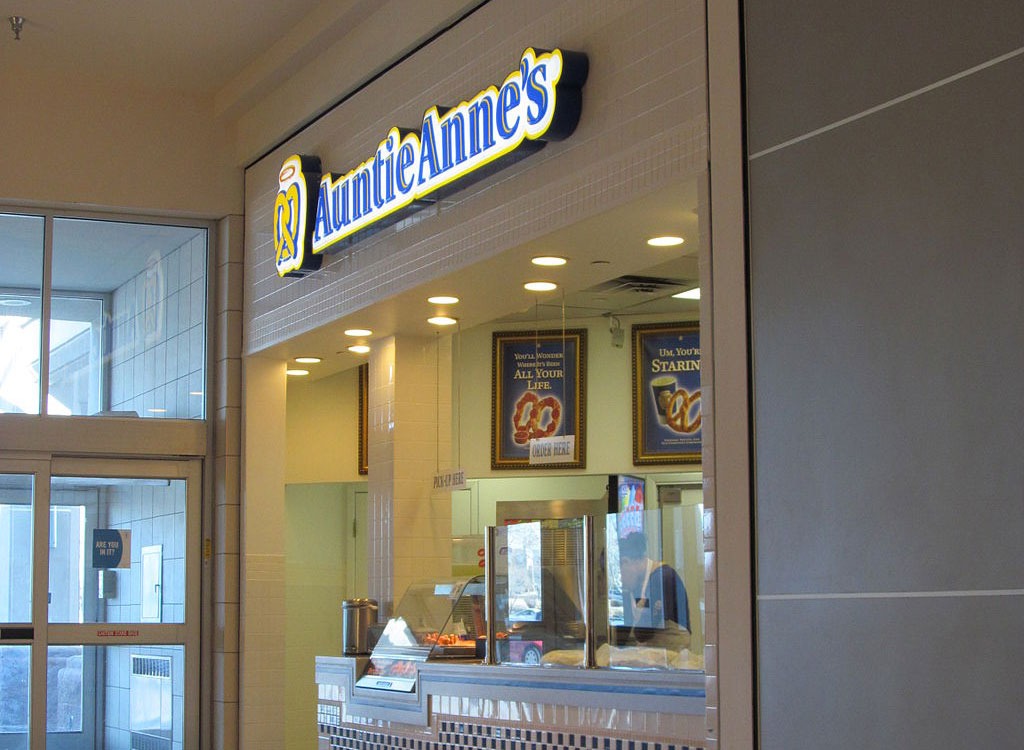 Refined flour, fat, sugar, and salt. Basically, Auntie Anne's is overall never a good choice, says Brissette.6254a4d1642c605c54bf1cab17d50f1e
Eat This: Original Party Pretzel, Without Salt
Brissette is dubbing the original party pretzel as one as the "best of the worst." This option comes in at 180 calories, 34 grams of carbs and 500 milligrams of sodium. "Ask for your pretzel without added salt to slash that sodium number," says Brissette. If you can, split the pretzel with a friend and carry some protein-rich snacks with you and pair your pretzel with a handful of raw almonds or roasted chickpeas, she suggests. "This will help you avoid the blood sugar and energy crash after having refined carbs."
Not That!: Pretzel dogs
"It's refined white flour that's had most of its nutrients removed, covered with cheese and butter wrapped around a greasy, salty hot dog," Brissette says. Oof! The cheese pretzel dog is 370 calories, 20 grams of fat, 0.5 grams trans fat, 780 milligrams of sodium, 33 grams of carbs, and just 1 gram of fiber. If you go for the jumbo dog, you're even worse shape. The huge carb load is like eating four or five pieces of white bread in one sitting, Brissette says.
DON'T MISS: 20 Surprising Foods With More Carbs Than a Bowl of Pasta
Steak Escape
Sirloin sandwiches topped with melted cheese are the signature items at this steak-centric restaurant. But chicken and turkey also found a place on the menu.
Eat This: Grand Chicken Sandwich, Small
Order the small-sized Grand Chicken Sandwich, say The Nutrition Twins Lyssie Lakatos, RDN, CDN, CFT and Tammy Lakatos Shames, RDN, CDN, CFT, authors of The Nutrition Twins' Veggie Cure. The sandwich comes in at 410 calories, which is a reasonable amount for a meal, they say. Plus, with 32 grams of protein, it will really keep you satisfied. "The fat isn't over the top at 13 grams. And although it contains more than half of the sodium you should get in a day, it actually was one of the lowest items in sodium on the menu. Even the salads that have protein have significantly more sodium and fat."
A pro tip from The Nutrition Twins: Scale back on the cheese and cut back on the condiments to reduce the sodium.
Not That!: Regular Fries with Ranch and Bacon
At 1,160 calories, it's a calorie bomb. "They don't even count as a meal, just a side dish—and they have 82 grams of fat, which is more fat than you should get in an entire day," The Nutrition Twins say. Plus, it's practically a salt lick with 1,520 milligrams of sodium. Speaking of mountains of salt, steer clear of the 10 Saltiest Foods in America!
Rubio's Coastal Grill
One of these restaurants is not like the other! Burgers and pizza tend to reign supreme in the royal food court. Rubio's, though, is a coastal-inspired restaurant, with menu items like fish and shrimp. If you've got one in your food court, it's likely one of your best bets.
Eat This: The Grilled Atlantic Salmon Taco on a corn tortilla and the Regal Springs Grilled Tilapia Taco on a corn tortilla
We've got a tie! The Grilled Atlantic Salmon Taco on a corn tortilla and the Regal Springs Grilled Tilapia Taco on a corn tortilla are your best options, say The Nutrition Twins. Both have only 220 calories and 190 milligrams of sodium, they say, which is quite impressive for a chain type restaurant where sodium and calories are typically high. "You can (and should!) also order a side of antioxidant-rich black beans which will bump the fiber up by a whopping 12 grams while still keeping the calories down to just 350," the Nutrition Twins say.
Not That!: Chicken Nachos
They clock in at an excessive 1,220 calories, which The Nutrition Twins say is close to the daily caloric requirement for some of their petite female clients. Plus, these nachos are super-high in sodium (one of the things that make you bloated). To top it off, the nachos will tick off your ticker. They are packed with more than 22 grams of artery-clogging saturated fat, the Nutrition Twins warn, and the recommended limit for a healthy heart is 16 grams per day.
Sarku Japan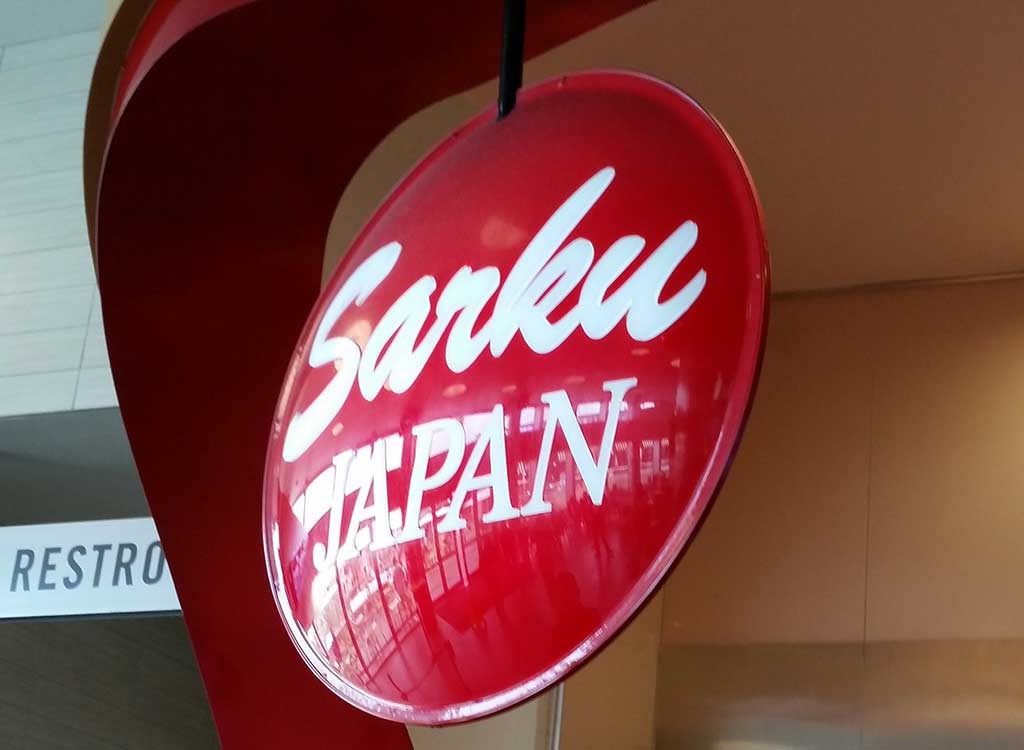 Do not pass go, do not collect food samples. Go straight to Sarku Japan if you've got one in your food court. It's one of the few places where you can customize a meal.
"The good thing about Sarku is that meals are cooked-to-order in front of you, so you can ask for certain adjustments, such as extra vegetables or brown rice instead of white rice, to make your meal better for you," says Jessica Levings, RDN and owner of Balanced Pantry.
Eat This: Sushi
Sushi! And more specifically, opt for the tuna sushi roll, suggests Levings. "With about 180 calories and more than 20 grams of protein per 6 to 8 piece roll, this option will offer the fuel you need to cruise afternoon deals without extra calories," she says. If you're choosing from the combos, the shrimp teriyaki has the fewest calories with only 500 per meal, Levings says. "Although the sodium is a little higher than other options at 820 milligrams per meal, asking for less or no sauce can help slash sodium."
Not That!: Chicken and Shrimp Teriyaki
The chicken and shrimp teriyaki dish has the most calories and sodium of any menu option, with 700 calories and 1520 milligrams of sodium per meal, so check out other choices if you can, Levings says. "And keep in mind that anything that says 'tempura' has been battered and deep fried, so try to avoid these options and opt instead for meals or rolls with fish, vegetables, and brown rice or noodles," she says.
Orange Julius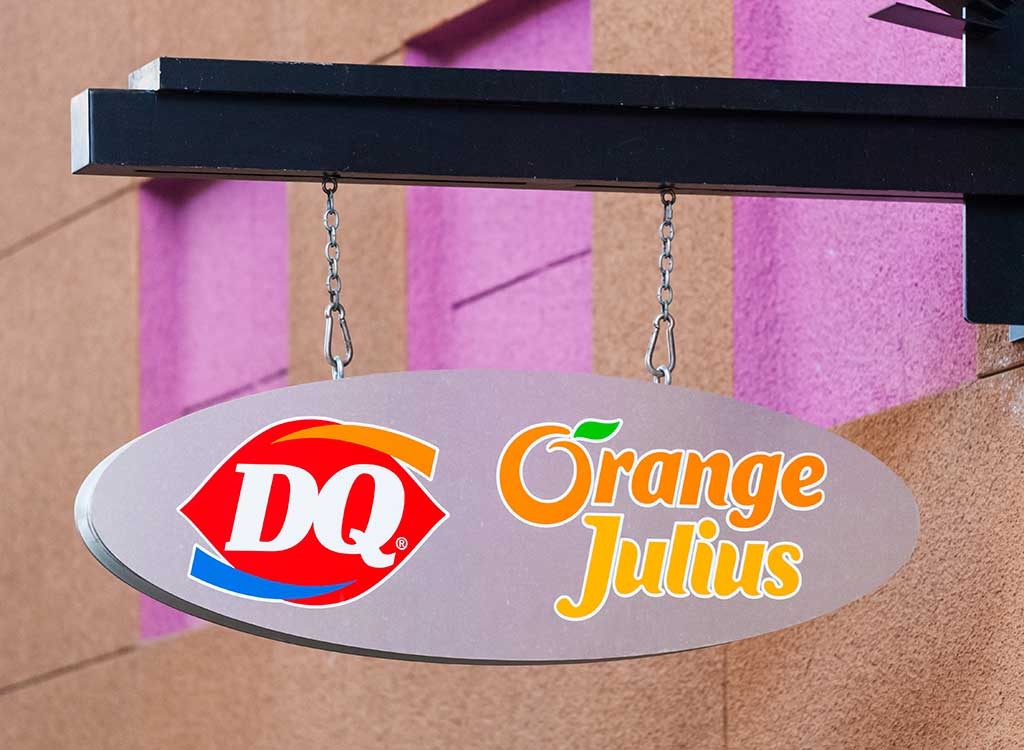 Orange Julius is synonymous with mall food courts. But be careful if you assume all smoothies are healthy, cautions Monica Auslander, RD, and the founder of Essence Nutrition. She scouted the menu at Orange Julius and found that the smoothie with the lowest amount of sugar still has 33 grams. (That's 8.5 packets of sugar. Yikes!)
Eat This: Light Strawberry Banana Smoothie
This one clocks in at 33 grams of sugar and 160 calories and is your best possible order. "I wish there were some fat in there to attenuate the major insulin shock you'd get from all of that sugar and no fat or protein," Auslander says. Instead of adding a scoop of their protein powder, which is likely highly processed, have some unsalted nuts with the drink, Auslander suggests. "Fat slows down the blood sugar's attack on your system and helps the fat-soluble nutrients absorb," she says. An even better bet would be these 56 Smoothie Recipes for Weight Loss!
Not That!: Large Tripleberry Smoothie
It has 165 grams of sugar. That's the equivalent of 41 packets of sugar, Auslander says. 'Nuff said. "How about we settle for bringing bananas, apples, nuts with us and avoid this disaster?" she says.
Dairy Queen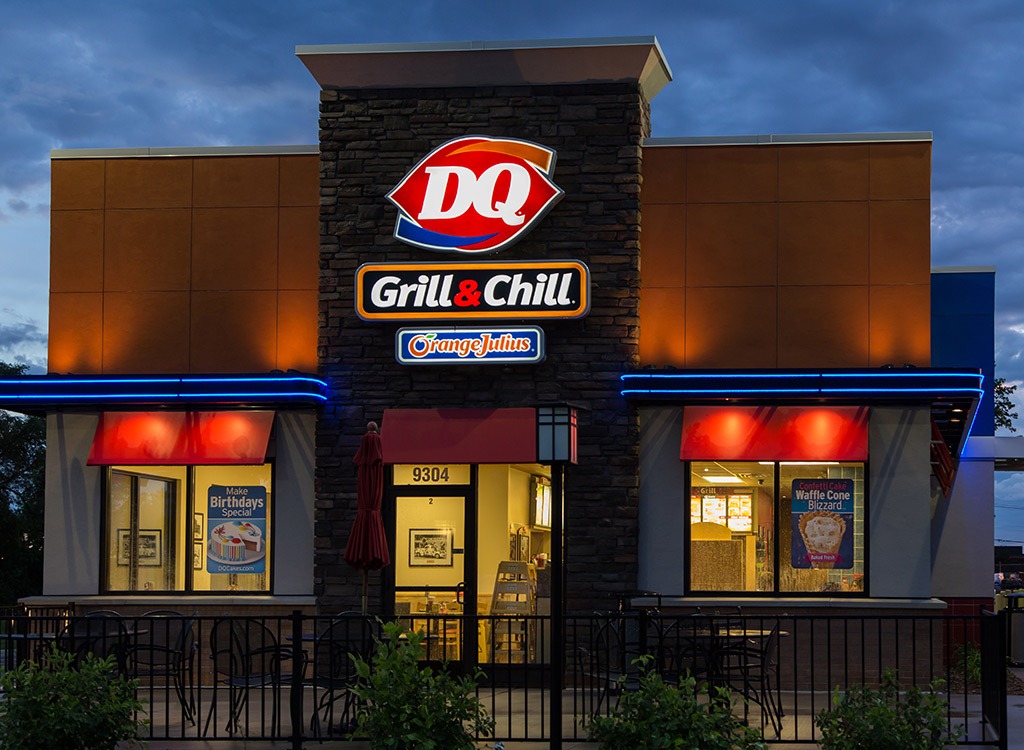 For the purpose of this round-up, we're looking at meal orders. (It's a no-brainer that an extra large blizzard with candy toppings should be a pass.)
Eat This: Chicken BLT Salad
"At only 270 calories per serving, it definitely leaves plenty of room to add the salad dressing," Gans says. Some runner-ups: The Grilled Chicken Sandwich or the Original Cheeseburger (which is only 370 calories with 870 milligrams of sodium, she says).
Not That!: The 1/2 Pound Flame Thrower Grill Burger Combo
It registers at 1,150 calories and 53 grams of protein, practically enough to meet your needs for the entire day, Gans says. "With 26 grams of saturated fat and 2,030 milligrams of sodium it's a heart attack waiting to happen," she says. "As a rule of thumb, never order a combo; it's like adding salt to a wound." (We see what she did there). And speaking of dishes with crazy calorie counts, you won't believe these 10 Dishes with More Than 2,000 Calories!