Whole Foods Unveils Discount Loyalty Program for Amazon Prime Members
Hopefully, this means Whole Foods won't cost a whole paycheck.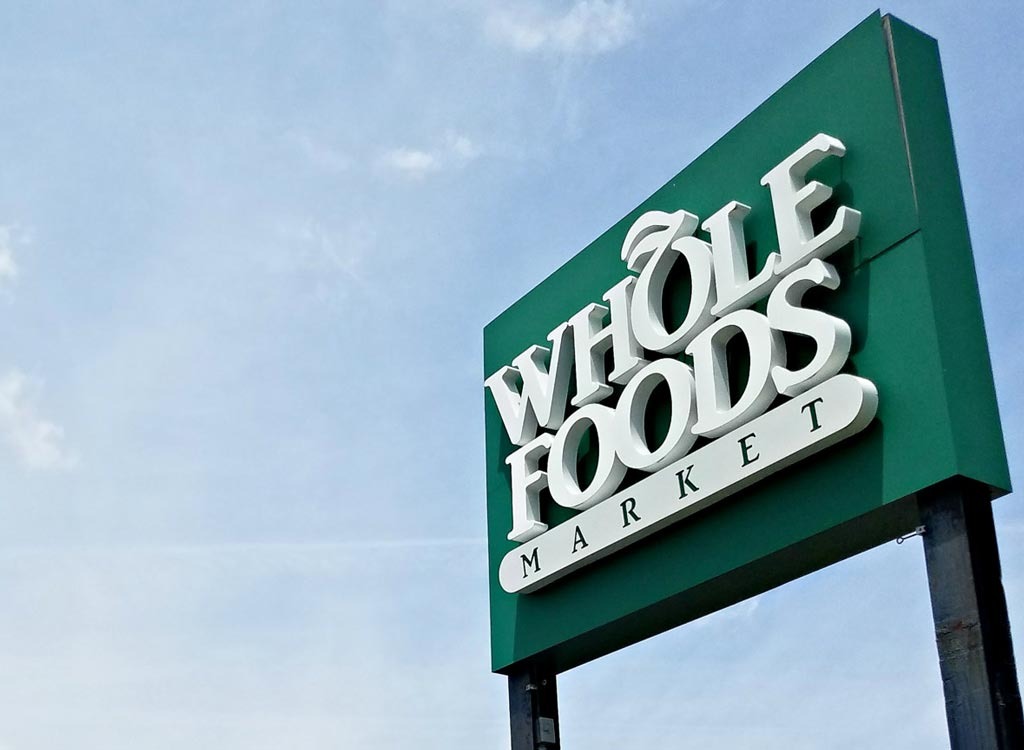 Today, Amazon, which bought Whole Foods for a whopping $13.7 billion in June 2017, debuted a new loyalty program that offers exclusive discounts for Amazon Prime members. Last month, Whole Foods announced it would be sunsetting their rewards program and digital coupons and said they would unveil a new benefits program soon. Well, here it is. Starting today, Amazon Prime members will receive a 10 percent discount off of all sale items at Whole Foods and "weekly deep discounts" on best sellers. So if your favorite almond butter is running off the shelves, the hope with this new program is that you'll get deal on it the next time it's stocked.
Do More Discounts Equte to More Savings?
The discounted perks will first launch in Whole Foods stores in Florida and will expand to all Whole Foods stores and Whole Foods Market 365 stores across the U.S. this summer. The online shopping giant, which prides itself on affordable prices and discounts, is determined to cut food prices in Whole Foods stores, giving more people access to the grocer's top-of-the-line foods and products. The sale items in stores are labeled with "10% off" and "Prime Member Deal" signs. But will this new program convert more Whole Foods customers to become Amazon Prime members?
Eddie Yoon, founder of EDDIEWOULDGROW, LLC, a think tank and advisory firm on growth, says, "My sense is that this isn't about converting new customers to Prime, as many Amazon Prime households have very high overlap with Whole Foods shoppers." In other words, many Amazon Prime members are already Whole Foods Shoppers.
"Piper Jaffray [a New York City-based U.S. investment bank and asset management firm] noted that 70 percent of upper-income households (>$112K annually) are Amazon Prime members, which is up from 50 percent just a few years ago. Those upper-income households are likely the same that were already shopping at the retailer known as "Whole-Paycheck."
How Amazon Will Win Whole Foods Customers
So why create a new loyalty program with discounts? Yoon says the rewards serve two end goals for Amazon. "First, this is about adding value to existing Prime customers, who are facing a price increase for Prime memberships from $99 to $110 per year starting this month and June," Yoon says. "This should help them justify the price increase." Second, Amazon will use data they receive from their customers to inform what foods and products they should continue to curate. They'll also use this information to help them understand their customers' lifestyles. "Amazon knows a ton about what its Prime users buy online, what they watch, and what they listen to. Now it'll help Amazon know what they eat and drink, too," Yoon says.
While people with higher incomes have better access to nutritious, high-quality foods, it begs to question whether the loyalty program, which includes Amazon Prime users from different income brackets, will inspire more people to buy more nutritious, organic foods. "Given that Consumer Reports noted that organic foods are on average 47 percent more expensive, a 10 percent price discount won't convert consumers who weren't already into organic at some level," Yoon says. However, Yoon says it might convince more customers who already buy organic foods to buy more of it—and more often.6254a4d1642c605c54bf1cab17d50f1e
Ultimately, Yoon believes Whole Foods' new loyalty program won't help people save money. It will just give people the perception that they're getting a good deal and spending less. But what this means for other grocers and competitor rewards programs is that they'll have to evaluate their prices for organic foods and find ways they can also provide discounts for their customers.
How the Loyalty Program Will Work
With this new loyalty program, Whole Foods customers don't have to save and cut up coupons. All they have to do is download the Whole Foods mobile app, which they'll link to their Amazon Prime account, and then scan the barcode at checkout to get the discounts. "Grocers will react to a category by category basis, measuring the price gap between both organic and conventional foods at Whole Foods, but more importantly, the gap between organic at Whole Foods and organic at other stores. So in some cases, they might lower prices, but in others, they might hold," Yoon notes. "Conventional grocers don't have huge e-commerce businesses they could just link to their offline shopping. Count this as a win for Amazon extending its lead in data."
The deals below will be available from May 16 through May 22:
Sustainably-sourced, wild-caught halibut steaks: $9.99/lb., save $10/lb.
Organic strawberries: 1 lb. for $2.99, save $2
Cold brew coffee at Allegro coffee bars: 50% off 16 oz.
KIND granola: 11 oz. bag 2/$6
365 Everyday Value sparkling water: 12-pack case buy one, get one free
Magic Mushroom Powder: 50% off
Plus, an additional 10% off hundreds of sale items throughout the store
Learn more about Amazon's Whole Foods discount program here. And before you head over to the store to stock up, check out these finds: 25 Best Whole Foods Finds Under $5.