Whole30 Roasted Veggie Salad With Tahini Dressing
Make this roasted veggie salad your easy weeknight Whole30 dinner.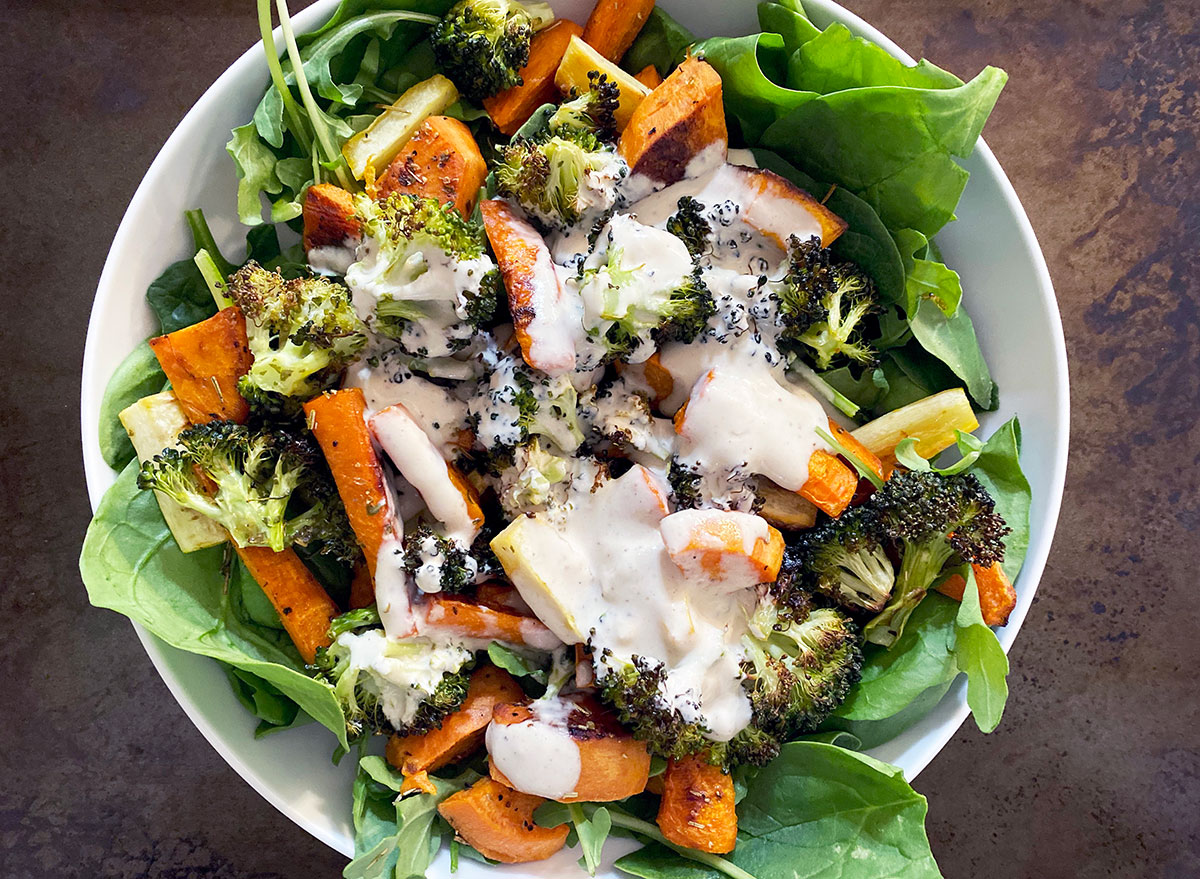 We're past the point in our culinary evolution where salads were a boring, tasteless meal. This recipe for a Whole30 roasted veggie salad is just on of many examples of salad done right. Roasting vegetables (we use a blend of broccoli, carrots, and parsnips but any sturdy vegetables will work well) and serving them over a bed of fresh baby spinach makes for more a less boring salad than using all cooked vegetables or all fresh leafy greens.
The real secret to making this roasted veggie salad a zinger is the garlicky lemon tahini dressing, which is best drizzled on top rather than tossed.
Makes 2 servings
Ingredients
For the salad:
4 cups baby spinach
1 head broccoli, chopped into florets
4 Tbsp olive oil
Salt and pepper, to taste
4 large carrots, peeled and cut into 3-inch chunks
2 large parsnips, peeled and cut into 3-inch chunks
For the tahini sauce:
1 clove garlic, minced
1/4 cup tahini
1/3 cup water
2 Tbsp lemon juice
1/8 tsp cayenne pepper (optional)
Salt, to taste
How to Make It
Preheat the oven to 400°F. Line two baking sheets with parchment paper.
Spread the broccoli on one sheet pan and drizzle with 2 Tbsp olive oil. Season with salt and pepper.
Spread carrots and parsnips on the second sheet pan. Drizzle with the remaining olive oil and season with salt and pepper.
Bake the vegetables for 30 to 40 minutes, or until well-browned and golden on the edges, turning over once halfway through. Remove from the oven and let cool slightly while you make the dressing.
To make the dressing, whisk together the garlic, tahini, water, lemon juice, and cayenne pepper (if using). Taste and season with salt to taste. If the dressing is too thin, add water, a little bit at a time, until you achieve a consistency that's easy to drizzle.
Divide the spinach between two large bowls. Divide the roasted broccoli, carrots, and parsnips evenly between both bowls and drizzle with the dressing.