The World's Best Sandwich Recipe
Anyone who tells you she has the world's best sandwich recipe is probably lying.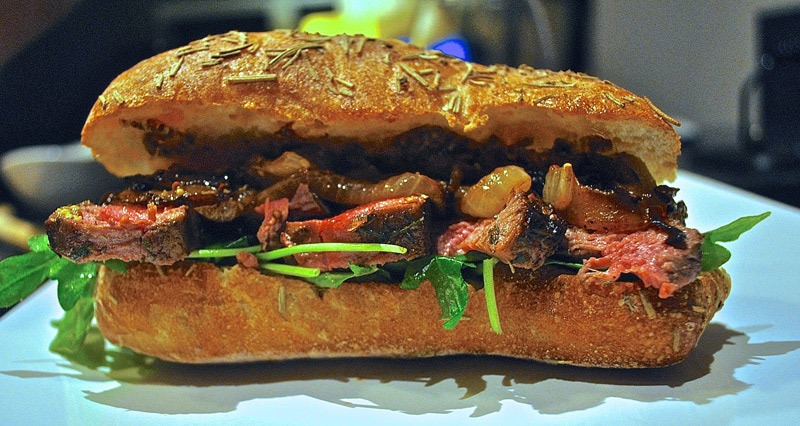 This post contains affiliate links. If you use these links to buy something, we may earn a commission.
How can one person possibly know unless what sandwich is really "the world's best" unless she's tried to make every sandwich under the sun? Well, guess what: I have.
In the last 24 months, I may have literally made every sandwich known to man. And I'm ready to reveal the very best one.
It started with a humble turkey and Swiss that I made for my boyfriend. He loved it—or at least, he loved the fact that I'd made it for him—so much so that he blurted out these shocking words: "Honey, you are 300 Sandwiches away from a wedding ring."
Maybe cooking your way to a wedding ring is not exactly a feminist ideal, but I'm also the type of woman who can't resist rising to a challenge. I was going to get that ring, and I was going to do it by perfecting every single sandwich recipe known to man.
For the next two years, I became the Sandwich Queen. Lobster rolls? Made 'em. Ice cream sandwiches? Done it—with homemade ice cream! Muffulettas? Arepas? Sliders? From baked-from-scratch Oreos to French Toast Peanut Butter and Jelly, I became a one-woman Sandwich Generation.
And then I found it. The World's Best Sandwich Recipe.
I didn't know it was the world's best at first. I fact, I went on to make 200 sandwiches more before it dawned on me that no matter how remarkable my next concoction might be, it would never quite measure up to what I've since realized is The World's Best Sandwich Recipe.
As for my quest for the ring? I got the recipes, and I got the guy. We're getting married in June. And thanks to my kitchen ordeal, now you can win your partner's heart without having to make 300 sandwiches.6254a4d1642c605c54bf1cab17d50f1e
With this recipe, you only have to make one.
Prime Rib Steak Sandwich with Carmelized Onions
MAKES 4
Ingredients
1 medium onion
5 Tbsp unsalted butter
1 pound prime rib, cut into 4 steaks
2 Tbsp chopped fresh rosemary
2 Tbsp chopped fresh thyme
2 Tbsp black pepper
kosher salt
2 Tbsp olive oil
2 medium ciabatta rolls or hearty sandwich buns, halved
2 Tbsp thick seeded mustard
1 cup arugula leaves
How to Make It
Cut the onion into thick slices and sauté over medium heat with 2 Tbsp of the butter for 10 minutes, stirring frequently. Reduce heat to low and continue sautéing until caramelized (about 20 more minutes).
While the onions are cooking, rub the prime rib on both sides with a mixture of rosemary, thyme, and black pepper. Sprinkle with kosher salt.
Heat a large nonstick pan over medium heat. Once the pan is hot, add 1 Tbsp of olive oil and sear steaks on one side. Once the steaks are halfway cooked (about 2 minutes), flip them over and add 2 Tbsp of butter to the pan. Tilting the pan toward you slightly, use a spoon to baste the butter and olive oil mixture over the top of the steaks. Steaks are cooked rare once the inside of the meat reaches around 120 degrees Fahrenheit.
Let the meat rest for 10 minutes, then slice it thin, cutting across the grain. Spread remaining butter on the buns and toast for about 4 minutes in an oven or toaster, until medium-dark. Spread mustard on both sides of the rolls.
In a small bowl, gently toss the arugula in the remaining olive oil, salt, and pepper to coat the leaves and place them on the bottom of the rolls. Divide the steaks evenly among the sandwiches and top with the caramelized onions. Finish with the top half of the rolls.
COOK UP YOUR OWN ROMANCE and learn the secret to winning any man's heart—while eating great foods you'll love—with Stephanie Smith's 300 Sandwiches. Order it now!