The #1 Worst Thing to Order at The Cheesecake Factory, Says Dietitian
You may need to change your favorite factory dessert.
The Cheesecake Factory comes with an extensive menu. With pages of appetizers, entrees, drinks, and desserts, it can seem very overwhelming. And of course, not everything on the menu is going to be the trademark of healthy eating (even though they have a section dedicated to that). And there definitely are a few picks that are the worst Cheesecake Factory orders.
If you're trying to maintain your health for any reason, whether it be weight loss, blood sugar, cholesterol, etc., then it's important to know about the food you're eating, especially at restaurants. If you don't feel like reading through The Cheesecake Factory's novel-sized menu, we've got you covered. There is one food in particular worth avoiding. According to Lauren Manaker, MS, RDN, LDN, CLEC, CPT, author of The First Time Mom's Pregnancy Cookbook, The 7 Ingredient Healthy Pregnancy Cookbook, and Fueling Male Fertility, the worst thing to order at The Cheesecake Factory is their Oreo cheesecake.
"As much as it pains me to say it, the worst thing to order on The Cheesecake Factory menu is a slice of their oreo cheesecake," says Manaker. "While this dessert tastes absolutely divine, it offers very little in the nutrition department. And, it is loaded with saturated fat, sugar, and other ingredients that don't support overall health."
Officially named the Oreo Dream Extreme Cheesecake, this decadent dessert is a cheesecake layered with Oreo cookies, topped with Oreo cookie mousse, and smothered with chocolate icing. While it may sounds (and look) scrumptious, you're not getting any nutritional value from this sweet treat.
Most of The Cheesecake Factory's menu items are super-sized, according to Manaker. They also contain a large number of calories and fat. However, many of them at least offer up some vitamins, minerals, and high-quality protein.
"The cheesecake, on the other hand, doesn't provide many nutrients and, when consumed, sets people back a huge amount of calories," she says.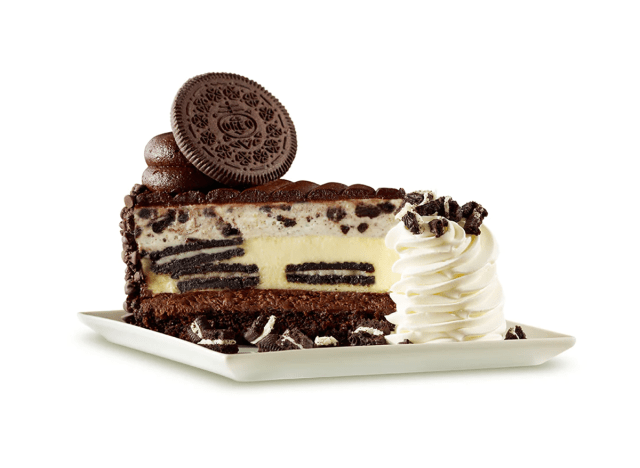 6254a4d1642c605c54bf1cab17d50f1e
The American Heart Association suggests a strict added sugar limit of no more than about 24 grams for most adult women and no more than about 36 grams for most men. The dietary reference intake (DRI) for fat in adults is 20% to 35% of total calories from fat, which is about 44 grams to 77 grams of fat per day if you eat 2,000 calories a day. And then, the Dietary Guidelines for Americans recommend that you eat between 225 and 325 grams of carbs a day. This cheesecake either well exceeds that daily limit or makes up most of your intake for the day.
When looking at the nutrition information on the website, you'll see that the Oreo Dream Extreme Cheesecake comes in at about 1,600 calories, with 880 of those calories coming from fat. The cheesecake also contains about 178 grams of carbs and 133 grams of sugar—and this is for a single slice!
Next time you look at The Cheesecake Factory's dessert menu, find the willpower to stay away from this cheesecake and instead opt for a healthier dessert with a little more redemption.
Kayla Garritano
Kayla Garritano graduated from Hofstra University, where she majored in Journalism and double minored in Marketing and Creative Writing.
Read more about Kayla