5 Chain Restaurant Soups to Stay Away From Right Now
Get your warm, cozy fix elsewhere for the sake of a real nutritious meal.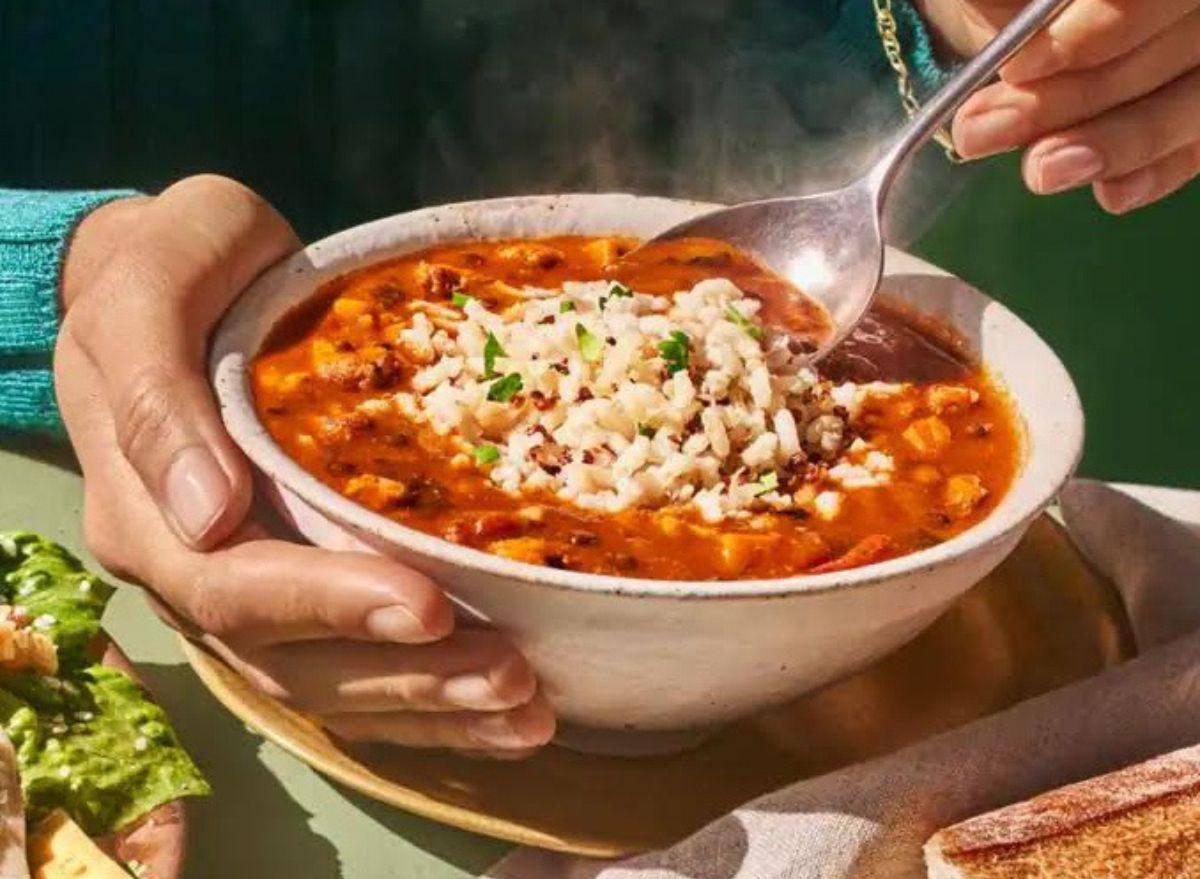 Sometimes nothing hits quite like a warm soup on a cold day from your favorite chain restaurant. Panera Bread, Chick-fil-A, and a few other chains have a few different varieties to choose from. And soup is healthy right?
Well, not all soups are created equal, especially at chain restaurants where a majority of the time soup isn't the specialty. With that in mind, similarly to how you want to stay away from these steakhouse chain orders on your next restaurant visit, you'll also want to steer clear of these chain soups whether that's due to their calories, fat, bad reviews, or maybe even a combination of all three.
Keep on reading to find out the five chain restaurant soups to stay away from right now.
Panera Bread's Chicken Tikka Masala Soup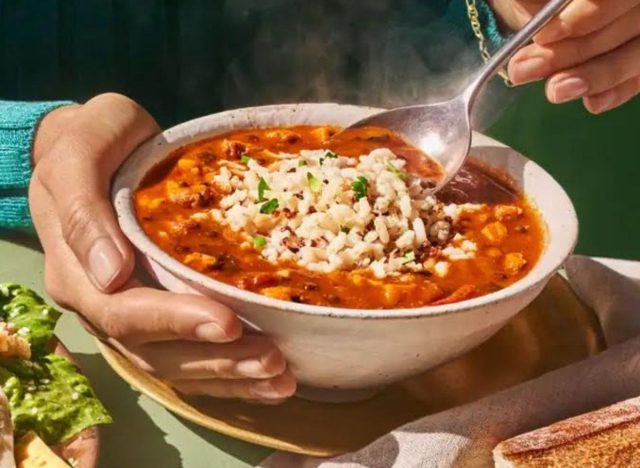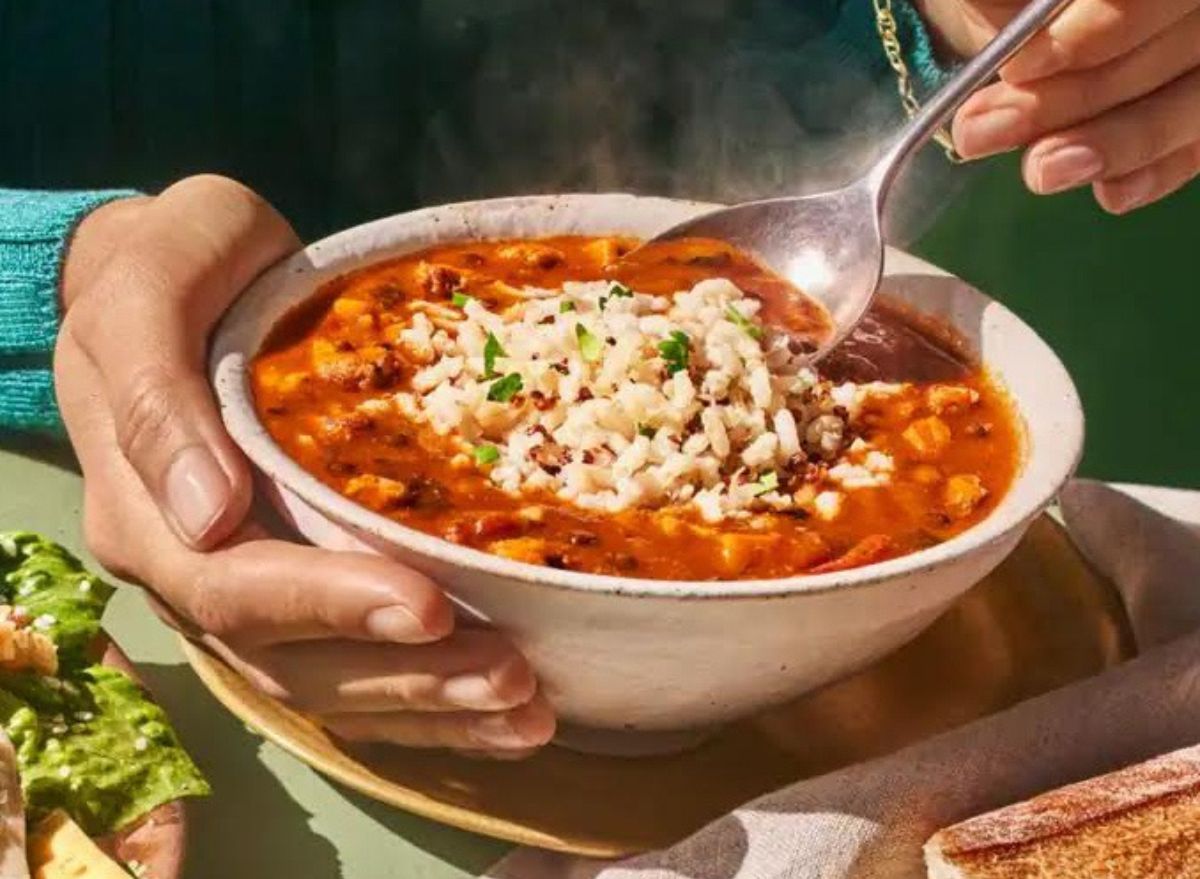 per bowl
: 360 calories, 17 g fat ( 10 g saturated fat), 1,000 mg sodium, 37 g carbs (5 g fiber, 8 g sugar), 16 g protein
This soup is a loose homage to the dish Chicken Tikka Masala which was invented by an Indian chef in Scotland and is served at many Indian restaurants across the U.S. It contains, per the Panera site, chicken, black lentils, butternut squash, and kale in a curried tomato broth, finished with coconut milk and spices and with brown rice and quinoa. The only things it appears to have in common with Chicken Tikka Masala are tomato sauce, chicken, and curry.
Customers were skeptical of this new offering but also excited to try the new Chicken Tikka Masala Soup. But, shortly after its launch, many expressed disappointment with the finished product. One said, "I tried this, but it's like…. a sweet mush. You can taste some of the spices or whatever, but honestly, it's like mashed sweet potatoes with a pinch of whatever spices are used for tikka masala. Not impressed."
One TikTok even went viral, with over 15 thousand views and nearly 500 comments, after taking a comedic jab at Panera's attempt at re-creating the Indian dish. Lots of viewers left comments agreeing that the soup has not been well received: "As a worker, nobody ever likes it and asks for a refund😭" said one from a self-described Panera employee. "I work there, and I'm afraid to try it," said another.
Chick-fil-A's Chicken Tortilla Soup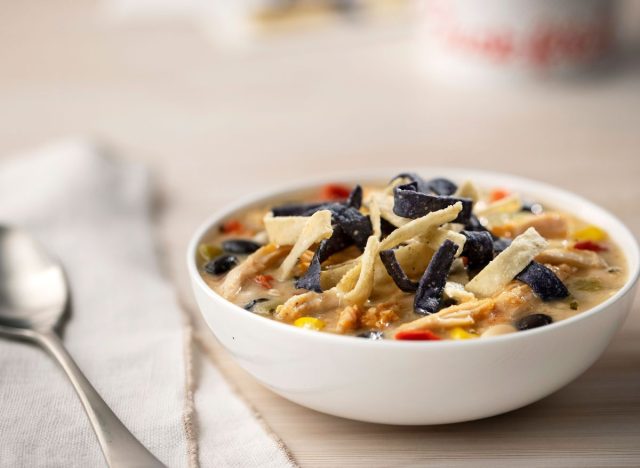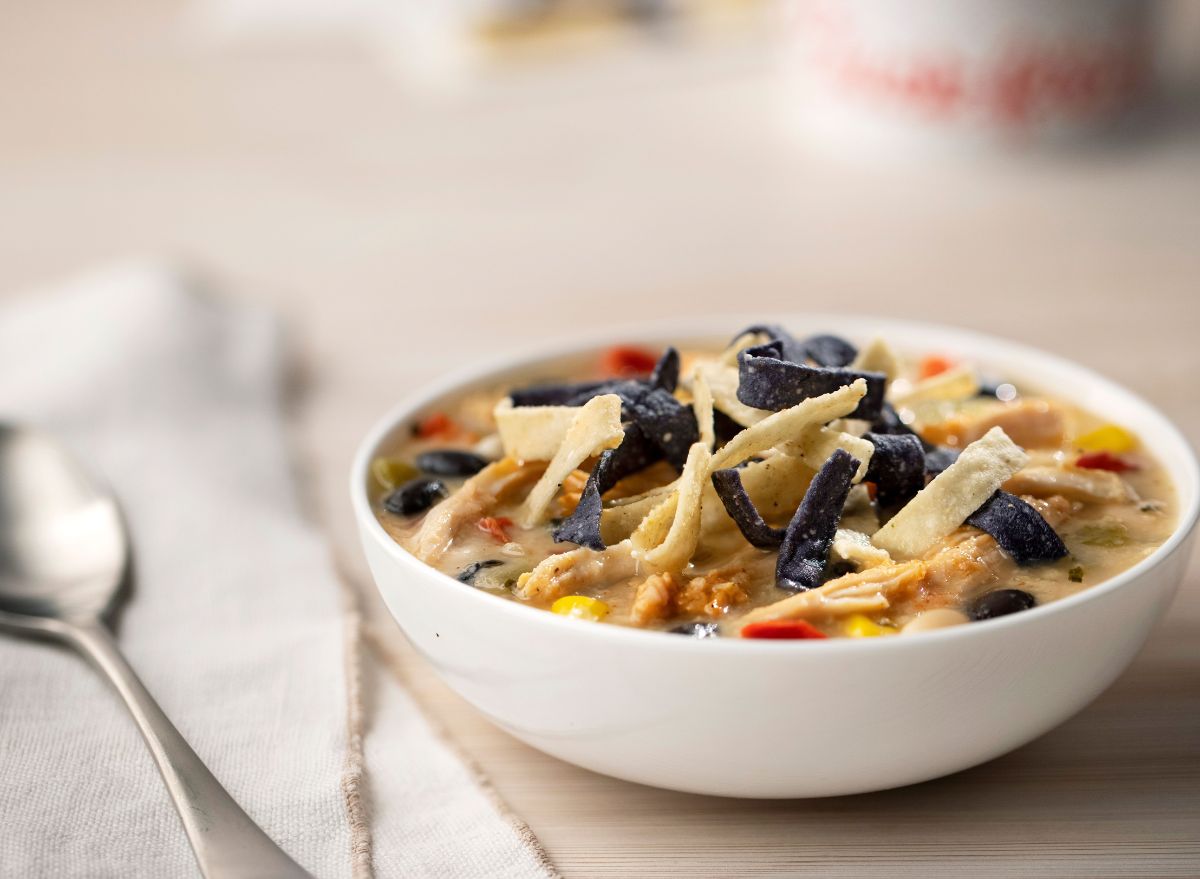 per serving
: 580 calories, 16 g fat (5 g saturated fat), 1980 mg sodium, 65 g carbs (31 g fiber, 7 g sugar), 44 g protein
Chick-fil-A's soup is a lighter option at the chain right? While choosing a soup to round out your meal can be a good choice, as opposed to getting an order of french fries, at Chick-fil-A, that's not the case. The soup is described as having a white creamy soup base and it's topped with fried tortilla strips, still, the calorie amount is a shocker.
One bowl of this soup has nearly 600 calories—that's more than a Chick-fil-A chicken sandwich! Additionally, it's loaded with 2,000 milligrams of sodium, which is right near the daily recommended value.6254a4d1642c605c54bf1cab17d50f1e
Panera Bread's Broccoli Cheddar Soup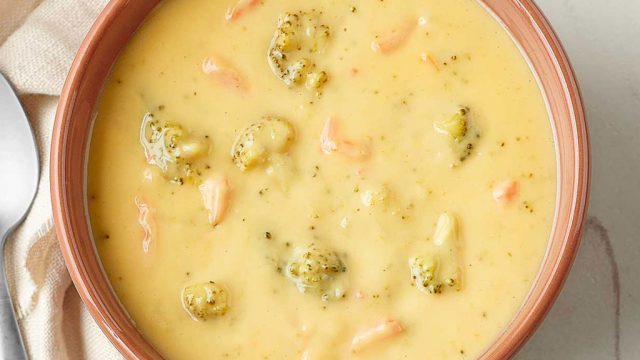 per serving
: 370 calories, 24 g fat ( 17 g saturated fat), 1470 mg sodium, 25 g carbs ( 6 g fiber, 8 g sugar), 13 g protein
This soup is a fan-favorite at Panera and is a part of the permanent menu, however, it's not one you'll want to get repeatedly. Although it may be creamy and delicious, it boasts a whopping 17 grams of saturated fat per serving which is over the American Heart Association's recommended daily amount of 13 grams. Plus, it even has more than half of the recommended amount of sodium (2,300 milligrams per day) with 1470 milligrams for a single bowl.
El Pollo Loco's Homemade Tortilla Soup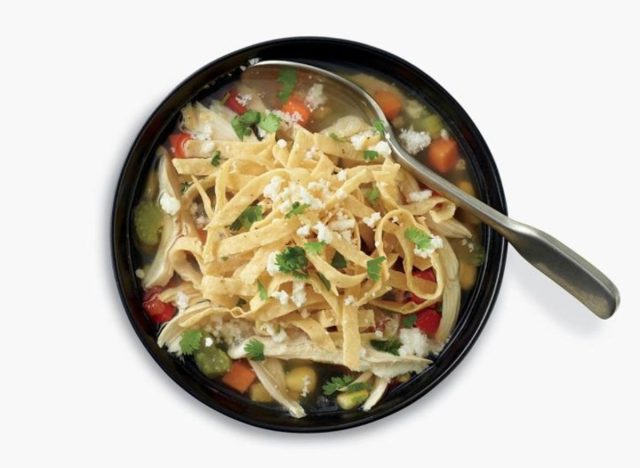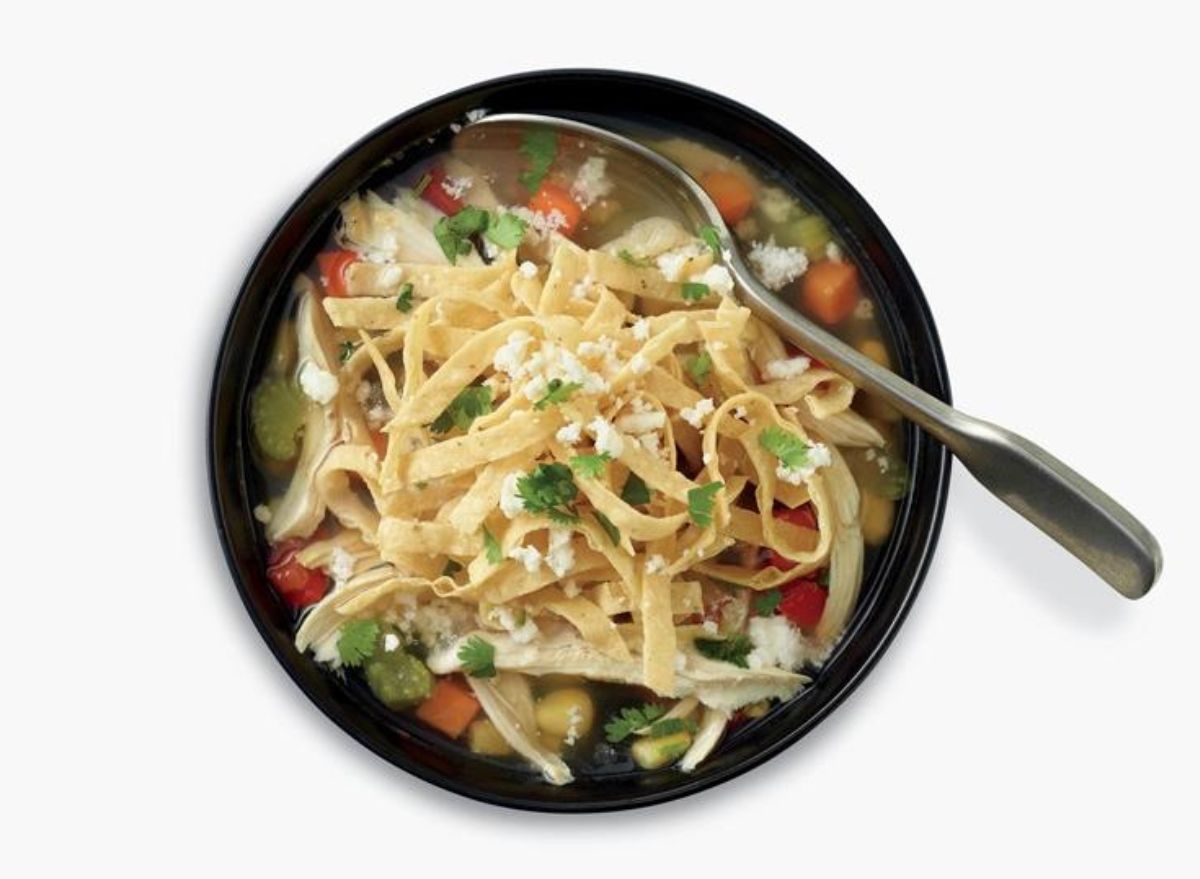 per large
: 450 calories, 17 g fat (4 g saturated fat), 1,890 mg sodium, 34 g carbs (5 g fiber, 6 g sugar), 42 g protein
Although you may not visit a Mexican chain restaurant for a bowl of soup, that doesn't mean you shouldn't. A bowl of good chicken tortillas soup can be just what you need on a cold day. This delicious tortilla soup has the brand's signature chicken, tortilla chips, cilantro, and cotija cheese. But, it's not a soup you'll want to indulge in frequently, especially if you have high blood pressure, since its sodium content is just shy of the daily recommended value in a single serving.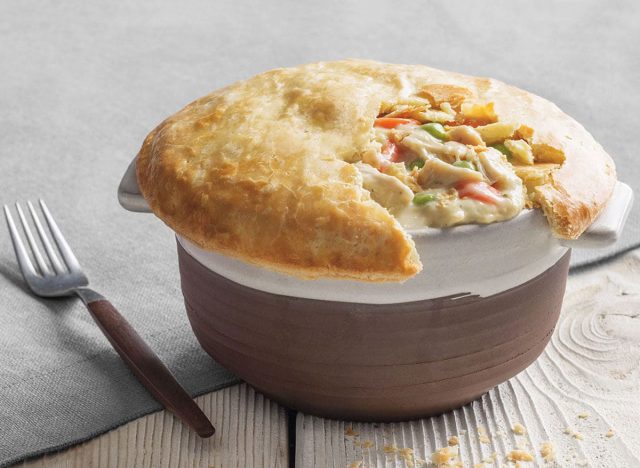 per large
: 720 calories, 41 g fat (25 g saturated fat), 1,750 mg sodium, 60 g carbs (7 g fiber, 5 g sugar), 46 g protein
While chicken pot pie is arguably a stew, it qualifies as one to approach with caution. This pastry-topped creation is going to fill you up on a cold night, but it really should be a once-in-a-while treat. With 720 calories and a whopping 25 grams of fat, you might want to share with someone else or leave half for later. Plus, the sodium is extremely high at 1,750 milligrams. That being said, reviews are positive, especially oddly from pregnant Redditors who heap praise upon this warming dish. So if you're in good health and eating for two, give one a try.
Casey Clark
Casey Clark is a current journalism student at Hofstra University with a passion for food, beauty, and entertainment.
Read more about Casey