The Worst Chain Restaurant Menu Items of 2020
Just because it's something new, doesn't mean you have to try it...
It's safe to say 2020 was a weird year all-around, but it's been a particularly bizarre year when it comes to dining out. For the most part, many of us didn't. Options dwindled, in-door dining was limited, and as a result, curbside pick-up (and delivery!) from the local fast-casual chain restaurant definitely reigned supreme.
If you've ever wondered which new menu items to avoid at some of your favorite chain restaurants—Panera, Applebee's, Denny's, and more—we've done the work for you. After taking a look at each menu items' nutritional value and consulting Lisa Richards, registered dietitian, and author of The Candida Diet, we've rounded up some of the worst new menu items at chain restaurants of 2020. This way, you know exactly which dishes to avoid. And while you're making healthier changes, try out any of the 21 Best Healthy Cooking Hacks of All Time.
Panera Bread Chipotle Chicken & Bacon Flatbread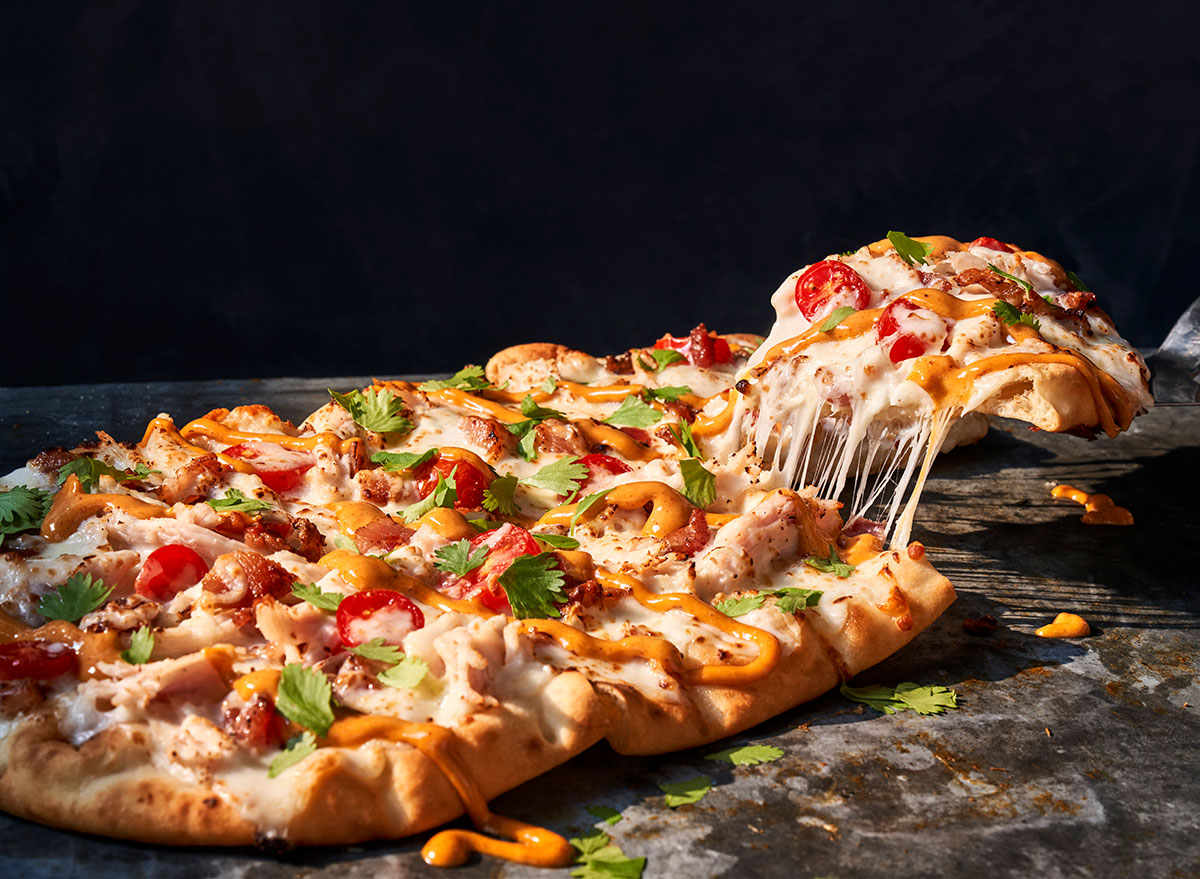 900 calories, 44 g total fat (17 g saturated fat, 1 g trans fat), 2,340 mg sodium, 89 g carbs (3 g fiber, 7 g sugar), 43 g protein
In 2020, Panera Bread introduced an exciting new category on its menu: Flatbreads. It was a big deal, highly-anticipated by Panera lovers, because well, their menu doesn't change very often. But now, suddenly: pizza at Panera!
While there are three different flatbreads to choose from, the Chipotle Chicken & Bacon Flatbread is by far the worst. Smoked and pulled chicken, chopped bacon, and a mixture of fontina and mozzarella cheese are what make it one of the worst chain restaurant menu items of the year. (Though the garlic cream sauce certainly adds up, too.)
"On the surface, this sandwich is marketed as though it makes a nutrient dense meal," Richards tells us. "Unfortunately, there are several factors that make this popular flatbread less than ideal. Primarily, the calorie content is nearly half what is required for most healthy individuals in a single day. This many calories in one meal make it more than likely that the individual partaking will overeat on calories throughout the day."
In total, the flatbread has 900 calories—about half of your total day's calories if you're working with a 1,600-calorie diet. Its sodium content is also alarming—2,340 milligrams in just one flatbread.
"The sodium packed in this flatbread is over the recommended maximum of 2,300 milligrams a day and nearly double the adequate intake," Richards says. "This alone puts the consumer at risk for hypertension, inflammation, and a host of other health complications."
Applebee's Southwest Lime-Grilled Chicken Bowl
820 calories, 29 g fat, (5 g saturated fat, 0 g trans fat), 2,430 mg sodium, 90 g carbs (10 g fiber, 6 g sugar), 54 g protein
This year, Applebee's added a slew of Irresist-A-Bowls to its menus, including the Southwest Lime-Grilled Chicken Bowl. Despite a bunch of "healthy" sounding buzzwords—lime, grilled, chicken—this Irresist-A-Bowl is actually the worst offender.
It has 820 calories in total and a ridiculous amount of sodium—2,430 milligrams to be exact. That's more than what's suggested the average person should have per day (and if you have a health issue, you should be consuming even less). And Americans already have trouble heeding that warning. After all, 85% of people exceed that daily recommended limit and most of it is because of commercially processed foods like the ones you find at restaurants.
If you eat the Southwest Lime-Grilled Chicken Bowl at Applebee's, you've already had too much, in terms of sodium, for the entire day. Yikes!
Denny's Hearty Breakfast Slam
960 calories, 54 g total fat, (14 g saturated fat, 0 g trans fat), 2,300 mg sodium, 95 g carbs (4 g fiber, 21 g sugar), 27 g protein
This breakfast entrée from Denny's is a combination of buttermilk pancakes, Hearty Breakfast Sausage, fried eggs, and hash browns. The bulk of the dish's calories come from its fat, then its carbohydrates, rendering those grams of protein that you get from this fast-casual breakfast pretty much irrelevant.
Looking for more helpful tips? Your ultimate restaurant and supermarket survival guide is here!
Olive Garden: Asiago Tortelloni Alfredo with Grilled Chicken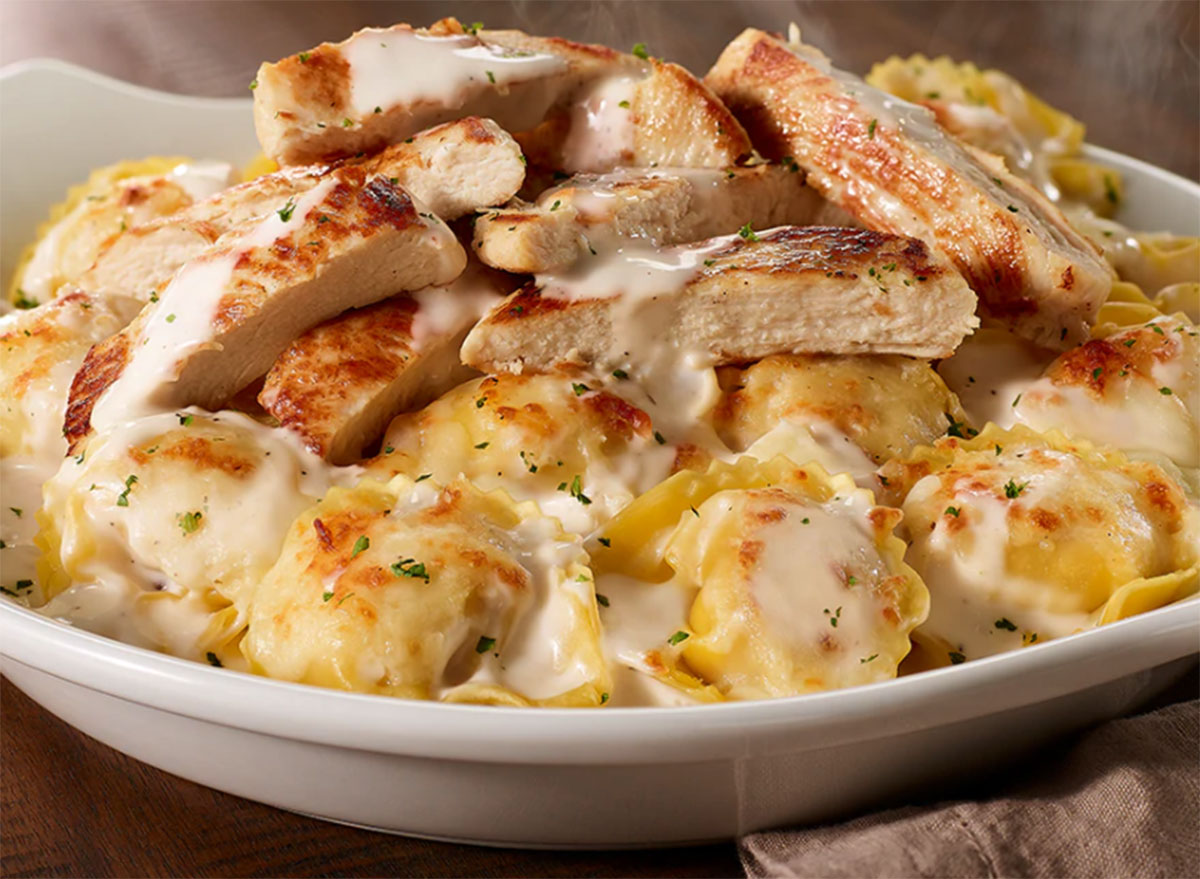 1,980 calories, 131 g fat (76 g saturated fat, 2.5 g trans fat), 3,720 mg sodium, 95 g carbs (5 g fiber, 9 g sugar), 112 g protein
Olive Garden brought back this creamy pasta dish in 2020, but perhaps this was better left staying a Ghost of Menu Items Past. This meal far exceeds the recommended amounts for calories, fat, sodium, and even protein. And that is an issue, as excess protein can actually heighten your risk of developing kidney stones and even cancer. Big yikes.
Our advice? Steer clear.
Cracker Barrel Country Fried Pork Chops
1,000 calories, 70 g fat (17 g saturated fat, 0 g trans fat), 2,120 mg sodium, 38 g carbs (3 g fiber, 2 g sugar), 53 g protein
This year, the Cracker Barrel brought back items like Country Fried Turkey and added new dishes like Broccoli Cheddar Chicken and as mentioned above, the Country Fried Pork Chops.
Before we get into the nutritional value, there's actually another caveat to consider: Cracker Barrel also instituted some limitations with these new dishes, as in, you can only find certain dishes available on certain days. The aforementioned Broccoli Cheddar Chicken, for example, is only available on Wednesdays, and the Country Fried Pork Chops? You'll only be able to order them at Cracker Barrel on Saturdays.
Pretty exclusive, huh?
Now, to the meat of it all: The Country Fried Pork Chops are as caloric as they sound. In total, the dish boasts 1,000 calories with 70 grams of total fat, 17 grams of saturated fat, and a whopping 2,120 milligrams of sodium.
"This dish doesn't attempt to give the illusion that it should be considered healthy, which is respectable since it is anything but that," Richards says. "At 1,000 calories, the meat alone is almost half the recommended intake of most healthy individuals for a single day—630 of those calories coming from fats that are damaging to heart health."
After noshing on this Cracker Barrel dish, you'll have reached your daily sodium intake and if you're working with a 1,600-calorie diet per day, you have 600 more calories for the rest of the day. (Unless you ordered a drink and an appetizer. In that case, you have even less.)
"These facts coupled with the sodium amount, high levels of cholesterol, and the realization that it will be paired with more calorie and dense side items make the Fried Pork Chops dangerous for heart health and obesity," Richards adds.
Friendly's Buffalo Mac & Cheese
1,337 calories, 74 g fat (31 g saturated fat, 0 g trans fat), 4,520 mg sodium, 106 g carbs (4 g fiber, 8 g sugar), 67 g protein
The newest addition to the Friendly's menu might just take the cake. Or in this case, the cheese.
Also new to Friendly's this year is the Fried Dough Pizza, Breakfast Sliders, Classic Corned Beef & Swiss Burger, Grilled Cheddar Jack Chicken, and more. But it's the Buffalo Mac & Cheese dish we can't get over.
"Anyone can look at the nutrient profile for this dish and see the glaringly obvious nutritional deficits," Richards says. "From being nearly the entire calories needed for the day, alarming cholesterol content, and outrageous sodium is delivered makes this dish an unhealthy addition to anyone's diet, but especially those at risk for heart disease, obesity, and diabetes considering the carbohydrates it contains."
If you eat this mac and cheese dish, you're basically done for the day in terms of calories. What's worse, you've already had two-times the recommended daily intake of sodium.
"The most shocking aspect of this dish is the fact that it will likely be consumed as a side item or appetizer paired with additional foods with poor nutritional quality," Richards explains.
This is one that Friendly's should take off the menu—for the greater good.
Pizza Hut Nashville Hot Wings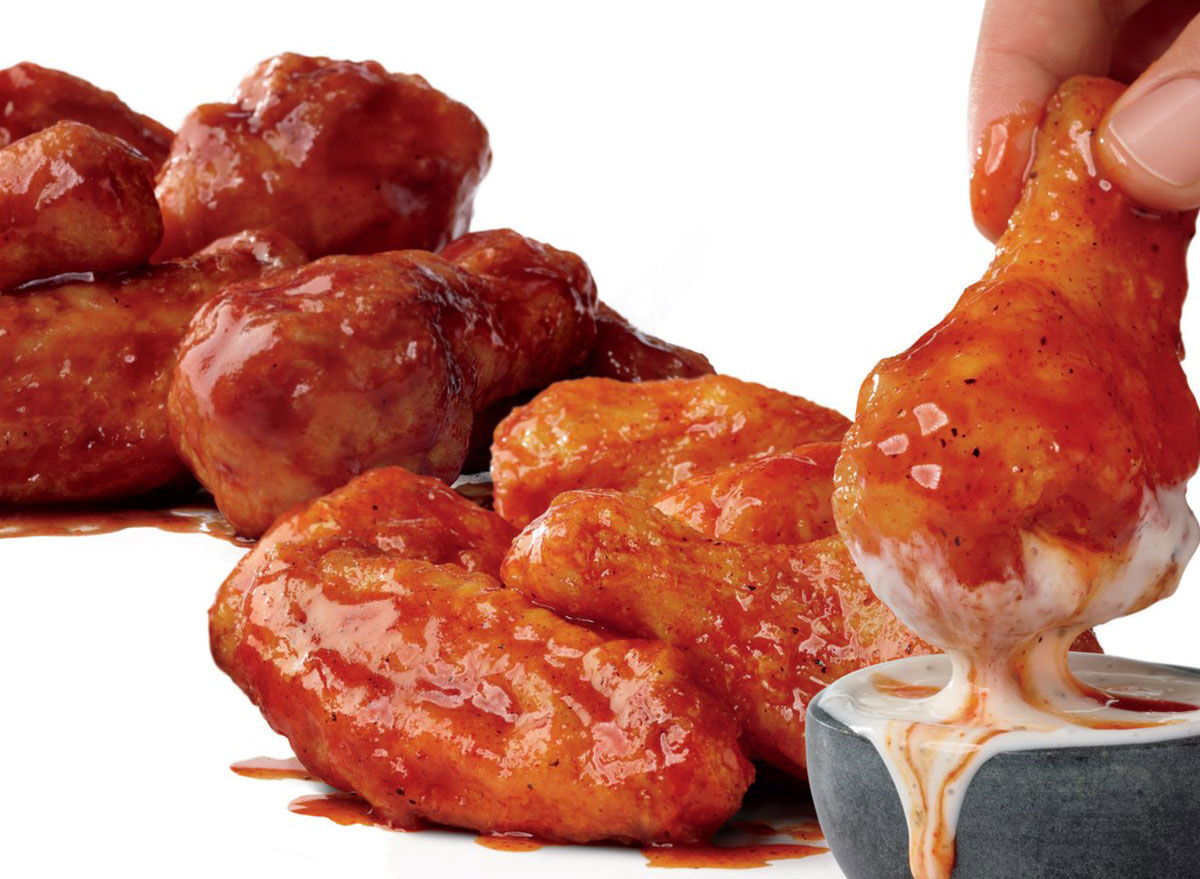 100 calories, 5 g fat (1.5 g saturated fat, 0 g trans fat), 320 mg sodium, 4 g carbs (0 g fiber, <1 g sugar), 9 g protein
For a limited time only, Pizza Hut introduced their latest venture this year, oh, was it spicy. Pizza Hut's Nashville Hot Wings are as hot as they sound. The Nashville-style chicken is drowned in cayenne pepper sauce and available in either traditional wing or boneless style.
Toted as the brand's hottest flavor yet, a press release from Pizza Hut also boasts that these wings are bigger than their competitors'. In fact, 25% bigger, PH alleges.
And by the way, that nutritional information above is per wing. So, while you might think, based on the nutritional info, that it's not so bad, remember that you're likely eating more than one single chicken wing. Even if you eat just a handful of wings, that's still a significant amount of calories and sodium. And that's not even taking into consideration the milk-based creamy white sauce—the blue cheese dressing cup has 450 calories and 500 milligrams of sodium—you'll (likely) be dipping these wings in order to circumvent the heat on your tongue. That's even more calories, even more fat, and even more sodium (and sugar, too).
Is it the worst thing on their menu? Or the worst dish on this list? Glaringly, no. But it's definitely still worth noting and if you do find yourself at a Pizza Hut (or picking up from one), you may want to leave this one alone—even if you live for spicy foods.
Marco's Pizza All Meat Pizza Bowl
640 calories, 49 g fat (21 g saturated fat, 1 g trans fat), 1,660 mg sodium, 11 g carbs (2 g fiber, 5 g sugar), 41 g protein
The new additions to the menu at Marco's Pizza are chock full of sodium and not exactly low on calories or total fat, either. We're talking about the fast-casual restaurant's new foray into pizza bowls—which let's be honest, already sounds high in calories and fat.
The Deluxe Pizza Bowl at Marco's Pizza comes in at a close second-worst in terms of nutrition, but it's the All Meat Pizza Bowl that you really should steer clear of.
So, what the heck is a Pizza Bowl? The All Meat Pizza Bowl is a crustless pizza, served in a bowl, with pepperoni, ham, Italian sausage, and bacon. It's then baked with sauce, Marco's Pizza's signature three cheese, and Romesan seasoning. Because processed meats are higher in fat and calories and lower in protein than unprocessed meats, the ham, pepperoni, bacon, and Italian sausage are what takes this dish over the edge.
Combine that with the fact that people who eat as little as two servings of processed meats per week have a 7% greater risk of suffering a stroke or developing heart disease and it's a no-brainer to sidestep this one in favor of something slightly healthier and thus, lower on the processed meats.
Your best bet? Find something on the menu with a teensy bit less meat, like maybe the Garden Pizza Bowl. Or, on second thought, it's probably better to stay away from anything with the phrase "Pizza Bowl" entirely.
Corner Bakery Bananas Foster Pancakes
Served with bacon and eggs
: 1,280 calories, 65 g total fat, (17 g saturated fat, 0 g trans fat), 2,670 mg sodium, 164 g carbs (4 g fiber, 99 g sugar), 14 g protein
Holy sugar! Corner Bakery introduced the Bananas Foster Pancakes earlier this year and they might as well have just added one word—sugar!—to the menu.
"Pancakes are a crowd pleaser for breakfast, but are unfortunately calorie dense and provide little in the way of nutrients aside from carbohydrates," Richards explains. "These pancakes are no different, especially as it relates to added sugar being provided." With an incredible 99 grams of sugar, the Bananas Foster Pancakes really should be avoided at all costs when dining out.
But that's not all.6254a4d1642c605c54bf1cab17d50f1e
"The sodium and calorie content are equally alarming as the sodium is significantly over the recommended daily allowance of 2,300 milligrams of sodium and the calories could satisfy most for an entire day," Richards says. "The quality of carbohydrates are also a concern since they are from refined sources, which are processed quickly by the body leaving the consumer hungry quickly after the meal, leading to inevitable overeating and weight gain."
All in all? Avoid these pancakes like the plague!
TGI Fridays Holiday Pasta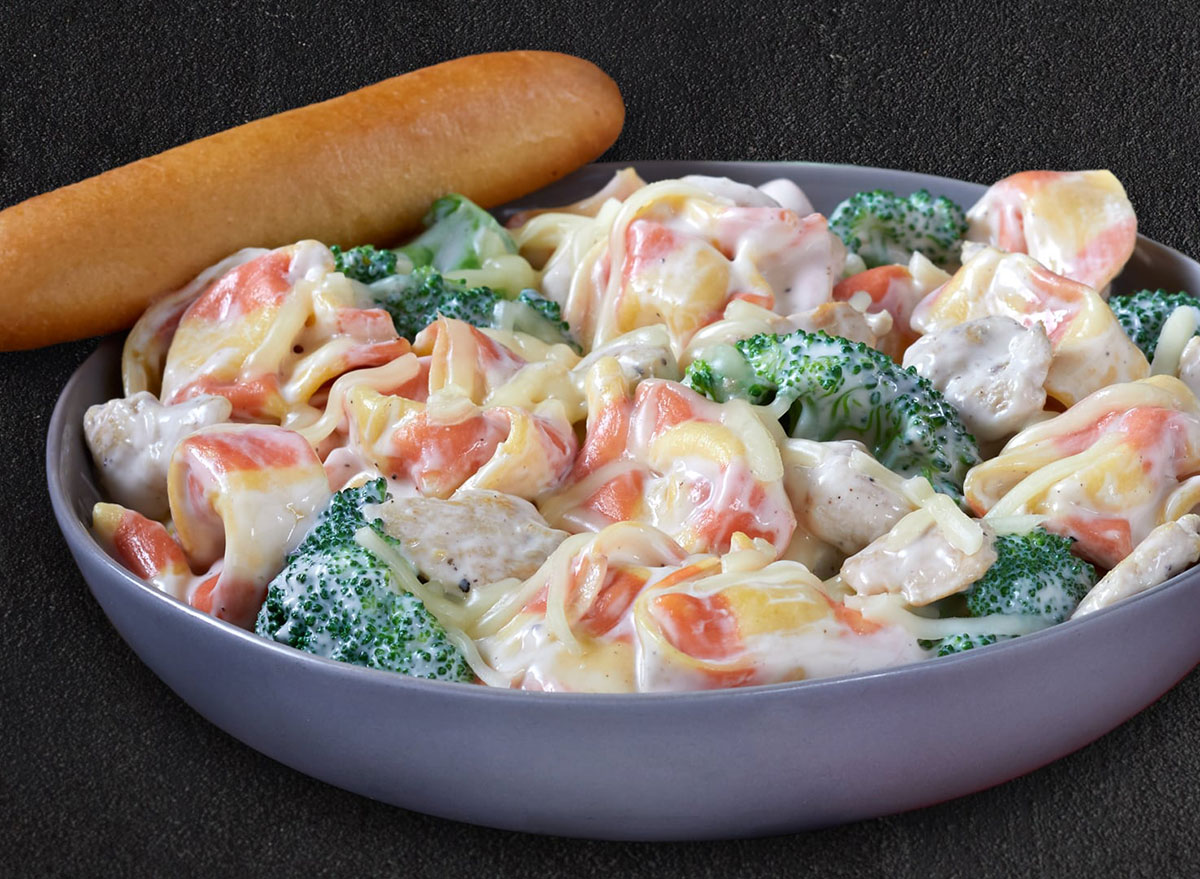 1,840 calories, n/a g fat (n/a g saturated fat, n/a g trans fat), n/a mg sodium, n/a g carbs (n/a g fiber, n/a g sugar), n/a g protein
Because it's a limited-time only, holiday item, TGI Fridays, unfortunately, hasn't released pertinent nutritional information about the Holiday Pasta beyond its total calories. But that information alone is actually enough. Based on how high the calories are, you can get the gist.
"The only positive aspect of this dish is that the calorie content includes the entire meal, not just a side or main item. However, this is also the downside to this meal since it would technically be nearly enough calories for an entire day for most individuals," Richards explains.
The Holiday Pasta features sautéed chicken, broccoli, alfredo sauce, and mixed jack cheese, topped with a breadstick. And the main attraction of it all? Festive red-and-white-striped tortellini.
Of course, the thick Alfredo sauce, all the cheese, and the breadstick don't do the dish any favors, but it's mainly the tortellini that adds to the pasta's high calories. Studies even show that refined pastas are higher in calories, and lower in fiber. Comparatively, whole-wheat pasta is better for you and keeps you feeling fuller, too.
"Additional concerns for this meal is that idea that it is healthy because it utilizes broccoli and a lean protein with chicken, but the fat-rich Alfredo sauce and jack cheese negate any potential healthy aspects of those ingredients," Richards says. "A second concern is the fact that it is made from refined carbohydrates as its base, which are generally processed quickly by the body leaving the individual satiety for a short period. This means they will go on to eat more meals and snacks throughout the day and most certainly overeating on calories."
With all that refined pasta and tall those mixins, the dish adds up to about 1,840 calories—way over the recommended daily intake of a standard 1,600-calorie a day diet. We can only imagine how high this dish's sodium must be…