The Worst New Snacks of 2020
Snacking was on the rise this year, but some new options on grocery store shelves were just bad news.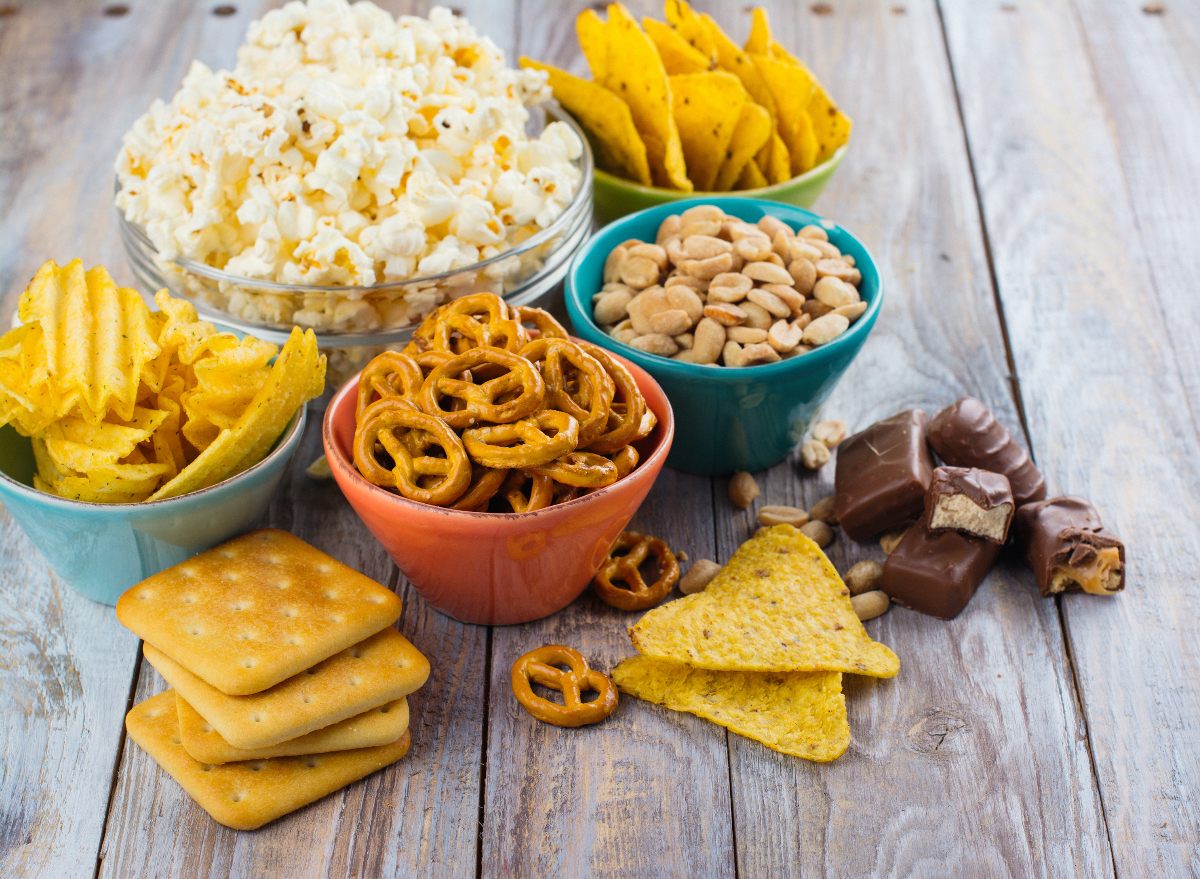 Oh, the snack. It's one food group that no one can ever really seem to resist. During a year as wild and unpredictable as 2020, it's no wonder many turned to the comfort and familiarity of their favorite foods. And as a result, snack consumption increased. While there are plenty of healthy snack options out there, you want to be sure you're staying away from any of the truly unhealthy snacks. You don't want to indulge in the wrong type of foods that are going to make you pack on the pounds, right?
So, in order to help you make the best choices moving forward and in 2021, we're taking a look back at the snacks that made their debut in 2020 that are better left behind. And while you're at it, be sure to leave behind any of the 100 Unhealthiest Foods On the Planet, too!
Cheetos Popcorn
Per serving
: 160 calories, 11 g fat (1.5 g saturated fat, 0 g trans fat), 320 mg sodium, 13 g carbs (2 g fiber, <1 g sugar), 2 g protein
The flavors of Flamin' Hot Cheetos and popcorn came together in early 2020, creating a snack that is simply loaded up with sodium. Plus, it leaves your fingers with a bright red residue, so there's that to keep in mind if you decide to dive into a bag.
Dunkaroos Cookie Dough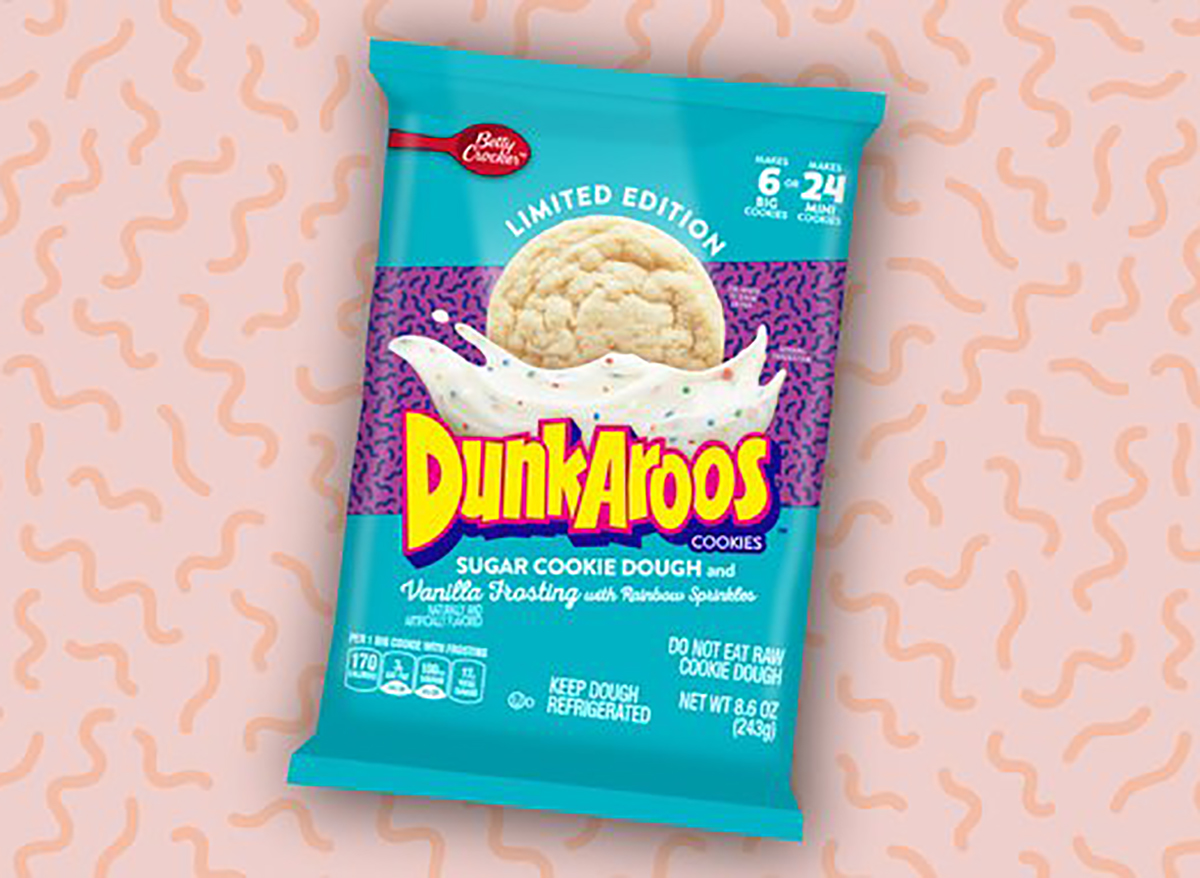 Per cookie
: 170 calories, 7 g fat (3 g saturated fat, 0 g trans fat), 100 mg sodium, 26 g carbs (0 g fiber, 17 g sugar), <1 g protein
Dunkaroos went ahead and created a ready-to-bake cookie dough, and if seeing your favorite '90s snack as a bigger (and warmer) cookie, complete with its classic frosting isn't enough to brighten up your 2020, we don't know what will! The only problem? One cookie is packing 17 grams of sugar, and, not surprisingly, the first ingredient listed in that frosting is sugar, followed by high fructose corn syrup. Keep in mind the American Heart Association recommends men should consume no more than 36 grams of added sugar per day, and women shouldn't have more than 25 grams.
Pringles Baconator Chips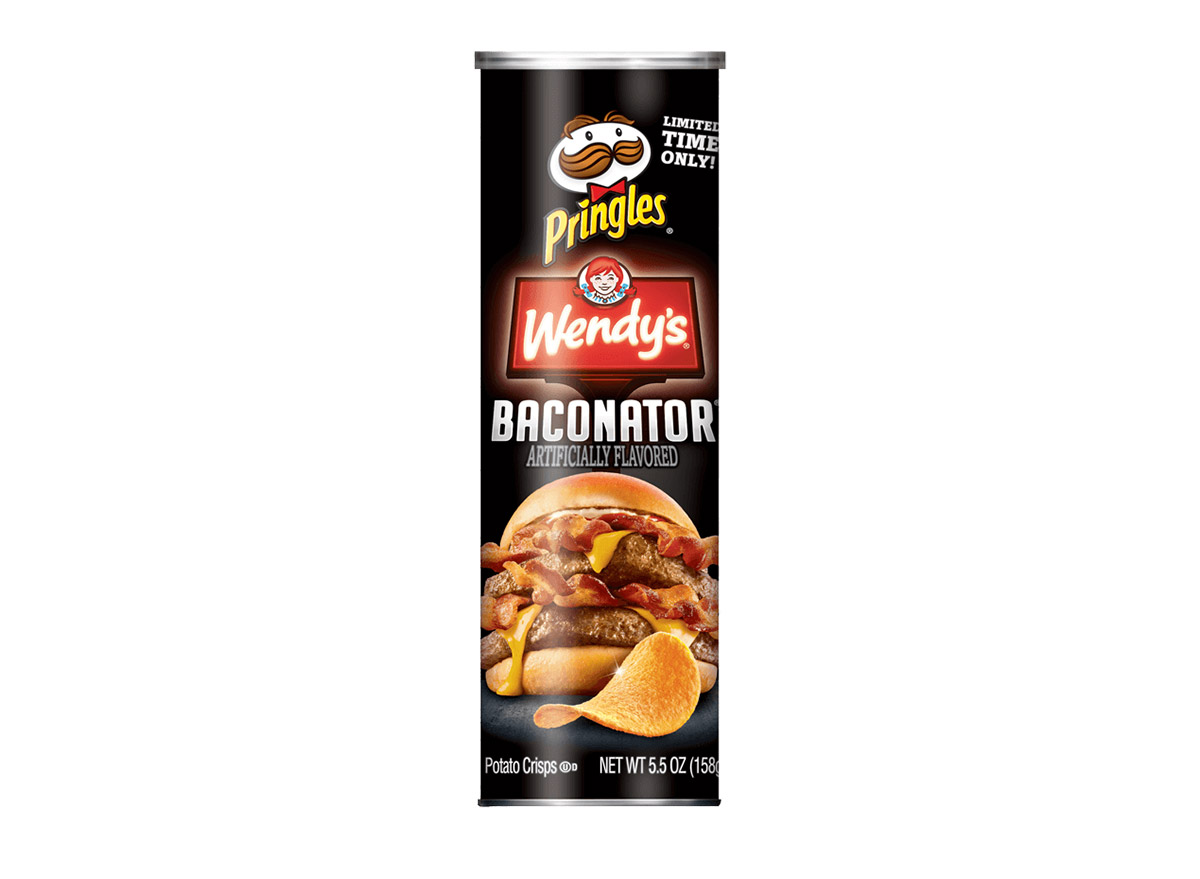 Per serving chips
: 150 calories, 9 g fat (2.5 g saturated fat, 0 g trans fat), 220 mg sodium, 16 g carbs (<1 g fiber, <1 g sugar), 1 g protein
Pringles teamed up with Wendy's in 2020 to debut the Baconator chips that are just as fat-filled and salty as you would think they would be.
Looking for more helpful tips? Your ultimate restaurant and supermarket survival guide is here!
Pop-Tarts Pretzel Cinnamon Sugar
Per pack
: 390 calories, 13 g fat (4.5 g saturated fat, 0 g trans fat), 560 mg sodium, 65 g carbs (1 g fiber, 27 g sugar), 4 g protein
These salty-sweet Pop-Tarts made their way to grocery stores in early 2020, but they're doing nothing for your waistline. One pack has 27 grams of sugar and clocks in at nearly 400 calories. On top of that, there is barely any fiber here, which means you'll end up hungry again not too long after munching on these.
M&M's Fudge Brownie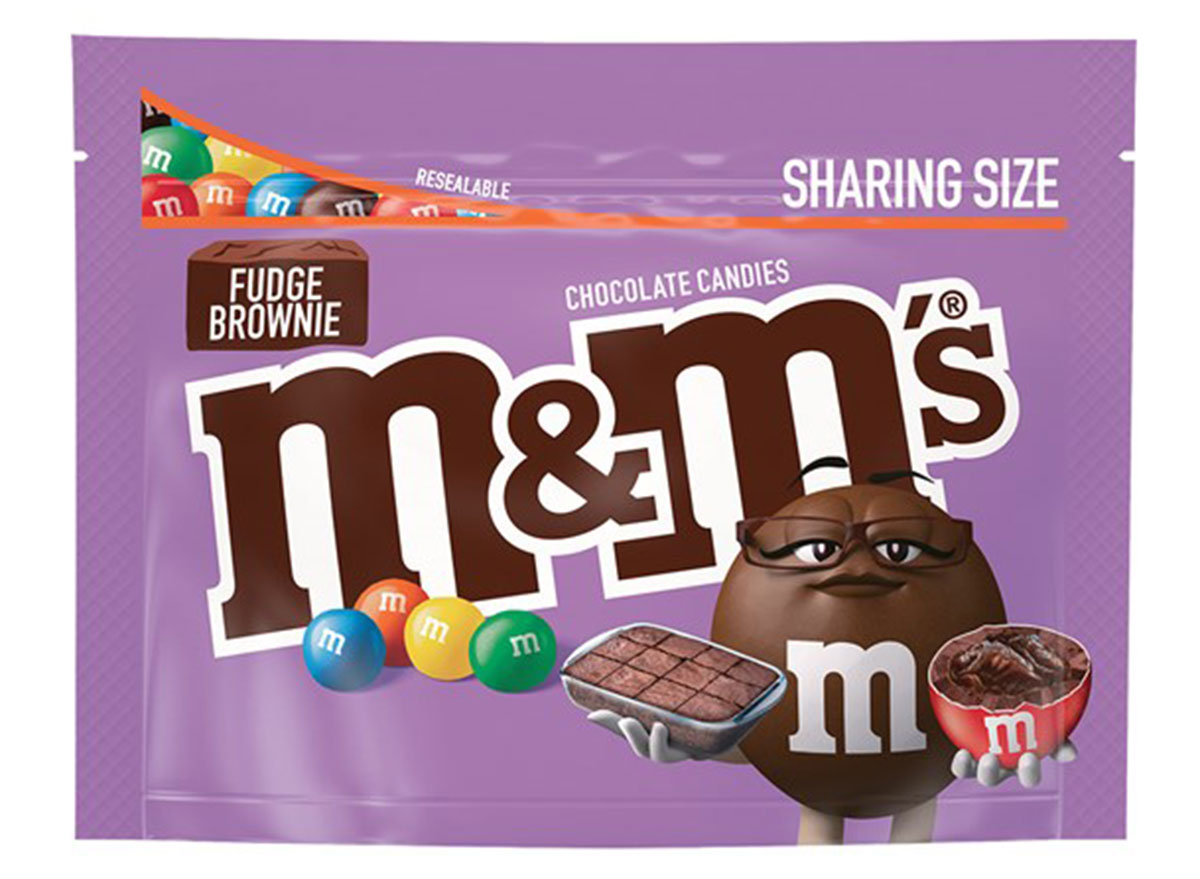 Per serving
: 140 calories, 6 g fat (4 g saturated fat, 0 g trans fat), 25 mg sodium, 20 g carbs (<1 g fiber, 18 g sugar), <1 g protein
A fudge brownie inside an M&M candy—what could be better? While this decadent sweet treat might not seem like trouble, when this resealable bag is sitting in front of you, it's easy to keep on reaching in. This makes it nearly impossible to stick to just one serving. And here, one serving is packing 18 grams of sugar.
Ben & Jerry's Netflix & Chill'd
Per serving
: 390 calories, 24 g fat (10 g saturated fat, 0.5 g trans fat), 290 mg sodium, 38 g carbs (<1 g fiber, 29 g sugar), 7 g protein
This ice cream flavor came about thanks to a partnership between Ben & Jerry's and the streaming service that is Netflix. And 2020 was truly a year everyone got well-acquainted with Netflix! This ice cream flavor is designed to be the perfect blend of sweet and salty, a combination that is made for eating while you binge-watch. But one serving is nearly 400 calories and has nearly as much sugar as you would get from three Original Glazed Krispy Kreme Donuts.6254a4d1642c605c54bf1cab17d50f1e
SuperPretzel Soft Pretzel Bites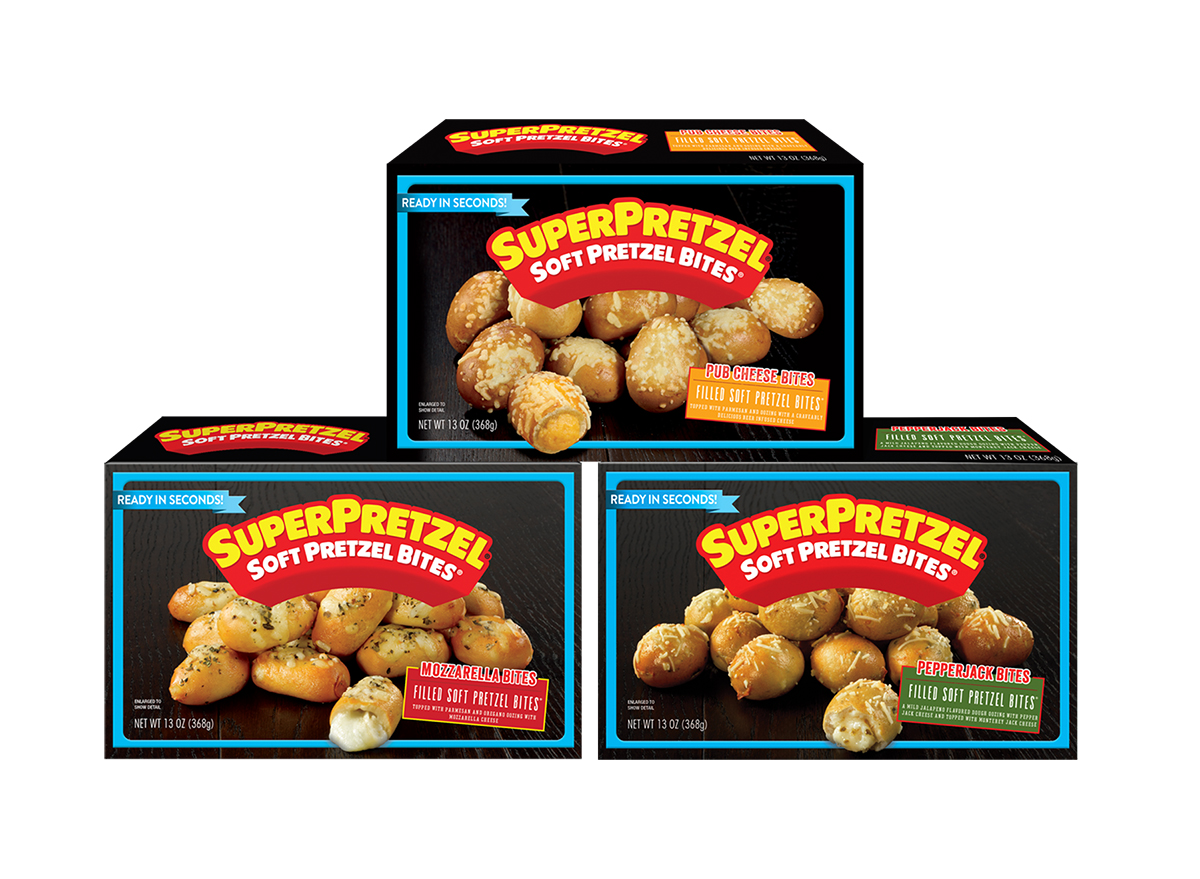 Per serving, Pub Cheese flavor
: 160 calories, 4 g fat (2 g saturated fat, 0 g trans fat), 550 mg sodium, 24 g carbs (1 g fiber, 2 g sugar), 6 g protein
These pretzel bites are mini—this must make them the ideal snack size! Well, in theory, yes, but again, it's very easy to eat more than the suggested serving size of three. Plus, those three bites are loaded up with 550 milligrams of sodium. They are filled with cheese and are also covered in cheese—so it's safe to say these get a skip.
Little Bites Cookies & Creme Muffins
Per serving
: 190 calories, 8 g fat (2 g saturated fat, 0 g trans fat), 170 mg sodium, 27 g carbs (0 g fiber, 16 g sugar), 2 g protein
These cookies and creme mini muffins from Entenmann's made a comeback this year, but that doesn't mean you should be stocking up on boxes. They're devoid of fiber, yet high in sugar, which is the recipe for an unsatisfying snack.
Klondike Donuts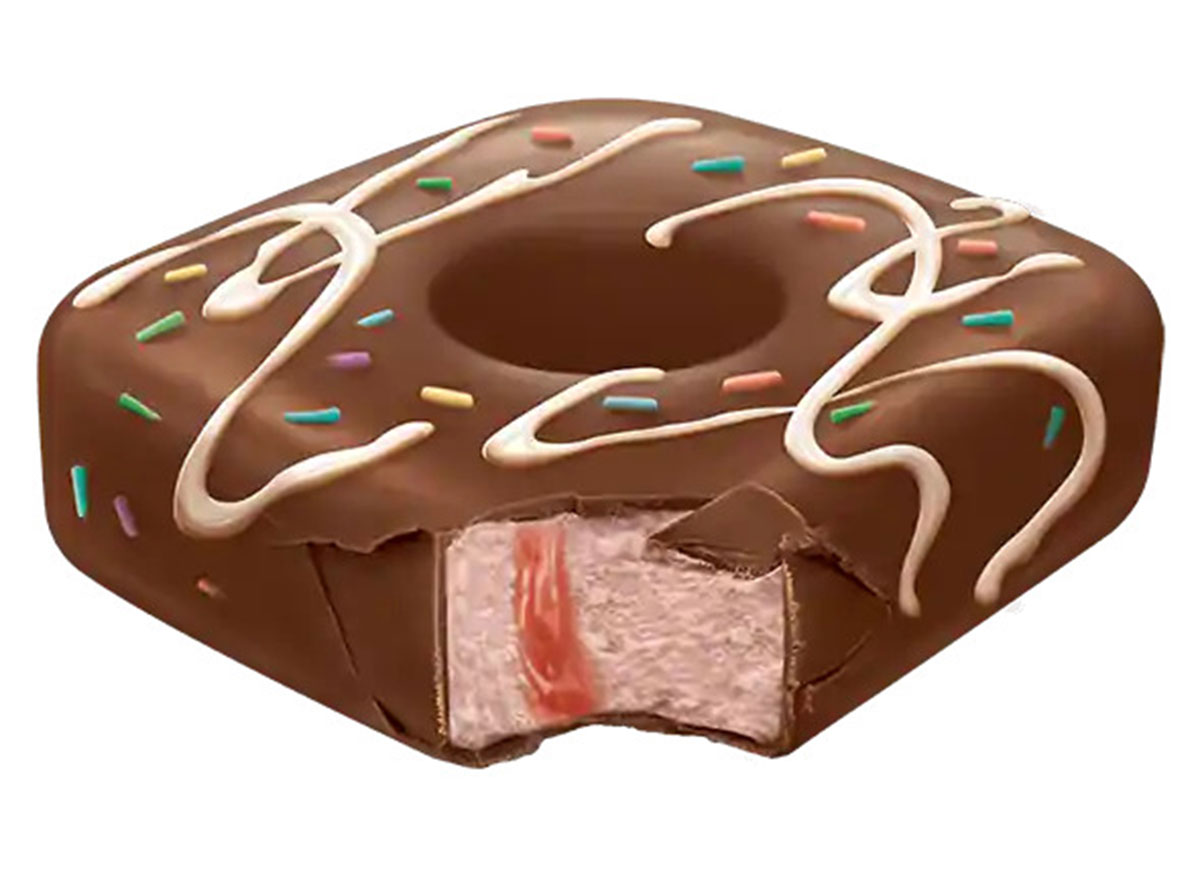 Per Frosted Strawberry donut
: 230 calories, 12 g fat (10 g saturated fat, 0 g trans fat), 50 mg sodium, 28 g carbs (0 g fiber, 21 g sugar), 2 g protein
Klondike launched frozen donut dessert bars this year, and if you thought combining ice cream and a donut makes for a sugar bomb, you're right. The Klondike Frosted Strawberry Donut bar, for example, is filled with a strawberry swirled strawberry flavor, which is frosted with a milk chocolate coating and covered in rainbow sprinkles and a white chocolate drizzle. This all adds up to a little treat that has 21 grams of sugar.
Pop-Tarts Frosted Chocolatey Churro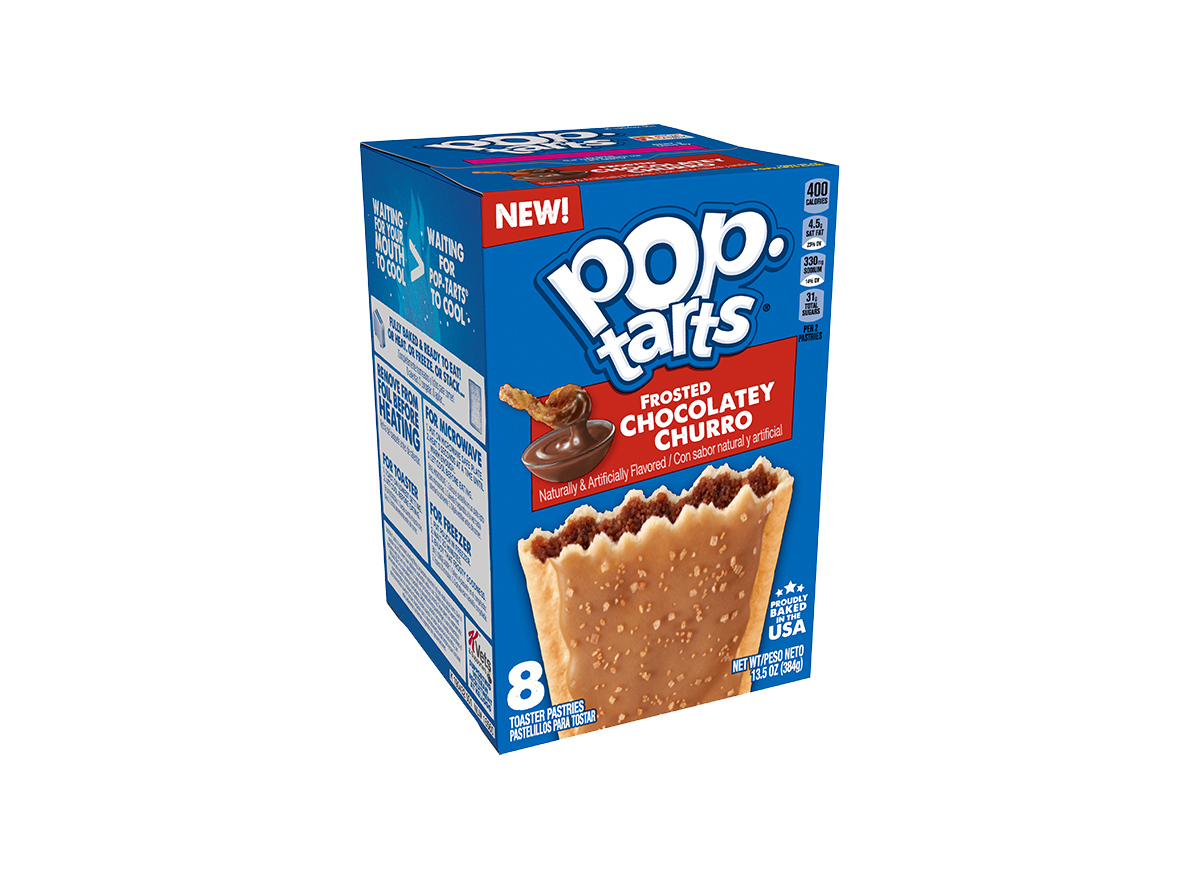 Per serving
: 400 calories, 13 g fat (4.5 g saturated fat, 0 g trans fat), 330 mg sodium, 68 g carbs (1 g fiber, 31 g sugar), 4 g protein
Pop-Tarts make yet another appearance on our list. This time, it's for the debut of the chocolate-frosted churro Pop-Tarts that clock in at 31 grams of sugar per serving. Yikes!
Jennifer Maldonado
Jennifer Maldonado is a senior editor at Eat This, Not That!, specializing in food and health content.
Read more about Jennifer