9 Unhealthiest Store-Bought Ice Cream Bars To Avoid Right Now
Experts share the ice cream bars that are too high in sugar and saturated fat.
The product recommendations in this post are recommendations by the writer and/or expert(s) interviewed and do not contain affiliate links. Meaning: If you use these links to buy something, we will not earn a commission.
When you just want a quick and easy treat, whether it's in the afternoon or after dinner for dessert, sometimes an ice cream bar is the perfect choice. You can of course chase down the ice cream truck in your neighborhood to grab one, but the easiest way is finding your favorite kind at the grocery store and stocking up. But with all of the options out there, it can be overwhelming to find ones that you like that won't also completely derail your health goals. For this reason, we talked with dietitians about some of the most unhealthy ice cream bars available in stores right now.
One of the nutritional benefits of going for an ice cream bar over something like a regular pint of ice cream is that you already have a dessert that is portioned out for you, so you don't have to worry about portion control or about mindlessly finishing off an entire pint. However, even something that is pre-portioned can be too high in sugar, fat, or saturated fat.
Read on to learn about some of the unhealthiest ice cream bars according to dietitians, and for some more grocery tips, make sure to check out the Worst Grocery Chains for Produce, According to Customers.
Magnum Double Caramel Bar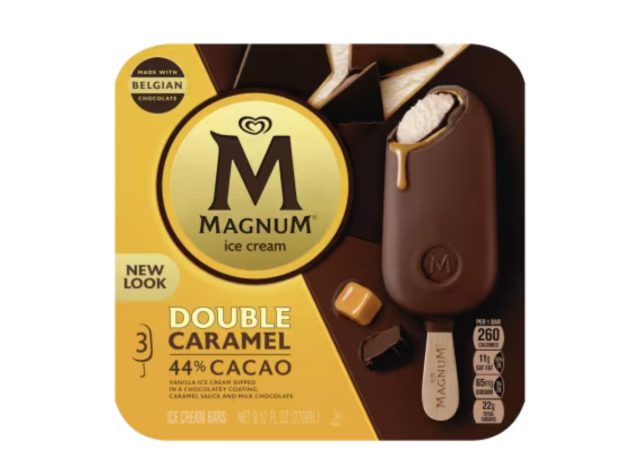 Per bar
: 270 calories, 17 g fat (12 g saturated fat), 70 mg sodium, 29 g carbs (1 g fiber, 25 g sugar), 3 g protein
According to both Lisa Young, PhD, RDN and Melissa Rifkin, MS, RD, CDN the Magnum bars are some of the unhealthiest you can find at the store. "The Magnum Double Caramel Bar is loaded with 17 grams of fat and 12 grams of saturated fat," says Rifkin.
"While it is rich in flavor, don't be fooled, because per serving this ice cream bar contains high-fat and sugar content, which can contribute to weight gain and increased risk of health issues, including tooth decay and diabetes," says Young. She adds that "This bar offers minimal nutritional benefits with high-calorie intake and lacks essential nutrients."
Haagen-Dazs Peanut Butter Crunch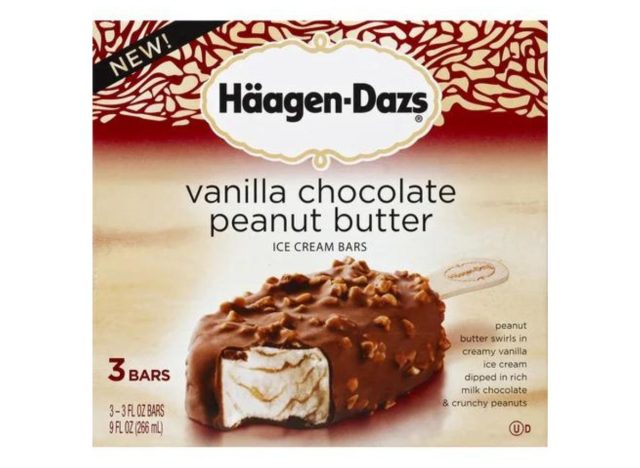 Per bar
: 320 calories, 23 g fat (13 g saturated fat), 50 mg sodium, 21 g carbs (1 g fiber, 18 g sugar), 5 g protein
When you're craving a quick ice cream bar but don't want to go overboard on sugar or saturated fat, you may want to steer clear of the Haagen-Dazs Vanilla Chocolate Peanut Butter Bars.
"This ice cream bar lacks the nutritional value of vitamins, minerals, and dietary fiber, and it is high in saturated fat and sugar, contributing to an unhealthy diet, and high intake increases the risk of weight gain and heart disease," says Young. She ads that if you can, find bars that are smaller, "which can help manage calorie and sugar intake."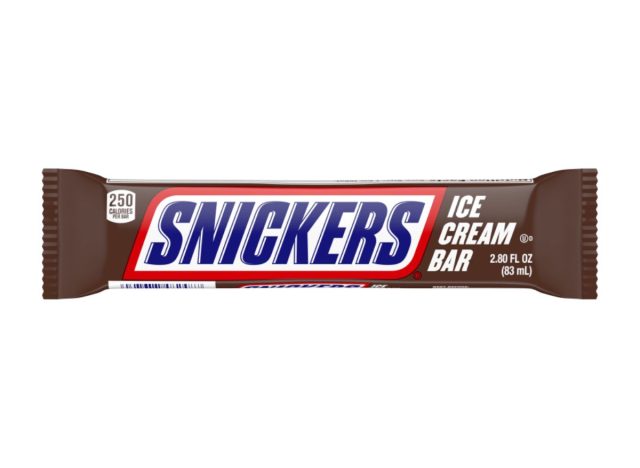 Per bar
: 250 calories, 15 g fat (9 g saturated fat), 75 mg sodium, 25 g carbs (<1 g fiber, 21 g sugar), 4 g protein
We get it, a Snickers candy bar full of chocolate, caramel, and peanuts made into an ice cream bar is quite enticing, but our dietitians warn that this ice cream may be a bit too high in saturated fat and sugar for just one dessert.
"This ice cream bar has extremely high sugar content compared to other options due to the combination of peanut, caramel, and chocolate coating," says Young. "Consistent consumption can lead to weight gain and an unhealthy diet as it lacks vitamins, minerals, and fiber, and should be treated as just an indulgent snack from time to time."
Per bar
: 250 calories, 14 g fat (11 g saturated fat), 65 mg sodium, 29 g carbs (<1 g fiber, 23 g sugar), 3 g protein
One of the most classic ice cream bars—the Klondike Bar—is also one of the unhealthiest, according to our dietitians. "The Klondike bar is small, but it comes with a mighty load of sugar—23 grams to be exact, plus 14 grams of fat with 11 g saturated!"
At first glance, 11 grams of saturated fat may not seem all that bad, but the American Heart Association recommends limiting your daily consumption to no more than 13 grams—meaning this bar would get you close to your daily limit.
Per bar
: 110 calories, 2 g fat (1 g saturated fat), 30 mg sodium, 20 g carbs (0 g fiber, 12 g sugar), 1 g protein
Rifkin also puts Creamsicle Pops on the list of unhealthy ice cream bars, even though it has less sugar and fat than most of the other bars on the list. Even though 12 grams of sugar may not seem like much at first, this bar also has zero grams of fiber and only one gram of protein, which means it's more likely to cause a spike in your blood sugar.
Outshine Creamy Coconut Fruit Bar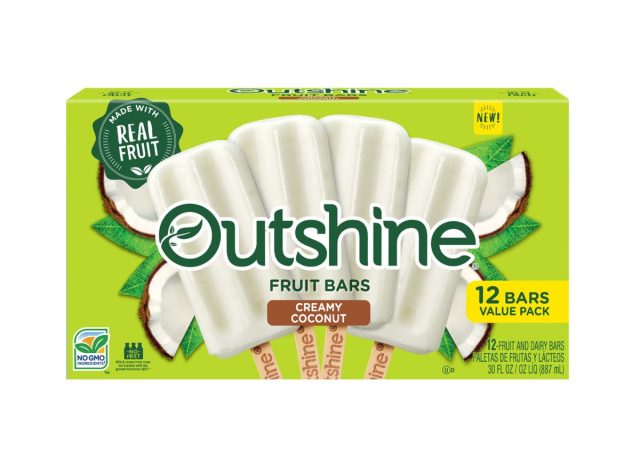 Per bar
: 100 calories, 2.5 g fat (2.5 g saturated fat), 40 mg sodium, 17 g carbs (0 g fiber, 16 g sugar), 3 g protein
"When it comes to ice cream bars, don't fall victim by the small size or the fact that it's fruit-based," says Rifkin. "The
Outshine Creamy Coconut Fruit Bar
has only 100 calories but comes with a whopping 16 grams of sugar," she says. Similarly to the Creamsicle Bars mentioned above, eating 16 grams of sugar with zero fiber can spike your blood sugar and leave you with an energy crash and more sugar cravings afterward.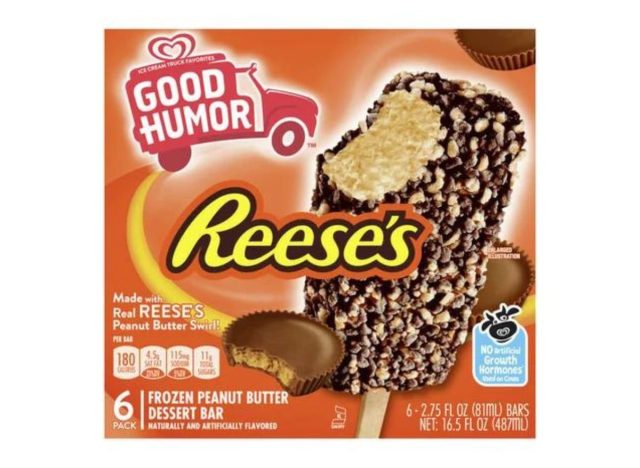 Per bar
: 180 calories, 11 g fat (4.5 g saturated fat), 115 mg sodium, 20 g carbs (<1 g fiber, 11 g sugar), 3 g protein
There isn't much out there that is more tempting than the combination of Reese's Peanut Butte Cups and ice cream. But if you're going to try the Good Humor Reese's ice cream bars, you may be better off leaving it as a once-in-a-while treat, instead of a daily dessert.6254a4d1642c605c54bf1cab17d50f1e
If you want the flavors of chocolate and peanut butter in the form of a healthier option, you can try something like the Kind Frozen Peanut Butter Dark Chocolate Bar, which has 4 grams of protein, 8 grams of sugar, and 7 grams of fiber to help manage blood sugar spikes.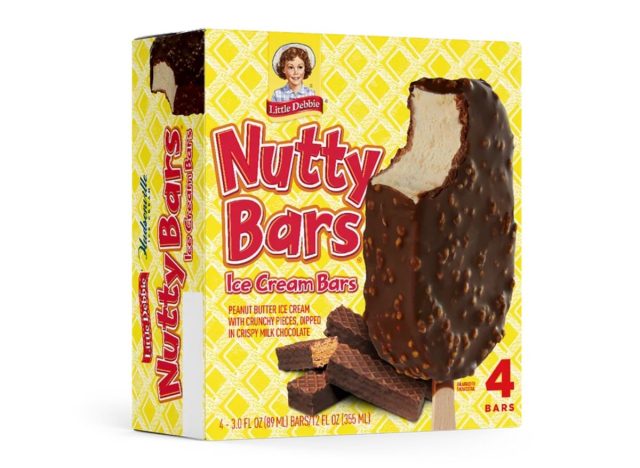 Per bar
: 210 calories, 13 g fat (9 g saturated fat), 55 mg sodium, 19 g carbs (1 g fiber, 15 g sugar), 3 g protein
It's not surprising that when you take a Little Debbie Nutty Bar and make it into an ice cream bar, it would be a delicious treat that is unfortunately high in saturated fat and sugar.
The Nutty Bars Ice Cream Bar has 9 grams of saturated fat per bar, which comes too close to the 13-gram limit recommended by the AHA. You'll also get only one gram of fiber, which isn't enough to counteract the 15 grams of sugar per serving.
Biscoff White Chocolate Bar
Per bar
: 300 calories, 20 g fat (9 g saturated fat), 115 mg sodium, 29 g carbs (0 g fiber, 24 g sugar), 2 g protein
Biscoff Cookie Butter is a treat loved by many, and it doesn't get much better than when you combine it with white chocolate and ice cream. But even though they're a satisfying treat, the Biscoff Ice Cream Bars are high in fat, saturated fat, and sugar, and only provide 2 grams of protein and zero fiber.