The Worst Ranch Dressing on Store Shelves
You're going to want to take a closer look before adding it to your shopping cart.
Whether it's used to top off your tossed greens or your go-to dip alongside a slice of pizza, it's safe to say ranch dressing is truly a classic. While the good old faithful dressing may be one of America's favorites, it's not always the healthiest option.
The highly beloved dressing was actually invented in the 1950s by Gayle and Kenneth Henson. It was truly a hit right from the start, and the couple turned a 120-acre ranch in Santa Barbara, California into the business of a lifetime. They renamed it the Hidden Valley Ranch, and well, the rest is history.
Ranch dressing is mainly made up of buttermilk, salt, black pepper, garlic, onion, and herbs (like chives, parsley, and dill) mixed into a sauce base of mayonnaise or oil vinegar. Most popular brands don't skew outside a reasonable number of total calories, but pretty much all ranch recipes are high in overall fat and sodium. And this is if you abide by the recommended serving size. (We can all agree that's not the easiest to do!) Next thing you know, you're pouring some extra, or a whole lot, of ranch all over those leafy greens.
So, we decided to shed a light on some of the most popular ranch dressings you'll find on grocery store shelves. While they might taste great, you'll likely want to avoid loading up your salad with these often if you're trying to make healthier choices.
Well, let's just start dippin' into it. Here are five popular ranch dressings, ranked from the not-so-bad to the worst, nutritionally speaking. And be sure the next time you're grocery shopping, you add The 7 Healthiest Foods to Eat Right Now to your list.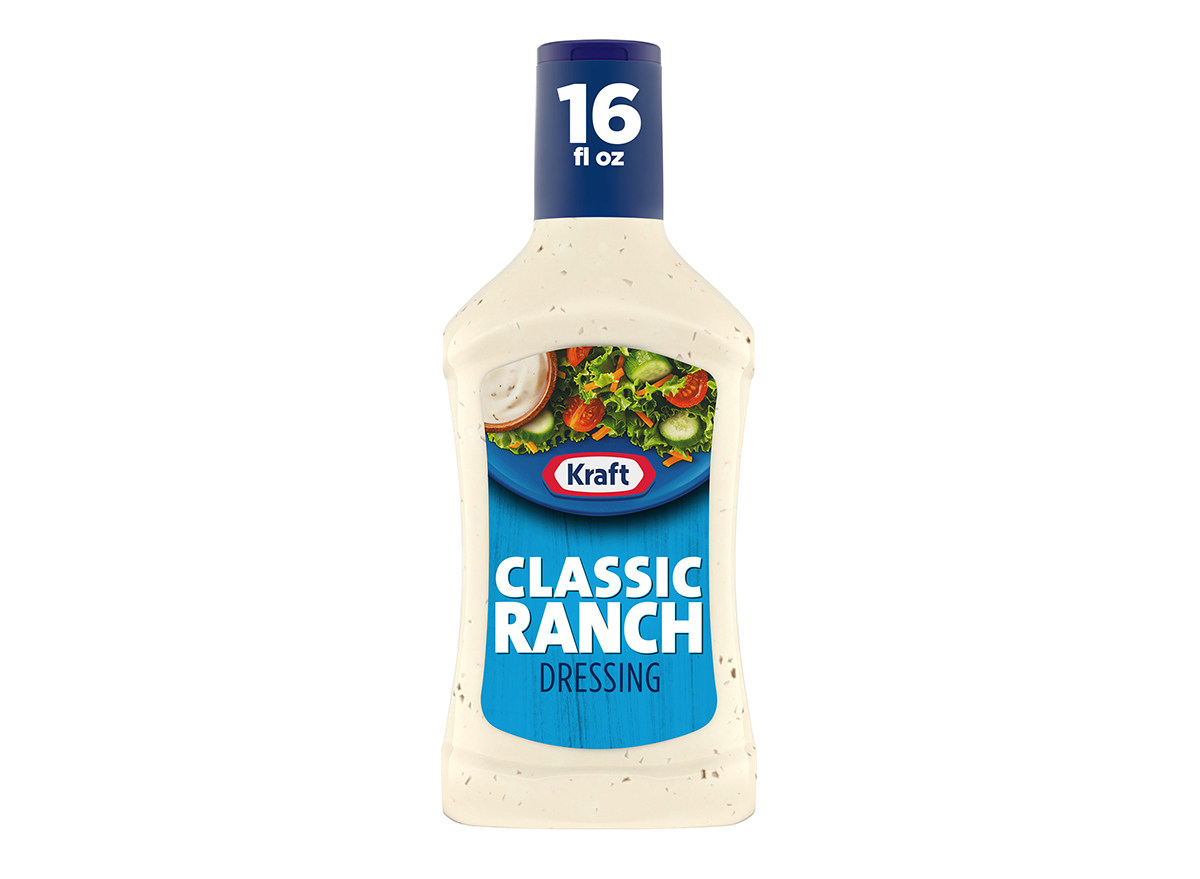 Per serving, 2 Tbsp
: 110 calories, 11 g fat (1.5 g saturated fat), 260 mg sodium, 2 g carbs (0 g fiber, 1 g sugar), 0 g protein
If you're looking for an average and affordable ranch to do the job, Kraft is often a go-to choice. It's the least offensive of the popular brands you'll find in stores calories-wise, but it has as much sodium as you would get from 20 sourdough pretzel bites. The texture isn't runny or very thick, and you can expect a bit of an artificial taste.
Per serving, 2 Tbsp
: 130 calories, 13 g fat (2 g saturated fat), 250 mg sodium, 1 g carbs (0 g fiber, 1 g sugar), 0 g protein
While Wishbone's ranch has a little less sodium than Kraft's, it's coming in with more calories and fat. If you do decide to try this dressing, you might be surprised to discover it's rather runny and watered down. Even though the ranch has an abundance of buttery garlic flavor, overall, it's quite bland. Not the most memorable, that's for sure!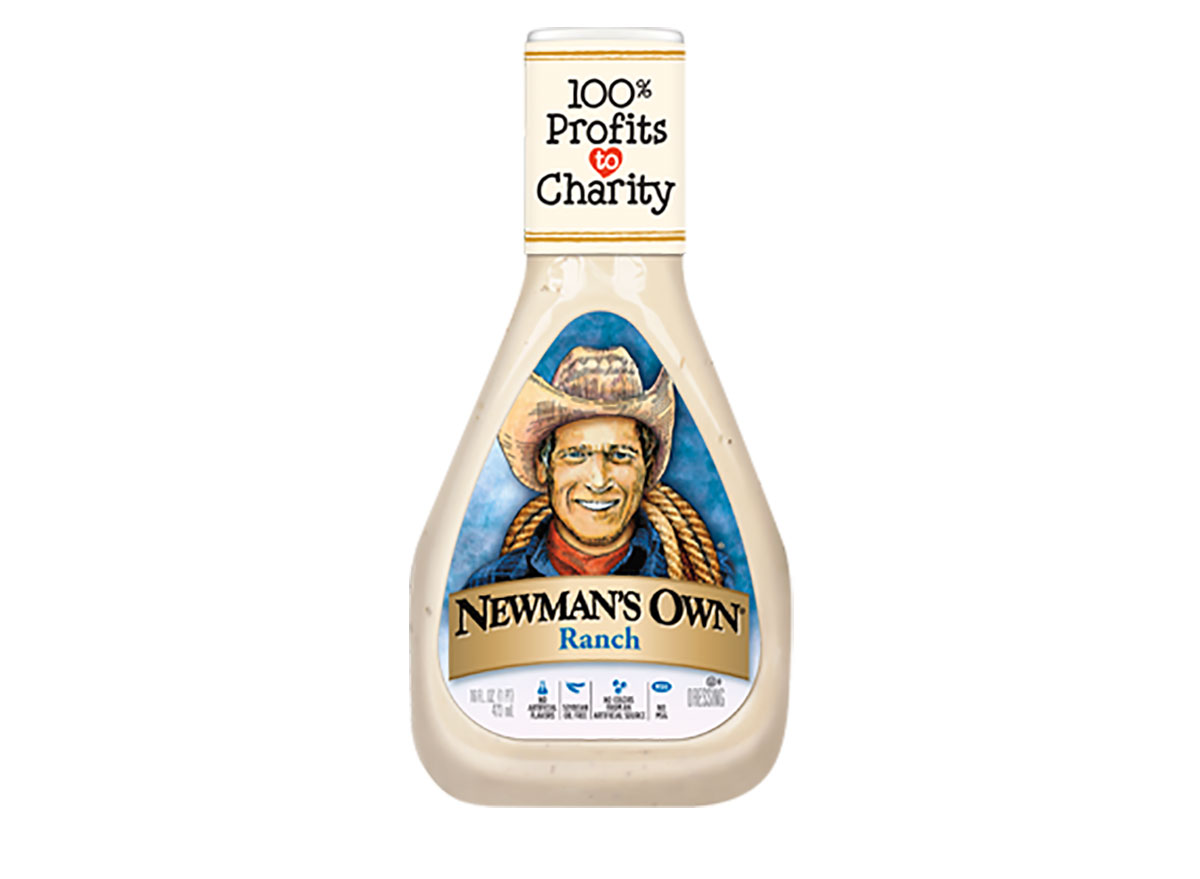 Per serving, 2 Tbsp
: 130 calories, 14 g fat (1 g saturated fat), 240 mg sodium, 2 g carbs (0 g fiber, 2 g sugar), 0 g protein
Newman's Own ranch has a super thick consistency, yet is still smooth and light on the bite. Seems ideal! Well, there is far too much seasoning here, too. In fact, all you can taste is a combination of garlic, onion, and oil. It really will cling to those baby carrots you pair alongside it, but it has slightly more fat and sugar than others on the list.
Looking for more helpful tips? Your ultimate restaurant and supermarket survival guide is here!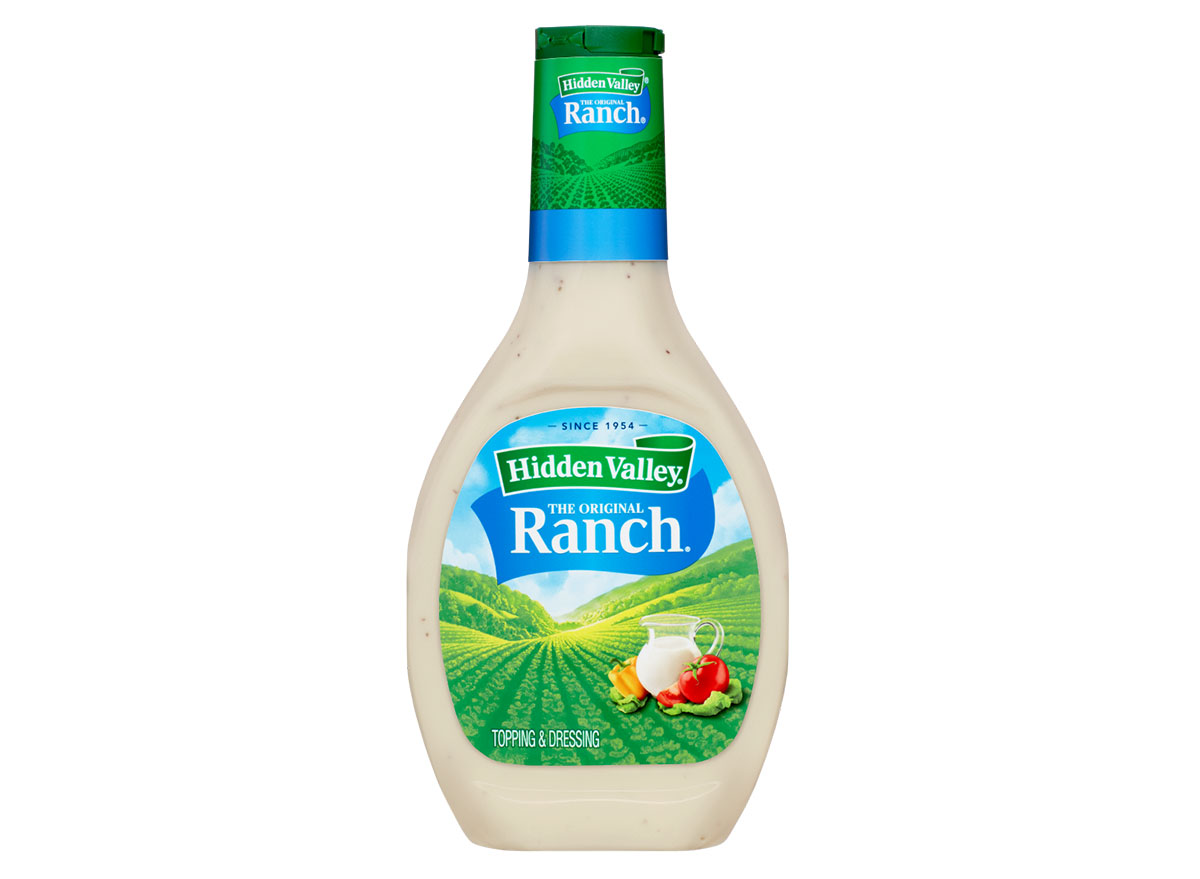 Per serving, 2 Tbsp
: 130 calories, 14 g fat (2 g saturated fat), 260 mg sodium, 2 g carbs (0 g fiber, 1 g sugar), 0 g protein
The one marketed as the American classic is none other than Hidden Valley. It may be the original ranch dressing, but it's slightly higher in saturated fat. One complaint about this ranch? It's very heavy on the seasoning, and so the flavors tend to linger in the form of an unfortunate aftertaste. The consistency is slightly runny, too.
Ken's Steakhouse Ranch Dressing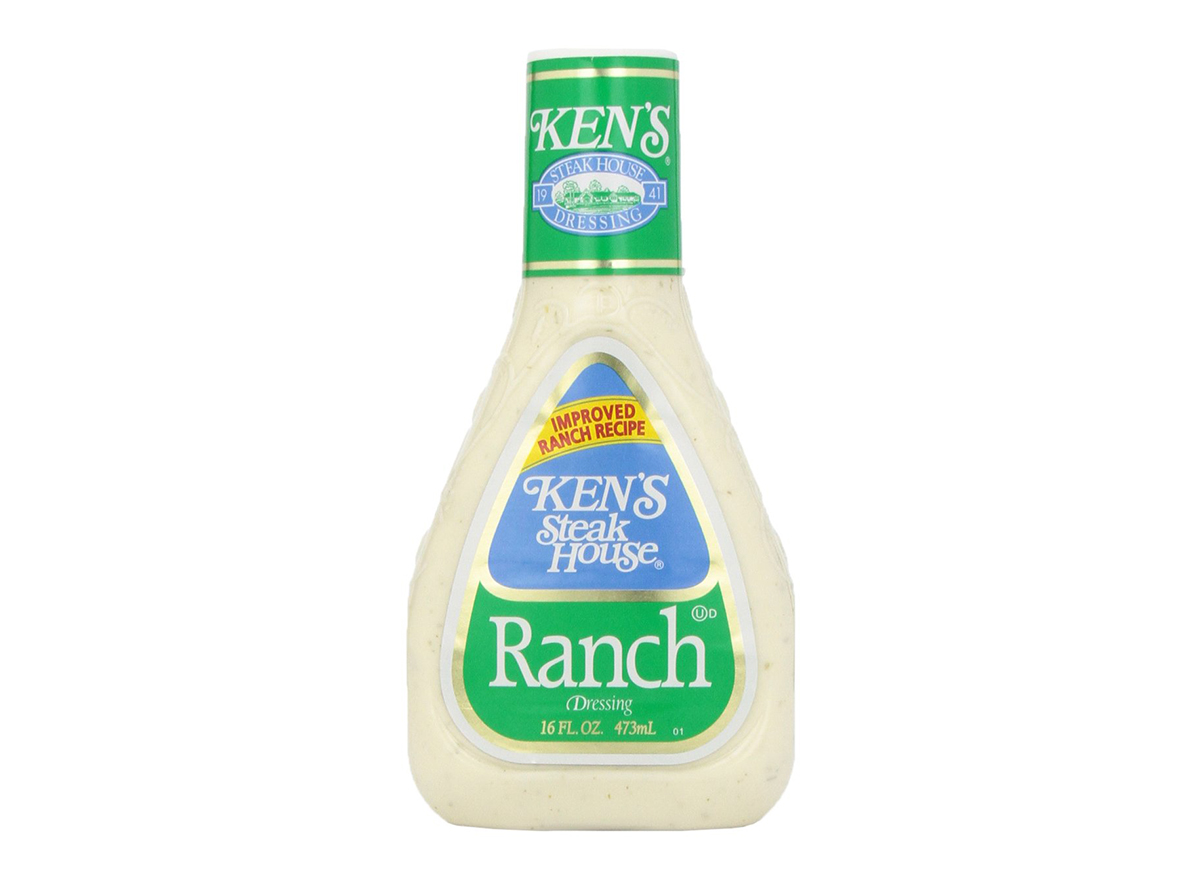 Per serving, 2 Tbsp
: 140 calories, 15 g fat (2.5 g saturated fat), 290 mg sodium, 2 g carbs (0 g fiber, 1 g sugar), 0 g protein
And now we've reached Ken's Steakhouse's take on ranch dressing. It is the creamiest option, by far. So yes, it is quite perfect for dipping, and with its fresh taste, will for sure be a crowd favorite. You might want to think twice about this one, though: It has the highest amount of calories, fat, saturated fat, and sodium out of all the popular ranch dressings. In fact, one serving of this dressing has more sodium than you would get from a medium-size order of McDonald's fries. Yikes.6254a4d1642c605c54bf1cab17d50f1e
Remember, moderation is key with everything, and that's especially true for ranch dressing. If you want to indulge, chose a lighter option, and keep in mind that a little does indeed go a long way!
Jordan Summers-Marcouillier
Jordan Summers-Marcouillier was born and raised in San Jose, California and now works as a writer in New York, NY.
Read more about Jordan