Basic parfaits can get boring. Have fun switching up your morning routine with new, Instagram-worthy swap-ins and updates to the popular classic.
Yogurt parfaits are an easy go-to healthy breakfast or snack. Instagram bloggers are showing off their takes on the classic by adding tons of healthy toppings and subbing different types of grains and yogurt bases. These additions not only make the parfaits look great in photos — they'll keep you full and satisfied, curbing cravings throughout the day.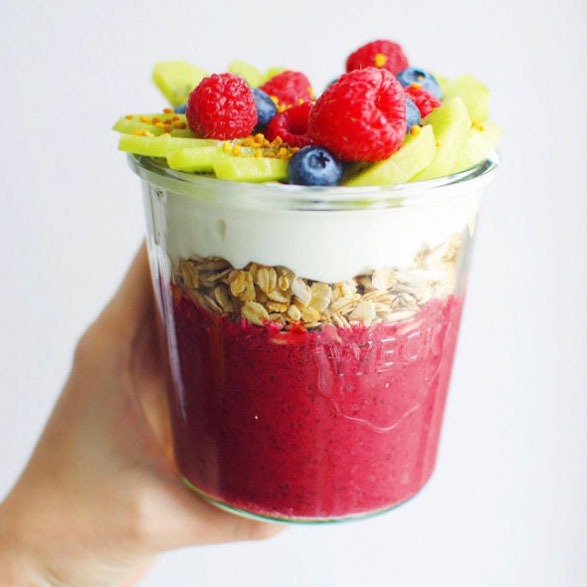 If you love thick, creamy yogurt, try subbing in skyr for your traditional favorite. It's the thickest yogurt on the market and higher in protein than Greek yogurt. For the smoothie portion, pop some frozen berries in the blender. They're packed with polyphenols, natural chemicals that aid weight loss and can actually stop fat from forming. Finish off your masterpiece with a sprinkling of bee pollen for added nutrients.
6254a4d1642c605c54bf1cab17d50f1e
You'll imagine biting into a piece of apple pie when you taste this parfait. But you won't regret it later on. Add some cinnamon and cardamom to stabilize blood sugar, boost circulation, prevent weight gain and promote glowing skin. Choose a drizzle of agave nectar, honey or maple syrup in place of traditional caramel sauce if you're looking to sweeten things up.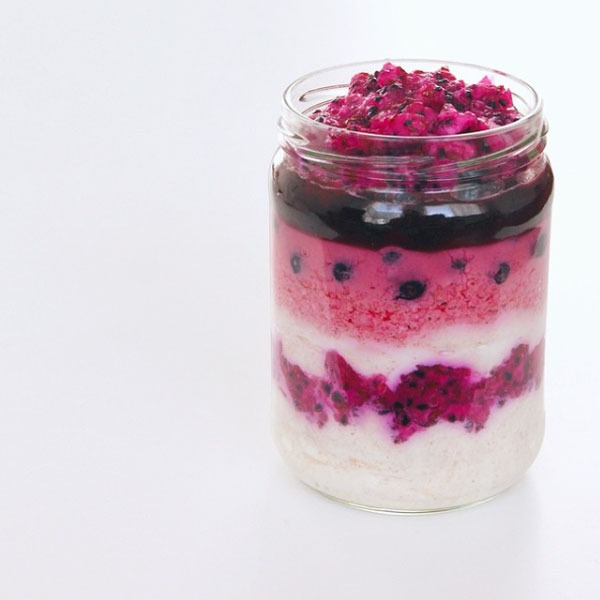 The pink oats in this parfait come from beetroot powder, which is high in satiating fiber as well as iron. To keep the pink theme, substitute strawberry yogurt for plain, but ensure it's not too high in sugar. Mix blueberries into the yogurt for extra flavor! According to researchers at the University of Michigan, they're proven to blast away belly fat. Lastly, chop up some pitaya to put on top and don't be shy about adding in more vibrant fruits!
Chai Chia Butternut Breakfast Pudding
If you have a little more time on your hands, roast mashed butternut squash in a saucepan with rooibos chai tea leaves and a bit of coconut oil. The squash is packed with vitamins, minerals, carotenoids and fiber to keep you full, but is also low in calories. Rooibos is a great weight loss tea, containing a flavonoid called aspalathin, which is proven to reduce stress hormones that trigger overeating and fat storage. Coconut oil keeps the mix creamy and is rich in capric acid, which is also directly linked to weight loss. Stir in some energizing chia seeds and honey, let it sit and watch the seeds absorb the mixture. Layer with yogurt and berries for a hearty parfait.
Ever thought you could combine leftover sauces and dishes to make breakfast that looks as good as this parfait? It's quick and easy, while being intricate and tasty – the best of both worlds. This Instagrammer had some leftover raspberry porridge and berry orange compote that she layered with yogurt and digestion-aiding ginger granola. Play around with swapping in similar leftovers, or buy pre-made, making sure the compote is free of added and artificial sweeteners. For more suggestions, check out our 50 Best Supermarket Shopping Tips Ever.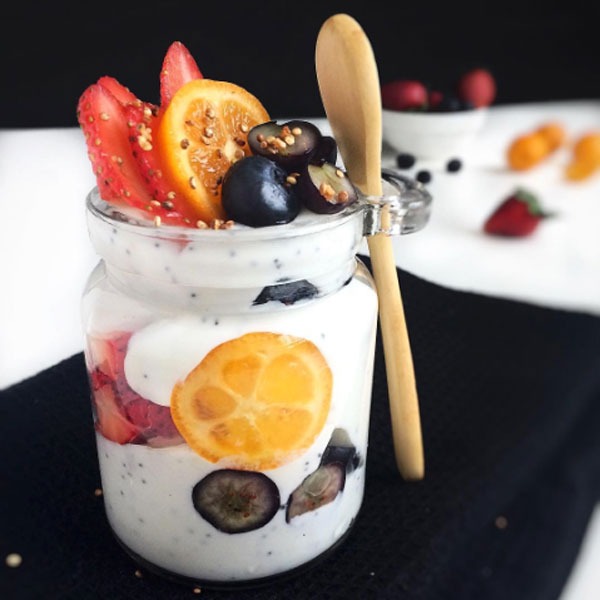 To make this parfait even more filling, this Instagrammer mixes in half a scoop of protein powder. Opt for plant protein powders; whey powders are derivatives of dairy and can make you bloated. Plant protein powders often come from sprouted grains and seeds and provide around 15 to 20 grams of protein per serving! Mix in some poppy seeds and lemon zest for a nice flavor and crunch, topping it off with a sprinkle of toasted quinoa.
Quinoa and Toasted Sunflower Seeds Parfait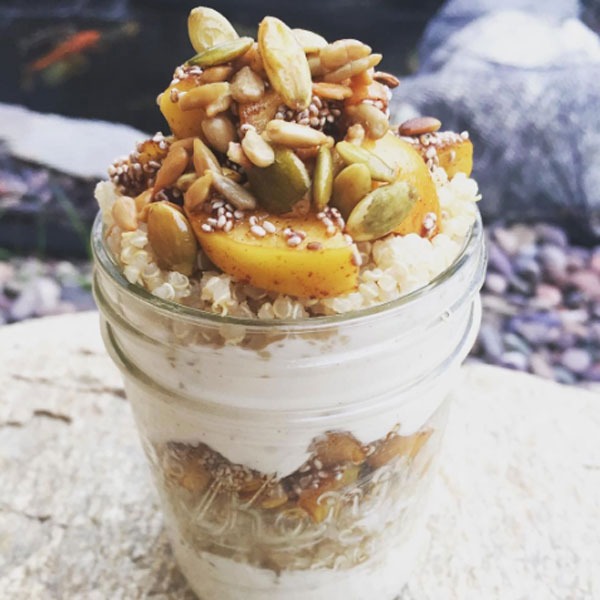 Another great way to incorporate leftovers in your parfait is by replacing traditional oats with protein-packed quinoa from last night's dinner. Or better yet, make the quinoa for breakfast and use it in another meal later on. (We love these 30 Quinoa Recipes for Weight Loss.) Pair the quinoa with vanilla Greek yogurt and top it with healthy pumpkin and sunflower seeds. For a sweet topping, sauté apples with coconut oil, cinnamon and maple syrup. Make sure you're using pure maple syrup — pancake syrup is loaded with high fructose corn syrup, artificial flavors and toxic caramel coloring.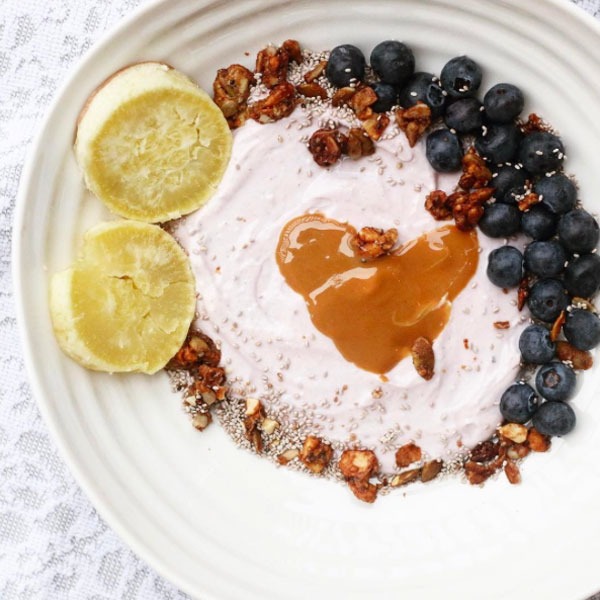 Sometimes you don't have a fancy parfait glass handy. In that case, use the space in a bowl to make a fun design like the heart this Instagrammer drizzled with nut butter. Adding nut butter to your yogurt is an easy way to add great flavor and a myriad of nutrients. At the grocery store, double-check that your favorite is made entirely of nuts — without added sugars and oils. Top it with fruit and walnuts. With 13 grams of polyunsaturated fats per ounce, walnuts activate genes to minimize fat storage and improve insulin metabolism.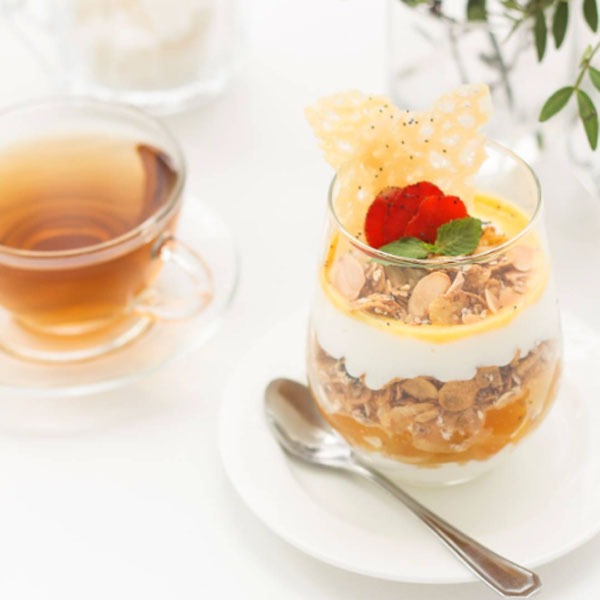 You don't have to be in the mood for fruit to indulge in a creamy parfait snack. Top your yogurt with shaved almonds, one of our 6 Best Nuts for Weight Loss. They're loaded with the amino acid L-arginine, which helps you burn more fat and carbs during exercise. A study of overweight adults actually showed that those who ate almonds lost 62% more weight than those who didn't! Add some honey for inflammation-reducing beneficial compounds like quercetin and kaempferol, but don't go overboard, as the natural sweetener is still high in sugar and calories.
Chocolate Oats and Pomegranate Parfait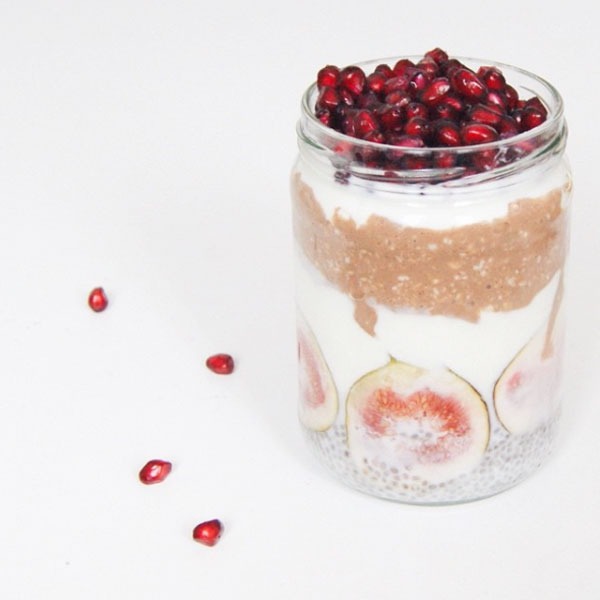 Craving chocolate? Get your fix by subbing chocolate oats into this parfait. The chia pudding at the base is easy to make by mixing chia seeds with almond or coconut milk. Let it sit for a few minutes and watch the seeds soak up all the liquid! This will keep you feeling full and reduce your appetite. The pomegranate seed topping and fresh figs at the bottom are both loaded with fiber, slowing digestion and keeping you satisfied. The fruit and chocolate compliment each other perfectly and make this parfait great for breakfast or dessert!