And in that same amount of time you can also start jump-start your weight loss and build a killer set of six-pack abs—right in your kitchen. What we eat controls about 75 percent of our weight loss outcomes, according to Brazilian researchers. So why not whip up waist-whittling, satisfying meals in a snap?
To prove it's possible, we've come up with six mouthwatering dishes—two for each meal of the day—that burn fat, boost metabolism and satiety, and help your abs shine through. The best part? They rely on just few easy-to-find ingredients and can be thrown together in 10-minutes or less—promise. Getting the flat stomach you've always wanted never tasted so good!
Pita Egg Sandwich with Veggies and Cheese
Serves 1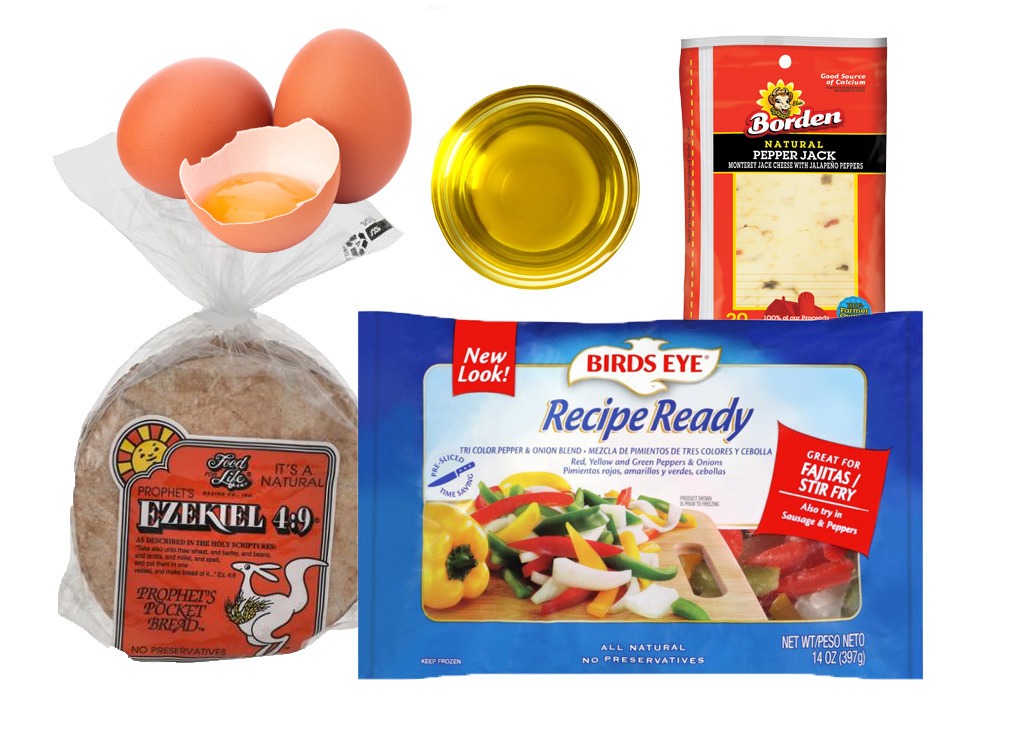 Not only does this recipe taste better than a McMuffin, it's primary ingredients are proven to aid weight loss and fry fat, so eating it can help you get the abs you've always wanted. The extra virgin olive oil used to sauté the veggies increases blood levels of serotonin, a hormone associated with satiety. What's more, the calcium in the cheese wards off flab by preventing cellular changes in the body that cause fat storage, while the eggs serve up a metabolism-boosting nutrient called choline. Still not convinced you should make this flat-frying breakfast? The vitamin-C packed peppers used to fill the omelet fight off cortisol, a hormone that causes fat to accumulate around the midsection.
INGREDIENTS
2 Tsp. extra virgin olive oil
½ cup Birds Eye Tri Color Pepper & Onion Blend, thawed
Ground pepper, to taste
2 eggs
1 slice Borden Natural Pepper Jack Cheese
1 Ezekiel 4:9 Whole Grain Pocket Bread, cut in half
Optional garnish: Salsa, hot sauce or organic ketchup
HOW TO MAKE IT
STEP 1: In a small nonstick skillet, sauté frozen veggies in oil until tender. Top with fresh pepper, combine and remove the mixture from the skillet. Set aside.
STEP 2: Crack the eggs into a bowl and whisk until fully blended.
STEP 3: Add eggs to the skillet and cook over a medium flame. Just before the eggs are fully cooked, add the cheese and vegetables.
STEP 4: Use a spatula to carefully fold the egg over on itself. Remove from pan, cut widthwise and place the omelet halves inside the two halves of the pocket bread. Top with salsa, hot sauce or organic ketchup.
Cinnamon Berry-Nut Oatmeal
Serves 1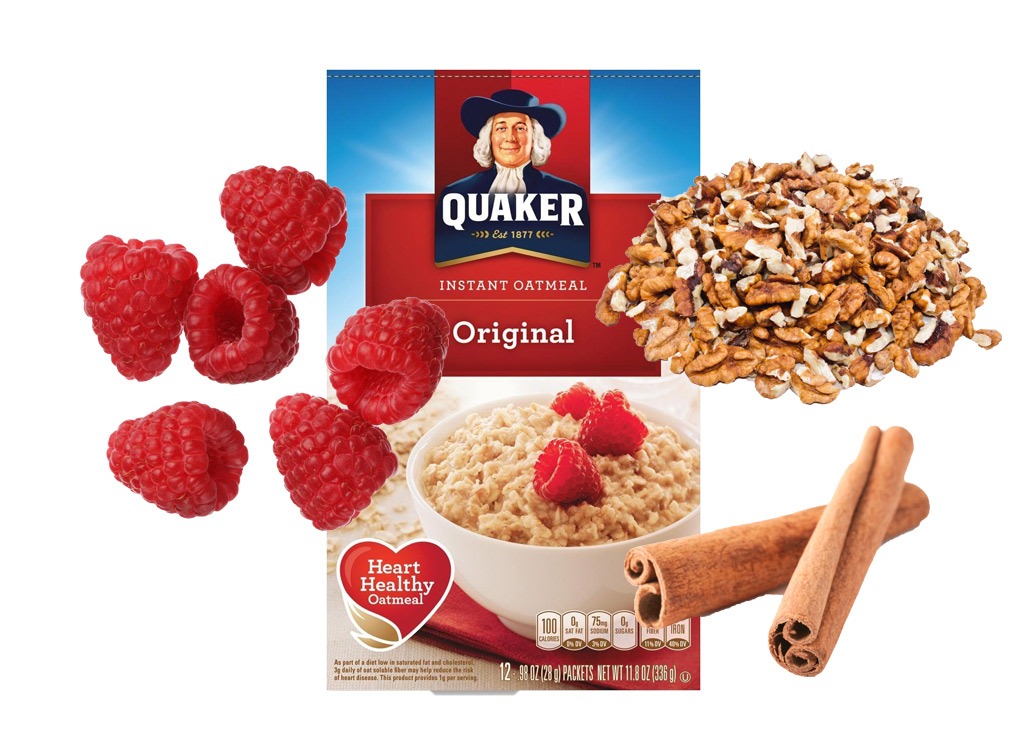 Take a break from that same-old cereal and milk—we've got a better option for you: oatmeal topped with fresh raspberries and walnuts. This dish is almost as quick to get on the table as your current go-to and it has a ton of weight loss benefits, too! Both oats and berries contain insoluble fiber which, according to Canadian researchers, boosts levels of ghrelin—a hormone that controls hunger. And besides adding a great kick of flavor and a nice, crunchy texture to your bowl, adding a sprinkle of cinnamon and walnuts can aid weight loss by warding off the accumulation of belly chub, say researchers.6254a4d1642c605c54bf1cab17d50f1e
INGREDIENTS
1 packet Quaker Instant Oatmeal, Original
1/2 cup hot milk or water
Handful of raspberries
1/4 cup chopped walnuts
1 Tsp. cinnamon
HOW TO MAKE IT
STEP 1: Combine oatmeal and liquid of choice and cook according to package instructions.
STEP 2: After the oats have finished cooking, mix in raspberries, walnuts and cinnamon.
Spinach, Orange and Pine Nut Salad with Grilled Chicken
Serves 1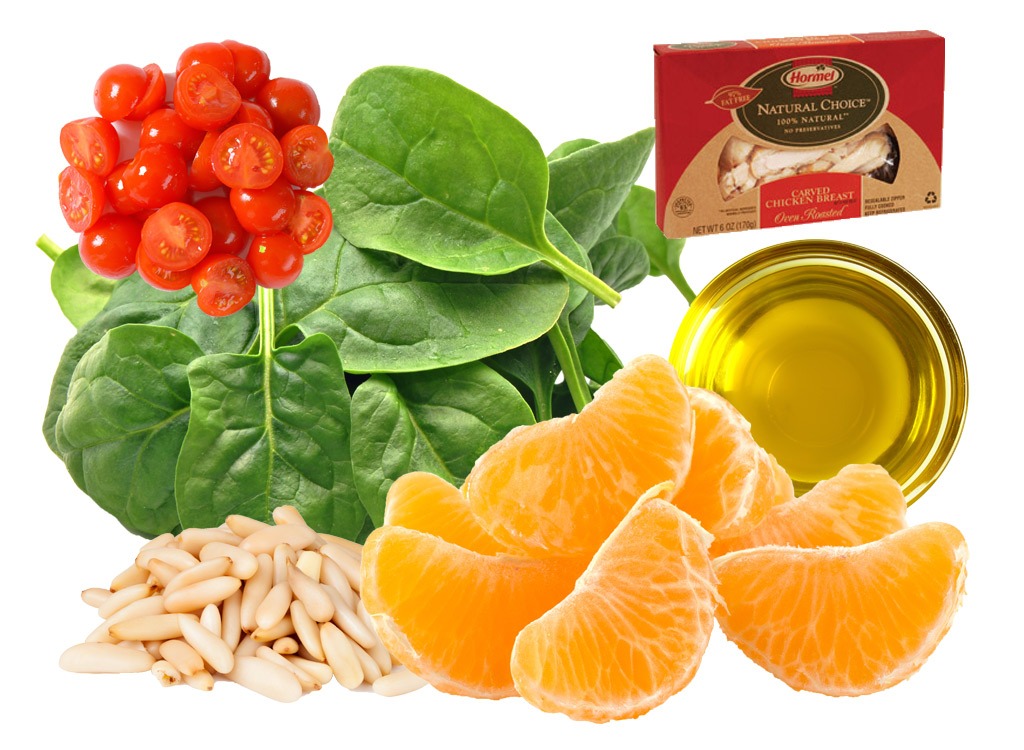 Say buh-bye to tasteless diet food for good! This light, citrusy salad is bursting with sweet flavors, crunchy textures and is super satiating. Studies show that foods with high water content—like spinach— have lower BMIs and smaller waistlines than those who don't load their plates with this type of food. And since it offers so much volume without carrying many calories, spinach can help fill you up without filling you out. More good news for your waistline: The fiber-filled oranges and protein-packed chicken and pine nuts all boost satiety hormones that make you feel full and keep belly fat at bay. Bonus: This salad is also extremely versatile. It holds up well in a to-container at the office but looks fancy enough to serve up at a weekend brunch.
INGREDIENTS
3 oz Hormel Natural Choice Oven Roasted Carved Chicken Breast Strips
2 cups baby spinach leaves
½ orange, peeled and segmented
1 tablespoon pine nuts
6 grape tomatoes, halved
2 Tbsp. olive oil
HOW TO MAKE IT
STEP 1: Mix all of the ingredients together in a bowl and serve.
Chicken Guac Sandwich with Tomato, Lettuce and Onion
Serves 1

Sandwiches truly are a weekday lunchtime savior. Even if you don't get around to whipping one up the night before, you can likely make time to throw one together before heading to the office. And better yet, if you throw the right things between the bread, your sandwich can help you fight that health-harming belly flab. The nitrate-free organic protein in this sandwich helps boost calorie burn and aids muscle growth, which can rev your metabolism. The guac add a creamy texture you're sure to love plus it works to banish bloat, quell hunger pangs and fry stubborn belly fat.
INGREDIENTS
1 tablespoon Wholly Guacamole Avocado Verde Dip
1 Arnold Sandwich Thins Flax & Fiber
3 oz Applegate Organics Oven Roasted Chicken Breast
Red onion, sliced, to taste
Tomato, sliced, to taste
2 Romaine lettuce leaves, halved
HOW TO MAKE IT
STEP 1: Spread guacamole onto the bread.
STEP 2: Stack chicken, onion, tomato and lettuce on bead.
STEP 3: Sandwich the two halves together.
Spicy Guacamole Chicken with a Black Beans Vegetable Medley
Serves 4

Turn up the heat on your belly bulge with this super-filling Tex-Mex dish. Protein-rich foods like chicken can boost satiety, helping you fight off the urge for ab-covering desserts and second helpings, according to research. But that's not all: It can also increase post-meal calorie burn by as much as 35 percent. If you thought it couldn't get much better than that, think again! The chili powder and mild peppers used in this dish also help blast away stubborn belly and rev metabolism, helping your abs pop.
INGREDIENTS
1 pound skinless chicken breasts
Chili powder, to taste
15 oz Eden Organic Black Beans, no salt added, drained and rinced
14 oz Birds Eye Tri Color Pepper & Onion Blend, thawed
Wholly Guacamole Guacasalsa Dip, to taste
HOW TO MAKE IT
STEP 1: Sprinkle chili powder onto the chicken and cook on a lightly greased skillet over medium heat, until golden brown, about 5 minutes on each side.
STEP 2: Remove chicken from heat, set aside and cover.
STEP 3: Add beans and veggies to the skillet and cook until warm.
STEP 4: Spoon a dollop of guacamole onto each chicken breast and serve with bean and vegetable medley.
Garlicky Dill Salmon over Arugula with Oven Roasted Potatoes
Serves 4

Never had a salmon burger? It's time to go pick up a box! Not only is it one of the most hassle-free ways to eat seafood, it's also surprisingly tender and rich. Plus, each burger serves up 680 milligrams of omega-3 fatty acids, a nutrient that alters levels of a hormone called leptin. The less leptin you have, the faster your metabolism can work off the flab covering your abs. Surprised to see that we've paired this dish with potatoes? We get it. The spuds have a bad rap—but it's not at all deserved. Potatoes are one of the most satiating foods out there and they are loaded with resistant starch, a type of carb that dodges digestion. In turn, the body isn't able to absorb as many of the potato's calories. It's a dieters dream!
INGREDIENTS
1 cup Greek yogurt, plain
Olive oil, to taste
Fresh dill, to taste
4 SeaPak Salmon Burgers
6 cups arugula
1 bag, Alexia Oven Reds with Olive Oil, Parmesan & Roasted Garlic
HOW TO MAKE IT
Step 1: Combine yogurt, olive oil and fresh dill set aside.
Step 2: Cook burgers according to the box instructions.
Step 3: Meanwhile, cook the Alexia potatoes according to the bag instructions.
Step 4: Serve salmon burger atop a bed of arugula and drizzle a tablespoon or two of sauce onto the salmon and greens. Spoon potatoes onto the plate.