Long grueling workouts and restrictive diets suck. Instead of driving yourself crazy, sip something that fries flab for you.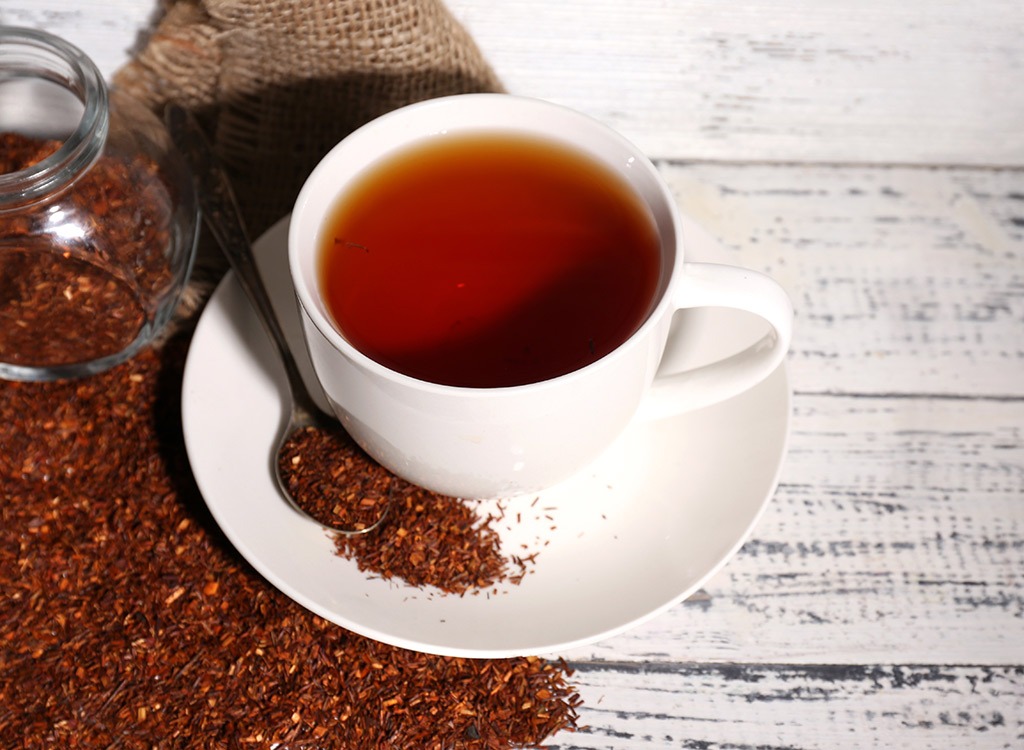 Whether it be cuddling up on the couch or relaxing by the fire, there's something about a steaming cup of tea that makes all of life's simple things seem all the more relaxing. While tea is indeed soothing, it's also unassumingly strong. Some brews can help you stop snacking while others can boost your calorie burn. However, others varieties are so mighty that they can even melt the flab right off your frame. Yes, we realize that may sound like an opening line for a cheesy weight loss pill advertisement, but you can't argue with science. We've scoured the research journals to bring you the best fat-frying brews on supermarket shelves—so just sit back, start sipping and watch your fat melt away!
Here's the full list, compliments of a revolutionary new book, The 7-Day Flat Belly Tea Cleanse, which shows you how to eat and drink—and still shrink, compliments of Eat This, Not That's Kelly Choi!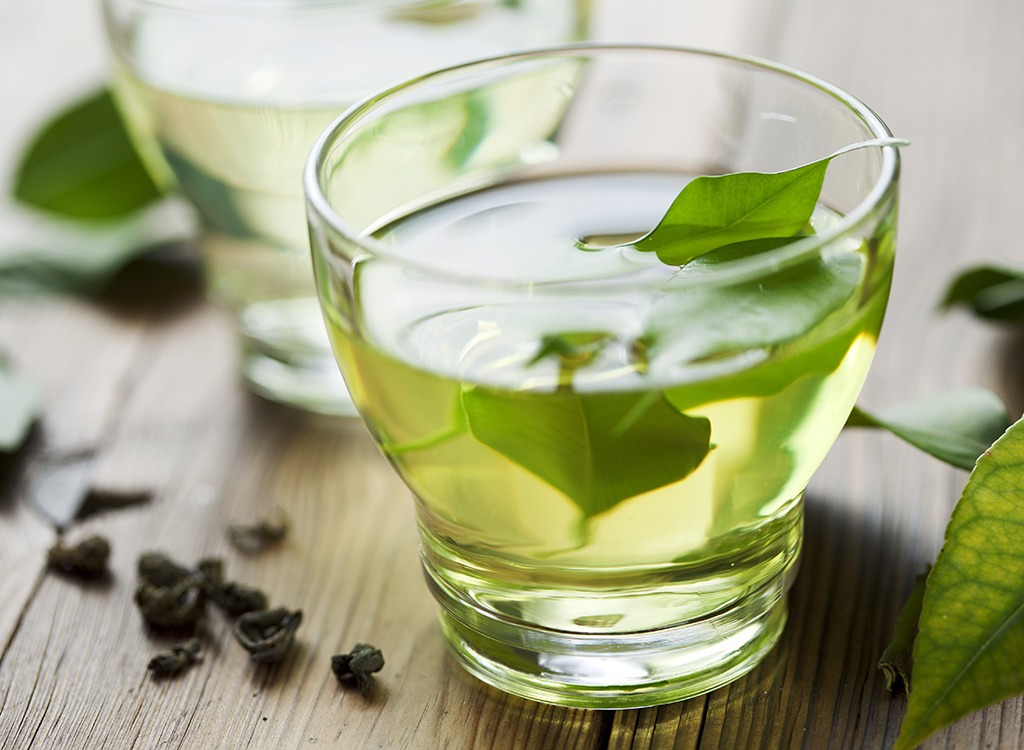 We like: Twinings, The Republic of Tea, Celestial Seasonings Sleepytime
We love white tea because it works in four ways to help you shed that pesky flab. According to a study published in the journal Nutrition and Metabolism, this brew blocks the formation of new fat cells while simultaneously boosting lipolysis, the body's process of breaking down stored fats. Another group of researchers found that the tea is also a rich source of catechins, a type of antioxidant that triggers the release of fat from the cells and helps speed the liver's ability to turn fat into energy. Who needs Spanx when you can just sip on this powerful brew? Speed up your slim down when you alternate sipping cups of white tea and these 5 Best Teas for Weight Loss.

We like: TerraVita, TeaHaven
The stem, fruit and root bark of the barberry shrub contains berberine–a powerful, naturally occurring, fat-frying chemical. A study conducted by Chinese researchers revealed that berberine can prevent weight gain and the development of insulin resistance in rats consuming a high-fat diet. Previous studies have also found that consuming the plant can boost energy expenditure and help decrease the number of receptors on the surface of fat cells, making them less apt to absorb incoming sources of flubber. Sounds like a good reason to have an other cup of tea to us!
We like: Celestial Seasonings, Teavana
This red, naturally sweet tea made from the leaves of the Rooibos bush are powerful fat-melters. According to South African researchers, polyphenols and flavonoids found in the plant inhibits adipogenesis–the formation of new fat cells–by as much as 22 percent. The chemicals also help aid fat metabolism. Sip this brew to help burn that stubborn bit of chub clinging to your middle. Speaking of whittling your middle, reveal the washboard stomach you've been wishing for with these 11 Eating Habits That Will Uncover Your Abs.6254a4d1642c605c54bf1cab17d50f1e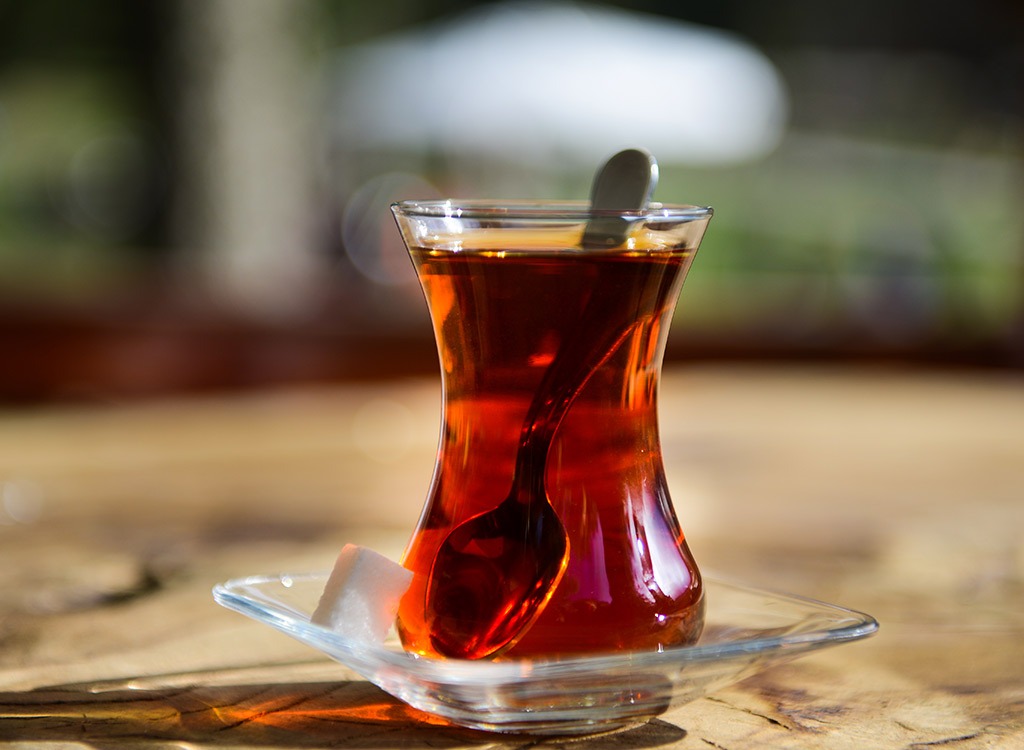 We like: Numi Organic Tea, Uncle Lee's Tea
This fermented Chinese tea can literally shrink the size of your fat cells! To discover the brew's fat-crusading powers Chinese researchers divided rats into five groups and fed them varying diets over a two month period. In addition to a control group, there was a group given a high-fat diet with no tea supplementation and three additional groups that were fed a high-fat diet with varying doses of pu-erh tea extract. The researchers found that the tea significantly lowered triglyceride concentrations (potentially dangerous fat found in the blood) and belly fat in the high-fat diet groups. Although sipping the tea could have slightly different outcomes in humans, we think these findings are promising enough that it's still well worth your while to fix yourself a steaming hot cup. To look and feel your best in 24 hours flat, combine your pu-erh habit with our Ultimate One-Day Detox.
MELT UP TO 10 POUNDS IN ONE WEEK!
WITH OUR BEST-SELLING NEW DIET PLAN, The 7-Day Flat Belly Tea Cleanse! Test panelists lost up to 10 pounds in one week! Join them today! Click here to lose weight now!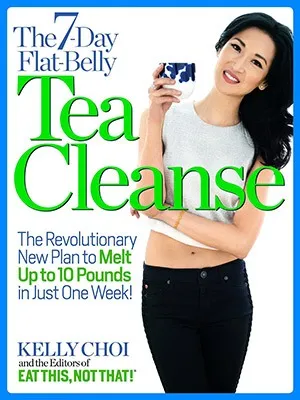 Eat This, Not That!
Inspired by The New York Times best-selling book series, Eat This, Not That! is a brand that's comprised of an award-winning team of journalists and board-certified experts, doctors, nutritionists, chefs, personal trainers, and dietitians who work together to bring you accurate, timely, informative, and actionable content on food, nutrition, dieting, weight loss, health, wellness, and more.
Read more about Eat This