8 Tips for Low-Calorie Cocktails from Diet Experts
For every season there's a reason—to raise a glass. And we have some good news: You don't have to sacrifice your waistline to join in.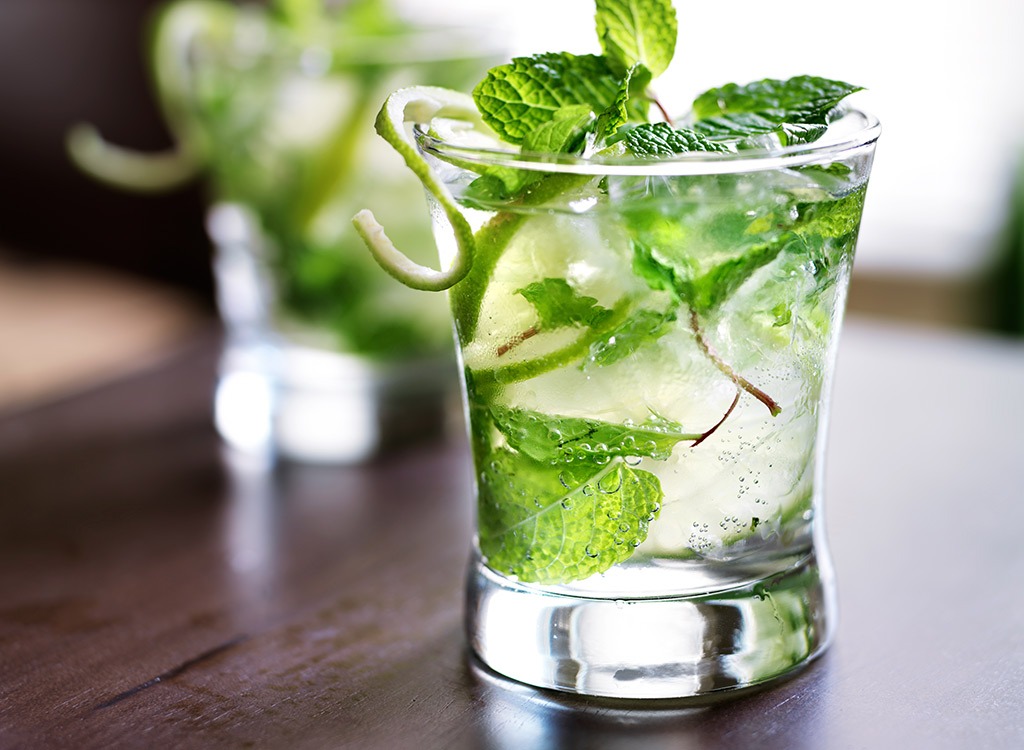 Just like the holiday season seems warmer paired with a hot toddy or mug of eggnog, so too do summer months feel that much richer paired with a cold beachside margarita. And just because you're trying to keep your body bikini-ready doesn't mean you have to pass up all of those sunset happy hours. Here, eight nutritionists tell us which libations they recommend—and turn to themselves—when a celebratory cocktail calls.
Get Sweet On Bitter Liqueurs
"I love starting a balmy evening with a Campari and soda with a squeeze of blood orange. Not that I'm thinking about detoxing while I'm imbibing, but the mild bitterness of the Campari helps to activate liver detoxification and metabolize the alcohol faster. There's also no sugar in the cocktail, so I'm not going to suffer from a sugar and alcohol hangover the next morning." — Dana James, CDN, founder of Food Coach NYC
Freshen Up Your Margarita
"Summer time is margarita time! I order a healthier version that still has all of the flavor, made with a blend of fresh-squeezed limes and no-calorie lemon-lime soda or lemon/limeade. This saves 110 calories that would otherwise be in the ½ cup of pre-made margarita mix. A fresh swipe of lime on the rim adds flavor in place of the salt and sugar." — Libby Mills, MS, RDN, LDN, National Spokesperson for the Academy of Nutrition and Dietetics
Balance Your Drink with Bubbly
"When going out for a summer cocktail, I usually order one made with champagne and St. Germain–simple, delicious and no syrups added! If that's not available, I'll order a Sea Breeze, made with grapefruit and cranberry juices and just 1 ounce of vodka. Again, this doesn't have any syrups and isn't loaded with liquor calories, which can add up very quickly!" — Lauren Minchen, MPH, RDN, CDN, Lauren Minchen Nutrition, PLLC
Trade In Your Usual Tonic
"My two favorite mixed drinks in warmer weather are mojitos and vodka tonics. Both are refreshing and speak 'summer' to me. If I'm at home, I reduce calories by buying sugar-free tonic water. There's little to no taste difference between the regular and the sugar-free. When ordering a mojito at a bar or at someone's home, I find that they're generally already mixed, so I request the glass be about one-quarter filled with club soda then the rest can be mojito. When mixing a batch at home, I add a lot more club soda which "stretches" the simple syrup (or sugar) and the rum." — Christine Palumbo, MBA, RDN, FAND, Chair, Member Value Committee, Academy of Nutrition and Dietetics
"I tend to lean towards white wine, but sometimes, when I'm at a party or out with friends, it's nice to have something different. As the summer approaches, if I were to order a cocktail, I would go for Sangria. If they make it with just fruit and seltzer and no extra sugar, it can be a fun, refreshing drink without all of the extra calories." — Ilyse Schapiro MS, RD, CDN, Founder of Ilyse Schapiro Nutrition
Trade Frozen for Fresh Fruit
"I tend to avoid overly sugary drinks, like frozen margaritas from a machine, daiquiris and anything cream-based. These drinks are typically astronomically high in empty calories–up to 500 calories per glass. I do enjoy the occasional margarita made from fresh-squeezed lime juice and other fruit juices, on the rocks, and with a light dusting of salt on the rim. At home, sometimes I use Skinny Girl Margarita brand since it is lower in sugar, and dress it up with a bit of fresh-squeezed orange juice." — Michelle Dudash, RD, Cordon Bleu-certified chef consultant and the author of Clean Eating for Busy Families: Get Meals on the Table in Minutes with Simple and Satisfying Whole-Foods Recipes You and Your Kids Will Love
Just Nix the Pre-Made Mixers
"During the summer it seems like everyone is drinking all the time, from BBQs with beer to poolside cocktails and backyard parties with sangria. But no matter where I am, I always try to keep it simple because I want to feel good in my swimsuit and avoid drinking my calories. Sugary mixers common in summery drinks cause bigger hangovers, and who has time for that? I often drink rosé wine, as well as either vodka- or tequila-based cocktails, but without added sugar or juice. If I'm looking for something sweet, I will order flavored vodka like pear or orange and will add club soda and a lime to dilute it and add effervescence. If margaritas are on the menu, I ask for tequila with muddled lime on the rocks instead. All these drinks give you the flavors you want (and the buzz you're after) without adding pounds!" — Amy Shapiro MS, RD, CDN, Real Nutrition NYC6254a4d1642c605c54bf1cab17d50f1e
"While it's unlikely you'll find me sipping a cocktail concoction–I much prefer a glass of wine–I encourage my clients to toast balance, not deprivation. The secret to skinny cocktail choices is to skip the common mixers like full-sugar soda, juice, tonic and pre-mixed cocktail blends, and sip on something simple. A good example is a vodka and club soda. A one-ounce serving of vodka ranges from 70-100 calories depending on the brand, and adding club soda does not contribute additional calories. Spice-infused vodka recipes are a hot trend now and are a great way to add flavor without calories." — Heather Mangieri, MS, RD, CSSD