9 Convenience Foods That Fight Belly Fat
You want to lose weight rapidly, but you only have 10-minutes a day to whip up healthy meals. Problematic? Not at all.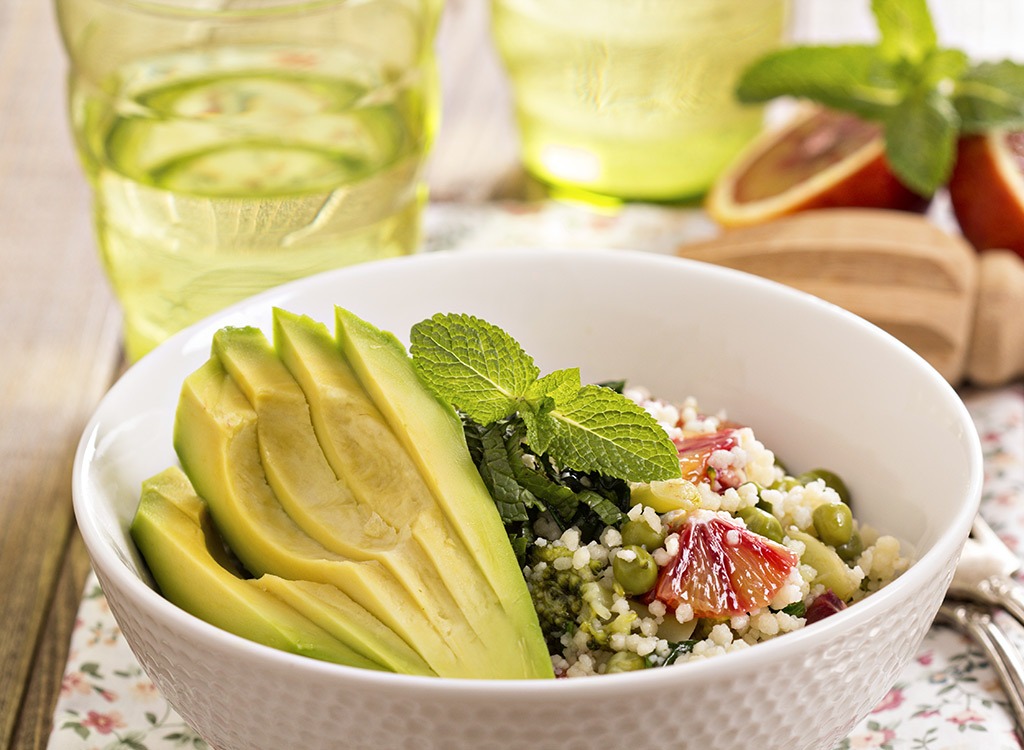 Well, not if your kitchen is stocked with the right foods, at least. Believe it or not, there are tons of ready-made and convenience foods that are not only healthy, but also help fight off belly fat and aid weight loss efforts. The tricky part? Knowing what they are and the best ways to use them—but that's where we come in.
Below we reveal nine foods that will not only make your life easier, but also help you get leaner. Better yet, all of the suggested items are found in just about any grocery store and can easily be combined with other foods to create a healthy meal in just minutes. Don't let your busy life keep you from getting the body you want—say bye-bye to the drive through and hello to a trimmer, leaner you. Scroll down to learn how it's done.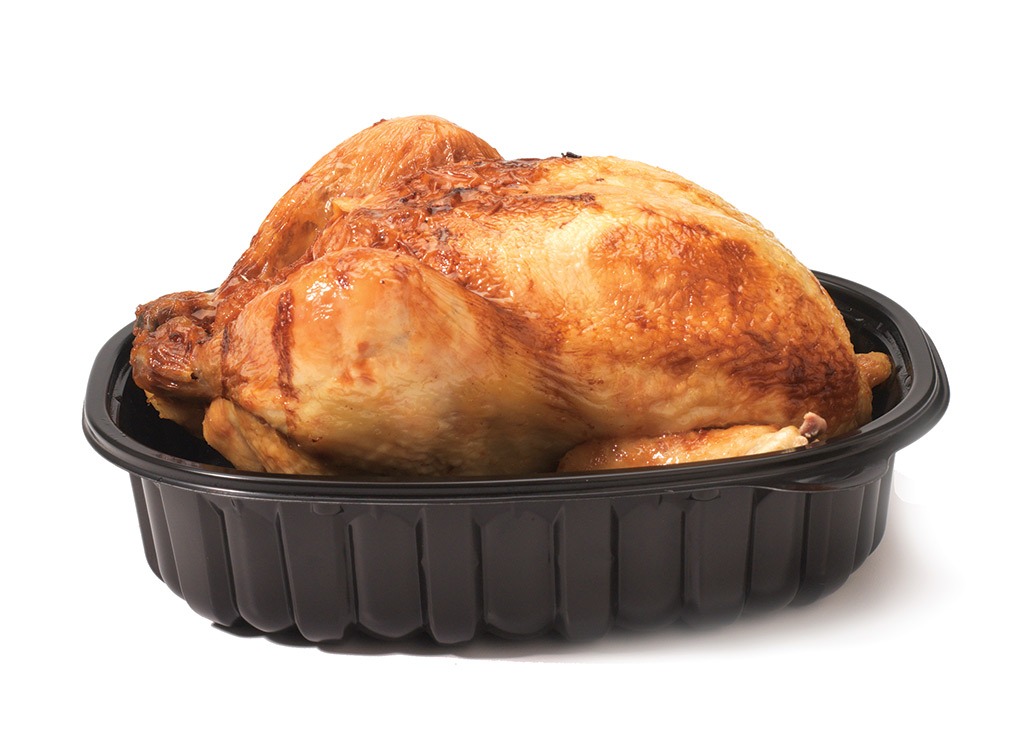 This ready-made bird is a busy dieter's saving grace. Eating protein-packed foods, like chicken, boosts satiety and increases post-meal calorie burn by as much as 35 percent, according to researchers! While whipping up a whole chicken yourself can take hours, rotisserie chickens—which typically cost less than $10—go from plastic container to plate in just minutes.
Make it a meal: Pair the chicken with a ready-made salad mix for a quick weekday lunch, serve the bird with some pre-grilled veggies from your grocer's deli counter or to make a Mexican-inspired dinner, throw some slices in a corn tortilla with salsa and slices of avocado, red pepper and onion.
Bagged Broccoli Stir-Fry Veggies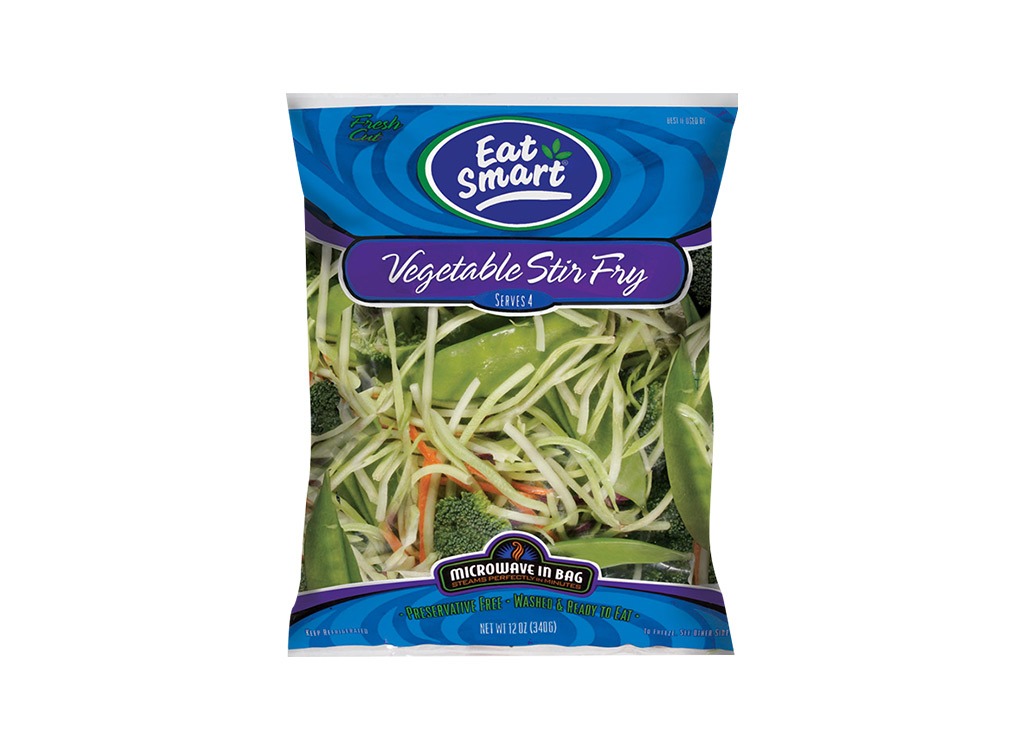 While just about any pre-cut and washed stir-fry veggies will help you get dinner on the table in record time, we're partial to Eat Smart's Vegetable Stir Fry. Why? The bag is filled with fat-fighting broccoli florets and quick-cooking broccoli slaw, carrots and snow peas. "Broccoli contains phytochemicals that increase testosterone and fight off body fat storage," explains fitness and nutrition expert, Jay Cardiello. "[It's] a must-eat when you're trying to get lean."
Make it a meal: For a quick meal, throw the veggies atop a bed of greens with some chickpeas, balsamic vinegar and olive oil, and serve with a reduced-sodium veggie soup. (We like Pacific's Organic Roasted Red Pepper & Tomato Soup Light in Sodium.) Alternatively, cook the veggies on the stove with some tofu or cubed pre-cooked chicken and a bit of low-sodium, low-sugar teriyaki sauce. A delicious dinner will be on the table in under 10-minutes.
Eggland's Best Hard- Cooked Peeled Eggs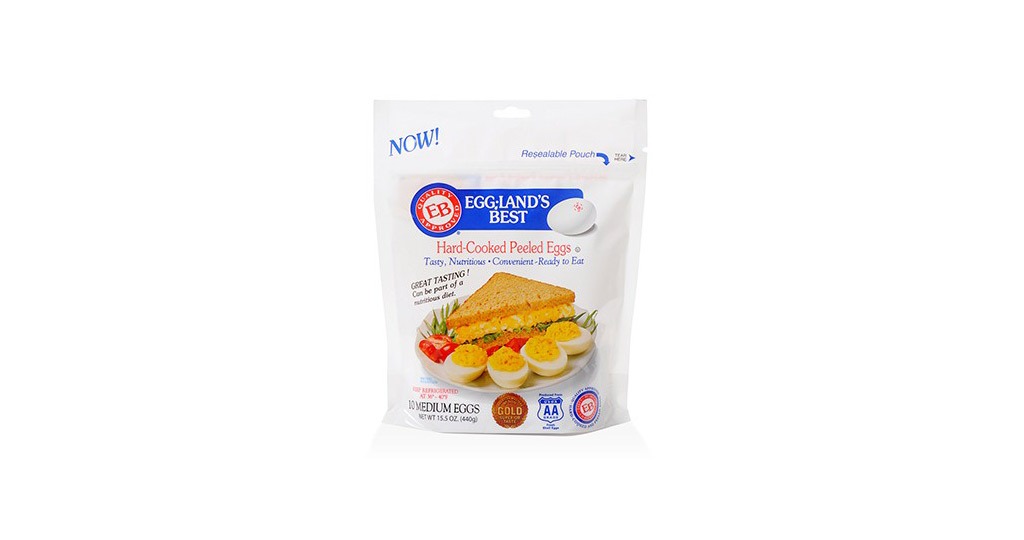 Boiling eggs isn't so bad. Peeling them, on the other hand? A freakin' nightmare! Save time and loads of frustration by investing in a bag or two of hard-cooked and peeled eggs. Sure, egg whites have protein, which can help boost satiety and aid weight loss, but to reap the most of their waist-whittling benefits, eat the yolk. It's filled with a fat-fighting nutrient called choline.
Make it a meal: Spread hummus on whole-grain toast (we like Ezekiel 4:9 Sprouted Whole Grain Bread), top with some spinach and slices of tomato and hard-boiled egg for a quick lunch or a.m. meal. Not a fan of hummus? Try topping a BLT with slices of avocado and hard-boiled egg for a slimming protein-and-healthy-fat combo. You can also use the eggs as an entree salad add-in. Combine romaine, chopped tomato and cucumber, sliced eggs and low-sodium turkey breast cold cuts in a large bowl with olive oil, vinegar and spices. Serve with a fruit salad to complete the meal.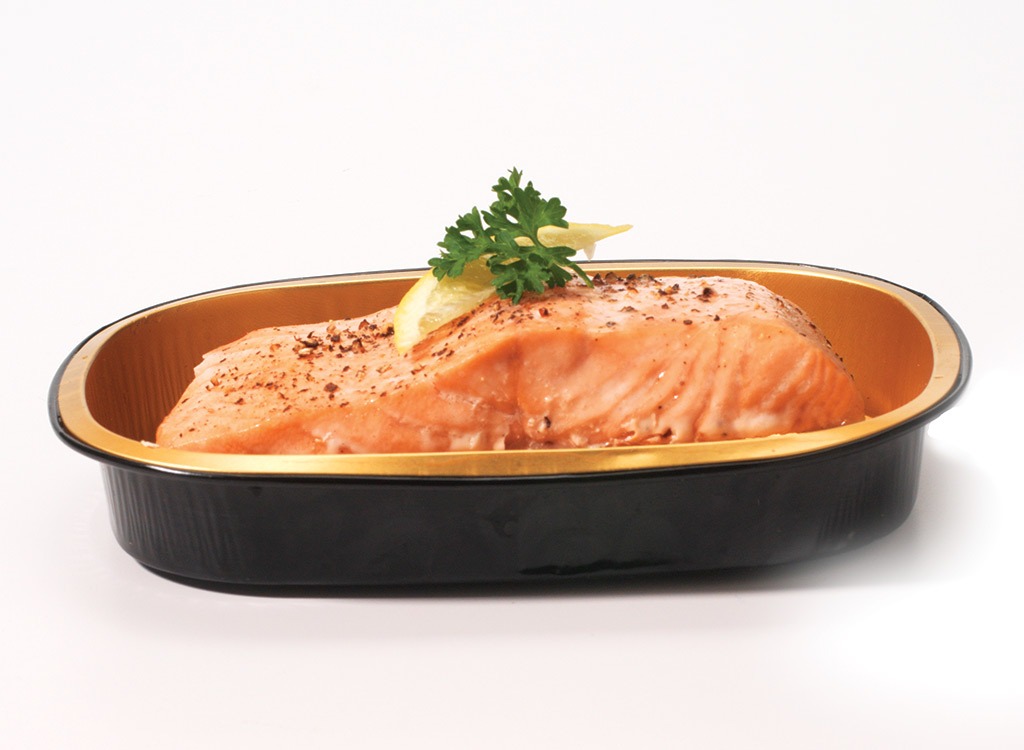 Pre-cooked wild salmon from the supermarket is a heck of a lot cheaper than restaurant food and gets on the table much quicker than any fish you'd have to cook from scratch. Studies have found that eating three 5-ounce servings of salmon per week as part of a low-calorie diet can accelerate weight loss, likely thanks to its satiating combination of protein and healthy fats. Next time you're at the grocery store, look for some that's been seasoned and grilled on site. If the offerings look greasy, opt for a box of frozen salmon burgers instead. We like SeaPak's variety.
Make it a meal: For a quick and easy dinner, whip up a quick kale side dish while the salmon is re-heating in the oven. Here's how to make it: In a medium sauté pan, heat minced garlic and olive oil over a medium flame. When the garlic begins to brown, add chopped kale, mushrooms, tomato and onion, and sauté until soft. Serve fish over the veggie mixture. If you're going the burger route, serve salmon burgers on a thin whole-wheat bun with olive-oil mayo and a slice of low-fat Swiss.
Nearly every deli counter has herb-roasted potatoes. Buy them. We know white potatoes have a bad rap, but it's totally unwarranted. In fact, they're actually powerful hunger tamers that can play a substantial role in a smart weight-loss plan. In a study that measured the satiating index of 38 popular foods, researchers discovered that potatoes were more filling and satisfying than traditionally "healthy" carbs like brown rice and oatmeal. As a result, research participants ate fewer total calories on the days when potatoes were a part of their diet.
Make it a meal: Remember the rotisserie chicken we told you about? Throw these taters on a plate with the chicken and serve with some steamed broccoli or a side salad.
Triple-Washed Salad Greens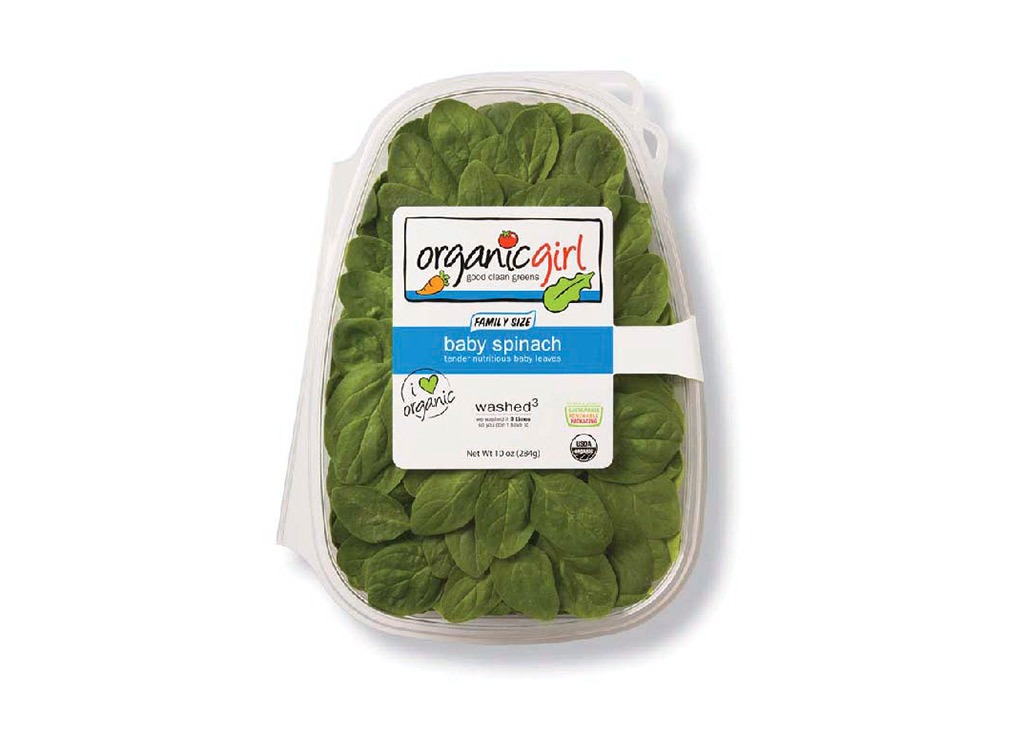 Everyone who has ever made a salad knows that washing and drying greens can be tedious! Buying some triple washed salad greens means you can skip those lengthy steps all together. With so many options in the produce section, though, it can be hard to know which one to pick. You can never go wrong with a leafy green, but if you can only go home with one, make it baby spinach. It's not only versatile—since it can be enjoyed both cooked and raw—but also an appetite suppressor, which can help you trim your middle. The spinach leaves contain compounds called thylakoids, which have been shown to significantly reduce cravings and promote weight loss, according the researchers.
Make it a meal: For a light deskside lunch, combine baby spinach, fresh strawberries, sliced almonds, crumbled feta and pre-grilled chicken, and serve with a light drizzle of poppy seed dressing. To whip up a quick sit-down dinner, sauté spinach and pre-sliced mushrooms in olive oil and garlic, and serve with pre-made herb-roasted potatoes and some rotisserie chicken or pre-grilled wild salmon.
Melissa's Steamed Six Bean Medley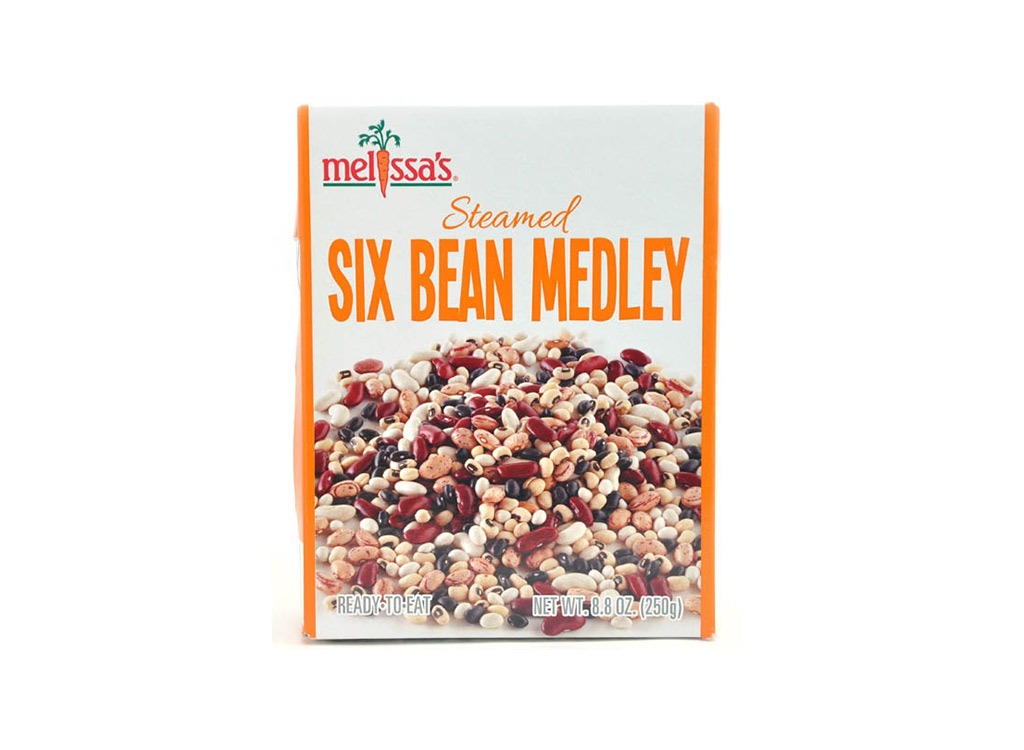 Thanks to their high fiber and protein content, beans are digested very slowly, which can increase satiety and help with weight control. Melissa's Steamed Six Bean Medley is a flavorful blend of white kidney, cranberry, white navy, red kidney, black-eyed and black beans in a convenient vacuum-sealed pouch. If you can find it, buy it. If not, buy low-sodium beans in a BPA-free can.
Make it a meal: For a quick lunch, combine beans with some chopped onions, tomato and peppers, mix with some pre-washed greens and top with your vinaigrette dressing of choice. For a hearty-yet-healthy dinner, sauté beans with garlic, olive oil, onions and kale until soft. Then, toss the mixture with Uncle Ben's Whole-Grain Brown Boil in Bag Rice (it only takes 10 minutes to make) for a colorful one-dish meal.
Pre-Cooked and Deveined Shrimp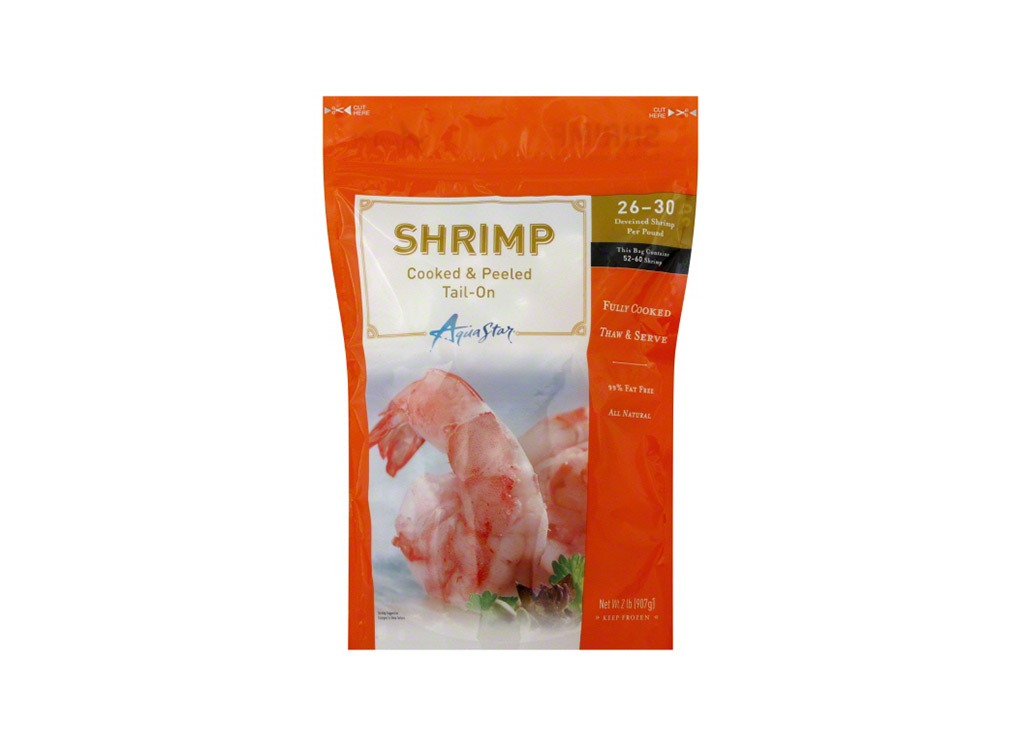 Shrimp is a great source of lean, low-cal protein that can help boost metabolism and suppress appetite. Pre-cooked and deveined shrimp is great because once you throw it on the stove to warm up, and it's ready to eat in just a minute or two.6254a4d1642c605c54bf1cab17d50f1e
Make it a meal: Season shrimp with salt, pepper and red pepper flakes. Heat olive oil and minced garlic over a medium flame and then add the shrimp. Cook two minutes or until warmed through. Toss with lemon juice and chopped parsley, and serve over Uncle Ben's Whole-Grain Brown Boil in Bag Rice and a side salad. Now that's how you make a fancy looking dinner in 15 minutes flat!

Made from a combination of tomatoes, finely chopped parsley, mint, bulgur, onion, olive oil, lemon juice and salt, tabbouleh is a fat-fighting machine. The olive oil increases blood levels of serotonin, a hormone associated with satiety, and the bulgur is a whole grain that's loaded with hunger-crushing fiber and protein. Adults who consume three servings of whole grains daily have less belly fat than those who eat less than a quarter of a serving, according to a study in The Journal of Nutrition, and this dish will help get you there. Look for it in your grocery store next to the hummus.
Make it a meal: In the salad world, tabbouleh is a fat-frying double threat. Instead of chopping up veggies and adding a dressing to your salad, just spoon some of the classic Middle Eastern dish on top of your greens and add some pre-grilled chicken. Still hungry? Serve with a fruit salad or a low-sodium bowl of veggie soup.
For more quick and healthy dinner ideas check out 15-Minute Dinners for Weight Loss.