6 '90s 'Health' Foods That Were Actually Terrible for You
Unlike the Y2K bug, the 'Snackwell Effect' is in fact a real phenomenon.
The product recommendations in this post are recommendations by the writer and/or expert(s) interviewed and do not contain affiliate links. Meaning: If you use these links to buy something, we will not earn a commission.
The '90s were a decade to remember, especially when it comes to food. For one, the end of the 20th century brought us forever convenient classics like Eggo Waffles, Bagel Bites, Hot Pockets, and Pizza Rolls, as well as some of the best food-related movies of our time like Soul Food, Good Burger, and Like Water for Chocolate. On top of that, it also delivered some memorable '90s health foods—some of which stayed behind with the dawning of the millennium, while others have continued to remain on shelves long after we shook off our Y2K worries. And with the premiere of That 90s Show officially hitting Netflix tomorrow, Thursday, January 19, 2023, it's the perfect time to take a trip down memory lane and reminisce about those classic '90s health foods we thought were doing our bodies good, but come to find out were actually some unhealthy choices.
Health food trends in the 1990s were much different than they are today, with one of the biggest defining factors being our society's obsession with going "low-fat." According to an article by Ann F. La Berge published in the Journal of the History of Medicine and Allied Sciences, eating a low-fat diet became more than just a trend—it was an ideology.
"Supported by scientific studies, promoted by the federal government, the food industry, and the popular media, low fat became the dominant dietary belief of health care practitioners, health popularizers, and a substantial part of the American populace," La Berge writes.
Along with the low-fat craze, low-carb diets were making their way into the mainstream by the 1990s as well, largely in part due to the popularity of diets like the Atkins Diet. Trends like these are what inspired many of the nostalgic 'health' foods we know so well from the decade, but a lot of the trendy health food products weren't very healthy at all.
Read on to learn more about some of the '90s 'health' foods that were actually pretty terrible for you. Then, make sure to check out 3 Food Additives You Should Avoid—And 3 You Don't Have To Fear.
Snackwell's Cookie Cakes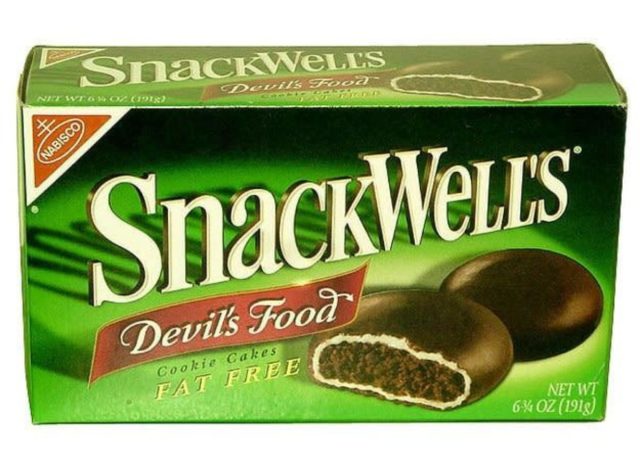 Arguably one of the most memorable "health" foods of the '90s, Snackwell's Devil's Food Cookie Cakes were the zero-fat desserts everyone had to have after their release in 1992. According to the Chicago Tribune, the original Snackwell's cookie used to contain high fructose corn syrup and other preservatives, making it an unhealthy "health" food—even though it was marketed as a good-for-you, fat-free treat. In fact, these cookies left such a lasting impact on our society that we now have the term, "The Snackwell Effect," which describes the common phenomenon of eating enough "low-calorie" snacks that you actually end up eating more calories than you may have if you had stuck with the original version.
Although SnackWell's reigned supreme in the 1990s, the company recently closed up shop. In 2022, Snackwell's website homepage addressed its loyal customers with a heartfelt goodbye.
"After thirty years of providing your favorite snacks, the Snackwell's brand has been retired," the website reads.
Atkins Bars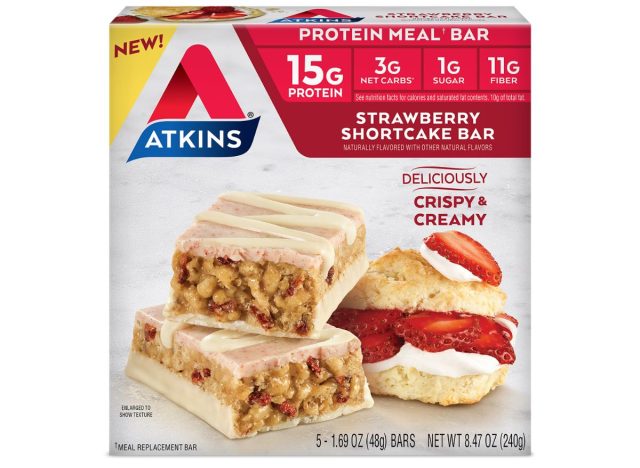 Dr. Robert C. Atkins published his first book on low-carb dieting, Dr. Atkins' Diet Revolution, in 1972. Although this book put Dr. Atkins and his low-carb eating plan on the map, it wasn't until two decades later in 1997 that the original Atkins Bar was released under the name the Atkins Advantage Bar. Called a "controlled carbohydrate" food product, the bar originally came in a Chocolate Macadamia Nut flavor.
The Atkins Diet was created by cardiologist Dr. Atkins as a low-carb, high-fat eating plan with the intention of helping people lose weight. However, this diet plan sparked plenty of controversy and ended up not being all that healthy. According to the Cleveland Clinic, some of the main complaints of the Atkins diet are that it promotes processed foods and meats, leaves out important food groups like whole grains, and can have unwanted side effects like dangerously low blood sugar.
The Atkins Advantage Bars, which are still sold today as meal replacements or snacks, were thought to be healthy when they first came out. However, these bars are loaded with saturated fat and preservatives, making them a not-so-healthy option.
Lay's WOW! Potato Chips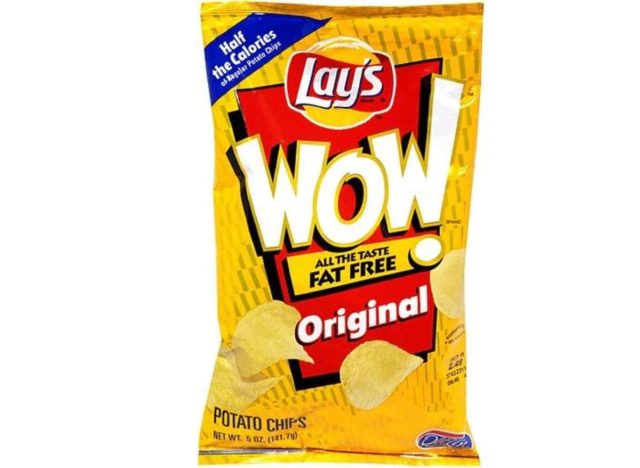 If you remember eating Lay's WOW potato chips, you may also have memories of trips made to the bathroom shortly after. In 1996, the FDA approved a chemical called Olean, generically referred to as Olestra, was supposed to mimic and replace the fat in certain food products. Two years later, Lay's jumped on the opportunity to use Olestra in their snack recipes, releasing WOW! potato chips, which touted containing half the calories of standard chips. Unfortunately, the side effects of consuming this "fat" were quite uncomfortable. According to Time—a publication that also named olestra among the 50 worst inventions—side effects of olestra included stomach cramps, gas, and loose stool. So yes, these snacks were void of fat, but they weren't doing anyone's gastrointestinal tract any favors.
Kudos Bars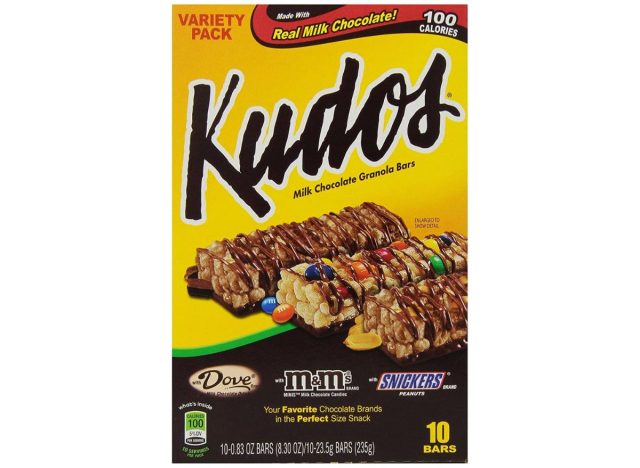 Kudos were the chocolate-covered granola bars that everyone wanted to have in their lunch, and in many ways, it felt like you were eating your favorite candy bar. Even though these snacks were extremely popular in the 1990s, they eventually disappeared without much of a trace. When they were first created, every bar had a delicious chocolate coating. In 1993, Mars released the "Simply Kudos Snacks," which were the same granola bar without the milk chocolate covering. Although it's difficult to find the nutritional information for some of the original Kudos bars, one picture of a Kudos' box from 1987 from Click Americana shows that each bar had 180 calories, 9 grams of fat, and was made with ingredients like sugar, corn syrup, butter, and artificial dyes and flavors. So, even though this delicious treat was marketed as a healthy granola bar, it really wasn't much different than candy.
Nutri-Grain Bars
According to Supermarket News, Kellogg's released "Smart Start Cereal Bars" in 1989, which then evolved into "Nutri-Grain" bars in 1991. Although these bars—which were popular in the '90s but are still sold today—are marketed as whole-grain breakfast options, they aren't the best way to start your day at all. The list of ingredients is extremely long and contains plenty of items you can't pronounce, and with only 1 gram of fiber, 2 grams of protein, and 12 grams of added sugar, this bar won't actually keep you feeling full or satiated for very long at all.6254a4d1642c605c54bf1cab17d50f1e
Hi-C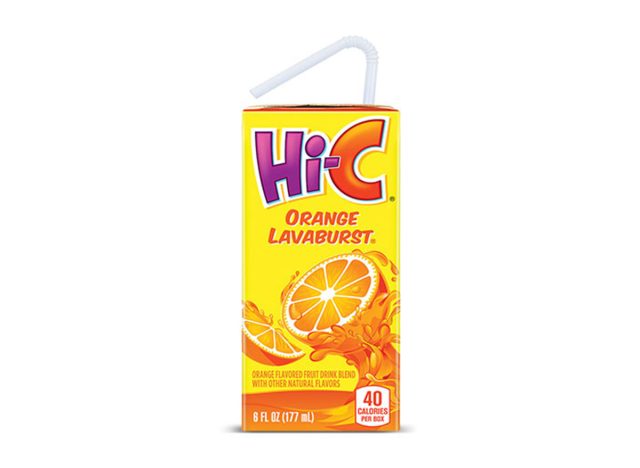 Children and adults alike can benefit from a healthy dose of orange juice, but don't let Hi-C fool you. This drink, which was extremely popular in lunch boxes everywhere in the 90s, markets itself as a type of orange juice but doesn't actually contain much OJ at all.
According to Food and Drink in American History, Hi-C was invented in 1946 by combining sugar, flavorings, and 10% orange juice. So yes, you may only be getting 40 calories per juice box, but that also comes with 10 grams of added sugar in each serving. Not to mention, the second ingredient right after water on the ingredients list is high-fructose corn syrup, and the only "orange juice" you're getting is orange juice from concentrate.
Even though you can still buy Hi-C in stores and online, you may want to try switching to a 100% orange juice option instead.
Sources referenced in this article