This Grocery Chain Was Named Best For Wine Selection
Albertsons won the prestigious title for its uniquely curated offerings.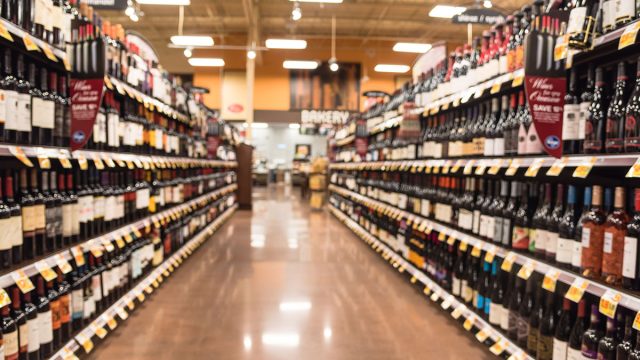 It's been a year to celebrate for Albertsons Cos. The Idaho-based grocer, which has more than 2,200 food and drug stores nationwide, beat Wall Street forecasts to report sales increases of double digits in the second quarter. In August, Albertsons was named "Retailer of the Year" by Supermarket News. Now, the company is being honored with the same title by Wine Enthusiast.
There were several reasons why Albertsons was deemed the premiere destination for wine, beer, and spirits among grocers in the 2020 Wine Star Awards. The chain, which has brands such as Shaw's, Safeway, Jewel Osco and Haggen under its umbrella, stood out for its knowledgeable staff, as well as its wine selection and presentation. (Related: 8 Grocery Items That May Soon Be in Short Supply.)
Albertsons "has invested in formal training for associates so they can better meet customers' wine and spirits needs," according to Wine Enthusiast. And the credentials stack up to the top—Curtis Mann, Albertsons' group vice president of Wine, Beer and Spirits, is one of only 53 individuals in the U.S. to hold the coveted Masters of Wine title.
Perhaps one of the most interesting features about the chain's wine business is its embrace of regionality. Albertsons' local wine teams have the autonomy to curate a selection representative of local tastes, meaning the Washington-centric offerings in Seattle are distinct from the Paso Robles-forward selection in southern California.
"Albertsons gives local stores considerable autonomy in what they offer," Wine Enthusiast said in its announcement. "That knowledge and expertise of the local beverage scene is then leveraged nationally to ride and drive trends."
The grocer is increasingly garnering foot traffic from customers seeking top-quality alcohol with its dedicated cellars for high-end wines, knowledgeable beverage stewards, and tastings. "We're becoming less of a grocery selection and more of a curated, marquee destination wine, beer and spirits shop," Mann told Wine Enthusiast.
Don't forget to sign up for our newsletter to get the latest grocery news delivered straight to your inbox.
Mura is a Deputy Editor leading ETNT's coverage of America's favorite fast foods and restaurant chains.
Read more