Arby's Wagyu Steakhouse Burger Is Officially Coming Back—EXCLUSIVE
If you missed it the first time, here's your chance to try the limited-time burger.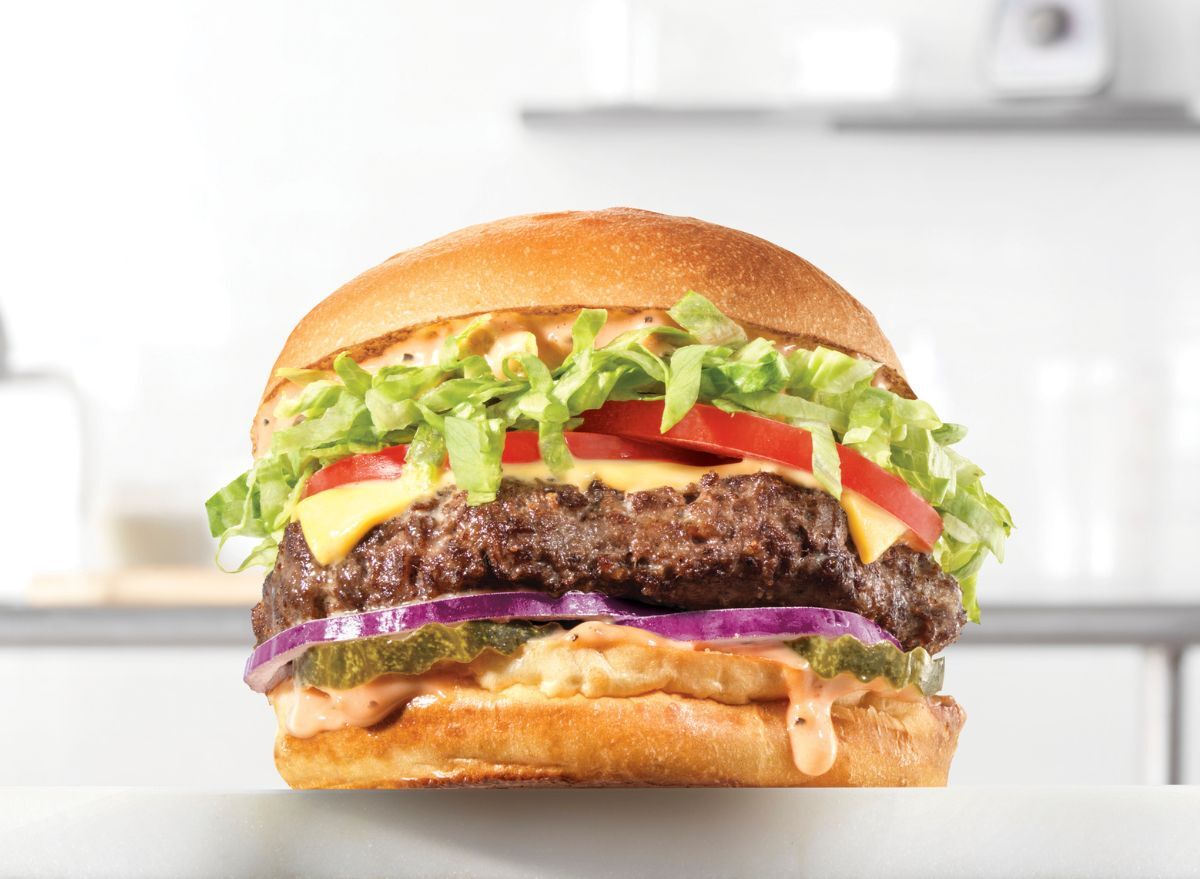 Arby's is no stranger to making waves, coming out with some of the most innovative creations in all of fast food. From its Real Country Style Rib Sandwich, which rivaled McDonald's McRib, to Hushpuppy Breaded Fish Strips and Curly Fry Vodka—the chain takes risks.6254a4d1642c605c54bf1cab17d50f1e
But one thing that's a sure bet for Arby's is the re-release of its most successful limited-time menu item. The chain's president Jim Taylor thinks bringing back the Wagyu Steakhouse Burger is just good business. "It was the most successful LTO (limited-time offer) that we've ever done, relative to sales volume," Taylor says. "Highest ever."
The burger—which was Arby's first burger ever—is set to return to nationwide locations on Nov. 21. The meaty burger is a blend of 51% American Wagyu and 49% ground beef cooked sous-vide style and then flash fried. The price will start at $6.99 but will vary by location.
Arby's doesn't have a grill like other fast-food burger joints so it needed a creative way to make a burger. The sous-vide style locks in the juicy flavors and the quick fry gives it a signature crust. The burger is then served on a brioche bun, with shredded lettuce, onions, pickles, thin slices of tomato, and a sweet-smoky burger sauce that Taylor says is "to die for."
One of the reasons Arby's is bringing the burger back so soon is that the initial run in May, saw the item selling out a lot quicker than the company expected. "We had planned to have it in the restaurant six to eight weeks," says Taylor. "We sold out in two weeks." Obviously, the demand is there.
The Wagyu Steakhouse Burger is also a good bet to return now because it provides value that is lacking in the space, according to Taylor. "During recessionary times people want to best bang for their buck and I think that our food provides great value," he says. "The size of the burgers in the category feels like they are ever-shrinking." The patty for this burger is 6.4 ounces before being cooked, that's 50% larger than McDonald's Quarter Pounder, according to an Arby's press release.
And while the timing is right, Taylor insinuated that Arby's had essentially been planning the burger's return the minute it sold out. Late November was the earliest possible time the chain could bring it back. "It's kind of our gift to America for the holidays," he says.
In terms of the future, Taylor doesn't see the chain's desire to innovate and buck the trends stopping any time soon. "We're looking forward to our 12th consecutive year of same-store sales growth and a lot of that has been driven by continuous great food innovation," he says.
And while he didn't comment on what other innovations might be on the horizon, he did not rule out another burger. "The world of burgers is big and vast, and being the king of meats, I think there are a lot of fun things that we could explore in the future that guests will like."