The Healthy Habits Ashton Kutcher and Mila Kunis Live By
Their "fully sustainable" farm is proof this couple knows how to lead a healthy life!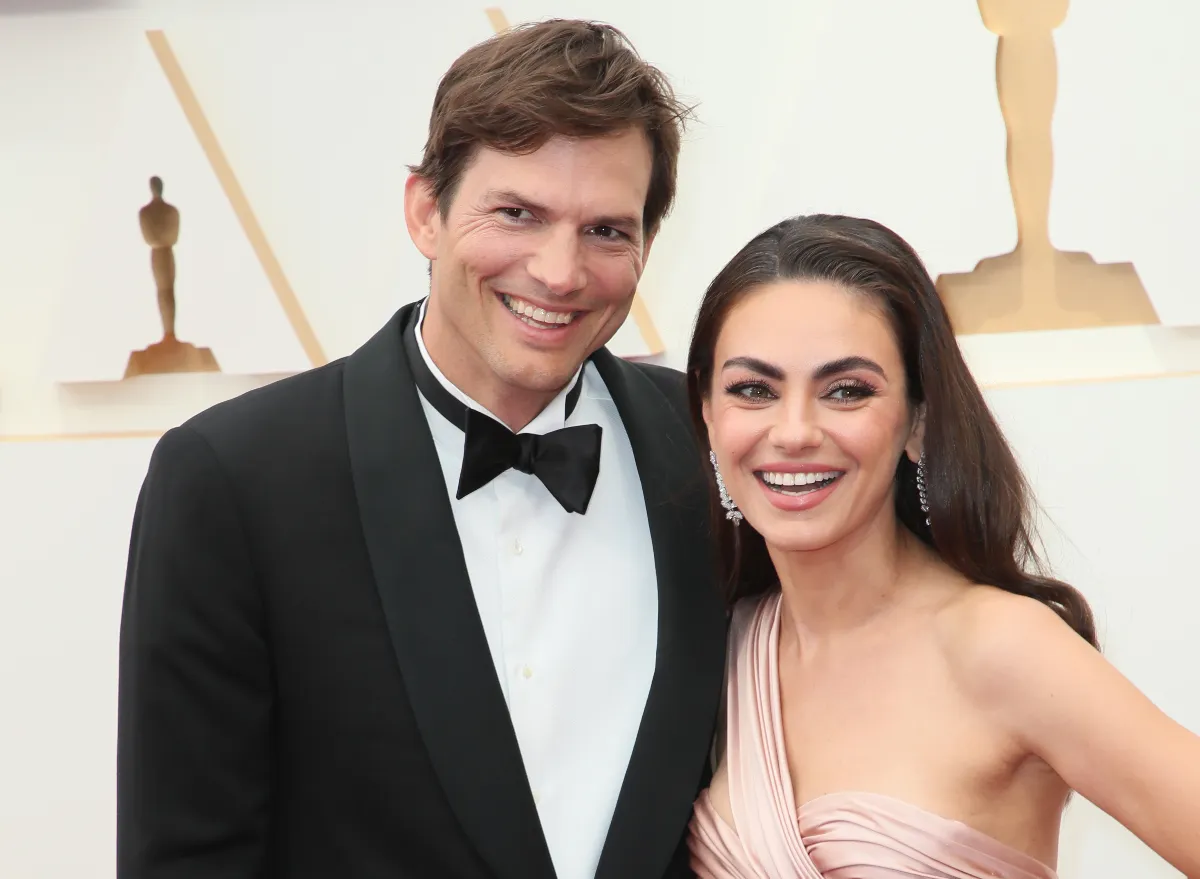 Real talk: Ashton Kutcher and Mila Kunis are couple goals in more ways than one. Kutcher is gearing up for the 2022 New York City Marathon and lost around 12 pounds while doing it, with a solid support system right by his side. In an interview with Entertainment Tonight, he reveals, "The biggest change physically has been the transfer of muscle mass from upper body to lower body. I've lost about 12 lbs. … my wife [Mila Kunis] has been super supportive" (via PEOPLE).
Overall, the couple's lifestyle game is totally on point. If you didn't already know, their gorgeous Beverly Hills modern farmhouse is complete with a sleek barbecue pavilion, a stunning pool, and a solar-powered farm that's absolutely bursting with fresh vegetables, according to PEOPLE. After learning all about it, you'll want to move in and put your green thumb to good use!
Growing your own vegetable garden is a total game-changer when it comes to leading a healthy lifestyle, and Kutcher and Kunis clearly understand that. With fresh veggies conveniently located in your own backyard, you know exactly where the meals you consume came from. So if you're curious about this celeb powerhouse couple's "fully sustainable" farm and the healthy habits they live by, keep reading to learn more.
"The purity of the food they eat and the water they drink" is important to Ashton Kutcher and Mila Kunis.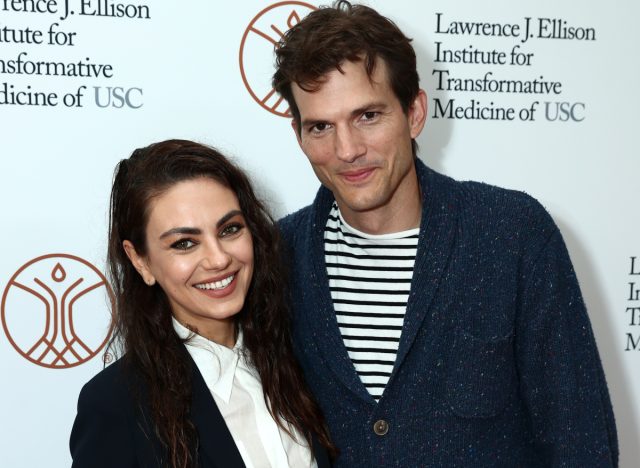 It all started with the couple's strong, wholesome values and a dream. "Ashton and Mila are concerned about the quality of the soil, the purity of the food they eat and the water they drink. The ideals of sustainability and regenerative farming aren't just abstract concepts to them," says the couple's architect, Howard Backen (via Architectural Digest).
Kunis shares in a cover story with C Magazine the couple's excitement, saying, "We had this grand idea, and then we moved in four months before COVID hit," adding, "We didn't realize how incredible it was to have a fully sustainable house until the world shut down" (via PEOPLE). Talk about perfect timing!
Related: Mark Wahlberg, 51, Lives by These Fitness Habits
The couple's Beverly Hills modern farmhouse is complete with apple trees and a bountiful veggie garden.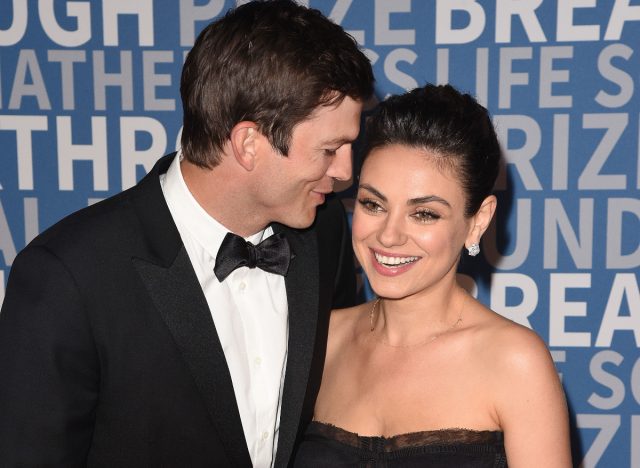 Kutcher (44) and Kunis (39) are understandably proud of living healthy and waited five years for construction on their farm to finish. The stunning property is complete with apple trees and a bountiful veggie garden filled with lettuce, tomatoes, squash, and other sheer goodness (via PEOPLE).
And that's not the only very cool thing about the couple's digs. Wanting "a home, not an estate," as Kunis puts it, their farm is totally solar-powered, and the wood used is apparently recycled from an old Wonder Bread factory!
Kutcher reveals to Architectural Digest, "We wanted the house to look like an old barn, something that had been here for decades, that was then converted into a house. But it also had to feel modern and relevant." He also says of their abode, "To feel tranquility in a space, everything needs to be in order. If the world around you isn't in order, it's hard to get your brain in order. When we're in our home, the world just makes sense."
Related: Elon Musk, 51, Has Healthy, Fit Habits You'll Want To Copy
What are the health benefits of growing your own food?
Being in charge of what you put into your body comes with a lot of responsibility. By tending to your own backyard garden—complete with fresh herbs, veggies, and fruits—you're opening yourself up to a wealth of positive opportunities, specifically being the decision maker on what pesticides and fertilizers come into contact with the food you grow (via Harvard Health Publishing). Having fresh tomatoes, eggplant, lettuce, peppers, basil, and more readily available also makes it seamless to add healthy foods to your daily meals.
According to Dr. Helen Delichatsios, an internist at Harvard-affiliated Massachusetts General Hospital, we should all learn some planting skills. "Backyard gardening can inspire you to take an interest in the origins of your food and make better choices about what you put on your plate," Dr. Delichatsios says, adding, "When you grow your own food, you savor it more because of the effort it took to get to the table."
This celeb couple's solar-powered home benefits their overall health and also the environment. Using natural energy protects our ecosystems and all living things!6254a4d1642c605c54bf1cab17d50f1e
The couple makes gardening fun family time and a learning experience.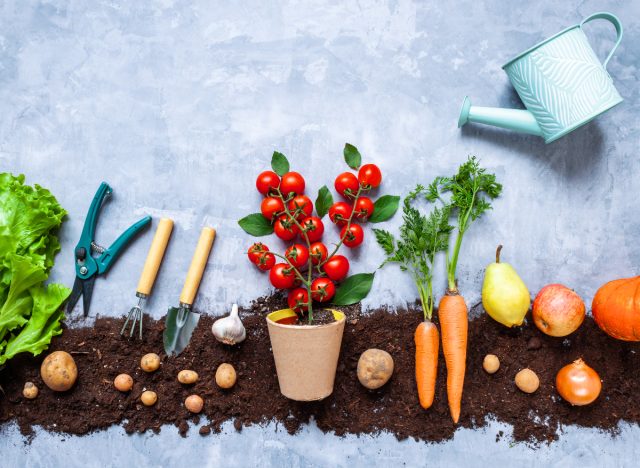 Dubbing themselves "the Kukus," the pair makes gardening fun family time, recruiting help from their daughter and son, Wyatt, 7; and Dmitri, 5. Kunis admits, "My husband's from the Midwest, and a lot of this has to do with his upbringing. He's like, we're building a farm and we're all going to work on the farm." She adds, "I'm from L.A., and I was like, we are? This has been a big learning curve for all of us."
Ashton Kutcher and Mila Kunis teach their children to "understand the value of a tomato and how much work goes into growing it," Kunis explains, adding, "Whether it's learning something new, doing something a little bit scary—all of that makes you stronger" (via PEOPLE).
Alexa Mellardo
Alexa is the Mind + Body Deputy Editor of Eat This, Not That!, overseeing the M+B channel and delivering compelling fitness, wellness, and self-care topics to readers.
Read more about Alexa