18 Delicious BBQ Chicken Recipes That Won't Ruin Your Diet
Because nothing says summer like barbecue chicken!
As children, our mouths immediately began salivating at even the mention of BBQ chicken. Once the grill was fired up and the BBQ battered chicken began browning, we couldn't wait to fill our tummies. And then it just became one of those childhood staples that stuck—because we are still smitten with the stuff. However, things have changed a bit. BBQ chicken is now stuffed inside sweet potatoes and grilled cheese, layered on top of pizzas, sprinkled into salads, and more!
Before you begin to pour over this list, it's important to note that many store-bought BBQ sauces are full of sugar, sodium, and skanky ingredients. While sodium is an essential nutrient (aiding in bodily fluid balance, maintaining blood volume and moderating blood pressure), excessive sodium intake raises blood pressure and causes fluid retention. According to the FDA, the daily value for sodium is less than 2,400 milligrams per day. According to the University of California San Francisco, the average American eats five or more teaspoons of salt each day (approximately 20 times as much as the body needs). For these reasons, we made sure that each of these BBQ chicken recipes contains 500 milligrams of sodium or less and is calculated using organic sauce. Not sure what to make with it? Try out any of these 20 Healthy Side Dishes!
AVOCADO BARBECUE CHICKEN NAAN PIZZA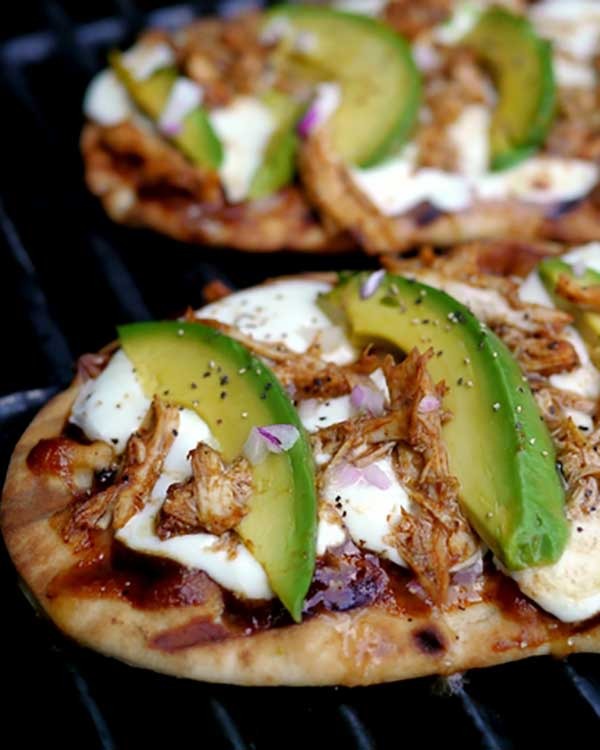 Nutrition: 323 calories, 15.2 g fat (4.7 g saturated), 474 mg sodium, 27.2 g carbs, 2.2 g fiber, 16.8 g sugar, 20.8 g protein
With the proven ability to squash hunger, spot-reduce belly fat, lower cholesterol, and soothe taste buds—we totally get why the world is obsessed with the Giselle Bundchen of fruits. Especially when the green delight it paired with BBQ chicken on a pizza for 20.8 grams of slimming protein.
Get the recipe from Noble Pig.
ZESTY SLOW COOKER BBQ CHICKEN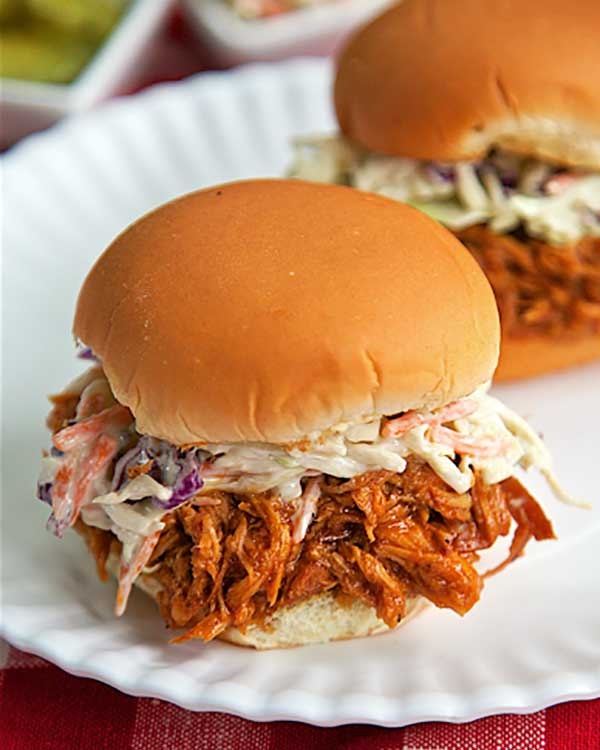 Nutrition: 284 calories, 11.6 g fat (2.4 g saturated), 486 mg sodium, 22.9 g carbs, 0 g fiber, 18.1 g sugar, 20.6 g protein
For some, charbroiled bird just isn't their thing. They would much rather let the juicy meat fall apart and dissolve in their mouths. The solution? The slow cooker AKA crock pot. It may seem a bit hot to be digging out the winter cooking staple but just think: You can prep dinner in the morning, let it slowly cook throughout the day, and have a delicious meal to dish up when you get home. The best part? This BBQ chicken recipe calls for just five simple household ingredients! For more effortless dinners, check out these
35 Healthy Crock Pot Recipes.
Get the recipe from Plain Chicken.
BBQ CHICKEN & PINEAPPLE GRILLED CHEESE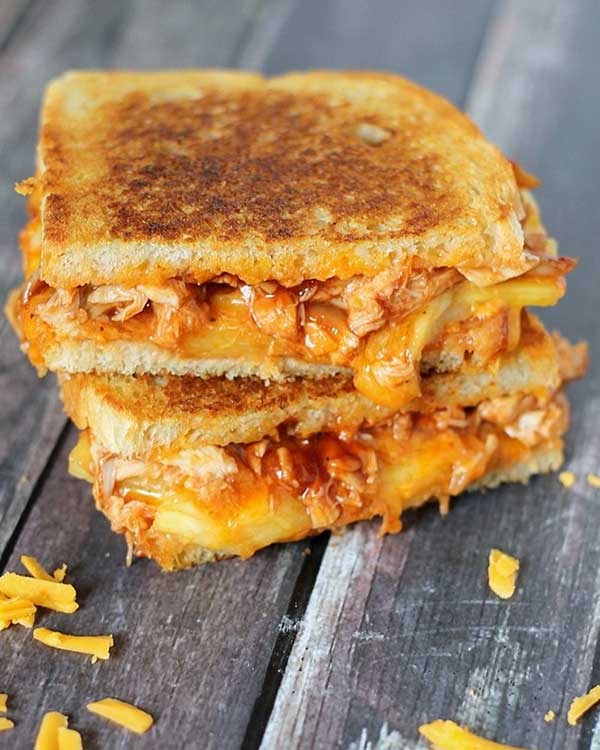 Nutrition: 427 calories, 15.6 g fat (7.5 g saturated), 436 mg sodium, 40.2 g carbs, 5 g fiber, 15.5 g sugar, 30.9 g protein (calculated with wheat bread)
Aside from containing a whopping 31 grams of protein, it's sandwiching the fruit once enjoyed by kings. Not only is pineapple arguably nature's best sweet treat, it also contains a ton of manganese—which gives you an energy rush without the crash. Plus, its acid content detoxifies our bodies and eliminates body odor. Our point? This isn't your typical grilled cheese.
Get the recipe from Domestic Superhero.
BBQ CHICKEN BURRITO BOWLS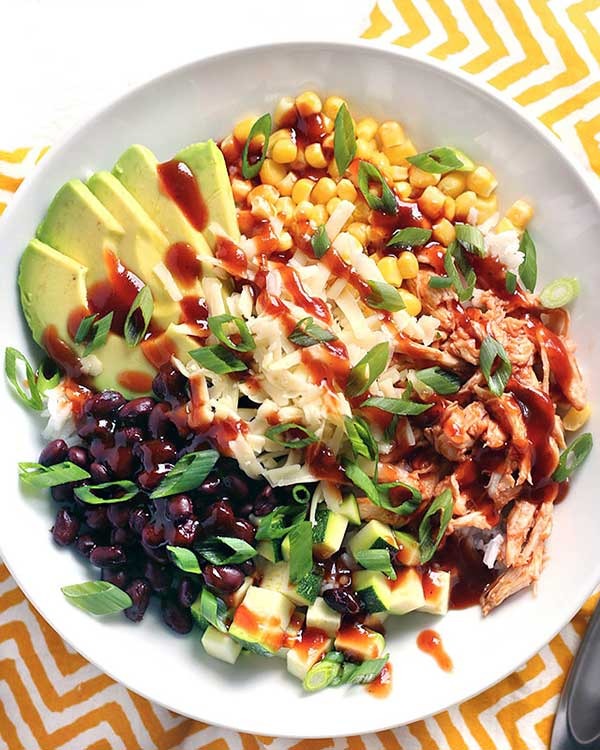 Nutrition: 323 calories, 8.8 g fat (3.3 g saturated), 392 mg sodium, 47.1 g carbs, 4.5 g fiber, 4.5 g sugar, 14.3 g protein
If you're on a budget—and let's face it, who isn't?—this entire meal costs just $7.10 and only $1.42 per serving. You can barely get a small fry from McDonald's Menu for that these days, let alone a balanced meal.
Get the recipe from Budget Bites.
GRILLED BBQ CHICKEN SALAD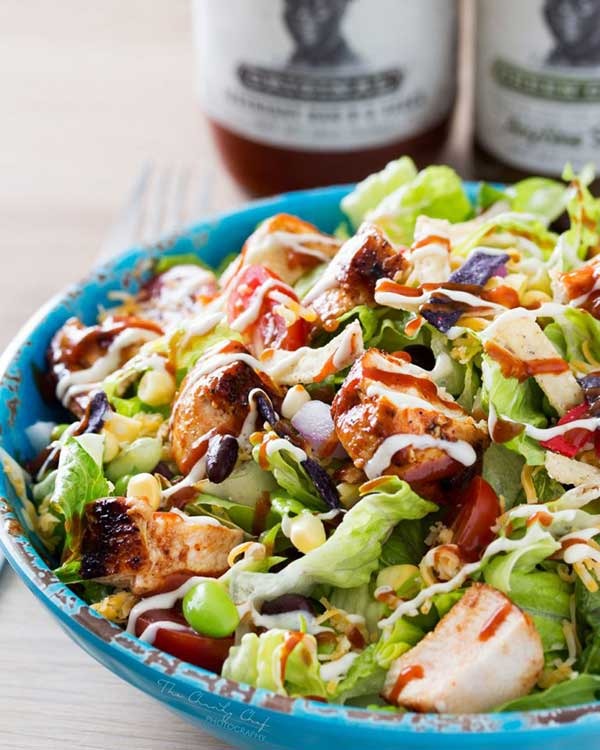 6254a4d1642c605c54bf1cab17d50f1e
Nutrition: 263 calories, 12.7 g fat (3.4 g saturated), 356 mg sodium, 22.5 g carbs, 3.5 g fiber, 8 g sugar, 15 g protein
Fibrous black beans, cancer-fighting red onion and corn, immunity-boosting edamame, protein-rich chicken, and heart-healthy cheese are tossed with low-cal romaine. P.S. – Edamame (i.e. baby soybeans) is full of folic acid, a nutrient that helps your body build and maintain healthy cells. Edamame beans are also full of brain-boosting nutrients like vitamin K and have 6 grams of protein in a half-cup serving. This is one nutritious bowl that will fill you up without filling you out.
Get the recipe from The Chunky Chef.
BARBECUE CHICKEN STUFFED SWEET POTATOES
Nutrition: 314 calories, 3.6 g fat (0 g saturated), 467 mg sodium, 38.56 g carbs, 4.2 g fiber, 17.6 g sugar, 31.6 g protein (calculated with water and no sea salt)
Sweet potatoes are a health foodie fave for many reasons: they offer up 4 grams of satiety-boosting protein, 25 percent of the day's belly-filling fiber (making them one of the best high fiber foods, and 11 times the recommended daily intake of vitamin A. Vitamin A is a nutrient that aids immune function, vision, reproduction and cellular communication. Stuff sweet potatoes with BBQ chicken, avocado, cilantro, and red onion, and we are smitten.
Get the recipe from Living Loving Paleo.
BBQ CHICKEN NACHOS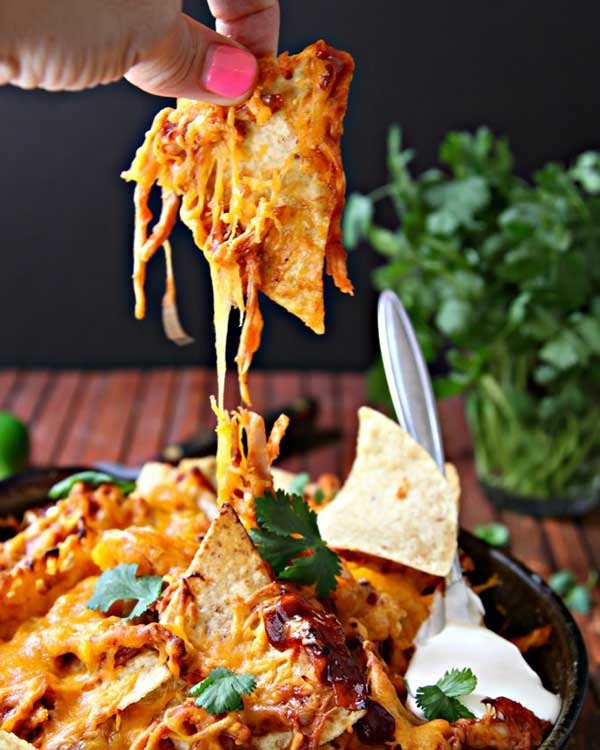 Nutrition: 306 calories, 7.1 g fat (0 g saturated), 440 mg sodium, 34 g carbs, 4.6 g fiber, 9.4 g sugar, 16.6 g protein
Nachos aren't exactly flat-belly friendly. Some restaurant entrees contain nearly a day's worth of calories and sodium! However, with the perfect balance of fat, carbs, and protein, this is one BBQ chicken and nachos recipe you can make a meal out of. Woohoo!
Get the recipe from Bella Limento.
HAWAIIAN BBQ CHICKEN MEATBALLS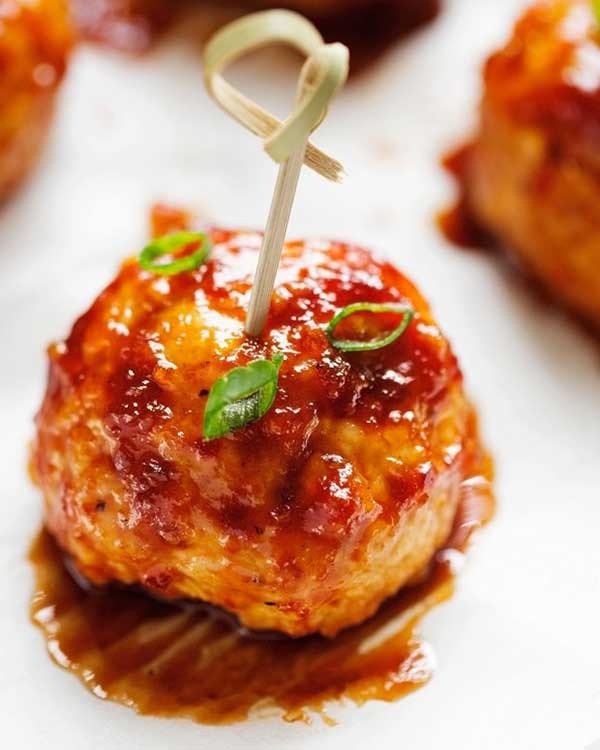 Nutrition: 250 calories, 7.6 g fat (2.1 g saturated), 426 mg sodium, 17.6 g carbs, 1 g fiber, 8.8 g sugar, 26.3 g protein (calculated without salt)
Whether you are looking for an app that'll impress even the pickiest guest, want a southern twist on an Italian food, or are simply ditching red meat, these BBQ meatballs are your saving grace. Pair them with zoodles (AKA spiralized zucchini noodles) for a low-carb meal makeover.
Get the recipe from Little Spice Jar.
BBQ CHICKEN QUINOA CASSEROLE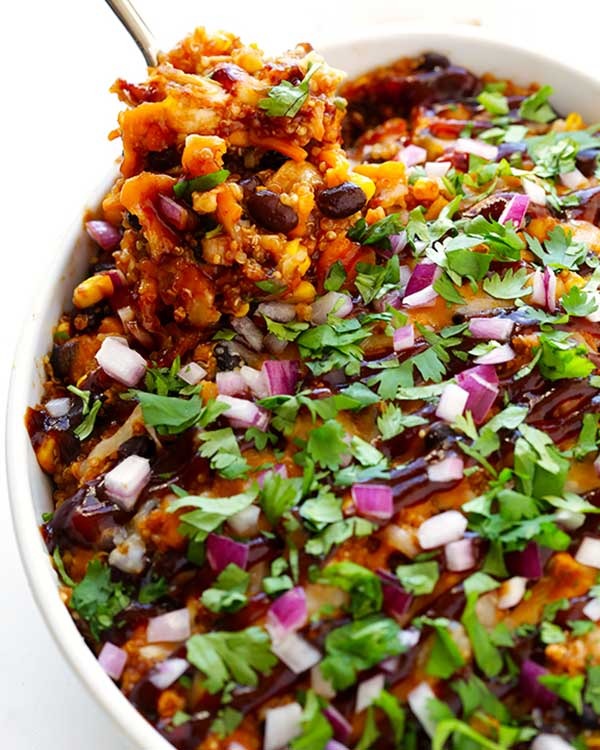 Nutrition: 435 calories, 9.9 g fat (4.4 g saturated), 430 mg sodium, 61.9 g carbs, 8.8 g fiber, 7.9 g sugar, 25 g protein
Casseroles are one of the fastest, cheapest, and smartest ways to get a healthy, belly-flattening meal on the table. After all, once they're put together and cooked, all you really need is a microwave. And this one contains A-lister quinoa, which has earned more press in the last year than Beyoncé's new album. Not only is it the only grain that's a complete protein (containing all nine essential amino acids), but the quinoa is loaded with essential amino acids and fiber. Dig in!
Get the recipe from Gimme Some Oven.
HONEY BBQ SLOW COOKER CHICKEN TAQUITOS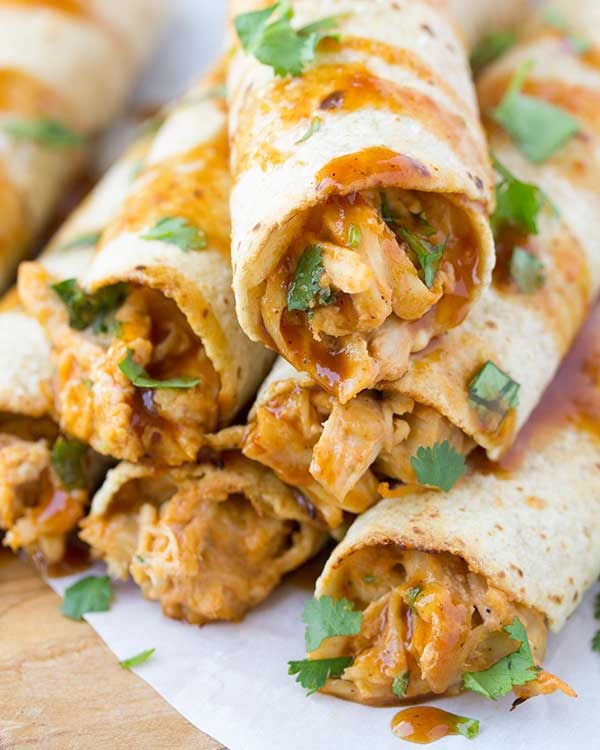 Nutrition: 166 calories, 6.8 g fat (2.7 g saturated), 240 mg sodium, 8.9 g carbs, 0 g fiber, 7.5 g sugar, 17.5 g protein
The average taquito is a nightmare for your waistline because it's loaded with fat, sodium, and empty carbs. While we definitely don't condone you taking an entire tray of these to the face, you can munch on one or two as part of your weekly cheat meal without completely unraveling your diet.
Get the recipe from Kristine's Kitchen Blog.
CRISPY BAKED HONEY BBQ WINGS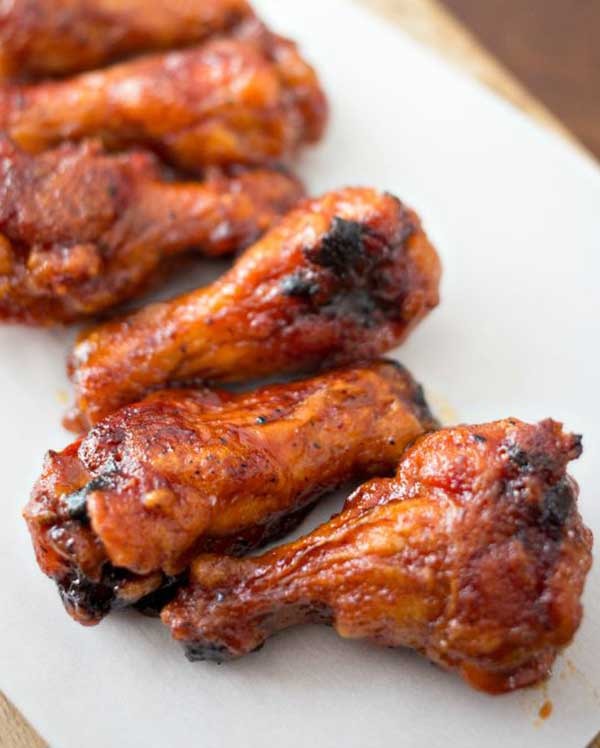 Nutrition: 256 calories, 9.7 g fat (5.4 g saturated), 270 mg sodium, 33 g carbs, <1 g fiber, 20.6 g sugar, 10 g protein
And when all else fails, go back to the basics—AKA these baked BBQ chicken wings. Their tangy, sweet flavor will send your taste buds to heaven.
Get the recipe from A Night Owl Blog.
GRILLED HULI HULI CHICKEN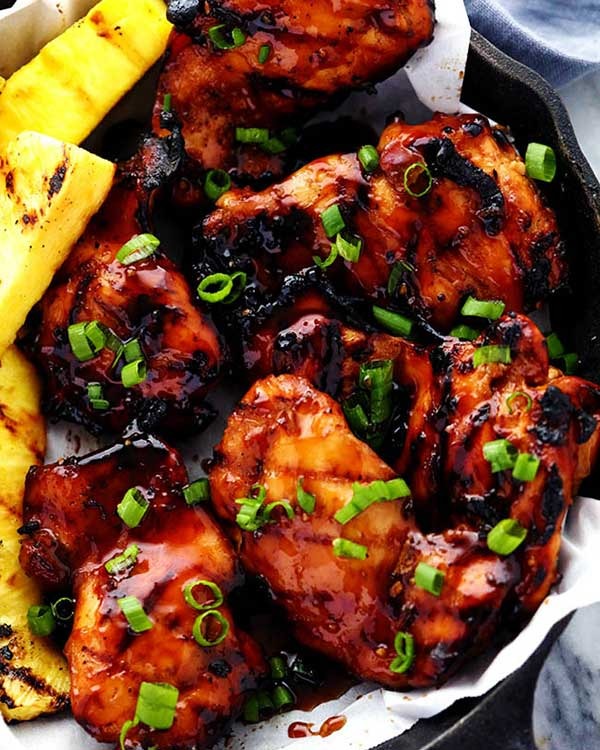 Nutrition: 333 calories, 11.3 g fat (3.1 g saturated), 355 mg sodium, 11 g carbs, 0 g fiber, 9.2 g sugar, 44.6 g protein
Turns out, protein is essential for more than just your biceps. Getting optimal amounts increases metabolism activity, boosts brainpower, burns stomach fat and keeps you trim. According to the FDA, men should aim for 56 grams a day; women should shoot for 46. Translation: you could knock out your daily quota with this one mouthwatering meal.
Get the recipe from The Recipe Critic.
BBQ CHICKEN FOIL PACKS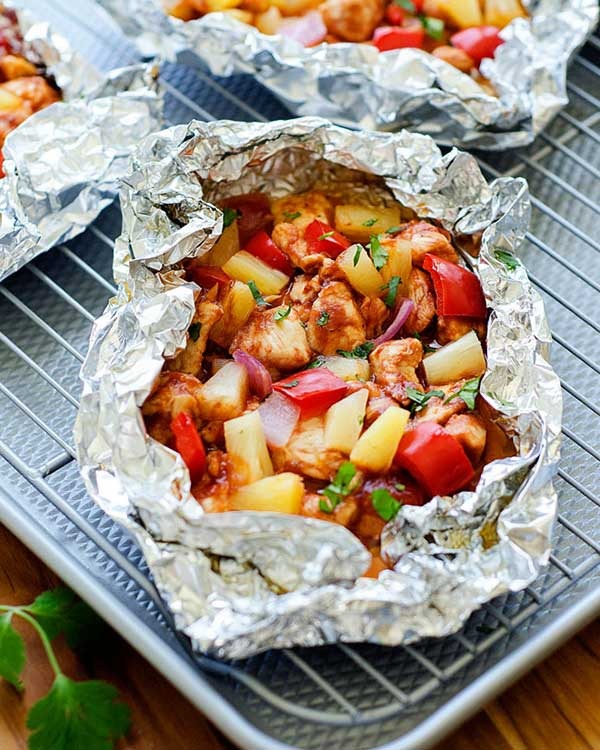 Nutrition: 230 calories. 4.5 g fat (1.2 g saturated), 230 mg sodium, 29.8 g carbs, 1.5 g fiber, 17 g protein
When dinner is as effortless and healthy as this, you'd be foolish not to dish up this one. All you need is a grill, some aluminum foil, and a few ingredients—and you'll get a wholesome balanced meal that leaves you with enough calories to also indulge in your favorite summer sangria recipe. Cheers to that!
Get the recipe from Life in the Lofthouse.
BACON PINEAPPLE CHICKEN KABOBS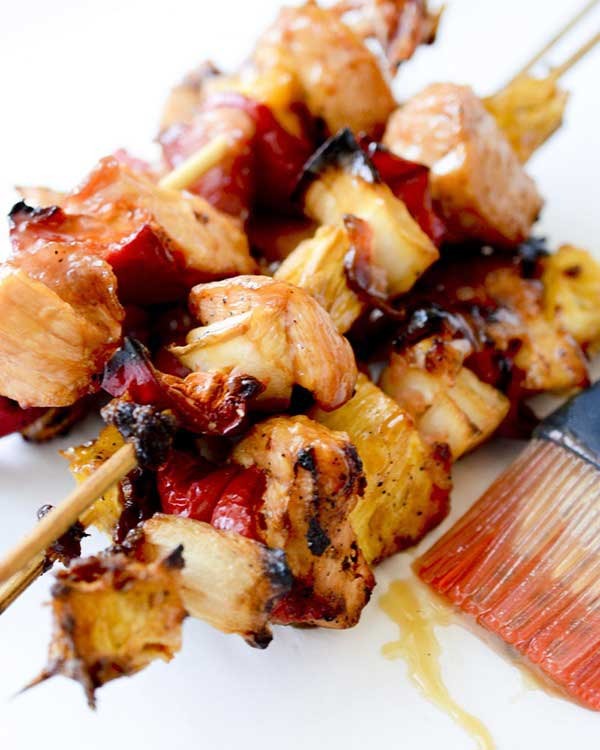 Nutrition: 223 calories, 8.3 g fat (2.6 g saturated), 372 mg sodium, 12.2 g carbs, 1 g fiber, 9.3 g sugar, 23.7 g protein
Just ask the Paleo dieters; bacon is a green light if you opt for varieties that are cured without sodium nitrites and uses just plain ol' sodium. Plus, pork bacon is a great source of protein and heart-healthy monounsaturated fatty acids (MUFAS). A little bit goes a long way, though. We love that these kabobs only require about one piece per skewer, so even if you have two, you won't pig out.
Get the recipe from Recipe Diaries.
BBQ CHICKEN, APPLE, BACON AND CHEDDAR QUESADILLAS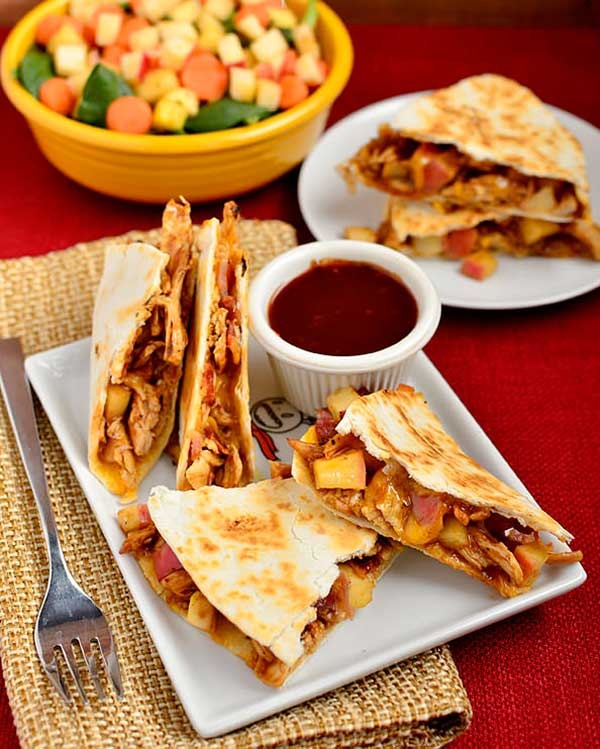 Nutrition: 249 calories, 11.6 g fat (5.5 g saturated), 499 mg sodium, 17.7 g carbs, 1.6 g fiber, 8.8 g sugar, 18.3 g protein
Quesadillas may descend from Mexico, but that doesn't mean we can't stuff them with BBQ chicken, bacon, and apples. With just 249 calories, 17.7 grams of carbs, and 18.3 grams of muscle-building protein—well, de nada.
Get the recipe from Iowa Girls Eats.
BBQ CHICKEN CHILI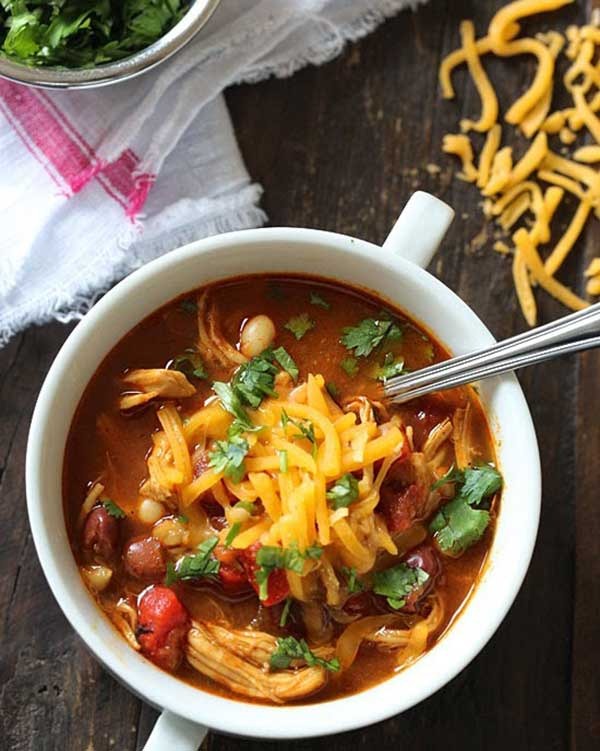 Nutrition: 237 calories, 7 g fat (2.3 g saturated), 500 mg sodium, 22 g carbs, 5 g fiber, 8 g sugar, 23 g protein (calculated with 2 cups of broth + 1 cup water)
When summer and fall fuse together, it's a beautiful thing…..kind of like the month of September, which is just around the corner. Why not whip up a pot of this BBQ chicken chili? It's brimming with flavor, packed with protein, and contains hefty amounts waist-whittling beans.
Get the recipe from Skinny Taste.
BBQ RANCH PASTA SALAD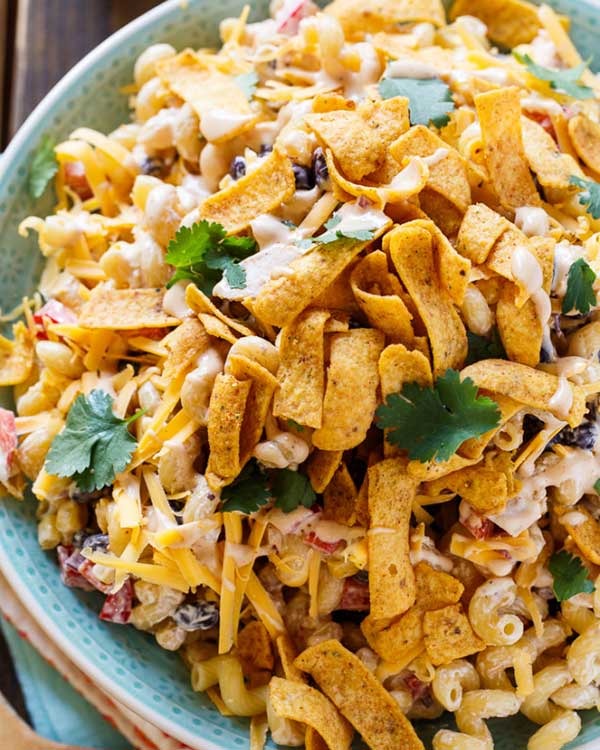 Nutrition: 341 calories, 7.1 g fat (3.5 g saturated), 380 mg sodium, 50.4 g carbs, 4 g fiber, 7.9 g sugar, 19 g protein
We're big fans of moderation at ETNT, which is why we chose to include this rather indulgent pasta salad. While its nutritional profile seems innocent enough, keep in mind this is for servings that are just one cup. To boost the nutrition, opt for whole wheat noodles and nix the tortilla strips.
Get the recipe from Spicy Southern Kitchen.
HAWAIIAN BBQ CHICKEN PIZZA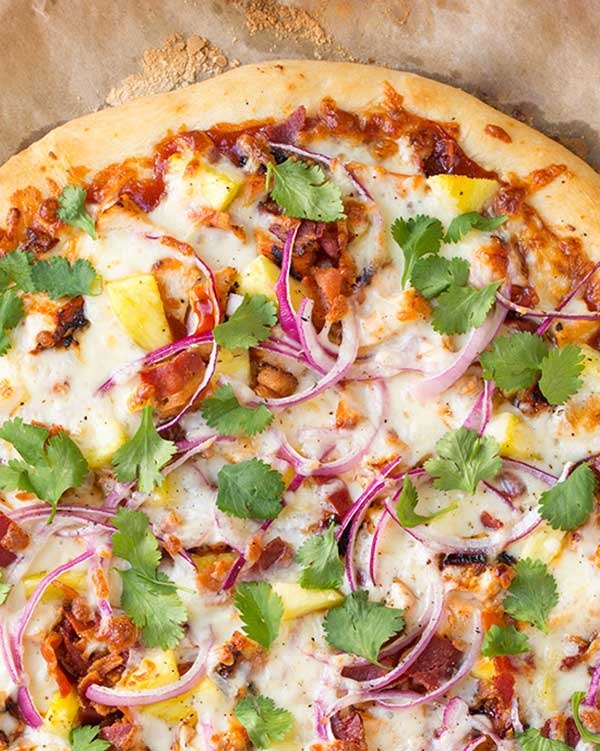 Nutrition: 481 calories, 28.6 g fat (8.2 g saturated), 437 mg sodium, 33.8 g carbs, 2.5 g fiber, 6.7 g sugar, 21.8 g protein
BBQ chick pizza is surely a gift from the foodie gods—especially when pineapple is involved. Enjoy a slice of two and pair it with a tossed salad for a filling meal that won't leave you with a case of food regret.
Get the recipe from Cooking Classy.