The Simplest Beer Can Chicken Recipe
Who knew some beer and soda are the secrets to the tastiest chicken ever?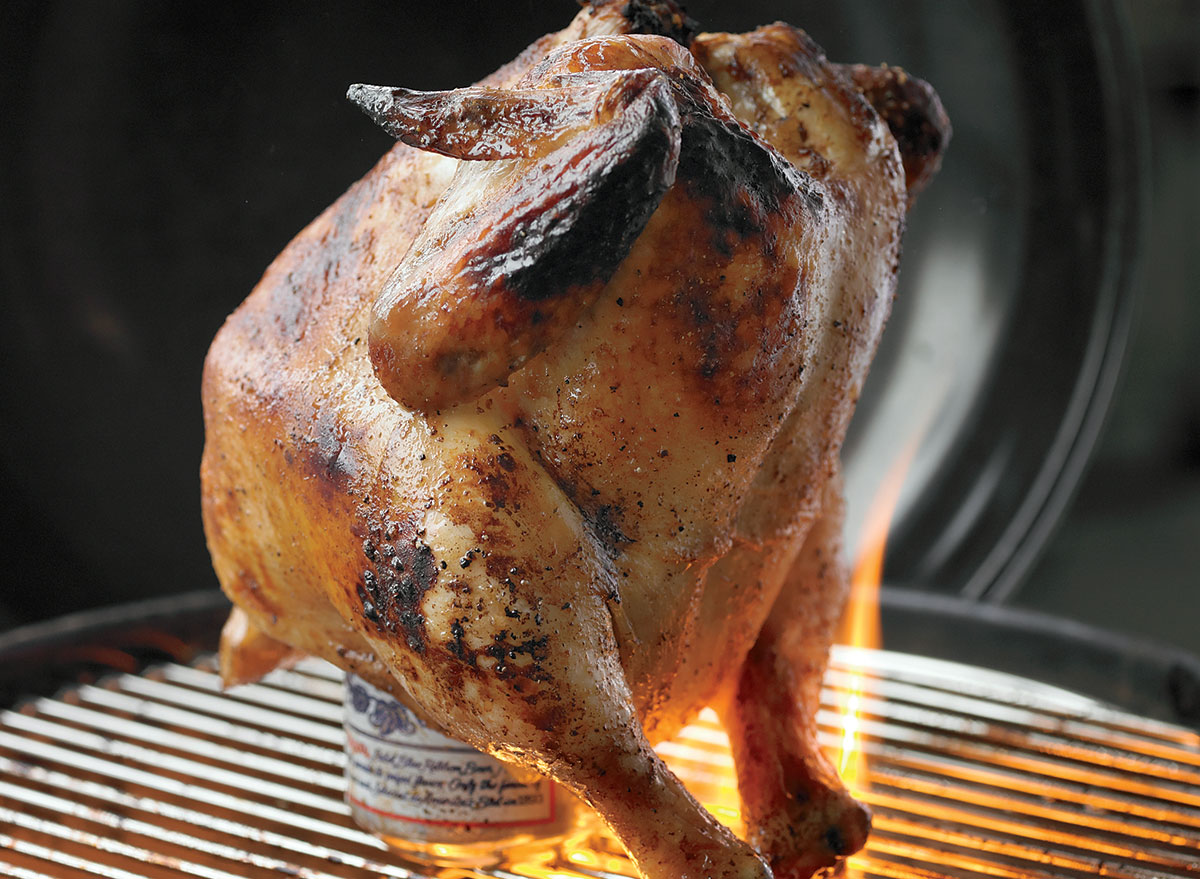 In the past decade, whole chickens mounted on beer cans have become a familiar sight at backyard barbecues the country over. And for good reason: The liquid creates steam that helps cook the chicken from the inside and keep it moist. Also, standing the chicken up vertically means the legs (which take the most time to cook) are exposed to the most intense heat, meaning the bird will cook evenly without drying out the breast. The result: one of the tastiest beer can chickens imaginable with no heavy sauces or sides needed.
It's important to note that lean meats like chicken, turkey, and pork tend to dry out easily, which is why they benefit immensely from a long soak in a  flavored liquid. A standard brine (and one that you can use here) is 6 cups water, 2 cups salt, and 2 cups sugar. Add any other flavor boosters (garlic, herbs, apple juice) and heat to dissolve the salt and sugar; cool before adding the meat. Store in the fridge for a few hours, or overnight.
Nutrition: 410 calories, 11 g fat (2.5 g saturated), 730 mg sodium6254a4d1642c605c54bf1cab17d50f1e
Serves 4
You'll Need
1 chicken (3–4 lb)
24 oz Coca-Cola (Don't worry: You won't really be absorbing the calories from the Coke because most of it is left behind in the brine. Don't have time to brine it with the recipe we noted above? Skip it. The chicken will still be good without it.)
3⁄4 tsp salt
Freshly cracked pepper
1 can beer
How to Make It
Combine the chicken and the Coke and soak overnight in the fridge (or for at least 2 hours).
Heat a grill. If using charcoal, bank the hot coals to one side to create a cooler section for indirect cooking.
If using a gas grill, leave one section of burners off and the others set on medium. Remove the chicken from the soda and dry all over. Rub with salt and pepper.
Open up the beer can; drink half of it. Mount the chicken on top of the beer can, running the can through the chicken's cavity until it's firmly lodged and can stand up on its own.
Place on the cooler side of the grill, cover, and cook until a thermometer inserted into the thigh reads 160°F, about 1 to 1 1⁄2 hours.
You can baste the chicken with your favorite barbecue sauce in the last 20 minutes or so, but it's so moist, you don't really need it.
Remove the chicken and allow to rest for 15 minutes before carving. Serve with baked beans and coleslaw.
This recipe (and hundreds more!) came from one of our Cook This, Not That! books. For more easy cooking ideas, you can also buy the book!