10 Fun and Functional Bento Boxes You Can Buy on Amazon
Instagrammable meals, here you come.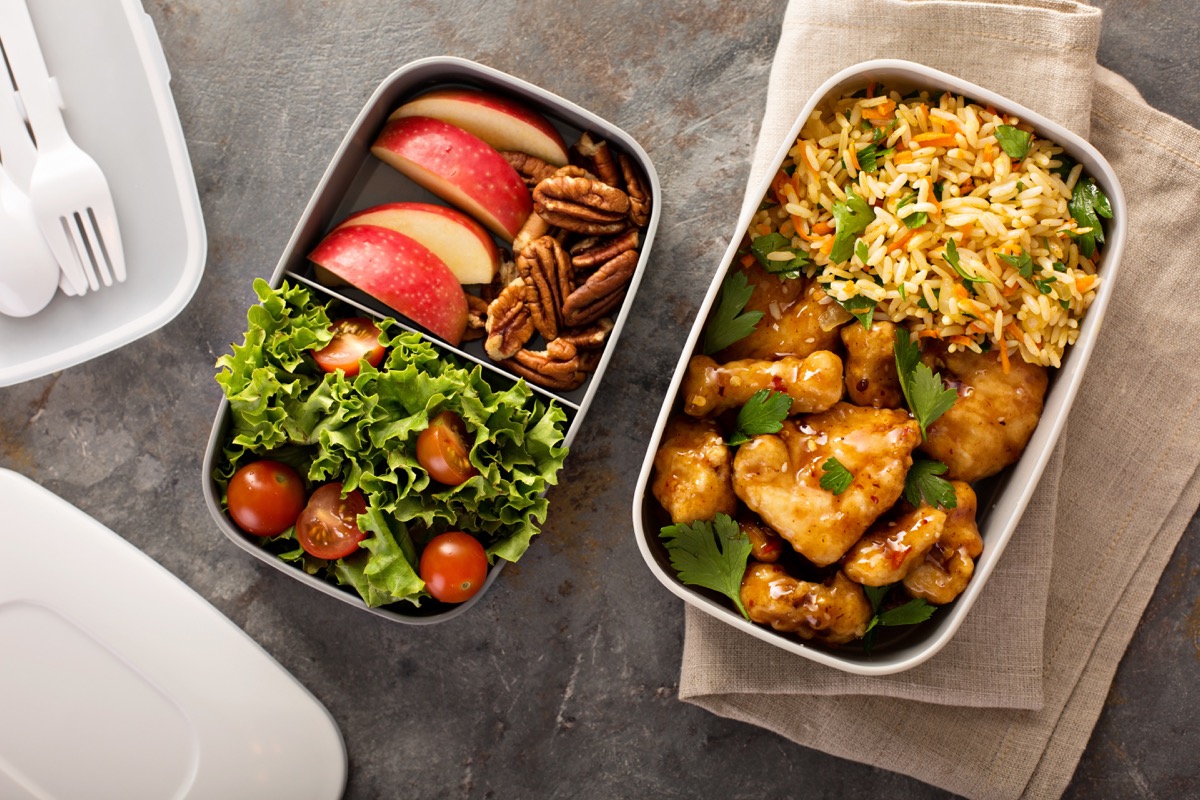 The modern lunchbox—whether toted along to school by kids or schlepped to work by adults—has evolved from a simple metal container to cool and versatile variations on the Japanese bento, or as Americans call it, the bento box. This fantastic food storage solution (which has been around in the Asian nation for almost 1,000 years) uses a multi-chambered design to keep foods separated until you're ready to chow down.
A good bento box lets you keep your carbs sequestered from any foods that could make them soggy, keeps those sweet and savory items separated, and keeps those sauces from sloshing around. Luckily, you don't need to search for the perfect one: we've rounded up the 10 best bento boxes on Amazon, each perfect for creating an eminently-Instagrammable lunch.
ETNT's editors have scoured the internet to bring you the best products out there, and we're hoping you'll love them as much as we do. Full disclosure: We may earn a commission for anything you purchase through links on this page, but that doesn't mean you'll pay more for them (we'd never do that to you!). Pricing and availability are accurate as of the piece's initial publication date, but we can't guarantee that these sweet deals will last forever, so scoop them up before someone else does!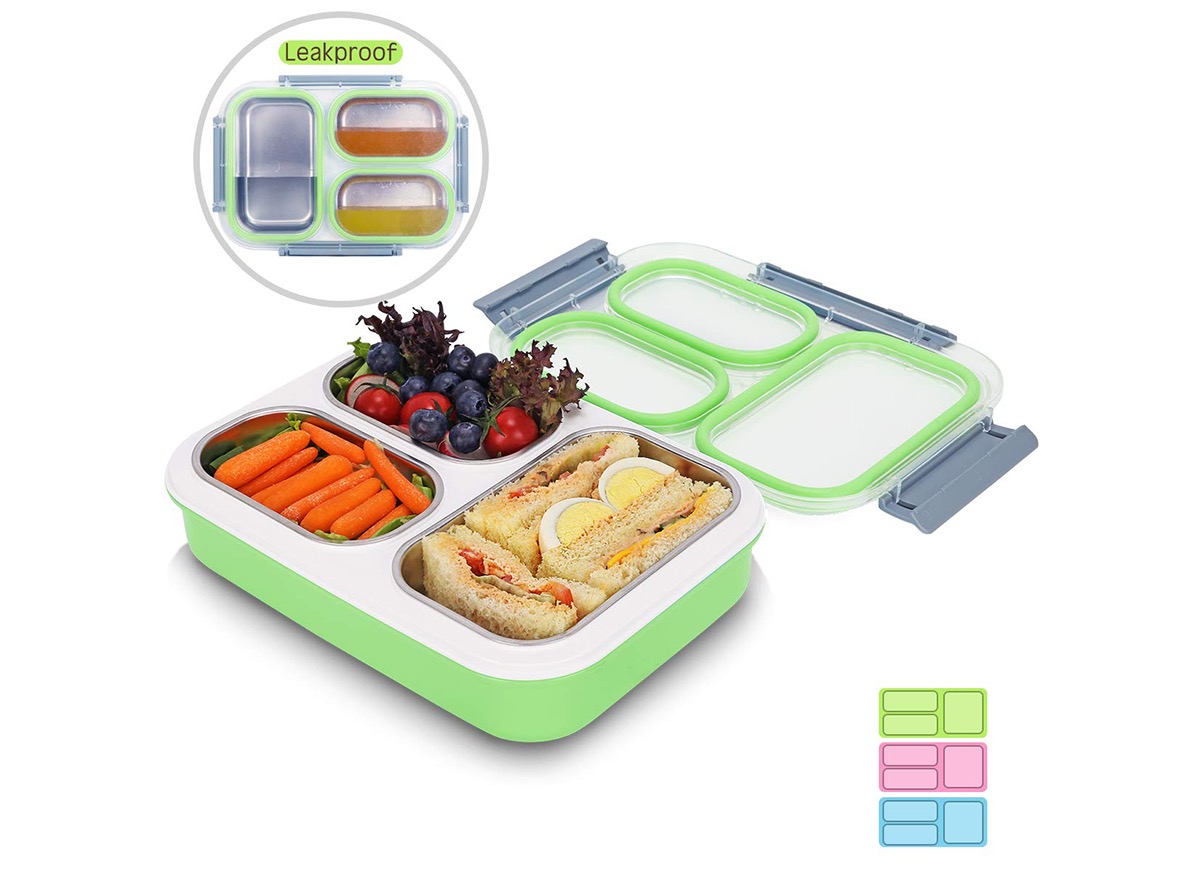 Super handy, this box from Inoxlife has three leak-proof compartments that fit into a separate tray, the latter of which you can use to keep your food contained when the individual containers are in the wash. You can even take both the containers and the tray out and use the exterior as a box for bulkier food items!
This colorful bento box pack
If you're making a batch of meals to last you the week, opt for this colorful seven-pack of bento boxes. Each box features three compartments, and they're lightweight enough to make packing and carrying around healthy lunches every day a breeze.
This heavy-duty bento box
Not only do you get a cute-looking package with this sturdy bento box from OmieBox, but it's also easily configurable. The long compartment can be divided up into three sections, and the main spot is perfect for the vacuum-insulated container that comes with the set—but if you're packing a bigger meal, you can also pop it out for more space.
This precious pink bento box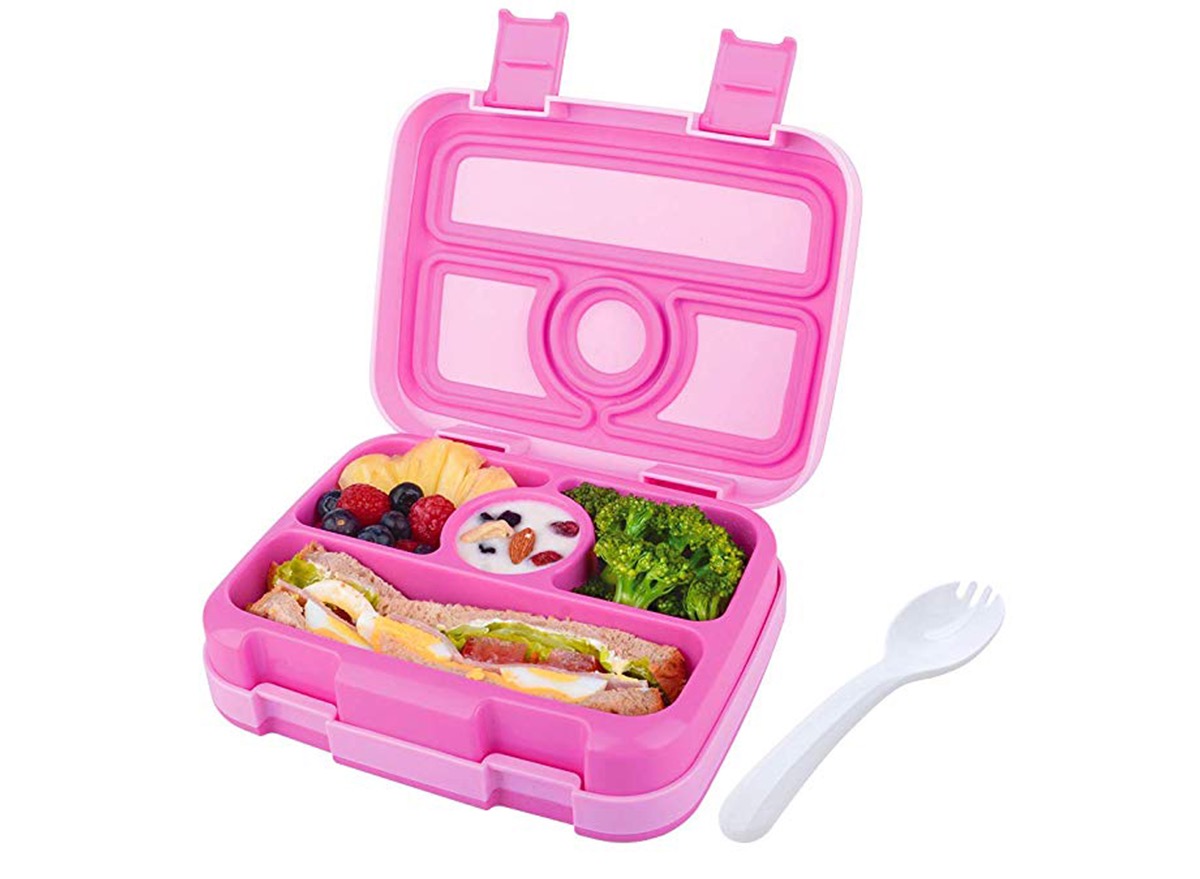 Perfect in pink, this bento box from Nomeca has secure latches—that are still easy enough for little fingers to open—creating an airtight, leak-proof seal for the four compartments it contains. It's also microwave-, dishwasher-, and freezer-safe, so you can use it for any mealtime menu.
This stainless steel bento box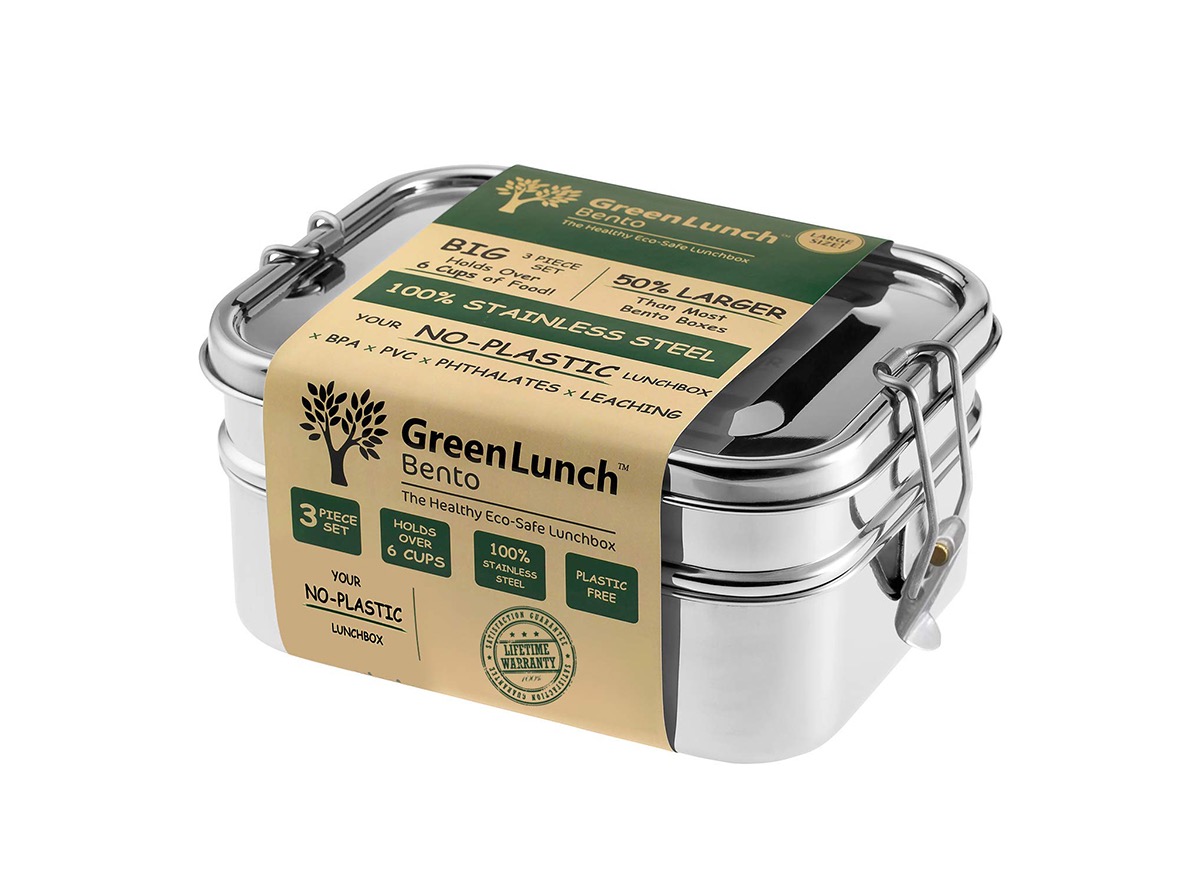 Small in size but big on style, this stainless steel set from GreenLunch comes with two stackable compartments that lock with clips and a smaller removable container with a lid. And though it looks little, it's got quite the capacity: altogether, this compact package will hold more than six cups of food.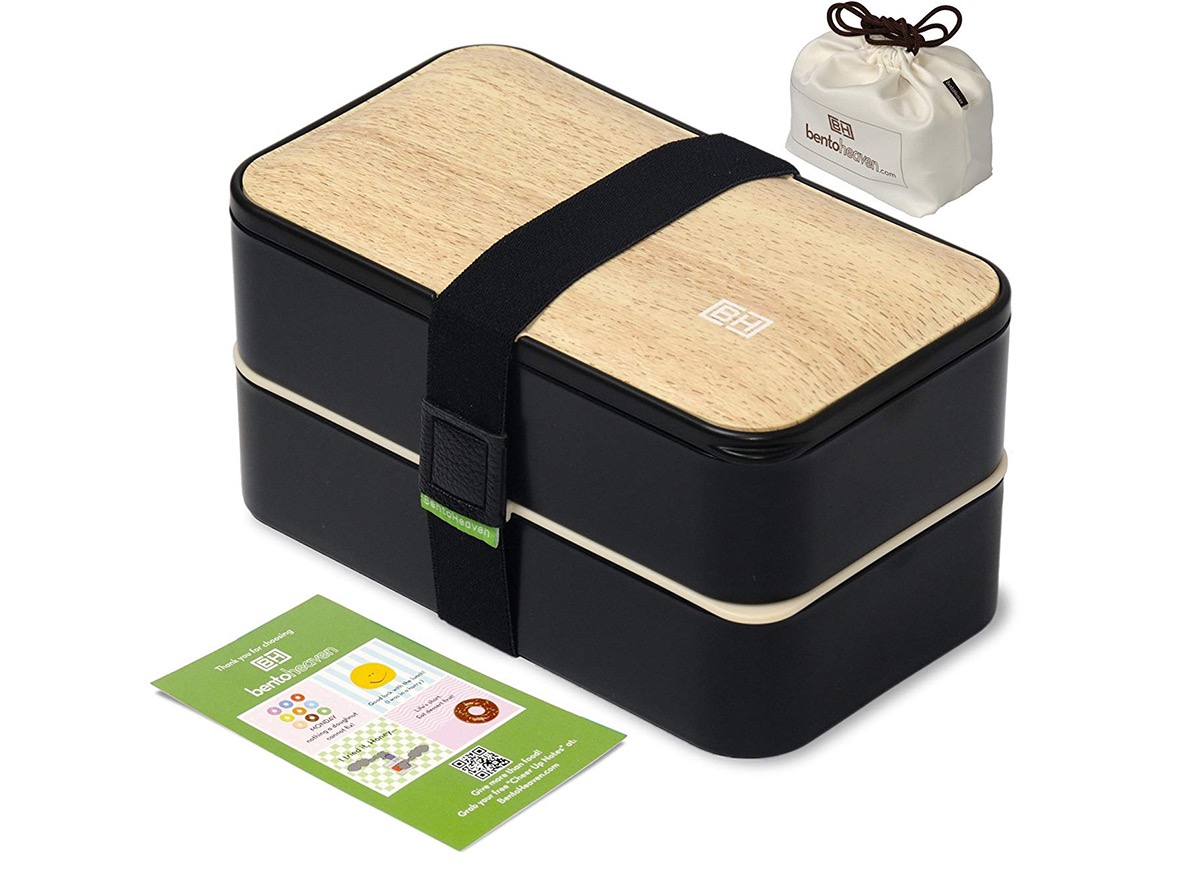 BentoHeaven's elegant bento box set comes loaded with cool features. In addition to the reusable cutlery and chopsticks it comes with, it's got a leak-proof design with silicone seals, two separate interior chambers, and a stylish strap that holds it all together.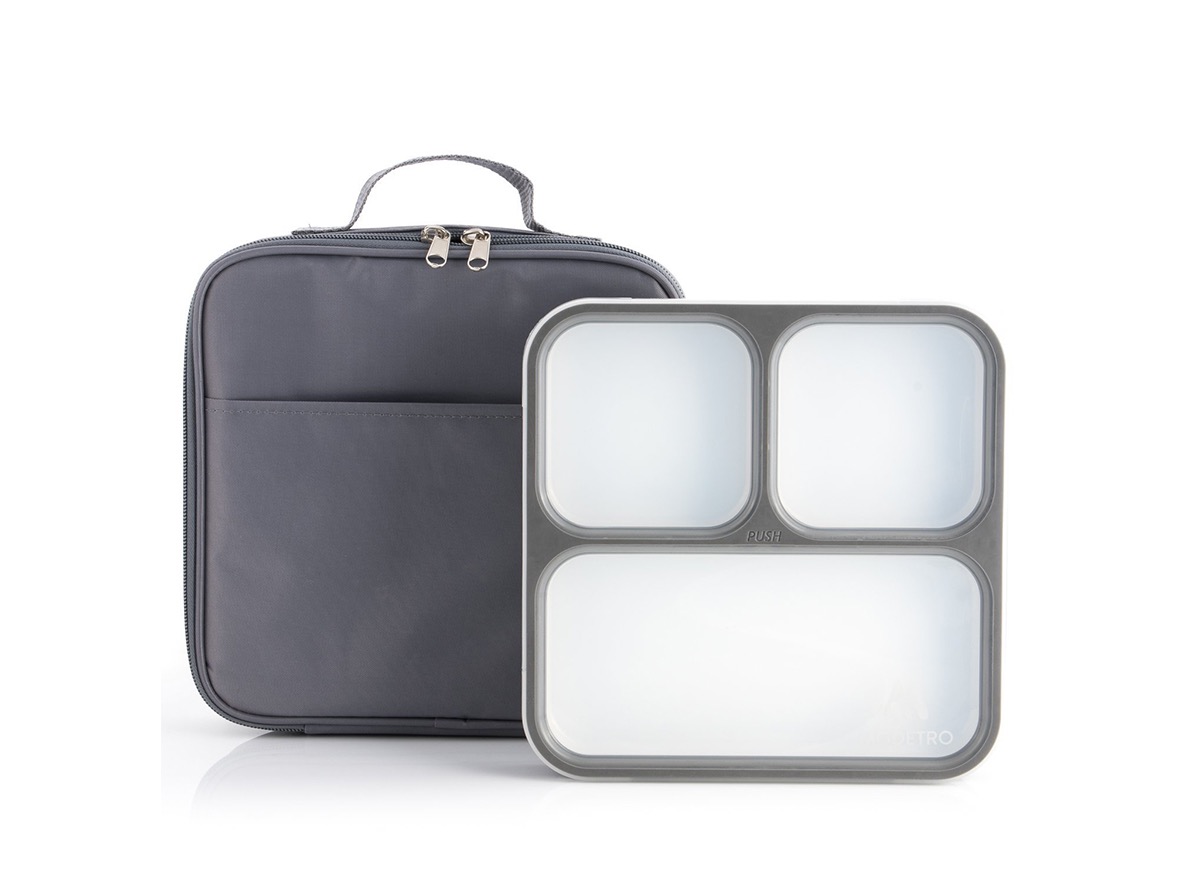 6254a4d1642c605c54bf1cab17d50f1e
Modetro makes a slim bento box that's great for packing a smaller lunch when you're on the go. The three compartments are all sealed up tight, and the accompanying zip-up carrying case is insulated, meaning you can keep your food at the perfect temperature all day. They even throw in a special 41-page bento box recipe book to help you whip up something tasty every day!
This multi-tier bento box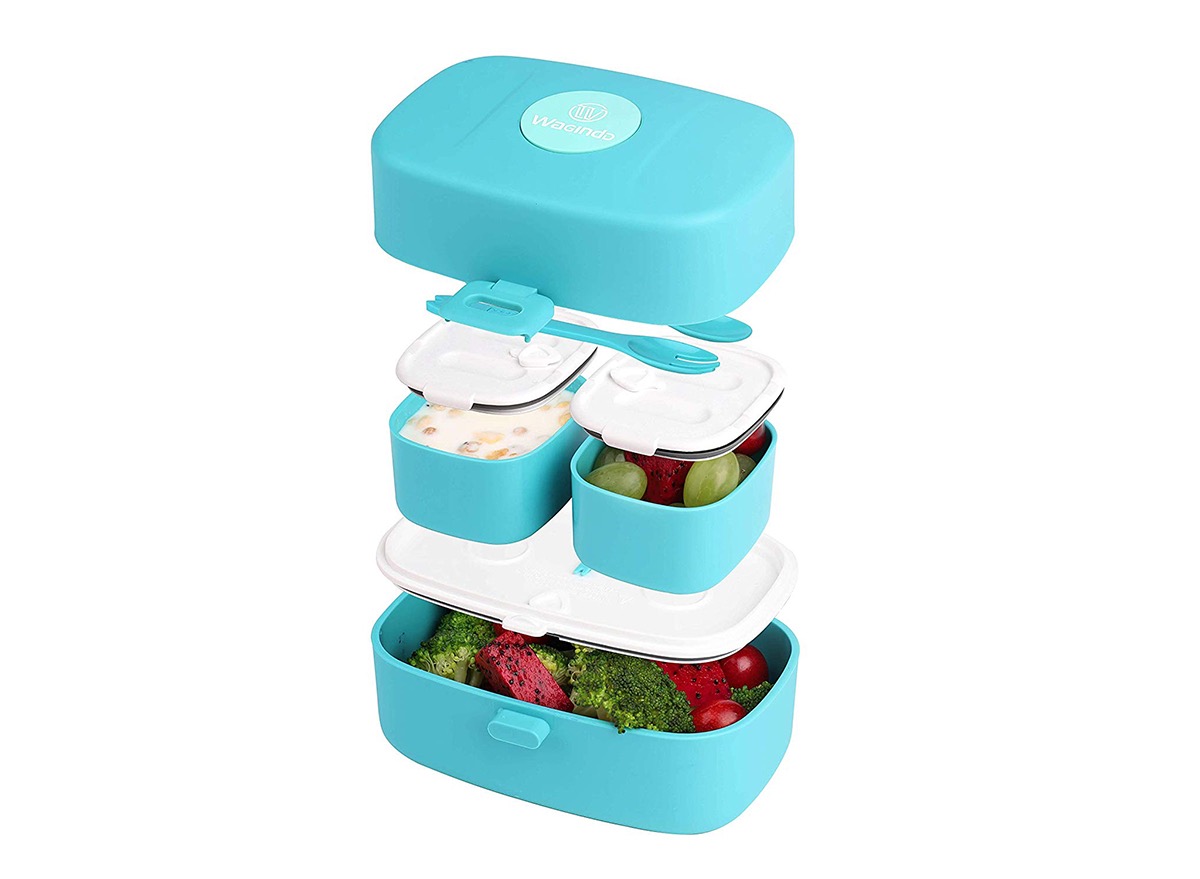 Meal packing options abound in these cute and colorful bento boxes. You get three removable containers—made from safe, food-grade plastic—with their own lids (all of which have a vent to let off steam in the microwave) and a cute fork and spoon set.
This compact bento box two-pack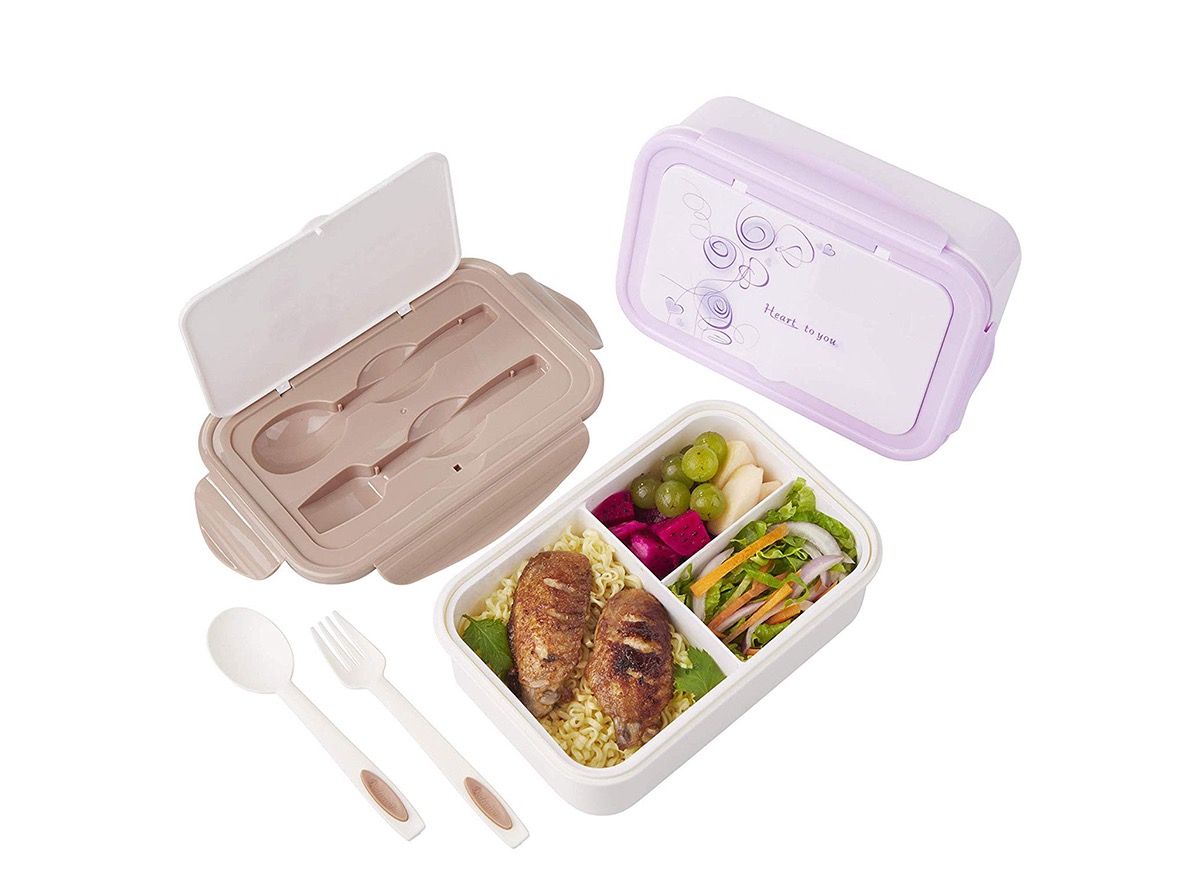 Choose from 11 cute color combos like coffee and pink or blue and pink with these capable bento boxes that come in a two-pack from Thousanday. You also get a nifty lid that doubles as storage for the included fork and spoon, plus a three-way divided compartment for keeping your food separated—though you'll want to keep out anything juicy, as it's not leak-proof.
Your kids can choose from six cool patterns with this bento box from Bentgo: sharks, camo, unicorns, rockets, mermaid scales, or polka dots. The leak-proof lid and sturdy construction also mean it can take kid-sized drops without damage, and the five compartments within it make it easy to keep your little one's lunch options as diverse as they are delicious.