50+ Healthy Meals You Can Make Ahead & Freeze for Later
Stuck in quarantine? Cook these meals once and save the leftovers in your freezer.
If you're spending more time at home thanks to the spread of the coronavirus, again, you might be cooking a lot more than you were before. And while whipping up a meal in the kitchen can be a great way to relieve stress or anxiety, you might not want to have to do it every meal. Luckily, you don't have to: Freezer meals should become your new best friend.
There are plenty of healthy freezer meals that taste just as delicious the second time around. Just throw them in the freezer until you're ready to eat them! It's also a great way to meal prep—you can freeze each serving individually for when you need it. You'll eliminate food waste and save yourself from having to cook dinner every night. It's a win-win!
And for more, don't miss The Best Frozen Foods To Stock In Your Freezer, Say Dietitians.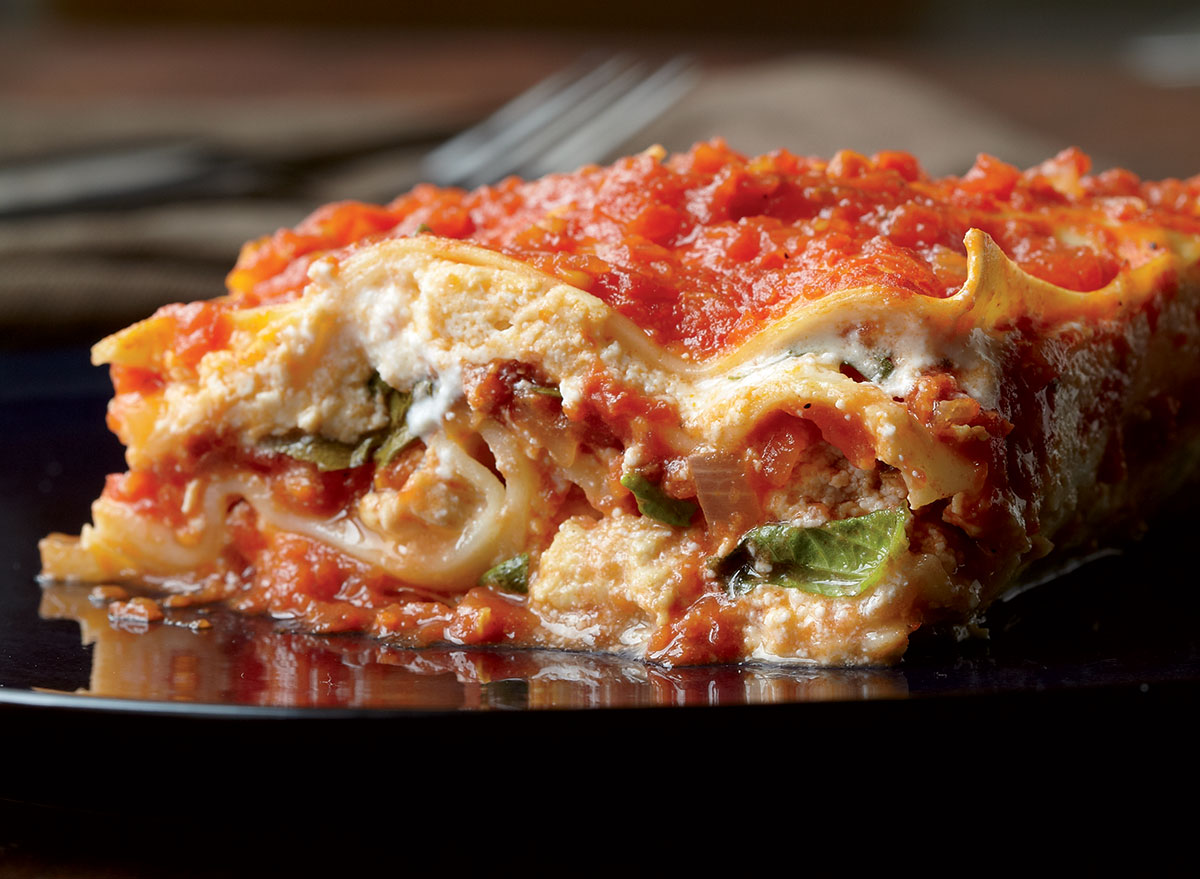 Lasagna is the perfect freezer meal: You can cook a whole pan and defrost it when you need a quick, nutritious meal. This recipe incorporates chicken sausage, basil, and garlic for a meal that's bursting with flavor.
Get our recipe for Chicken Sausage Lasagna.
Copycat Cracker Barrel Meatloaf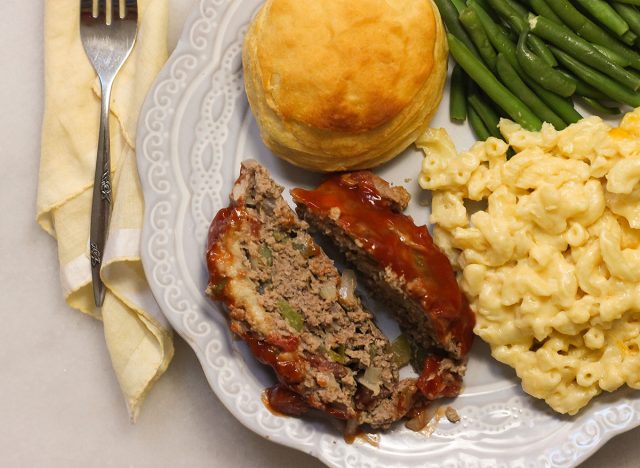 Just because you're cooking for one doesn't mean you can't cook an entire batch of meatloaf. Just save the rest for a homestyle meal later on, when you don't feel like cooking!
Get our recipe for Copycat Cracker Barrel Meatloaf.
Oven-Baked Chicken Fingers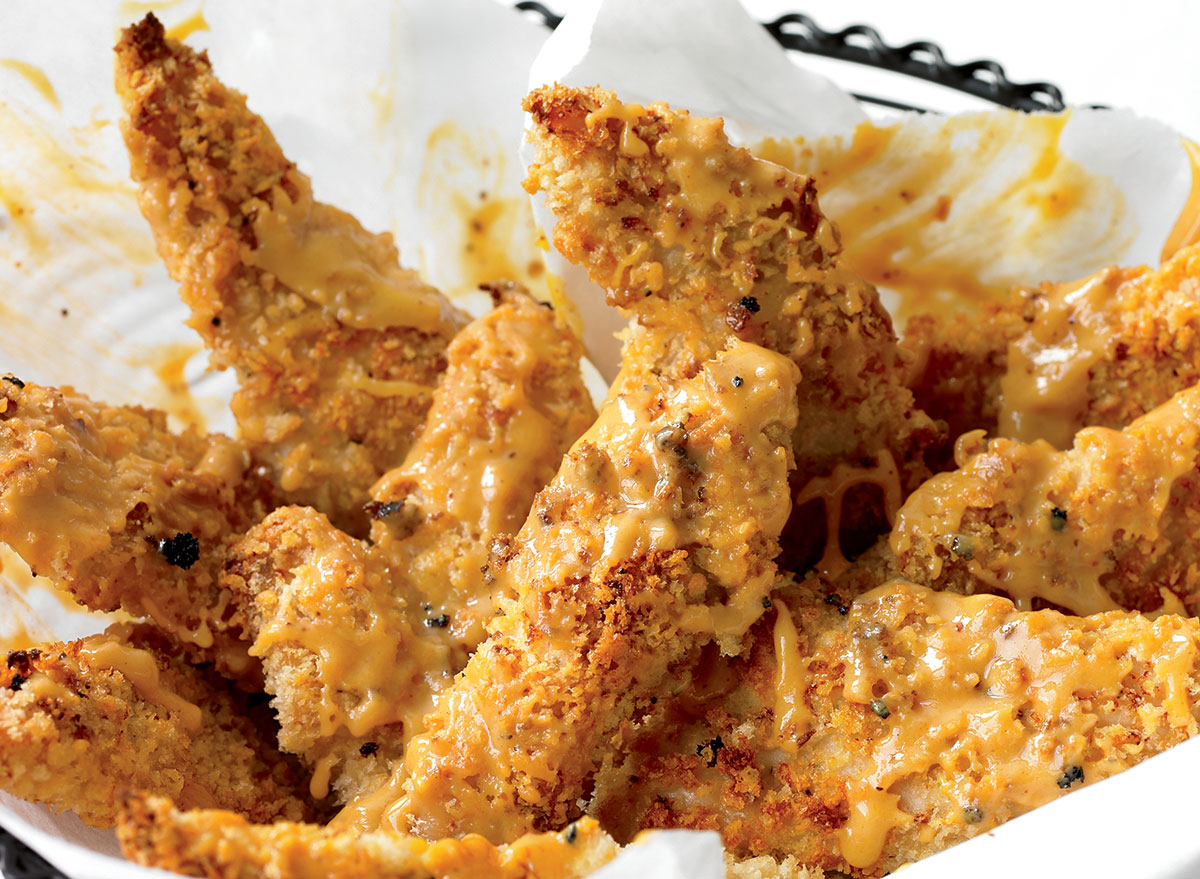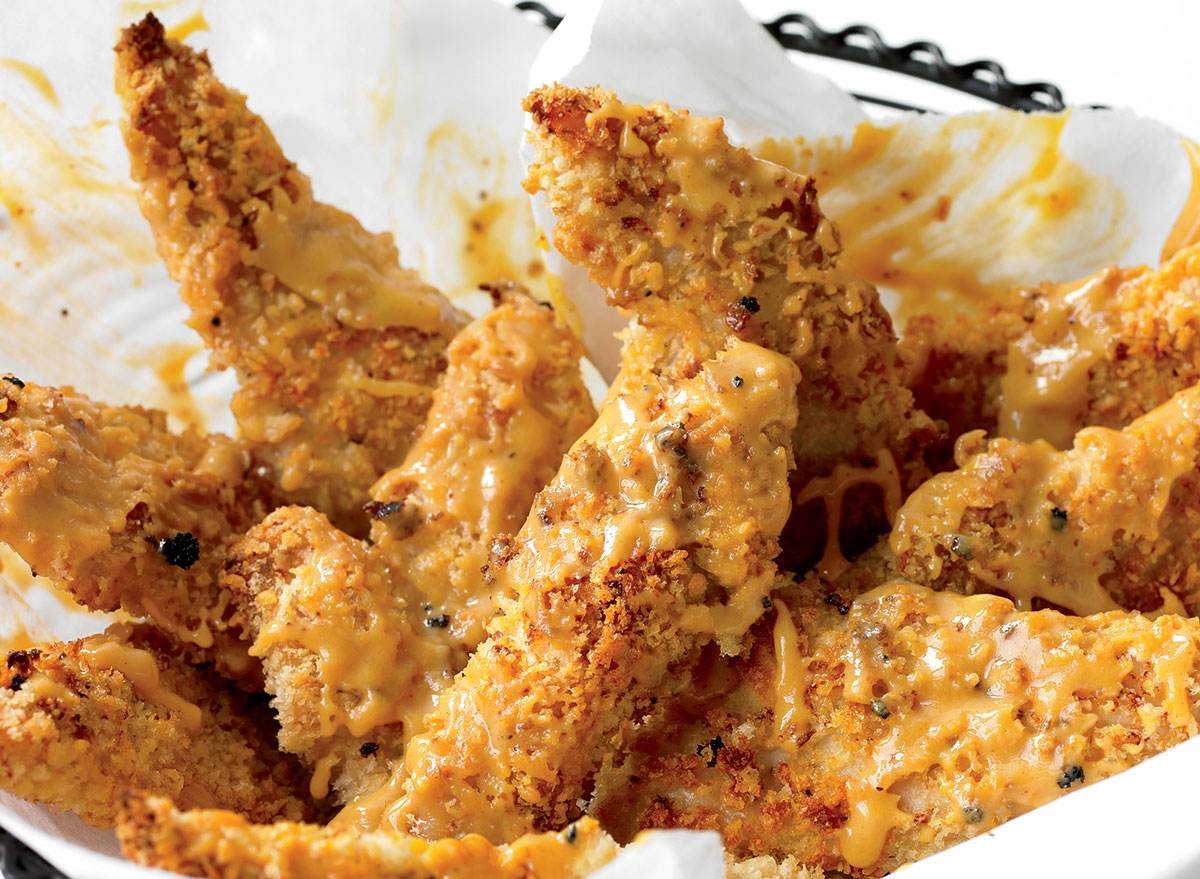 Creating a balanced, kid-approved dinner just got a lot easier with these chicken fingers. Made with wholesome ingredients and plenty of satiating protein, this is one of those healthy chicken recipes you'll make again and again!
Get our recipe for Easy Oven-Baked Chicken Fingers.
These individual oats are easy to make, freeze, thaw, and reheat for those mornings when you don't have time to think about breakfast. Plus, you can add whatever tasty toppings you want!
Get our recipe for Frozen Oatmeal Cups.
Classic Italian Meatballs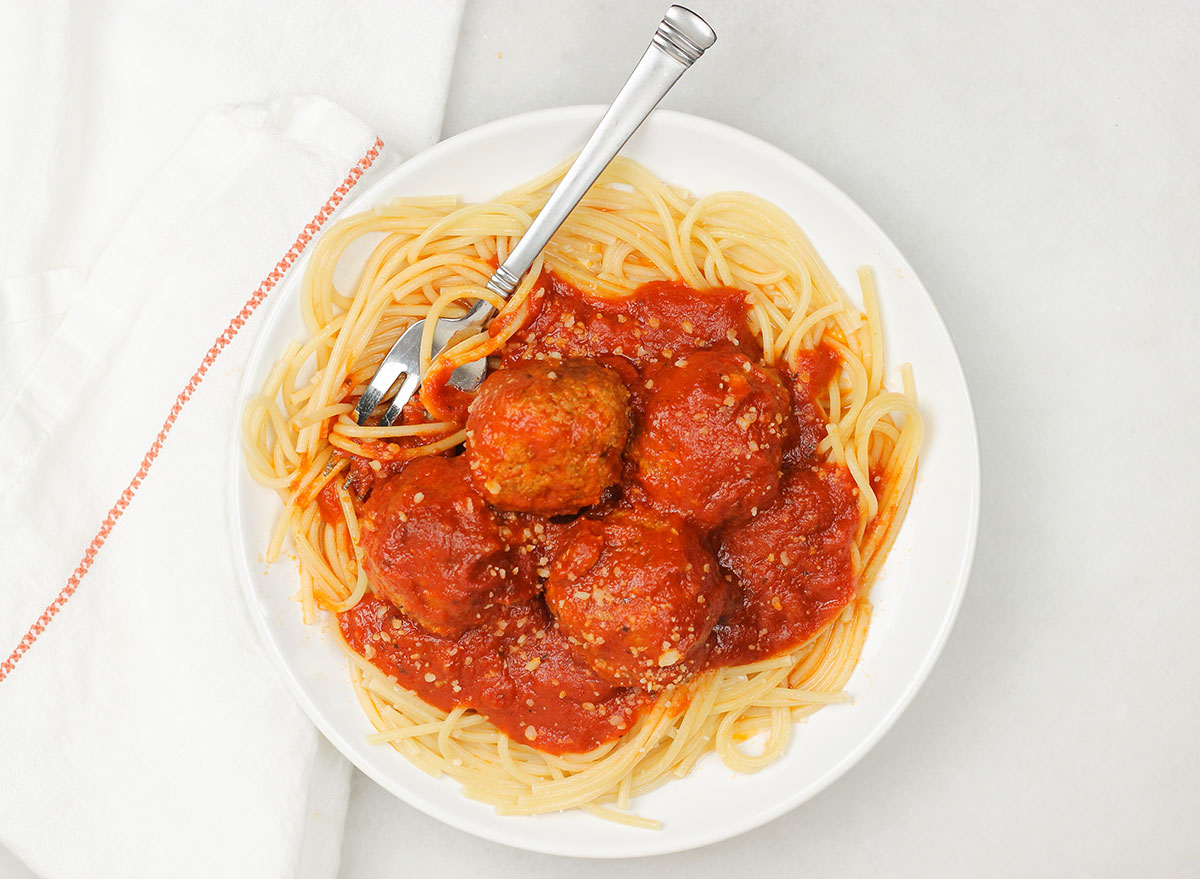 Meatballs are wonderful for freezing—they're already individually portioned, so you can defrost only what you need for that day's meal. You can't go wrong with this delicious recipe, which uses beef, pork, and veal.
Get our recipe for Classic Italian Meatballs.
Copycat Olive Garden Pasta Fagioli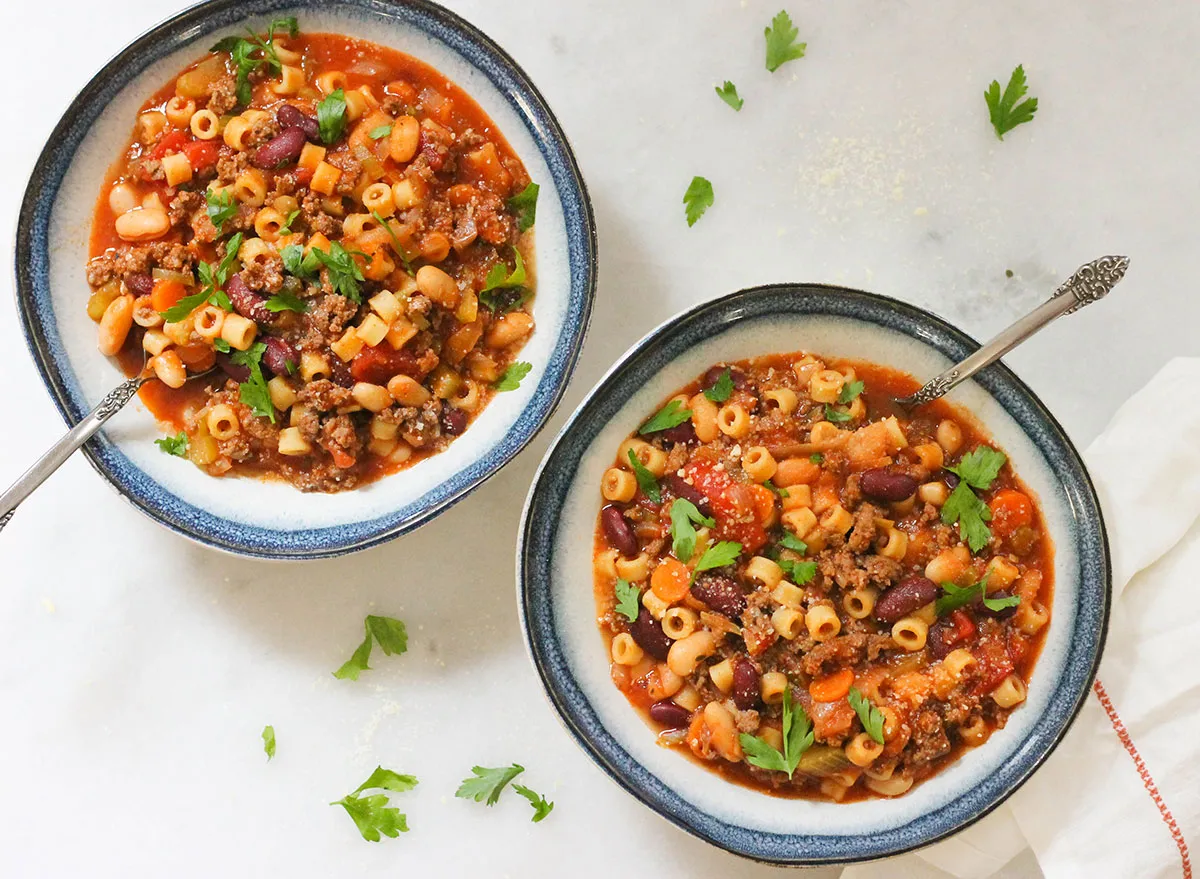 Not sure what to do with all those beans in your pantry? Whip up a batch of this delicious pasta fagioli! It's flavorful and easy to make, and you can always freeze the leftovers.
Get our recipe for Copycat Olive Garden Pasta Fagioli.
Classic Butternut Squash Soup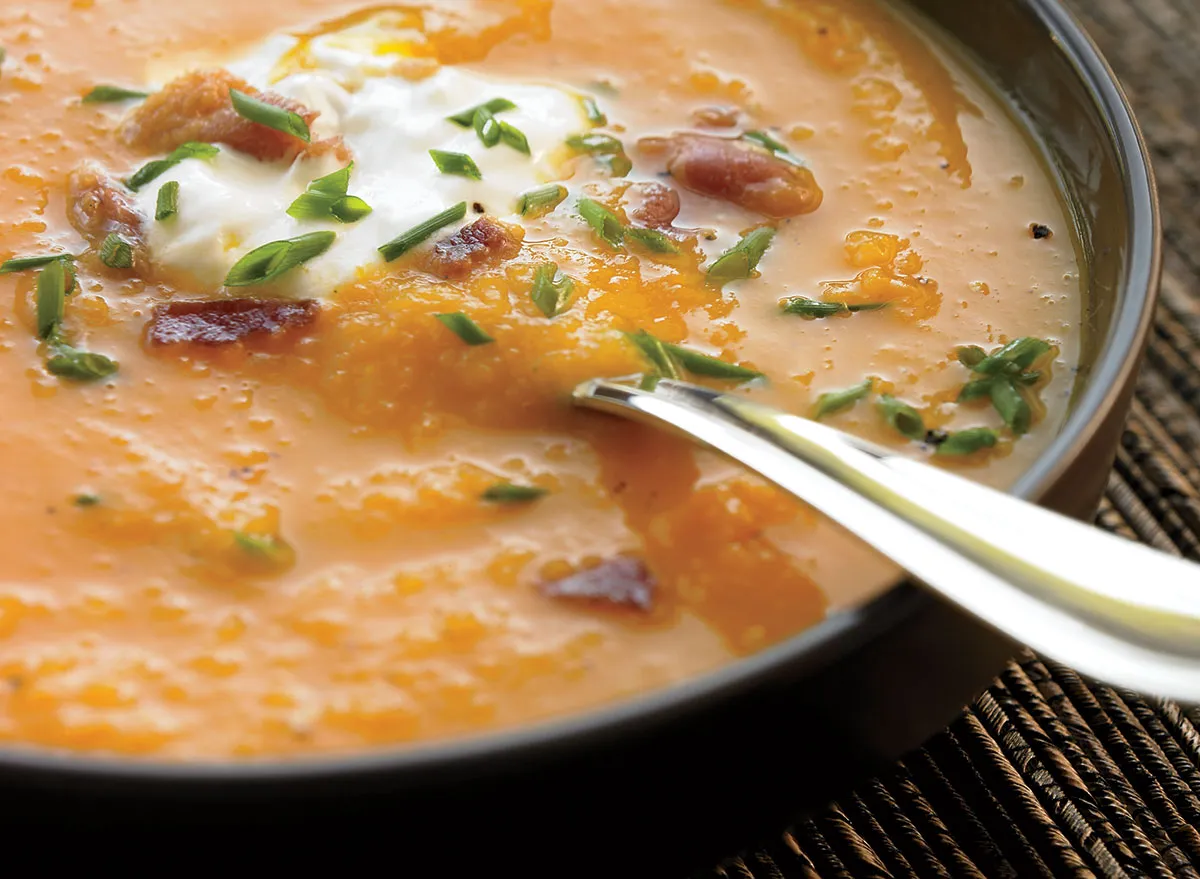 Support your immunity and protect your vision with this winter soup. It's naturally sweet, creamy, and super filling, not to mention the fact that it's packed with fiber and vitamin A.
Get our recipe for Classic Butternut Squash Soup.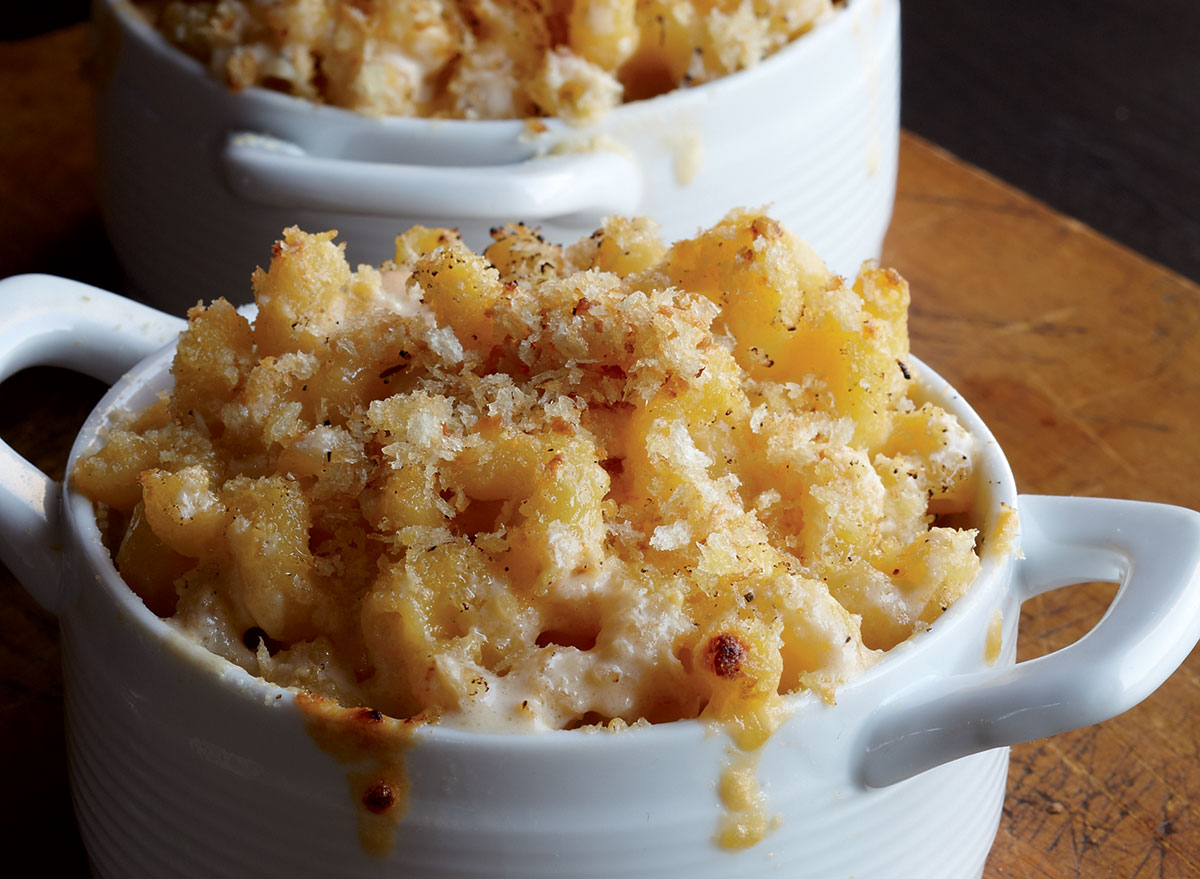 Craving comfort food? We don't blame you! You can't go wrong with this oven-baked mac and cheese, which uses cheddar and grated Parmesan.
Get our recipe for Mac and Cheese.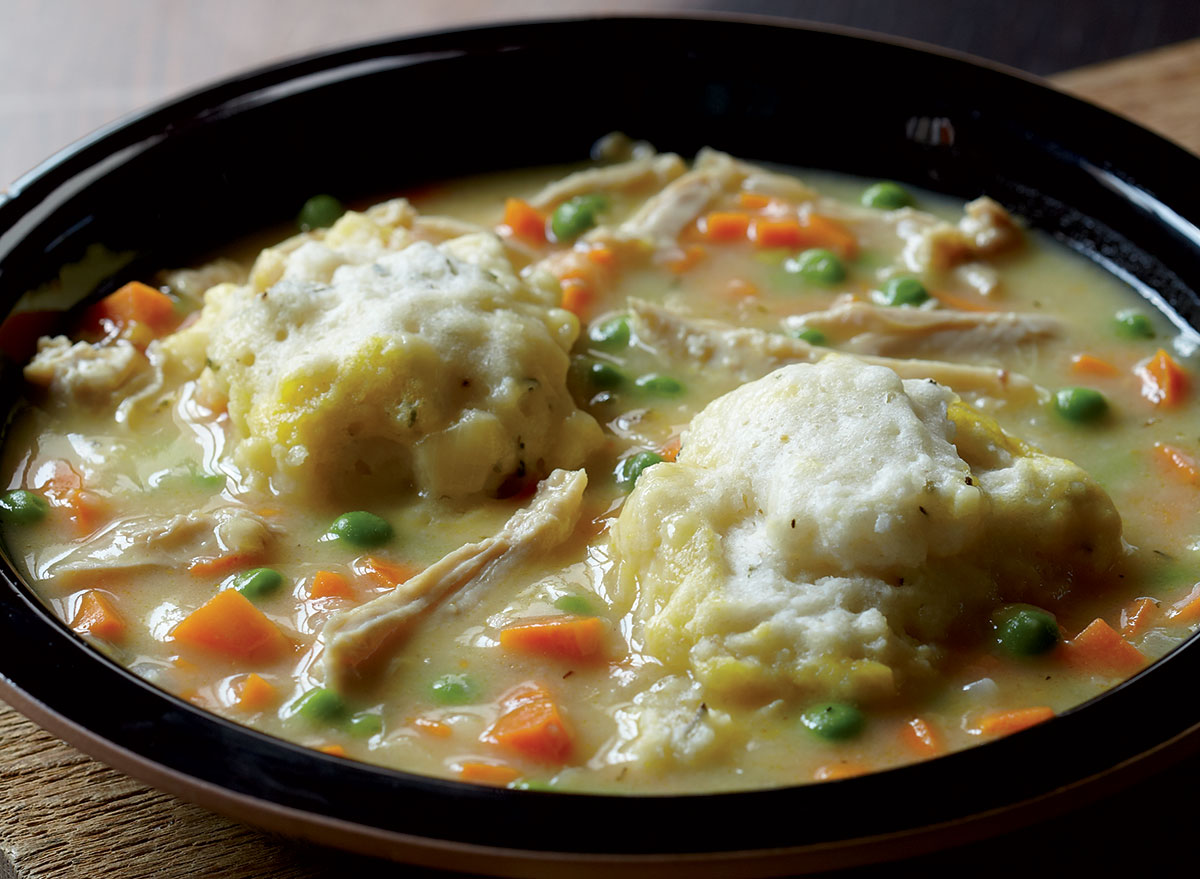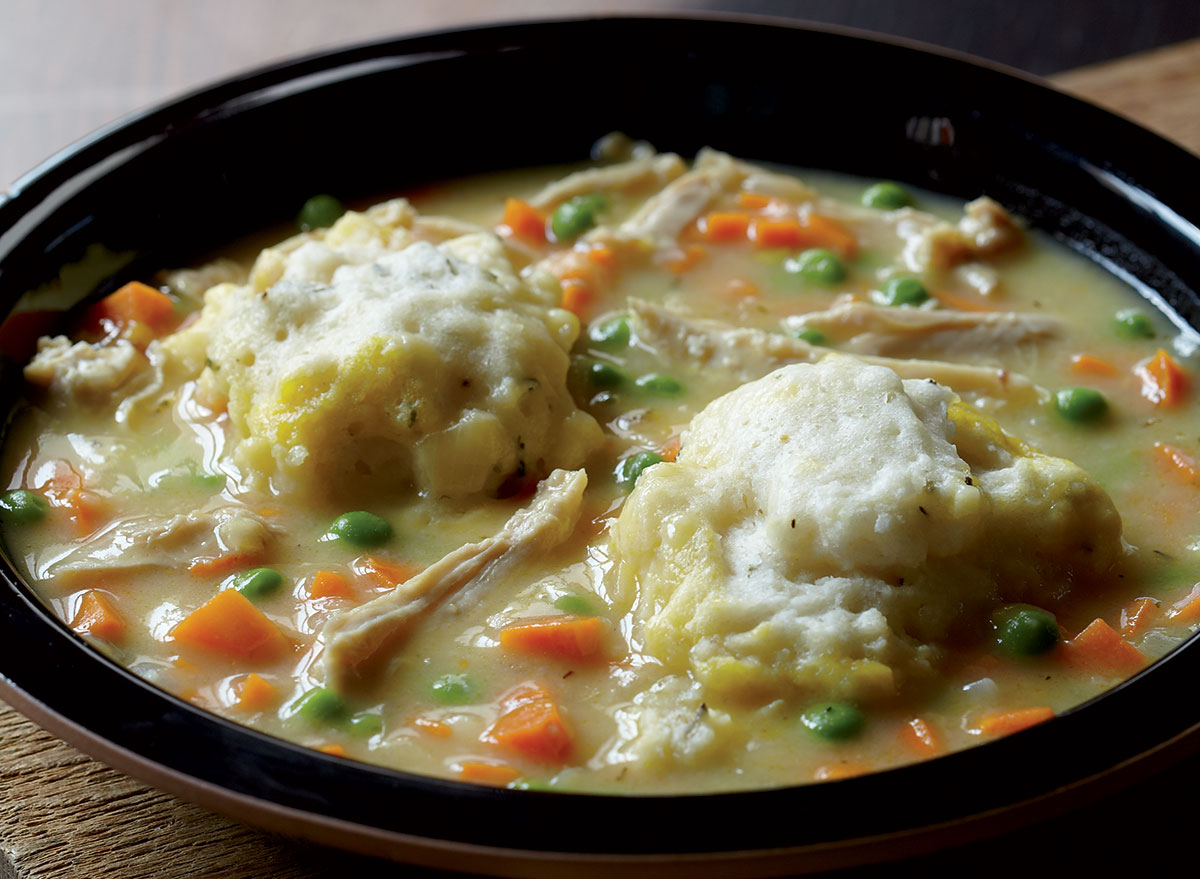 You don't have to go to Cracker Barrel to get this Southern dish! You can make these dumplings right at home and freeze your leftovers to enjoy later.
Get our recipe for Chicken and Dumplings.
Every list of healthy freezer meals should include a good turkey burger. Made with plenty of spices and a healthy dose of pepper jack cheese, this is one flavorful burger that's just as good the second time around.
Get our recipe for Southwest Turkey Burgers.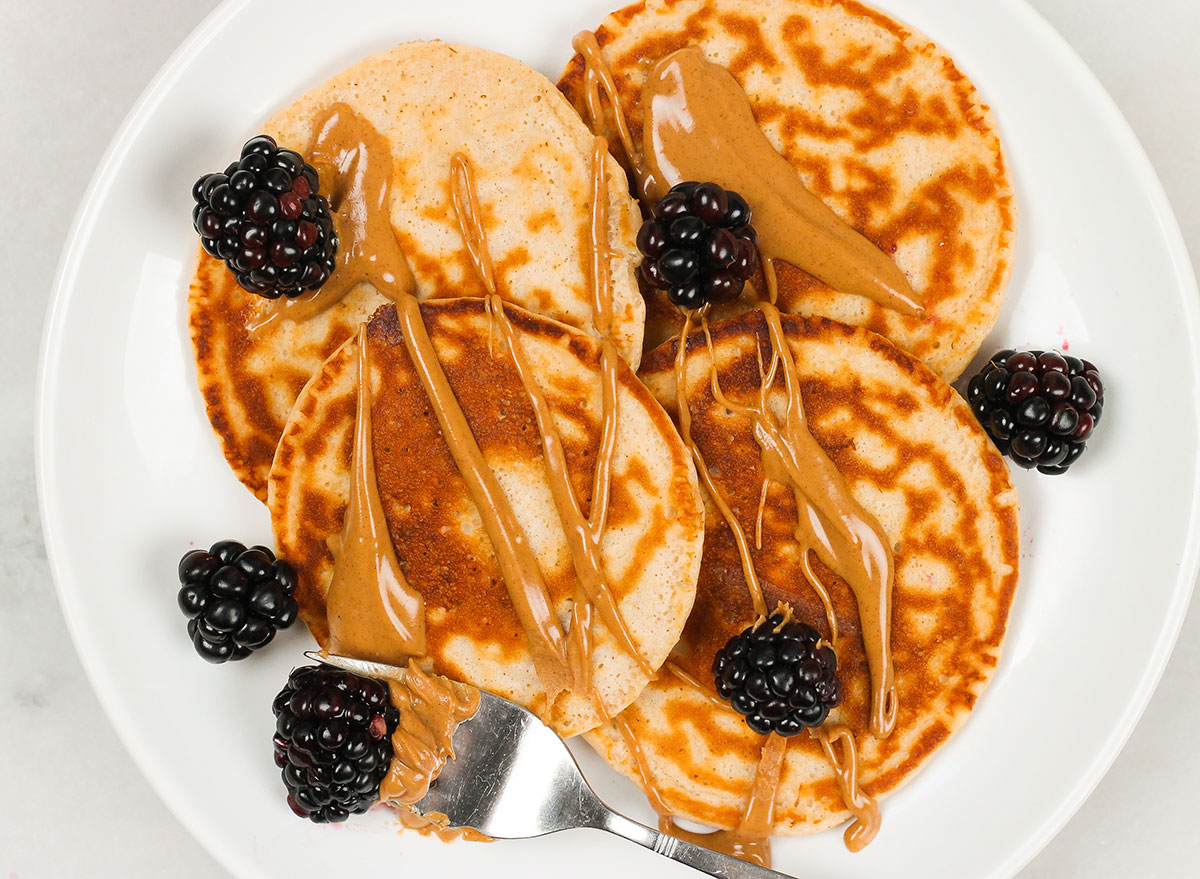 Yep, you can totally freeze pancakes! All you need is parchment or wax paper. Separate each pancake with a piece of parchment paper and freeze them in a bag—that way, they won't stick together. When you want to reheat one, just pop it in the toaster!
Get our recipe for Protein Pancakes.
Crock-Pot Vegetarian Chili
Few meals satisfy like a steamy bowl of chili. It's a great way to use up pantry ingredients like dried beans, and it can easily be stored in the freezer. Whether you're a vegetarian or just want to add some plant-based meals to your diet, you'll love this take on the dish.6254a4d1642c605c54bf1cab17d50f1e
Get our recipe for Crock-Pot Vegetarian Chili.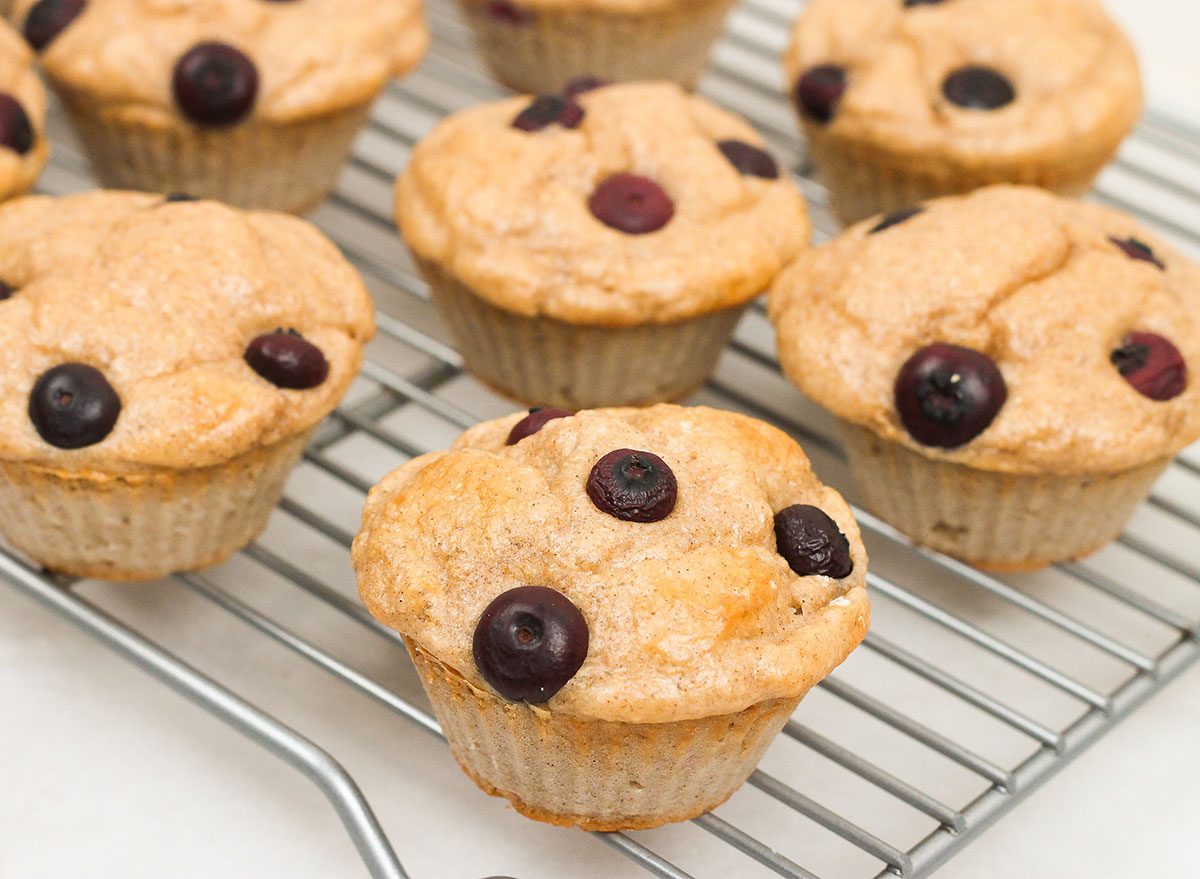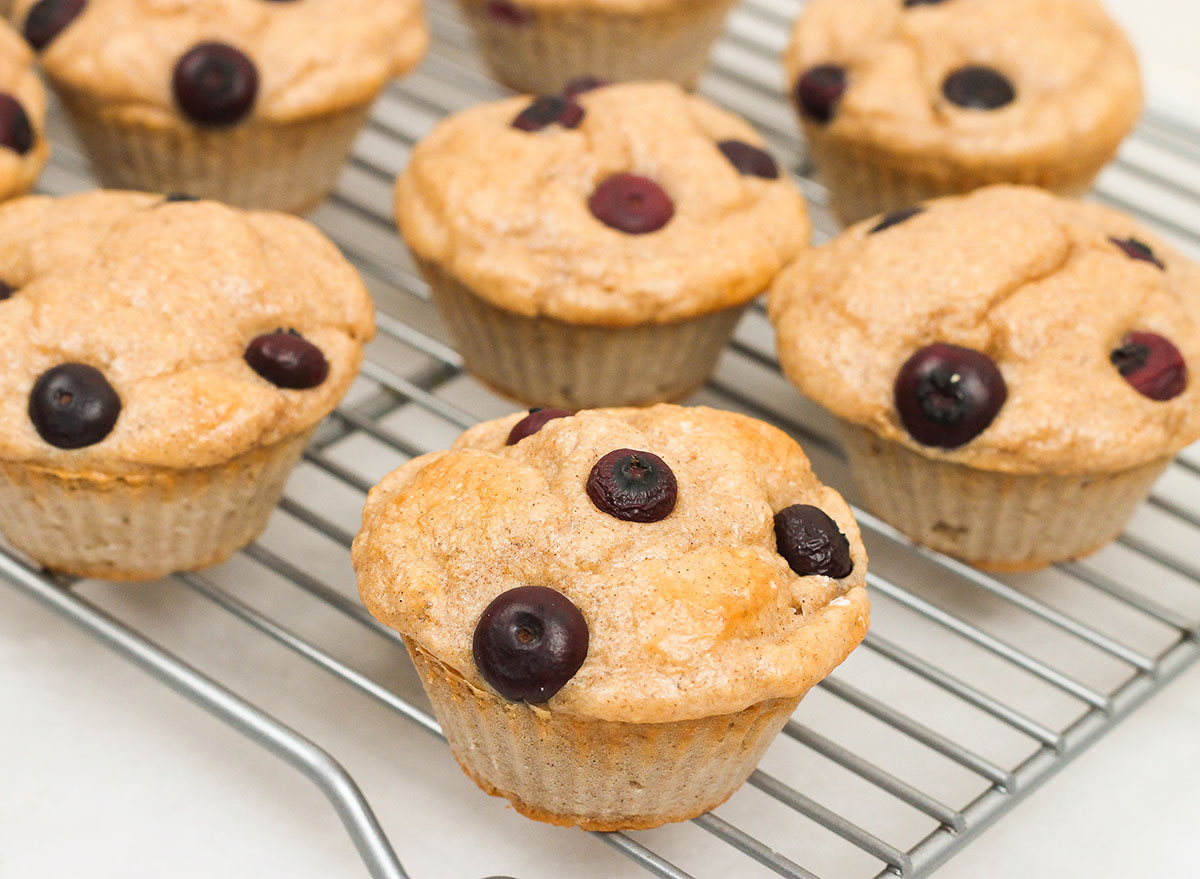 Start your day on a sweet but healthy note with these protein-packed muffins. Made with protein powder and fresh blueberries, they're a delicious way to start your day, and they'll keep well in the freezer, too.
Get our recipe for Protein Muffins.
Instant Pot Chicken and Rice Soup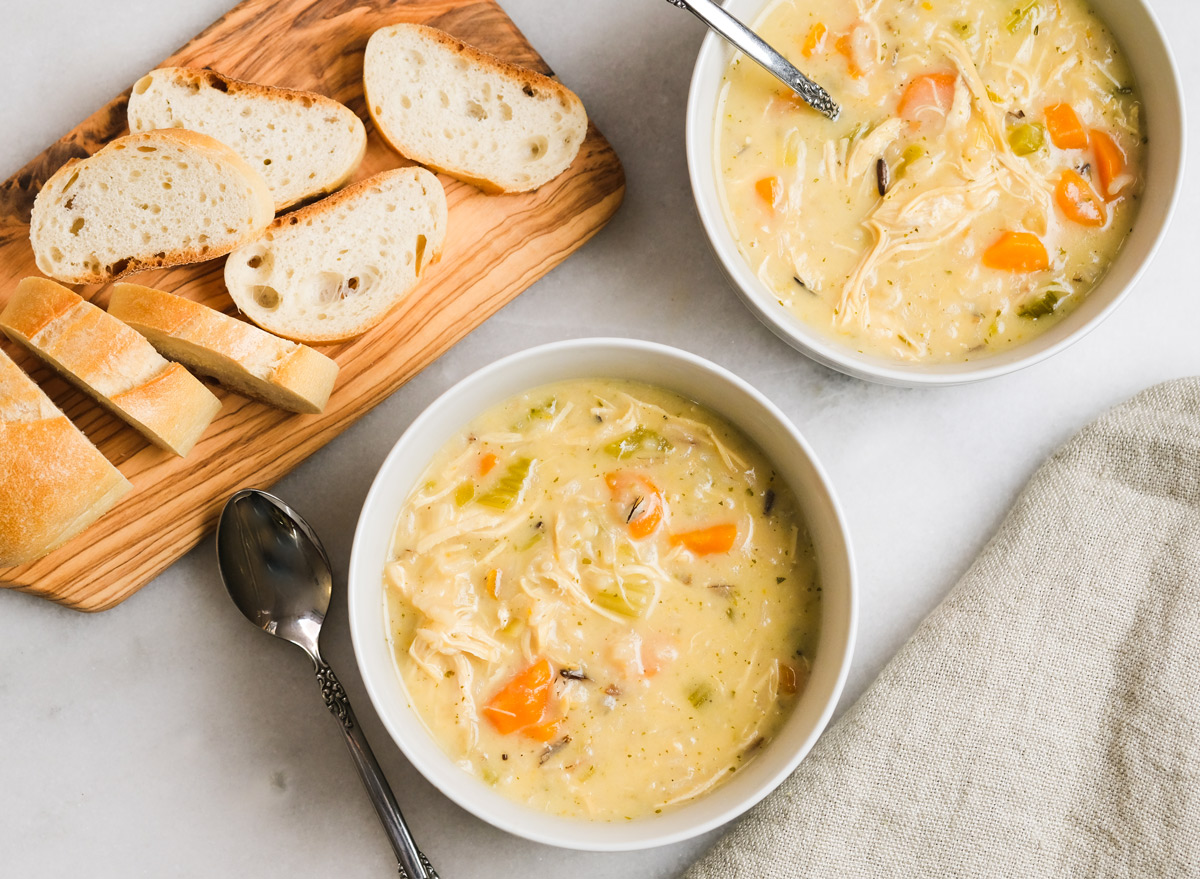 Instant Pot meals are easy to cook, but they can be just as easy to freeze for later, too. Our favorite hack? Freeze soup in a muffin tin—the individual pucks provide the perfect serving size for easy defrosting later.
Get our recipe for Instant Pot Chicken and Rice Soup.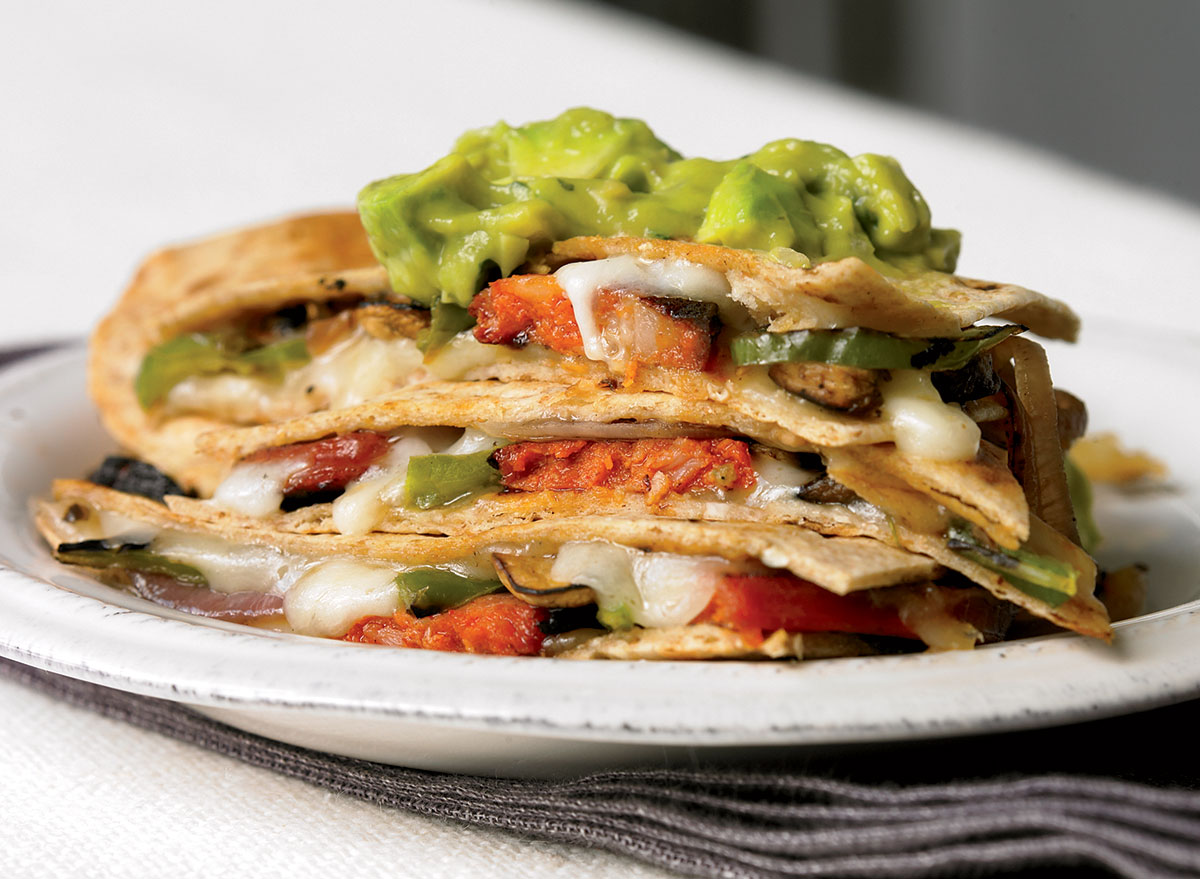 Make dinner easier than ever by freezing these delicious quesadillas. Be sure to have some guacamole on hand for when you decide to defrost them!
Get our recipe for Crispy Quesadillas.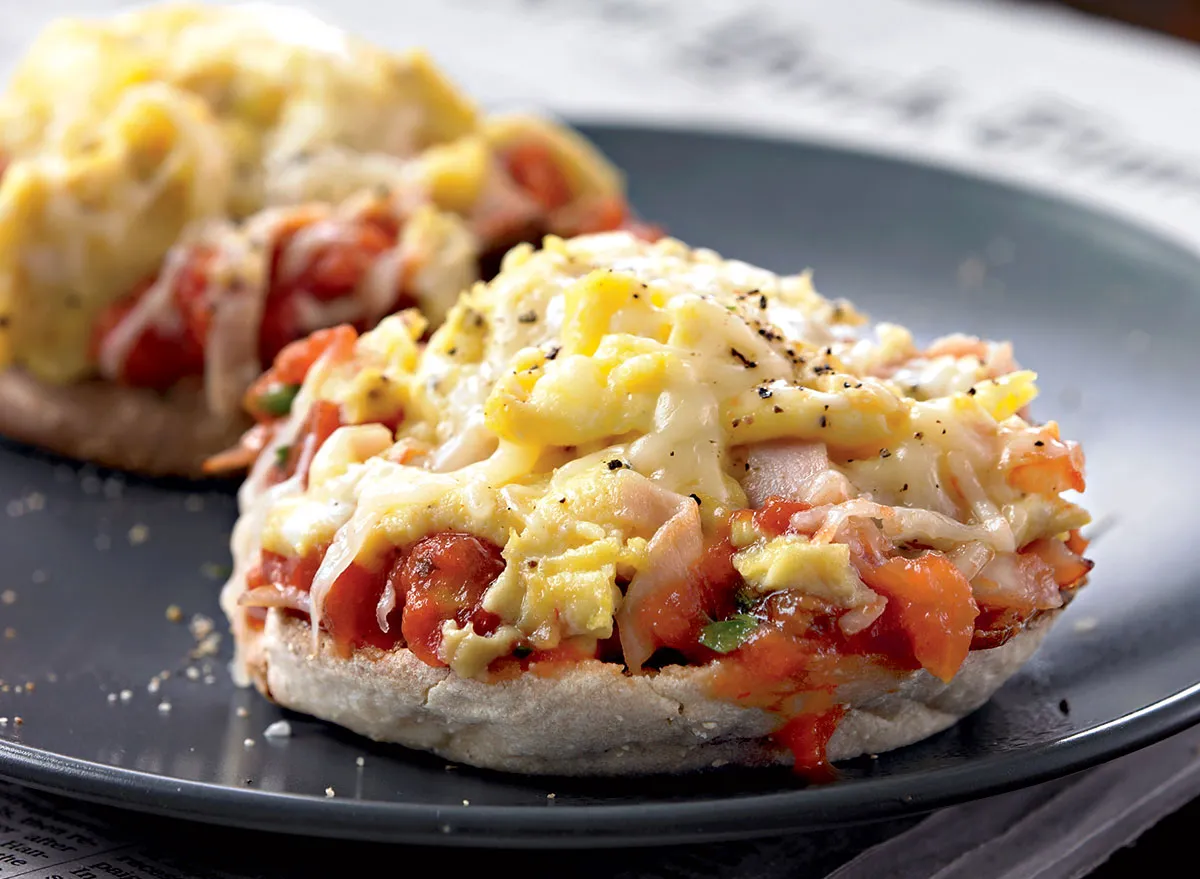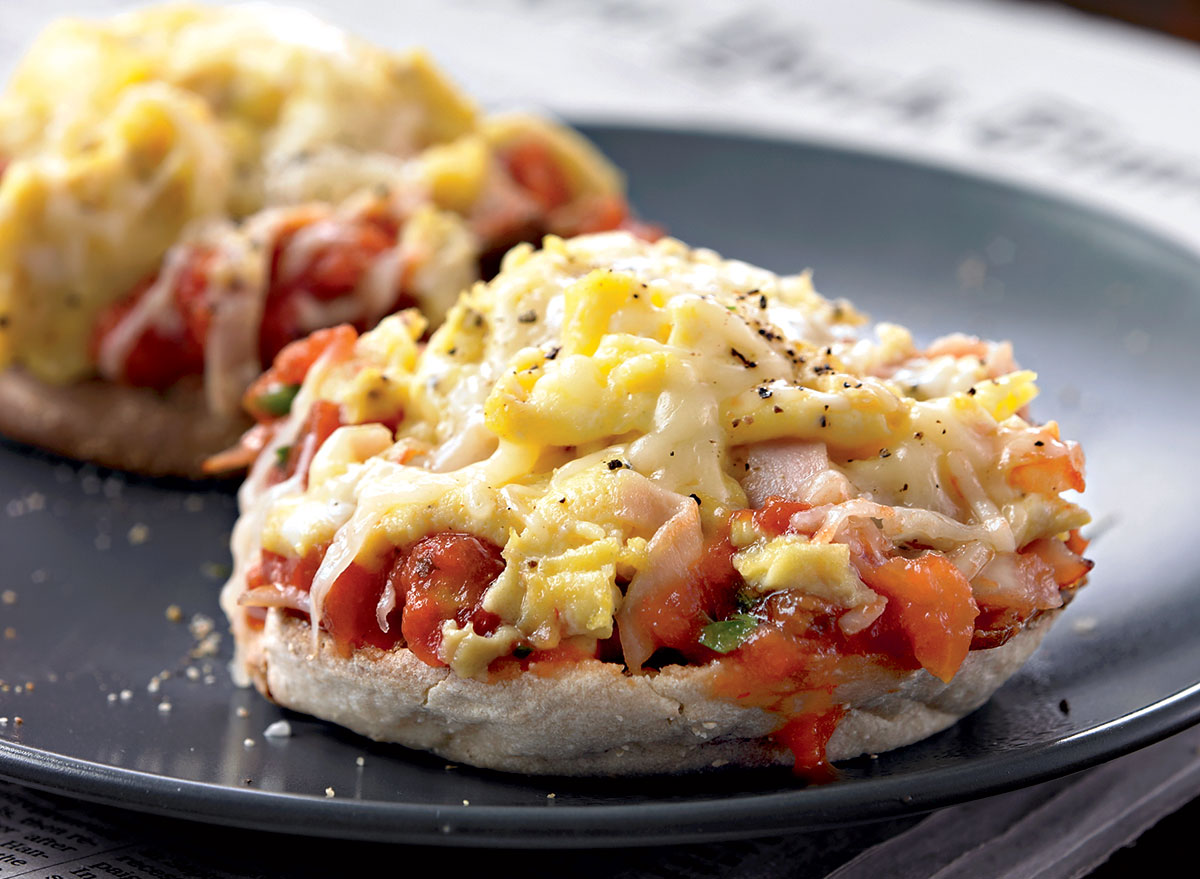 It doesn't get much easier than taking a precooked breakfast pizza out of the freezer, popping it in the microwave, and moving on with your day. This recipe is way tastier (and healthier) than what you'd find in the frozen aisle, too.
Get our recipe for Breakfast Pizza.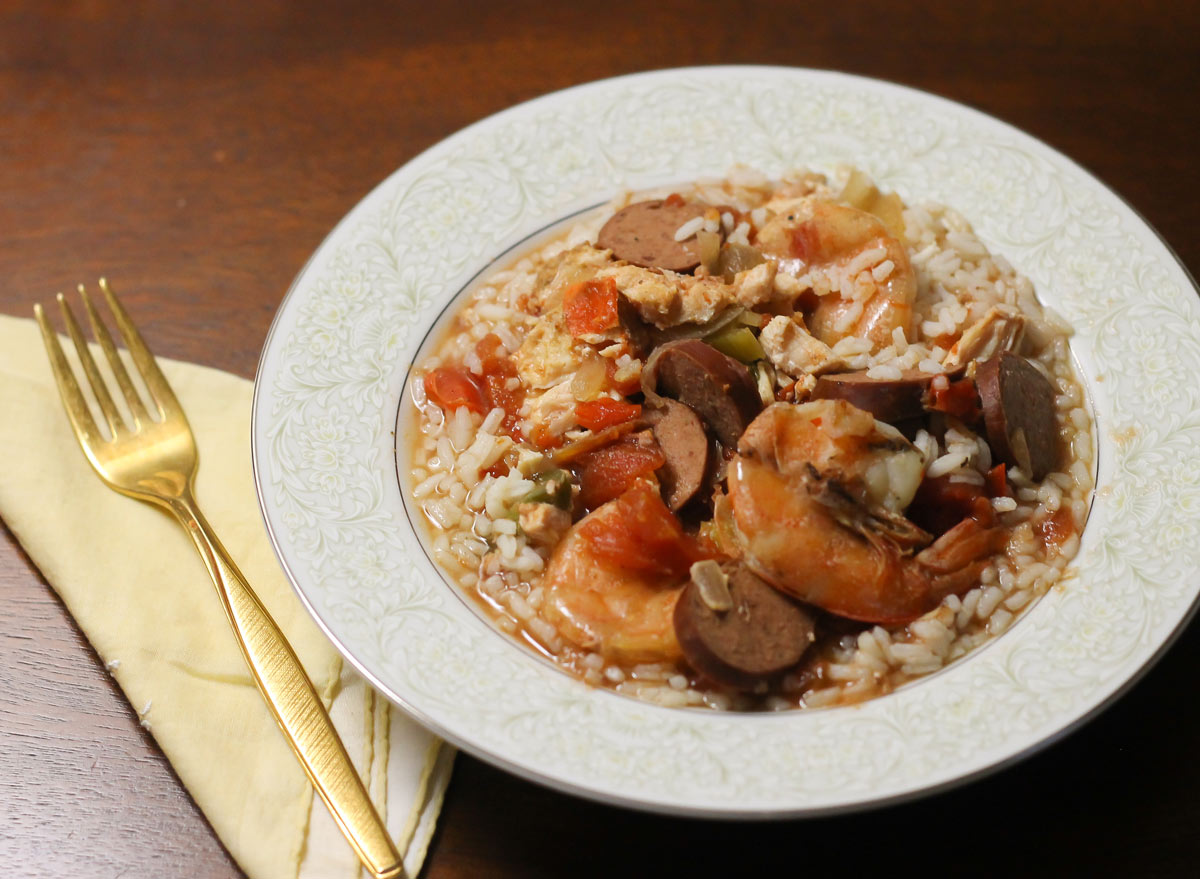 If you haven't had this Louisiana staple, now is a great time to start. This recipe is easy to make and easy to freeze, and it's absolutely bursting with flavor.
Get our recipe for Jambalaya.
Beef stew is a classic comfort food, and you can easily freeze the leftovers, too. This hearty meal will keep your whole family happy during those nights at home.
Get our recipe for Beef Stew.
Yukon Gold & Sweet Potato Gratin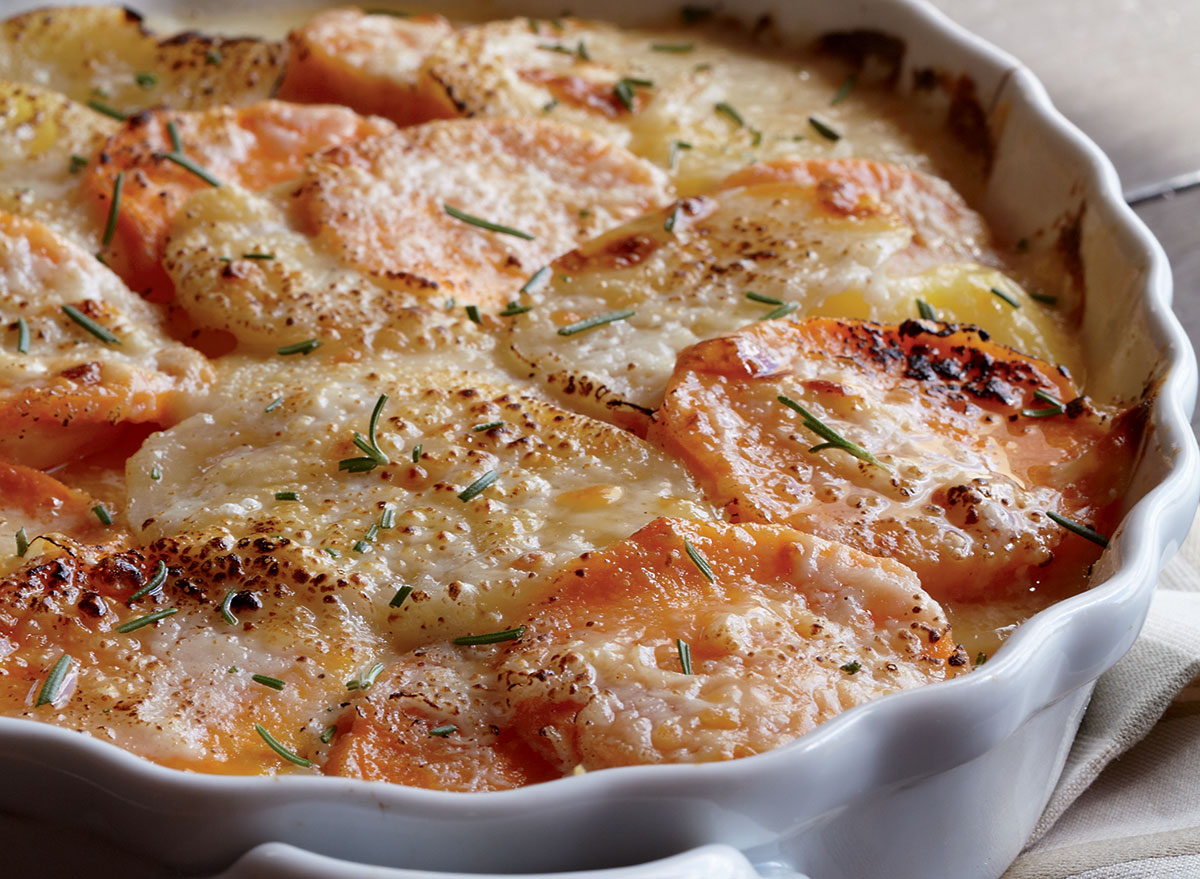 Love potatoes? You'll want to try this gratin, which layers Yukon gold and sweet potatoes with Gruyere cheese. It's the perfect side dish to keep handy in your freezer.
Get our recipe for Yukon Gold & Sweet Potato Gratin.
You've had stuffed peppers, but what about stuffed tomatoes? This vegetarian recipe includes a filling with cheese, bread crumbs, and garlic, making it the ultimate side dish for any meal.
Get our recipe for Stuffed Tomatoes.
Brussels Sprouts with Bacon and Almonds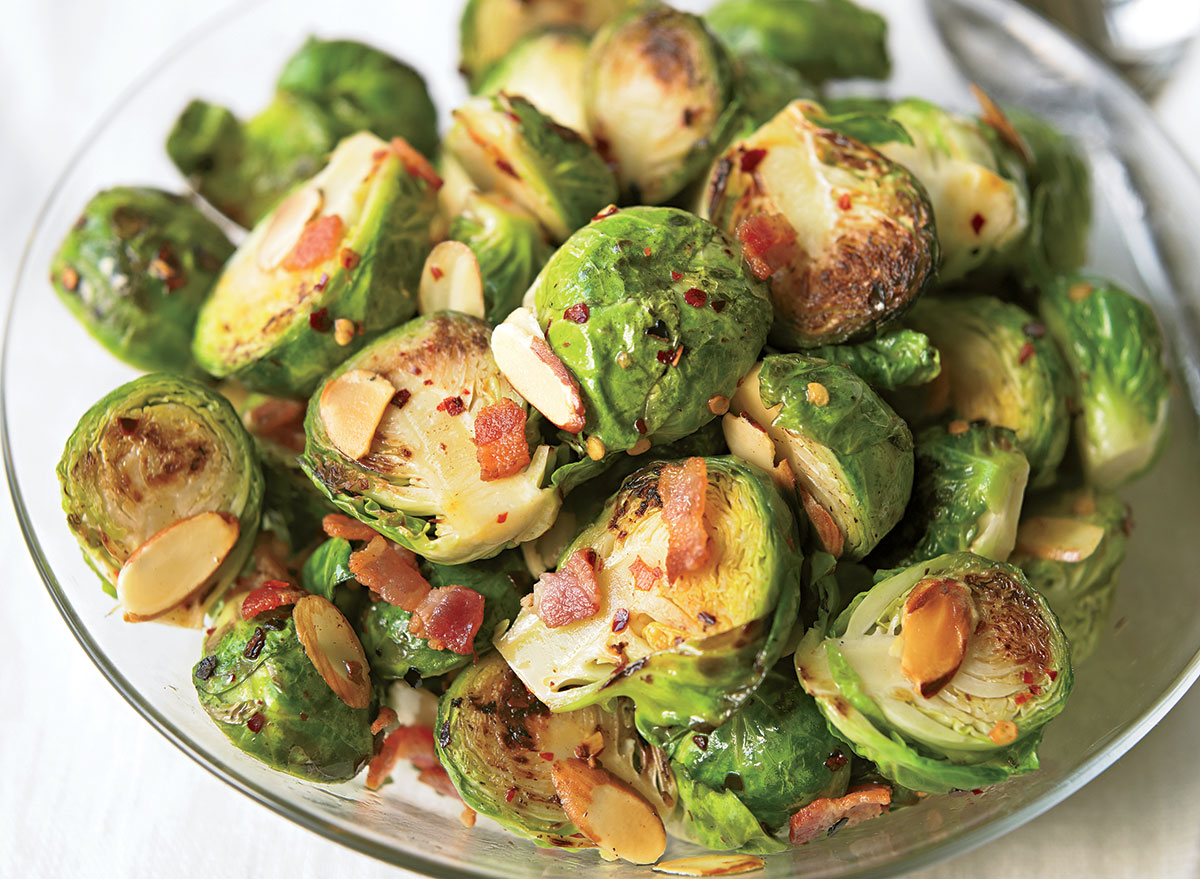 With all the flavor from the bacon and red pepper flakes, Brussels sprouts are about to become your new favorite vegetable.
Get our recipe for Brussels Sprouts with Bacon and Almonds.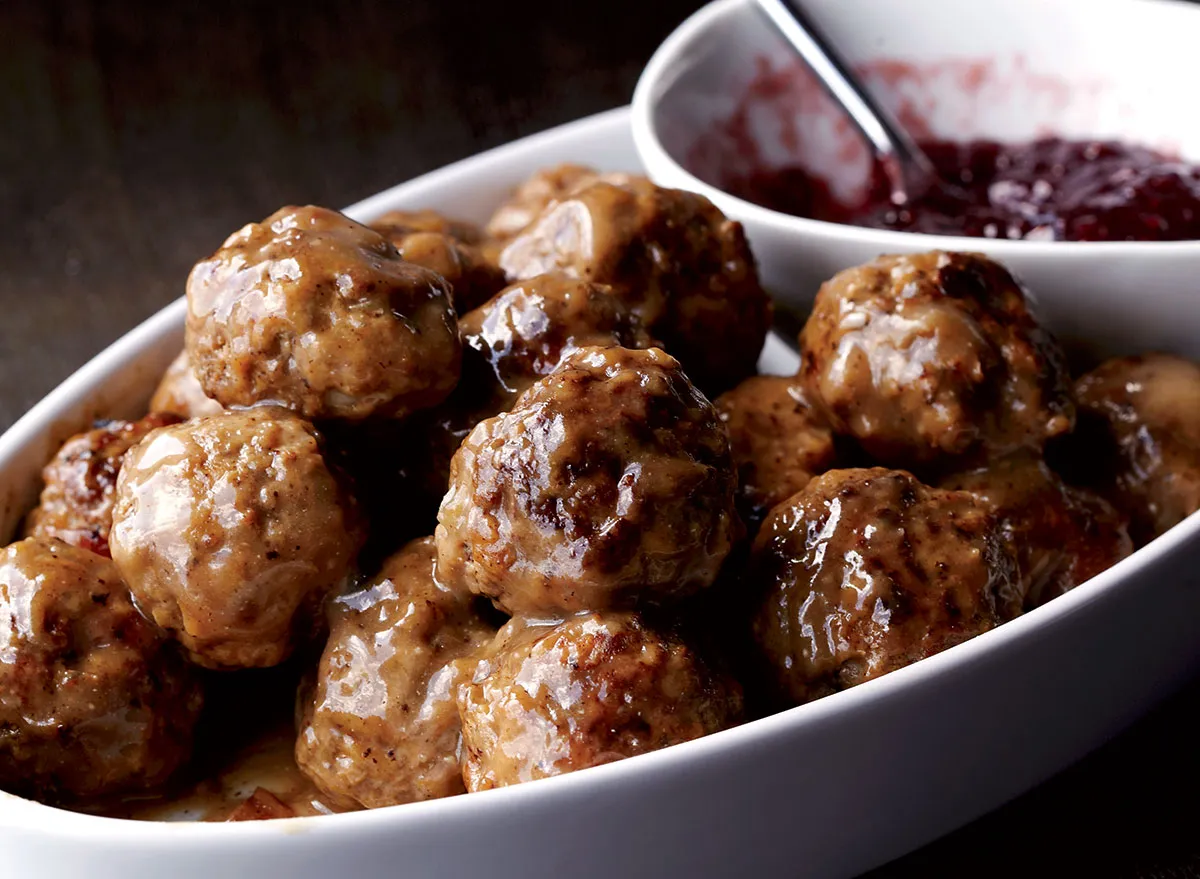 We'd venture to say that this recipe beats the ones you'll find at Ikea. Made with ground chuck, ground turkey, and plenty of spices, these are the perfect portion-controlled protein bites to have on hand.
Get our recipe for Turkey Swedish Meatballs.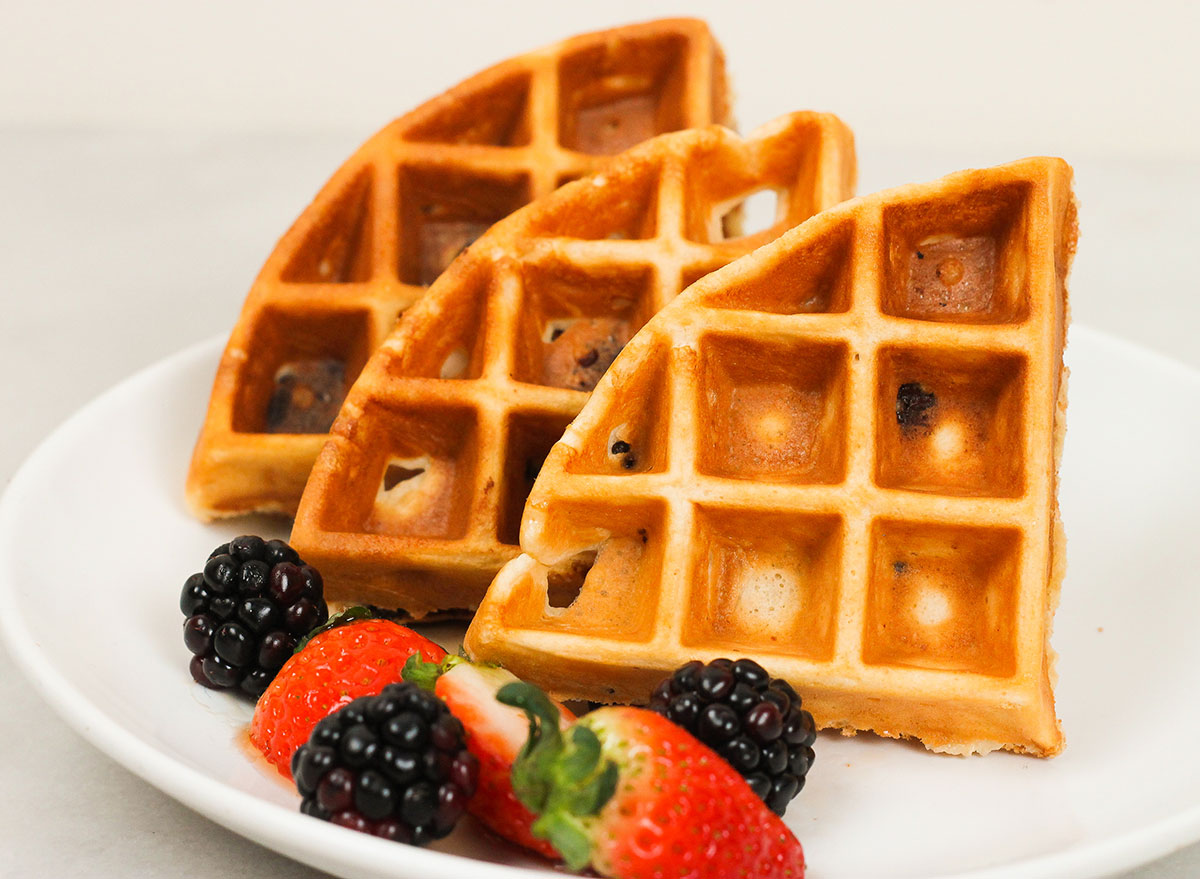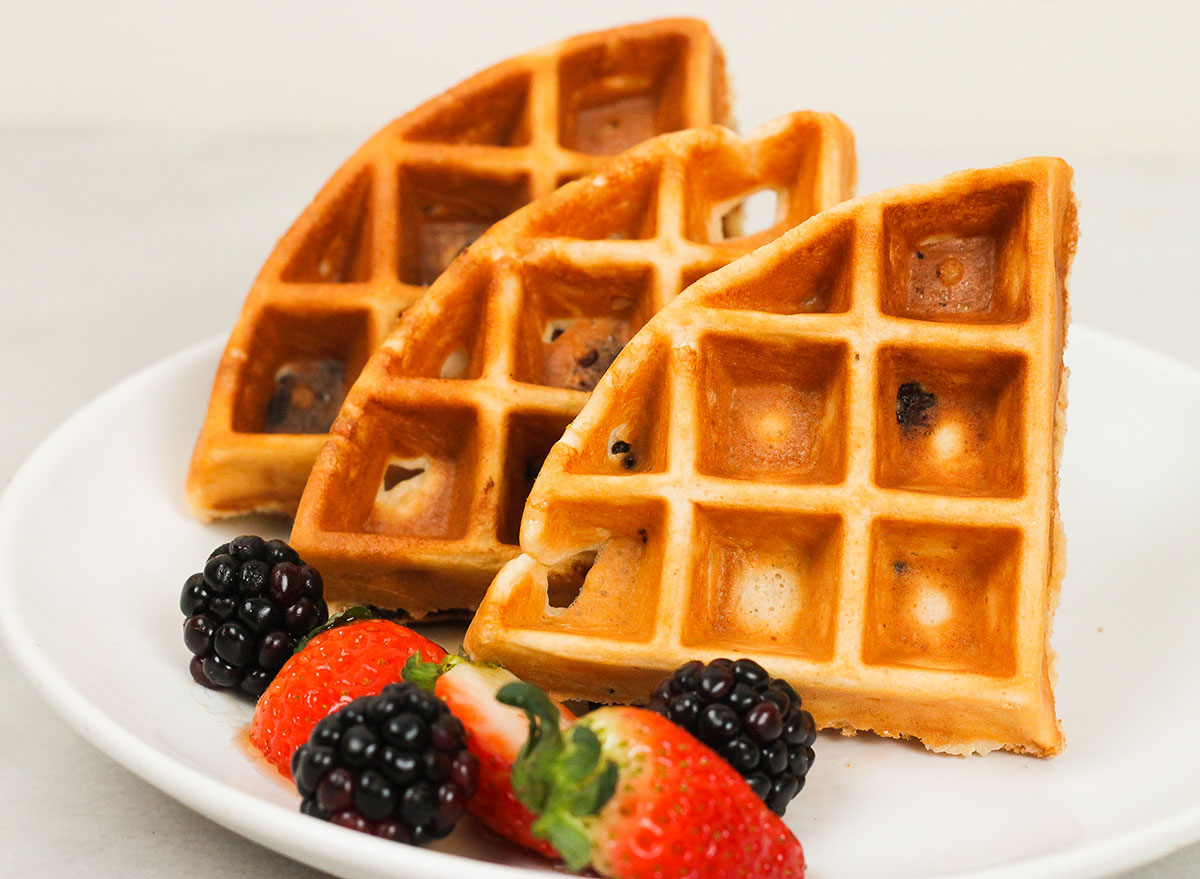 Just like you can freeze pancakes, you can freeze homemade waffles, too. Trust us, they're way better than the frozen ones from the store.
Get our recipe for Protein Waffles.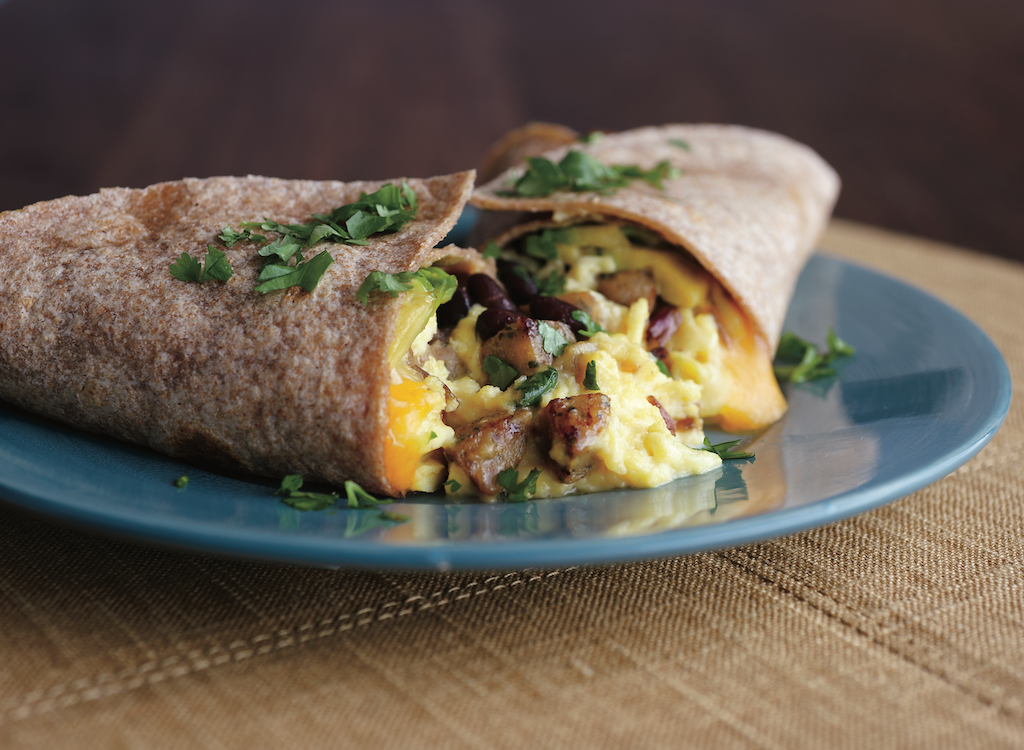 Don't buy a pre-made frozen breakfast burrito when you can make your own and freeze it later! This one is packed with eggs, beans, and avocado for a wrap that's both delicious and nutritious.
Get our recipe for a Breakfast Burrito.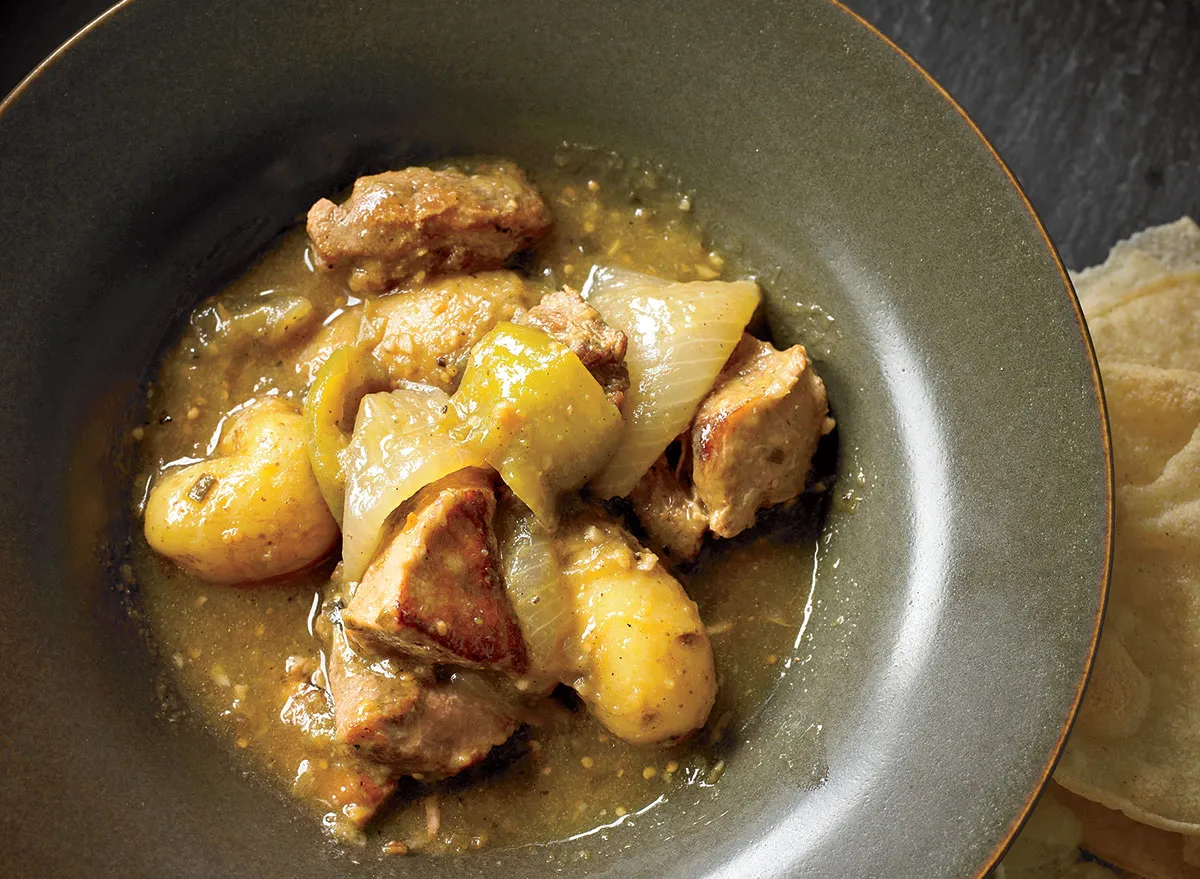 Spice up your dinner (and the subsequent leftovers) with this pork chile verde recipe. It will be just as good, and just as flavorful, the second time around.
Get our recipe for Pork Chile Verde.
Easy Fluffy Pull-Apart Whole Wheat Buttery Dinner Rolls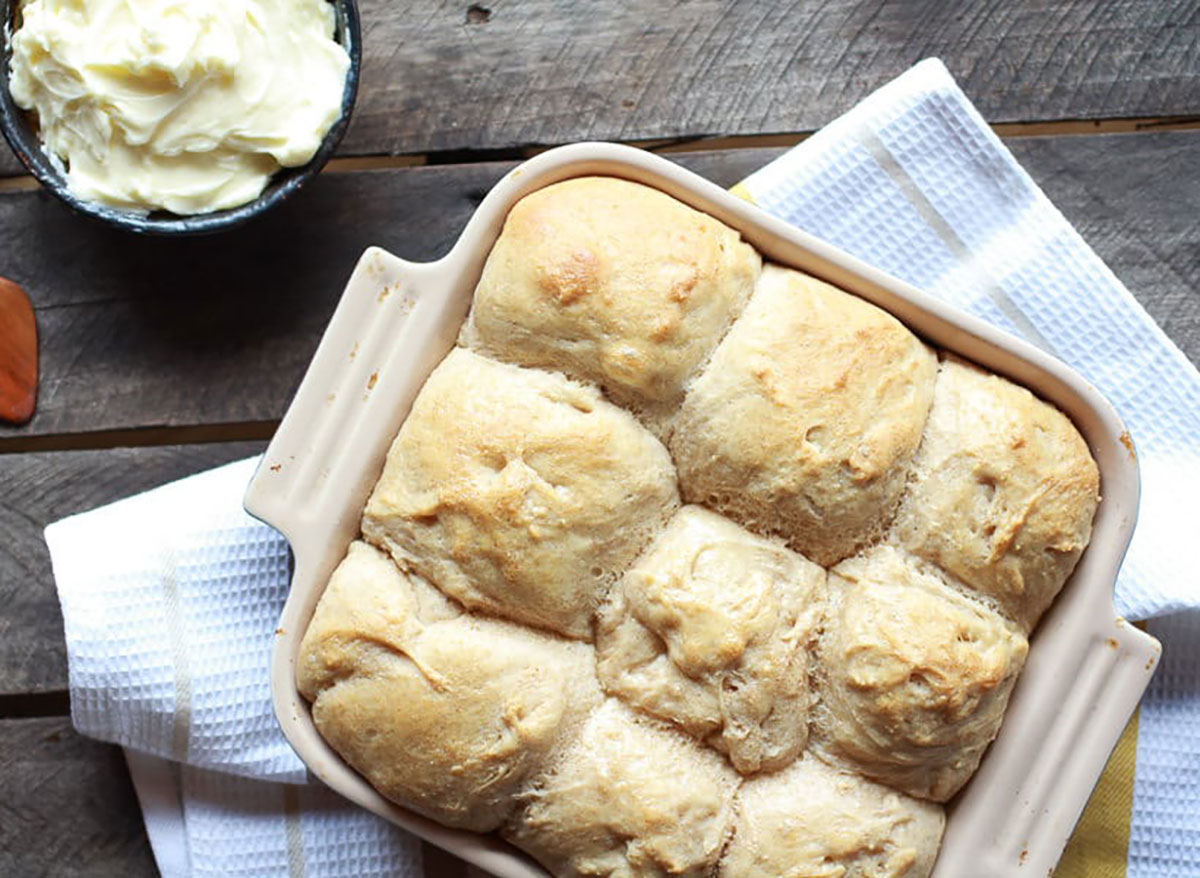 Dinner rolls get a bad rap for being filled with processed ingredients, but this wholesome, homemade version from Half-Baked Harvest takes out the guesswork. This simple recipe calls for just eight basic ingredients: whole-wheat pastry flour, all-purpose flour, kosher salt, water, dry yeast, honey, one egg, and butter. Prep the dough, freeze it and bake before dinner and store leftovers in a freezer-safe bag.
Get the recipe from Half-Baked Harvest.
Vegan Strawberry Banana Ice Cream with Peanut Butter "Fudge" Sauce
Have a sweet tooth? Equip yourself with this make-ahead strawberry-banana nice cream, a low-sugar frozen treat that calls for banana, strawberries, maple syrup, and almond milk. When you feel a craving coming, just grab a scoop out of your freezer. For the peanut butter fudge, combine peanut butter, maple syrup, salt, and almond milk in a heatproof bowl and microwave for about 30 seconds or until the mixture is smooth. Top the nice cream with a drizzle of the fudge, and voila: dessert you can feel good about.
Get the recipe from Feed Me Phoebe.
Vegetarian Breakfast Burritos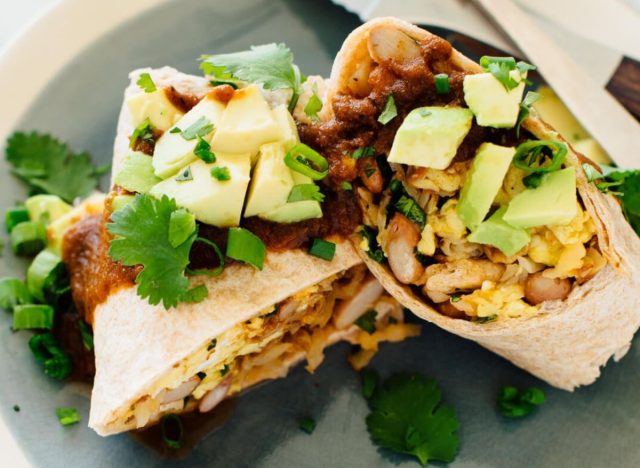 Not a fan of overnight oats or smoothies for breakfast? This filling a.m. sandwich is for you! In a whole-grain tortilla, pile on eggs, homemade hash browns, black beans, shredded sharp Cheddar cheese, cilantro, green onions, and avocado, and top with your favorite salsa or hot sauce.  To freeze the burritos for later, transfer the burritos to a freezer-safe bag; they stay best for three to six months.
Get the recipe from Cookie + Kate.
Don't let your summer herbs and veggie scraps go to waste! Prepare a flavorful pesto incorporating your leftover herbs, like this vibrant recipe. This pesto recipe calls for a chockfull of fresh basil and spinach, so it's not only packed with bold flavor but health-boosting antioxidants, too. Drizzle some over grilled fish, chicken, steak, or pasta.
Get the recipe from Two Peas and Their Pod.
When you're in a pinch, a frozen lasagna meal from the box might sound like the quickest way to satisfy your Italian cravings. But Deb Perelman shows us you can have a five-star meal at your table in minutes if you freeze it the night before. Inspired by Ina Garten, this healthy freezer meal recipe for lasagna is filled with portobello mushrooms. To make it healthier, swap whole-wheat flour for all-purpose and use a nut milk of your choice instead of whole milk if you want to cut back on saturated fat.
Get the recipe from Smitten Kitchen.
Slow Cooker Lemon Garlic Chicken Thighs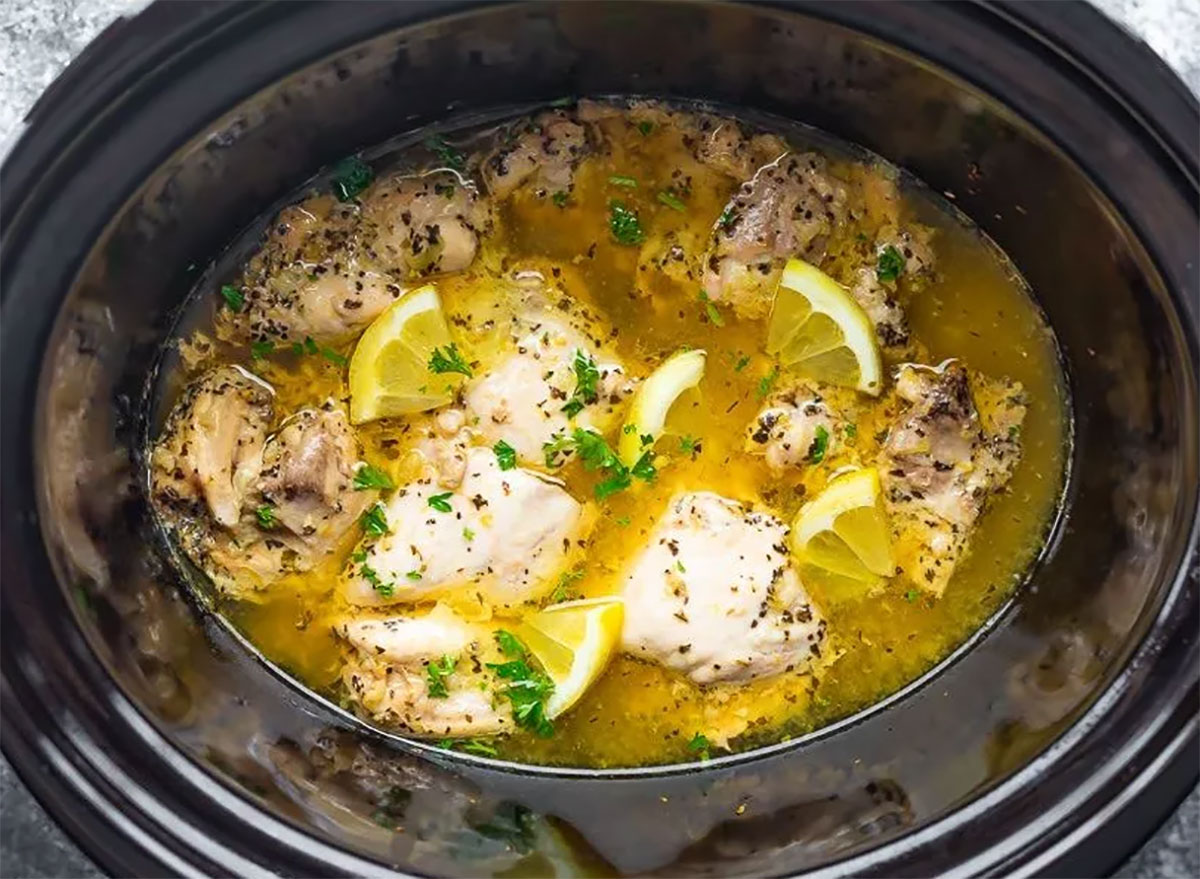 Too tired to cook? Allow your slow cooker to be the master chef in the kitchen. This freezer-to-slow-cooker dish calls for you to assemble the parts before cooking it whole. Combine the chicken, carrots, garlic, salt, oregano, onion, and lemon zest in a freezer bag, and when you're ready to cook, dump all the ingredients in a slow cooker with one cup of chicken stock.
Get the recipe from Sweet Peas and Saffron.
Whole-Wheat Waffles with No Sugar Added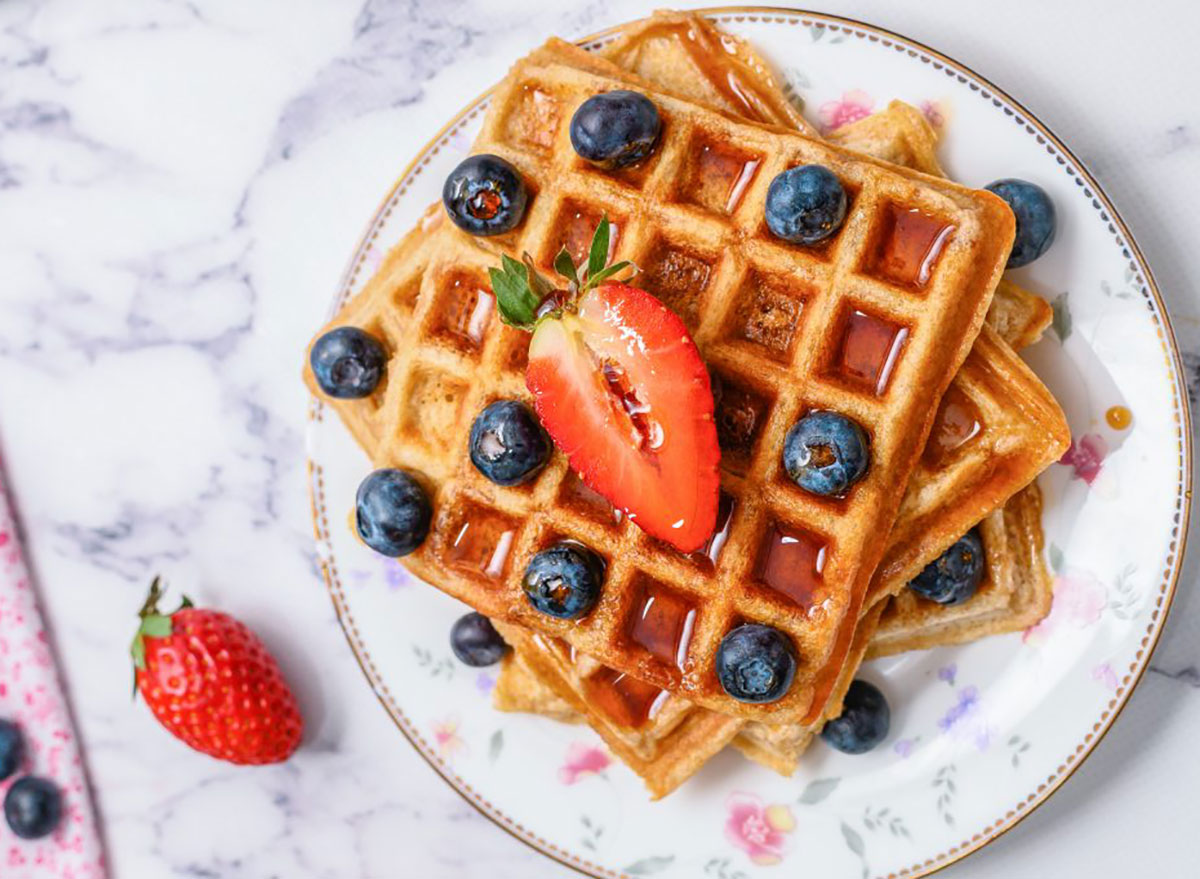 Sometimes, breakfasts can be an afterthought. Whether you're eating on the go or picking up something quick on the way to the office, that's no way to enjoy the first meal of the day! Enter these freezer-friendly whole-wheat waffles. Crush the Monday blues with these delicious waffles, which are the perfect way to kick-start your day and still make it feel like the weekend. Top with fresh berries and a drizzle of maple syrup for some natural sweetness.
Get the recipe from A Mindful Mom.
Pink Power Protein Smoothie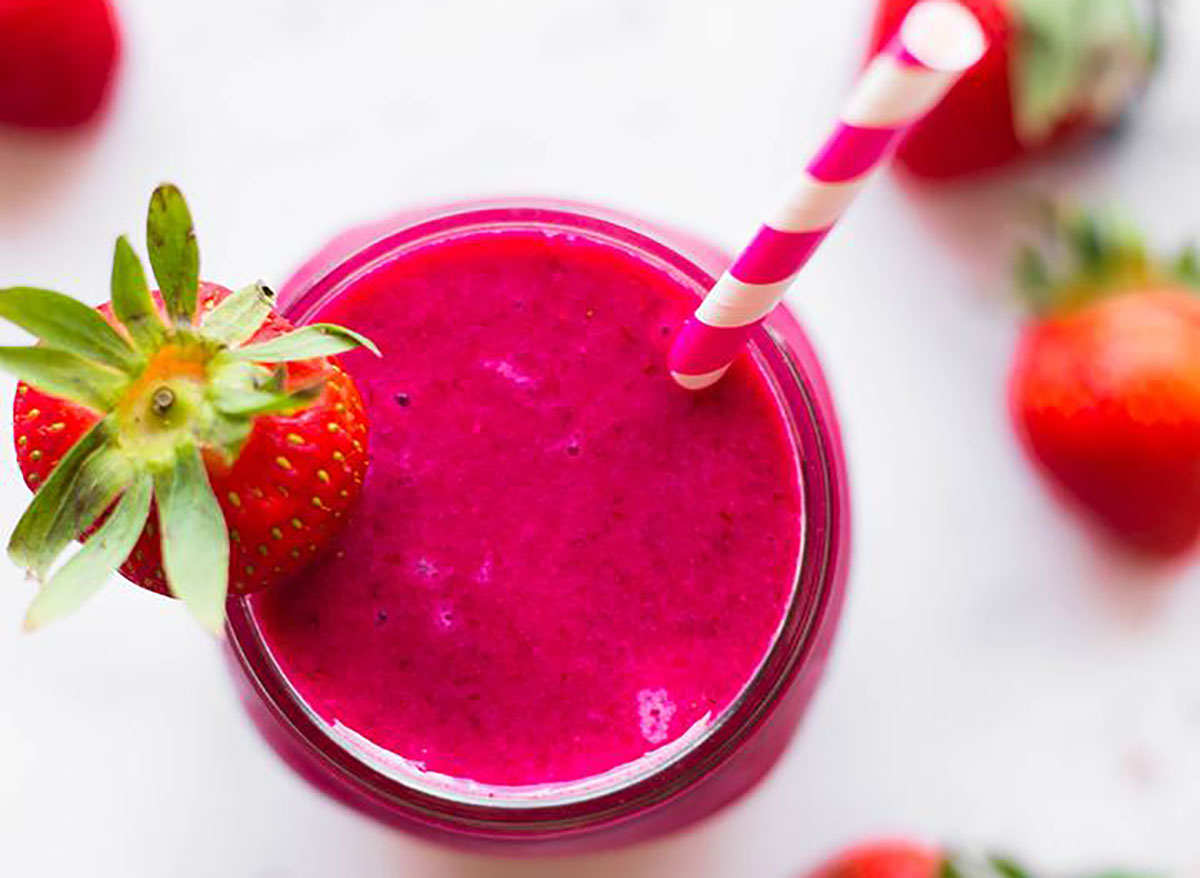 This vibrant smoothie is the best way to wake up or fuel up, especially before a morning workout. Studies have shown that beet juice can help improve blood circulation, allowing your heart to pump more oxygen. In a blender, combine unsweetened almond milk with beets, frozen strawberries, flaxseed meal, honey, and vanilla protein powder. For meal prepping purposes, store all the ingredients in a freezer bag and dump them into the blender when you get out of bed.
Get the recipe from A Sweet Pea Chef.
Chicken and Veggie Freezer Packs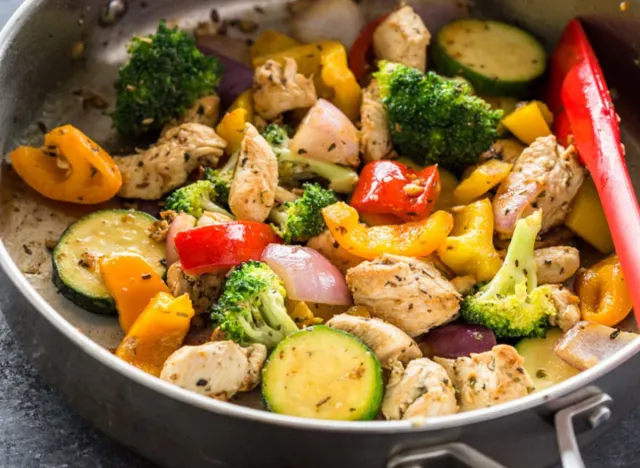 An ideal ratio of protein and complex carbs, these chicken and veggie packs make a satisfying dinner. Cut skinless chicken breasts into 1/2-inch slices, chop broccoli florets, and slice zucchini, bell peppers, and yellow onions. Then, store them in a freezer bag. Prepare the marinade and pour it equally into each of the Ziplock bags. Shake each bag to fully coat the chicken and veggies.
Get the recipe from Gimme Delicious.
Falafel Burgers with Yogurt Dill Sauce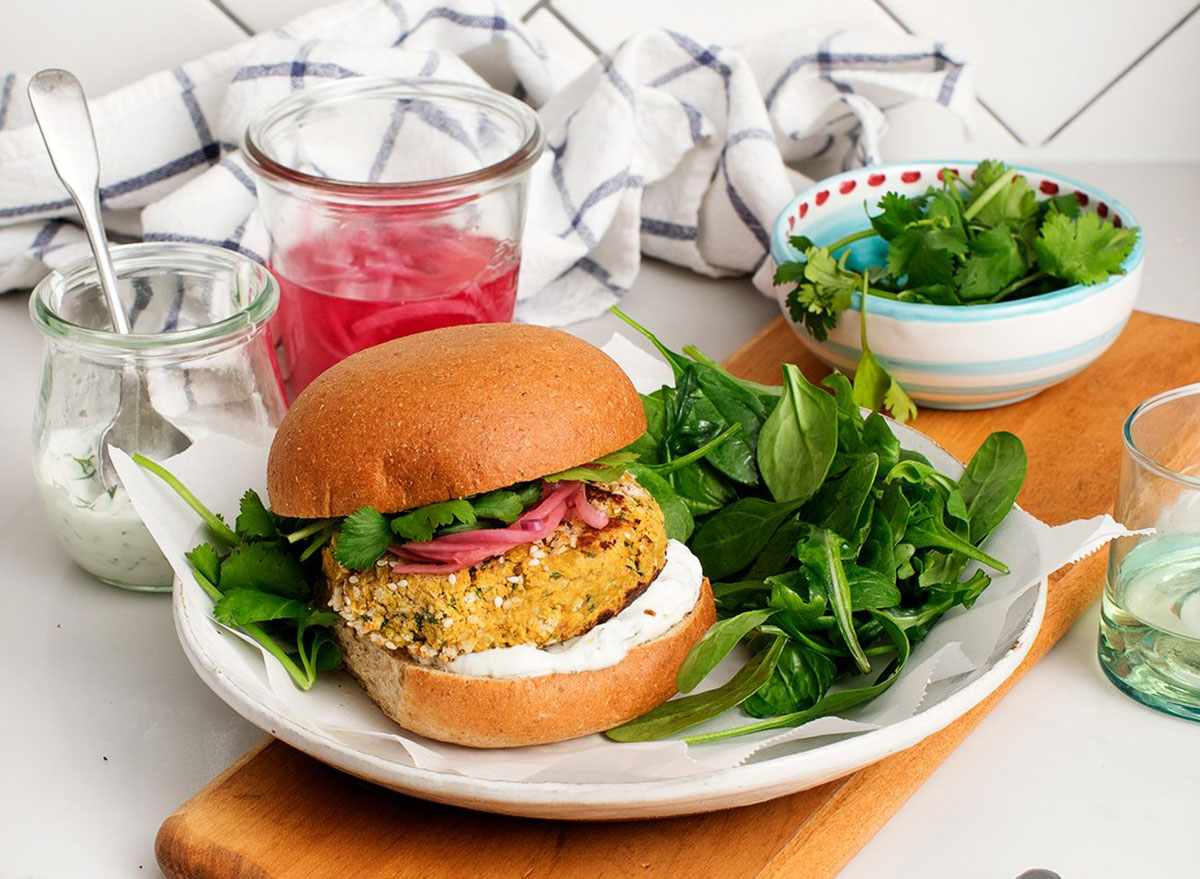 Sure, making your own falafel patties might take some time. But once they're prepped, they take only a few minutes to cook. Chickpeas, sesame seeds, garlic, carrots, cilantro, and whole-wheat flour make up the hearty base of these burgers while a dill yogurt sauce keeps them moist and infused with classic Mediterranean flavors.
Get the recipe from Love and Lemons.
Banana & Honey Cereal Breakfast Popsicles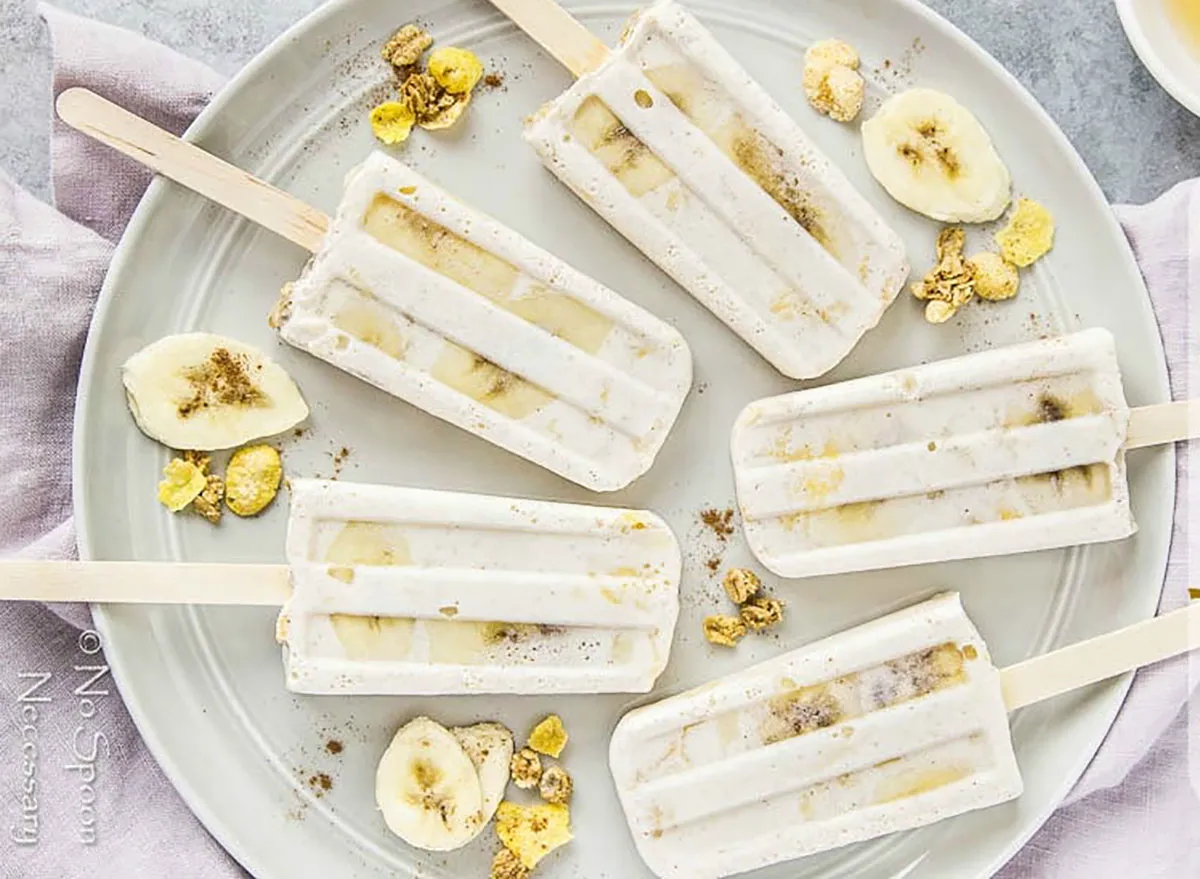 Popsicles for breakfast? You bet! These healthy morning pops are made with Greek yogurt, bananas, cereal, honey, bananas, and a pinch of cinnamon. Choose a high-fiber cereal, such as Kashi GoLean or Fiber One.
Get the recipe from No Spoon Necessary.
Healthy Homemade Frozen Chicken Nuggets
Kids and adults alike will appreciate these homemade chicken nuggets, which you can store in a freezer bag and keep up to a month. Unlike other chicken nuggets recipes, which require plenty of white flour, this one uses fiber-rich whole-wheat flour and breadcrumbs.
Get the recipe from Bless This Mess.
Chicken Tuscan Pasta Bake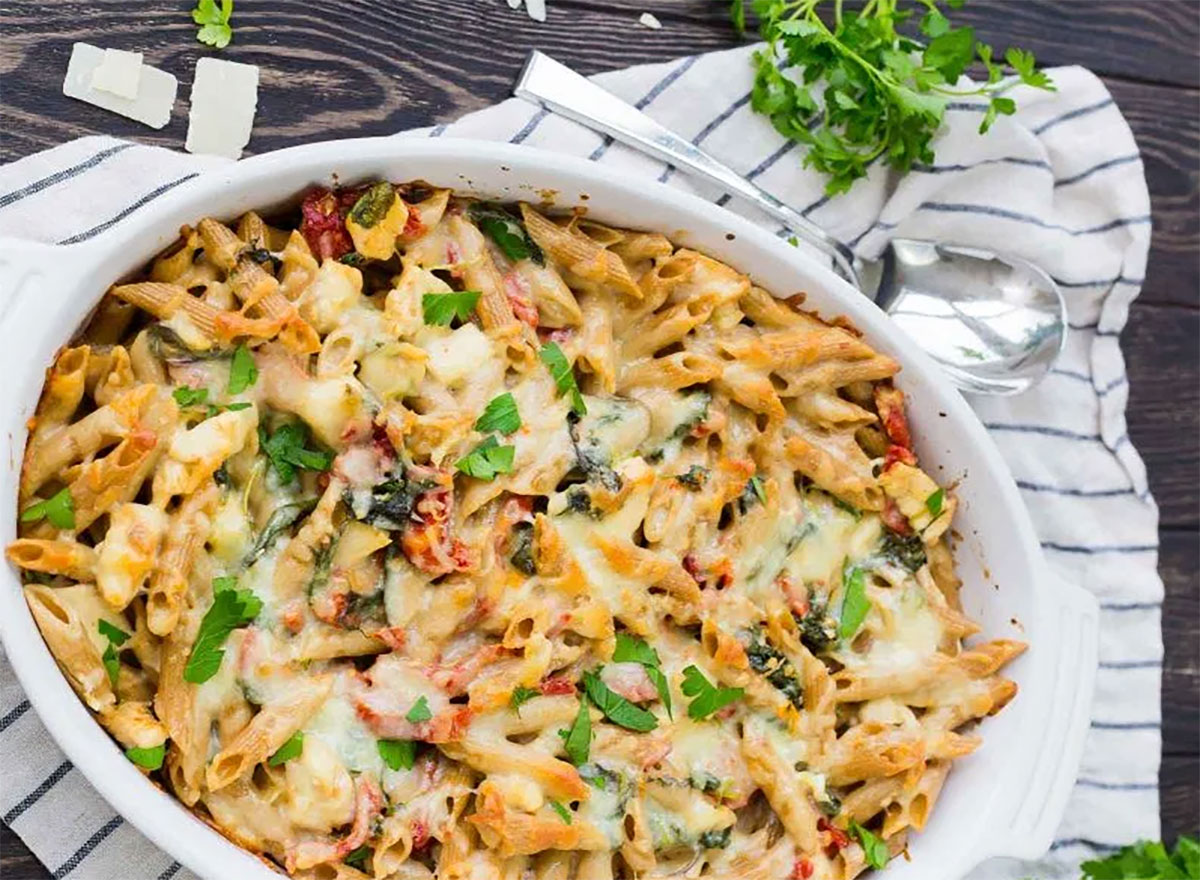 Casseroles are the ultimate healthy freezer meal because—no matter how many people are at your dinner table—you can never eat an entire dish in one sitting. This classic casserole recipe includes whole-wheat penne pasta, chicken breasts, garlic, baby kale, sun-dried tomatoes, reduced-fat cream cheese, Parmesan, and mozzarella. It's so filling, you only need a little to feel satisfied.
Get the recipe from Rachel Cooks.
Blueberry French Toast Casserole
Just when you thought we were tapped out of healthy freezer meal breakfast ideas, we discovered this blueberry French toast recipe. How sweet would it be to wake up to a slice of French toast every morning? This baked French toast casserole uses whole-wheat bread for white and unsweetened almond milk for whole milk. For a dose of antioxidants, fold in some fresh blueberries into the bread mixture.
Get the recipe from Super Healthy Kids.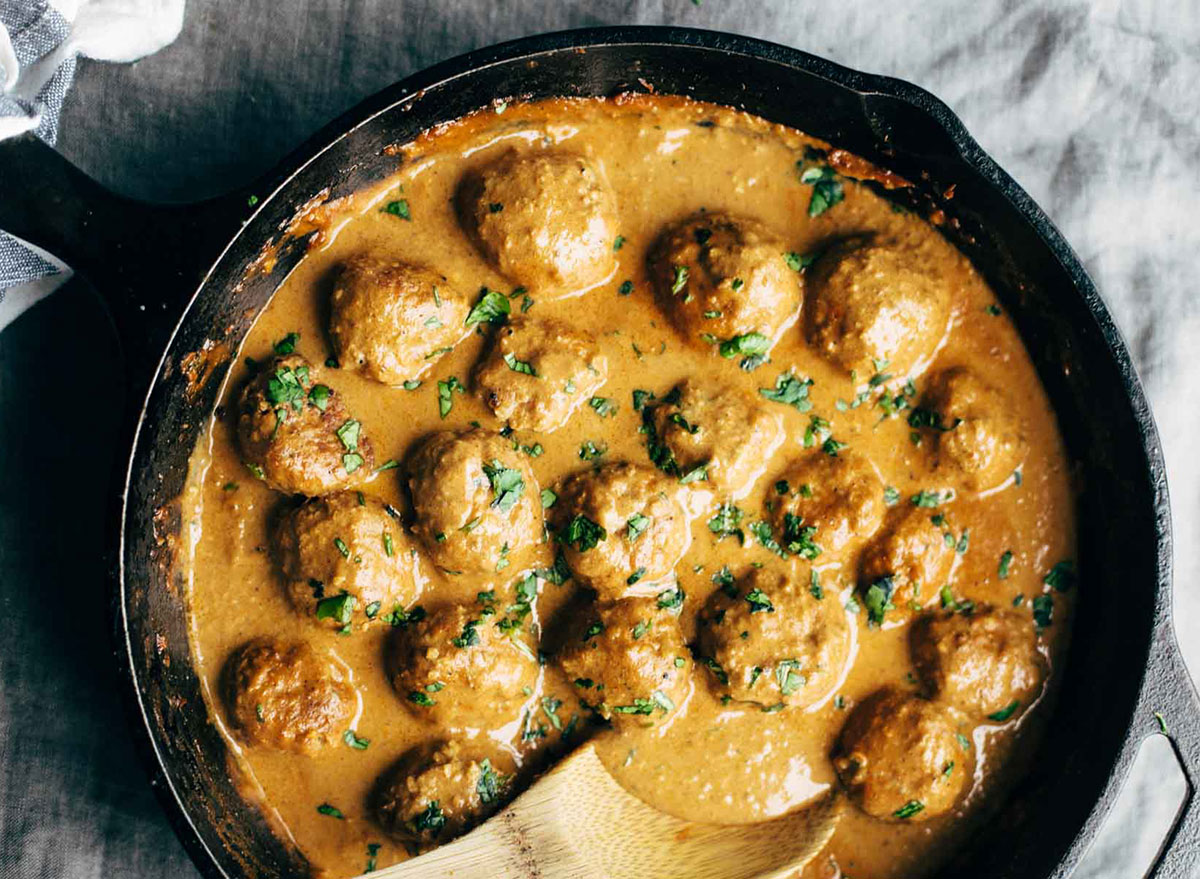 Boil pasta in a pot, then re-heat these vegetarian meatballs from your freezer, and you've got dinner on the table in 15 minutes flat!  Made with cauliflower, quinoa, eggs, and almond meal, these irresistibly delicious veggie meatballs are your new go-to meatless Monday meal.
Get the recipe from Pinch of Yum.
Mediterranean Quinoa Burgers
Quinoa is the only grain considered a complete protein (aka it contains all nine essential amino acids), making it an ideal source for vegetarians and vegans. This super versatile food is also packed with the ultimate hunger-squashing combo: protein and fiber. Adding the fit grain to recipes like these Mediterranean burgers is an easy way to boost their nutritional profile and your weight loss.
Get the recipe from Well Plated.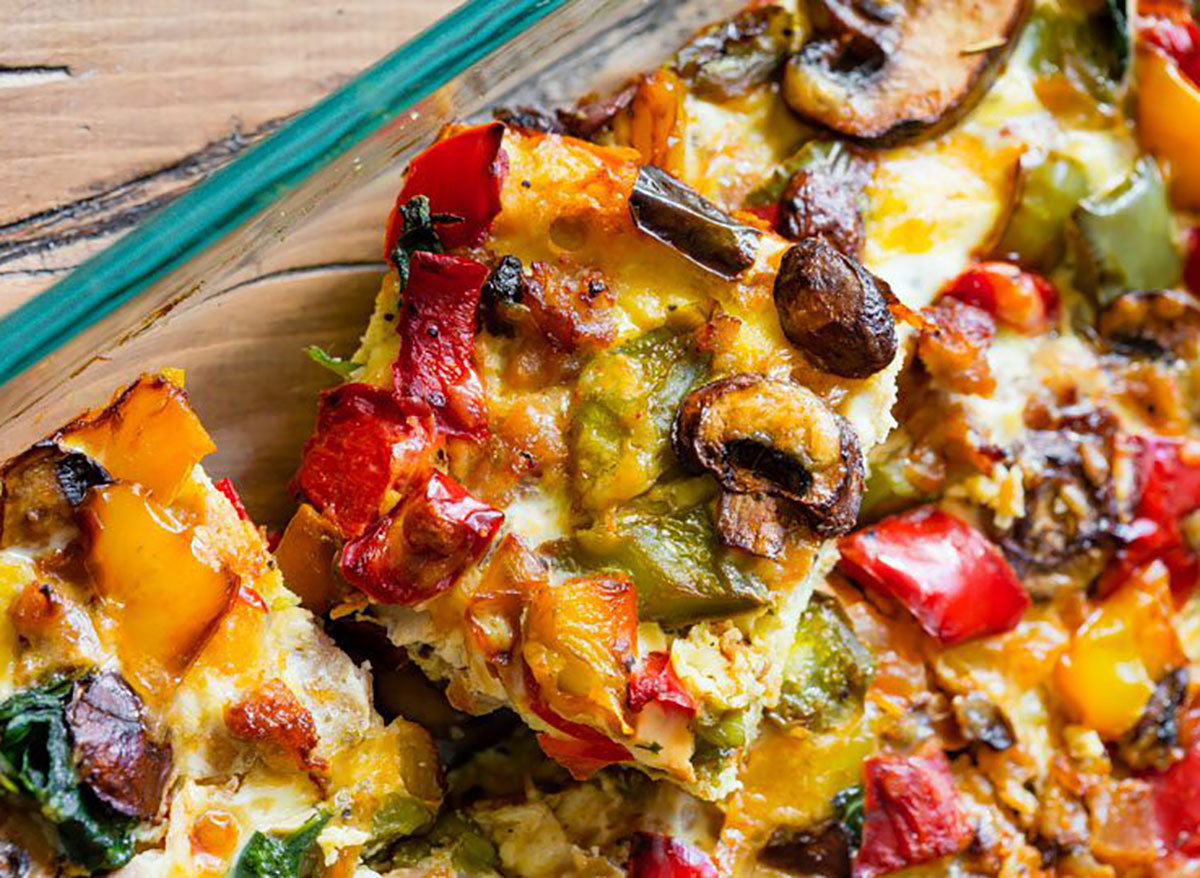 Morning munchies just got a whole lot easier with this breakfast casserole. Not only is it low carb and packed with protein, but it's also brimming with nourishing veggies like spinach. Although this green has lost some of its fame to the trendy kale, spinach is a nutrient powerhouse, rich in lutein and zeaxanthin, phytochemicals that ward off age-related macular degeneration and cataracts. Plus, Popeye's go-to offers hefty amounts of fatigue-crushing iron, bloat-banishing potassium, and folate.
Get the recipe from Sally's Baking Addiction.
Sausage Spinach Scrambled Egg Breakfast Muffins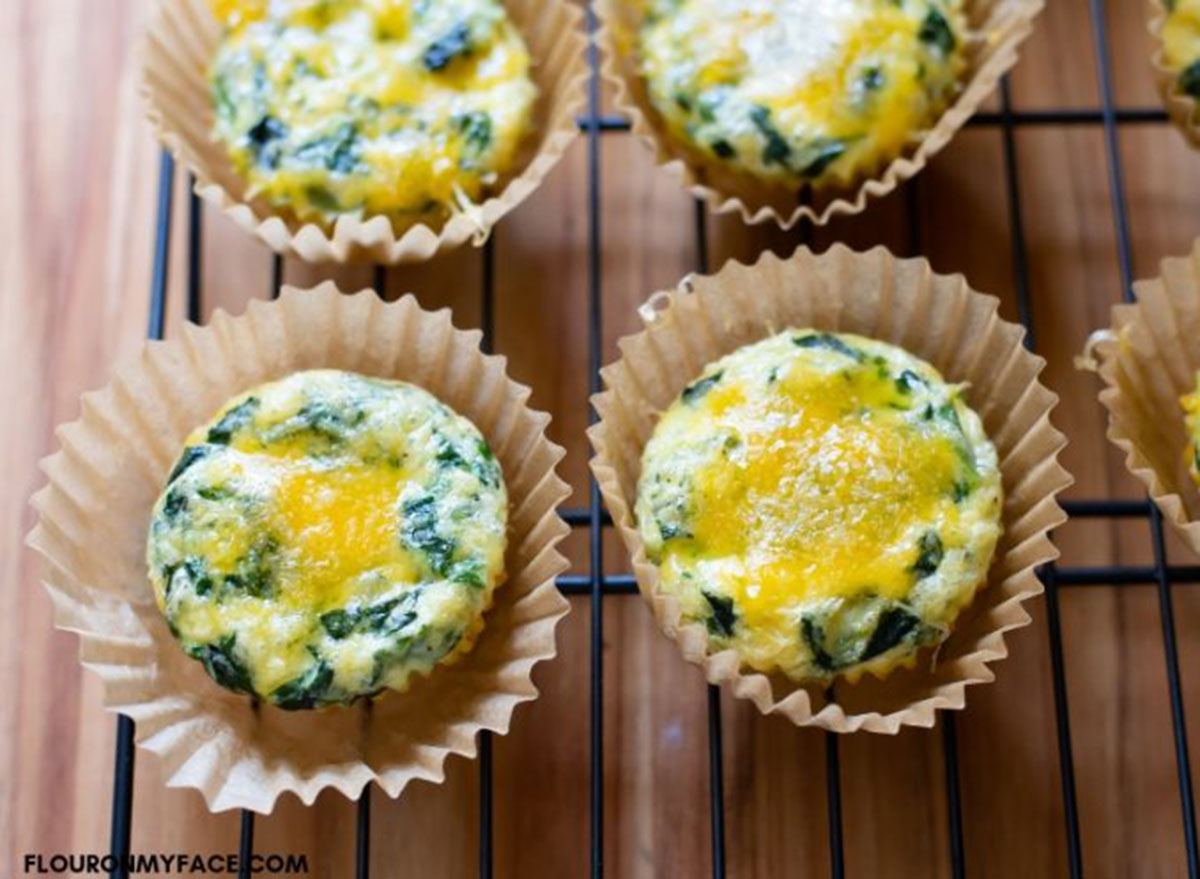 These muffins are already individually portioned, so they're super easy to freeze. Pack them, freeze them, reheat them. Breakfast at home (or on the go) couldn't be easier!
Get the recipe from Flour on My Face.
Twice-Baked Buffalo Chicken Sweet Potatoes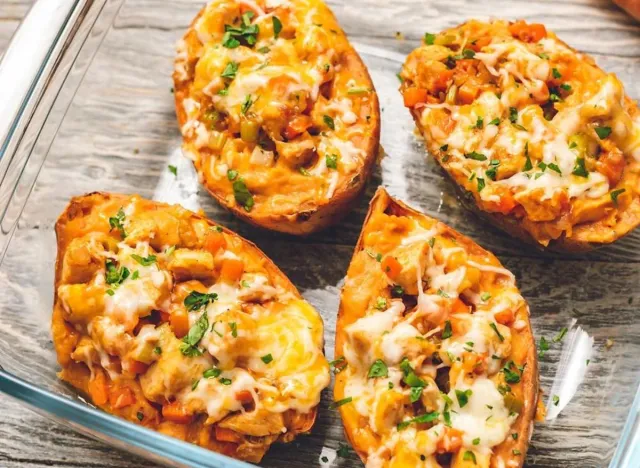 You might not think that buffalo chicken and sweet potatoes would work together, but this recipe will prove you wrong. It's a balanced, delicious meal, and you can always save the leftovers for when you don't feel like cooking.
Get the recipe from The Creative Bite.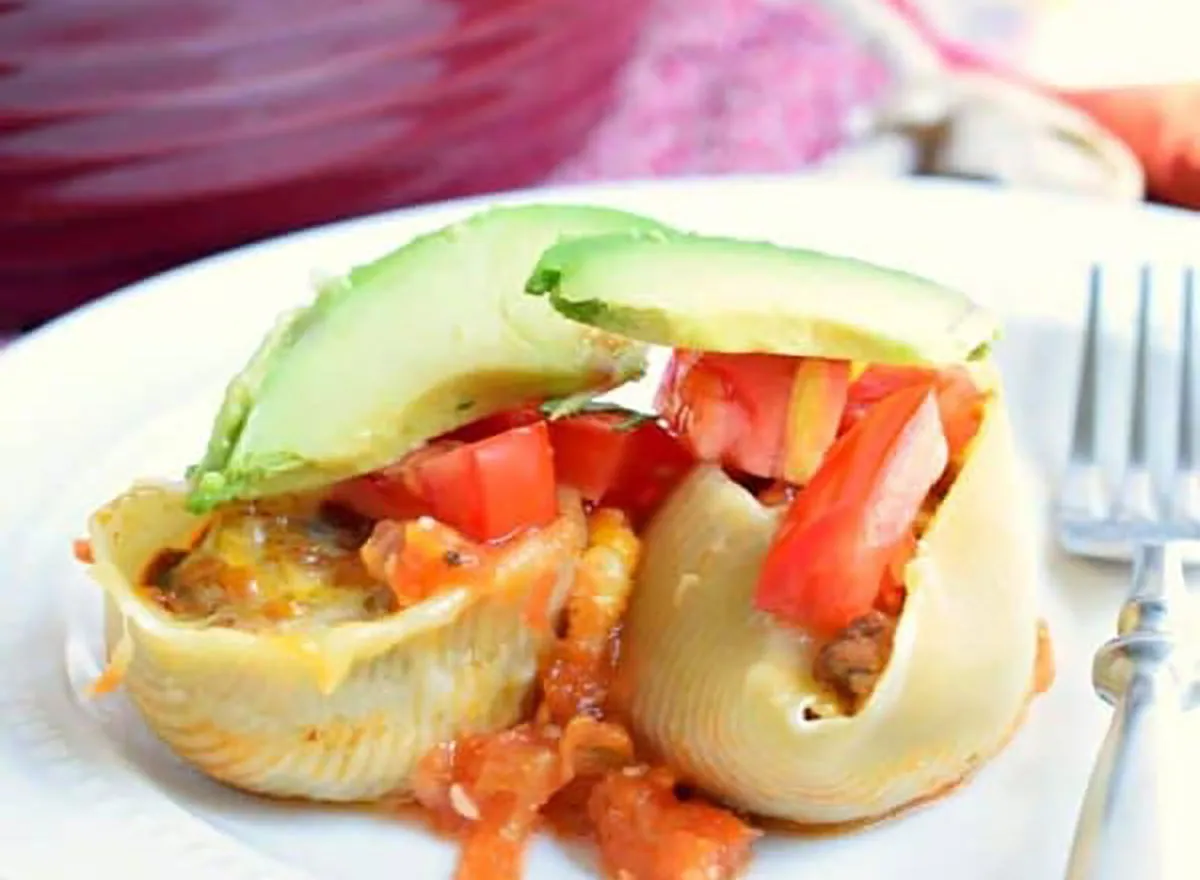 Want to give your palate a taste of Italy and Mexico at the same time? These taco shells combine the two just as flawlessly as peanut butter combines with jelly. It's the best of both worlds!
Get the recipe from Shugary Sweets.
Cauliflower Chickpea Wraps
With a rocking fiber and protein content that increase satiety, chickpeas are a weight loss superfood. In fact, a number of studies have shown that people who add them to a reduced-calorie diet lose more weight and have lower cholesterol. This recipe contains 50% of the recommended daily intake for dietary fiber and 15 grams of protein. As if that's not enough, it's also vegan-friendly!
Get the recipe from Hey Nutrition Lady.
Shrimp Stir-Fry Freezer Pack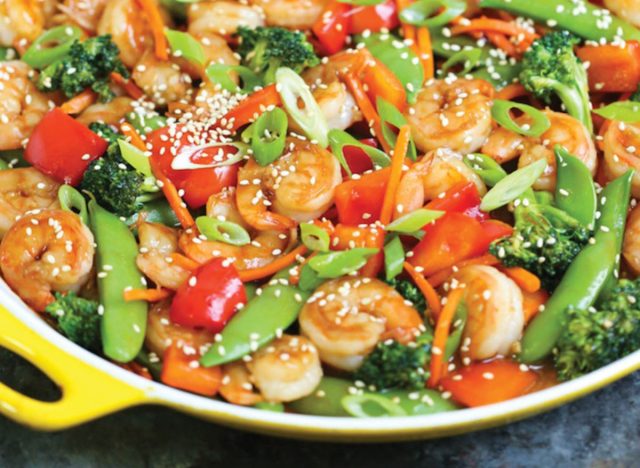 Stir-fries are the perfect weeknight meal because they cook up quickly and are packed with a variety of flavors and textures. The most time-consuming part of cooking a stir-fry is chopping the vegetables and prepping the protein and sauce—and this recipe helps you do both ahead of time. Peeling and deveining shrimp will save you ample minutes when it comes time to fire up the stove while slicing green onions and cutting broccoli florets, sugar snap peas, and carrots a few days in advance will make it easy to toss them into a pan. For the mouthwatering sauce, combine all the ingredients in a container and store it in the fridge.
Get the recipe from Damn Delicious.
Hot Honey and Goat Cheese Pepperoni Pizza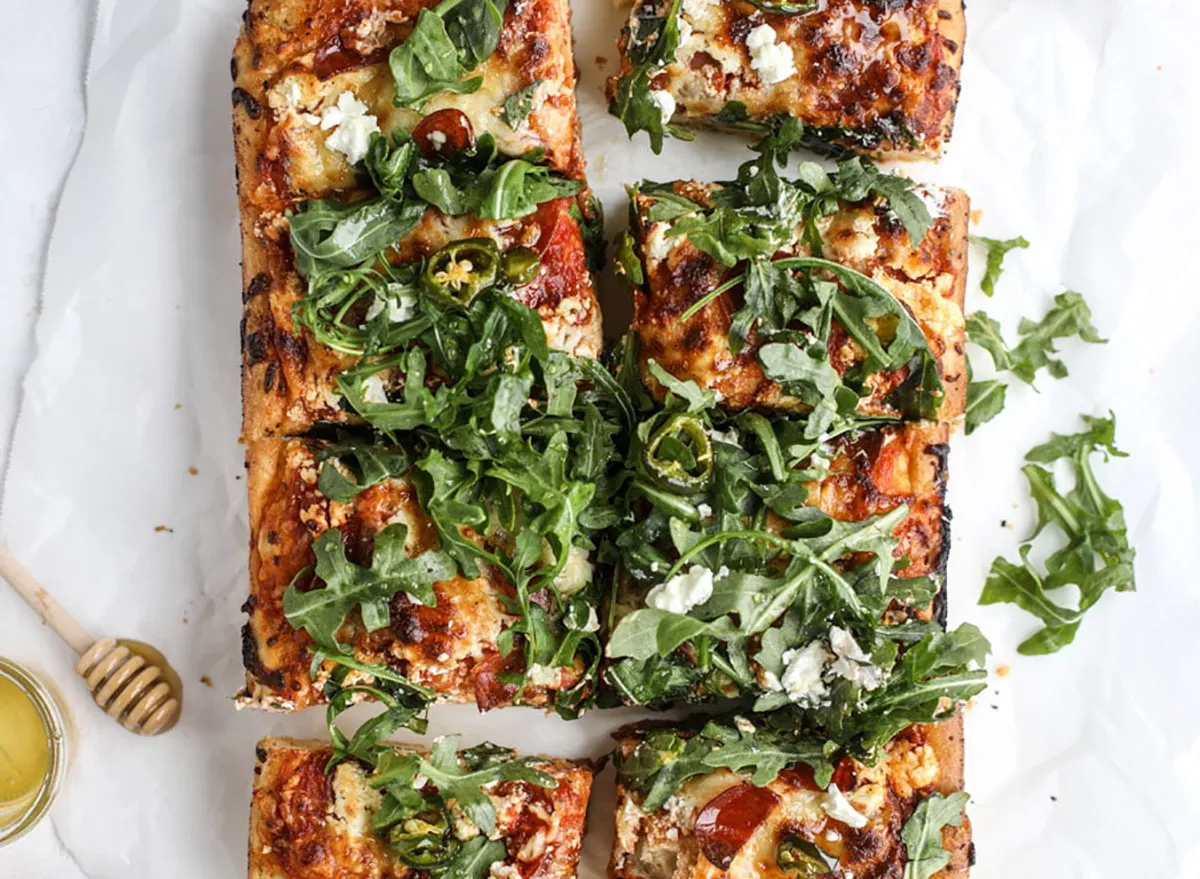 Pizza dough can always be made in advance so when pie night rolls around, all you have to do is layer the sauce, cheese, veggies, and meat toppings. This recipe uses a pizza kit to prepare the dough, topped with olive oil, marinara sauce, goat cheese, pepperoni, dried oregano, freshly grated Provolone, and baby arugula. A honey and jalapeno sauce is drizzled over the pizza for a spicy and sweet finishing touch.
Get the recipe from How Sweet Eats. 
Blackberry & Blueberry Muffins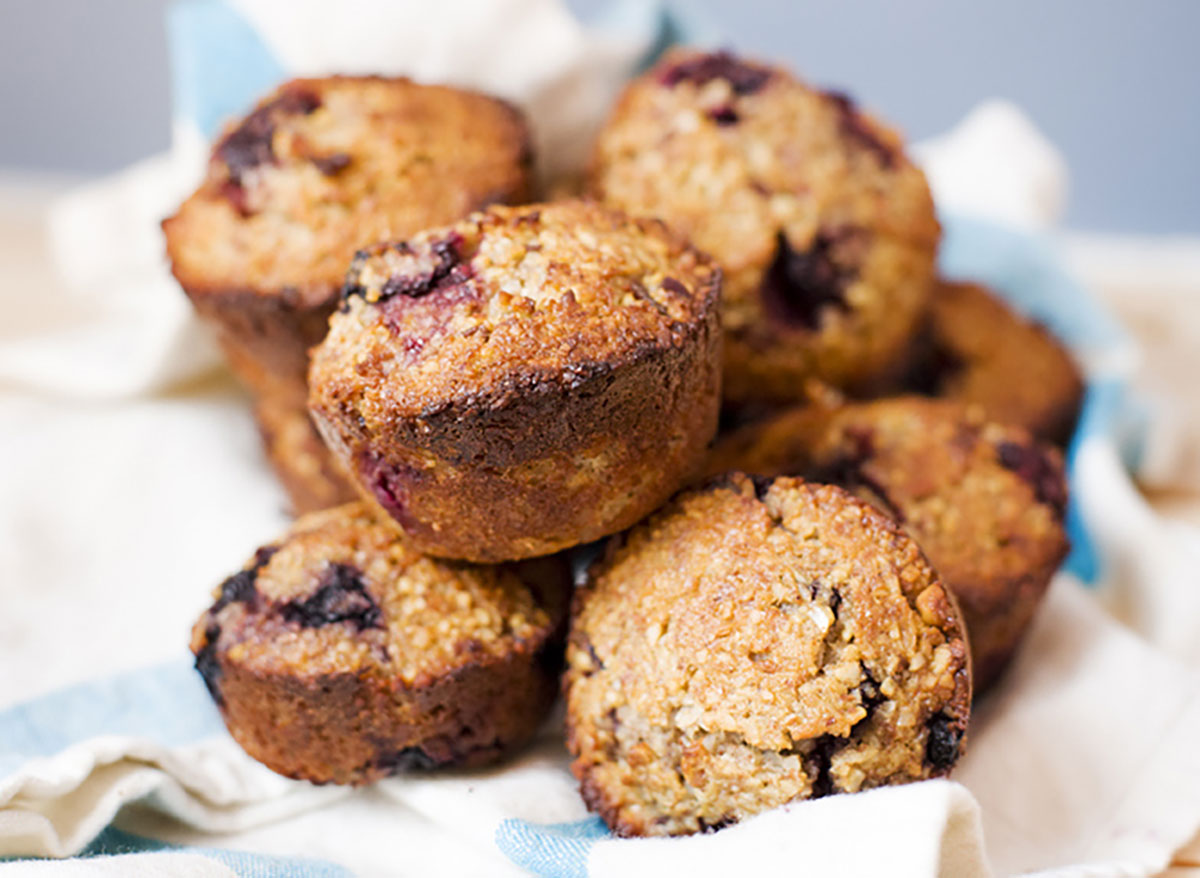 Got a free weekend in the books? Schedule some time to bake up a double batch of these delicious berry muffins. Enjoy some the day you make them and freeze the rest for later. Made with almond flour, Medjool dates, and coconut oil, these muffins are a gluten-free breakfast that you can enjoy anytime.
Get the recipe from Green Kitchen Stories.
Cooking doesn't get any easier than preparing this satisfying, vegan-friendly chili recipe: It's one pot, has basic ingredients, and takes less than an hour to cook. You'll find the same mouthwatering flavors of chili powder, cumin, paprika, and jalapeño in this dish. But instead of ground beef, lentils, kidney beans, and black beans lend heartiness and hunger-curbing fiber. The best part is that you can freeze the extras and reheat them for lunch or dinner the next few days.
Get the recipe from Minimalist Baker.
Keto Cheeseburger Casserole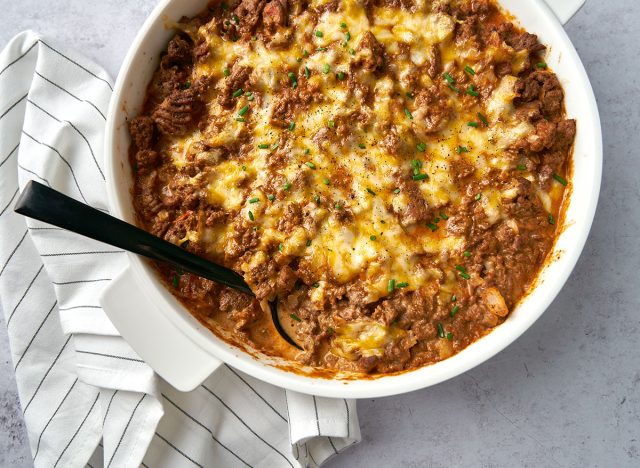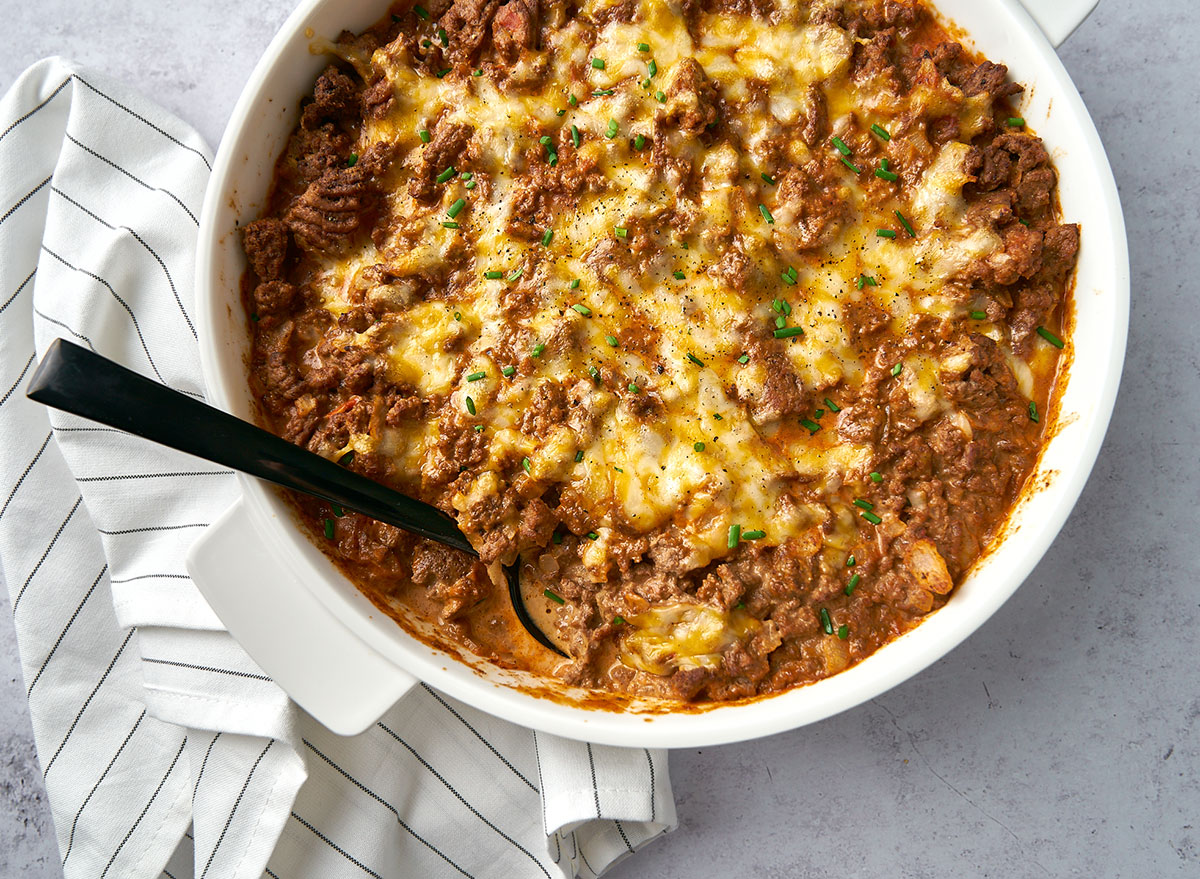 If you grew up loving the taste of Hamburger Helper, you'll enjoy this keto cheeseburger casserole that can feed a crowd. Made with ground beef, spices, no-sugar-added marinara, heavy cream, and shredded cheese, this crave-worthy casserole is sure to become your go-to keto classic.
Get our recipe for Keto Cheeseburger Casserole. 
Rotisserie Chicken Parm Casserole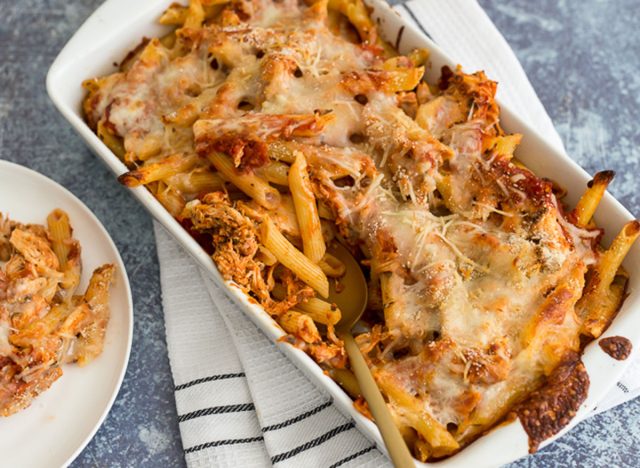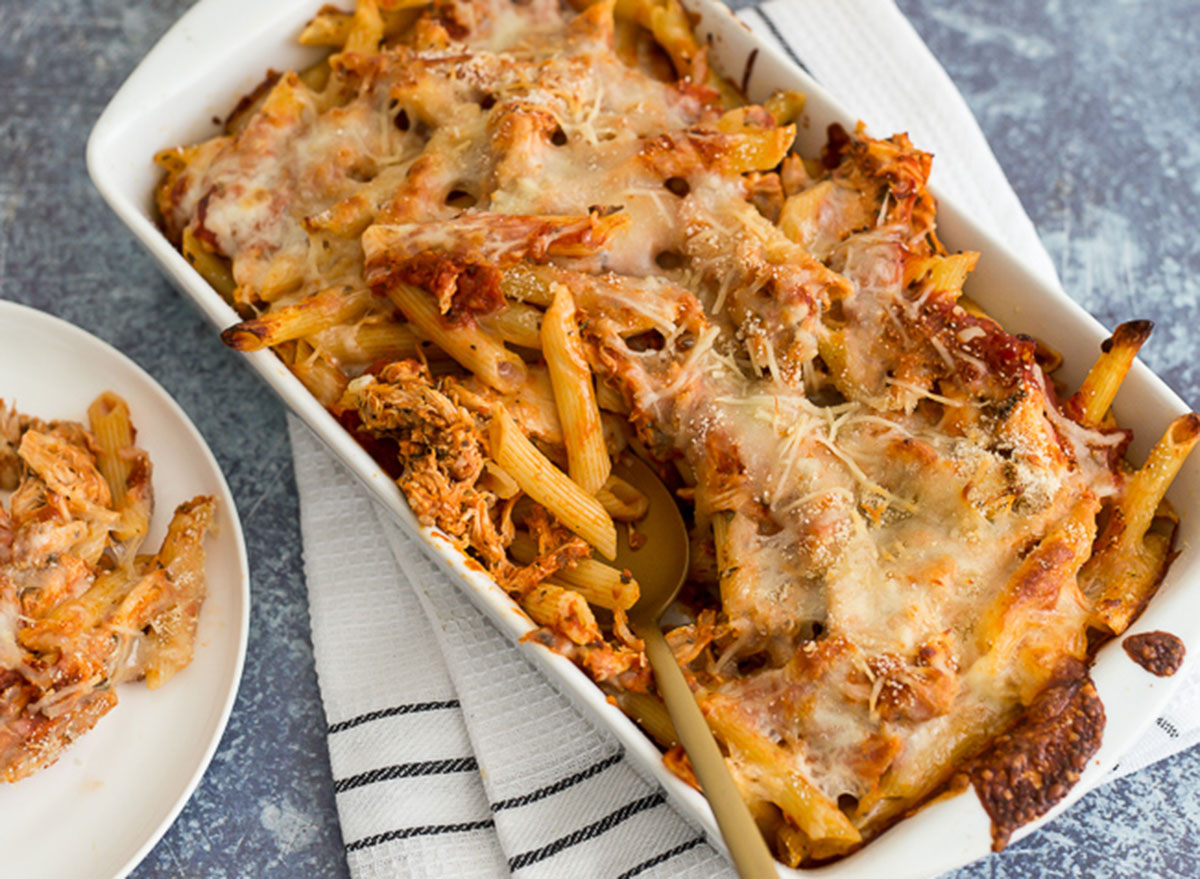 Chicken Parmesan would be impossible to make for a crown, but this lightened-up version, made by Toby Amidor, MS, RD, CDN, can be pulled from the freeze and reheated anytime!
Get our recipe for Rotisserie Chicken Parm Casserole.
With so many delicious options for make-ahead meals, the only problem you'll have is trying to find the freezer space. Maybe it's time to invest in a second!