We Tasted 9 Protein Bars and These are the Best
Love chocolate but on a diet? Our blind taste test reveals the best tasting protein bars filled with your favorite indulgence.
It seems like the ultimate answer for the hungry but health-conscious: An instant snack that will satisfy all your chocolatey cravings while flattening your belly and improving your workout.
At least, that's the promise of that long row of chocolate protein bars, which are starting to crowd out the traditional candy bars at your local drugstore. But more often than not, biting into a protein bar is less like sneaking a Snickers and more like chewing on chalk. Which one of these allegedly ab-healthy treats really satisfies your chocolate hankering, and which are just overpriced chunks of processed chemicals wearing a health halo?
The editorial team at Eat This, Not That! put their tastebuds on the line in a blind taste test to determine the absolute best, and worst, chocolate nutrition bars, ranking 9 of the most popular. And if chocolate is what you crave, reach for one of our Best Chocolates for Weight Loss instead!
Vega Sport Chocolate Peanut Butter
Average Score: 3.4 out of 10
Nutrition: 260 calories, 11 g fat, 15 g protein
Tasty Ingredients: Organic sprouted whole grains, brown rice protein, pea protein, organic peanut butter
Questionable Ingredients: Palm kernel oil, cocoa powder processed with alkali
Despite being made from Eat This, Not That!-approved proteins—all plant-based, which reduce bloat—this snack proved hard to swallow for the majority of the panelists. Comments on the taste ranged from "fishy and seaweedy" to "an aftertaste reminiscent of human bones"—although one person assured us that the peanut butter "saved the day," even if the chocolate tasted "fake." No wonder this bar scored the lowest of the nine.
Simply Protein Peanut Butter Chocolate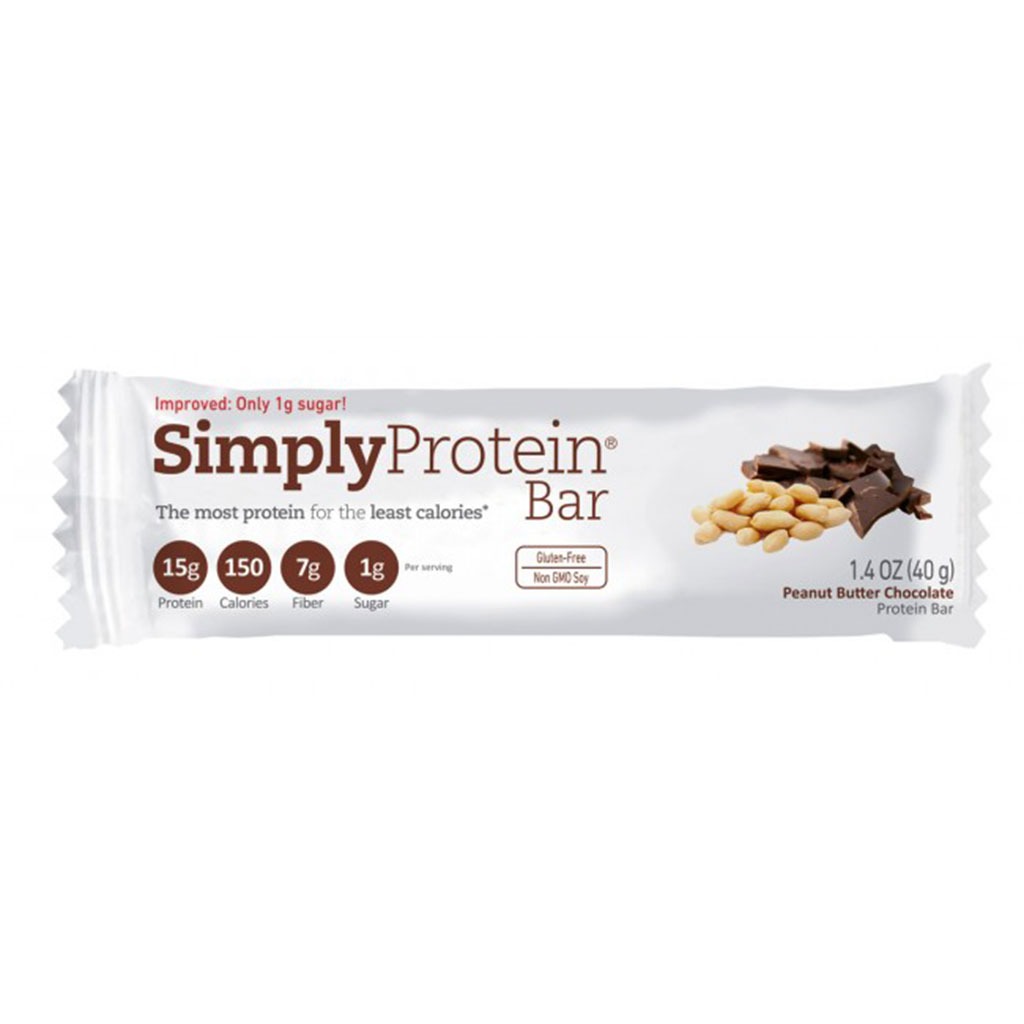 Nutrition: 150 calories, 5 g fat, 15 g protein
Average Score: 4 out of 10
Tasty Ingredients: Roasted peanuts, natural peanut butter
Questionable Ingredients: Soy protein isolate, vegetable glycerine
The Simply Protein bar—a light and airy concoction made from soy krispies bound by peanut butter and vegetable glycerin (a type of plant oil) —turned off our tasters from the second it hit their tongues. Two noted that the bar tasted like "flavorless air" and another handful said that the flavor was reminiscent of a "Chocolate Rice Crispy Treat"—one that, in the words of another, was "extremely dry." We dislike it for reasons beyond taste: When you isolate protein from soybeans it strips out all of the healthy nutrients and leaves behind potentially dangerous substances like hexane and aluminum, warns nutritionist Stephanie Middleberg, RD. (Though ingesting small amounts of either substance won't likely cause you harm, both can build up in your body over time and become become a potential danger.) The answer is simple: Skip this one. And speaking of proteins, click here to discover 15 Foods With Almost as Much Protein as an Egg!
Pure Protein Chocolate Deluxe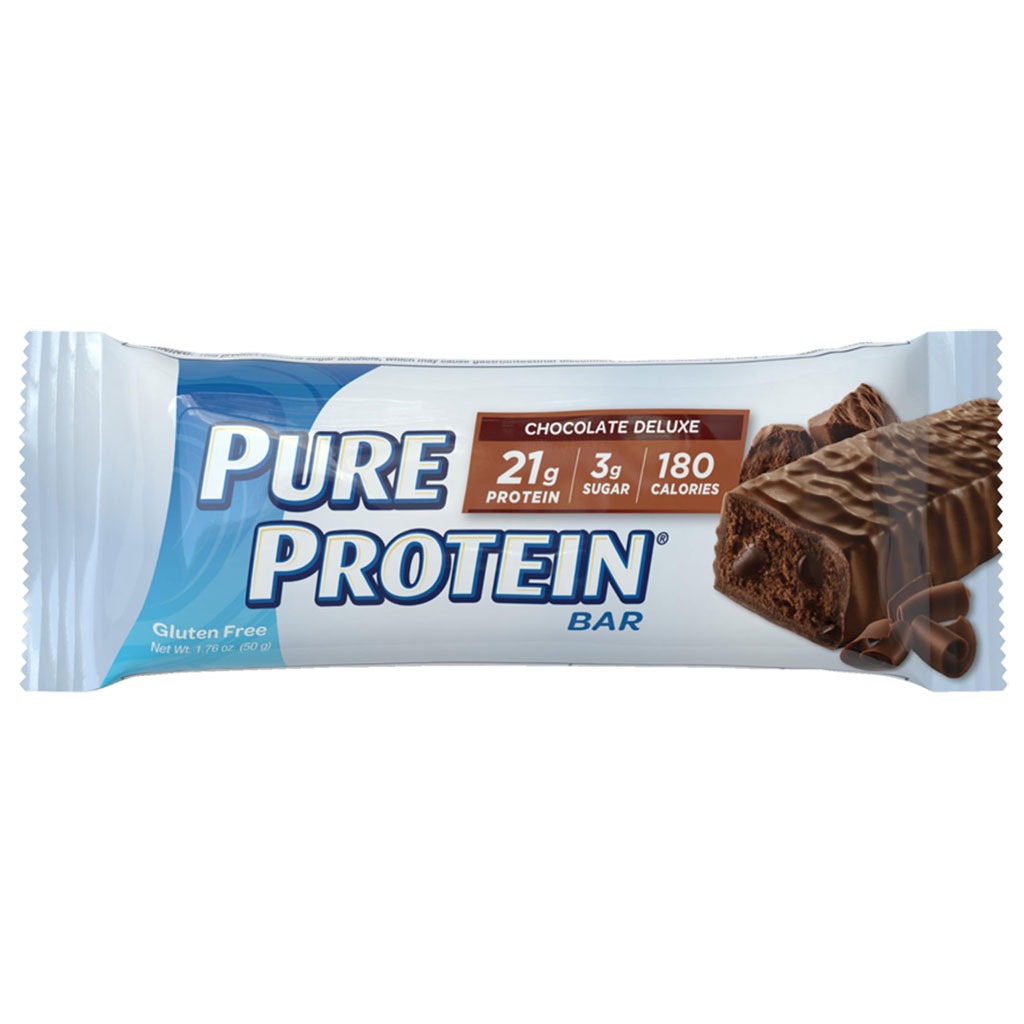 Nutrition: 180 calories, 4.5 g fat, 21 g protein
Average Score: 4.1 out of 10
Tasty Ingredients: Almond butter
Questionable Ingredients: Maltitol, fractionated palm kernel oil, alkali process cocoa, zinc oxide, sucralose
Pure Protein advertises itself as a fitness supplement that helps you reach real results—but unfortunately, our testers found its aftertaste "artificial" and "Crisco-like," which is why it ranks in lowly seventh place. One taster noted that the bar's flavor reminded him of a "leather shoe" but at least leather is all-natural; here, the recipe calls for zinc oxide, the chemical responsible for sunscreen's milky white hue, and almond butter (the only "real" ingredient in the entire protein bar) is the second to last listed on the nutrition panel. This is pure something, all right.
Pure Protein Chewy Chocolate Chip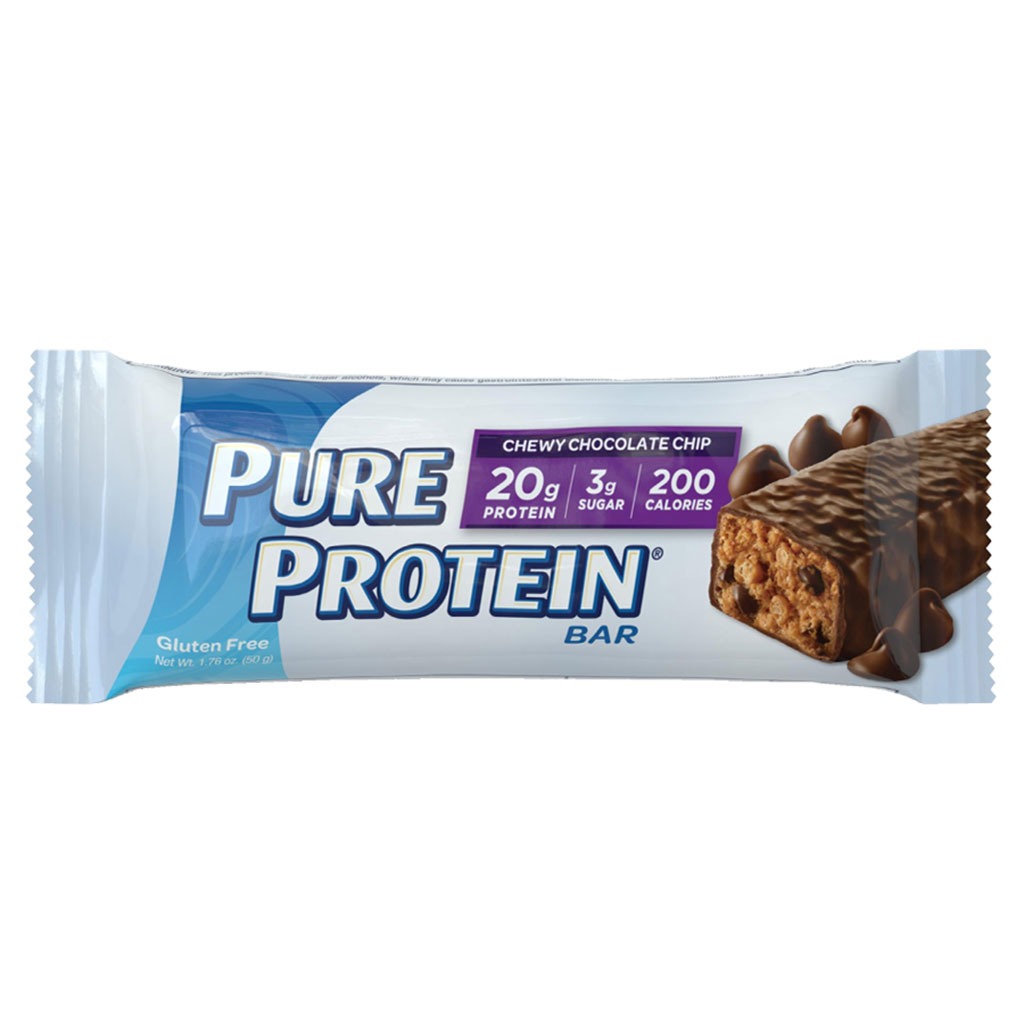 6254a4d1642c605c54bf1cab17d50f1e
Nutrition: 300 calories, 8 g fat, 31 g protein
Average Score: 4.4 out of 10
Tasty Ingredients: Almond butter
Questionable Ingredients: Maltitol, fractionated palm kernel oil, sucralose, cocoa processed with alkali, soy protein isolate, zinc oxide, xanthan gum, sucralose
Another Pure Protein bar, another middle-of-the-pack ranking. Our tasters called the Chocolate Chip bar's texture "dry and bitter" with a "strong fake chocolate and vitaminy taste." What's worse: it's not even nutritionally sound. Sure, it packs 31 grams of protein — which is more than many other bars — but it also has 300 calories. Yuo'd be fine with less protein (say, 20 grams) and half the calories. Check out our go-to list of the Best Nutrition Bars for Weight Loss for some of the best!
Balance Bar Chocolate Craze
Nutrition: 200 calories, 7 g fat, 14 g protein
Average Score: 5 out of 10
Tasty Ingredients: None, unfortunately
Questionable Ingredients: Soy protein isolate, sugar, cocoa processed with alkali, fractionated palm kernel oil, maltodextrin
Sugar masquerades under many names—and this bar contains three different types of the sweet stuff including sugar itself along with fructose and maltodextrin, a highly processed plant-based sweetener. As for the taste, reviews were mixed, which is why it secured a mid-level ranking on our list. Comments ranged from "tastes like stale chocolate cake" and "spoiled chocolate" to "it has a great chocolate taste, similar to a brownie." Enjoy or try one of these Best Desserts For Weight Loss!
MetRX Chocolate Fudge Deluxe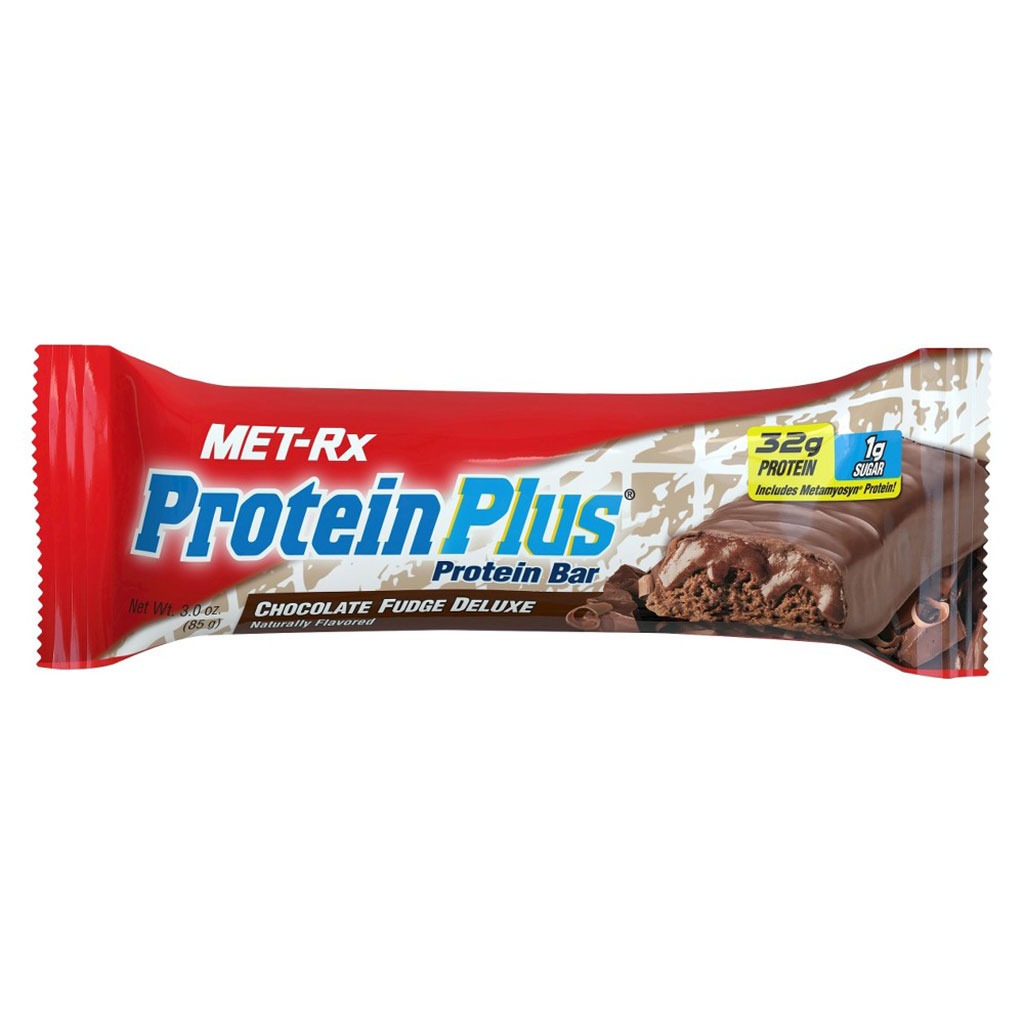 Nutrition: 320 calories, 10 g fat, 32 g protein
Average Score: 5.4 out of 10
Tasty Ingredients: Unsweetened chocolate
Questionable Ingredients: Maltitol syrup, fractionated palm kernel oil, maltitol, cocoa processed with alkali, caramel coloring, dextrose, zinc oxide sucralose, maltodextrin
This was another bar that testers couldn't seem to agree on. While some found the taste pleasing, describing it similar to a "raspberry truffle," others found the "chalky aftertaste" and "recognizable protein bar flavor" hard to overlook. One tester even compared it to an "overly sweetened fake chocolate tire." Sounds… delicious. If you wind up trying it out, bear in mind that MetRX goes heavy on the sugar alcohols. Consuming too much of the stuff has been linked to diarrhea and bloating in those with sensitive tummies.
Kind Dark Chocolate Cherry Cashew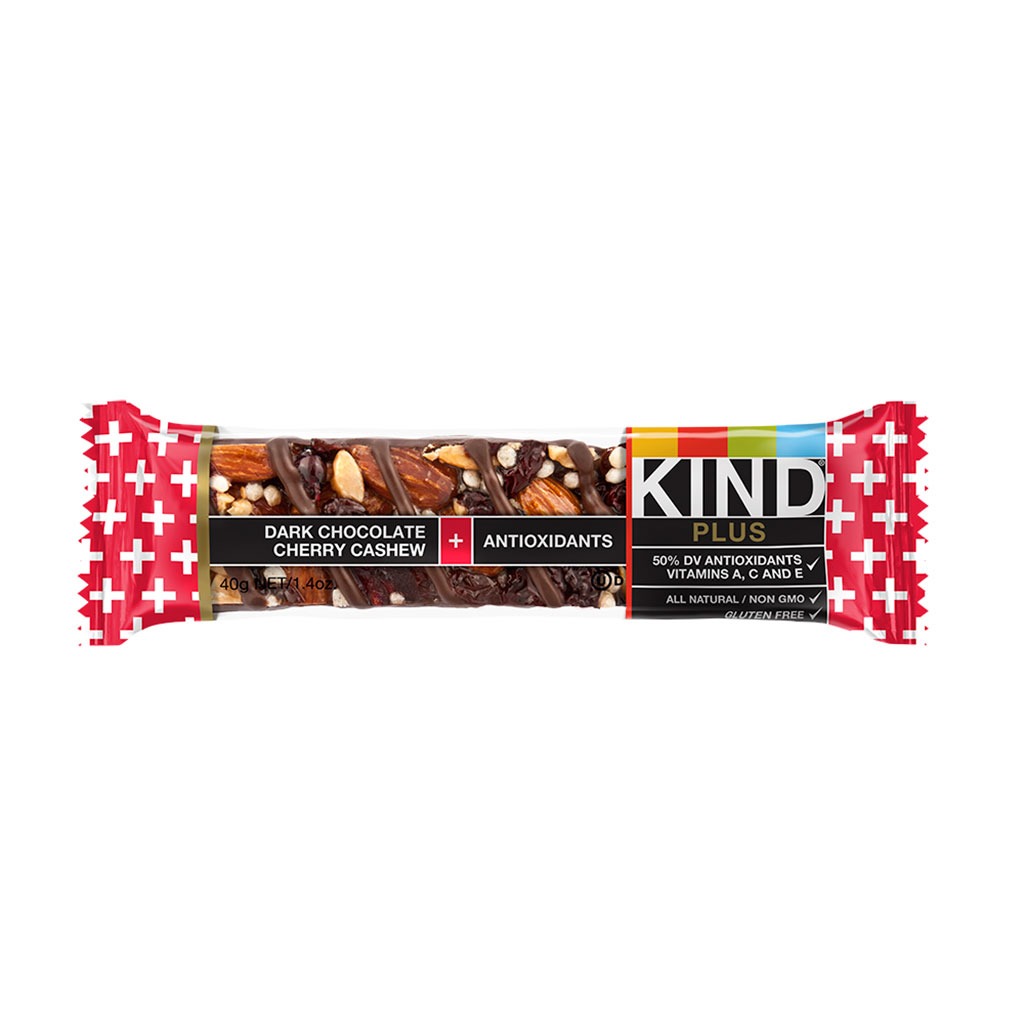 Nutrition: 180 calories, 9 g fat, 4 g protein
Average Score: 5.8 out of 10
Tasty Ingredients: Cashews, almonds, honey, peanuts, raisins
Questionable Ingredients: Palm kernel oil, sugar, sugar-coated dried cherries and cranberries
OK, now we're getting to the good stuff! Coming in third place is KIND's Chocolate Cherry Cashew bar. With 14 grams of sugar, it does have more of the sweet stuff than we'd like to see, but we love that it's free of artificial sweeteners — something most of the other bars on this list can't claim. Overall, our testers enjoyed the taste (except for one outlier who commented that it tasted like a "shriveled prune"). One of the biggest problems our testers had with the nutrition bars was the aftertaste, however, KIND bucked that trend, scoring a number of high scores thanks to its fruity taste that lingered — but "not in a bad way." So grab one—or try any of these Best Nuts for Easy Weight Loss!
Quest Bar S'Mores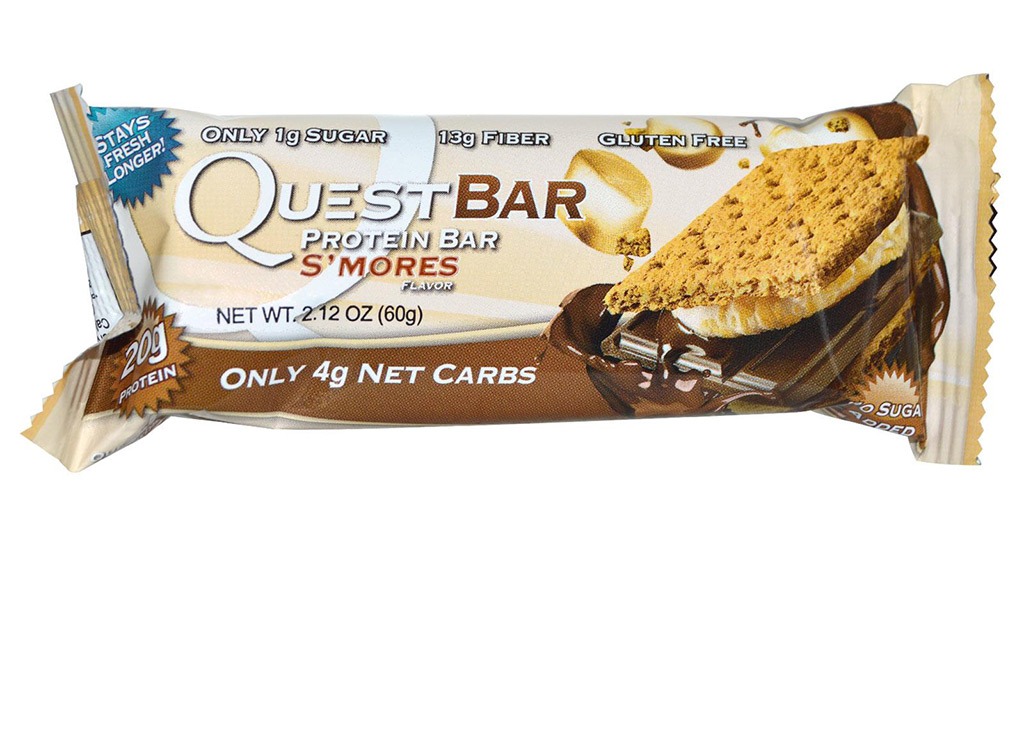 Nutrition: 180 calories, 8 g fat, 20 g protein
Average Score: 6.6 out of 10
Tasty Ingredients: Almonds, cinnamon, unsweetened chocolate
Questionable Ingredients: Erythritol, palm oil, sucralose, steviol glycosides (Stevia), xanthan gum
Though Quest compared their bar to the "melt-in-your-mouth campfire classic" none of our testers could quite figure out it was supposed to be a S'mores flavored bar. Even so, they still enjoyed its flavor, which they compared to "scones," "blondies" and "cookies dipped in milk." It's only possible downside: it's sweetened with stevia. While using the sugar alternative helps to keep the sugar and calorie count low, we don't yet know its long term effects.
Special K Protein Chocolatey Chip
Nutrition: 170 calories, 4.5 g fat, 10 g protein
Average Score: 6.8 out of 10
Tasty Ingredients: Whole grain wheat, almond flour, peanut flour
Questionable Ingredients: Soy protein isolate, sugar, partially hydrogenated palm kernel oil, cocoa processed with alkali, sorbitan monostearate, soybean oil, dextrose, zinc oxide, polysorbate 60, corn syrup
This bar earned top marks thanks to its "Rice Crispy-like" texture and "strong chocolate flavor." Testers noted that it lacked the unappetizing aftertaste of its competition, which left them wanting more. One person even said they wanted to "buy 11 boxes, so long as the sugar count isn't too high." Coming in at the 15-gram mark, it's not the best choice for weight loss (and sorbitan monostearate, a sorbitol derivative, could lead to bloating), so if maintaining a flat belly is of concern, you may not want to make this your go-to. But if you want a quick hit of protein, hit this up. And pair it with a cup of tea.
Eat This, Not That!
Inspired by The New York Times best-selling book series, Eat This, Not That! is a brand that's comprised of an award-winning team of journalists and board-certified experts, doctors, nutritionists, chefs, personal trainers, and dietitians who work together to bring you accurate, timely, informative, and actionable content on food, nutrition, dieting, weight loss, health, wellness, and more.
Read more about Eat This