15 Low-Calorie Frozen Desserts for Weight Loss
Satisfy your sugar craving with these healthy desserts that registered dietitians approve of.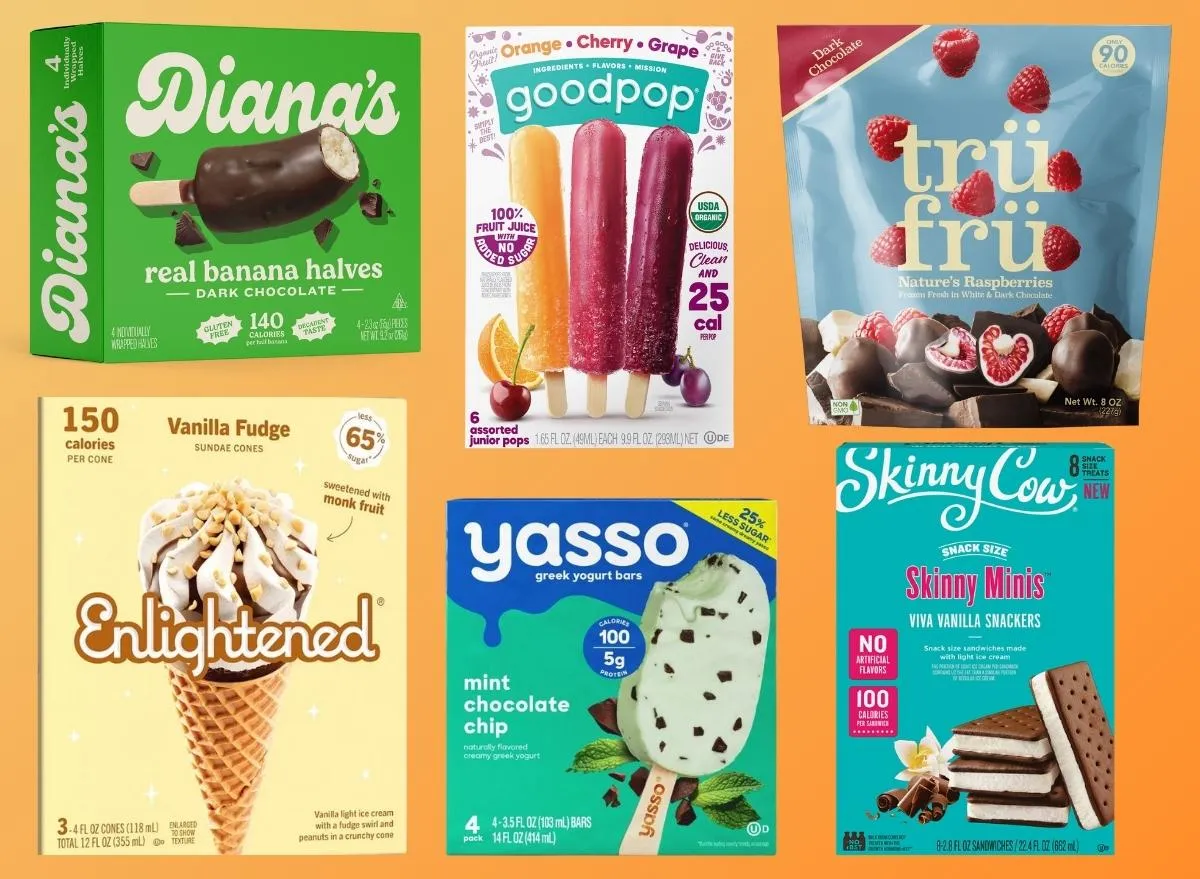 The product recommendations in this post are recommendations by the writer and/or expert(s) interviewed and do not contain affiliate links. Meaning: If you use these links to buy something, we will not earn a commission.
Dessert can be a nice way to round out a meal and cap a savory dinner with a sweet treat. However, not all desserts are created equally, and your sweet tooth could lead you to treats packed with calories, sugar, and fat. While indulgent treats can be reasonable on occasion, if you enjoy a nightly dessert, there are some packaged options you can stock up on that won't break the calorie bank.
All foods can fit into a balanced diet, but those with high amounts of empty calories may make weight loss more challenging. Empty calories are those from added sugar and solid fat, and they provide little nutritional value. Sugar promotes obesity and eating too much saturated fat can increase your risk for heart disease and stroke. For these reasons and more, women should aim to consume no more than 25 grams of added sugar per day while men should limit to 36 grams, according to the American Heart Association (AHA). Similarly, the AHA recommends you limit your daily saturated fat intake to no more than 6% of your total calories.
When choosing healthier desserts, look for options that contain 150 calories or fewer. This helps limit the added calories in your day and makes weight loss more achievable. Additionally, look for foods that have protein and fiber that improve satiety and allow your blood sugar to stay more stable. Lastly, choose options with minimal added sugar—the lower, the better. And if your freezer is low on these healthier options, you can always consider a serving of fruit or a small portion of dark chocolate as alternatives.
If you are trying to lose weight, here are 15 low-calorie, healthy frozen desserts. Read on to discover what to stock your freezer with, and for more, don't miss 10 Best Protein-Packed 100-Calorie Snacks for Weight Loss.
goodpop
At only 25 calories per pop, goodpop popsicles are the lowest-calorie option on this list. Similar to the fruity popsicles many of us grew up on, these are way lower in sugar and much better for your waistline. In fact, there is no added sugar in these pops and they are made with 100% fruit juice. A naturally sweet treat that both kids and adults can enjoy on a hot day, these pops are a great low-calorie frozen dessert.
Yasso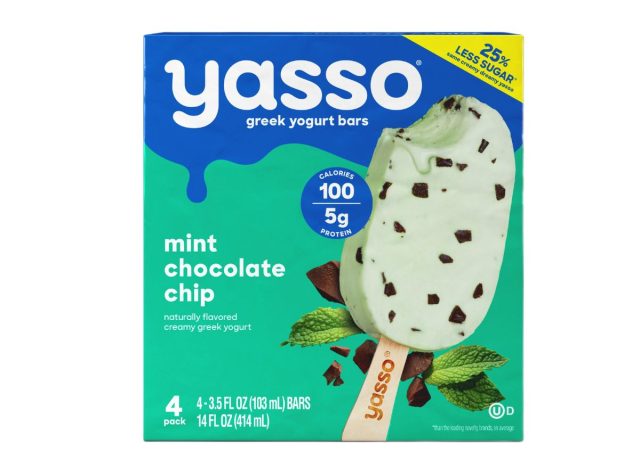 These frozen bars pair familiar ice cream flavors with creamy Greek yogurt, creating a delicious treat that packs some protein. While these bars do contain some added sugar, they contribute far less than traditional ice cream bars. Each bar contains 80 to 100 calories, allowing them to support your weight loss goals without breaking the calorie bank. With fruit flavors, rich chocolate, and coffee options, and even a birthday cake option, there is something for everyone!
Enlightened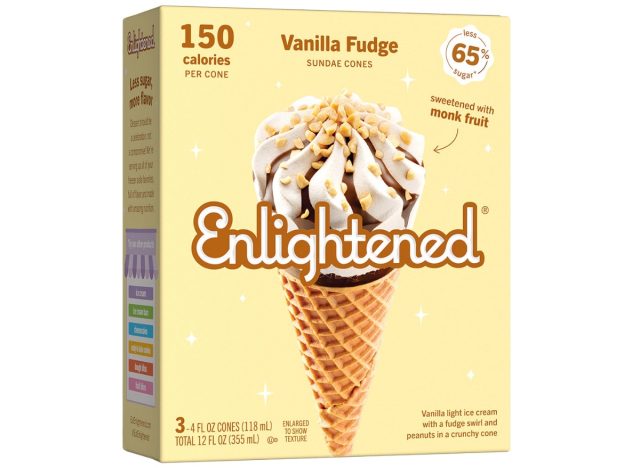 You won't find many ice cream cones that make this list, but these sundae cones are an exception. At 140 to 150 calories, these frozen treats are a decedent option for a reasonable number of calories. These cones pack rich and creamy ice cream, crunchy toppings, and even a drizzle of chocolate on a crispy cone. You get all of this deliciousness for only 4 grams of added sugar, making these cones a great dessert option if you are trying to lose weight.
Halo Top
Another option if you love a creamy pop, these contain 100 calories or fewer. Additionally, they provide 5 to 6 grams of satiating protein and even pack some fiber, too. The combination of these two nutrients creates a satisfying pop that will appeal to your sweet tooth while also contributing to a feeling of fullness to help you toward your weight loss goals. These pops also contain minimal added sugar and get the majority of their sweetness from stevia.6254a4d1642c605c54bf1cab17d50f1e
Diana's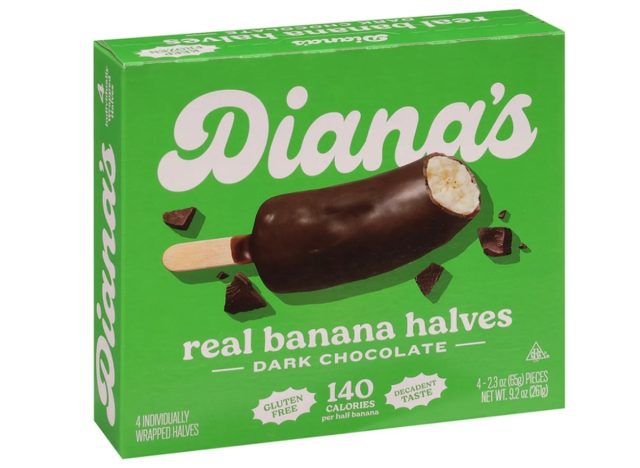 The natural sweetness of fruit makes it a great option for a healthier dessert, and these frozen bananas are no exception. Coated with dark or milk chocolate, these bananas are a great combination of sweet flavor with a rich and creamy texture. A simple dessert that will satisfy your cravings for fewer than 150 calories! If you are trying to lose weight, skip the peanut butter and salted caramel flavors. While delicious, these options contain over 200 calories and more added sugar than the plain chocolate varieties.
Outshine No Sugar Added Popsicles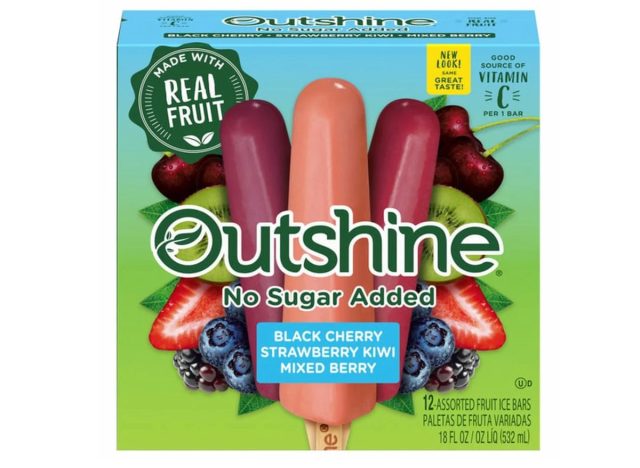 Choosing desserts with no added sugar is a great way to satisfy your sweet tooth while working toward weight loss. These fruit bars contain only 30 calories and no added sugar. They are also made with real fruit, allowing them to contribute vitamin C to your daily intake. Although these pops don't provide any protein or fiber, they serve as a great low-calorie and low-sugar option.
Wyman's Just Fruit and Greek Yogurt Bites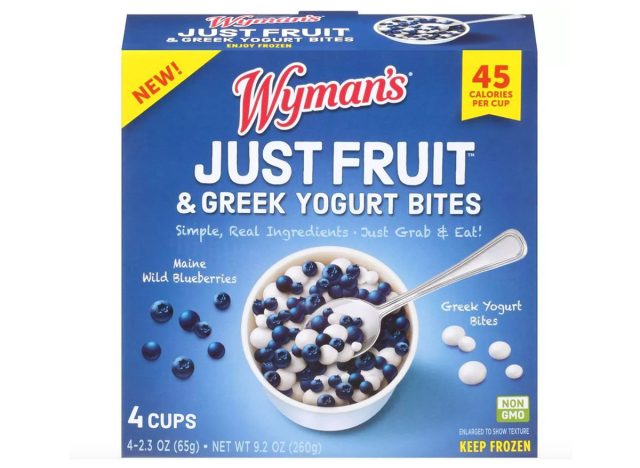 Another frozen dessert that starts with whole fruit, these dessert cups also contain Greek yogurt bites. This simple combination of fruit pieces and lightly sweetened Greek yogurt creates a delicious dessert for fewer than 50 calories. The fruit in this treat contributes some fiber, allowing it to be more filling, and the fun texture of this dessert makes it more unique than others on this list.
Trader Joe's Hold the Cone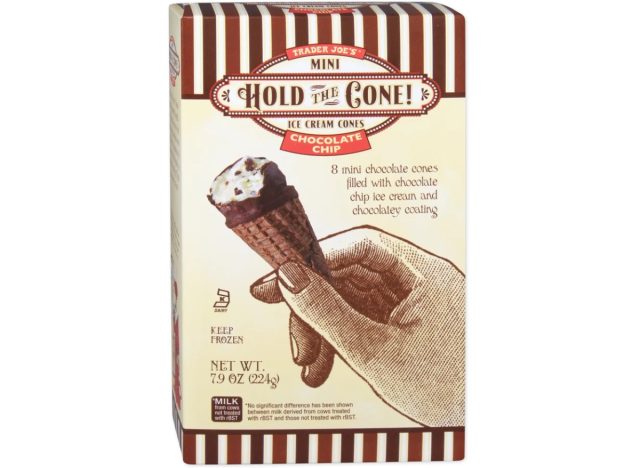 These mini ice cream cones are the perfect size to treat your sweet tooth without leaving you with a belly ache. While a serving of these cones is considered to be 3, stick with just one for a dessert with fewer than 100 calories. They come in a few traditional flavors, like chocolate chip, chocolate, and vanilla, and have the delicious chocolate chunk at the bottom of the cone that serves as a nice surprise at the end of your treat.
Mad Minis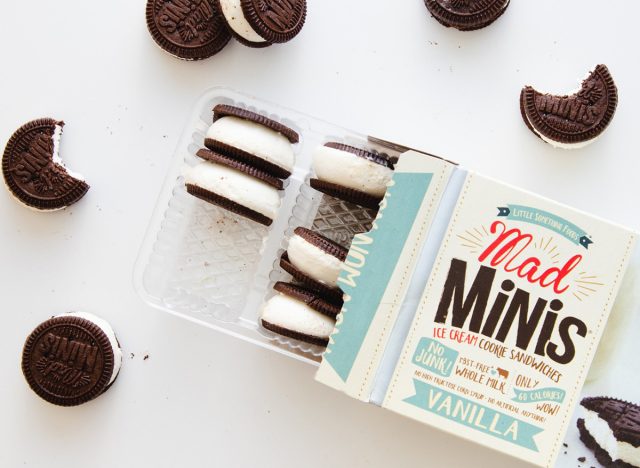 Another option that comes in well under 100 calories, these ice cream cookie sandwiches are made with real ice cream and are free of artificial flavors and colors. Each individual sandwich may only provide a couple of bites, but each is loaded with flavor and a satisfying texture. You'll find familiar flavors like vanilla and mint, along with black raspberry and even a blondie option.
Sweet Nothings Spoonable Smoothie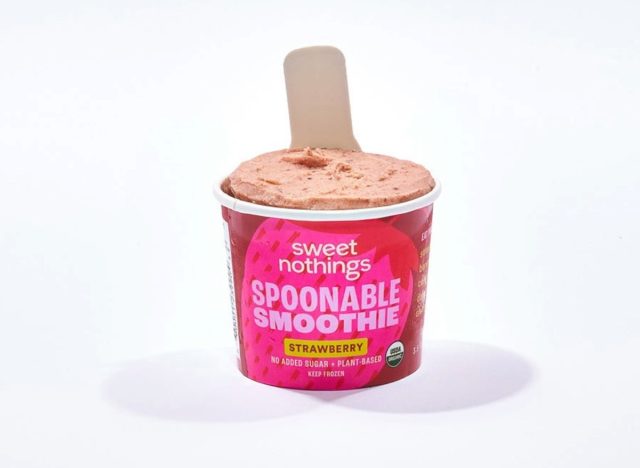 With unique ingredients like dates, chia seeds, and flax seeds, these frozen smoothie cups are no doubt the healthiest on this list. Each individual frozen cup packs a blend of fruit, nuts, seeds, and more. Some even contain veggies, but no matter the flavor variety, all of their options are organic, contain no added sugar, and are free of preservatives and artificial flavors. All options provide fewer than 150 calories and pack satiating fiber and protein.
Bubbies Ice Cream
Mochi is a popular Japanese dessert that is usually in bun form and has a layer of sweet rice flour. In this case, the mochi is wrapped around ice cream. This combination of the soft, chewy mochi wrapped around rich and creamy ice cream makes for a delightful texture. They offer plenty of flavors under 100 calories per serving, including fruit options, pistachio, and triple chocolate.
tru fru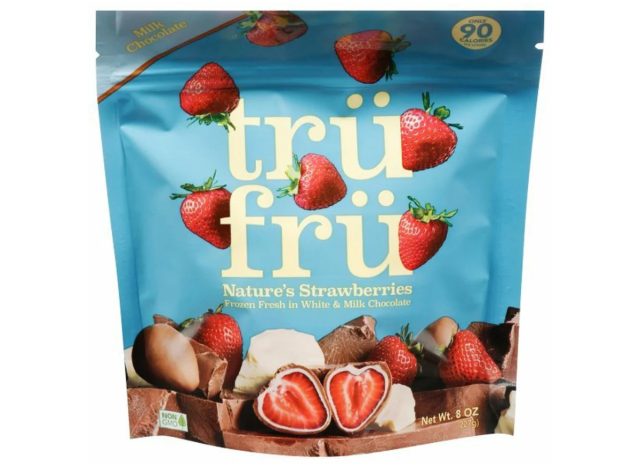 Fruit with chocolate is a hard flavor combination to beat, and these frozen treats are the perfect reason why. This dessert takes fruit and coats it with a variety of chocolate, including milk, white, and dark. Some options even combine peanut butter and coconut! At under 100 calories per serving, these are the perfect poppable treats. While a serving typically contains 4 to 5 pieces, you can enjoy only a couple to keep calories even lower for your weight loss goals.
Skinny Cow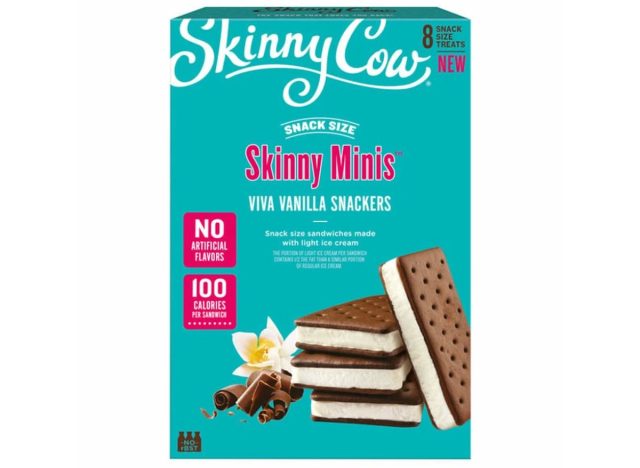 This brand offers a variety of frozen desserts, but the mini ice cream sandwiches may be your best bet if you are trying to lose weight. Each sandwich provides only 100 calories and 6 grams of added sugar, while their larger sandwiches and cones have higher counts. A cakey chocolate wafer sandwiches vanilla ice cream to create a melt-in-your-mouth dessert. And, the perfect portion size will keep you on track toward your goals while satisfying your cravings.
Sambazon Acai Bites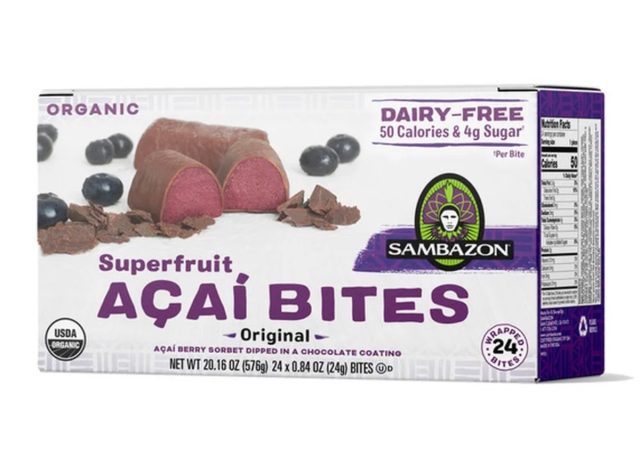 The acai fruit has gained popularity in smoothies over recent years for its health properties. This frozen dessert combines this superfruit with a chocolate coating for a refreshing treat. Each bite is individually wrapped, making it easier to manage your portions. At only 50 calories a pop, these guilt-free treats deserve a place in your freezer.
Arctic Zero
Perhaps one of the more unique ingredients on this list is faba beans. Arctic Zero is the first faba bean-based frozen dessert, and the use of this legume in ice cream helps to boost the fiber and protein in each pint. Each flavor provides 50 to 60 calories per serving and no fat. All of the flavors are also non-dairy, allowing them to satisfy the sweet tooth of those who choose to eat dairy-free.
Melissa Rifkin, MS, RDN, CDN
Melissa is a Connecticut-based registered dietitian with over 15 years of experience, including clinical and outpatient settings, and runs the popular nutrition education Instagram account, Confessionofadietitian.
Read more about Melissa
Sources referenced in this article