14 Best BBQ Spots in the South, According to Chefs
Here's where the pros go to get their barbecue fix.
Barbecued meats and their origins go quite a bit further back than you might think, and may stem from Spanish-style barbacoa meats prepared over a rack. At some point, however, the preparation evolved into a pit dug in the earth. Some historians believe there is a "missing link" between the Native American technique and what we would think of a Southern-style pit barbecue. Unfortunately, not a lot of records exist of the cooking style at the time. 
What we do know is that barbecue became popular in the South during the 19th century (possibly earlier), as it was a way to preserve meat during the hot summer months, and much of it was prepared by enslaved people. Hosting barbecues for special events became commonplace in the South during this time, and that eventually evolved into the BBQ restaurants that speckle the Southern states. 
As barbecue evolved, different regional styles emerged. Texas-style BBQ became known for big, bold flavors and heavy use of beef brisket, while Tennessee-style used more dry rubs and had smoky flavors. Alabama was marked by its unique white sauces and Kansas City for its sweet, tomato-based sauces.
Wherever you get it, barbecue has become increasingly popular across the United States, with pitmasters from New York City to Denver creating award-winning BBQ. But we wanted to know, from chefs, what the best spots in the South, where BBQ as we know it was born, to visit. Read on for their meaty favorites.
Blood Bro BBQ in
Bellaire, Texas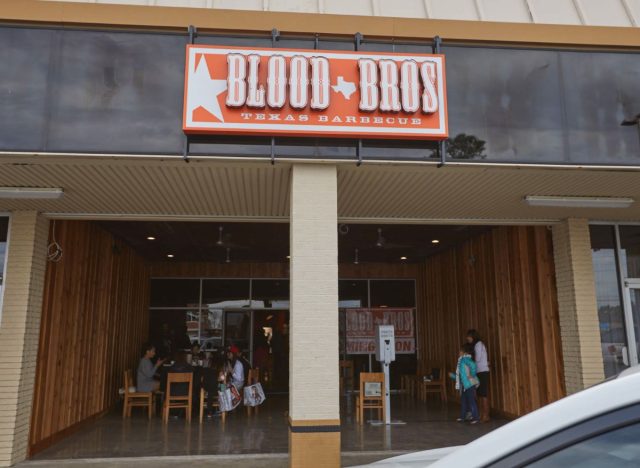 Chef Jamie Bissonnette, co-founder of JK Food Group and chef behind Faccia a Faccia, Coppa, and Little Donkey in Boston heads to Texas for his favorite 'cue. 
Blood Bros BBQ in Bellaire, Texas, is Bissonnette's pick for the tops. "They are super creative! I love the influences they combine to make a truly unique BBQ spot. Everyone working there is committed to the food and excellent service.  It's a fun party every time I go!"
Founded by three Asian-Americans (two brothers, Terry Wong and Robin Wong, and their friend Quy Hoang, who met in high school in Houston), this creative BBQ joint sits in a strip mall near Houston. With numerous publications backing this place up, including the New York Times, Texas Monthly, Bon Appetit, and Food & Wine, this is one to seek out. They call out the bark on the brisket which includes Chinese spices plus the barbecue staples like authentic pork ribs. 
Rodney Scott's BBQ in Charleston, South Carolina
This Michigan-based chef happily travels south for authentic BBQ. Chef Bob Bennett, head chef at Zingerman's Roadhouse in Michigan, raves, about Rodney Scott's BBQ in Charleston, South Carolina. Scott's also has locations in Alabama and Georgia.
"His whole hog is awesome—picked by hand and never chopped. Mopped and finished with vinegar BBQ and his secret rub. Couple that with a disco ball and music blaring in the dining room and it's a good time," says Bennett. 
The barbecue served at Rodney Scott's takes time, slowly tended to over glowing embers of hot hardwood. The chain specialized in cooking whole hog but it carries amazing sides too like creamy mac and cheese.
Peg Leg Porker in Nashville, Tennesee
Bennett's also a fan of this Nashville spot, which opened in 2013. "Another one is Peg Leg Porker in Nashville. Really nice BBQ to share with friends and they have Koolicles, also known as Kool-Aid pickles, which are one of my favorite things," says Bennett.
Chef Grant Kneble of Freddy J's Bar & Kitchen in New Jersey is also a fan, saying, "Their pulled pork is mouthwatering. I still dream about it sometimes." Quite an endorsement!
This is the spot for a real taste of Tennessee barbecue. You won't get gloppy sauce on your pork ribs, they'll be dry-rubbed and flavorful. Also, don't miss out on the Memphis Sushi which is sliced kielbasa sausage served with cheddar cheese and saltines.
Smokey John's Bar-B-Que & Home Cooking in Dallas, Texas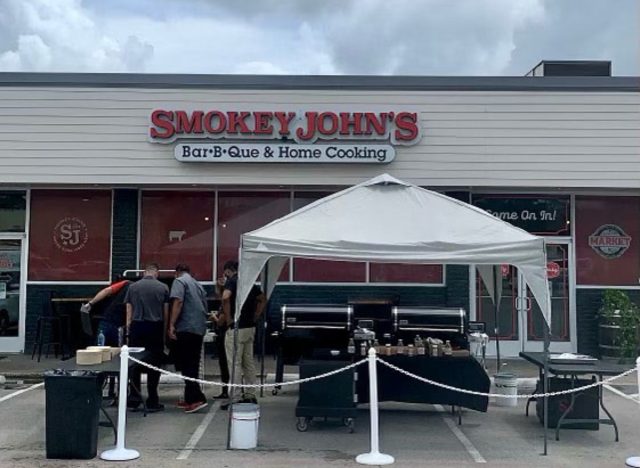 Celebrity chef and Top Chef alumni Tiffany Derry gave us her top pick, Smokey John's Bar-B-Que & Home Cooking. She explained that the spot, located in the heart of Dallas, is, "One of my favorite Black-owned barbecue spots that not only has delicious food, but also does a great job promoting their business."
The restaurant has been serving up its mouthwatering BBQ for over 40 years, including pork ribs, hot links, and even fried catfish.
Hard Eight Pit BBQ in Roanoke, Texas
"It's like a Target of BBQ," enthuses chef Matt St. Peter of Toscana Chophouse, which is quite an opener to describe Hard Eight Pit BBQ, which opened its first location in 2003.
According to St. Peter, Hard Eight is cafeteria-style and you just point at what you want to eat.  "When you walk in, you're under this awning, and there is this big cafeteria-sized line, with huge barrel style grill pits, and everything's cooking and sizzling, the smell is literally intoxicating," he explained. 
"The brisket is huge, juicy tender,  pulled right from a bucket of hot butter it's just been braising in. If you wanna try some of the sausage or meat they just slice you off a chunk right there for you to try, and there's everything barbecued you could dream of," he continues, painting a smokey meat picture. 
Finally, he says, "Then after you choose all your meats you head inside to the next section of the line, and it's all the sides you could ever want. Decadent mac and cheese, coleslaw, sweet pickles, hot pickles, bread and butter pickles…everything."
Goldee's BBQ in Fort Worth, Texas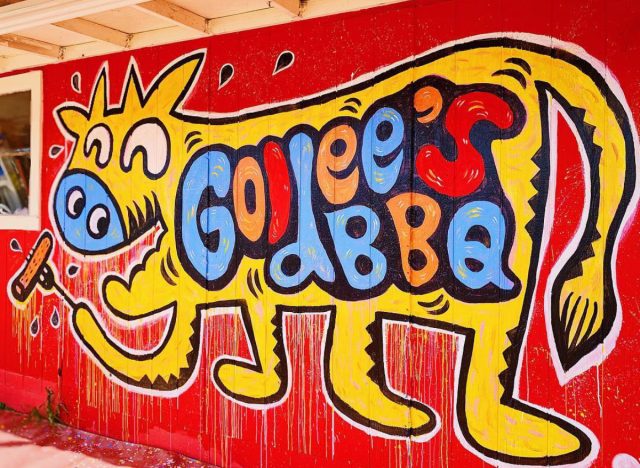 Get there early, and bring your own drinks, is the advice 61 Osteria chef Blaine Staniford gives about this legendary spot. "I love going to Goldee's in Fort Worth," says Staniford. "My good friend Kimberly Ovalle helps run the pit there and the huge beef ribs are the best  I've ever had.  Bring a cooler of drinks and meet up with friends, but get in line early so you can experience the entire menu."  
Chef and owner of Quarter Acre, Toby Archibald agrees, saying, "This one is a current hotspot but it deserves to be! The line up starts at 6 am and the food is worth it! Phenomenal bbq! Probably the best I have had."
This spot is great and it knows it. It is only open Friday through Sunday from 11 am-3 pm, but get there early because the doors close when everything sells out.
Cooper's Old Time Pit BBQ in Llano, Texas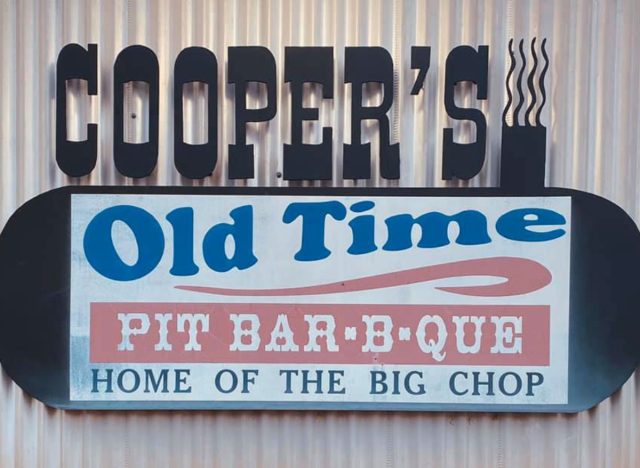 Archibald is also a fan of Cooper's Old Time Pit BBQ, which has several locations in Texas. He explains that the Llano location is "off the beaten path" but that the food is worth the trip. 6254a4d1642c605c54bf1cab17d50f1e
"The part I love the most though is how Texan it feels," he says. "We visit it on the way to Austin if we have time and are showing some foreigners the area. You just feel like you are very much in Texas when you walk in. Tasty food and the real deal."
The meat is the star of the simple menu with the standard ribs, chicken, and sausage, but also some unique cuts like cabrito, which is roast baby goat. A few sides and dessert round everything out.
Heim BBQ in Fort Worth, Texas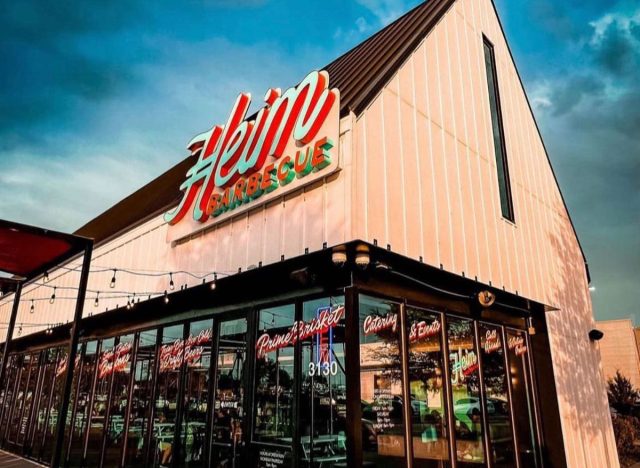 Braden Wages, co-owner and chef of Malai Kitchen had a fun reason for loving this BBQ joint. 
"My favorite place for finger-licking BBQ is Heim BBQ. They have a couple locations in the metroplex, but we visit the one in Dallas, which is across from Love Field Airport," says Wages, who loves to take his kids with him. "You can sit outside, enjoy amazing food and watch the airplanes go by!"
It's not just the view, of course, adds Wages, "Their pork ribs are insane—always with the most perfect pink smoke line, fall off the bone, needs-no-sauce good!"
The Joint in New Orleans, Louisiana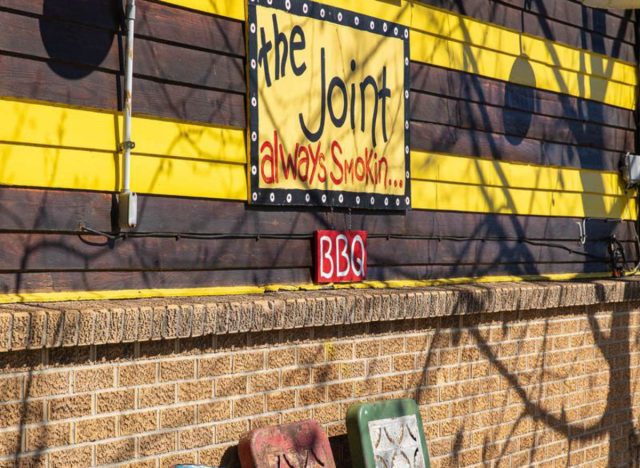 Hailing from Louisiana, chef Quinnton "Q" Austin received his formal training at the prestigious Culinary Institute of New Orleans, and is currently culinary director for Grind & Prosper Hospitality's six establishments: Miss B's Coconut Club, Park 101, Louisiana Purchase, Coco Maya, Q&A Restaurant and Oyster Bar, and Cococabana.
Growing up in Louisiana, Q has a passion for Southern cooking and his favorite is The Joint, a beloved BBQ spot located in the 9th Ward. He raved about "the Cajun and bold BBQ flavors that draw people from all over the city to this joint" and said, "Although I'm a self-proclaimed rib lover I can't resist indulging in the burnt ends brisket as well.
Kreuz Market in Lockhart, Texas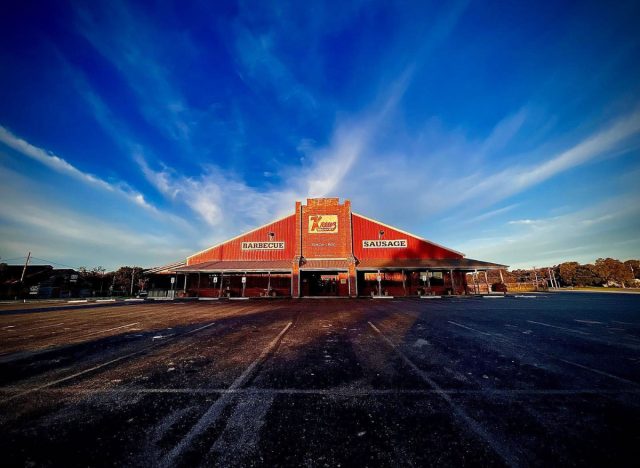 Executive Chef Bin Lu of Blue Rock in Virginia is another Texas brisket fan. He told us, of this landmark spot, "Lockhart is more or less the barbecue heart of Texas, where barbecue means brisket, and well-made brisket means salt and pepper only on the meat. Kreuz Market has been in operation since 1900 and smokes their brisket over post oak in specially designed, huge brick pits that are built directly on the floor. The barbecue is simple and made with time and care."  
Central BBQ in Memphis, Tennesee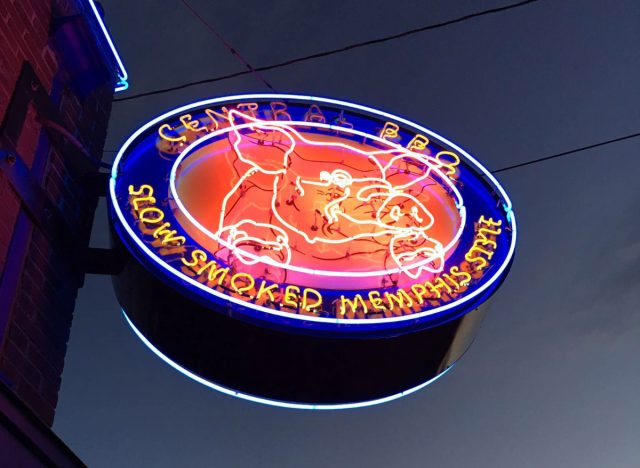 Chef Kneble called out Central BBQ, whose tagline "the smoke is our sauce" nods to Memphis style 'cue, saying, "Their smoked ribs are legendary for a good reason. You just can't beat that flavor." Since 2002, they've been hardwood smoking meats over hickory and pecan, with their secret combo of dry-rubbed spices. 
Big Bob Gibson Bar-B-Q in Decatur, Alabama
"Their wings and ribs with that authentic Alabama white sauce are so good, and it's hard to put into words," says Kneble of Big Bob Gibson. It's no surprise that Gibsons has won awards on the Today Show, been named the "Best Barbecue in Alabama" by the Birmingham News, and taken first place for pork in multiple barbecue contests, considering the family has been smoking and selling meats since 1925.
Snow's BBQ in Lexington, TX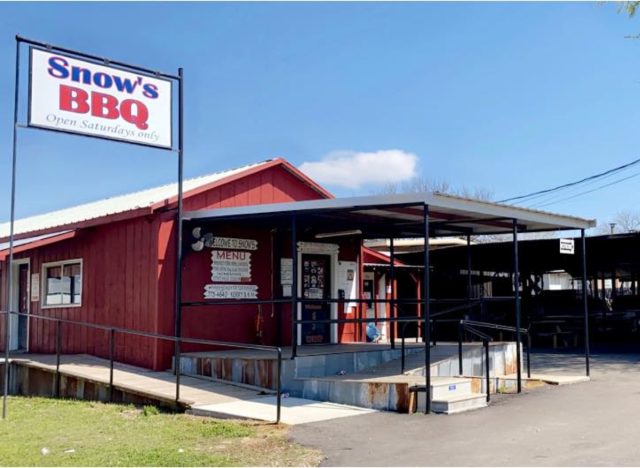 You may have heard of the legendary Snow's BBQ, which regularly makes best-of lists in Texas. Kneble says this is for good reason: Legendary pitmaster Tootsie Tomanetz, the woman behind the fall off your fork brisket.  "Tootsie Tomanetz became a legend for a reason, and you'll understand why when you try her BBQ," says Kneble.
Q39 in Kansas City, Missouri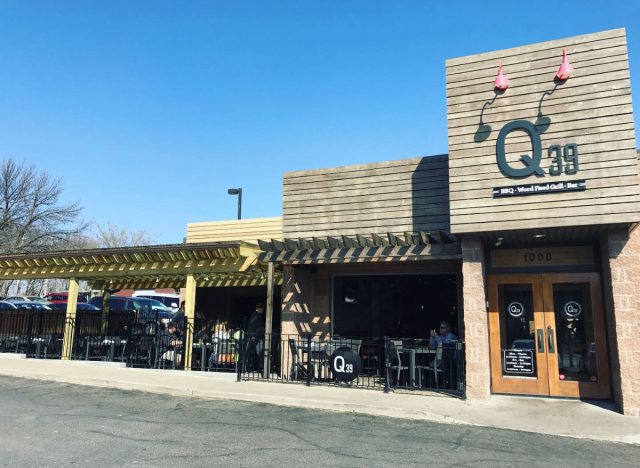 New York-based Dinosaur BBQ's corporate executive chef Leland Avellino is obviously a 'cue enthusiast, and he says his pick is Kansan City spot Q39, which he described to the Food Network as "an up-and-coming chef-driven BBQ restaurant that hits each and every flavor profile just right." Since 2014, they've served chef-driven barbecue built on a hybrid of traditional culinary training and competition barbecue, along with an impressive craft cocktail menu.
Tanya Edwards
Tanya Edwards is a seasoned food and health journalist, who has held roles at Yahoo Health as Managing Editor and at Food Network as Programming Director.
Read more about Tanya