The 17 Best and Worst Dark Chocolates
The best dark chocolate bars are packed with antioxidants, are low in sugar, and crush cravings.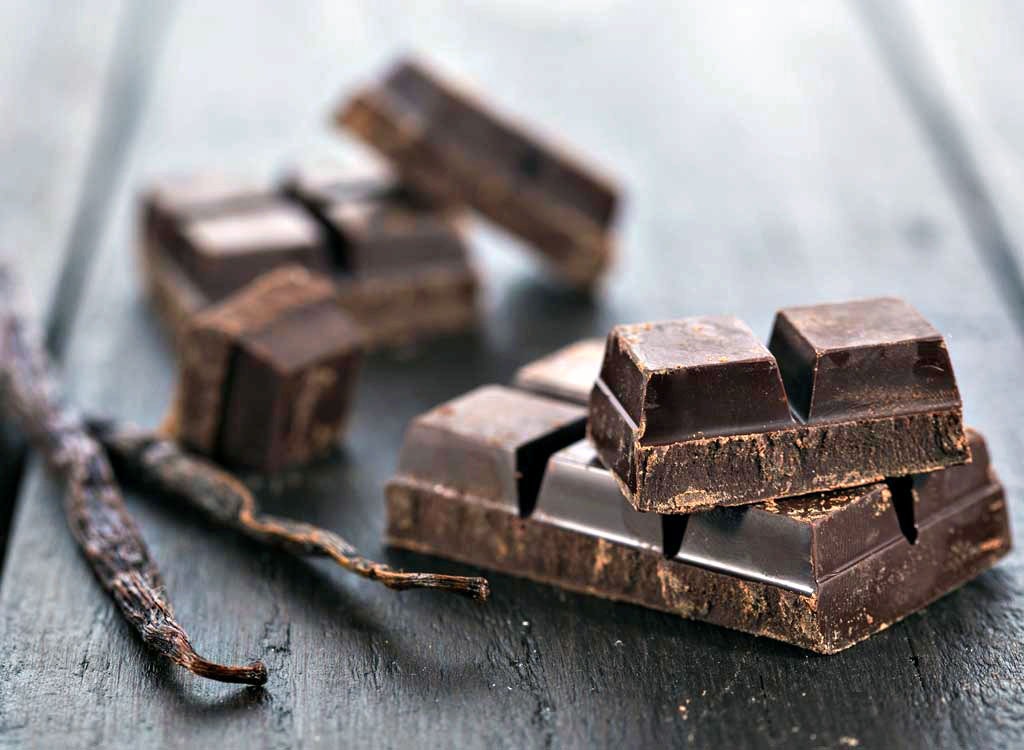 Chocolate isn't just good for curbing your sugar cravings. Chocolate — dark chocolate, that is — is rich in nutrients like healthy fats, iron, magnesium, and a particular group of free-radical-fighting antioxidants known as flavanols. These compounds work with the caffeine found in cocoa solids to boost blood flow to the brain and enhance cognitive function. Talk about brain food. Additionally, because healthy chocolate bars are made from fermented cocoa beans, they're a great source of probiotics and prebiotics, the tag-team of fuel and bacteria that work together to restore balance to a gut damaged by years of high-sugar, high-fat diets.
Don't just take our word for it. According to a study of 21,000 people published in the journals Heart, eating up to 3.5 ounces of chocolate a day can help lower your risk of heart disease. The one caveat? Only certain bars of chocolate can help reduce belly fat and improve your heart health.
"Research is still ongoing about the effects of dark chocolate on the heart and how it affects overall health, but there is evidence to show that because of its antioxidants, it can be part of a healthy diet," Nieca Goldberg, MD, cardiologist, Director of the Joan H. Tisch Center for Women's Health at NYU Langone Medical Center, tells Eat This, Not That!. "I tell my patients about an ounce a day can help with their overall health, as part of a well-balanced diet rich in fruits, vegetables, and whole grains, especially if it replaces more indulgent cravings. However, people should remember that more isn't better, and to make sure they watch portion sizes."
To help you bypass the overly-process chocolate bars that are devoid of nutrients, the team of editors of Eat This, Not That! have identified the best chocolates for your belly, your heart, and your taste buds. Make sure your bar has at least 70% cacao (the flavonol-rich cocoa bean) and try one of these delicious options.
First… The Worst
Cadbury Royal Dark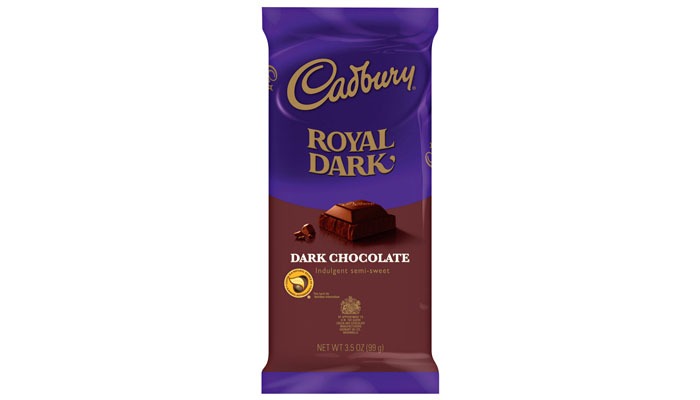 Per 1 oz (5 blocks or ¼ bar): 145 calories, 9 g fat (6 g saturated fat), 16.5 g carbs, 2 g fiber, 14.5 g sugar, 1.5 g protein
Cadbury does a great job with the misleading marketing of this bar, claiming it's "100% pure semi-sweet chocolate bar is 100% delicious." That's like saying a tub of guacamole is 100% guacamole, and not 80% avocados, 10% cilantro, 5% onion, and 5% lime. So while it might be fully semi-sweet chocolate, that chocolate is made with mostly sugar (nearly 15 grams worth per ounce), milk fat, artificial flavor, and soy lecithin. Keep it in the dark.
Lindt Chili Excellence Dark Chocolate Bar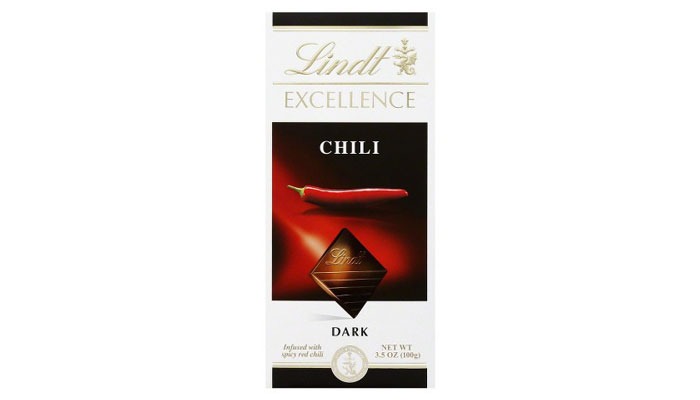 Per 1 oz (about 3 squares or ¼ bar): 135 calories, 9 g fat (5 g saturated fat), 17 g carbs, 0 g fiber, 13.5 g sugar, 1.5 g protein
Don't let the name of this bar trick you into thinking it can boost your metabolism. Sure there's a hint of chili extract—which our readers know contains the metabolism-revving compound, capsaicin—but there's too much sugar to do a body good. Sugar creates a spike in your blood glucose levels and is very quickly absorbed into your system, which tosses a bucket of water on your internal calorie-burning furnace.
Newman's Own Organics Orange 54% Dark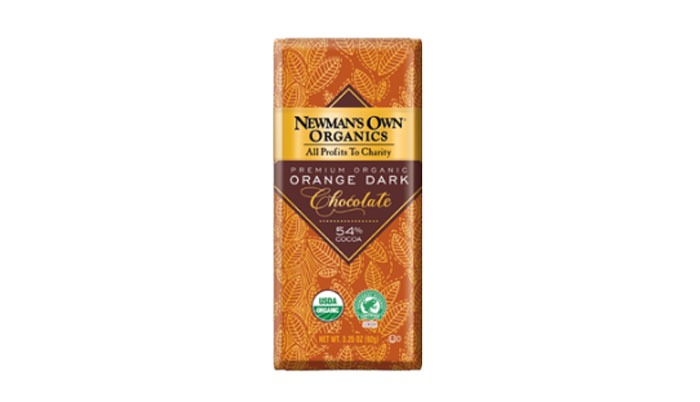 Per 1 oz (about ⅓ bar): 141 calories, 10 g fat (6 g saturated fat), 16 g carbs, 2 g fiber, 12 g sugar, 1 g protein
Don't let the claim "Organic" plastered all over the bar be enough of a reason to buy this chocolate. Instead of adding more cocoa butter to thicken up and smooth out the cacao, Newman's Own adds organic soybean oil, which has a 7.5:1 omega-6 to omega-3 ratio. Translation: it's full of inflammatory fatty acids which can cause weight gain.
Lindt Lindor Dark Chocolate Truffles
Per 1.3 oz (3 truffles): 230 calories, 19 g fat (13 g saturated fat), 15 g carbs, 1 g fiber, 13 g sugar, 2 g protein
Sure, Lindt uses a tad bit of cocoa butter in their truffle recipe, but they also mix in palm kernel oil—which is bad news for your health and weight loss progress. "The stearic acid in cocoa butter fights inflammation and staves off hunger, but the highly processed palm kernel oil promotes inflammation and passes quickly through the GI tract, so you won't likely won't reap much of this truffle's cocoa benefits," explains dietitian Cassie Bjork, RD, LD. That's because this oil is made up of 80 percent saturated fats, which are notorious for causing inflammation in large doses.
Russell Stover Sugar Free Dark Chocolate Mint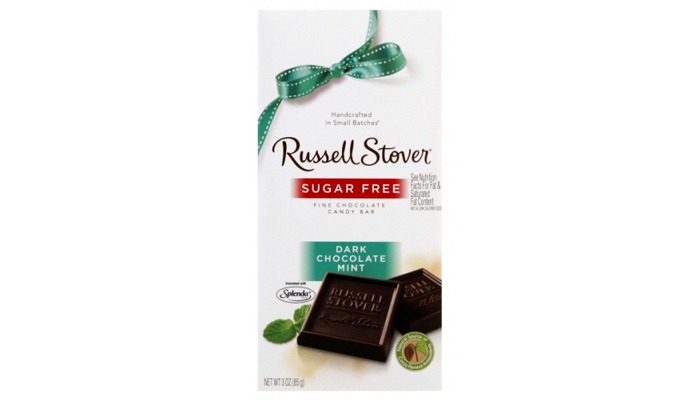 Per 1 oz (⅓ bar): 140 calories, 11 g fat (6.5 g saturated fat), 6.5 mg sodium, 15 g carbs, 0 g fiber, 0 g sugar, 12.5 g sugar alcohols, 2 g protein
According to the USDA's new Dietary Guidelines, we should be eating no more than 50 grams of sugar a day for optimal health. So it's completely understandable if you're trying to reel in your sweet tooth a bit—just don't use sugar-free sweets as a crutch. Instead of sugar, manufacturers (like Russell Stover) add in artificial sweeteners like Splenda and sugar alcohols like maltitol, which can have a laxative effect if eaten in excess. If you're looking for a treat that will make your taste buds sing—and not send you running straight for the bathroom—skip this bar.
55% Pascha Organic Dark Chocolate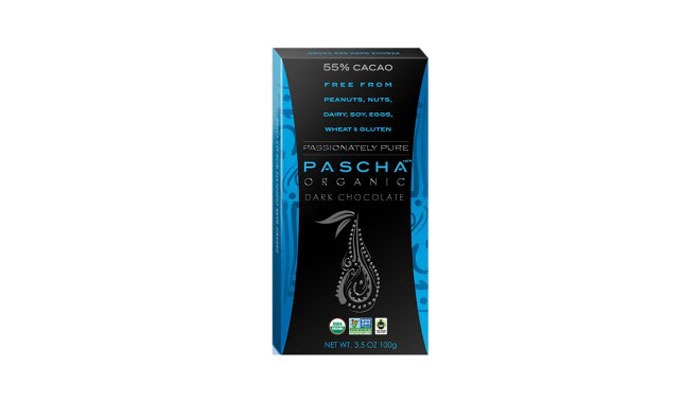 Per 1 oz (about 7 pieces): 162 calories, 10.8 g fat (6.1 g saturated fat), 14.9 g carbs, 1.4 g fiber, 12.8 g sugar, 1.4 g protein
Sure, this chocolate is USDA organic, fair-trade certified, non-GMO project verified, and vegan, but don't let all those food label buzz-words distract you from the cold, hard truth: The majority of this bar is filled with sugar, not the brain-boosting, cancer-fighting cocoa you're looking for. Leave this bar behind, but that doesn't mean all of Pascha bars are entirely off limits. Their higher cacao options, which include 70% and 85%, are some of the best on the market!
Dove Silky Smooth Dark Chocolate Singles Bar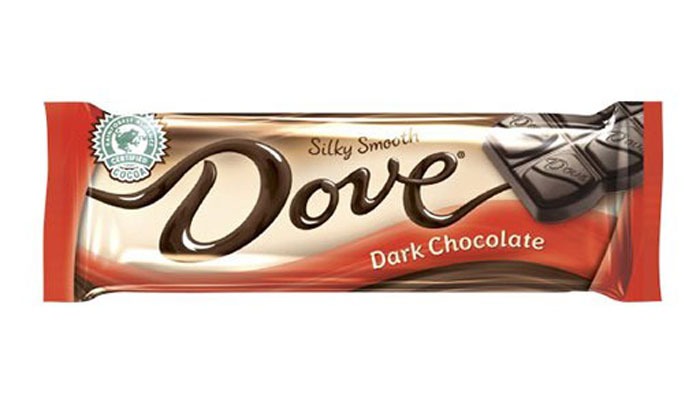 Per 1 oz (about ¾ bar): 153 calories, 9 g fat (5.5 g saturated fat), 17 g carbs, 2 g fiber, 13 g sugar, 1.4 g protein
Dove touts this bar as being "made from the finest quality cacao," but don't be fooled! In reality, the cacao used in this chocolate bar is anything but high quality. That's because it's been processed with alkali, a process that decreases the quantity and quality of cancer- and cardiovascular-disease-fighting flavanols and antioxidants. It gets worse: This bar also contains artificial flavors, chemical compounds researchers have shown to correspond with increased levels of inflammatory markers because of their unfamiliarity with your body's immune system.
Dark Chocolate M&Ms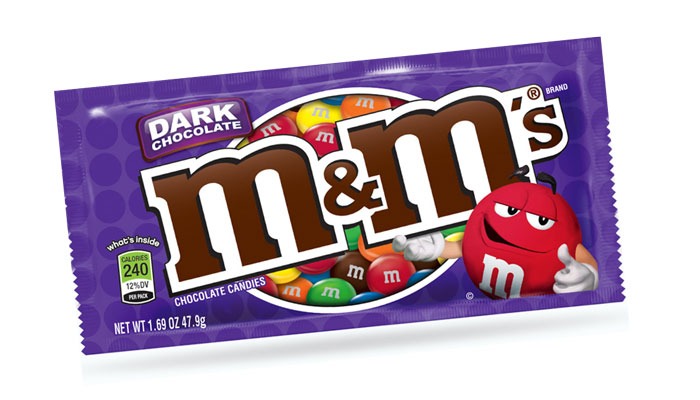 Per 1 oz (about ½ the package): 142 calories, 6.5 g fat (4 g saturated fat), 19.5 carbs, 1 g fiber, 16 g sugar, 1 g protein
Mar's recipe for these M&Ms calls for more sugar than cocoa butter and is laden with a myriad of artificial colors, some of which have even been banned in other countries because of their proven health dangers. What's more, just half a package of M&Ms contains nearly 16 grams of sugar—and we both know you're bound to polish off the entire lot. When you do, you'll have downed over 60 percent of the day's sugar in a matter of minutes. At least you had fair warning. That's not necessarily the case with these surprising foods with added sugar.
And Now… The Best
Theo Salted Almond 70% Dark Chocolate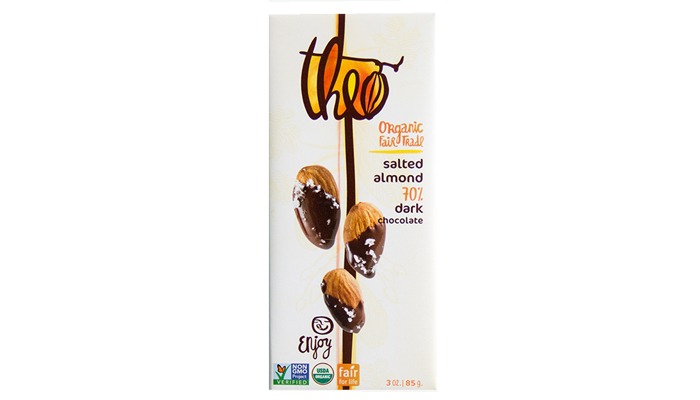 Per 1 oz (⅓ bar): 141 calories, 11 g fat (6 g saturated fat), 47 mg sodium, 12.5 g carbs, 2.5 g fiber, 8 g sugar, 2.5 g protein
We like this entry-level (i.e. 70% cacao, the lowest percentage we recommend to be able to reap the benefits) bar because the bitterness doesn't hit you the way that it does with 80% or higher cacao bars. "The higher the percentage of cacao, the better, but you'll still get some health benefits at [lower percentages]," says registered dietician, Isabel Smith, MD, RD, CDN. The almonds also offer an added health boost thanks to their combination of plant-based protein, fiber, and healthy fats, which work together to keep hunger and cravings at bay.
Endangered Species 72% Cacao with Forest Mint
Per 1 oz (about ⅔ bar): 138 calories, 12 g fat (6.5 g saturated fat), 14 g carbs, 3.5 g fiber, 8 g sugar, 2 g protein
With 72% cocoa and some added natural mint for flavor, these fair-trade-certified, non-GMO squares can help squash pesky sweet cravings with just a few nibbles. What's more, research has found that eating a small dose of chocolate each day can help you relax and unwind—which can boost your weight loss. That's because experts have found that dark chocolate increases levels of endorphins and the "happy hormone," serotonin, in the brain, which reduces stress and elevates mood. Banishing stress will also diminish your levels of cortisol, a hormone that promotes belly fat storage.
Green & Black's Organic 85% Cacao Bar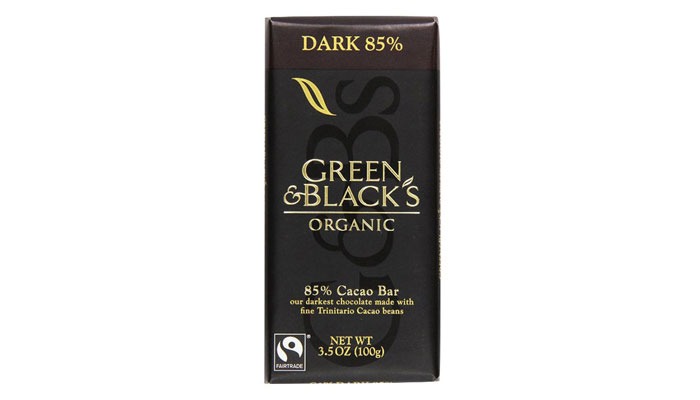 Per 1 oz (about ¼ bar): 178 calories, 14 g fat (8.5 g saturated fat), 10.5 g carbs, 3 g fiber, 5.5 g sugar, 3 g protein
Green & Black puts a premium on their ingredients, and their chocolate reflects that. They buy their beans directly from cocoa farmers who use organic farming techniques, ensuring that you get the cleanest product possible. Don't let the 85% intimidate you—it's subtle bitterness is still particularly smooth. The organic vanilla and small amount of organic cane sugar they add to the bar soften the bitter bite. Keep the cacao train moving by adding it to your diet in homemade cookies, snack mixes, and weight loss smoothies!
Alter Eco Dark Blackout 85% Organic Cacao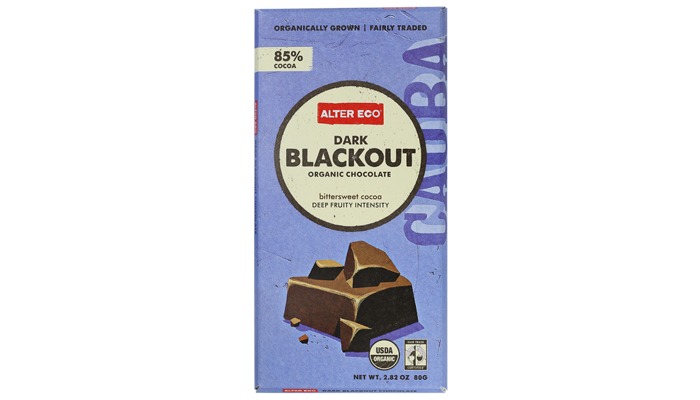 6254a4d1642c605c54bf1cab17d50f1e
Per 1 oz (about ⅓ bar): 170 calories, 15 g fat (9 g saturated fat), 10 g carbs, 3.5 g fiber, 4 g sugar, 2 g protein
One thing to watch for when buying chocolate is the sugar content—even when you're shopping for dark. That's because consuming too much sweet stuff can increase your risk of serious health problems like diabetes and cancer, not to mention, it commonly leads to energy crashes. "Aim for 10 to 15 grams of sugar or less per serving," suggests Smith. And more often than not, a typical serving size on the package surpasses the single ounce we recommend. This Alter Eco bar has only 4 grams per ounce and 6 grams per serving, making it a solid choice. Dialing down portions of sugary foods is one of the best ways to lose 10 pounds fast.
Fruition Chocolate One Hundred Percent Bar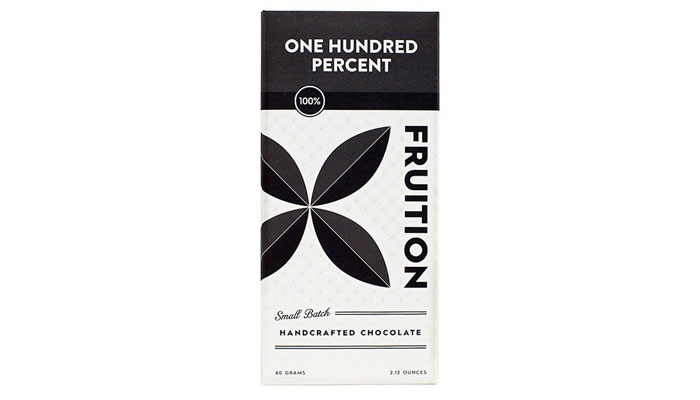 Per 1 oz (about ½ bar): 170 calories, 14 g fat (8.5 g saturated fat), 8.5 g carbs, 3 g fiber, 0 g sugar, 3 g protein
Bitter doesn't bother you? Then this bar is for you. Fruition makes one of the few bars intended to be eaten—not baked—that hits the 100 percent cacao mark. It's made up of a blend of Dominican and Peruvian cacao with notes of juicy red berries and intensely roasted cocoa. One bite is all you need.
Raaka 82% Organic Bourbon Cask Aged Virgin Chocolate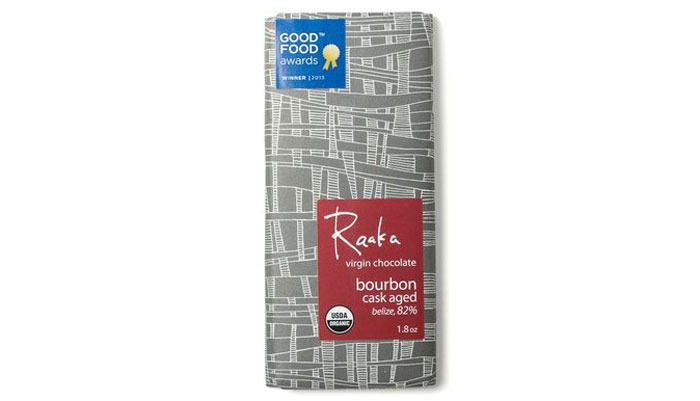 Per 0.9 oz (½ bar): 152 calories, 11 g fat (n/a g saturated fat), 12 g carbs, 5 g fiber, 7 g sugar, n/a g protein
Winner of the 2013 Good Food Awards, this Bourbon Cask Aged virgin chocolate bar is the first of its kind featuring cask-aged cocoa beans. Raaka, a Brooklyn-based company, ages the cocoa beans in Berkshire Mountain Distilling Bourbon Barrels to give this bar notes of caramel, vanilla, and oaky deliciousness. Besides being certified Organic and Non-GMO Project Verified, this bar is unique in that it's made with virgin, unroasted chocolate, which preserves flavors often lost during traditional processing methods. Even better, Raaka sweetens with a little bit of maple sugar, an antioxidant-rich sweetener made from the sap of the maple tree.
Scharffen Berger 70% Bittersweet Chocolate Bar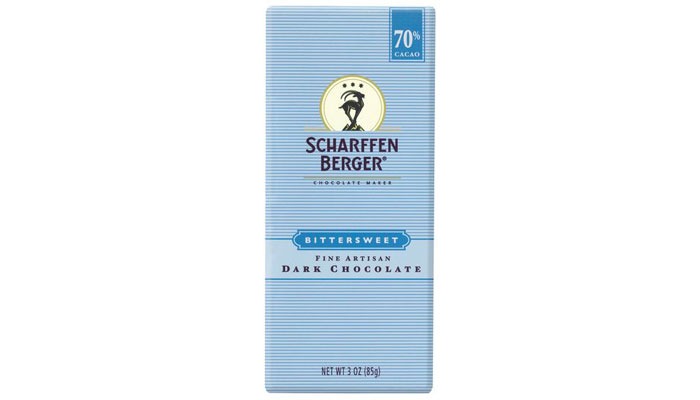 Per 1 oz (⅓ bar): 145 calories, 12 g fat (7 g saturated fat), 12 g carbs, 2.5 g fiber, 8.5 g sugar, 2.5 g protein
For those of you gradually moving from milk chocolate to dark, this 70 percent bar by Scharffen Berger is a great choice. We particularly like the addition of whole vanilla beans to the cacao considering the fact that vanilla beans are high in oleic fatty acids: monounsaturated fats that can help reduce appetite and promote weight loss.
Nibmor Extreme 80% Organic Cacao with Cacao Nibs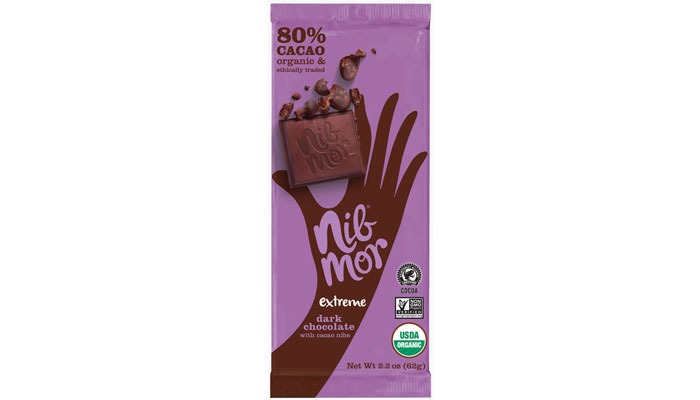 Per 1.1 oz (½ bar): 160 calories, 12 g fat (7 g saturated), 15 g carbs, 4 g fiber, 8 g sugar, 2 g protein
Nibmor Extreme has only five ingredients, the first of which is organic cacao, which includes the smooth body of the bar as well as the crunchy nibs that burst with flavonols. Bonus: If you have trouble sticking to a serving, you can also purchase the flavor in prepackaged serving squares for only 50 calories a pop.
Hu Foods Almond Butter & Puffed Quinoa 72% Cacao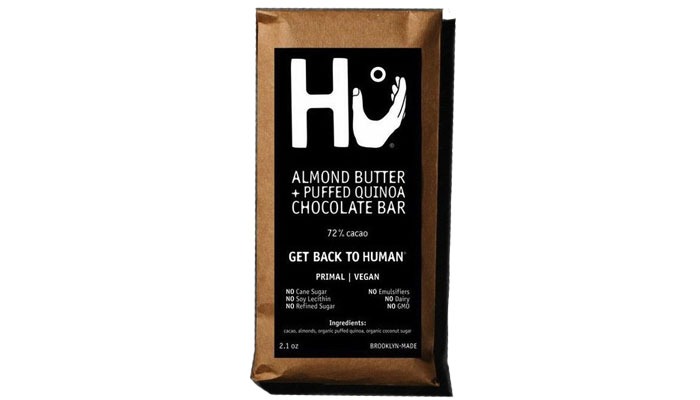 Per 1.05 oz (½ bar): 170 calories, 15 g fat (8 g saturated fat), 12 g carbs, 2 g fiber, 8 g sugar, 2 g protein
While not a traditional dark chocolate bar, Hu Food's Almond Butter & Puffed Quinoa product is truly revolutionary. A 72 percent dark chocolate shell is filled with almond butter to offer up a similarly salty and sweet appeal of a Reese's with the added surprising crunch of puffed quinoa. This treat is sure to satisfy.
Eat This, Not That!
Inspired by The New York Times best-selling book series, Eat This, Not That! is a brand that's comprised of an award-winning team of journalists and board-certified experts, doctors, nutritionists, chefs, personal trainers, and dietitians who work together to bring you accurate, timely, informative, and actionable content on food, nutrition, dieting, weight loss, health, wellness, and more.
Read more about Eat This