15 Instant Pot Recipes for Weight Loss
Are you tempted by the convenience of fast food? On busy days, we all are. Here's a shocker: convenient doesn't have to equal unhealthy. With your Instant Pot, you can make nutritious dishes in no time — some in 10 minutes!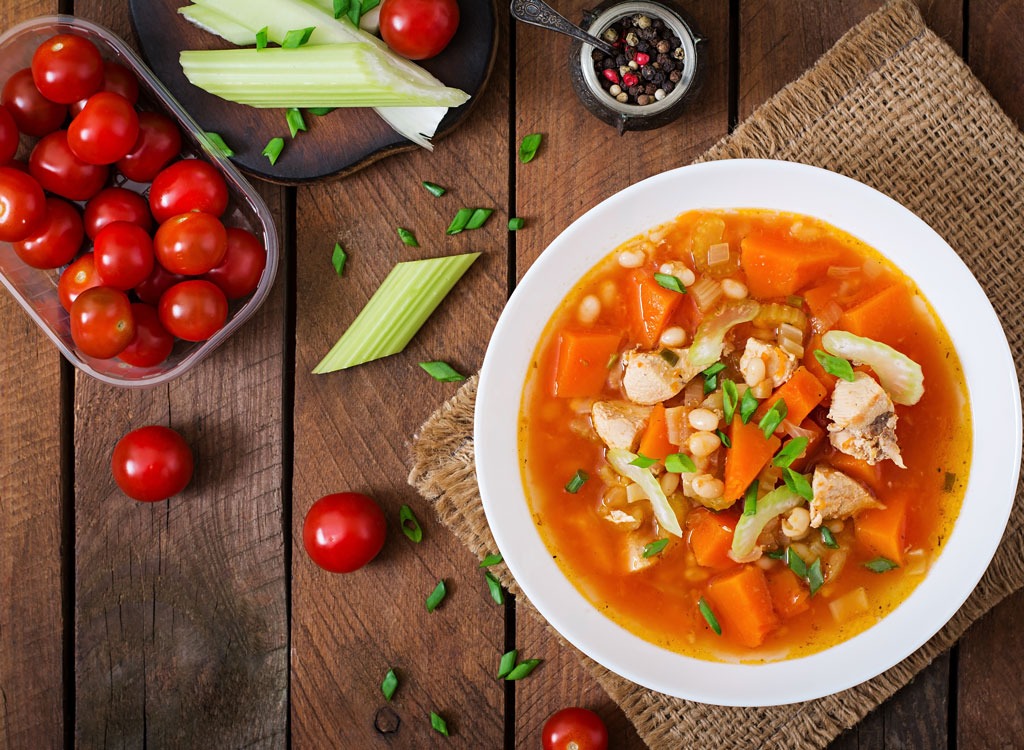 The Instant Pot trend is spreading like wildfire, and we know why! It's a 7-in-1 cooker that makes dishes in a fraction of the time they would take using other methods. Because of its versatile pre-programmed function modes, you can make everything from yogurt to meatballs with the push of a button.
With its popularity rising, tried-and-true recipes are starting to pop up all over the best food blogs. Some bloggers even cut down the time of existing recipes by modifying for the Instant Pot. Take a look at which mouth-watering, healthy recipes we discovered that will make your diet a whole lot easier to stick with! When you're done, check out 40 Things Healthy Cooks Always Have in Their Kitchen to learn which ingredients you should be stocking up on.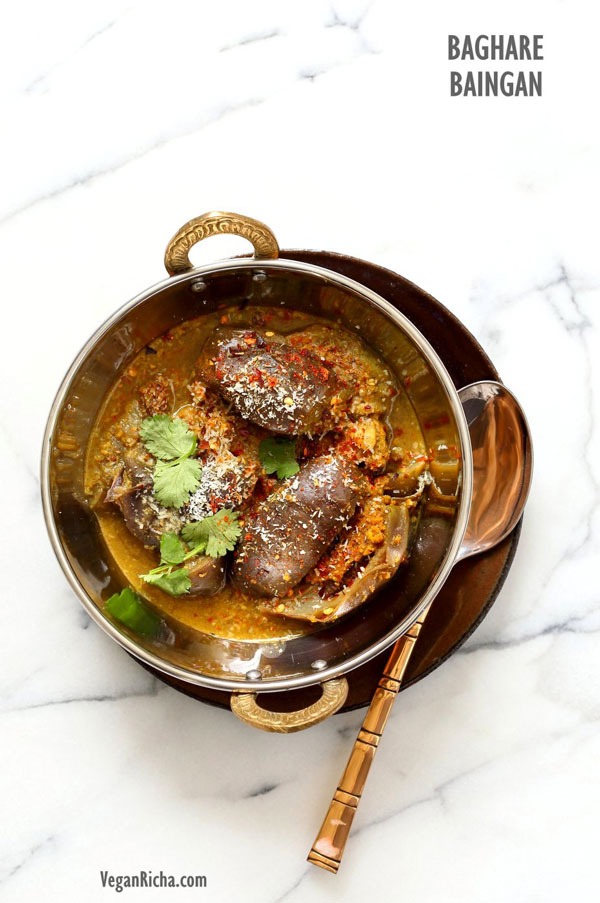 Serves: 3
Nutrition: 325 calories, 6.3 g fat, 1.6 g saturated fat, 412 mg sodium, 65.5 g carbs, 34.9 g fiber, 30.4 g sugar, 12.4 g protein (calculated with cashews, lemon juice and chickpea flour)
You love stuffed grape leaves and stuffed peppers, but have you tried stuffed baby eggplant? This dish is vegan, gluten-free and soy-free, so even those with dietary restrictions can enjoy! It has more than a day's worth of fiber and almost a day's vitamin C requirement. Be cautious, though, of the high natural sugar content of eggplants. The recipe also calls for ginger, cinnamon, turmeric and chili – 4 out of 5 on our list for the 5 Healthiest Spices on the Planet.
Get the recipe from Vegan Richa.
Comforting Beef Barley Soup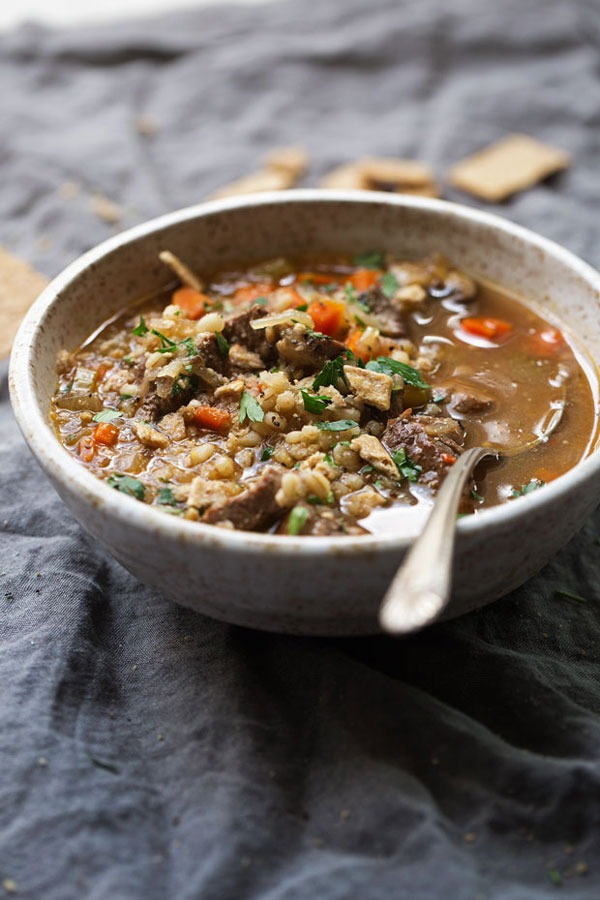 Serves: 7
Nutrition: 451 calories, 17.3 g fat, 5.6 g saturated fat, 658 mg sodium, 37.9 g carbs, 8.9 g fiber, 2 g sugar, 35.7 g protein (calculated using vegetable broth)
Get all the protein, healthy grains and veggies you need in a meal with this soup recipe. Choose veggie broth over beef broth as your base to reduce the total fat and sodium count. This dish is low in sugar and high in selenium and zinc — two minerals crucial to weight loss (read more about them on our list of 16 Secret Weight Loss Weapons). This soup is a perfect healthier alternative to your favorite hearty beef stew.
Get the recipe from Little Spice Jar.
Teriyaki Turkey Meatballs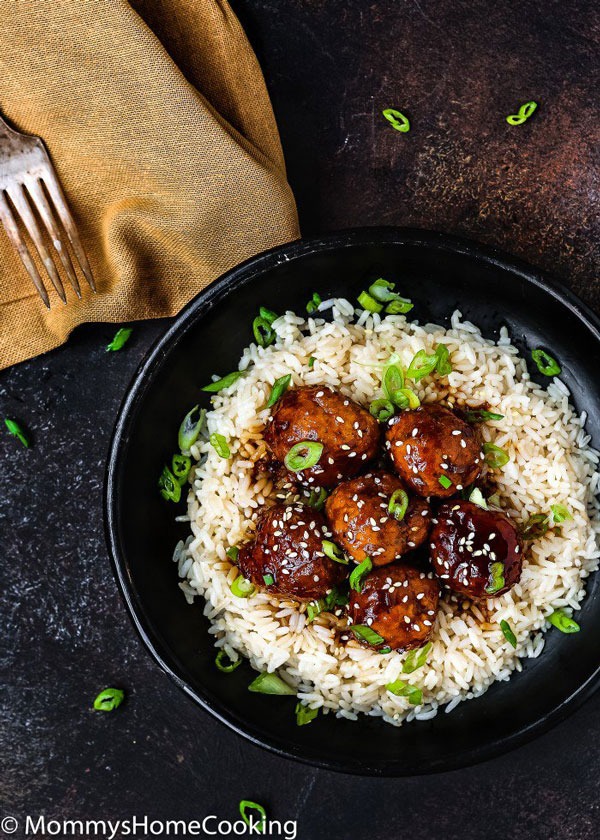 Serves: 4
Nutrition: 387 calories, 20.3 g fat, 1.3 g saturated fat, 1584 mg sodium, 23.7 g carbs, 1.3 g fiber, 8.1 g sugar, 26.3 g protein (calculated without rice)
This dish will change the way you think of meatballs. Instead of tomato sauce and pasta, these turkey meatballs are paired with a homemade teriyaki sauce and rice. The rice can be made simultaneously using the Pot-in-Pot method, saving you time and dirty dishes. Although homemade sauces over store-bought are typically healthier, the dish still has more than half a day's recommended sodium, so be cautious about how much teriyaki sauce you're pouring on. Check out more tips on how to manage salt intake and blast belly fat here.
Get the recipe from Mommy's Home Cooking.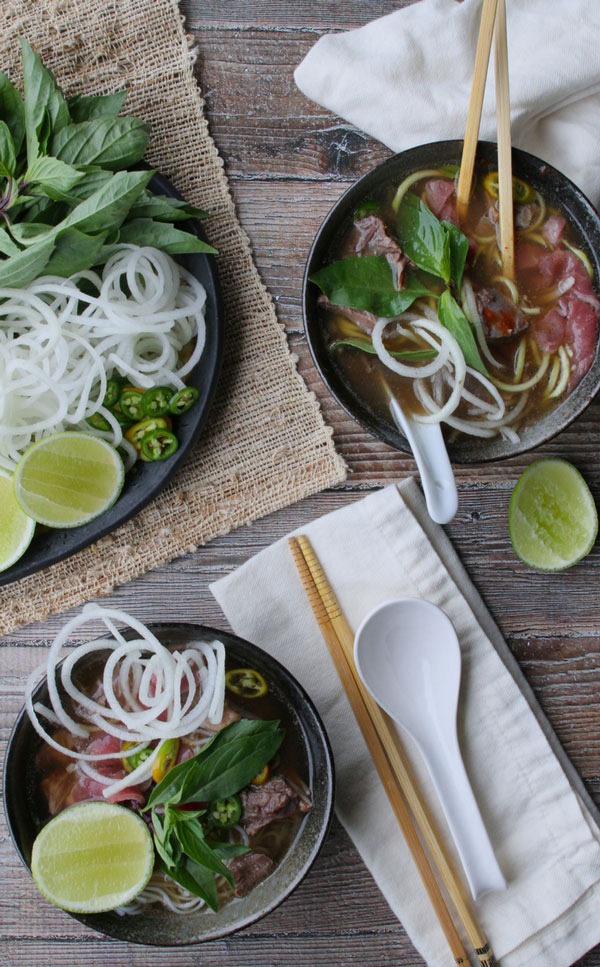 Serves: 8
Nutrition: 571 calories, 22.3 g fat, 9 g saturated fat, 783 g sodium, 18.6 g carbs, 1.3 g fiber, 2.5 g sugar, 70 g protein (calculated without skimming fat and without optional toppings)
If you're unfamiliar with pho, it's a Vietnamese dish made with broth, rice noodles and meat. It's often served with toppings on the side, such as bean sprouts, Thai basil, lime and Sriracha sauce, letting you customize exactly how your dish tastes. The traditional rice noodles make this meal gluten free, and the recipe is loaded with protein and vitamins B6 and B12. Although the fat content appears high, you have control over how much you choose to skim off the top. For more ways to make healthy choices when it comes to pho, read 15 Pho Tips for a Flat Belly.
Get the recipe from Zen Belly.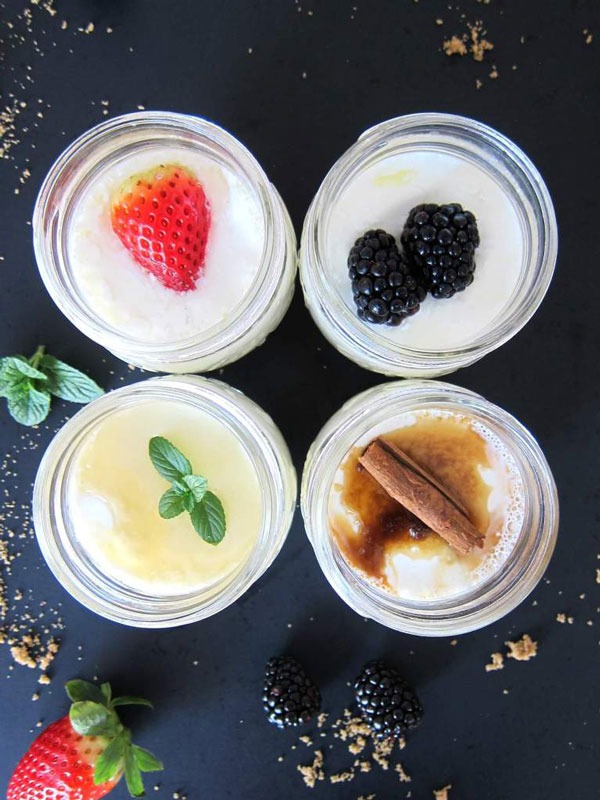 Serves: 4
Nutrition: 138 calories, 7.4 g fat, 4.3 g saturated fat, 92 mg sodium, 10.4 g carbs, 12 g sugar, 7.6 g protein
Along with many functions, the Instant Pot works as a yogurt maker. Although many recipes for homemade yogurt include some hard-to-find ingredients, this one will make your life easy with only two: Greek yogurt and whole milk. You can make it directly in jars — saving you that time scooping yogurt into portions once it's done. Be cautious of the high sugar content, especially when adding fruity toppings, and opt for a low-fat milk for less saturated fat.
Get the recipe from Paint the Kitchen Red.
Serves: 6
Nutrition: 230 calories, 9 g fat, 2 g saturated fat, 682 mg sodium, 11.5 g carbs, 2.7 g fiber, 6 g sugar, 25.7 g protein
This soup offers a lot of protein for very few calories. The zoodles (zucchini noodles) are a healthy alternative to noodles that you can substitute in any of your favorite recipes. This dish is a little high in sodium, but it has more than the daily recommended intake of vitamin A and almost your entire daily amount of vitamin C, supporting a strong immune system. The apple cider vinegar in this recipe is an added bonus – great for keeping you satiated and boosting weight loss.
Get the recipe from Diethood.
Creamy Coconut Steel-Cut Oats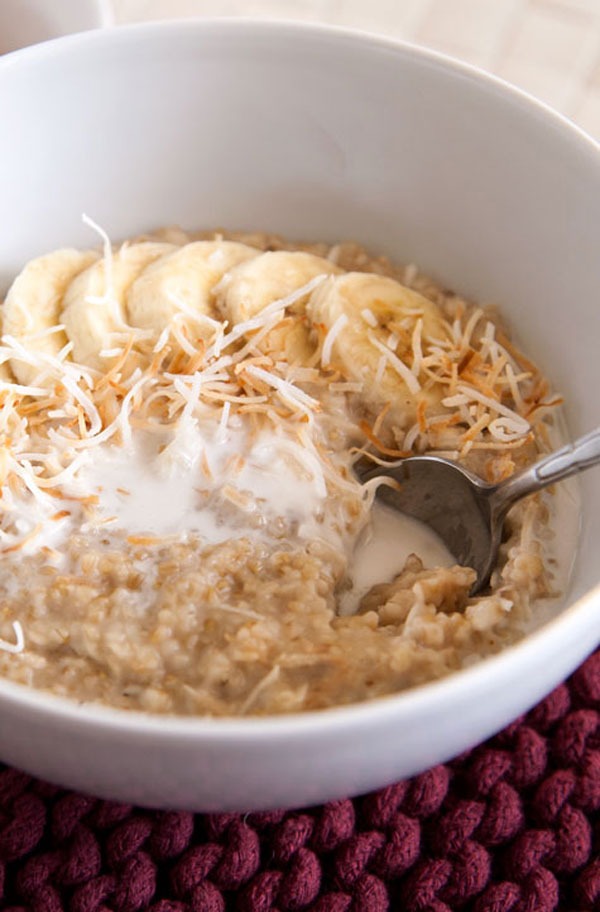 Serves: 4
Nutrition: 218 calories, 12.3 g fat, 10 g saturated fat, 61 mg sodium, 23.5 g carbs, 4.1 g fiber, 5.6 g sugar, 4.4 g protein (calculated with lite coconut milk)
This dish makes a great breakfast for meat eaters, vegetarians and vegans alike! The coconut milk is a creamy, dairy-free alternative to milk that is traditionally added to oatmeal. Be careful of the fat content, though — substitute light coconut milk for the thicker alternative. The recipe calls for a delicious and crunchy toasted-coconut topping you can easily make on the sauté setting in your Instant Pot. Pair it with cinnamon and whichever fruit you like.
Get the recipe from Flavorrd.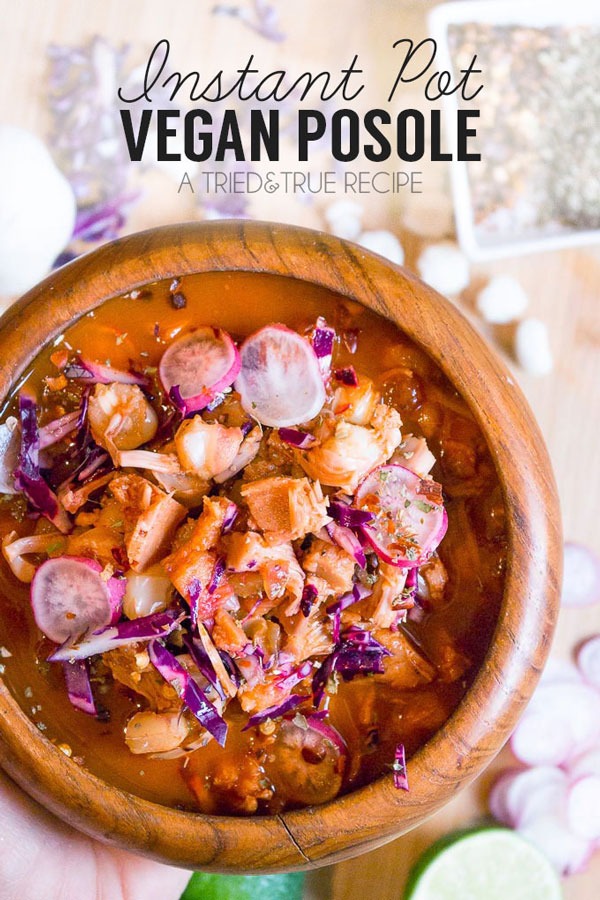 6254a4d1642c605c54bf1cab17d50f1e
Serves: 5
Nutrition: 502 calories, 5.9 g fat, 0.8 g saturated fat, 1389 mg sodium, 108.6 g carbs, 11.3 g fiber, 10 g sugar, 8.1 g protein
Posole is a Mexican dish usually cooked with pork, but this blogger made a vegan version by subbing in jackfruit (she said you won't be able to tell the difference!). To keep the sugar content down when you're using canned fruit, make sure that it's in brine, not syrup. Omitting the pork keeps this dish low in fat, but the traditional hominy raises the sodium count. Note how much sodium is in the brand you're buying, and add a little less if you're worried about salt intake. Interested in going vegan? Learn more about vegan foods here.
Get the recipe from Tried & True.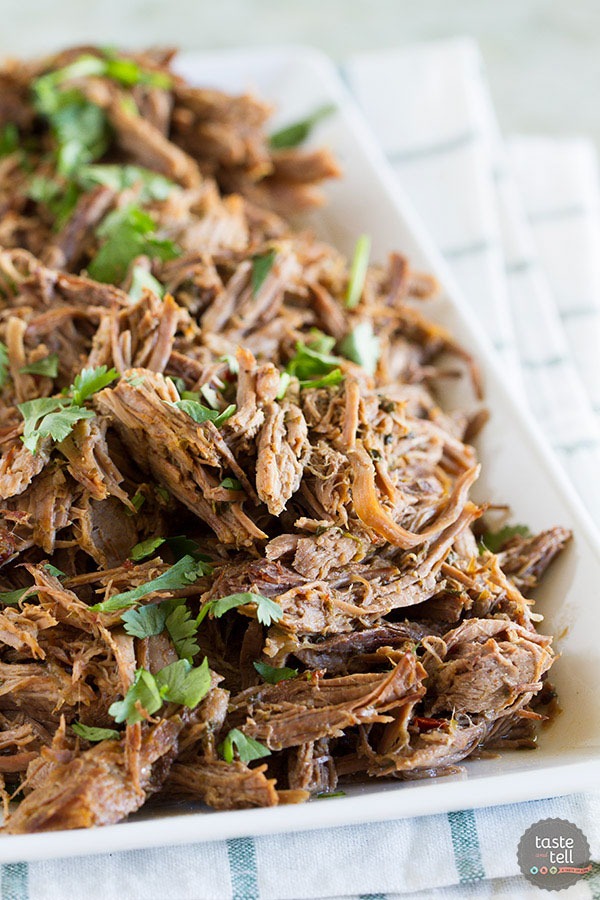 Serves: 16
Nutrition: 334 calories, 25.6 g fat, 9.7 g saturated fat, 378 mg sodium, 2.2 g carbs, 1.1 g sugar, 22.6 g protein
You can use this spicy shredded beef in many of your favorite dishes, such as tacos, burritos or over lettuce and veggies. Cooking three pounds at once gives you plenty of leftovers to bring to work throughout the week, saving time on planning and cooking. Just watch out for the saturated fat content. One serving has half of the daily recommended allowance, so try subbing in leaner meat. Check out Meats that Burn Fat and read up on which meats you should be cooking with.
Get the recipe from Taste and Tell.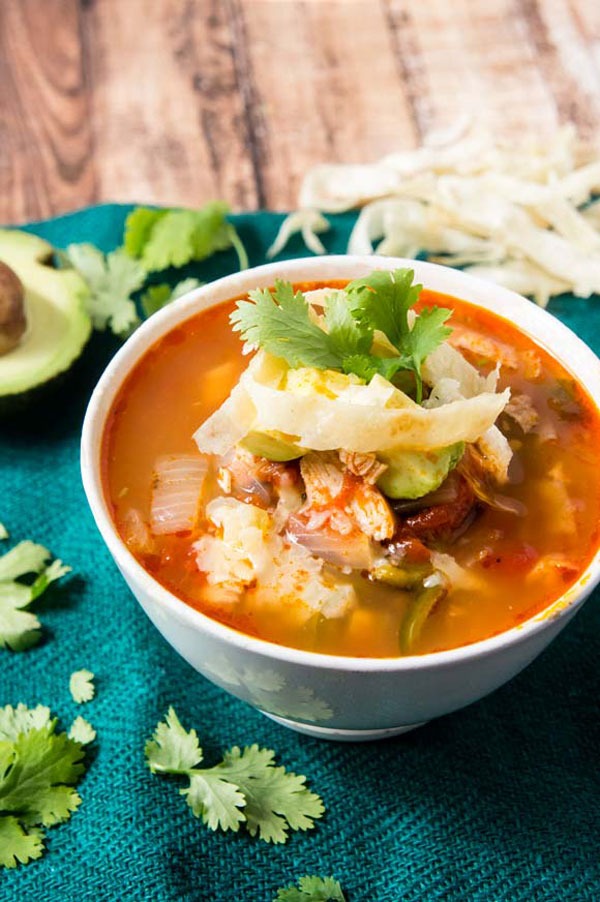 Serves: 4
Nutrition: 365 calories, 5.5 g fat, 3.5 g saturated fat, 616 mg sodium, 11.8 g carbs, 3.3 g fiber, 6.8 g sugar, 67.7 g protein
This is a healthy, flavorful chicken soup taken to another level with tortilla, cheese and avocado toppings all ages will love. Be wary, though, of piling on unhealthy add-ins. Opt for a sprinkle of low-fat cheese and choose whole-grain tortillas over white. No need to substitute for the sliced avocado — it's full of healthy fats that actually help with weight loss. Switch up family taco night with this dish and it's sure to be a favorite!
Get the recipe from Foraged Dish.
Thai Peanut Chicken and Noodles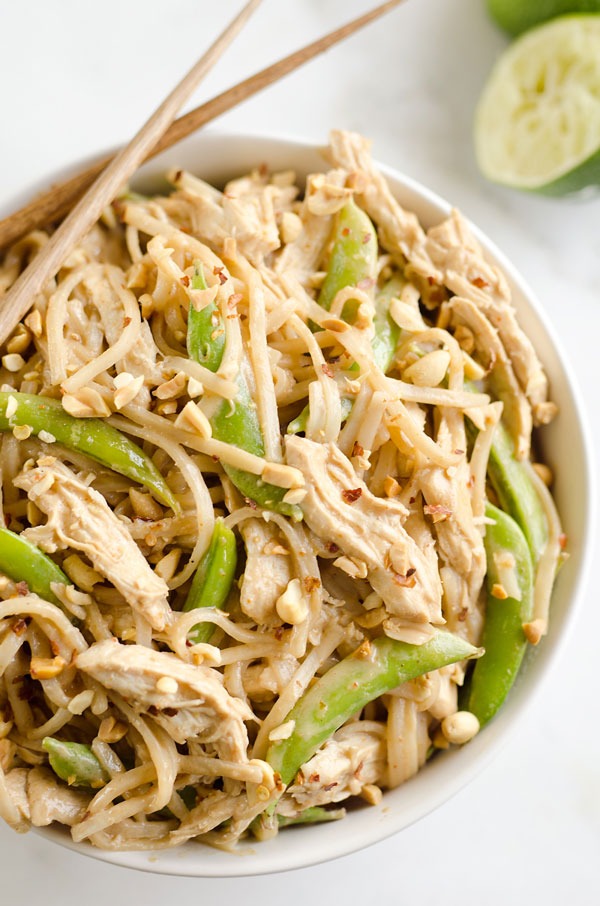 Serves: 5
Nutrition: 367 calories, 10.6 g fat, 2.8 g saturated fat, 233 mg sodium, 22.3 g carbs, 1.4 g fiber, 1.4 g sugar, 42.6 g protein
Many Thai dishes can be high in sugar and fat. When you're craving Thai flavor but want a healthier alternative, go for this chicken recipe. With just five ingredients and one Instant Pot, this dish will make your dinner prep (and cleanup) so simple! The blogger suggests adding some crushed peanuts and sliced green onions on top for an extra crunch and pop of color. Don't forget to read up on other healthy chicken recipes, too.
Get the recipe from The Creative Bite.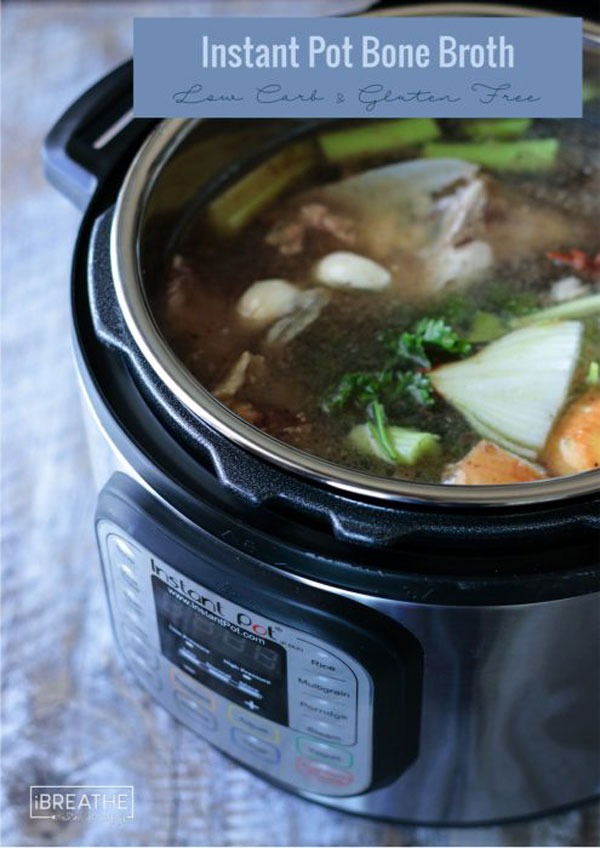 Serves: 12
Nutrition: 35 calories, 0 g fat, 95 mg sodium, 0 g carbs, 0 g fiber, 0 g sugar, 9 g protein
Bone broth is a great source of protein and minerals, aiding digestion and protecting bones and joints. Fresh bone broth can be hard to come by, but it's easy (and super cheap) to make in your Instant Pot. Sip it as a drink or use it as a base in one of our 20 Best Broth-Based Soups for Weight Loss.
Get the recipe from I Breathe I'm Hungry.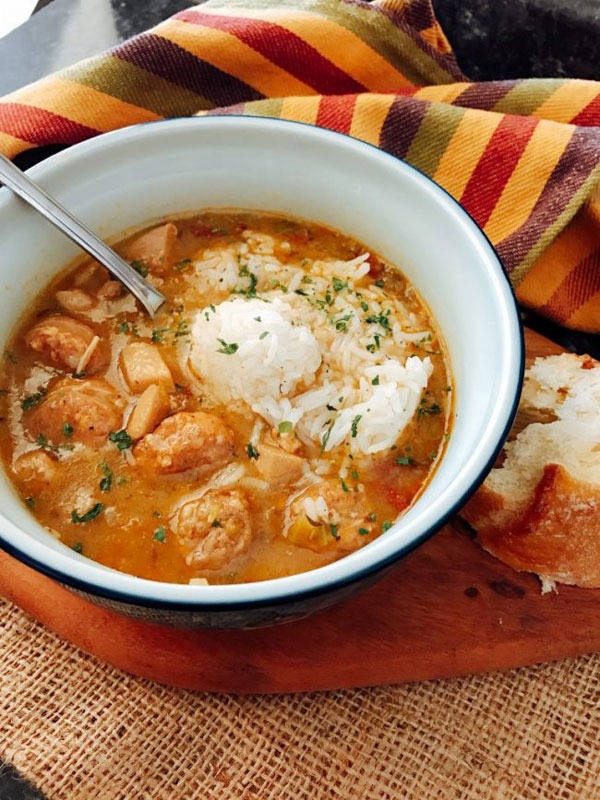 Serves: 10
Nutrition: 475 calories, 7.5 g fat, 1.9 g saturated fat, 873 mg sodium, 55.2 g carbs, 2.9 g fiber, 3.2 g sugar, 29 g protein (calculated with avocado oil and organic turkey Andouille sausage)
In just an hour, your Instant Pot can make a gumbo that transports you home (or back to that New Orleans trip you took for Mardi Gras.) Although healthiness isn't typically the main concern when cooking gumbo, this recipe is easily made diet-friendly. When calculating the nutrition information, we substituted organic turkey Andouille sausage for traditional pork sausage, making a considerable difference in the calories, fat and sodium content. If you insist on sticking with pork sausage, pay close attention to sodium, fat and unhealthy additives that could be hiding in the ingredients list.
Get the recipe from Little Family Adventure.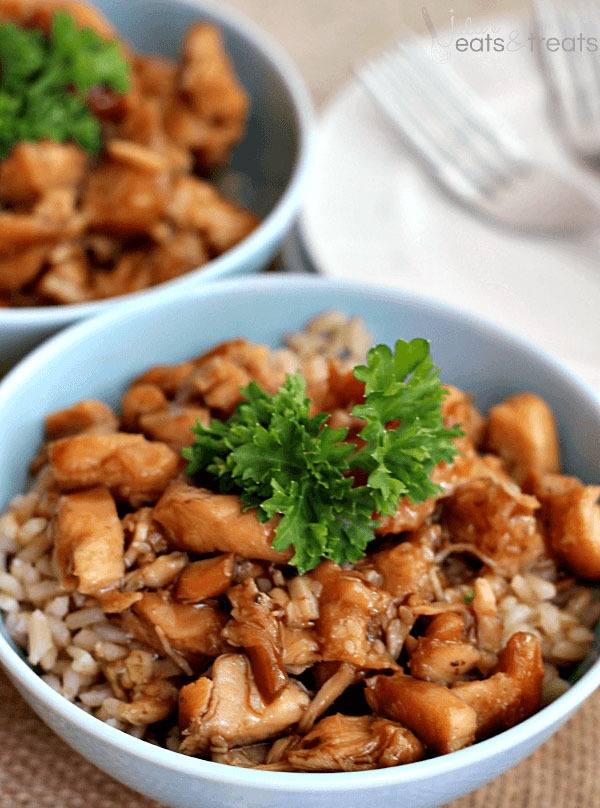 Serves: 4
Nutrition: 293 calories, 4.9 g fat, 1.2 g saturated fat, 1646 mg sodium, 23.4 g of carbs, 17 g of sugar, 36.8 g of protein
This recipe was first posted for a slow cooker, taking over four hours to make. The blogger added in a modification for the Instant Pot, reducing that time to just over 10 minutes! Give yourself some you time with the extra four hours you'll be getting back. This dish is so easy to make, but be careful of the sodium and sugar content in many teriyaki sauces. Pair the dish with a weight loss tea to keep down any bloating.
Get the recipe from Julie's Eats & Treats.
Serves: 11
Nutrition: 227 calories, 16.5 g fat, 5.5 g saturated fat, 559 mg sodium, 1.6 g carbs, 0.6 g sugar, 18.8 g protein
Many diets might tell you to stay away from pork, but with this healthy recipe you don't have to! It's still a little high in fat, but the dish is a good source of protein and very low-carb and low-sugar. The blogger has a great method of cooking the pork shoulder with cloves of garlic placed inside the meat, resulting in optimal garlicky flavor. Eat it plain, over cilantro lime rice or shred the pork in mini tortillas, topping it with avocado.
Get the recipe from Skinny Taste.