12 Best-Selling Kitchen Gadgets on Amazon (Right Now)
Be a better home cook and shave minutes off meal prep with these inexpensive and ingenious tools.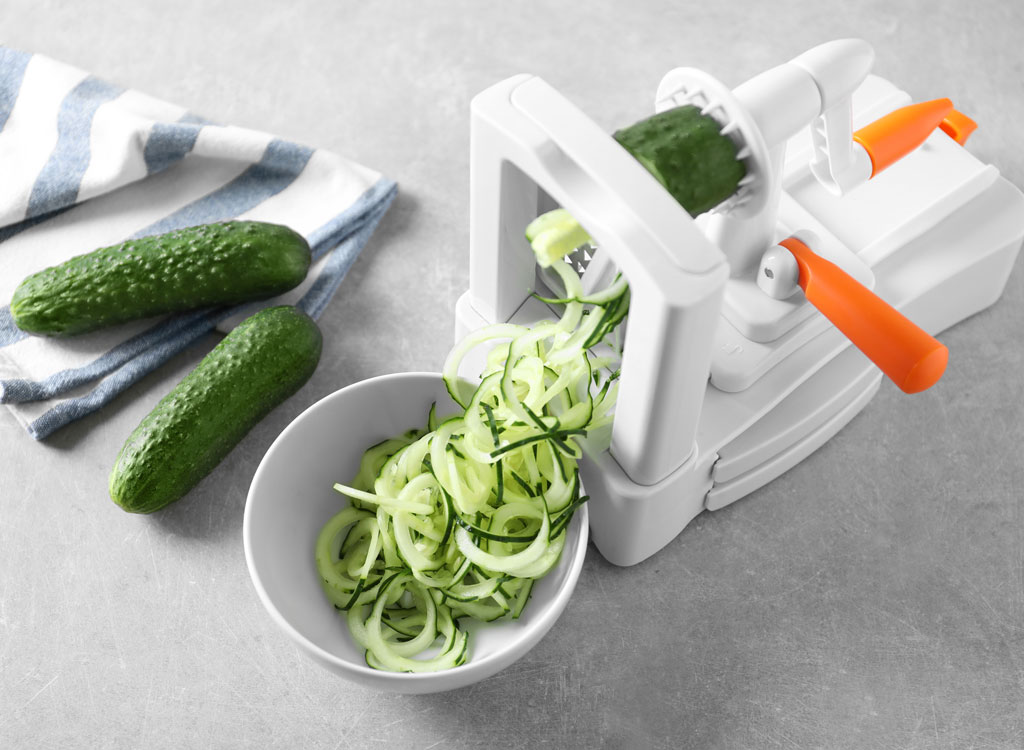 You might display the latest copy of Saveur on your coffee table, wear an apron and hoard a pair of designer oven mitts in your pantry, but you're not a true chef until you've added the best kitchen gadgets to your arsenal. After all, how can you grill ribeye to perfection or bake a lemony filet of sole without a cooking thermometer or top-rated citrus juicer?
To help you meet and exceed your healthy home-cooking endeavors, we've rounded up a list of Amazon's best-selling kitchen tools. All are priced under $30, so you can cook with ease — without vacating your wallet. Stock up and then try your hand at some of these 50 Cheap and Easy Slow Cooker Recipes.
Ozeri Digital Multifunction Kitchen & Food Scale
According to a new study from the UK's Office for National Statistics, people consume 50 percent more calories than they realize. Instead of eyeballing your portions and potentially sabotaging your daily caloric budget, invest in a food scale. You'll save time and calories, and maybe even gain inspiration to start meal prepping your entrees this weekend.
ThermoPro Digital Food Cooking Thermometer
Take the guesswork out of grilling a perfect skirt steak with ThermoPro's food thermometer. This sleek gadget features a wide temperature range of -58°F to 572°F, an LCD display, and a safe-to-use foldaway probe. With summer just around the corner, this ten-dollar tool will become your new backyard BBQ buddy.
Super Z Outlet Pineapple De-Corer
If you've ever bought a whole pineapple and found yourself YouTubing how to core it, you're not alone. With this stainless steel de-corer, you can not only core an entire pineapple in seconds but also slice it for easy storage. Just chop off the fruit's leafy crown and then insert the blade and twist! Keeping fruits ready-to-eat in the fridge is a sure-fire way to get more fresh produce into your diet.
Rubbermaid Stainless Steel Oven-Monitoring Thermometer
Your oven measures its own temperature, but wouldn't you rather err on the safe side when taking on mom's famous meatloaf recipe? This inexpensive oven thermometer can double check your pre-heat temp before you pop in your dinner. Even if your oven's reading turns out slightly inaccurate, you can always adjust the temps based on the thermometer's reading—a way less expensive alternative to investing in a new oven.
Blackstone Signature Griddle Accessories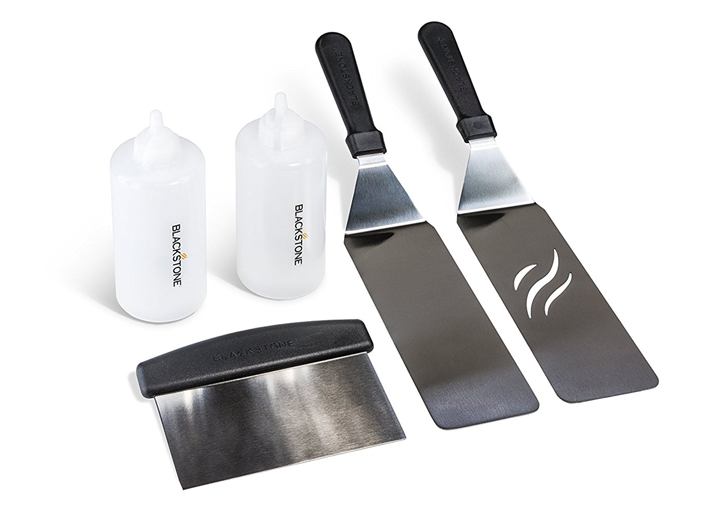 Kick off your summer cookouts with Blackstone's 5-piece, professional-grade BBQ tool kit. It comes with two restaurant-style stainless steel spatulas, a stainless steel chopper and scraper, and two fine-tip bottles for condiments and liquids so you can flip burgers, dice veggies, and dress hotdogs like a Top Chef.
Spiralizer 5-Blade Vegetable Slicer
6254a4d1642c605c54bf1cab17d50f1e
We're all about zoodles, but the pastabilities are endless when you've got a spiralizer on hand. Toss squash, carrots, beets into the tool and watch it turn your favorite produce into low-carb veggie ribbons. Whether you're going keto, Paleo, or gluten-free, shelling out a few bucks for a spiralizer is one of our 22 Carb-Cutting Hacks Diet Experts Love.
AmazonBasics 2-Piece Silicone Baking Mat
Cut unnecessary calories by trying these silicone mats in place of greasing your baking pans. Whether you're whipping up homemade rye bread, baked chicken, or oatmeal cookies, these mats will save you from fiddling with parchment paper and chemical-laden non-stick cooking sprays. What else makes these A-grade mats one of our favorite kitchen gadgets? They catch drips, keeping your oven squeaky clean.
Silicone Ice Cube Maker
Ice your lattes and keep your cocktails cool with this BPA-free ice bucket. It's big enough to hold more than 100 small ice cubes and compact enough to fit into a cooler, making it the perfect picnic tool for day trips and weekend getaways.
Zyliss Lock N' Lift Can Opener
When you're looking to crack open some of our cheap proteins for weight loss, let Zyliss' lock and lift gadget do the trick. The can opener features a handy magnet, which lifts the lid off the can without releasing it, allowing for easy disposal. Making homemade hummus has never been easier.
RSVP Deluxe Corn Stripper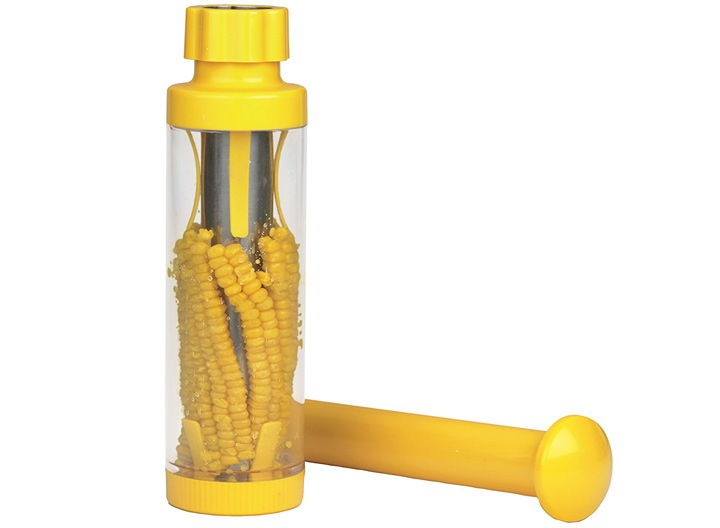 Why pay extra cash for bagged kernels when you can strip corn yourself? This practical gadget allows you to remove corn kernels with virtually zero effort and mess. Just insert the fresh or cooked veggie into the cylinder and press down and twist to release the kernels from the core. Toss the yellow orbs into stews, salads, and soups for a dose of satiating fiber and plant protein.
Regency Natural Ultra-Fine Cotton Cheesecloth
Whether you're straining homemade almond milk, basting a holiday turkey, or DIY'ing cold brew, this 100-percent cotton cheesecloth will get the job done. Even though it's marketed as a single-use cloth, a handful of Amazon reviewers give you the green light to wash and reuse it. Grab this cloth for just under four bucks.
Zulay Manual Citrus Press Juicer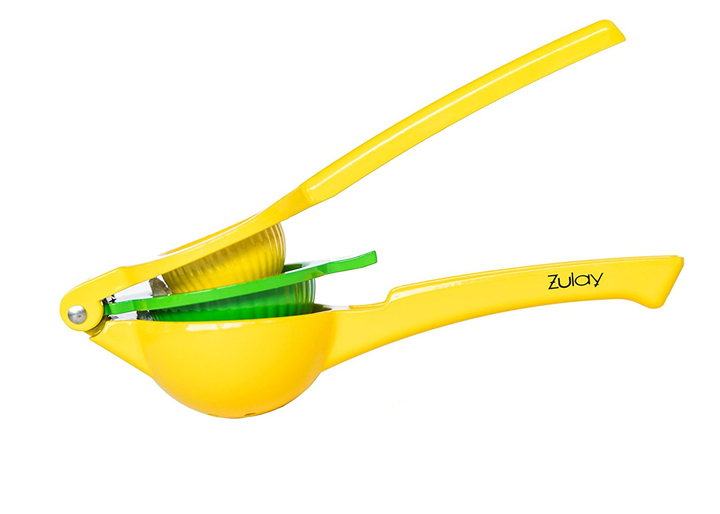 Back away from the bottled stuff and spike your recipes with freshly-squeezed citrus using this useful tool. All you need to activate this bright yellow juicer is a little arm grease—no plugs required. The best part? It efficiently keeps unbidden seeds and pulp out of your lemon and lime juice, so you can add antioxidant-filled citrus to your smoothies, tonics and more. It's no wonder the juice press is one of the 40 Things Healthy Cooks Always Have in Their Kitchen.
April Benshosan
April is a born-and-raised Brooklynite who has a passion for all things health, wellness, and tastebud-related.
Read more about April