15 Cheapest Proteins in the Supermarket
Add more of this muscle-building, metabolism-revving macro into your diet without breaking your budget.
When you're looking to build muscle, burn fat, and boost your metabolism, adding more protein to your diet is a prime resolution. And while the recommended dietary allowance for protein remains at 56 grams for men and 46 grams for women per day, research shows that upping your intake may be more beneficial for your body goals. In fact, a study in the American Journal of Physiology: Endocrinology and Metabolism reveals that folks who dug into double the daily recommended amount of protein were better able to build and maintain muscle as well as keep their metabolism revving at lightning speed. Now that you're convinced to pack your diet with this magical macro, find out how to do so without breaking the piggy bank. All of our go-to cheap protein sources below cost less than a dollar and provide at least six grams of satiating protein per serving. Scribble these cheap protein foods onto your grocery list to get lean on a budget.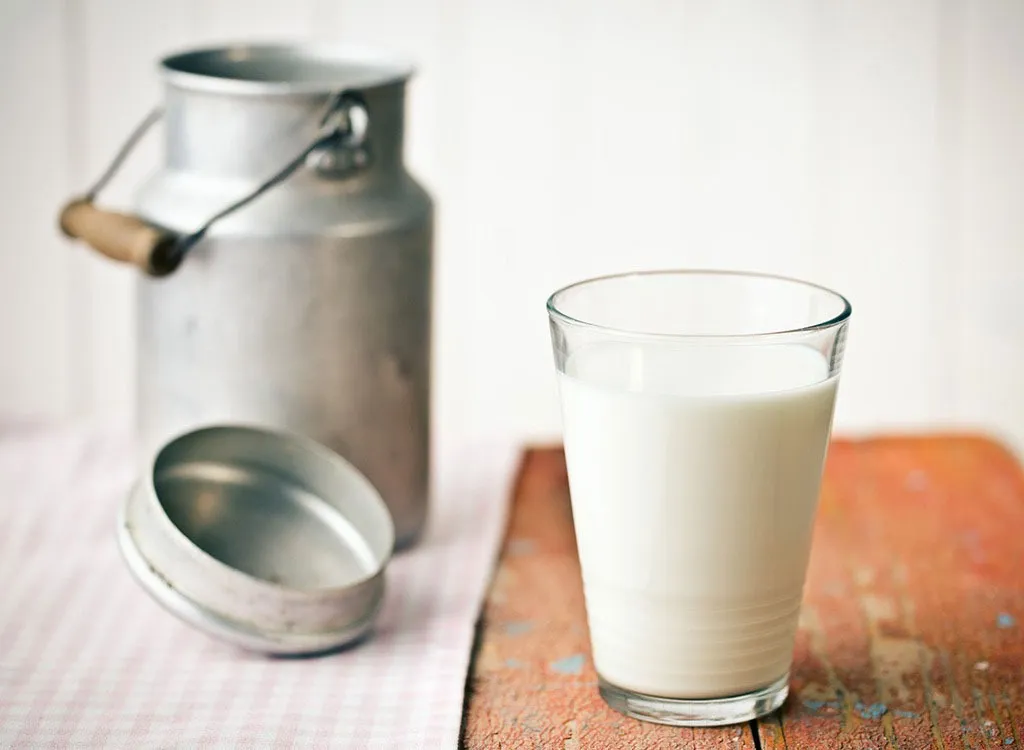 8 g protein per 1 cup
$0.26 per serving
Go ahead and don that milk mustache on the daily. If you buy a gallon of 2 percent milk, pouring yourself a cup of the cheap, protein-rich drink will nourish you with 8 grams of the muscle-maintaining macro as well as all nine essential amino acids and a respectable 30 percent of your daily recommended amount of calcium—for just about a quarter per serving! Calcium is the most abundant mineral in the body and is essential for maintaining strong bones and teeth as well as proper hormone secretion.
Dried Black Beans, 16 oz Bag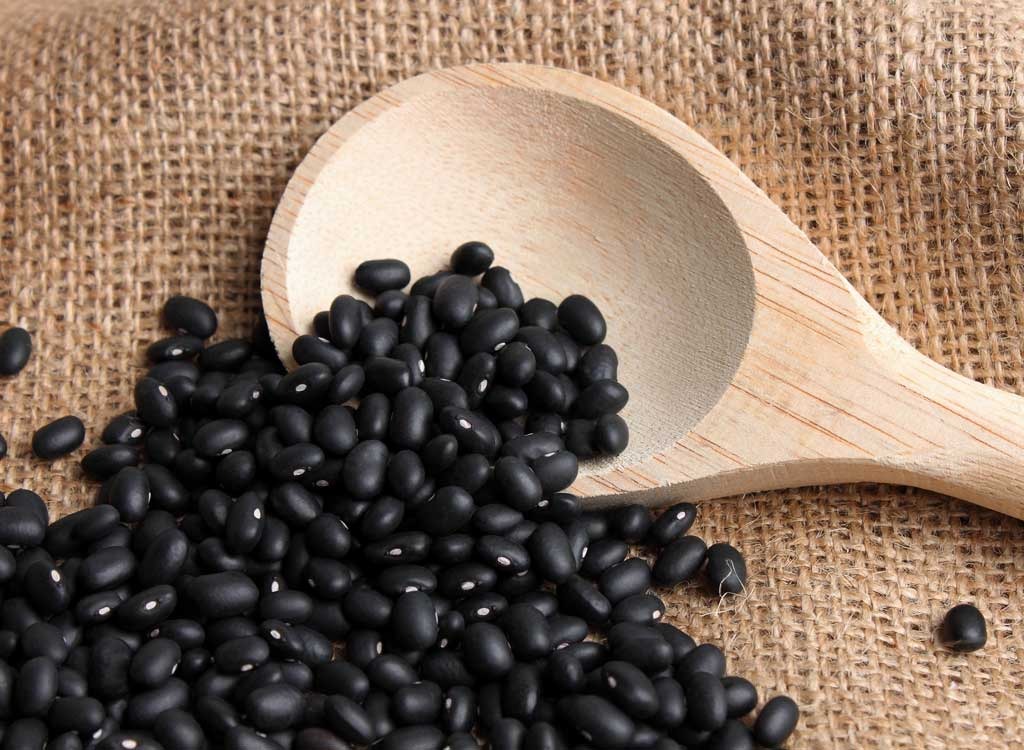 9 g protein per 1/4 cup dry
$0.16 per serving
For less than 20 cents a serving, you can bulk up your chilis, thicken soups, and add an extra dose of fiber and protein to salads. Black beans are brimming with saponins, phytochemicals that have been shown to lower cholesterol and may decrease the formation of fat, according to a study in the British Journal of Nutrition.
Plain Nonfat Greek Yogurt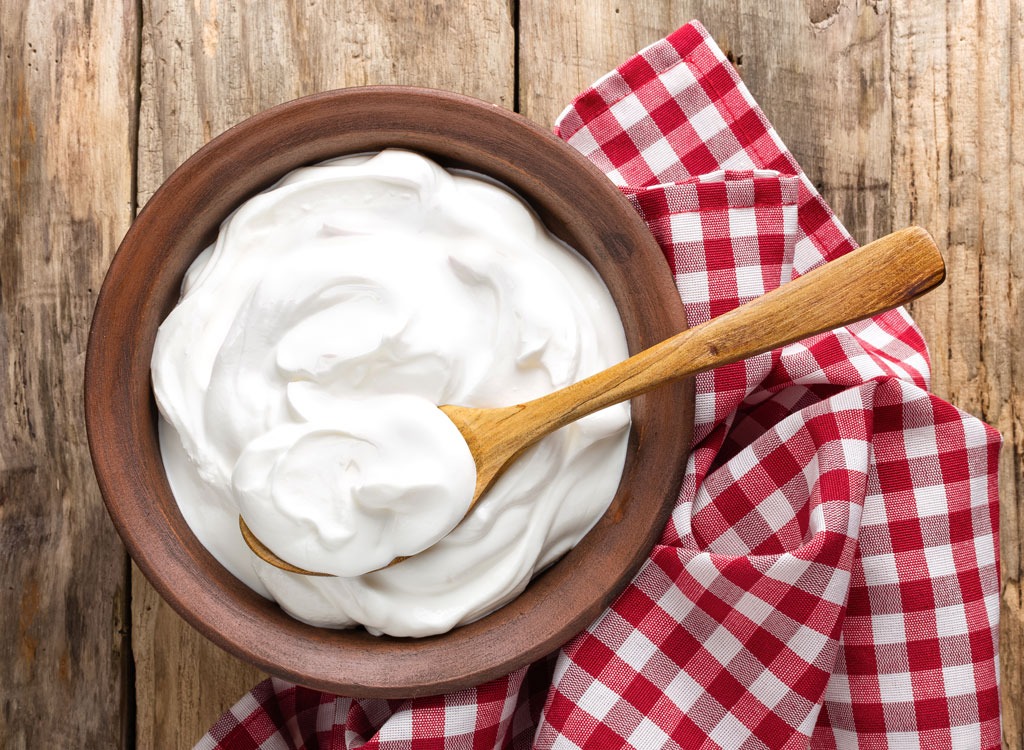 15 g protein per 5.3 oz container
$0.99 per serving
Pairing berries and carob chips with Greek yogurt is one of our slimming healthy snacks for good reason: The cheap, protein-packed snack makes a wonderful post-workout nosh that'll help you build lean muscle and replenish energy thanks to its protein-to-carb ratio. Plus, the gut-benefiting probiotics will help keep your tummy taught and lean just in time for swimsuit season.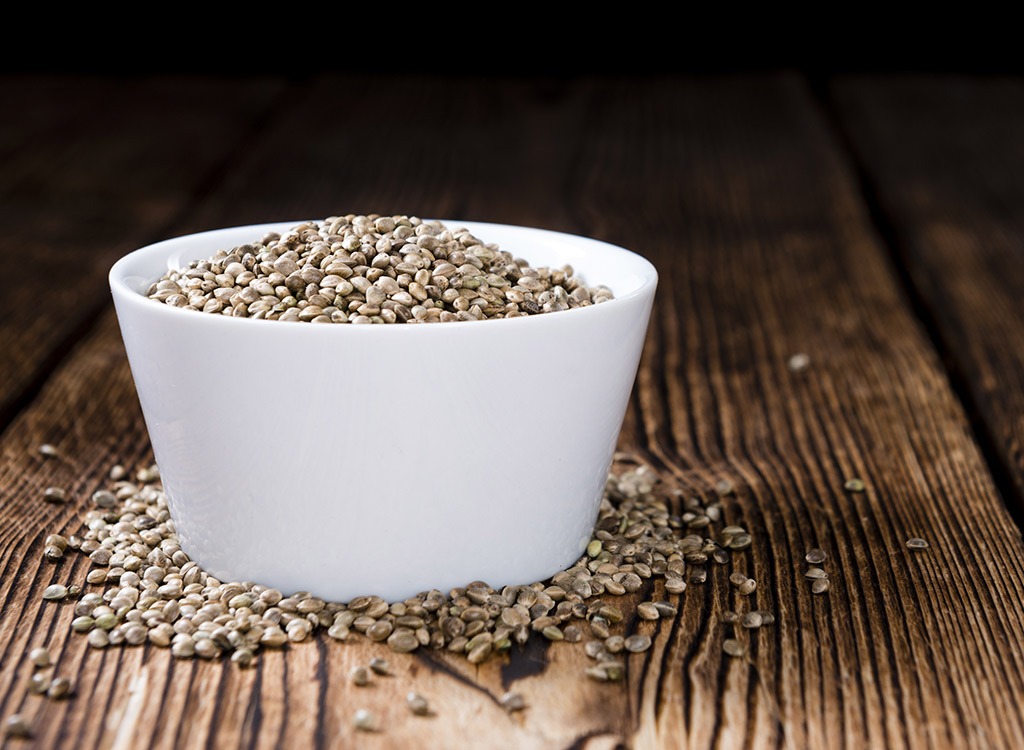 10 g protein per 3 Tbsp
$0.88 per serving
Jazz up your breakfast parfaits and morning oats with a sprinkle of hemp seeds. The subtle nutty flavor and high omega-3 content will help keep you satisfied and satiated, guilt-free. The cannabis-plant-derived seeds are a solid superfood that can be incorporated in almost any diet, providing a vegan source of complete protein and Gamma-linolenic acid (GLA), a fatty acid that's been shown to relieve PMS symptoms, a study in Reproductive Health found.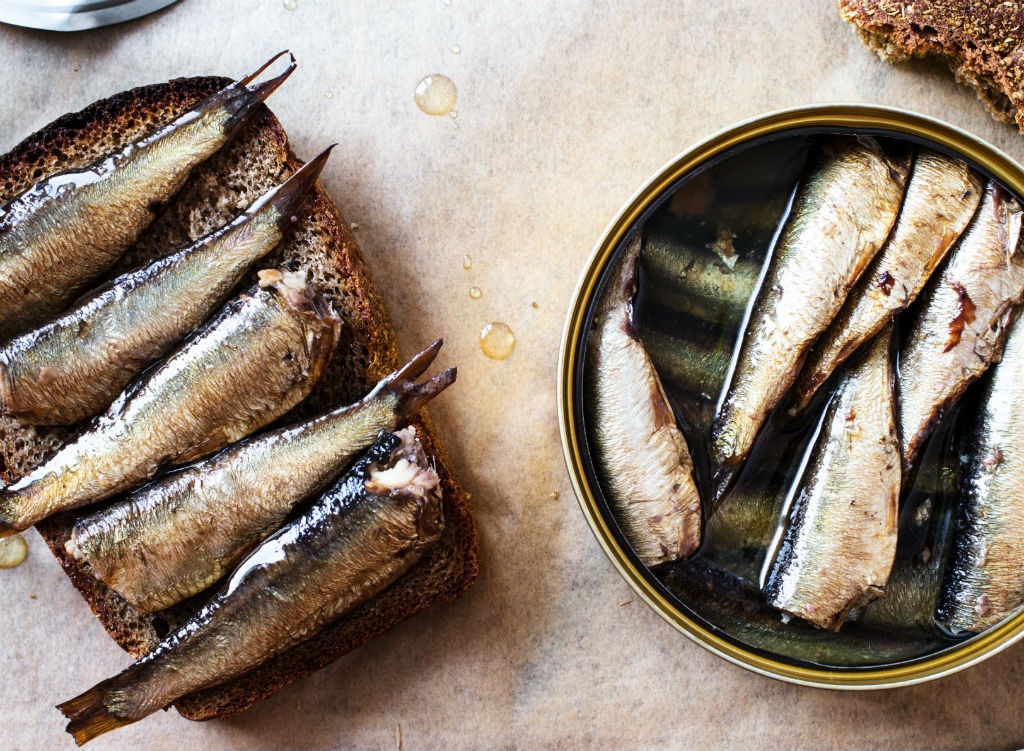 12 g protein per 2 oz
$0.85 per serving
The miniature fish may not be the epitome of a drool-worthy dinner, but that doesn't mean you should shun the canned superstars. A mere two-ounce serving packs in an impressive 12 grams of protein in addition to anti-inflammatory omega-3s, mood-boosting vitamin B12, and hormone-regulating vitamin D. Stack the seafood over whole-grain toast, pair with sliced avocado, and top with freshly-squeezed lemon juice for a satisfying snack we bet you'll become obsessed with.
2% Cottage Cheese, 24 oz Tub
13 g protein per 1/2 cup
$0.67 per serving
For an easy way to up your protein intake for the day, couple cottage cheese with fresh or slightly frozen fruit. The curdled cheese provides a solid dose of calcium and B vitamins, and can even help you banish hunger come bedtime thanks to its supply of slow-digesting casein. What's more, the low-cal cheese contains the amino acid tryptophan, which helps induce sleep. Add this cheap protein to your breakfast and even into smoothies for an extra dose of the muscle-building macro.
Light Canned Tuna, 5 oz Can
15 g protein per 2 oz
$0.99 per serving
Whenever you stock up on the sandwich staple, go for the chunk light tuna—it's harvested from the smaller fish, which reduces the amount of mercury in your can. The cold-water swimmer is loaded with both DHA and EPA, which are fish-derived fatty acids that have been linked to maintaining weight loss, preventing cardiovascular disease, and boosting cognitive function in those with very mild Alzheimer's disease, a study in the international review journal Advances in Nutrition found.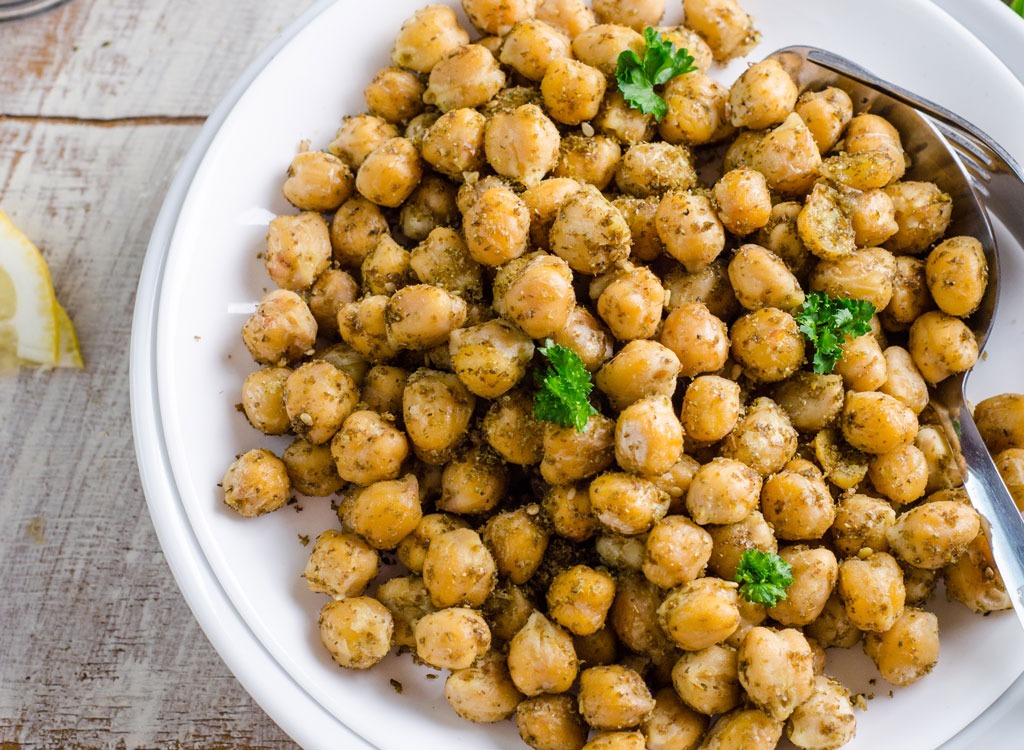 10 g protein per ¼ cup dry
$0.27 per serving
Whether you're blending a batch of homemade hummus or tossing the legumes into a hearty salad, chickpeas are one of our top cheap protein foods thanks to their stellar nutritional profile. The low-glycemic legume plays a beneficial role in weight management as well as glucose and insulin regulation and may even provide a positive impact on some markers of cardiovascular disease, according to a study in the journal Nutrients.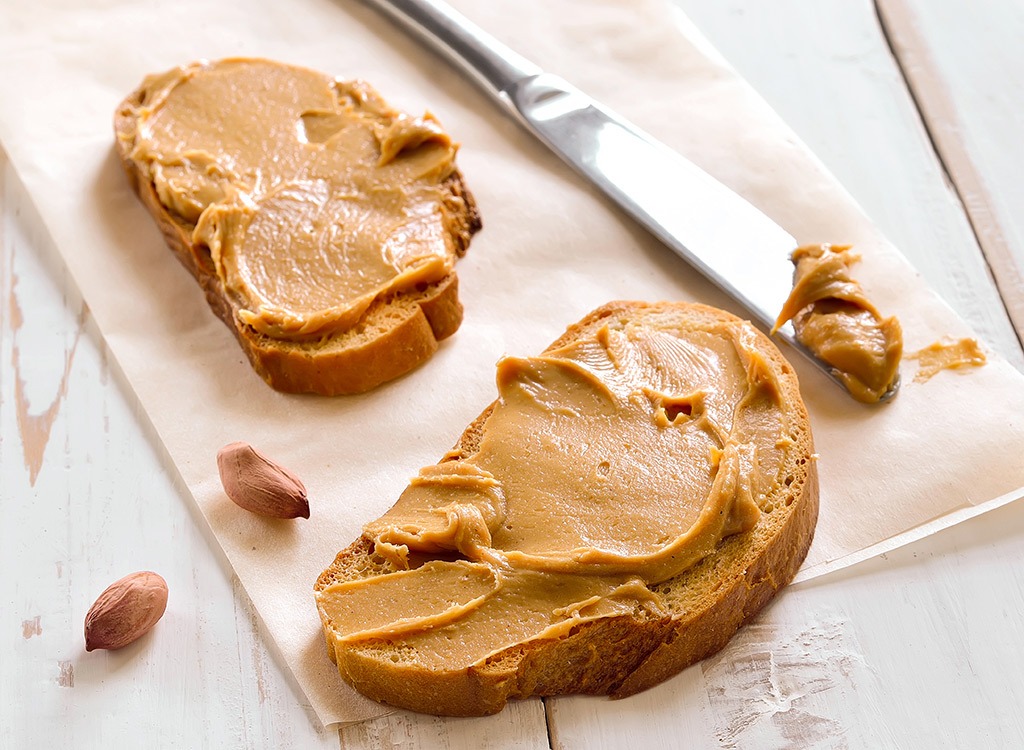 7 g protein per 2 tbsp
$0.25 per serving
We love Smucker's Natural peanut butter because it's undeniably creamy and more affordable than other high-end brands that feature the same short ingredient list. Unlike the jars you grew up with (we're looking at you, Skippy and Jif), this pick contains just two ingredients: peanuts and salt. And the main ingredient is no nutritional wallflower: A study published in the journal JAMA Internal Medicine found a link between the consumption of peanuts and a decreased risk for heart disease.
6 g protein per 1 large egg
$0.25 per serving
Fried, scrambled, baked, or poached, eggs are one of our favorite and most affordable proteins thanks to their stellar nutrient density. Eggs are packed with metabolism-boosting choline, which helps you keep your bod in tip-top shape—but this nutrient, along with vitamin D, is only found in the yolk! The oft-avoided orb also contains half the egg's protein content, so make sure you're using the whole egg in your omelets to reap the greatest benefits.6254a4d1642c605c54bf1cab17d50f1e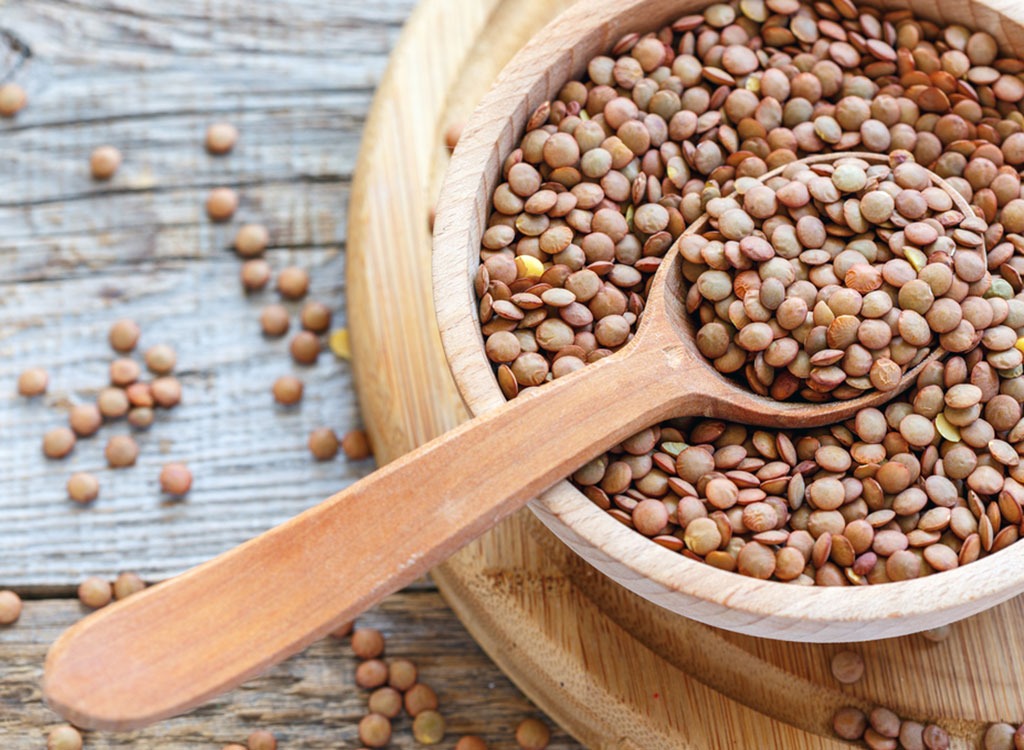 13 g protein per ¼ cup dry
$0.33 per serving
Small but nonetheless mighty, lentils are as versatile as they are nutritious. For just 33 cents per serving, you can sneak them into homemade desserts, add them to a vegetarian stew, and mash and mold them into a high-fiber pizza crust. The tiny legumes are a healthful source of anemia-fighting iron and DNA-repairing folate.
7 g protein per ¼ cup dry
$0.73 per serving
Whole grains pack in essential amino acids and fiber—and quinoa is no exception. It's a great cheap protein source for vegans and vegetarians because it contains all nine essential amino acids, deeming it a complete protein, as well as packs in more protein per gram than any other grain you'll find stocked in the supermarket.
Canned Wild Pink Salmon, 6 oz Can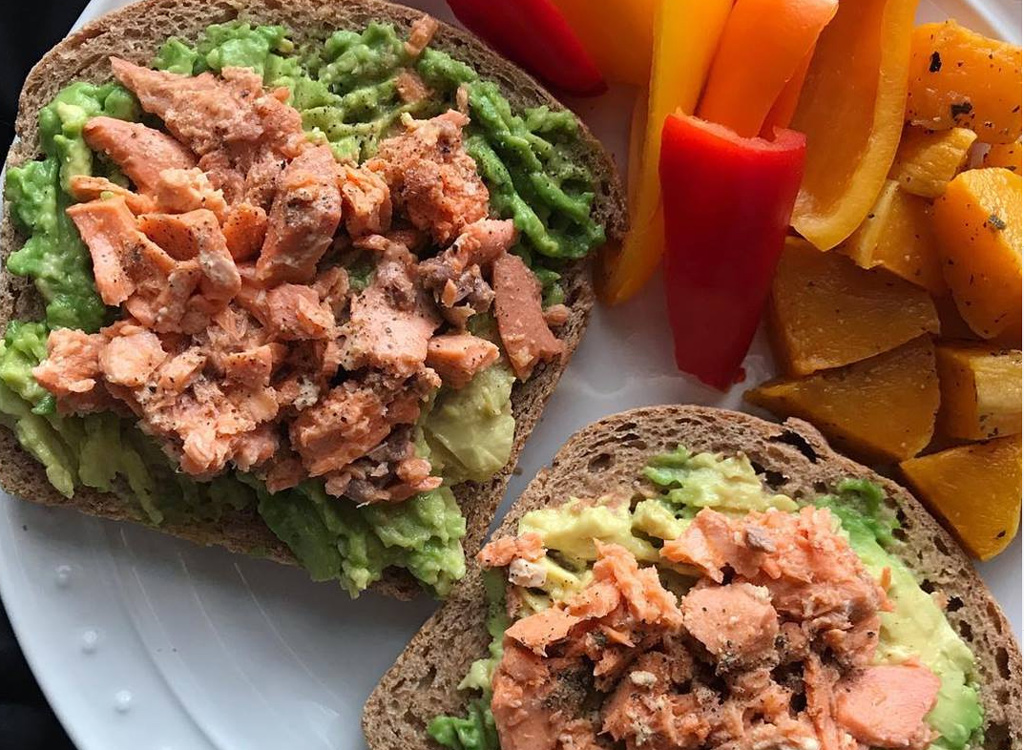 13 g protein per 2 oz
$0.99 per serving
Fresh, wild-caught salmon fillets may boast a pretty steep price tag, but you can get the omega-3-rich fish for much less when you grab the cans. For just under a dollar per serving, you'll get 13 grams of metabolism-revving protein as well as heart-healthy omega-3s and fat-soluble vitamins. We especially like Wild Planet's sustainably-caught pink salmon.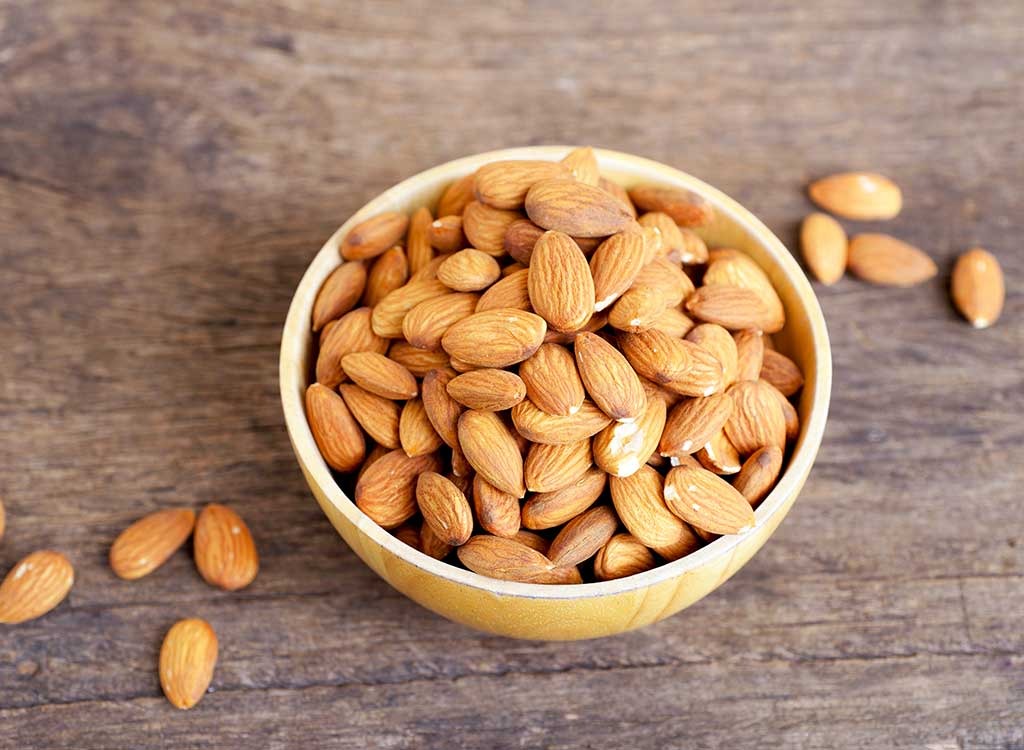 6 g protein per 1 oz
$0.46 per serving
Looking to add more protein to your go-to snacks? Just grab a handful of raw almonds. We like Blue Diamond's whole natural almonds because they contain just one ingredient (almonds, duh!) and are free of added sodium and sketchy preservatives. If you're looking to boost your workout's fat-burning capacity, aim to nosh on the nuts before hitting the gym. These subtly sweet nuts contain L-arginine, which has been shown to improve performance by helping athletes train for longer, a study in Biology of Sport found. Sounds like it's time to swap out that pseudo-berry-flavored pre-workout!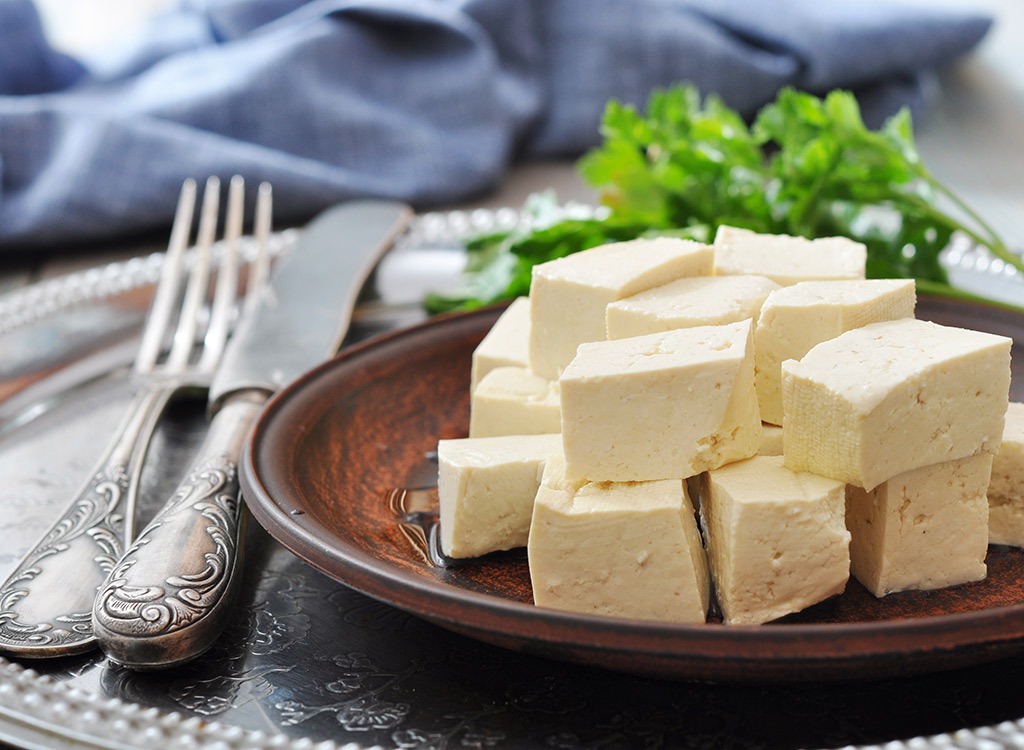 8 g protein per 3 oz
$0.42 per serving
Organic tofu, like House Foods', is a smart cheap protein source to add to your cart—it's inexpensive, jam-packed with our star macro, and it's plant-based. The organic variety will ensure you're not getting all the pesticides that come with traditionally-grown soybeans. Grab the silken tofu and add it to our best smoothie recipes for weight loss to boost the bev's slimming powers.
April Benshosan
April is a born-and-raised Brooklynite who has a passion for all things health, wellness, and tastebud-related.
Read more about April