The Best & Worst Pesto Sauces—Ranked!
A store-bought pesto sauce can be a great substitute or a diet downfall.
Pesto is one of the easiest and most delicious sauces to make. For a traditional pesto sauce, you take basil, garlic, lemon juice, pine nuts, and Parmesan cheese and blend them with enough olive oil to make a sauce. The result is an emerald green powerhouse of flavor that can make so many things taste better. While, yes, it is high in calories, a little goes a long way. If you have the time and the ingredients try this easy pesto recipe.
How to choose the best store-bought pesto
If you don't feel like lugging the food processor out and/or don't have a bumper crop of basil to get through, a store-bought pesto sauce can be a great substitute if you know what to look for. First, a jarred or refrigerated pesto should be as close to real things as possible. It should have basil as the first ingredient and then use olive oil, grated cheese, and some kind of nut, with pine nuts being the traditional choice. Garlic, salt,  and spices are normally present, but they shouldn't overwhelm the sauce. An acid, usually lemon juice, will add flavor and tartness. Be careful of the sodium count and check the fat content to be sure the sauce isn't predominantly oil. Here are some to steer clear of and a couple to keep stocked in your kitchen.
RELATED: The #1 Best Pasta Sauce We Tried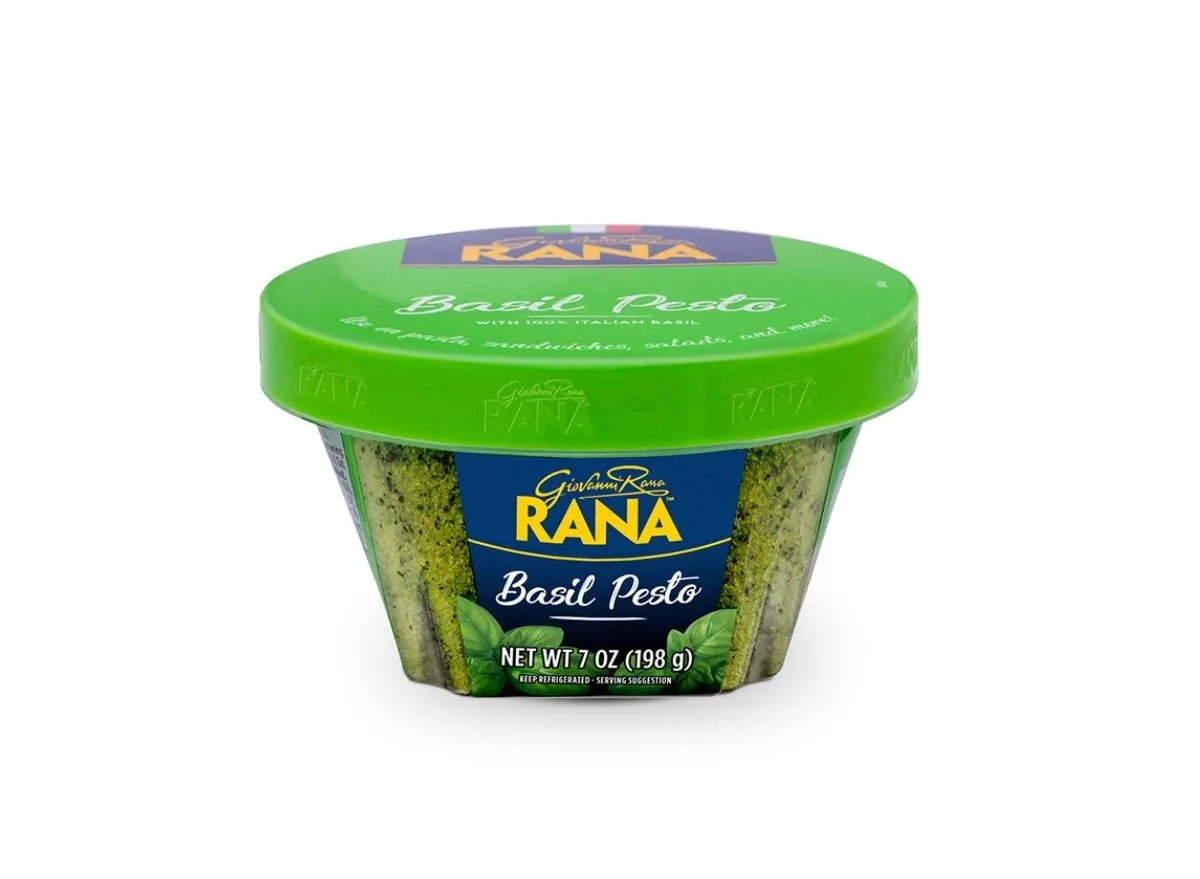 PER 1/4 CUP
: 350 calories, 35 g fat (5 g saturated fat), 410 mg sodium, 4 g carbs (1 g fiber, 0 g sugar), 5 g protein
The first ingredient is something called a "basil blend" which includes basil, sunflower oil, and salt. I'm guessing they include that to disguise the fact that this sauce has a lot of oil and it's mostly sunflower, though olive oil makes an appearance. Almonds, Pecorino, and some pine nuts come up next. This sauce admits you're going to use more than a few tablespoons and reveals the calorie sticker shock of 350 calories per quarter-cup serving.
RELATED: Surprising Side Effects of Using Olive Oil, Says Science 
Knorr Sauce Mix Pesto Pasta Sauce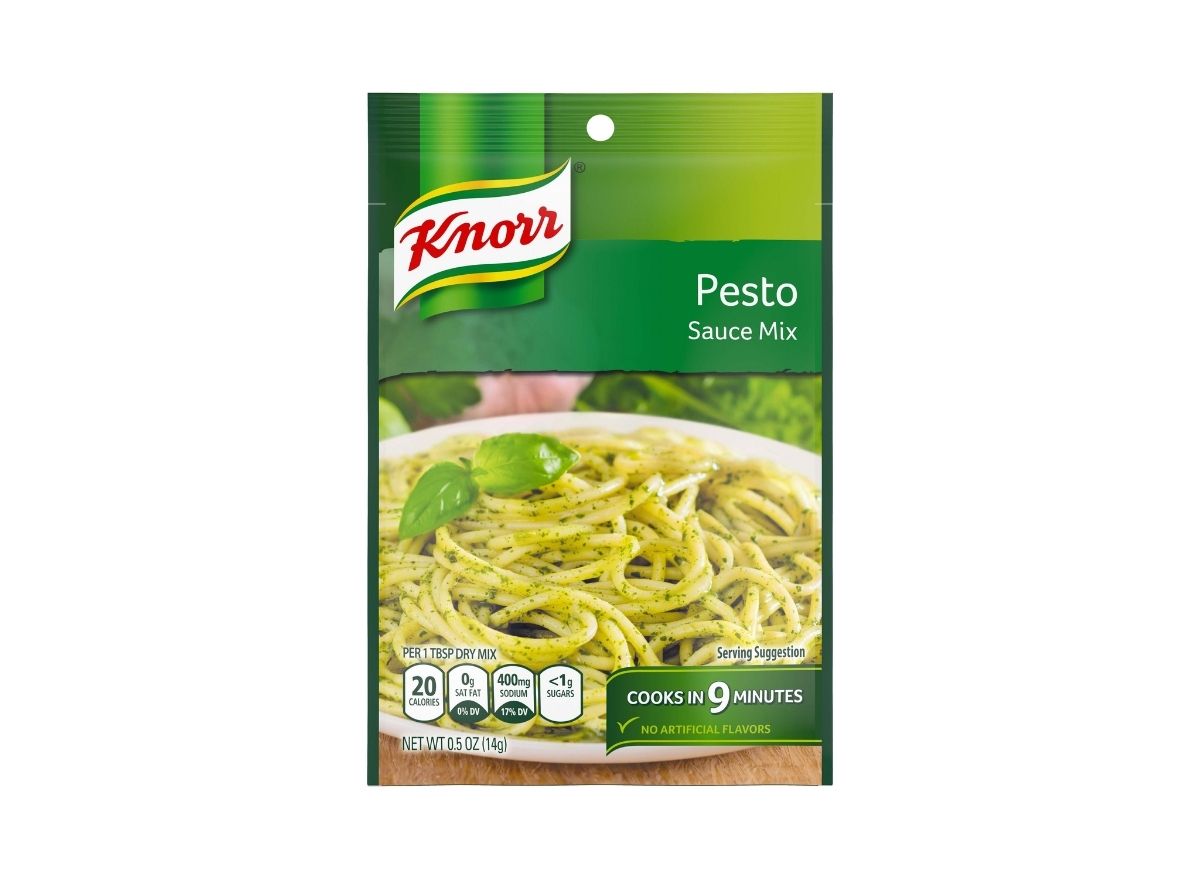 PER 1 TBSP
: 15 calories, 0 g fat (0 g saturated fat), 300 mg sodium, 3 g carbs (0 g fiber, <1 g sugar), 0 g protein
Look, this isn't pesto. This is a powder that may or may not taste like pesto. Maltodextrin is the first ingredient, followed by salt. Basil and cheese exist in here somewhere but it's really just a lot of salt and fillers dressed up to resemble pesto. When you use the whole packet as directed, the sodium becomes astronomical. Skip it.
RELATED: 55 Sneaky Words on Food Labels You Need to Avoid
Rao's Homemade Basil Pesto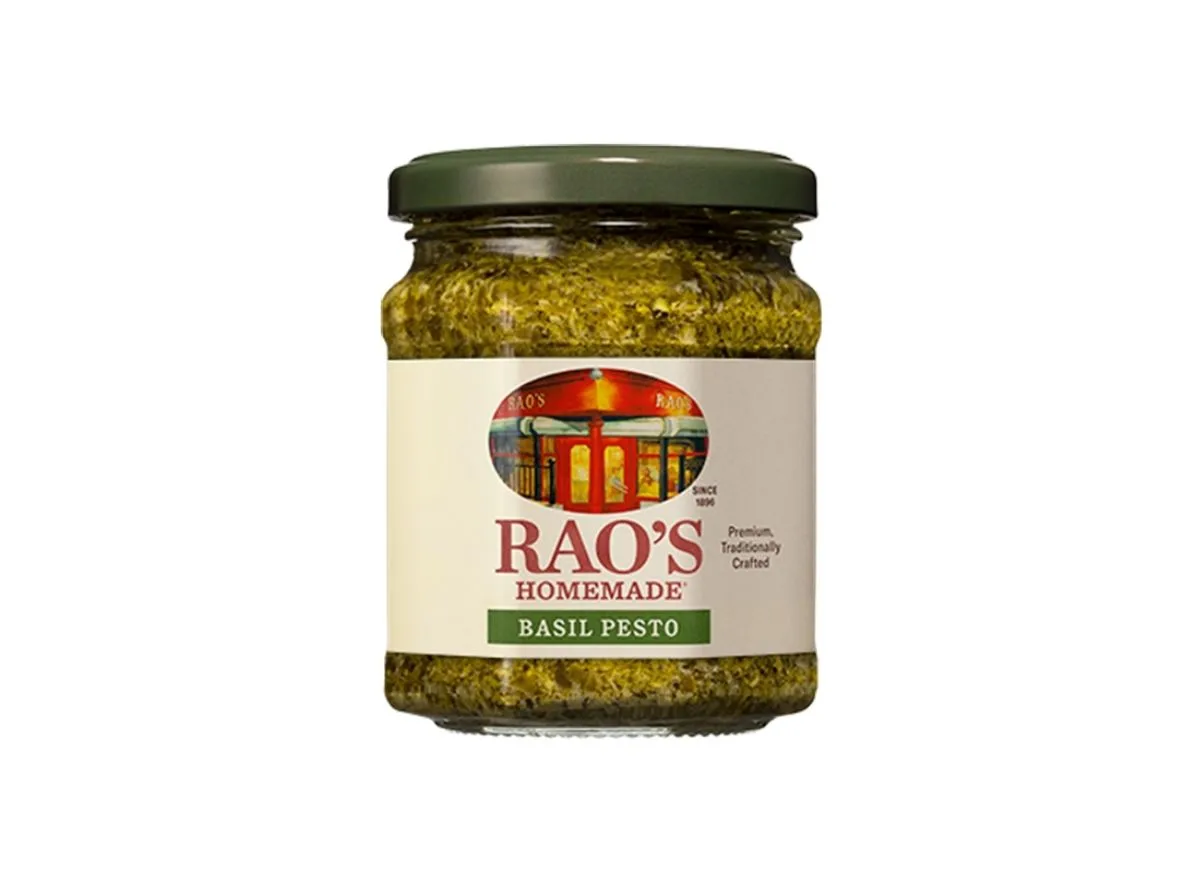 PER 1/4 CUP
: 320 calories, 31 g fat (5 g saturated fat), 980 mg sodium, 6 g carbs (3 g fiber, 2 g sugar), 4 g protein
Rao's starts with basil but then things get questionable. This sauce uses sunflower oil and some kind of "hard grated cheese." Cashews come before pine nuts on the list and it contains some added sugar. It is high in calories for a quarter-cup serving and a big no-no with 980 milligrams of sodium.
RELATED: The Surprising Effect Reducing Sodium May Have on Your Blood Sugar, New Study Says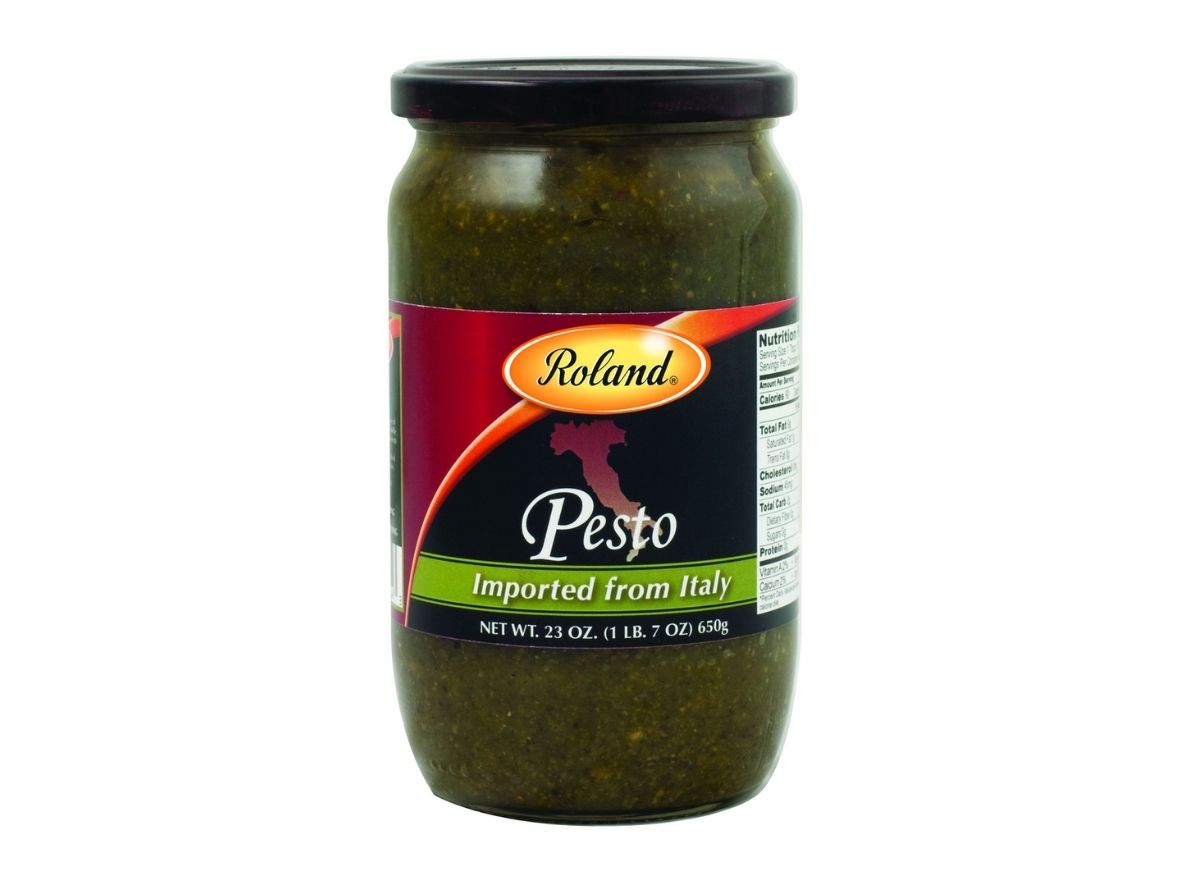 PER 1 TBSP
: 100 calories, 9 g fat (1 g saturated fat), 200 mg sodium, 2 g carbs (<1 g fiber, 1 g sugar), 1 g protein
This list starts out okay, basil and olive oil. The color is a bit off and the addition of vinegar instead of lemon juice could have a negative effect on flavor. It uses cashews instead of pine nuts so the flavor could be different than you're used to. And while you might think it's lower in calories and fat than some of the others, the serving size is just one tablespoon so be prepared to double everything, quadruple if you use a quarter cup. Yes, that's 400 calories and 36 grams of fat.
RELATED: The #1 Cause of Belly Fat, Says Dietitian 
Classico Signature Recipes Traditional Basil Pesto Sauce & Spread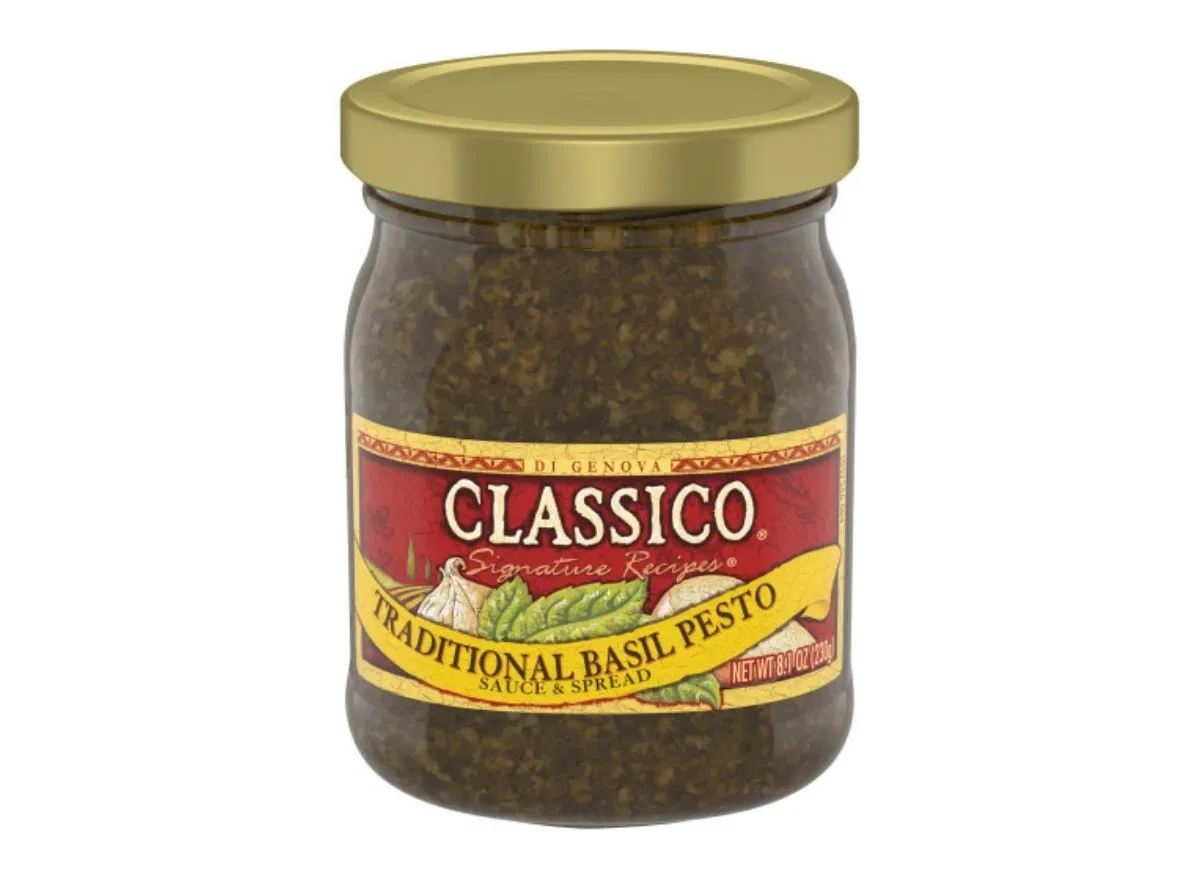 PER 1/4 CUP
: 230 calories, 22 g fat (4 g saturated fat), 560 mg sodium, 4 g carbs (<1 g fiber, 0 g sugar), 3 g protein
The first ingredient in this emerald green sauce is basil. To quote Martha Stewart, that's a good thing. However, traditional olive oil is replaced with soybean oil. Is that why they need the natural flavor? Things that make you go, hmm…
RELATED: The Link Between Soybean Oil and Weight Gain
Mezzetta Artisan Ingredients Basil Pesto
PER 2 TBSP
: 160 calories, 15 g fat (3 g saturated fat), 310 mg sodium, 1 g carbs (1 g fiber, 0 g sugar), 2 g protein
EVOO, fresh basil, Parmesan, expensive pine nuts, and fresh garlic are all a part of this stellar ingredient list. Olive oil is the first ingredient here, so the sauce could potentially be a little oily, but it looks to be a good bet. Two tablespoons have 160 calories, so use sparingly.
RELATED: Grocery Store Finds: Best Extra Virgin Olive Oil for Total Health
Barilla Pesto Pasta Sauce Classic Genovese
PER 1/4 CUP
: 300 calories, 26 g fat (3 g saturated fat), 400 mg sodium, 12 g carbs (4 g fiber, 4 g sugar), 3 g protein
This blend starts with basil and sunflower oil. Spinach is added, most likely for color. It uses Grana Padano cheese but no pine nuts, opting for cashews instead. This is an oily sauce and has a sneaky amount of carbs.
RELATED: 14 Sneaky Sources of Added Sugars
PER 1/4 CUP
: 200 calories, 19 g fat (4 g saturated fat), 590 mg sodium, 4 g carbs (4 g fiber, 0 g sugar), 3 g protein
This sauce is very similar to Classico in that the first ingredient is basil and the main oil is soybean oil. They add a little olive oil, most likely for flavor and they use Romano cheese instead of Parmesan. At 200 calories per quarter-cup serving, this isn't a bad option.
RELATED: 12 Meals You Can Make With a Costco Rotisserie Chicken
Buitoni Pasta Sauce Pesto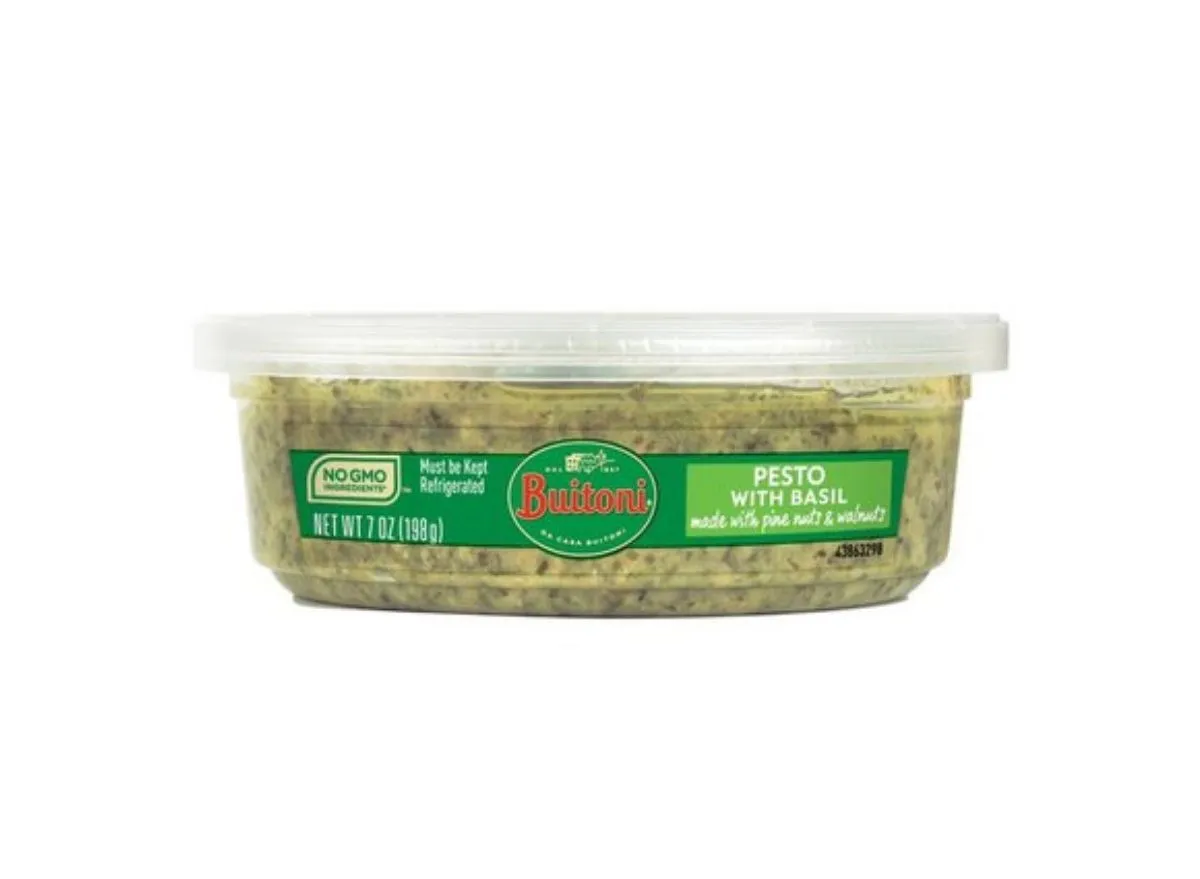 PER 1/4 CUP
: 290 calories, 27 g fat (5 g saturated fat), 400 mg sodium, 5 g carbs (0 g fiber, 3 g sugar), 7 g protein
It's a good sign that this sauce needs to be refrigerated. Basil and EVOO are the first ingredients in this sauce. It also contains pine nuts, Parmesan, and garlic. The only thing missing is lemon juice.
De Cecco Pesto alla Genovese with Extra Virgin Olive Oil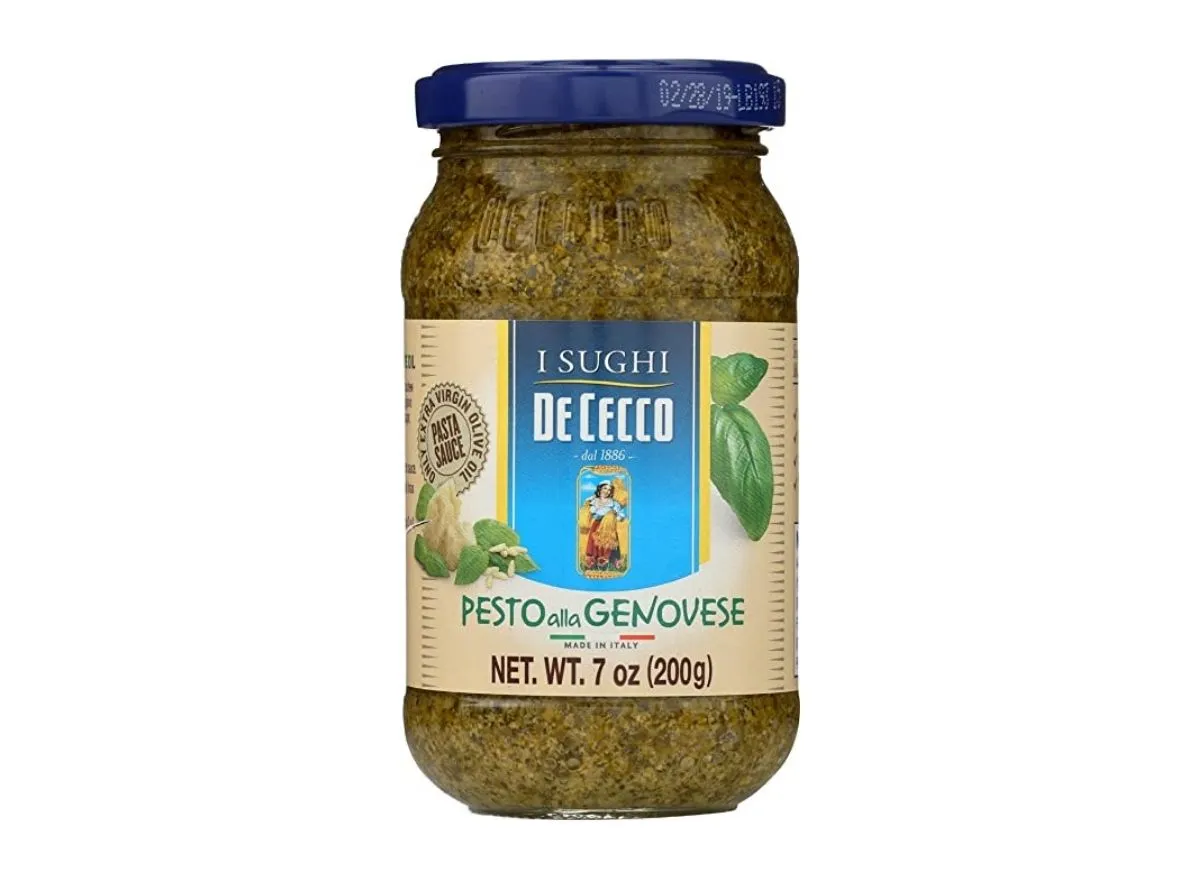 PER 2 TBSP
: 120 calories, 12 g fat (2 g saturated fat), 330 mg sodium, 2 g carbs (<1 g fiber, <1 g sugar), 2 g protein
This company takes its pesto seriously by including percentages in the ingredients. 37% basil, 36% olive oil, and 5% Parmesan cheese. Plus, this isn't just any Parmesan, but Parmesan Reggiano, the real stuff. It has cashew flour too, most likely for consistency, but pine nuts do make an appearance. Potato flakes and sugar are an odd toss-in at the end but seem to be used sparingly.
To get more tips and tricks for choosing the best product on grocery store shelves, sign up for our newsletter!
Read more:
The Best & Worst Hot Sauces—Ranked!
40 Best and Worst Pasta Sauces—Ranked!
How to Start an Easy Indoor Herb Garden
Meaghan Cameron is senior editor of Eat This, Not That! overseeing food content for MSN.com.
Read more