17 Creative Uses for Your Food Processor
Whip up some hummus or grind your own gluten-free flour with the help of your trusty food processor.
Chances are, you already know how amazing your food processor is at chopping veggies for omelets, salads and other healthy dishes. But don't stop there—the possibilities are basically endless with this super useful and versatile kitchen gadget.
Blending, chopping, whipping—it gets the job done quickly and efficiently so you don't have to spend hours slaving over nutritious, homemade dishes and snacks. We chatted with chefs and nutrition experts to learn their favorite ways to use this kitchen dynamo, aside from chopping up fresh vegetables.
The next time you head into the kitchen, here are 17 ingenious ways to use your trusty food processor. For other handy kitchen devices that will inspire you to become a better chef, check out these 20 Genius Healthy Cooking Gadgets.
Ice Cream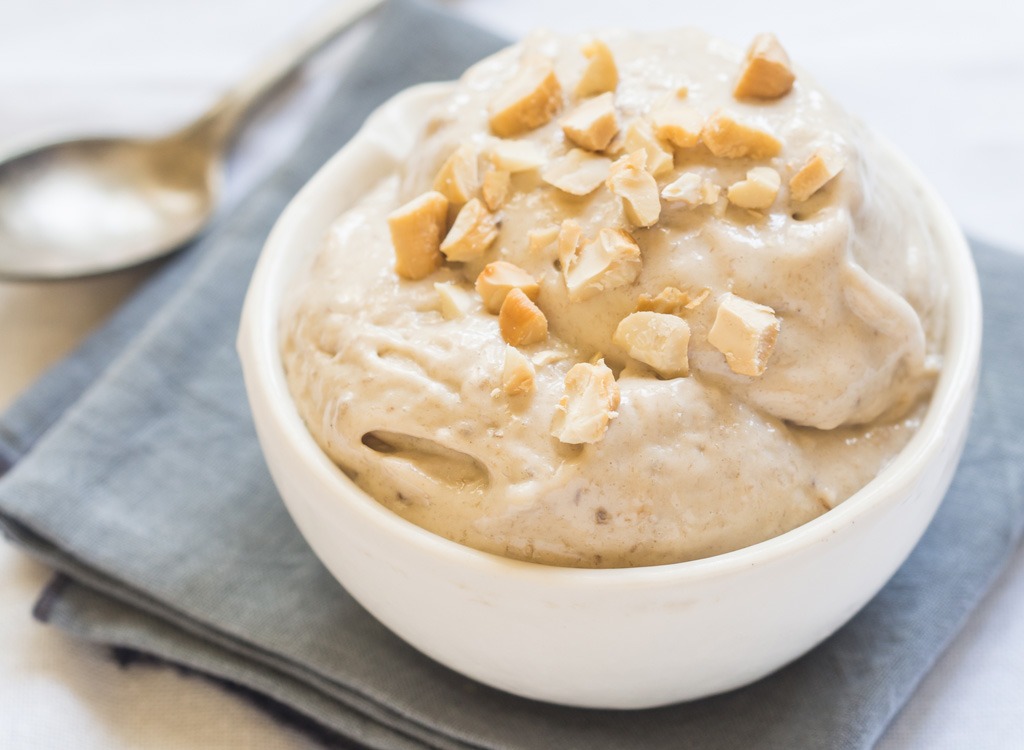 Whip up your own version of this decadent treat at home using your food processor (no fancy ice cream maker required). Rachel Muse, a private chef who cooks for elite athletes and runs the Talk Eat Laugh pop-up restaurant, calls this concoction "nice cream" because it won't ruin your waistline. She suggests peeling and slicing a banana into half-inch disks. Freeze the banana chunks overnight, then pop them into your food processor for two minutes until they form a paste. Freeze the paste for 30 minutes, then dig in. If banana isn't your favorite flavor, Muse suggests adding raspberries or a dash of cocoa powder.
Flaxseed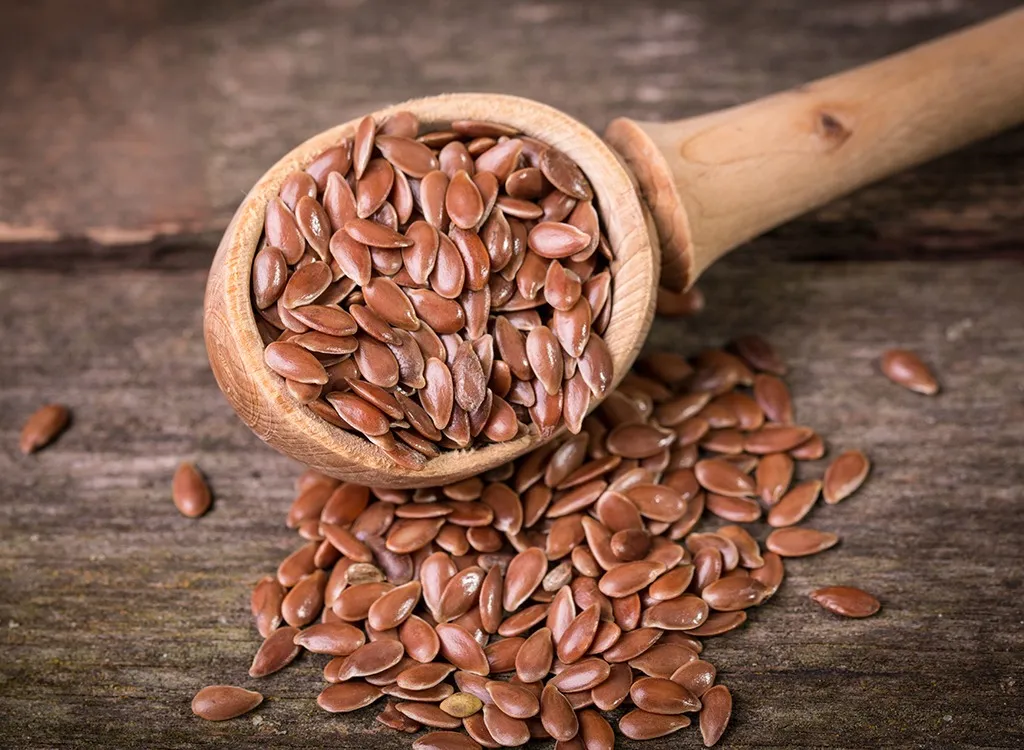 Flaxseed is a great source of protein and fiber. This little seed has been linked to numerous health benefits, including lowering blood pressure, reducing the risk for liver disease and fighting tumors. Muse suggests throwing some flaxseed into your food processor, since ground flaxseed is easier for your body to digest. Sprinkle some on your morning oatmeal or add some to a smoothie to reap these 6 Incredible Health Benefits Of Flaxseed.
Falafel
If you love falafel but want to make your own healthy version at home, read on. Soak raw garbanzo beans in warm water overnight until they become soft. Drain the beans, also known as chickpeas, then toss them in your food processor. Blend until a chunky paste forms. Add flavor to the beans by combining them with lemon, cilantro, garlic or cumin, Muse suggests. Form small round balls, then bake until crispy.
Oat Flour
Make your own oat flour at home for gluten-free breads, desserts and other treats. Blend dry oats in your food processor until the mixture looks fine and powdery. It's a lot cheaper to make your own oat flour, plus oat flour has a low glycemic index value, which means it will help you feel energized and fuller longer. Muse says it's also helpful for symptoms related to irritable bowel syndrome. Speaking of oat flour, here are 20 Gluten-Free Flours to include in your next batch of baked goods.
Body Butter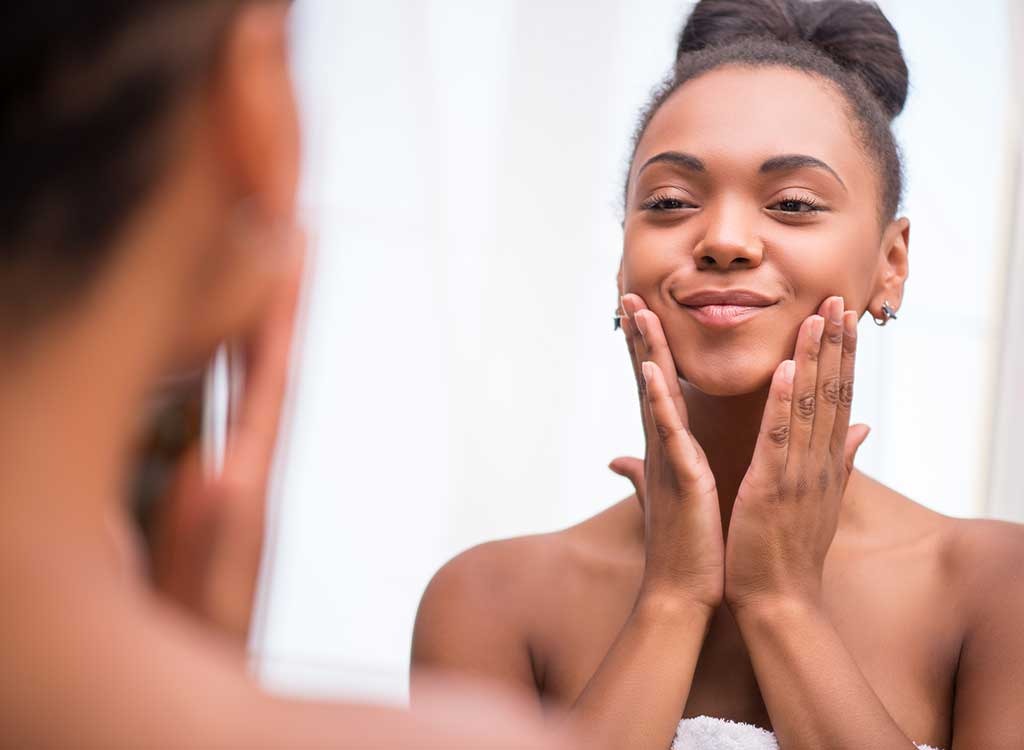 Don't let dry skin get you down this winter. You can easily make your own body butter at home with the help of your trusty food processor, says Tori Tilton, owner of Share the Soap. All you need is some coconut oil or shea butter (or some combination of the two!), cornstarch or arrowroot powder and your favorite essential oils. Blend until smooth. If the body butter is too stiff, add a little of your favorite liquid oil, such as olive oil or avocado oil.
Ready-To-Use Turmeric And Ginger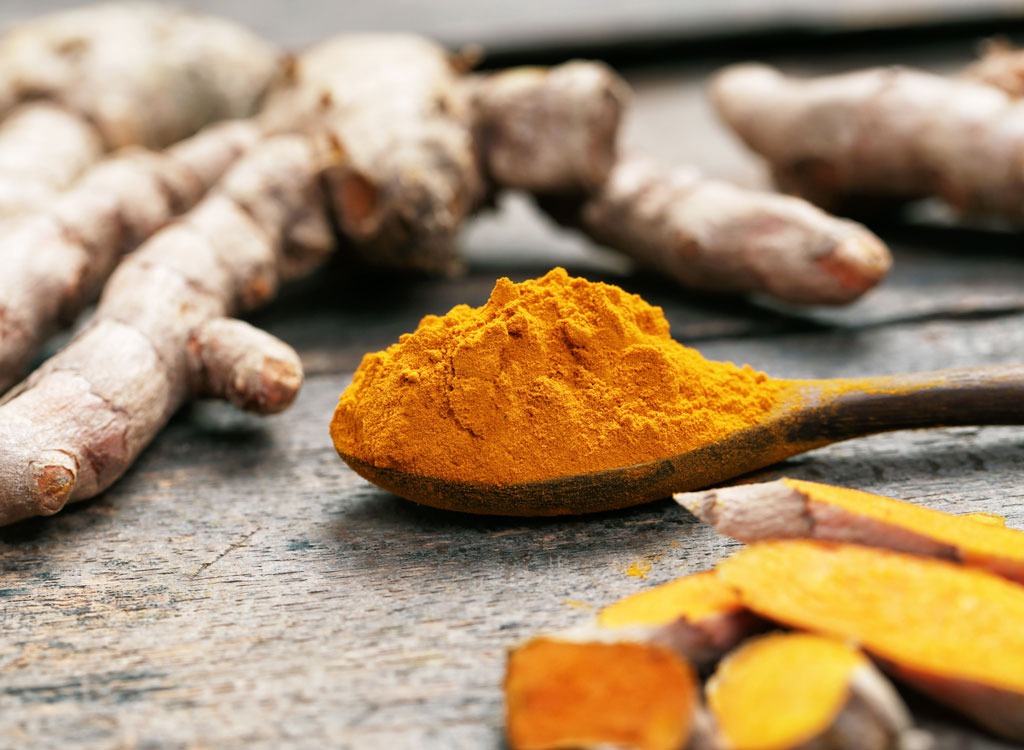 Replace high-calorie condiments and salt with fresh turmeric and ginger, say The Nutrition Twins Lyssie Lakatos, RDN, CDN, CFT and Tammy Lakatos Shames, RDN, CDN, CFT, authors of The Nutrition Twins' Veggie Cure. Buy a handful of fresh turmeric and ginger roots, then peel off the skin and gently pulse them in your food processor. Stash in the freezer to use in smoothies and stir-fry dishes. Turmeric and ginger are also great for seasoning chicken, fish and eggs — they boost flavor while adding a hefty dose of antioxidants and anti-inflammatory compounds. If you didn't already know, Turmeric Is The New It Girl Of Spices.6254a4d1642c605c54bf1cab17d50f1e
Healthy Chocolate Mousse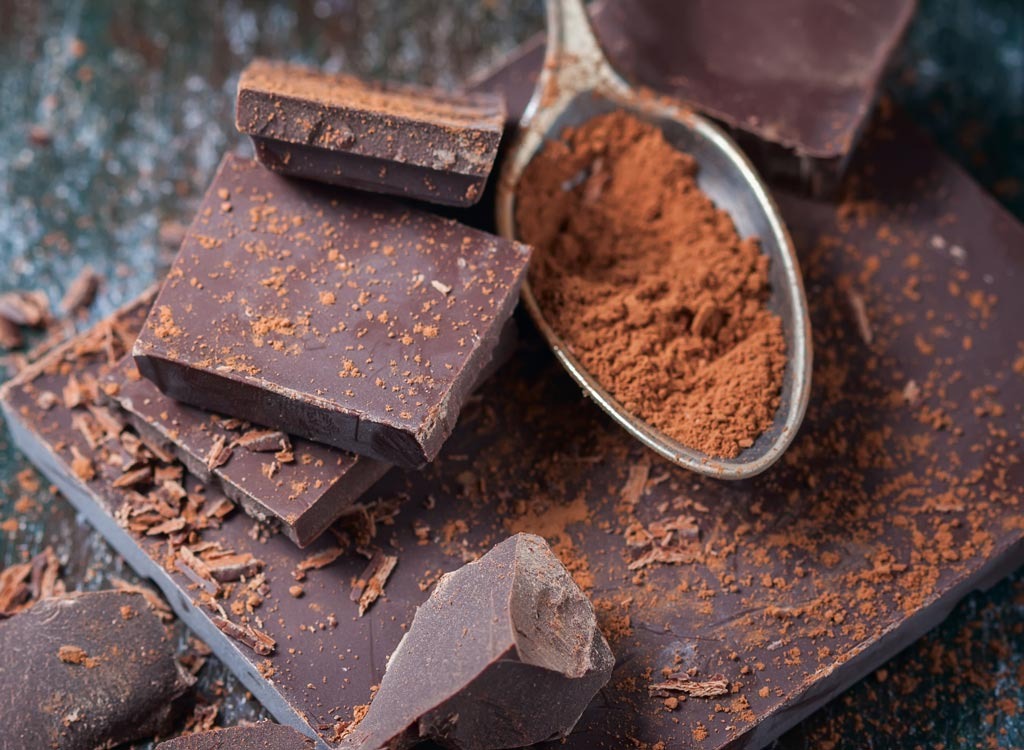 Indulge your sweet tooth with a healthy version chocolate mousse — with a little help from your food processor. Combine avocado, cocoa powder, almond milk, vanilla extract and melted semi-sweet chocolate chips in your food processor and blend until smooth. Skip the high-calorie version of chocolate mousse made with heavy cream and opt for this light and fluffy version instead, say The Nutrition Twins.
Fluffy Mashed Sweet Potatoes
If you can't get enough comfort food, your food processor can help. Instead of making Mom's calorie-laden version of mashed potatoes, take The Nutrition Twins' advice. Add cooked and peeled sweet potatoes to your food processor, then blend with sriracha sauce and a dab of non-hydrogenated, plant-based butter spread. These whipped potatoes are rich and creamy — without all the fat!
Creamy Pasta Sauce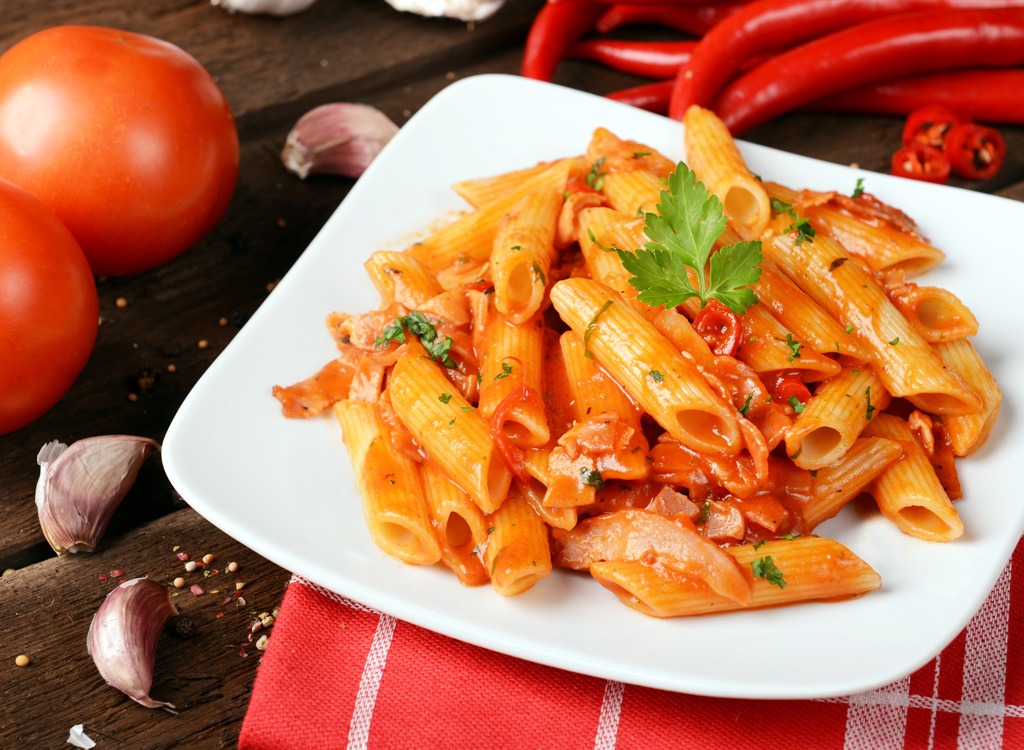 You don't have to give up your beloved creamy pasta sauce while trying to cut calories. Instead, make your own nutritious version at home. Toss diced tomatoes, your favorite Italian seasonings and non-fat ricotta cheese into your food processor, suggest The Nutrition Twins. You'll whip up a guilt-free, creamy marinara sauce in no time.
No-Bake Dessert Balls
These luscious no-bake dessert balls are such an easy way to treat yourself after a long day. Blend dates, cocoa powder and chia seeds in your food processor, share The Nutrition Twins. Shape the mixture into balls and enjoy this rich, healthy dessert. Got a sweet tooth? Check out these 20 Healthy Desserts For Weight Loss.
Grind Your Own Meat
Since ground turkey and chicken can be pricey and hard to find in some stores, why not make your own at home? Pick up some of your favorite chicken or turkey breast, trim away any fat, dark meat and tendons, then pulse in your food processor, say The Nutrition Twins. Use for tacos, wraps, burgers and other recipes that call for ground meat. Learn how to make the Best Burgers For Weight Loss for your next barbecue.
Almond Butter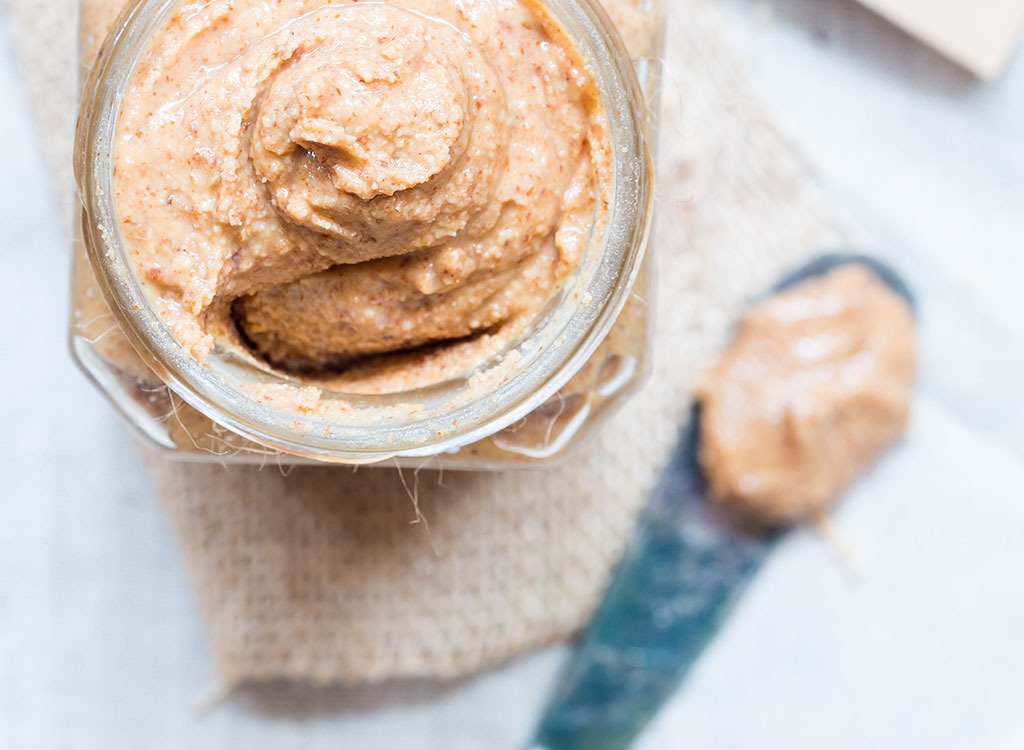 It's easy to make your own tasty almond butter at home. Start by warming your almonds in the oven for 10 to 15 minutes. This helps to release the natural oils that will make your almond butter super creamy, according to Megan Gilmore, a nutritionist, certified health coach and the author of Everyday Detox. Add the warm almonds to your food processor and blend, stopping to scrape down the sides of the bowl occasionally. After 20 minutes, the ground almonds will form a creamy paste. Add other healthy spreads to your diet with the 16 Best Nut Butters For Weight Loss.
Cauliflower Pizza Crust
Make your own veggie-packed version of pizza with cauliflower pizza crust. Gilmore suggests tossing a bag of frozen cauliflower into the fridge the night before to let it defrost. Add the florets to your food processor and blend until small, rice-sized chunks form. Scoop the cauliflower onto a thin dish towel, then wring out as much excess moisture as you can. Blend the cauliflower with egg, cheese and your favorite Italian seasonings. Bake the crust and add your favorite pizza toppings! Take your healthy pizza-making skills to the next level with these 12 Flourless Ways To Make Pizza.
Hummus
Hummus is a delicious dip for fresh veggies that's packed with protein and fiber. Make your own by tossing chickpeas, tahini paste, garlic, lemon juice, olive oil and your favorite seasonings into your food processor. Pulse for about 60 seconds, then blend until smooth. Craft your best-ever hummus recipe with these 11 Tips For Making The Perfect Homemade Hummus.
Nut Milk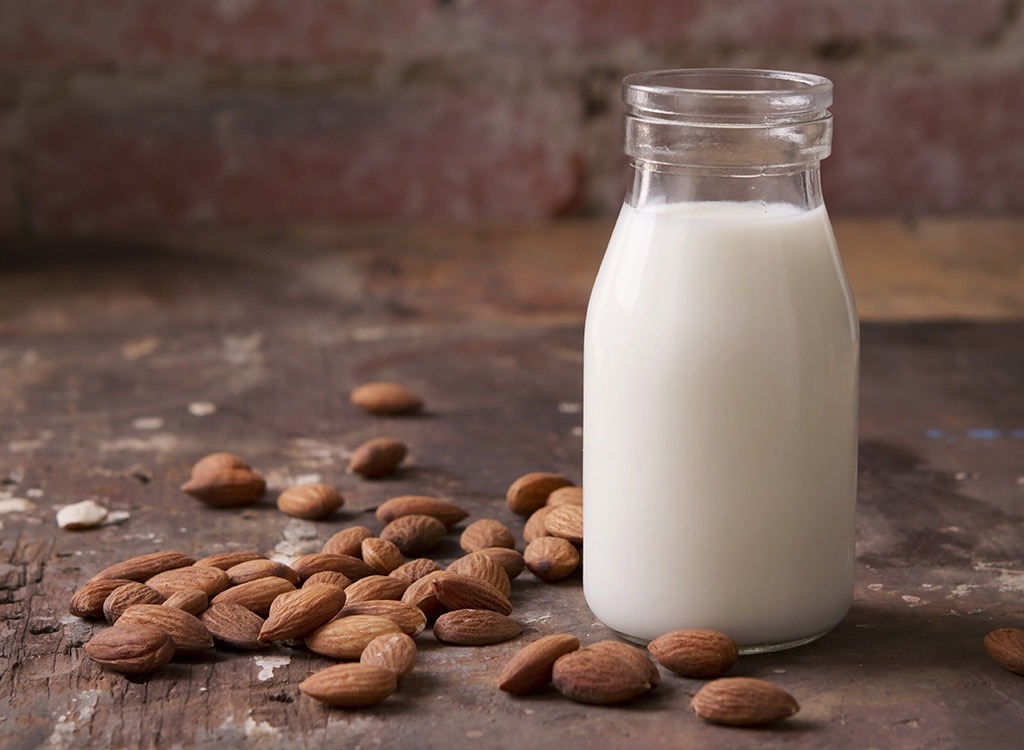 It's easy to blend up a batch of homemade almond or cashew milk at home, says Nicky Barber of SideChef, a step-by-step cooking app. Start by boiling almonds in water for one to two minutes, then remove the skins. Combine the almonds with dates, vanilla extract and water in your food processor, then blend until creamy. Strain the mixture to remove any chunks. Refrigerator your homemade almond milk and enjoy! The process is similar for cashew milk, but since these nuts don't have skins, you can soak them overnight rather than boil them.
Salsa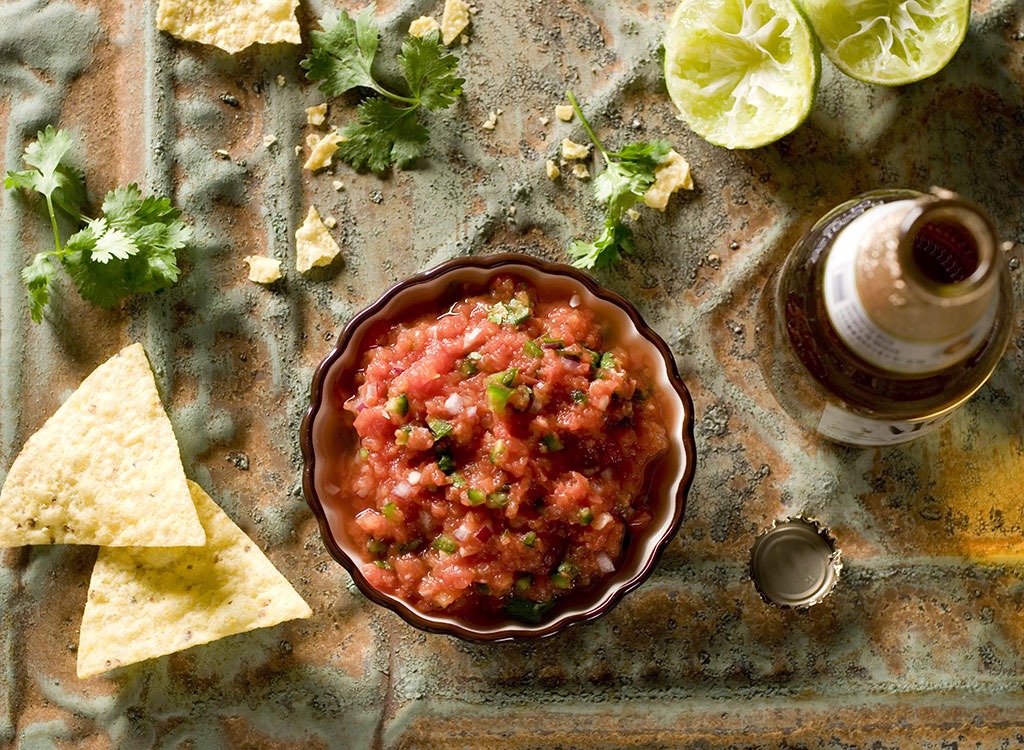 Salsa is one of the hardiest and most flavorful low-calorie toppings out there. Make your own by tossing fresh tomatoes, red onion, cilantro, jalapeno peppers and some lime juice into your food processor, shares Tracey Soulia MS, RD, CDN, CDE. Pulse until the salsa reaches your desired consistency, then use it to add some spice to chicken, eggs and other dishes. If you love Mexican food, don't worry about it ruining your waistline. Read our guide for How To Lose Weight Eating Mexican Food and you'll never have to give up your favorite flavors.
Baby Food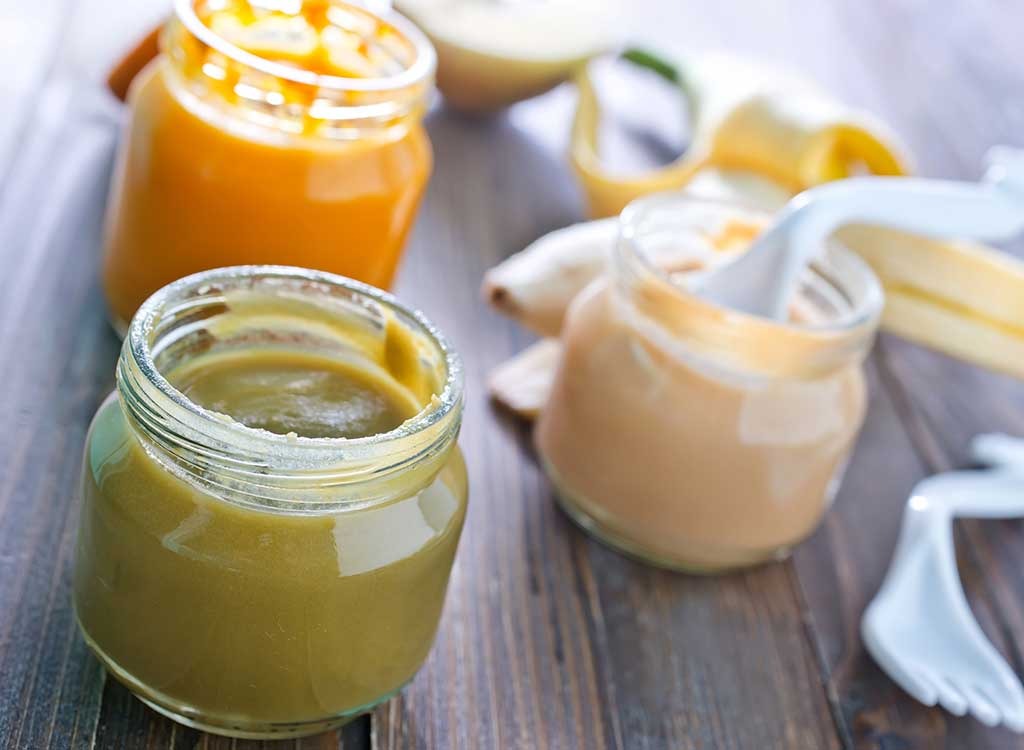 By making your own baby food, you know exactly what you're putting into your child's body. To make baby food with your food processor, start by buying the best, freshest produce you can find, shares Kim Melton, RDN. Make sure you wash fruits and vegetables thoroughly, then cook them to ensure they're soft enough for baby to eat. Peel the produce and remove all pits and seeds before blending in your food processor.
Eat This, Not That!
Inspired by The New York Times best-selling book series, Eat This, Not That! is a brand that's comprised of an award-winning team of journalists and board-certified experts, doctors, nutritionists, chefs, personal trainers, and dietitians who work together to bring you accurate, timely, informative, and actionable content on food, nutrition, dieting, weight loss, health, wellness, and more.
Read more about Eat This