The Best Salad in Every State
Have you been to your state's top spot?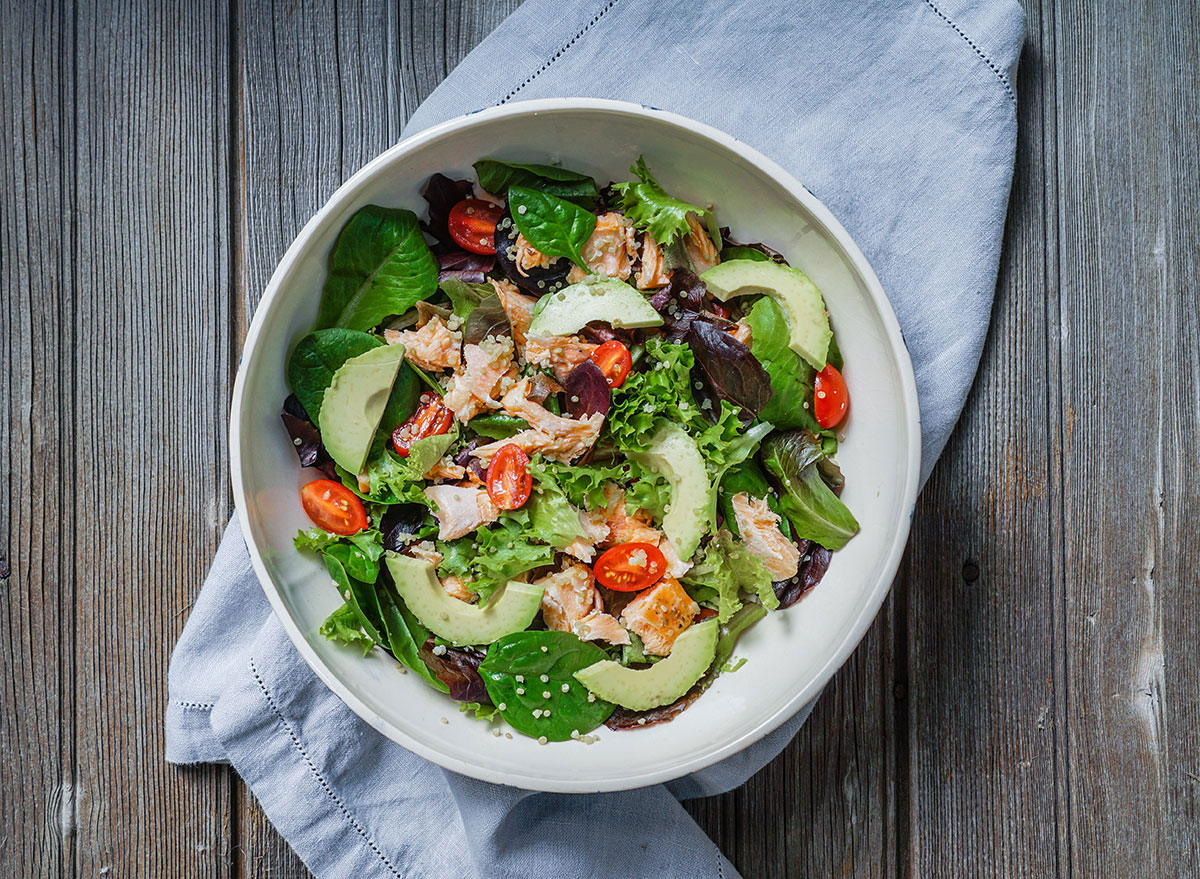 As the days are getting brighter, there's nothing better than a meal that keeps you light and energized. Salads are a great way to get creative with flavors while still sticking to nutritious values. And after searching far and wide, we've found the best salad in every state, so you can enjoy these tossed greens no matter where you live.
Whether it's for weight loss, dietary restriction, or simple cravings, eating salad is always in style. We came up with a list of a variety of options so that you'll never get bored. While creating this nationwide list of great salads, we researched reviews from Yelp and local publications with a combination of highly recommended restaurants alongside their most-reviewed salad dishes. Without further ado, here's our guide to the best salads across the country.
And for more, here's What Happens to Your Body When You Drink a Smoothie Every Day.
ALABAMA: Wedge Salad at Ash in Homewood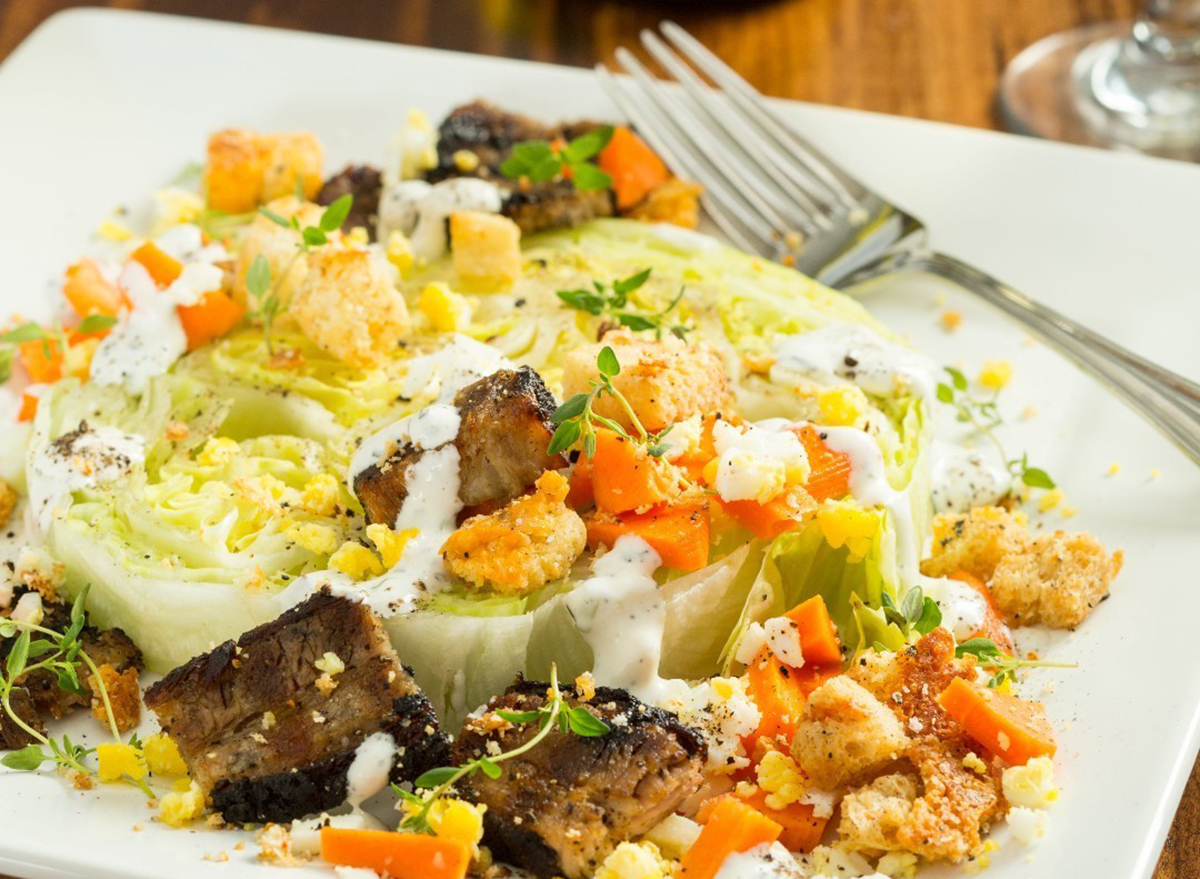 You can find a lot of American classics with a slight southern twist in Alabama, but don't forget to get your hands on the state-perfected wedge salad. Ash, a neighborhood spot in Homewood, has the most flavorful and creative wedge salad around. The Yelp reviews praised the kitchen for the "heavenly" fried pork belly that sits on the well-dressed mixture of fresh greens. This small-town joint has captured a protein-packed salad option you won't regret giving a shot.
ALASKA: Halibut Salad at Jalapeño's in Eagle River
Alaska has some of the most beautiful views in the country and the freshest ingredients right in its backyard. If you're looking for a fresh seafood salad with a Mexican spin, this dish will fit your liking. Jalapeño's Halibut salad sits in a crunchy, hand-fried flour tortilla shell that is just fantastic to scoop up all the greens with.
ARIZONA: Beet Salad at Olive & Ivy in Scottsdale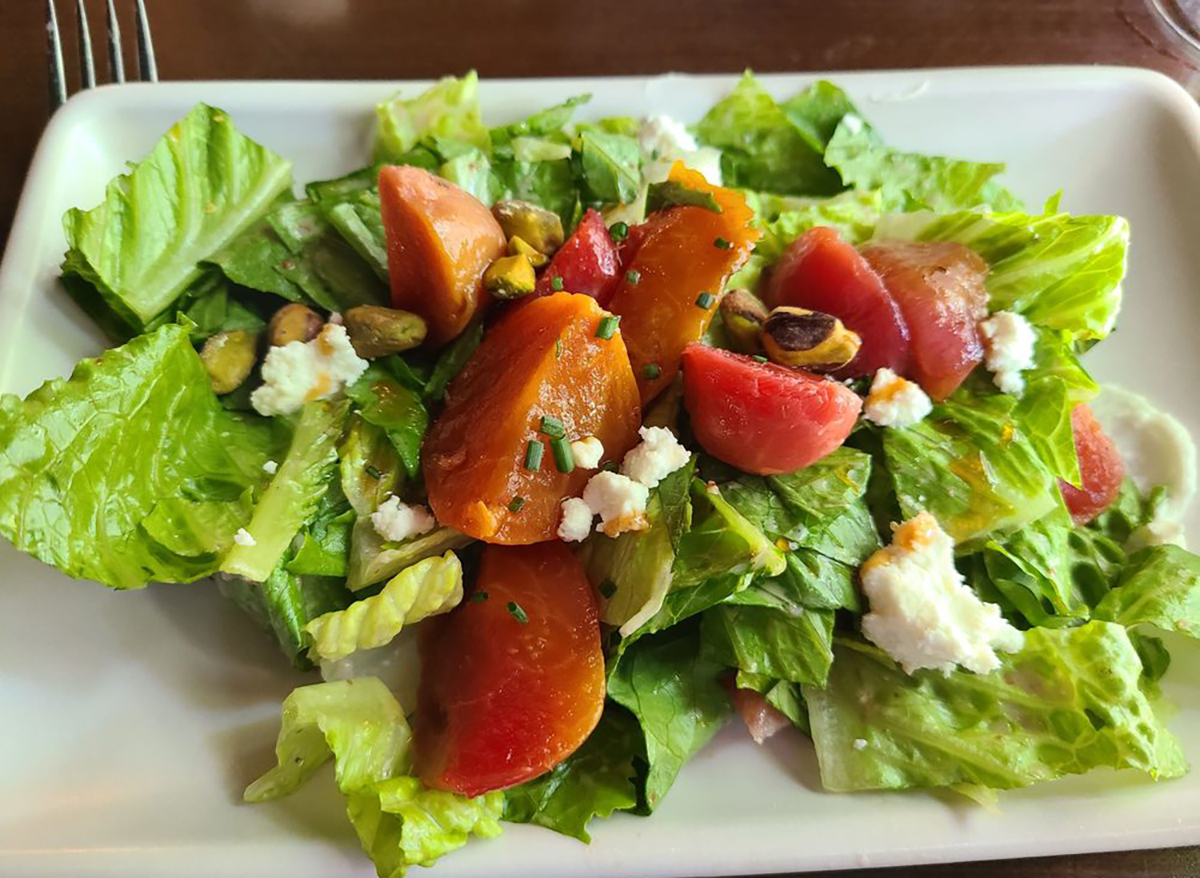 When the Arizona heat gets to be too much, head into Olive & Ivy for the beet salad staple. This salad dish can be a light addition to your main course, or you can add your desired protein to pull all of the Mediterranean veggies together. Every part of this beet salad is made in-house, and reviews claim it's "one of the best [they've] had."
ARKANSAS: Ahi Tuna Salad at Zaza in Little Rock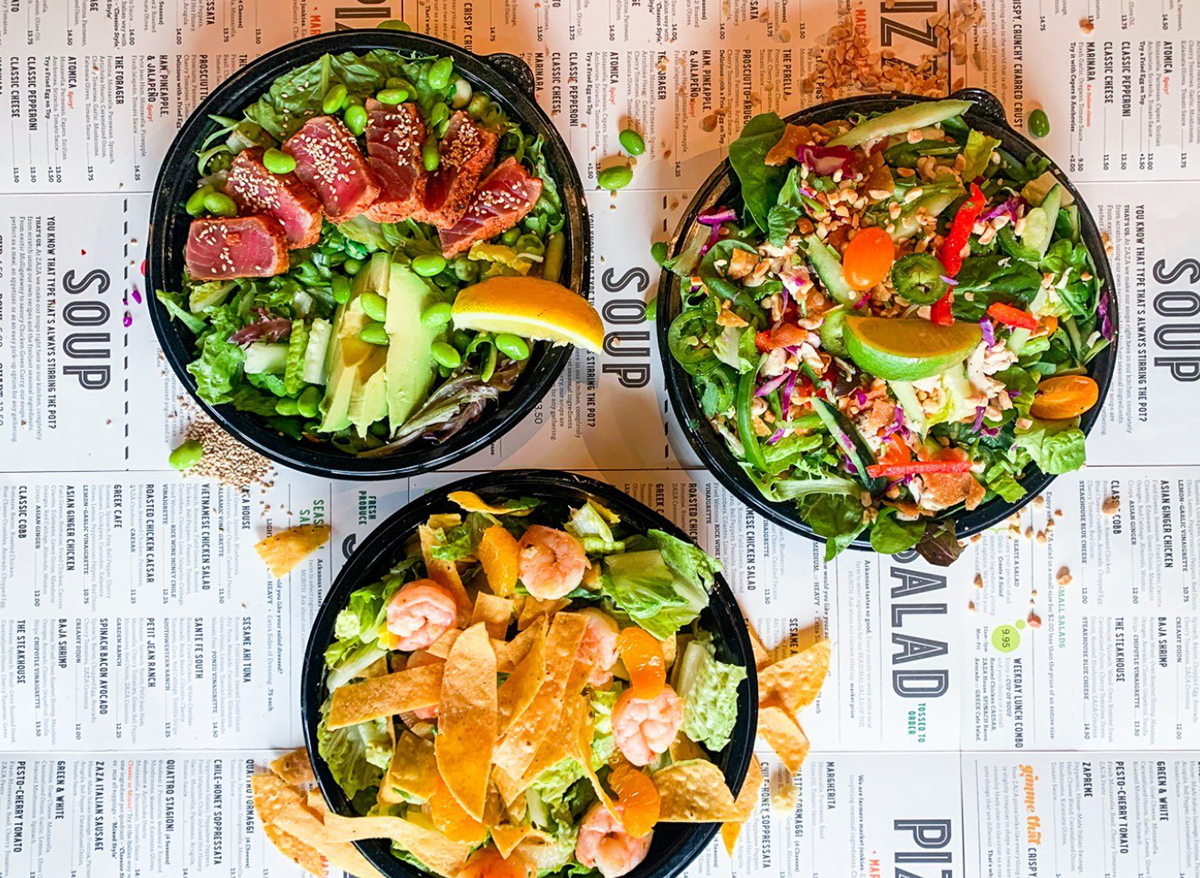 This salad has so many pieces to the puzzle, but that's just another reason why it's legendary in Arkansas. The fresh avocados, cucumbers, green onions, toasted sesame seeds, and edamame bring bright colors and flavors that smack your tastebuds. But the real winner is the sliced ahi tuna, which is seared to medium-rare and finished with a light, citrus ponzu vinaigrette.
CALIFORNIA: Shaved Kale Salad at The Win-Dow in Venice
California is known for being home to so many of Hollywood's biggest stars and influencers, but where do they grab a healthy, hearty meal? The Win-Dow has the most raved-about kale salad in Southern California, with vibrant textures from pine nuts to golden raisins. The zesty lemon vinaigrette topped on this salad will leave you wanting to finish every bite.
COLORADO: Caesar Salad at Paravicini's Italian Bistro in Colorado Springs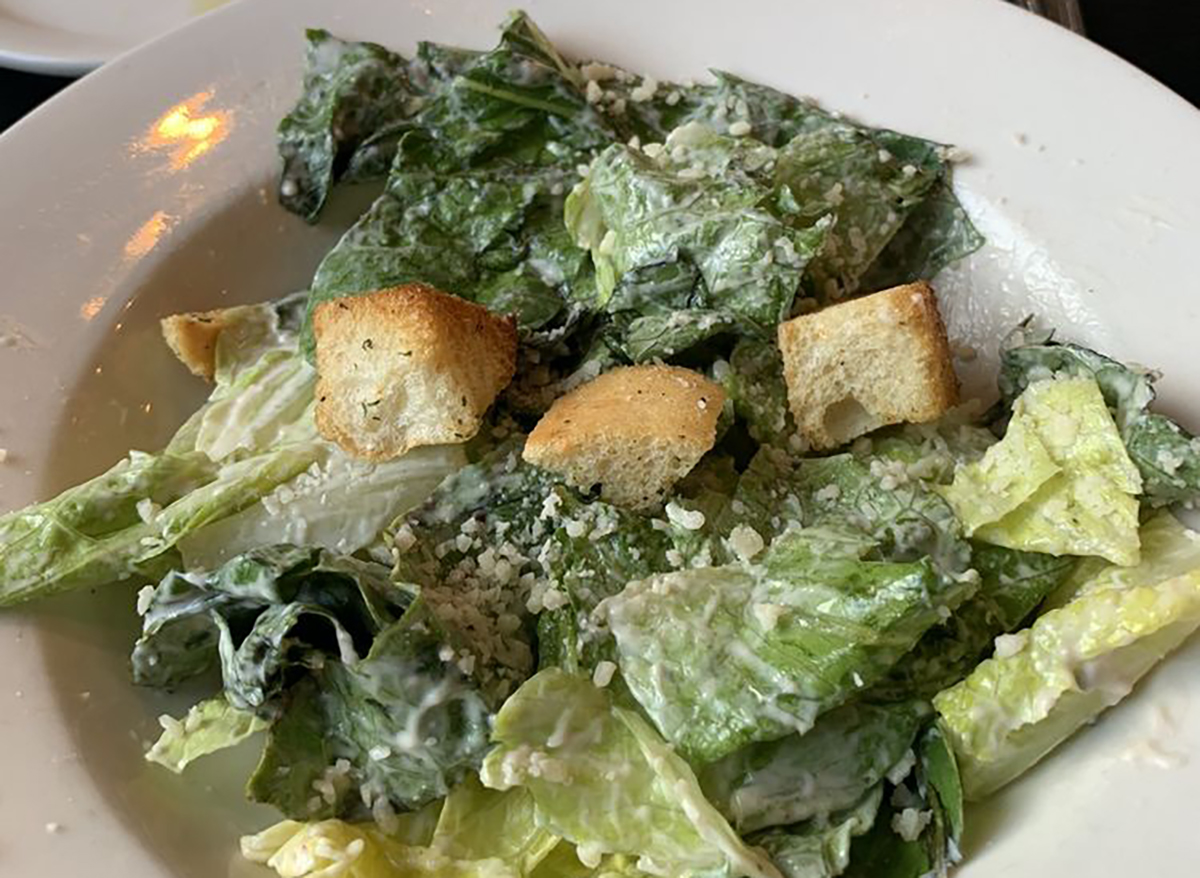 The Caesar salad is a classic, and in Colorado, it seems to be a state-wide favorite. At Paravicini's Italian Bistro, they make a bold, but not overwhelming, Caesar dressing with hints of lemon and the best crunchy croutons around. But the true star of this salad is the parmesan cheese—soft, crumbly, and just perfect.
CONNECTICUT: Brussels Sprouts Salad at Harvest Wine Bar in Westport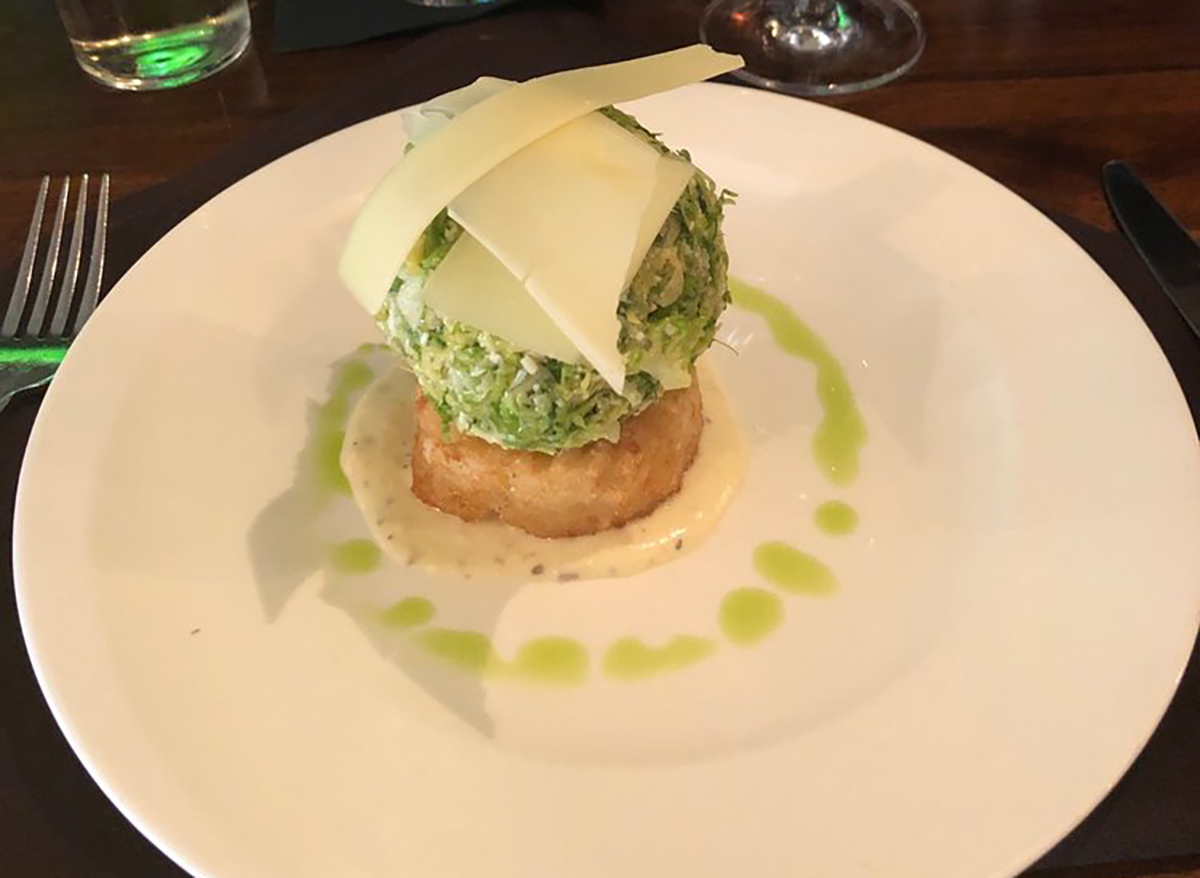 The Harvest Wine Bar is a small but mighty restaurant in Connecticut, and the Brussels sprouts salad is a fan favorite for almost every customer. This little joint brings rich flavors to your taste buds with a unique presentation. The creamy, shaved Brussel sprouts sit atop a risotto cake, and it's so good that you might want to just order another.6254a4d1642c605c54bf1cab17d50f1e
DELAWARE: Tamari Salad Bowl at Roots Natural Kitchen in Newark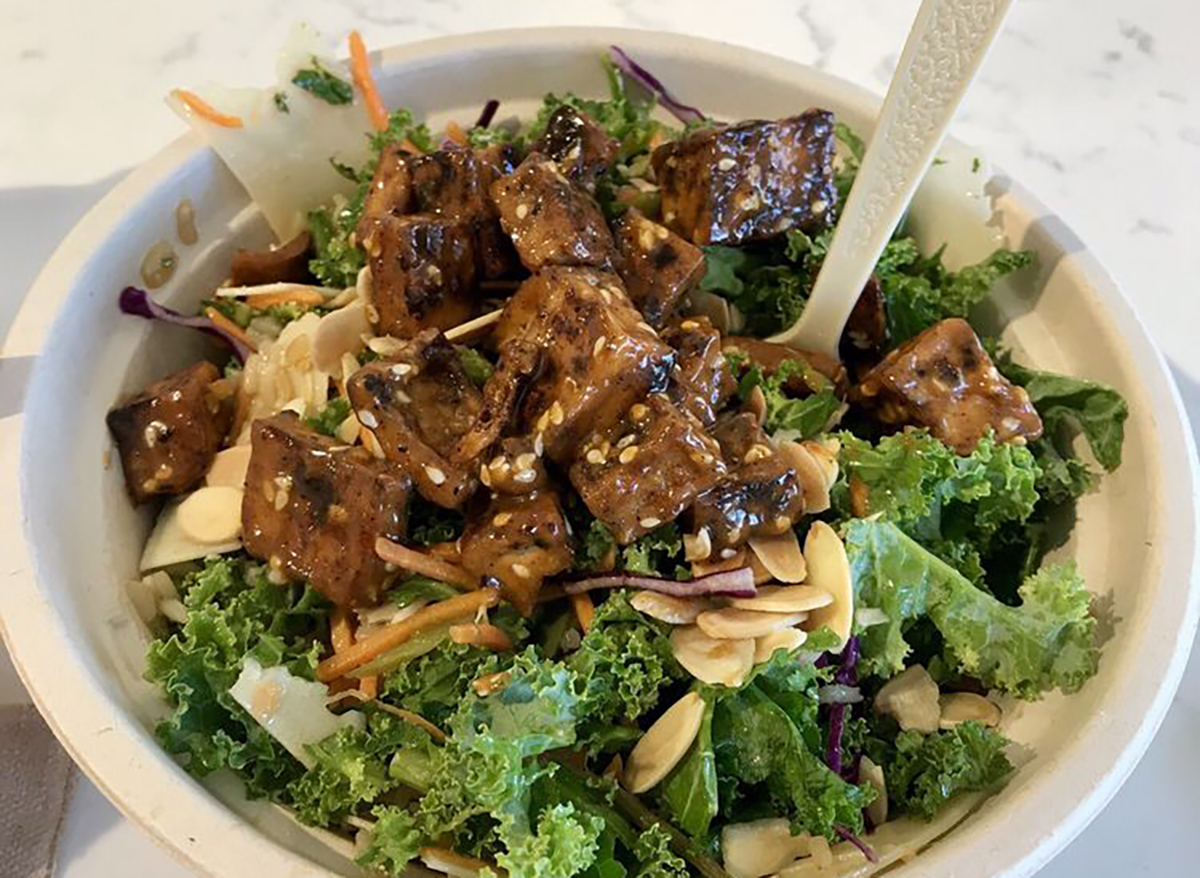 When in doubt, go to the salad experts. At Roots Natural Kitchen, they take pride in making a handful of individualized salad and bowl options, and their tamari salad bowl is a great original vegetarian option. This twist on a Thai salad has wonderful miso ginger dressing glazed over kale and brown rice, but most importantly, there's the spice. With toppings like jalapeños and red chili miso sautéed tofu, this salad is just delicious.
FLORIDA: Greek Salad at The Burg Bar & Grill in Saint Petersburg
The Sunshine State truly deserves a gold medal for this Greek salad. The Burg Bar & Grill does a fantastic job at arranging a rainbow of fresh vegetables that are crisp to every bite. Even though The Burg Bar & Grill is a traditional American restaurant, the reviews all agree that this "Greek salad is better than most Greek restaurants in the area."
GEORGIA: Artisan Avocado Salad at Avocados Restaurant in Gainesville
Can we all agree that brunch is the best meal of the day? Avocados is an underrated place to spend it drinking bottomless mimosas and chowing down on a refreshing artisan avocado salad. The dish is served with half of a chopped avocado as well as a slice of gluten-free bread.
HAWAII: Ono Island Ahi Salad at Aloha Salads in Honolulu
Aloha Salads makes the most aesthetically pleasing salad we've ever seen, and it's one of the most popular dishes on the menu. The Ono Island Ahi Salad comes with a healthy serving of grilled ahi tuna and mixed fruit. But the shredded coconut and mango vinaigrette dressing are what truly round out this salad.
IDAHO: The Boise Chopped Salad at Fork in Boise
If you're looking for a heartier salad, then this chopped salad will get you excited. Fork makes a wonderful creamy butter mill basil-pesto dressing to douse so many veggies, we lost count. Customers who reviewed the dish said they "pretty much licked the plate clean."
ILLINOIS: Milano Salad at Bella Milano in Springfield
When you need a faithful and minimalistic salad at your fingertips, Bella Milano has your back. This kitchen has mastered savory prosciutto, alongside balancing the ideal amount of homemade Milano dressing that garnishes the fresh lettuce.
INDIANA: Falafel Salad Bowl at Public Greens in Indianapolis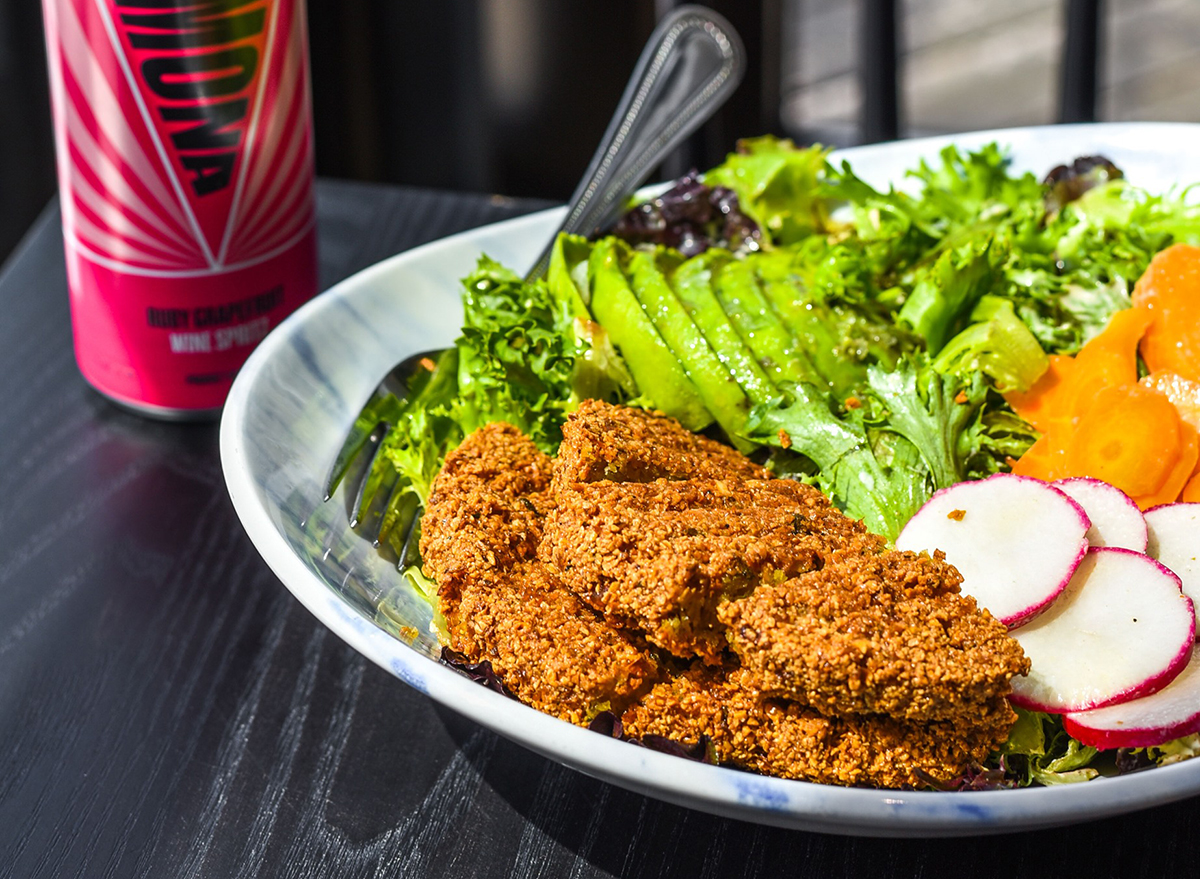 Indiana has always had fried food in the bag, but did you know the state can also make a superb vegan salad? This falafel salad bowl comes with a thick, creamy vegan ranch to layer over the mountain of moist Greek veggies. And it gets even better when you cut into those crispy falafel balls that give a final crunch to your meal.
IOWA: Chicken Finger Salad at Dino's Bar and Grill in Des Moines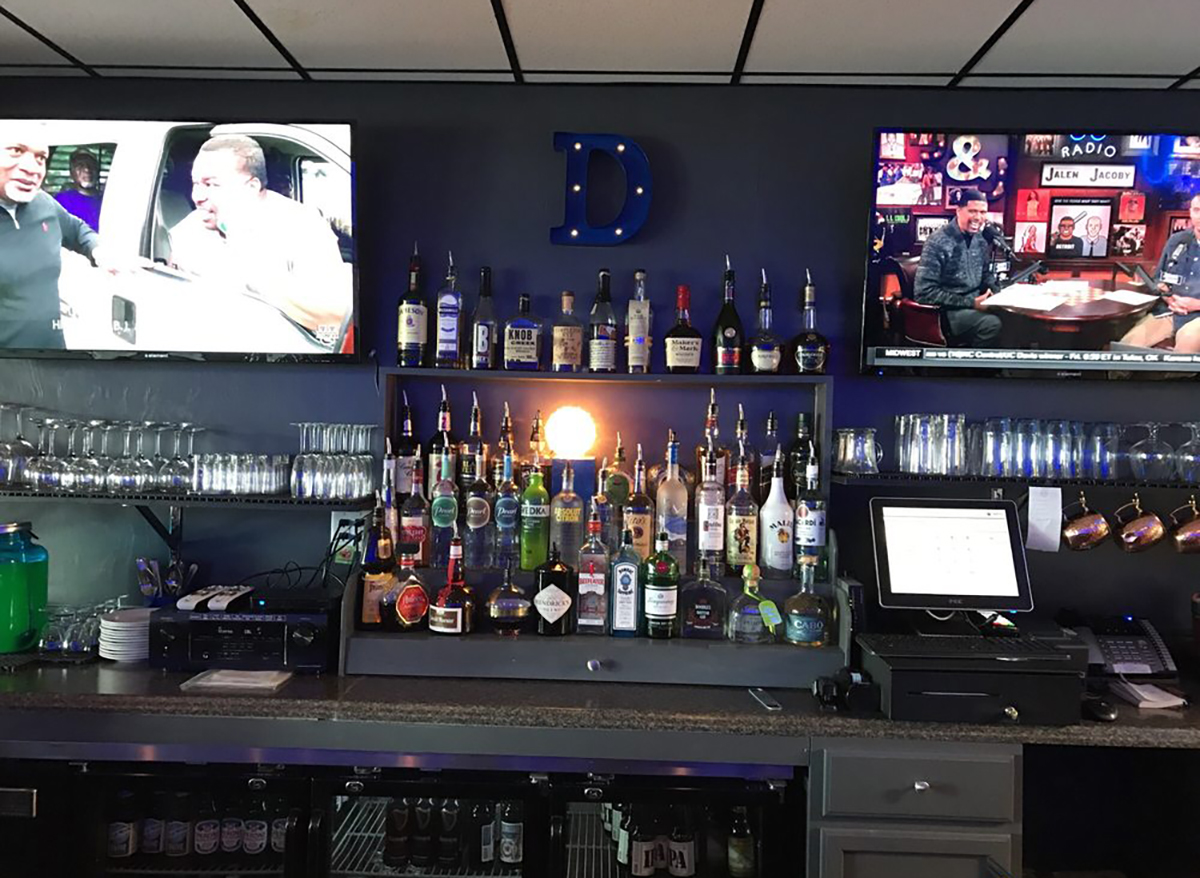 For all the picky eaters and chicken finger lovers, there is a salad out there for you. Dino's Bar and Grill is famous for its crispy chicken fingers that crumble in your mouth and are best served with their homemade honey jalapeño sauce. This salad is so easy, it only has four ingredients: chicken strips, mixed greens, cheddar-jack cheese, and basil-marinated tomatoes. But it's so good it comes with a friendly reminder that you're never too old to order chicken strips.
KANSAS: Dr. Diablo Salad at Doc Green's Gourmet Salads & Grill in Olathe
Doc Green's Gourmet Salads & Grill may be overwhelming because of their extensive list of salad options. But the Dr. Diablo salad is a must-try. It comes with a whole Angus beef burger patty chopped on top of romaine, fresh pico de gallo, diced jalapeños, cheddar, bacon, diced pickles, and a Santa Fe jalapeño ranch dressing that will knock your socks off. This salad is a fiesta, and you don't want to miss out.
KENTUCKY: Bluegrass Blackberry Salad at Vinaigrette Salad Kitchen in Lexington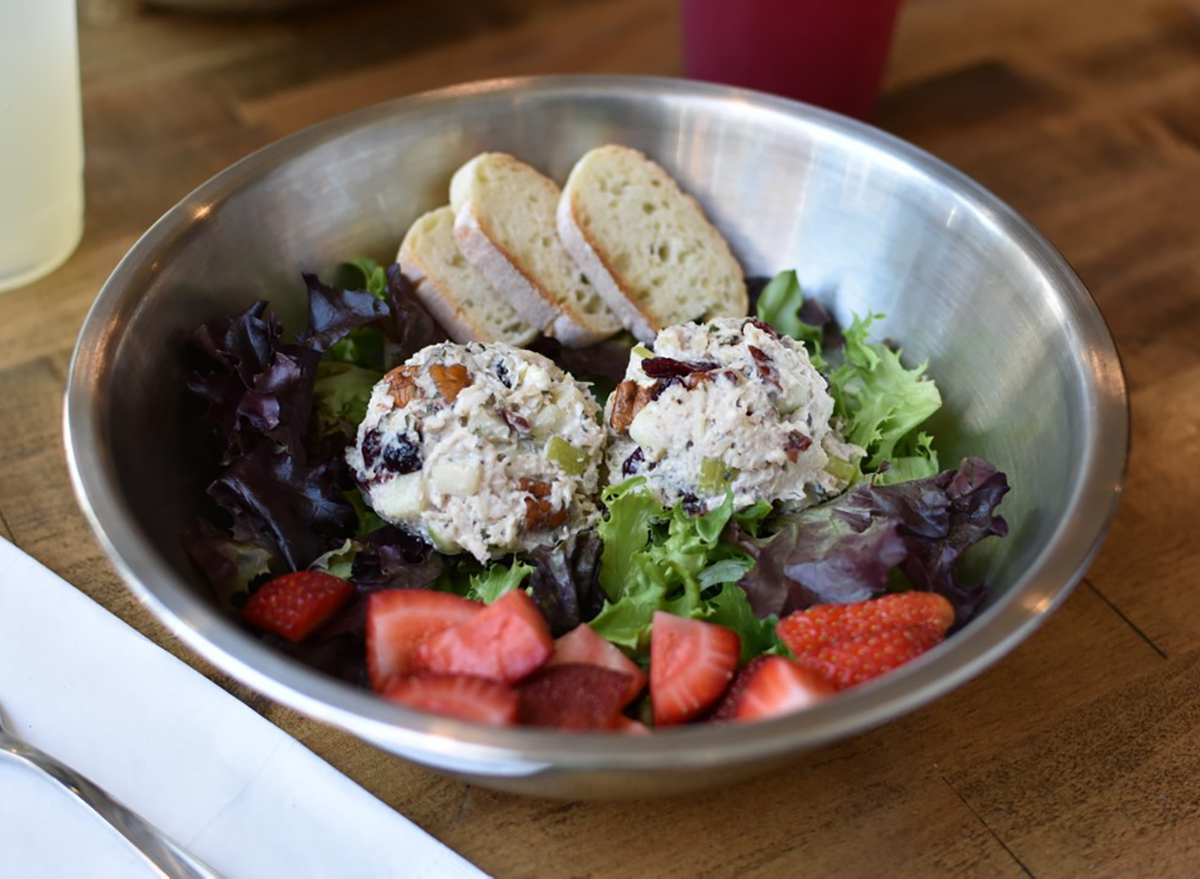 This salad was made for springtime, but it's so good we might just eat it year-round. A full variety of fruits, nuts, and veggies dressed with a light blackberry vinaigrette makes for an energizing and wholesome salad bowl. Once you sink your teeth into the sweet apple chips, you'll want to ask for more.
LOUISIANA: Turkey Cobb Salad with Fried Egg at Twisted Root Burger in Shreveport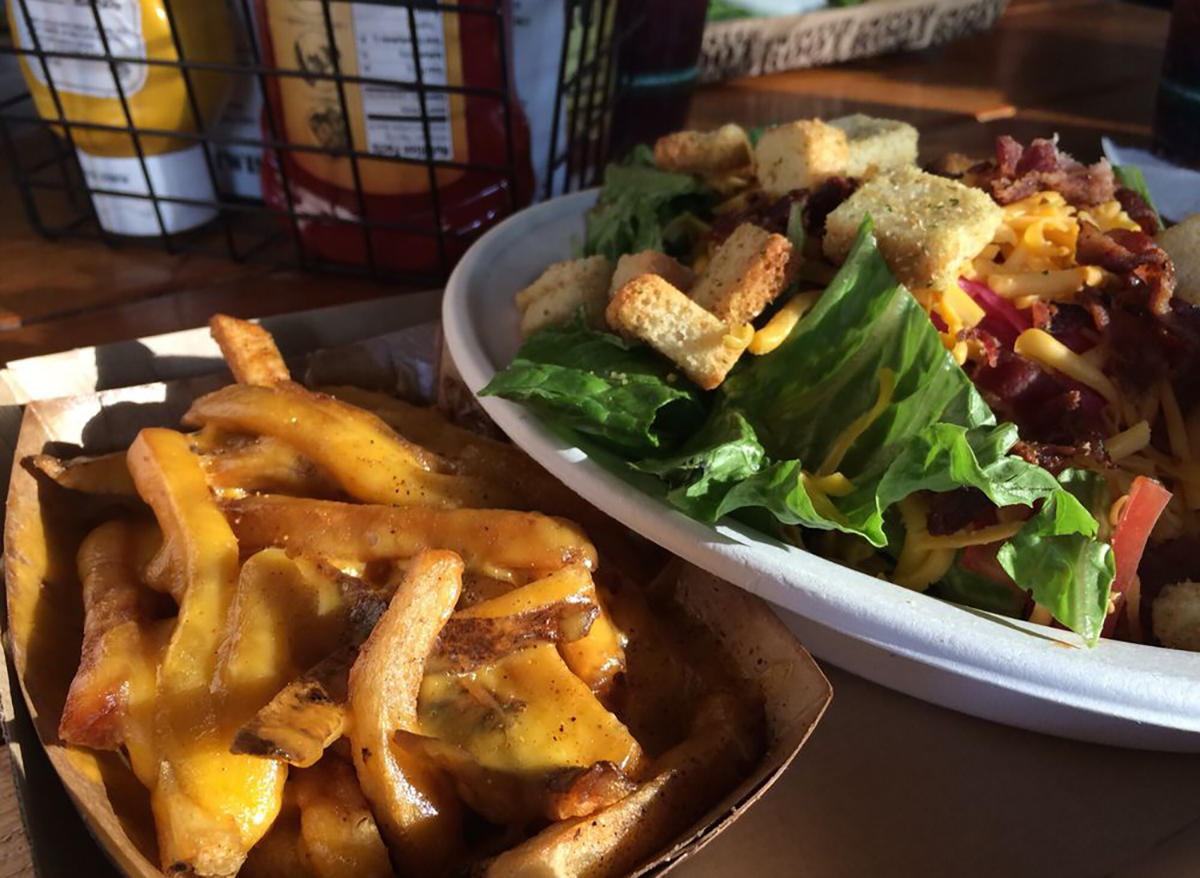 Soul food isn't the only thing you need to try the next time you're in Louisiana. The Twisted Root Burger restaurant gave turkey burger fanatics a salad with their name on it. This turkey cobb salad has a whole chopped turkey patty, joined by a fried egg and creamy honey mustard dressing.
MAINE: Spicy Avocado & Lime Bowl at B.Good in Portland
If you can handle all the spice, then you need to get your hands on this spicy avocado and lime salad bowl. The fresh sautéed veggies and black beans are subtle when paired with B.Good's signature chipotle purée and red pepper vinaigrette.
MARYLAND: Antioxidant Salad at Urban Plates in Columbia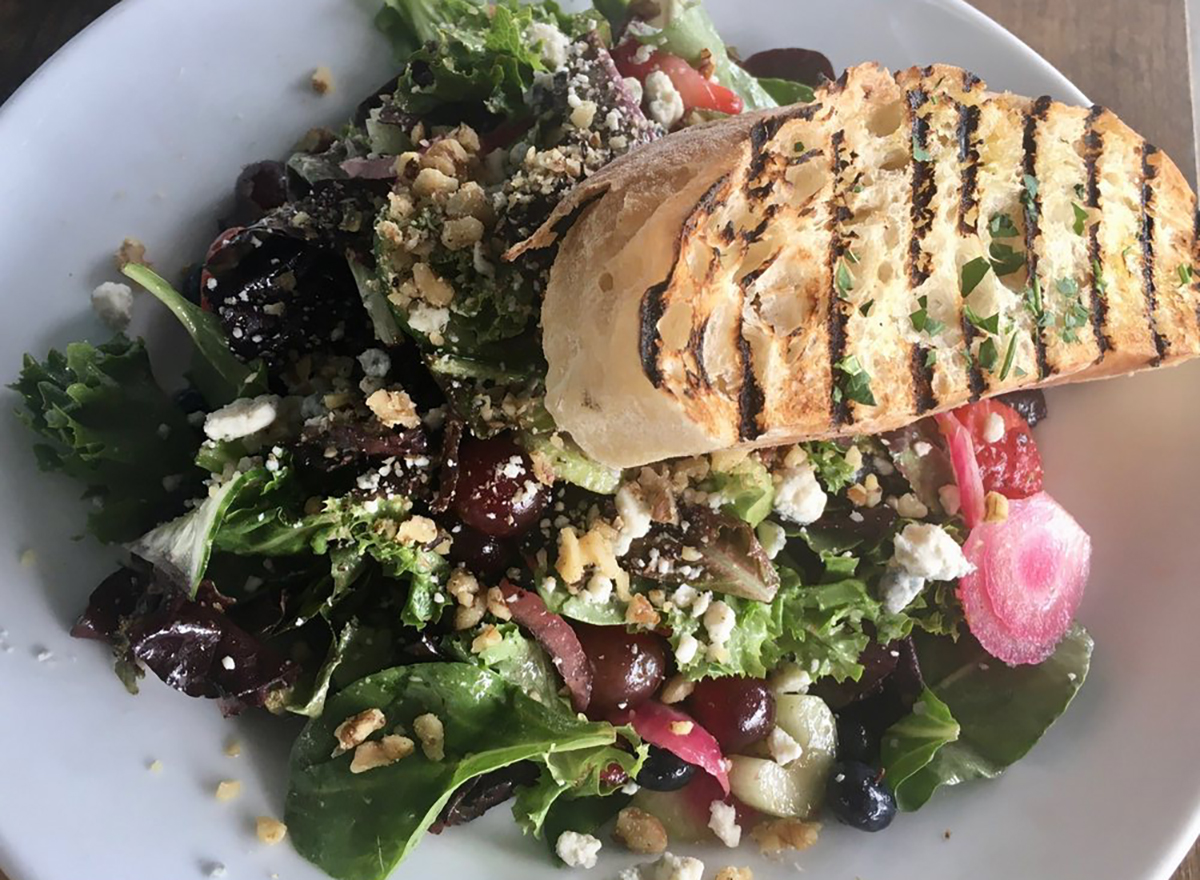 Let your digestive problems be no more when you try this salad. Urban Plates does a fantastic job of creating a homemade mint lemongrass vinaigrette that is sure to cure. To complement the zestiness, they throw in seasonal fruit, walnuts, and organic baby kale. This salad is great because it's low-calorie and beneficial to your health, in addition to being delicious.
MASSACHUSETTS: Buffalo Chicken Salad at Livite in Brookline
Buffalo chicken is popular anywhere you go, but this salad takes it to a whole new level. Livite's buffalo chicken is roasted to buttery excellence, and it only gets better when mixed with bleu cheese dressing and feta crumbles. The bold tang of this chicken and the crisp veggies underneath have customers coming back regularly.
MICHIGAN: Kale Crunch Salad at Brome Modern Eatery in Dearborn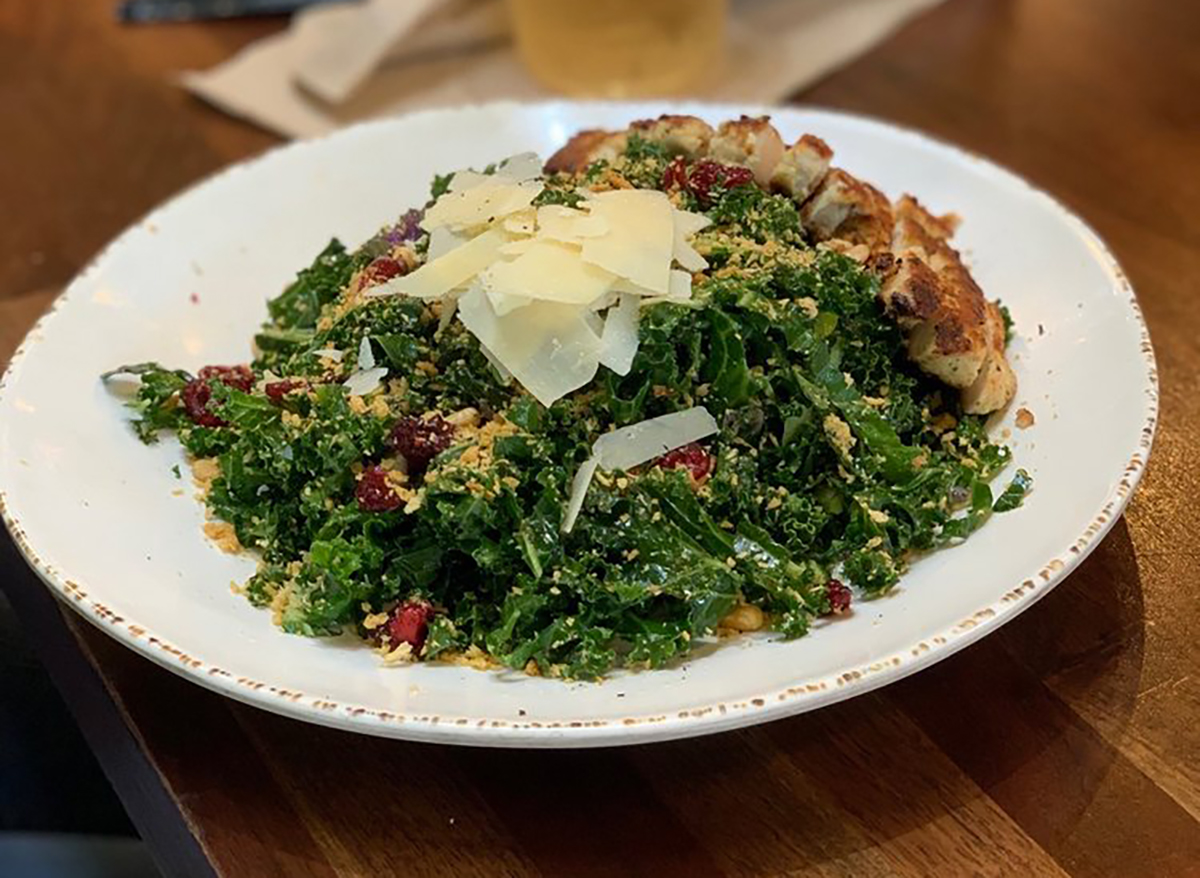 Brome Modern Eatery is known for its burger selection, but the salads are not far behind. When you're in the market for zesty crunch, this kale salad will be sure to cure your cravings. The reviews say it's "one of the best you can get."
MINNESOTA: Fried Brie Salad at Rustica Eatery & Tavern in Moorhead
The dining experience you'll have at Rustica Eatery & Tavern is guaranteed to be unforgettable if you try this dish. This salad is enjoyable for the nourishing and tasteful textures, but there's nothing better than the cheese—and it's fried cheese. You can't go wrong with fried cheese! The finishing touch is the rich smoked bacon dressing that makes the whole plate shine.
MISSISSIPPI: Power Salad at T-Bones Records & Cafe in Hattiesburg
Good music and even better food. T-Bones Records & Cafe has the best, most powerful salad in Mississippi. The power salad has a generous portion of hickory smoked turkey layered over a homemade balsamic vinaigrette tossed salad. Reviews love that this salad is a "healthy but filling option."
MISSOURI: The Russell Bowl at The Russell in Kansas City
This salad bowl is everything and the kitchen sink, in the best ways possible. The Russell restaurant found a creative way to incorporate a spiced ground brisket with tossed arugula and quinoa for a warm baked taste that normally a salad can't give you. And to top it off, the original tahini dressing has a creamy sesame flavor that blends nicely with the small variety of vegetables.
MONTANA: Pink Lady Salad at Jam! in Bozeman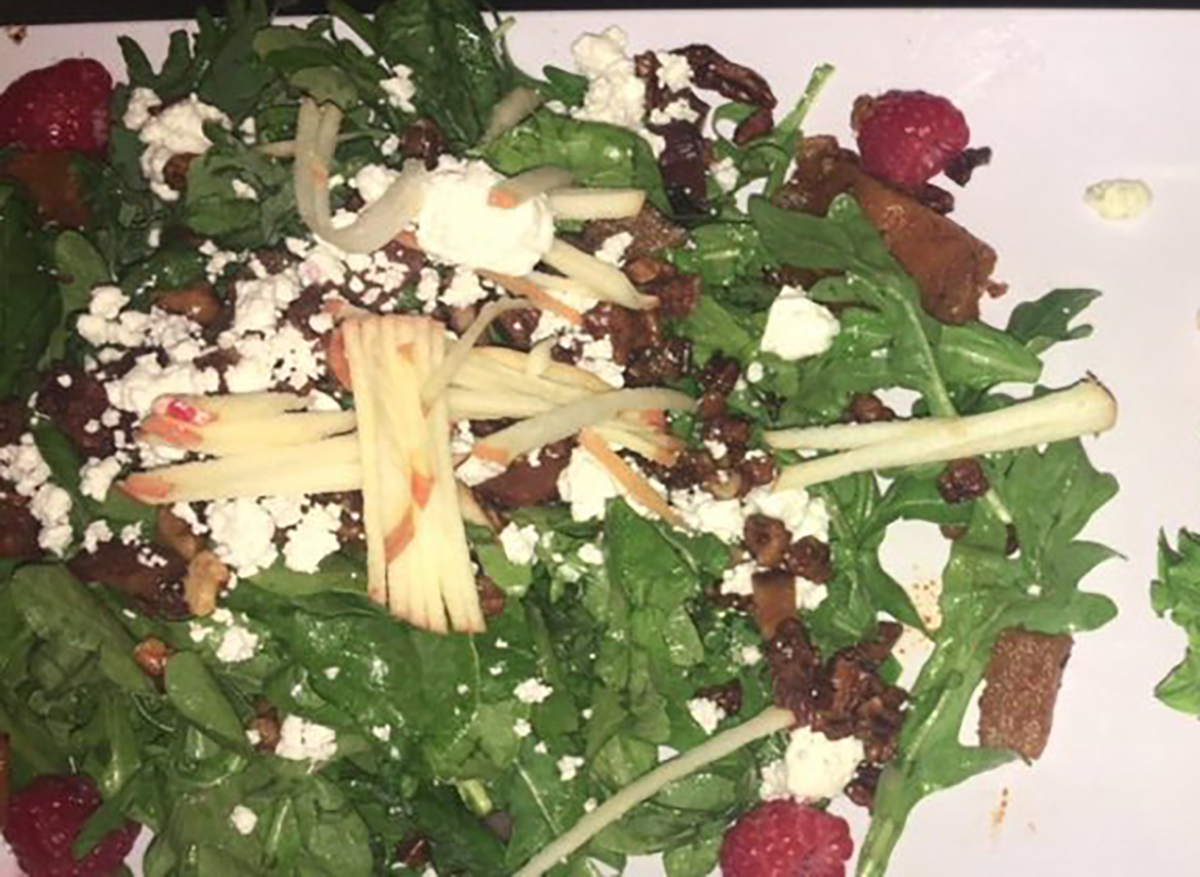 If you're looking for a gluten-free guarantee, this salad is a tasty option for you. The pink lady salad includes maple ancho-seared butternut squash mixed with apples, raspberries, and candied pecans that makes for a sweet and savory dish. Next time you're in Montana, stop at Jam! because "both the food and the staff make the trip worthwhile," reviews say.
NEBRASKA: Coconut Chicken Salad at Greenbelly in West Omaha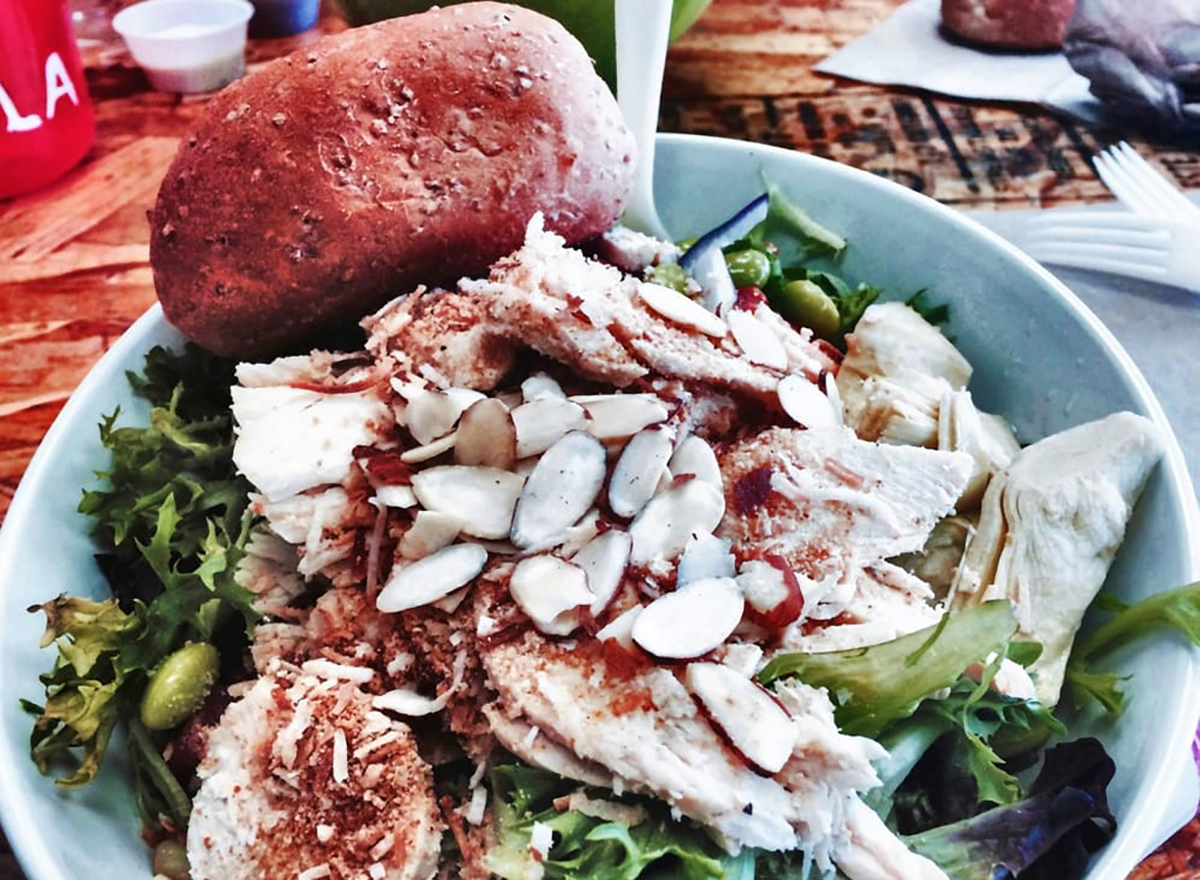 When you need a quick bite and you don't want to compromise the quality, head to Greenbelly. The baked chicken on this salad has a subtle accent of coconut and is paired perfectly with melty Swiss cheese, artichoke hearts, sliced almonds, and more, all over a fresh lettuce blend. Reviewers say they feel bright and motivated after finishing this easily enjoyable salad.
NEVADA: Peanut Noodle Salad at Sabrina's West Street Kitchen in Reno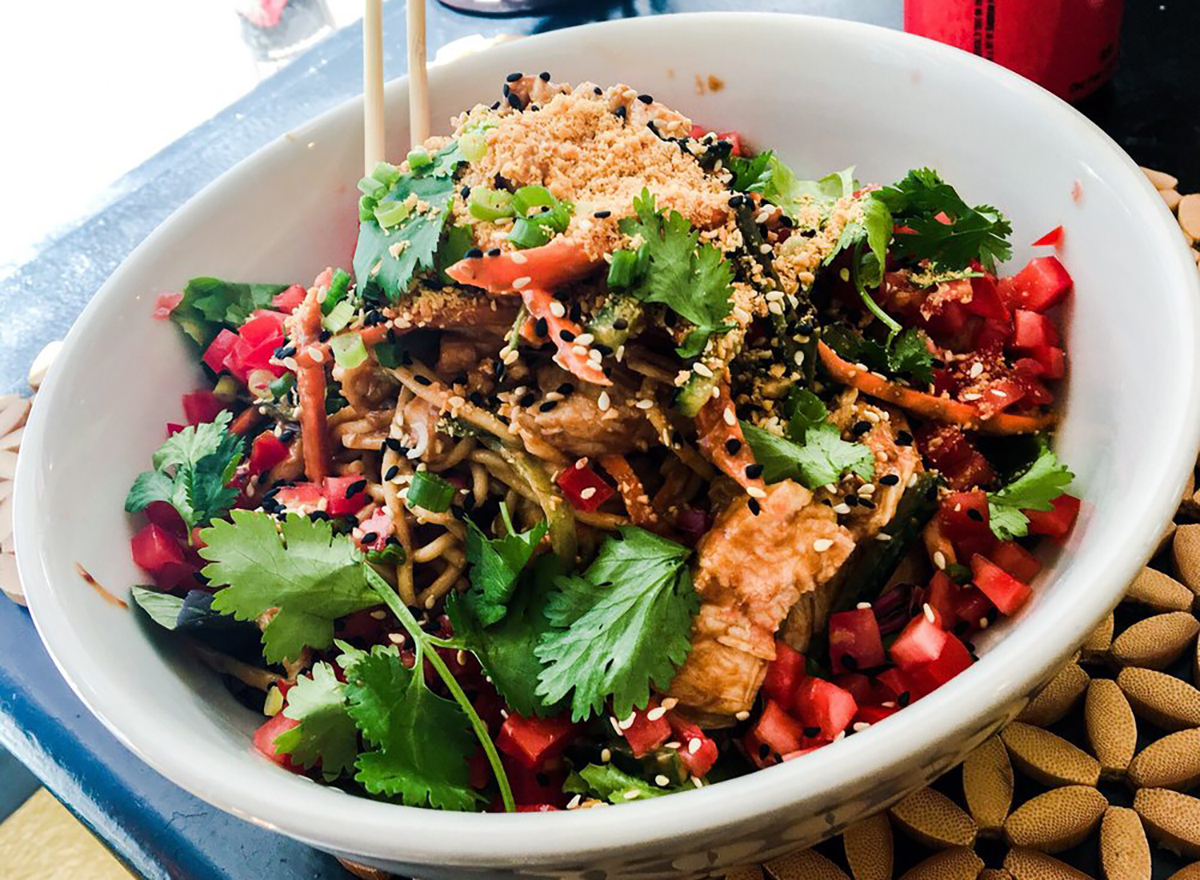 The next time you're visiting the lake in Reno, be sure to take a trip to Sabrina's West Street Kitchen for a one-of-a-kind meal. The peanut noodle salad is more than just another Thai salad. The sriracha soy dressing has a silky tang that soaks into their rice noodles and creates a lasting taste that is undeniably amazing with the peanuts and veggies.
NEW HAMPSHIRE: Coastal Maine Lobster Salad at Latitudes in New Castle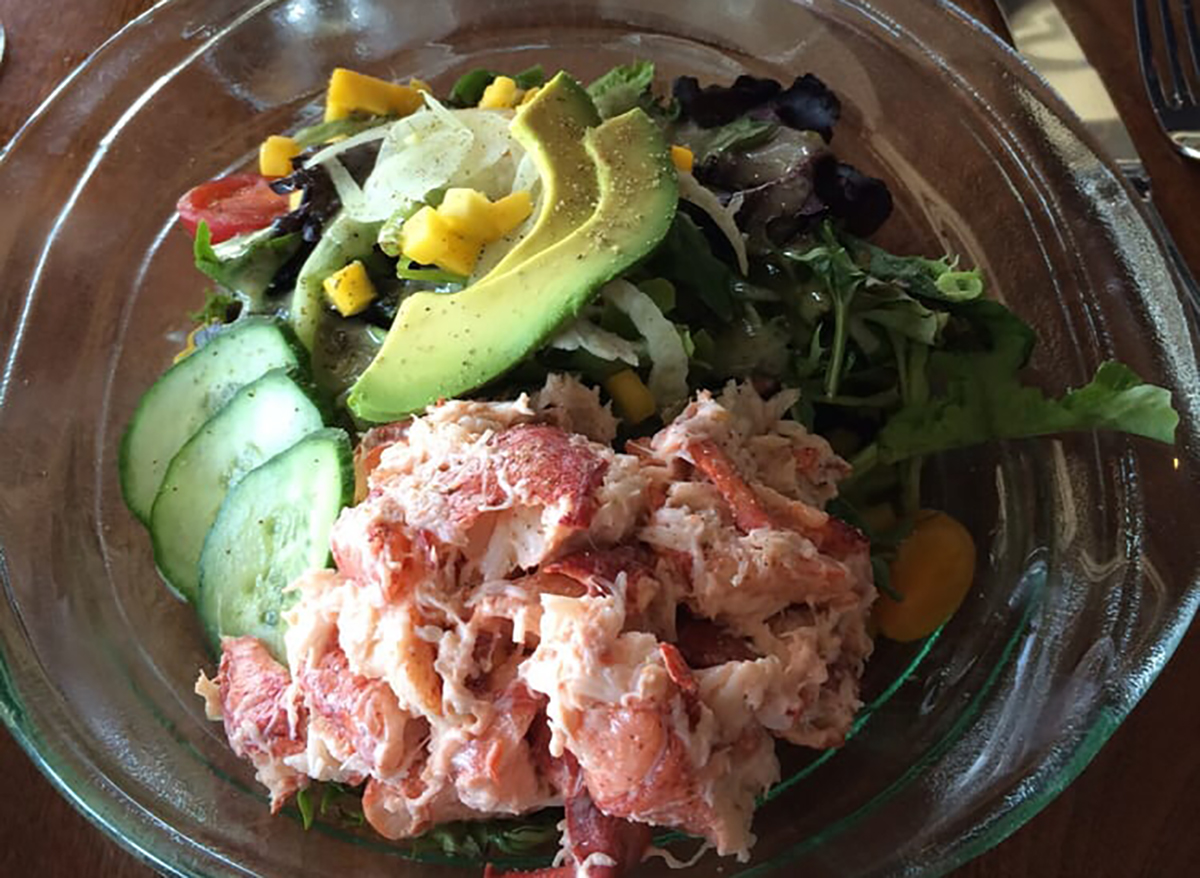 If you're a lobster lover, no one handles it better than Latitudes restaurant in New Castle. The reviews compliment how the elements of this salad are fresh and simple so that the "juicy, tasty, and generous portion of lobster" can shine.
NEW JERSEY: Broken Girl Salad at Tony Boloney's in Hoboken
Just across the river from the Big Apple, there's an Italian salad that will wow you. The Broken Girl Salad (despite the name) is a delightful, Sicillian arugula salad that is filled with some of Italy's most iconic ingredients. The chicken cutlet is juicy and is joined by fresh mozzarella, smoked Mutz, and thin-sliced soppressata that tastes just like Nonna makes it.
NEW MEXICO: Asian Chicken Salad at Boba Cafe in Las Cruces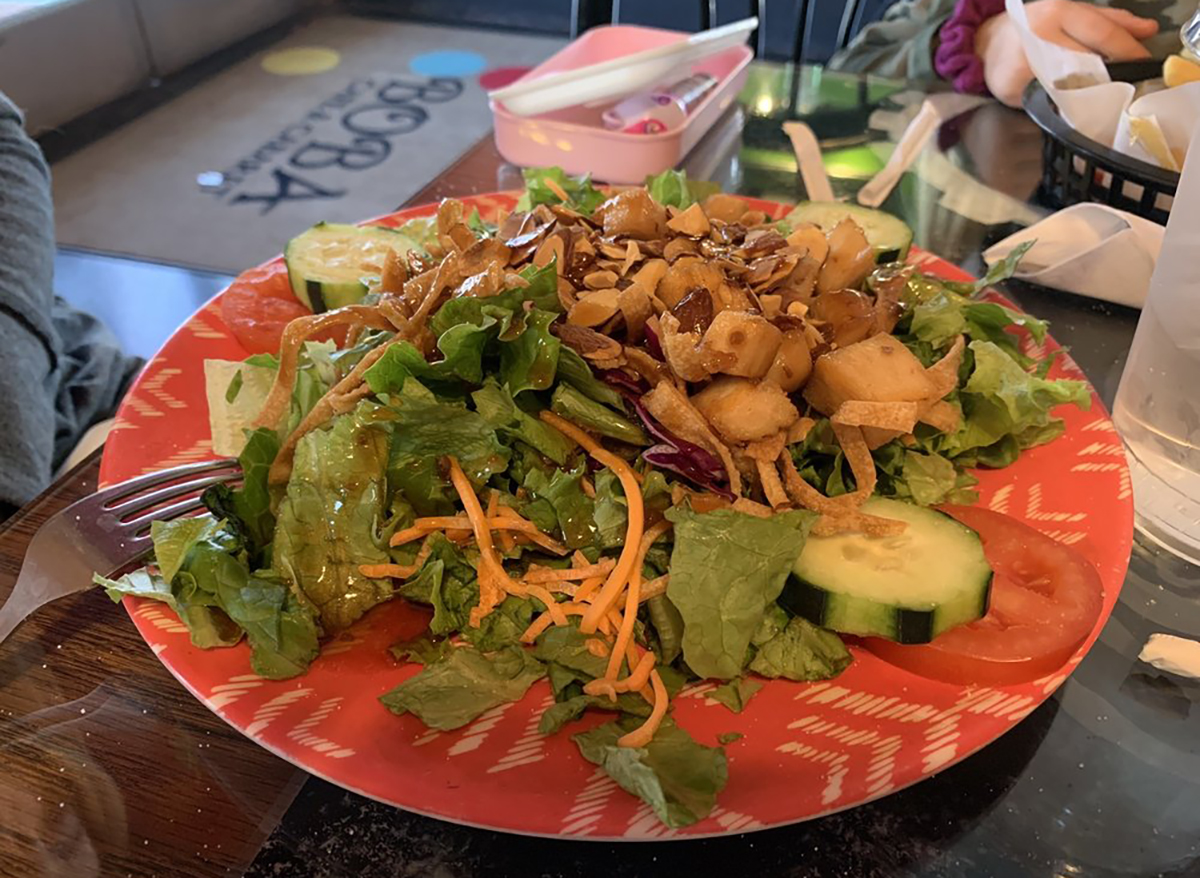 When you need a kick in your salad dressing, run to Boba Cafe. Their Asian chicken salad has a fiery wasabi ranch dressing that does no wrong in the spice department. And you can choose between a crispy or grilled chicken breast to bring even more seasoning to your bowl of blazing goodness.
NEW YORK: Roast Carrot and Avocado Salad at ABC Kitchen in New York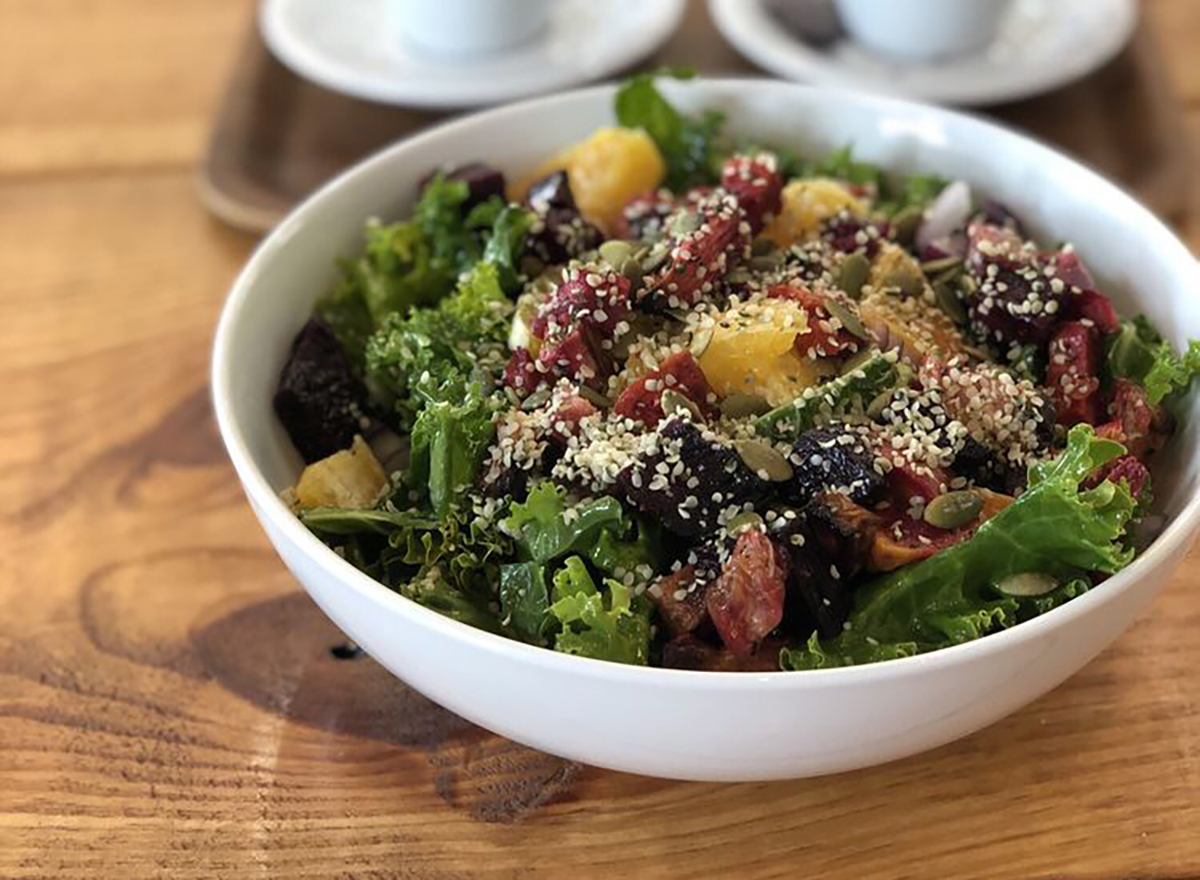 The biggest city in the country also loves a big green salad. ABC Kitchen uses large roasted carrots that are complemented by a citrus mayhem of bee pollen and a light shallot confit vinaigrette. You're going to experience great things from this riveting salad.
NORTH CAROLINA: Roasted Root Salad at Fount Coffee & Kitchen in Morrisville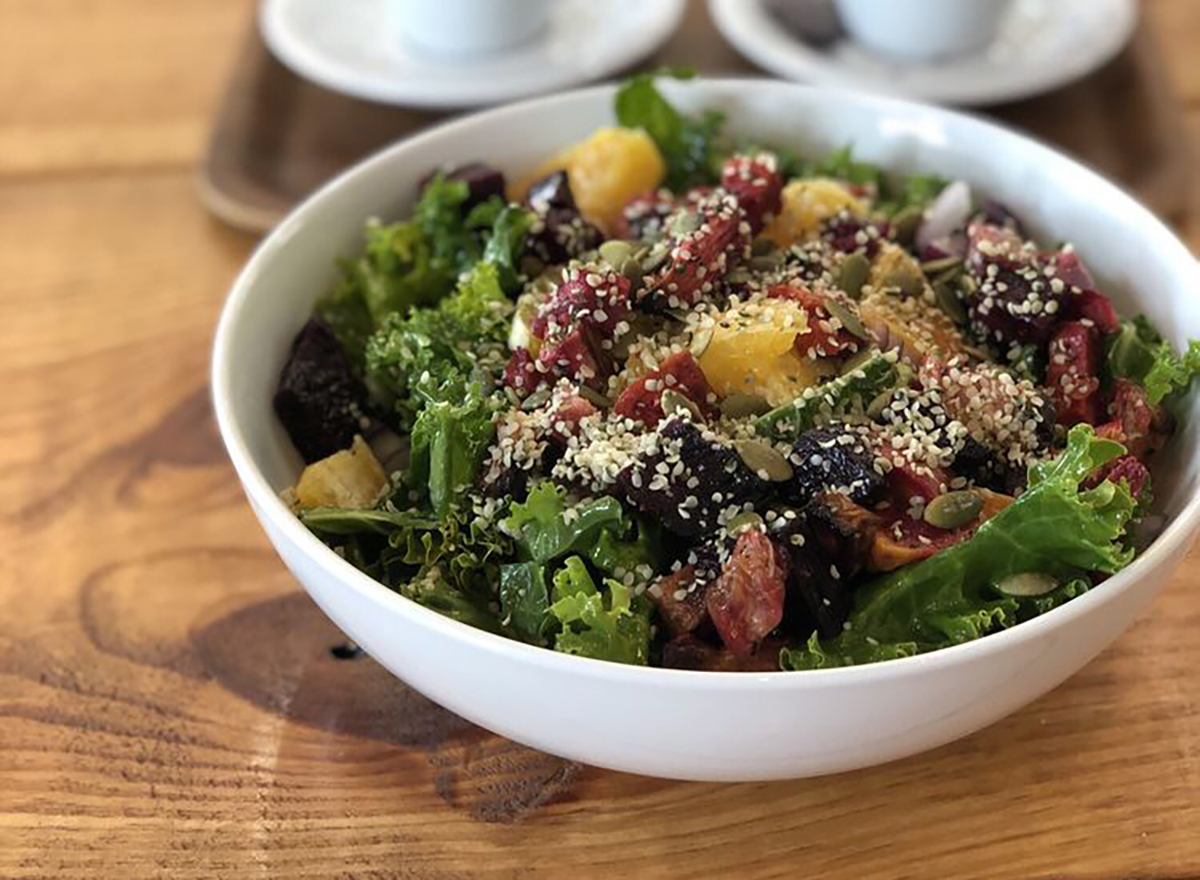 If you need a reason to stop in North Carolina, make it this salad. The roasted root salad is a strong choice over all others because "the kale is massaged so well to make it easier to digest," reviews say. With a solid green base and bright mixed toppings, your stomach is sure to be satisfied with your choice.
NORTH DAKOTA: Chicken Fajita Salad at Sickies Garage Burgers & Brews in East Grand Forks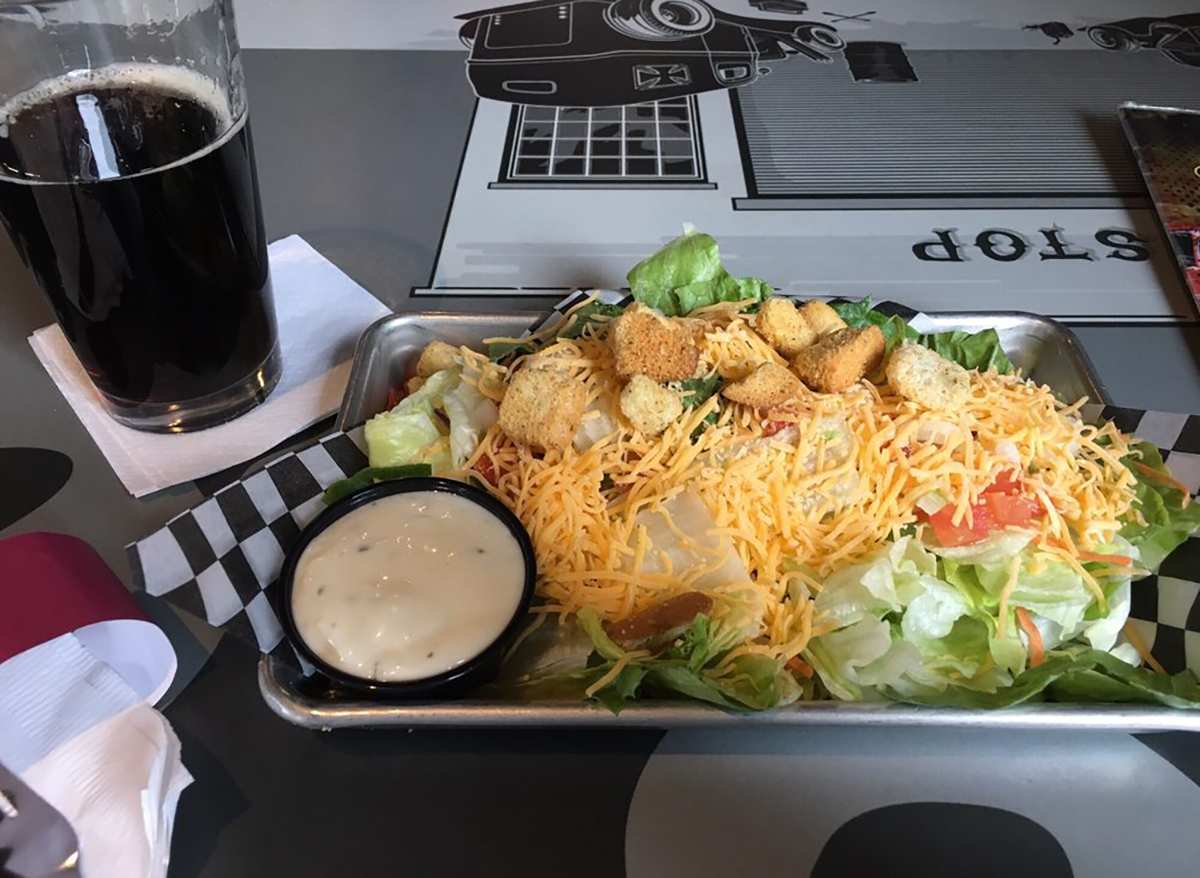 Sickies Garage Burgers & Brews serves up more than top-tier burgers and a wide range of tasty beers. The chicken fajita salad has the best spicy ranch dressing you could find in North Dakota. And between the slow-roasted corn, mild red pepper mix, and crunchy tortilla strips, you're never going to want to put your fork down.
OHIO: German Potato Salad at Schmidt's Sausage Haus Restaurant in Columbus
Let no side salad go unnoticed! This authentic German potato salad is all the talk of the town in Columbus. Its rich and buttery flavors help settle any extra unwanted spice from your main dish. For German comfort food, this potato salad is effortlessly light and still leaves you room to have a traditional wiener schnitzel or two.
OKLAHOMA: Southwest Quinoa Bowl at The Loaded Bowl in Oklahoma City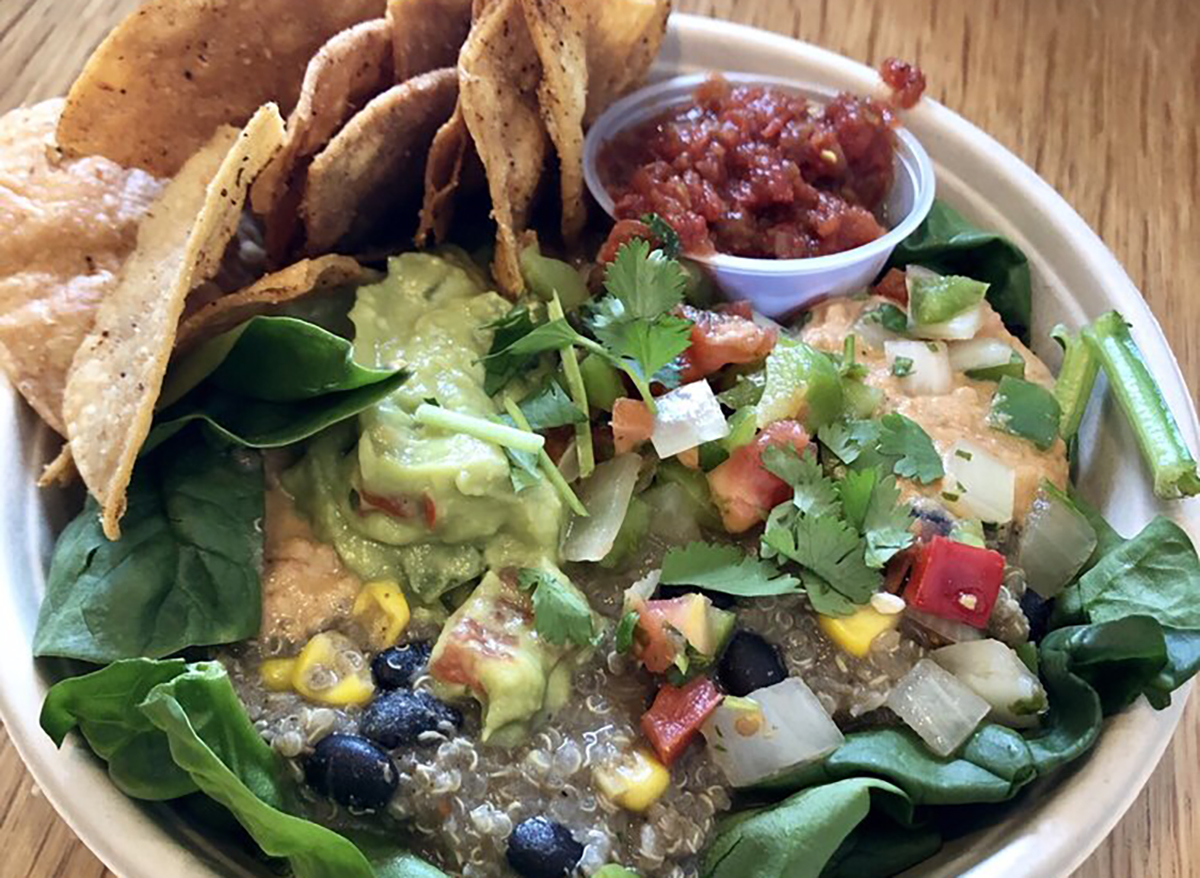 When you want your salad to be jam-packed with greens and grains, The Loaded Bowl can help. The southwest quinoa bowl has a mouthwatering cashew queso that is warm and gooey. This salad comes with a handful of nutritious ingredients, but don't be too shy to add more at the counter.
OREGON: The Hercules at Garden Monster in Portland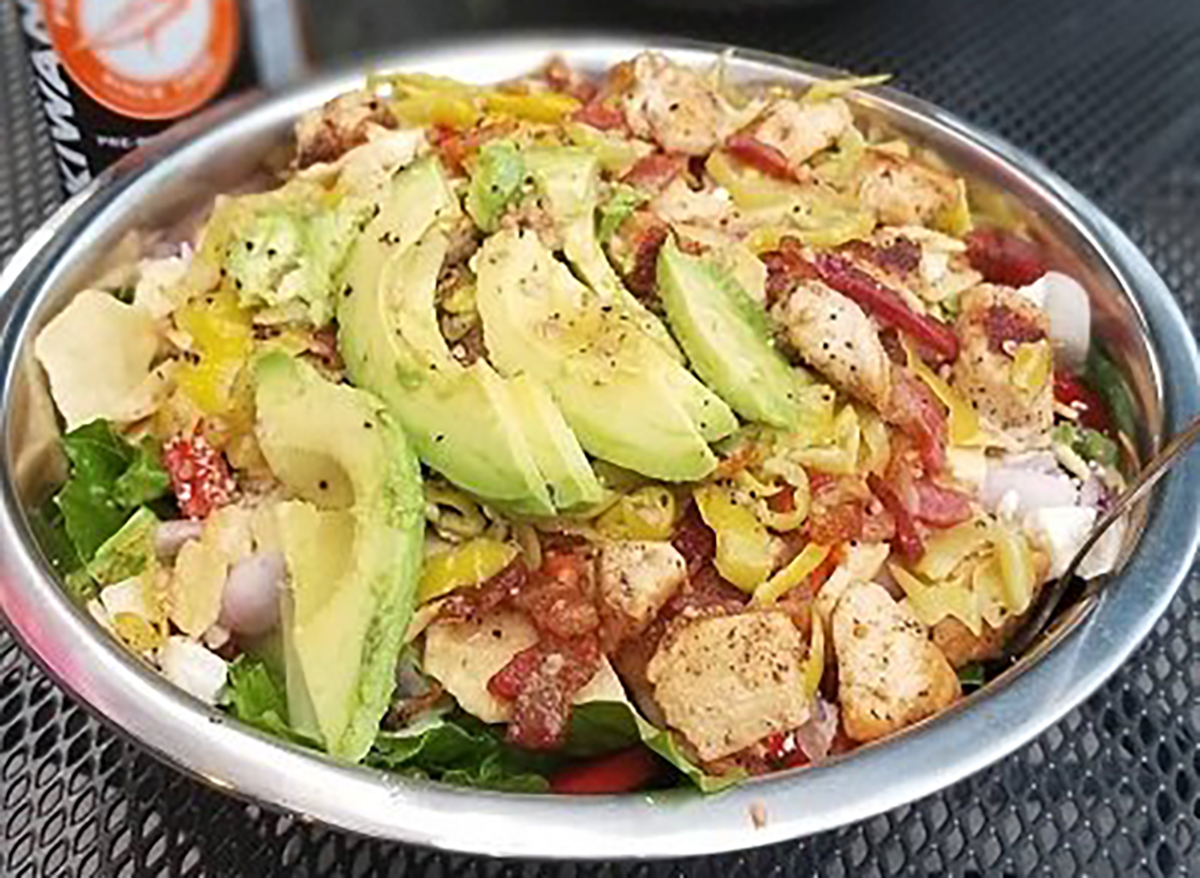 The home of the food truck mantra pulls through once again. When you're in Portland, you must find this salad food truck and give the Hercules salad the chance to change your life. There's an excellent mixture of ripe peppers, black olives, crispy chips, tomatoes, carrots, and cucumbers all atop a romaine and spinach blend.
PENNSYLVANIA: Poached Pear Salad at Karla's Restaurant in New Hope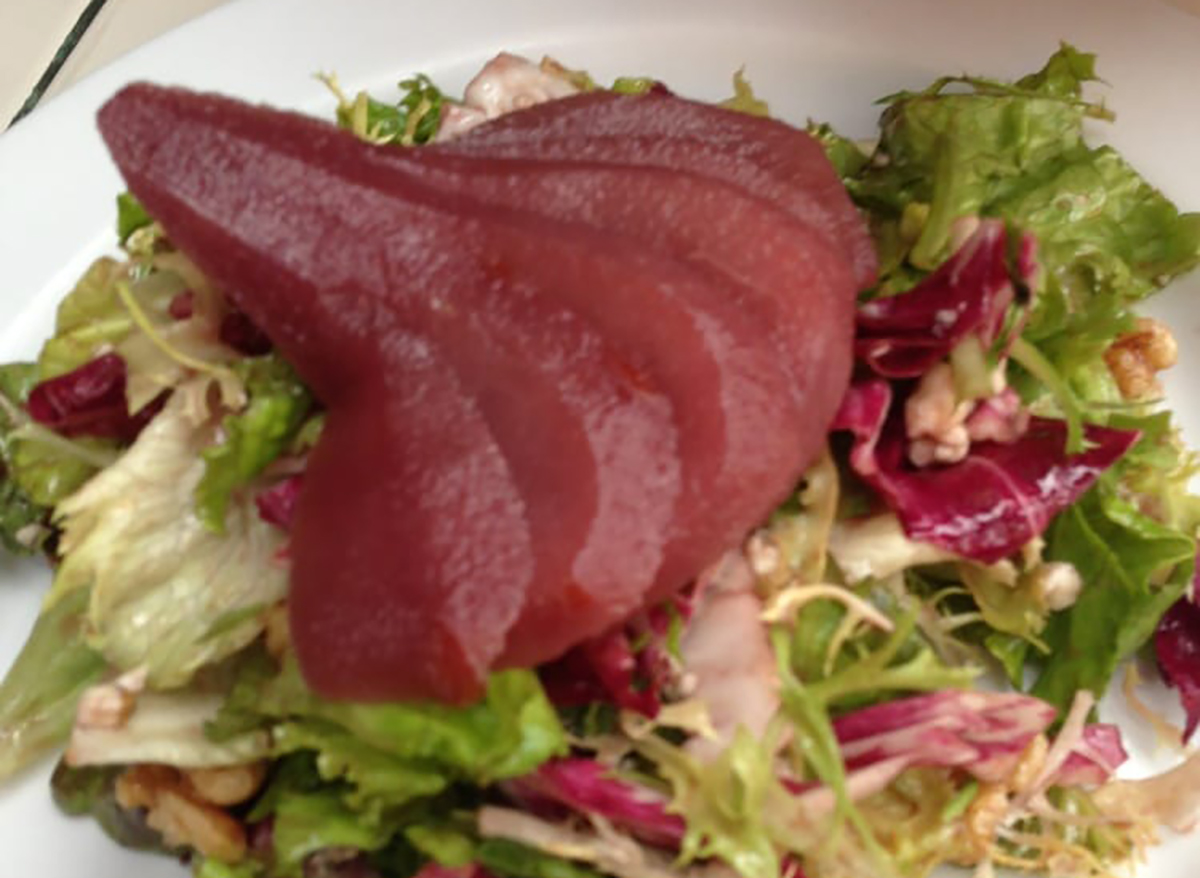 Karla's poached pear salad is unusual, but that's what makes it delicious and exclusive to Pennsylvania. This plate has a layer of vibrant purple and green veggies that are drizzled with a light red wine reduction and gorgonzola crumbles. It's amazing, whether you love salad or not.
RHODE ISLAND: Tuscan Salad at Gregg's Restaurant in Warwick
If you're looking for a salad that is great as a meal or as a dessert, we have a winner. The Tuscan Salad at Gregg's has a sweet tooth of its own! It has classic fresh veggies like tomatoes, olives and cucumbers, as well as dark portobello mushrooms and roasted red peppers for a major zing factor.
SOUTH CAROLINA: Crunchy Thai Shrimp Salad at Bistro 217 in Pawleys Island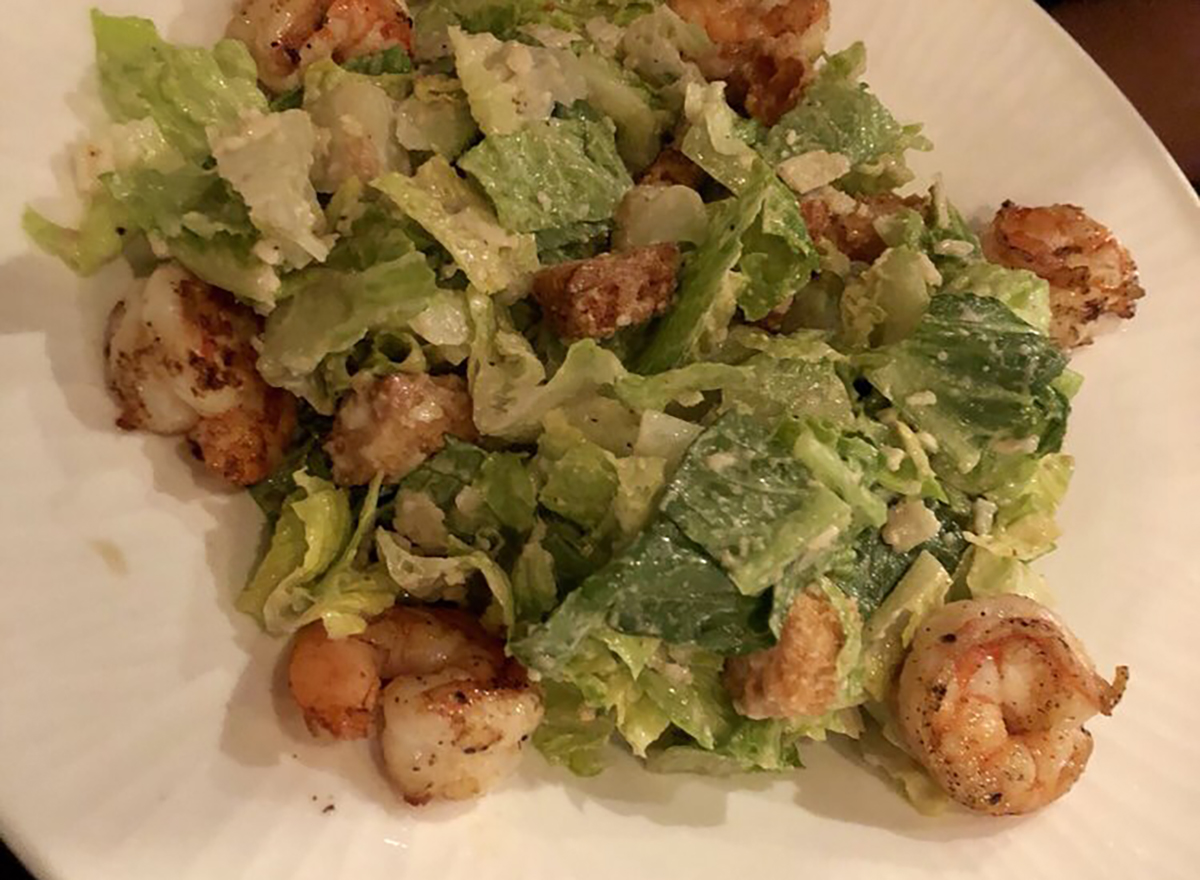 When you want to get a nice salad for a good price, South Carolina has a lot of great options. Bistro 217, in particular, serves a spectacular Thai Shrimp Salad with a variety of Thai veggies and salad classics. This salad is like eating stir fry without the grease, plus the bonus of a slightly minty finish.
SOUTH DAKOTA: Moroccan Chicken Salad at Bread & Circus Sandwich Kitchen in Sioux Falls
If you've ever taken arugula for granted, this salad will change your mind right back. The Moroccan chicken salad at this family-friendly sandwich shop will give you a notable balance of sweet and savory. When the chefs decided to blend curry flavoring with yogurt dressing and a juicy piece of grilled chicken, they knew they were mixing up some magic.
TENNESSEE: Strawberry Salad at Cafe 4 in Knoxville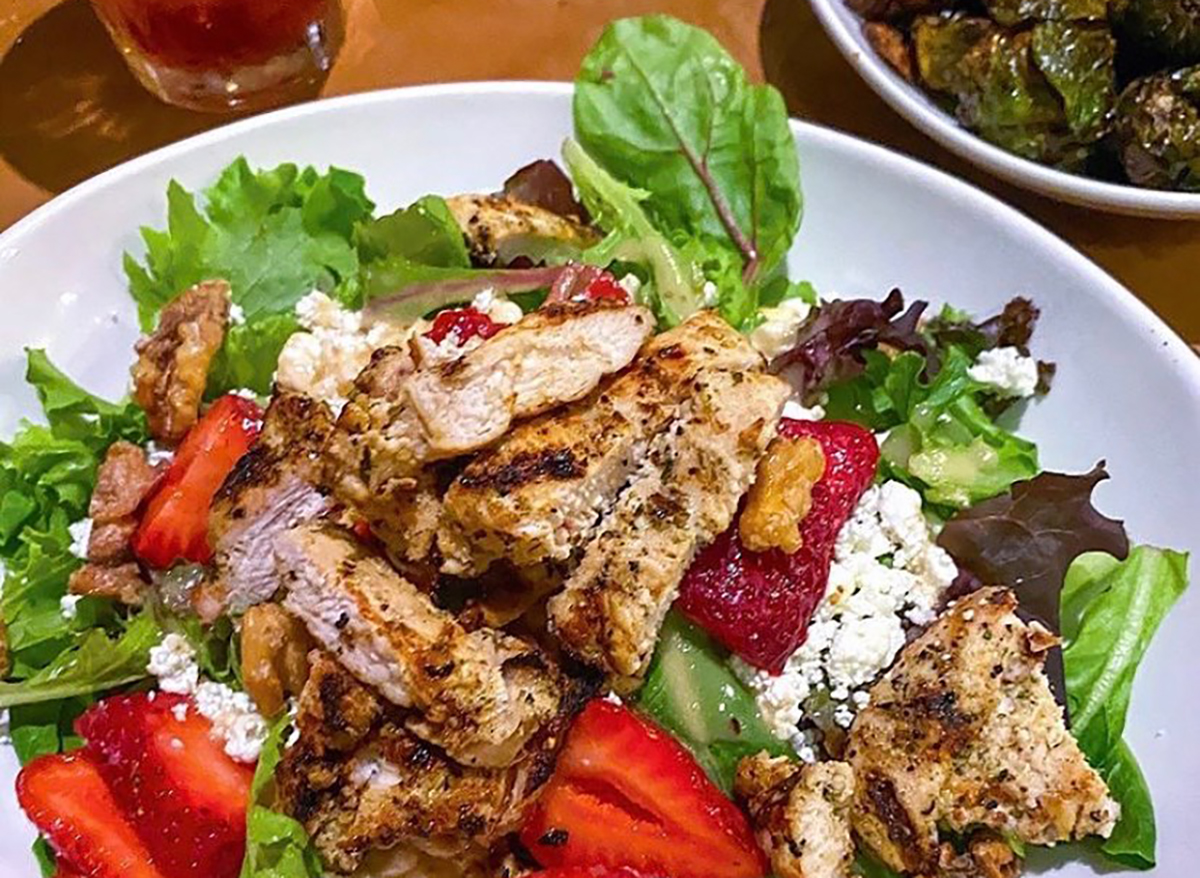 Sometimes the most refreshing fruits can curve your hunger cravings. Cafe 4 makes a ripe strawberry salad that is great for an appetizer or a main dish. The salad has a leafy spinach base that is topped with fresh strawberries, a handful of nuts, and an ideal portion of gorgonzola crumbles that brings it all together quite nicely.
TEXAS: Chef Salad at Porky's Smokehouse & Grill in Marshall
When you're in Texas, you can never forget the meat. Porky's Smokehouse & Grill makes a meaty masterpiece when they build their timeless chef salad. Their generous serving of ham, bacon and turkey isn't the only thing going unnoticed; according to the reviews, the "house ranch is to die for."
UTAH: Art City Special Salad at Art City Trolly in Springville
When you need an award-winning salad, take a trip to Art City Trolly for the best salad in Utah. The Art City special salad is not only big enough for your entire family, but it's also seasoned so well that it will have you savoring your palate for days. The candied almonds paired with the homemade poppy seed dressing gives a sharp finish in every bite.
VERMONT: Dave's Special Salad at Parker Pie Company in West Glover
Parker Pie Company isn't just a pizza joint. Dave's special salad is Vermont's special pecan salad, made with the state's finest maple vinaigrette. This salad jammed packed with a full house of light flavors and complementary textures. Bonus: All the ingredients are locally sourced by Jasper Hill.
VIRGINIA: Salmon Salad at Leaping Lizard Cafe in Virginia Beach
If you're around Virginia's shore, you can't miss out on grabbing a fresh bite right off the Atlantic. The Leaping Lizard Cafe offers a salmon salad with irresistible pickled zucchini and a well-seasoned salmon that customers can't seem to get enough of. Not only are the ingredients as natural as can be, but the large salad portions will also hold you over for the rest of your day.
WASHINGTON: Oregonzola Steak Salad at Cascadia Public House in Spokane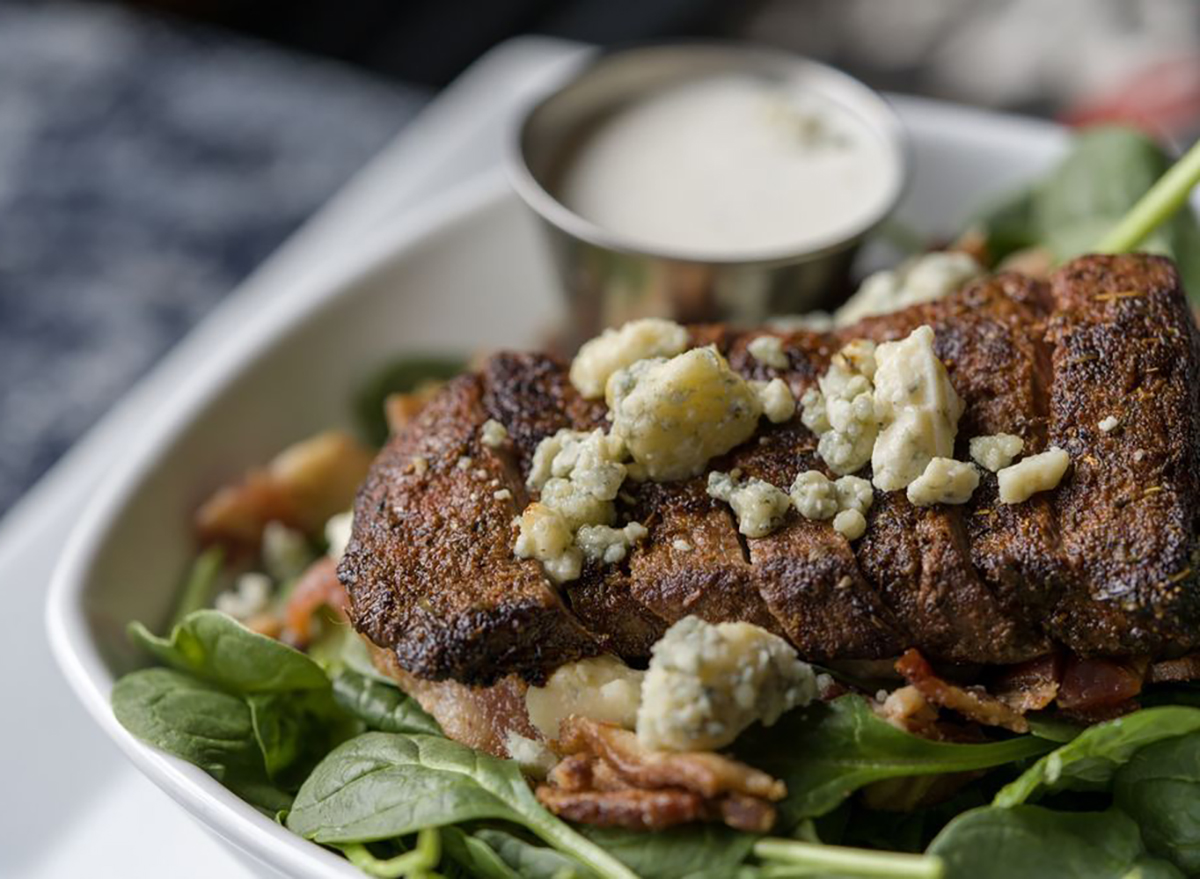 You must stop by the Cascadia Public House and see how they cook up the most satisfying steak salad in Washington. Between the tender Angus steak and crispy bacon bits, you'll get plenty of protein for the day while still getting the healthy benefits of eating salad. This salad is made with a bed of baby spinach, sweet apples, dried cranberries, and candied walnuts that are all brought together with bleu cheese dressing.
WEST VIRGINIA: Caprese Salad at Homegrown Pizza in Morgantown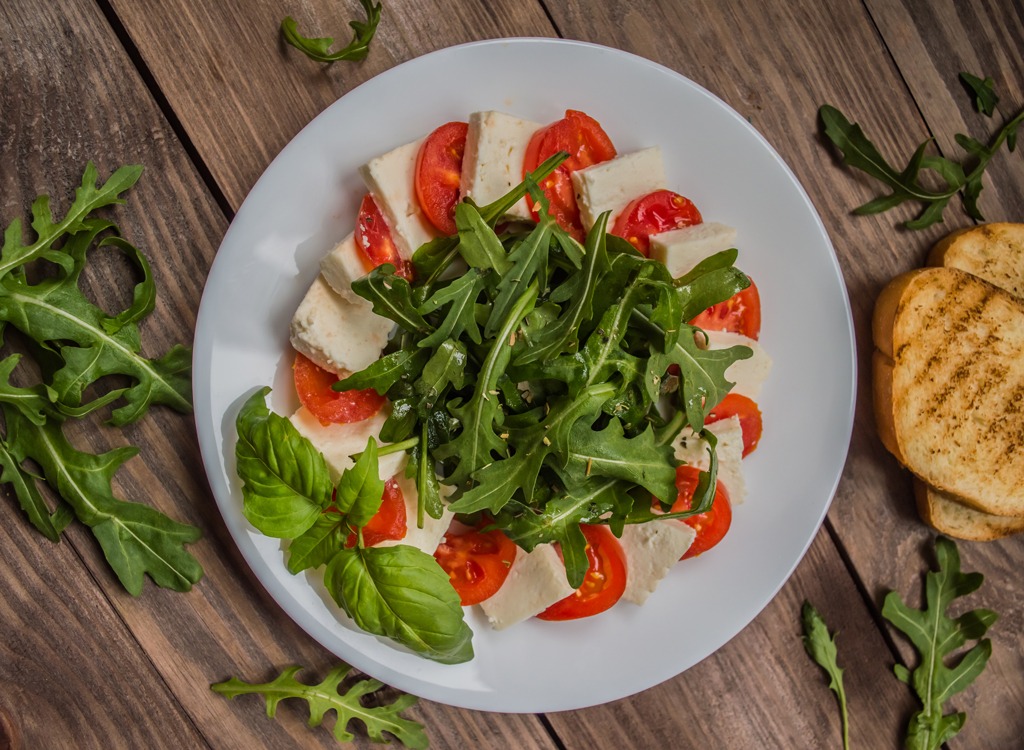 When you're in town looking for a local restaurant that serves up quality tossed greens, you must find Homegrown Pizza. The Caprese salad is like no other in the state of West Virginia, and it only gets more heavenly if you ask for the homemade apple vinaigrette dressing to go with it.
WISCONSIN: Chicken Cobb Salad at Chives Restaurant in Suamico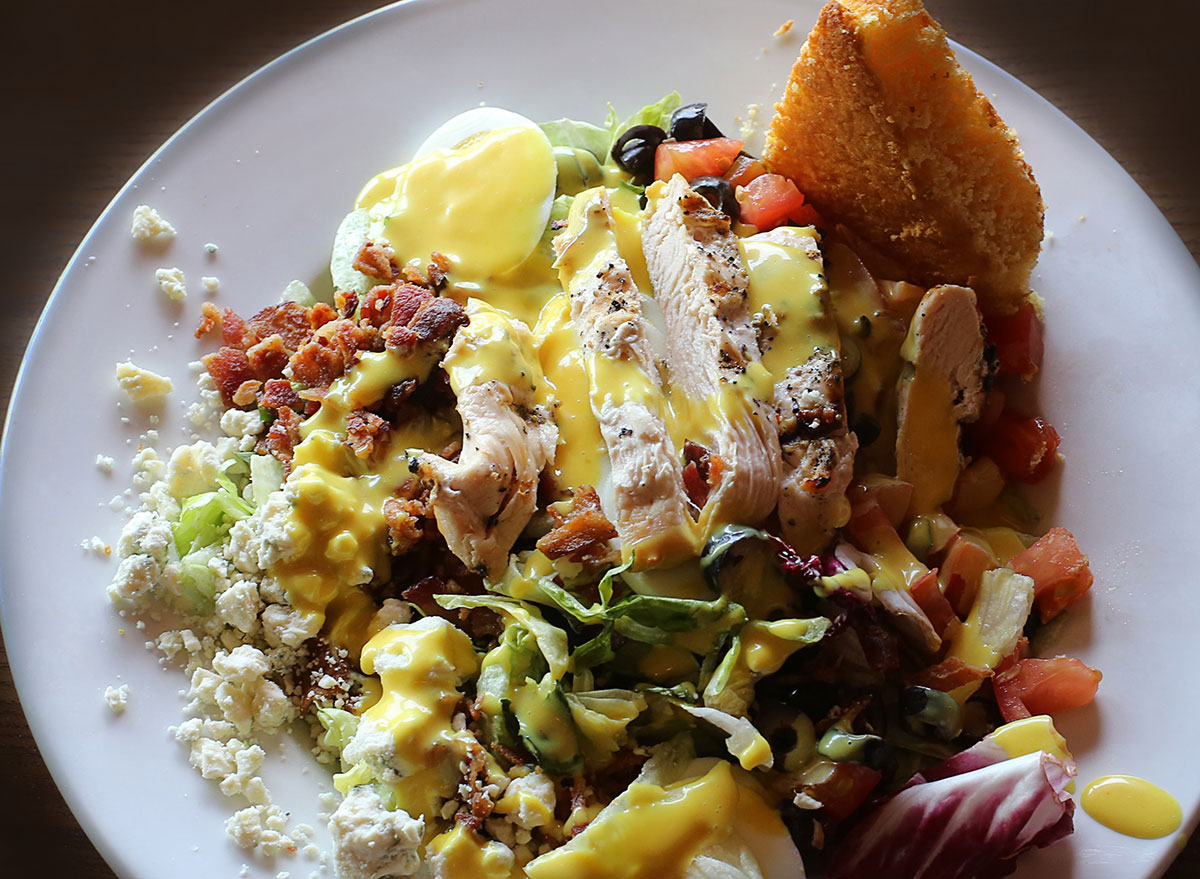 If you're in the mood for a salad that won't disappoint, head to Chives Restaurant in Suamico. The chicken cobb salad is made to please with great proteins like bacon, chicken, and hard-boiled eggs. And to top it off with Wisconsin's finest, this cobb salad wouldn't be complete without the best crumbled bleu cheese you'll ever taste.
WYOMING: Cran-Brie Chicken Salad at Cowboy Cafe in Sheridan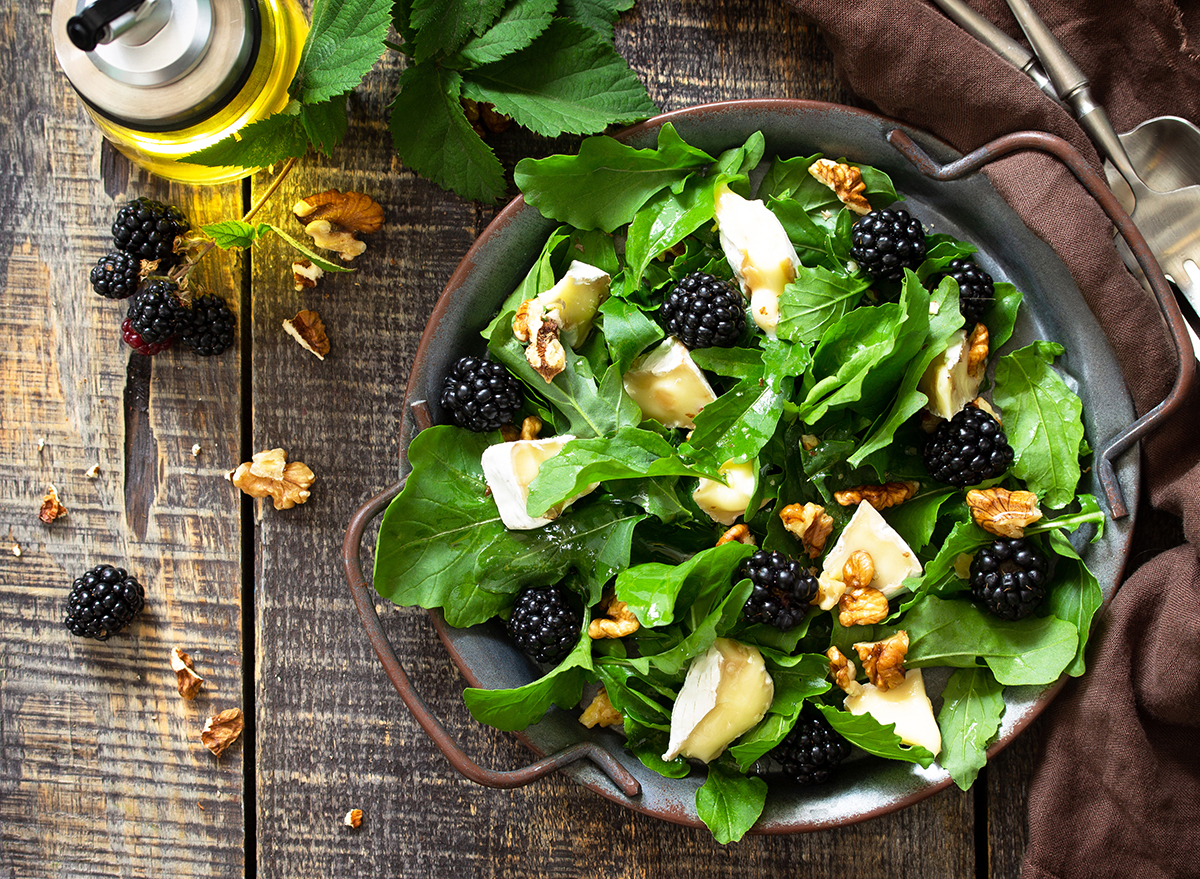 This spring salad will have you leaping for joy. If you ever have time to stop by Sheridan, Wyoming, you can't miss the opportunity to order this fruity and refreshing cran-brie chicken salad at the Cowboy Cafe. You get a choice of dressing to stack onto a picnic of wild flavors.
Jordan Summers-Marcouillier
Jordan Summers-Marcouillier was born and raised in San Jose, California and now works as a writer in New York, NY.
Read more about Jordan