The #1 Best Smoothie for a Flat Belly, Says Dietitian
Sip on this and slim down!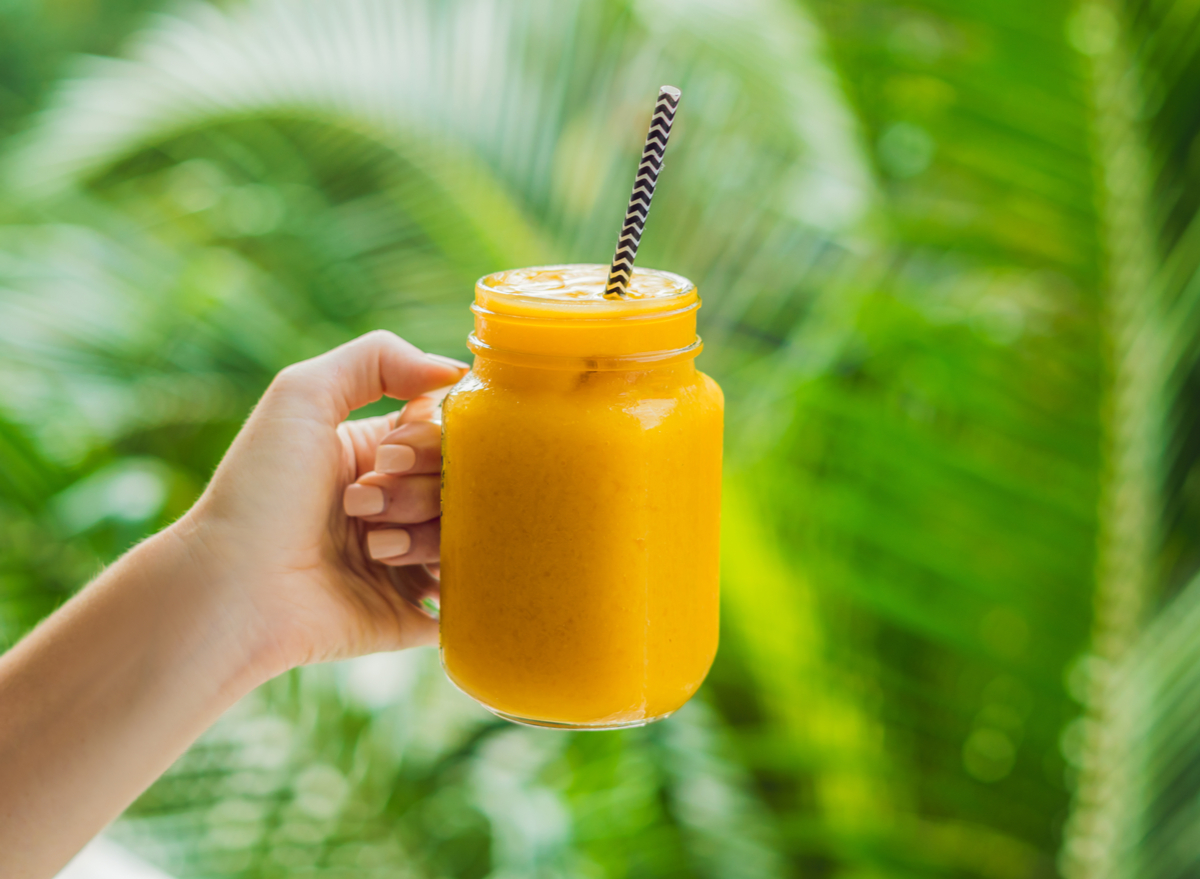 If you ever find yourself looking for a healthy snack option, smoothies are usually a good choice. Most smoothie recipes are quick and easy, and a blend of vegetables, fruits, and dairy products will generally serve to make you feel better refreshed, less bloated, and more ready for the day ahead.
However, some smoothies are better than others in helping you accomplish these missions. Curious what kind of smoothie would be the best? Here's a recipe recommended by Roberta Duyff, MS, RD, FAND, a food, nutrition consultant, and author.
Duyff recommends making a tropical smoothie for a flat belly, with powerhouse ingredients like mango, banana, oats, Greek yogurt, ginger, orange juice, and milk—just like this immunity smoothie recipe!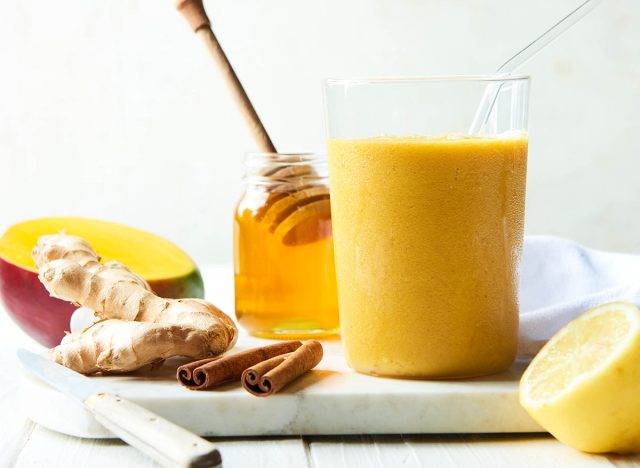 Despite its simple and quick making process, ingredients in the fruit smoothie offer you many nutritional benefits, making the drink a great choice for a flat belly. You'll be consuming a full array of proteins, fibers, fats, and carbohydrates: nutrients that are essential for your health.
Bananas alone are rich in potassium and fiber. Fiber speeds up your metabolism, helping you digest foods faster. Foods with a lot of potassium, which include bananas and oranges, play a huge role in reducing bloating.
Tropical fruits like passion fruit, guava, and papaya all offer amazing benefits, leading to faster digestion, less inflammation, and a flat belly. For example, papaya has anti-inflammatory properties and also contains a good amount of fiber. Furthermore, papaya can also help your digestive tract break down proteins!
With little presence in most smoothie recipes and a mediocre taste reputation, ginger can often be an overlooked ingredient in this recipe. But like papaya, the root plant contains an enzyme that helps your digestive system break down proteins as well, reducing bloating.6254a4d1642c605c54bf1cab17d50f1e
Aside from containing a variety of fruits and juices, this recipe boasts oats and two different kinds of dairy products. Most yogurt products contain probiotics, supporting the growth of good bacteria. Consequently, these beneficial bacteria keep your digestive system healthy and prevent gas.
With rolled oats, this fruit smoothie will also make you feel fuller for a longer period. The addition of oats will ensure you have enough energy to power through your day, minimizing the urge to reach for too many snacks or to overeat.
For more smoothie tips, here are The Best Smoothie Ingredients to Slow Aging, Says Science.
Daphne Yao
Daphne is a graduate journalism student at Northwestern University who specializes in health, environmental, and science reporting.
Read more about Daphne