We Tested 7 Cookie Dough Brands and This Is the Best
It was a pretty close call for most, but hey, that's the way the cookie crumbles!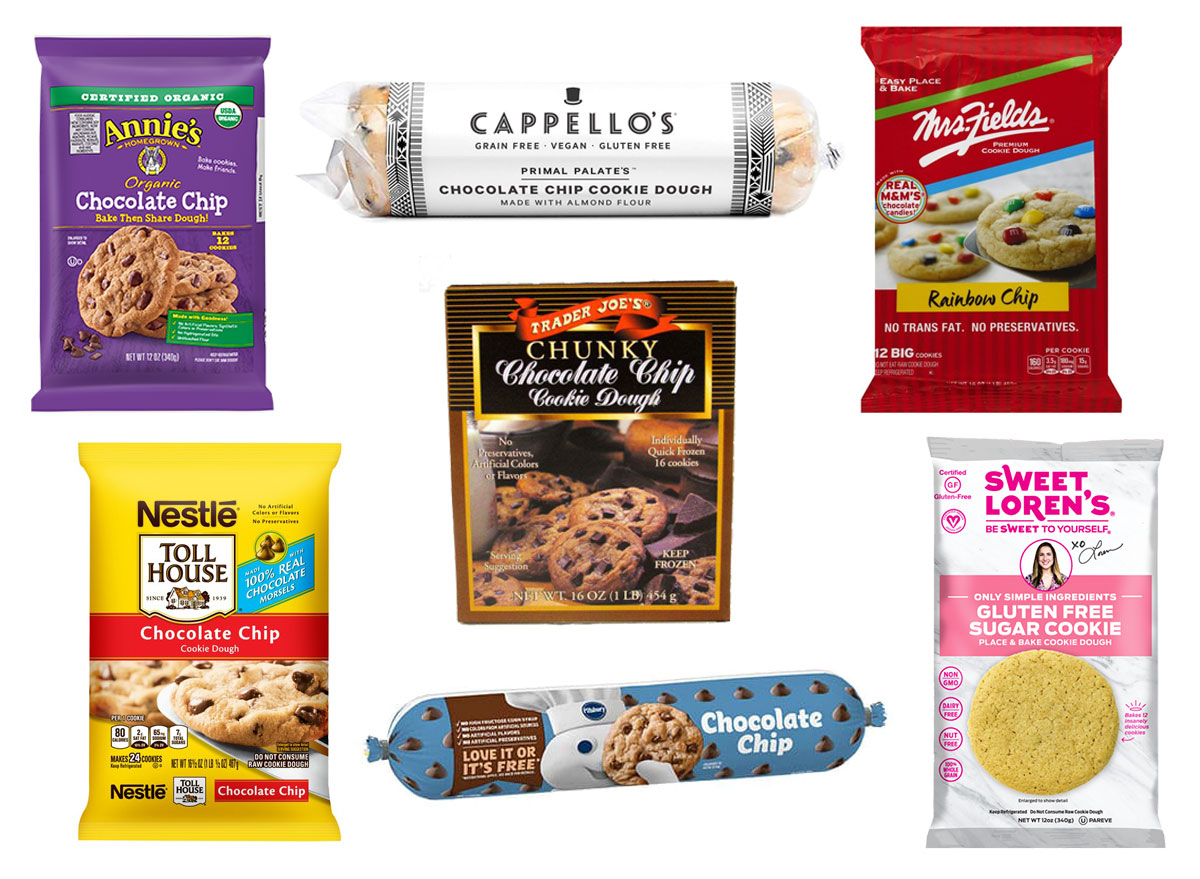 Making the perfect chocolate chip cookie always feels like a huge mystery. How can you make a cookie that is perfectly chewy and buttery, with properly proportioned chocolate chips, that will stay intact enough during a proper milk dunking?
While we didn't taste test with a glass of milk in hand, we did get specific on our cookie tastes and preferences. Some editors like a crunchier cookie that will crumble with every bite. Others like a softer, chewier cookie, resembling that delicious cookie dough that we can't help but consume as we spoon cookies onto the sheet pan.
Despite our difference in preferences, we were able to come to a consensus on the best store-bought cookie dough out there. (If just want to pop a perfect cookie in your mouth, check out We Tasted 6 Packaged Chocolate Chip Cookies & This Is the Best!)
How we graded them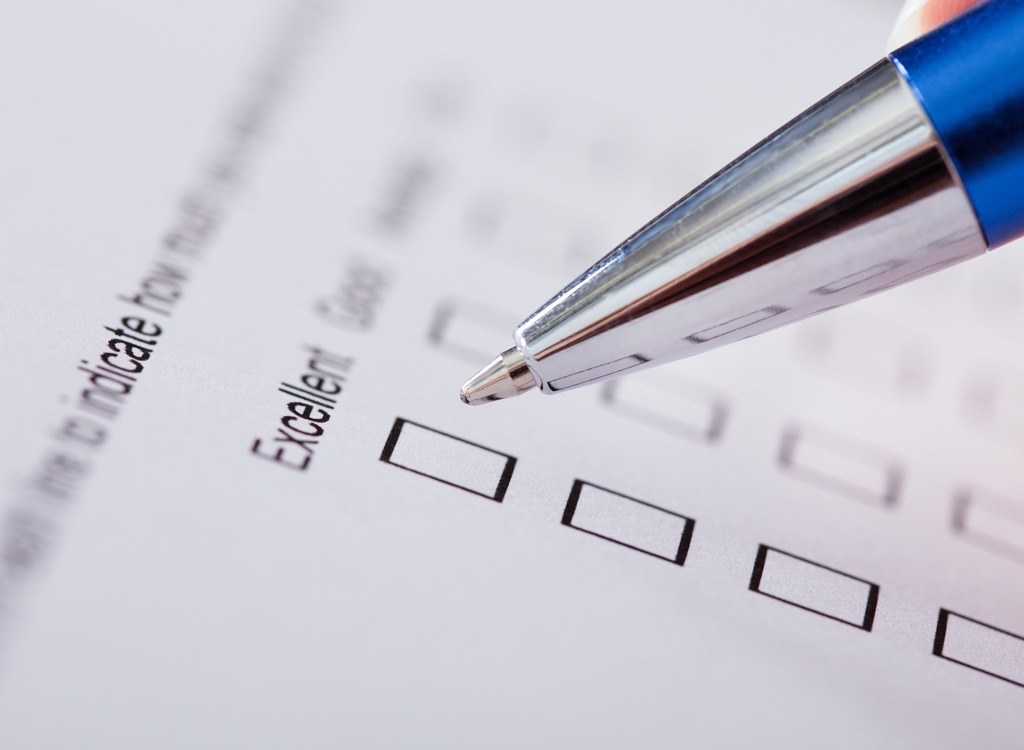 Our metric was pretty simple, it was all about…
Texture, taste, and presentation
While we didn't eat the cookie dough raw (even though we kind of wanted to), we did end up baking the dough to see which company is able to make the ultimate break-and-bake cookie experience. After baking the cookies, we evaluated the texture of the baked dough, as well as the taste. The presentation was also judged based on how the cookie looked after baking. Was it a nice, round shape? Did the dough spread, or did it keep a nice form? Or better yet, did it even cook properly?
After careful consideration, here's how we ranked these store-bought cookie doughs.
Sweet Loren's Place & Bake Gluten-Free Sugar Cookies
Texture & Taste: Some of the cookies weren't able to take a full form (the dough left a clear square in the middle), and the dough tasted artificially sweet.
Eat This, Not That! Verdict:
The words "sandy," "grainy," and "chalky" were used by almost all of our Eat This, Not That! editors. One editor said that the "color is tragic, looks so sad," and probably would have been better with some "sprinkled sugar or something extra on top, like some frosting." While the texture was unpleasant, the cookie taste itself was decent. One pointed out some vanilla undertones, and another said it had a "good cookie snap." However, another editor did mention it was "a bit too sweet for me (and I have a sweet tooth!)"
Pillsbury Chocolate Chip Refrigerated Cookies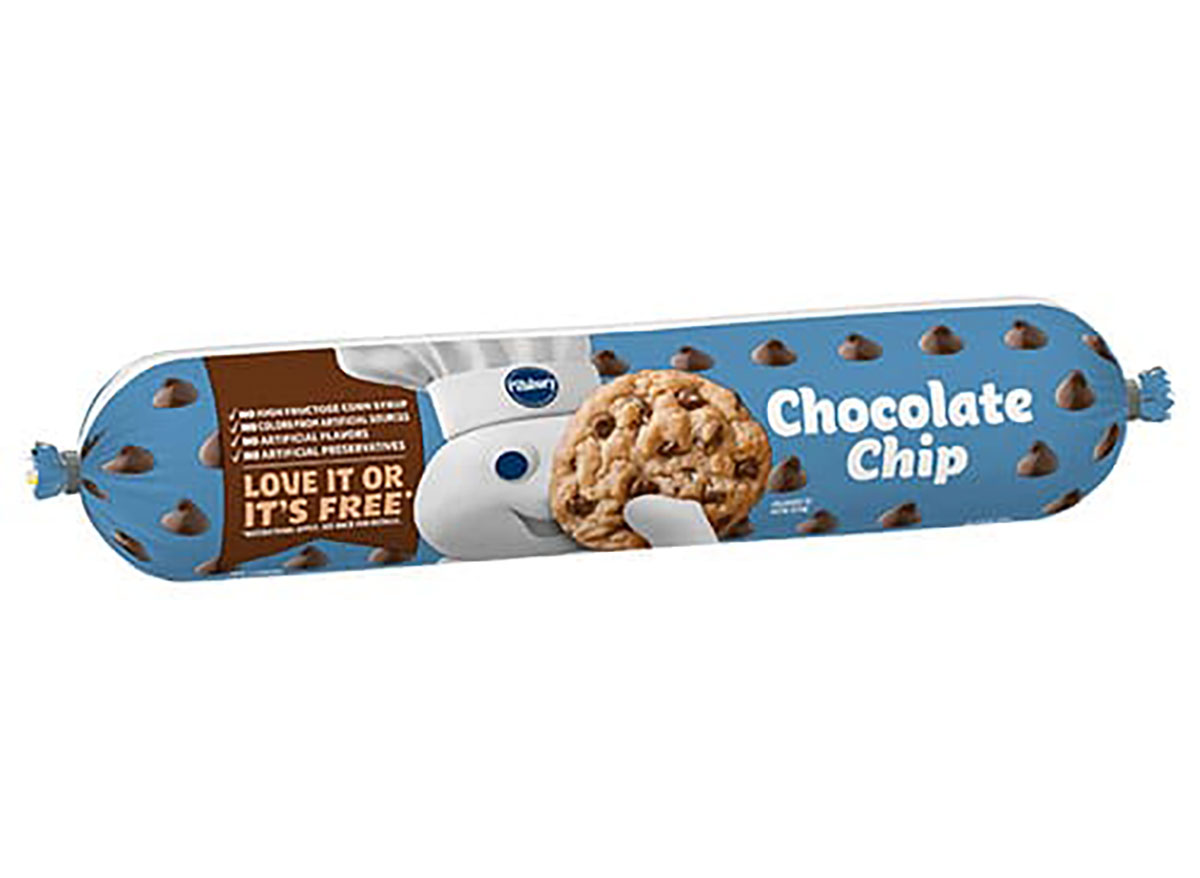 Texture & Taste: While cookies are meant to be a sweet dessert, having a buttery dough is always pleasant for the ultimate chocolate chip cookie experience. Pillsbury certainly had a buttery dough compared with the others we sampled, but that was about all the brand had going for it. The cookie was crumbly and had a flatter shape to it, which was likely due to the way that the cookies were shaped before baking because this dough came in a log.
Eat This, Not That! Verdict:
It's always fun to fake making a "homemade" dessert with a delicious batch of store-bought cookies, but sadly with Pillsbury, that would never fly. The Eat This, Not That! editors agreed that Pillsbury cookies tasted artificial. They didn't have "homemade vibes at all" and had a "store-bought, fake taste to them." One editor compared this cookie to Chips Ahoy. Another editor mentioned that even though she loves Pillsbury's crescents and pie dough, the cookies "really missed the mark." She also noted that "the chocolate just tastes inferior and is almost hard to eat."
Annie's Organic Chocolate Chunk Cookie Bake & Share Dough
Texture & Taste: If you would rather bite into a crispy cookie than a chewy cookie, Annie's is for you. This cookie was crispy, almost like a chip. The taste was not overly sweet, which could be a setback for those looking for a sweeter cookie. However, the cookie had a nice shape and a robust texture, making it the perfect cookie for homemade ice cream sandwiches.
Eat This, Not That! Verdict:
According to our editors, this cookie was the perfect one to go with a bowl of ice cream. The crunchy texture would make for a great ice cream topping, especially because most of the editors felt the cookie wasn't overly sweet, so it wouldn't overpower the ice cream. However, one editor wasn't too thrilled by how crunchy it was, while another said it was "too crispy for my taste." Another editor said she couldn't even finish it because it was too crumbly for her.
Mrs. Field's Rainbow Chip Premium Cookie Dough
Texture & Taste: This dough certainly had a chewier texture, but the dough was a bit too sweet and grainy. Overall, the cookies had a nice shape, and the M&M's added a surprisingly delightful finish for the dough.
Eat This, Not That! Verdict:
The reviews for these cookies were a mixed bag. Some said they enjoyed the texture and taste of these cookies, especially with the M&M's. One editor said it "tastes like pancake batter, which is not a bad thing." However, one editor was outwardly displeased with these cookies, primarily because they reminded her nothing of the Mrs. Field's M&M nibblers she used to eat at the mall as a kid. "What happened," she asked, "and why are M&M cookies using a sugar cookie base? Terrible."
Trader Joe's Chunky Chocolate Chip Cookie Dough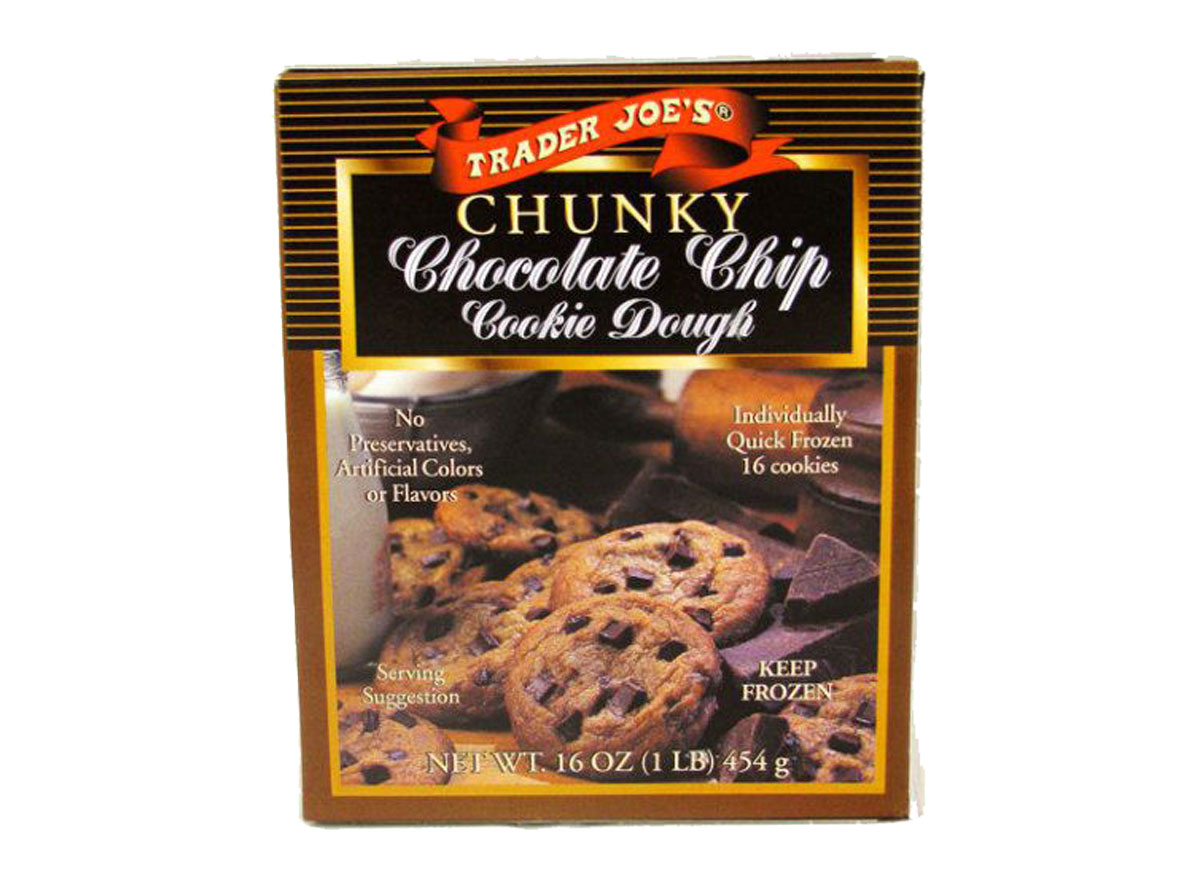 Texture & Taste: Dark chocolate fans, rejoice! The Trader Joe's Chunky Chocolate Chip Cookies were a hit among our staff members. The dough is a darker color in comparison to the other store-bought cookie doughs, and the shape of the cookies made them look homemade. The chocolate chunks were darker than the milk chocolate or semi-sweet chocolate chips usually packed in cookie dough, making it a richer cookie experience than what we expected.6254a4d1642c605c54bf1cab17d50f1e
Eat This, Not That! Verdict:
The darker dough, as well as the darker chocolate chunks, were a huge hit with our Eat This, Not That! editors. One editor said, "they are so soft and chewy, and I love that the chips taste semi-sweet and not like milk chocolate." One editor said that these cookies taste the "most chocolatey" of the bunch, while another said it reminded her of hot chocolate.
Cappello's Chocolate Chip Cookie Dough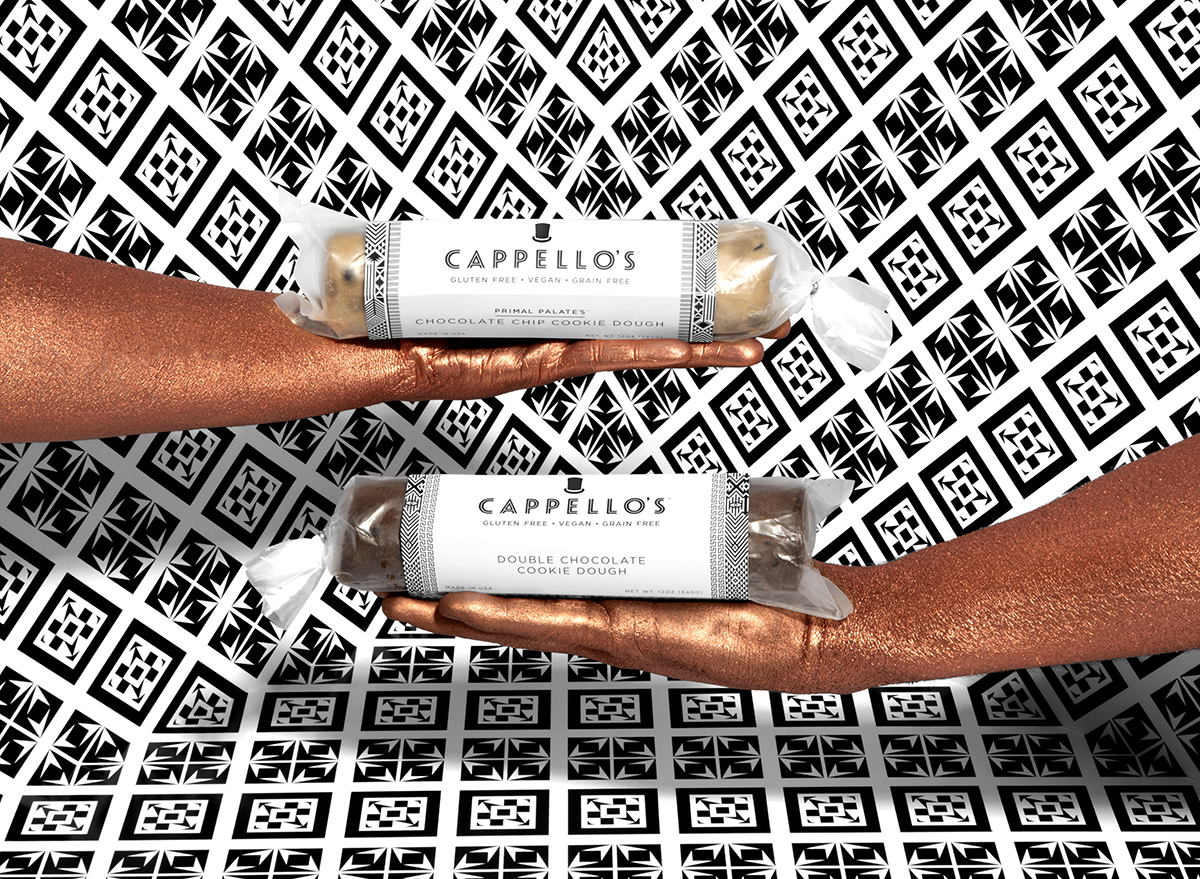 Texture & Taste: The Cappello's cookies came out perfectly shaped after being baked and were delightful to bite into. While these cookies are made with almond flour, which offered a distinctive taste and texture, the cookie overall was delectable. The dough itself wasn't overly sweet, so when adding those semi-sweet chocolate chips, the combination of the two was nothing short of heavenly.
Eat This, Not That! Verdict:
Because this was a personal favorite of one of our editors, we added it to the lineup, and we sure were happy that we did! One editor pointed out how this cookie was the "perfect blend of sweet and salty" while another simply said "wow!" Another editor said it was "not super sweet at all, which means I can eat a few and not feel sick. A win-win!" Plus, they're grain-free, vegan, and gluten-free, so a wide range of people can enjoy them!
Nestlé Toll House Chocolate Chip Cookie Dough
Texture & Taste: Buttery and chewy, with quality chocolate? Yep, it was unanimous: Nestlé Toll House is the best of the best. The texture is absolutely perfect for a chewy chocolate chip cookie. The chocolate doesn't taste artificial, and the dough isn't too sweet. The bottoms are even cooked perfectly, which can be a challenge when trying to bake a batch of cookies perfectly.
Eat This, Not That! Verdict:
We weren't shocked by this one. Nestlé Toll House was a favorite for all of our editors growing up, and that still rings true years later—they still lived up to the hype. One editor said Toll House is "the ultimate classic" chocolate chip cookie, while another said it "reminds me of my childhood—perfectly chewy and chocolatey, a classic chocolate chip cookie taste that's irresistible." As one of our editors puts it: "You can never go wrong with this option."
And that, my friends, is how the cookie crumbles.
Here are some more easy cookie recipes to try:
16 Copycat Cookie Recipes That Are Surprisingly Healthy
33+ Best Healthy Cookie Recipes for Weight Loss