We Tasted 10 Vanilla Ice Creams & This Is the Best One!
We got the scoop on the best and worst of the store-bought vanilla ice creams.
Nowadays, with glorified ice cream flavors and added toppings swirled into the mix as competition, plain vanilla ice cream appears to have taken a backseat. But no matter how saturated the freezer aisles are with strawberry cheesecake or tiramisu-flavored ice creams, vanilla still hails as an undying classic. That's why we chose to taste-test some of the leading store-bought brands to see which ones stand out among the rest. Step aside, moose tracks and rocky road: We're only interested in the plain-Jane vanilla ice creams here.
Methodology: Each editor on our team ranked each vanilla ice cream from 1-10, with 1 being the best. We then took the average score for each ice cream, and whichever one had the lowest score was deemed the best vanilla ice cream.
The 10 vanilla ice cream brands we tasted were:
365 Everyday Value
Baskin Robbins
Ben & Jerry's
Breyer's
Edy's
Friendly's
Häagen-Dazs
Jeni's Splendid Ice Creams
Tillamook
Turkey Hill
See which ice cream pints, quarts, and gallons we couldn't get enough of, as well as the ones we would pass on. And for more, check out We Tried 7 Chocolate Ice Creams & This One Is the Best.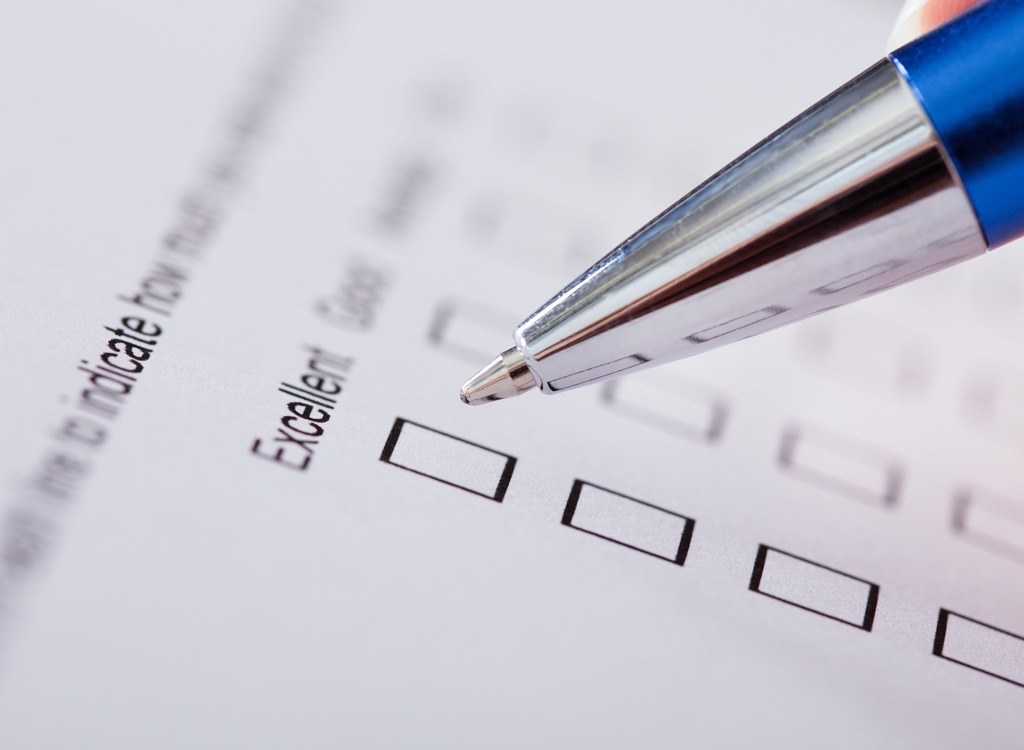 Because there aren't any chocolate chunks, bits of cookie dough, or swirls of caramel or fudge in these ice creams, a smooth texture was what we were on the prowl for in these ice creams. We also awarded top points for how natural the vanilla or vanilla bean flavor tasted, as well as how creamy the ice cream was in general.
Baskin Robbins vanilla ice cream
Texture & Taste: We did not like the aftertaste this ice cream left. One editor wrote that it left a weird coating on her tongue, to the point where she had to spit it out!
Eat This, Not That! Verdict:
We know that Baskin Robbins churns out some delicious ice cream, but their vanilla failed to impress us—especially among the other ice creams we sampled. The most jarring element of this ice cream, however, wasn't so much its heightened sweet flavor or subpar texture, but rather the color of the ice cream. One editor wrote, "The color really freaked us out…why is it yellow? The taste was not bad, but was very forgettable."
Sorry, Baskin Robbins, but we did not like your vanilla ice cream on its own.
Ben & Jerry's vanilla ice cream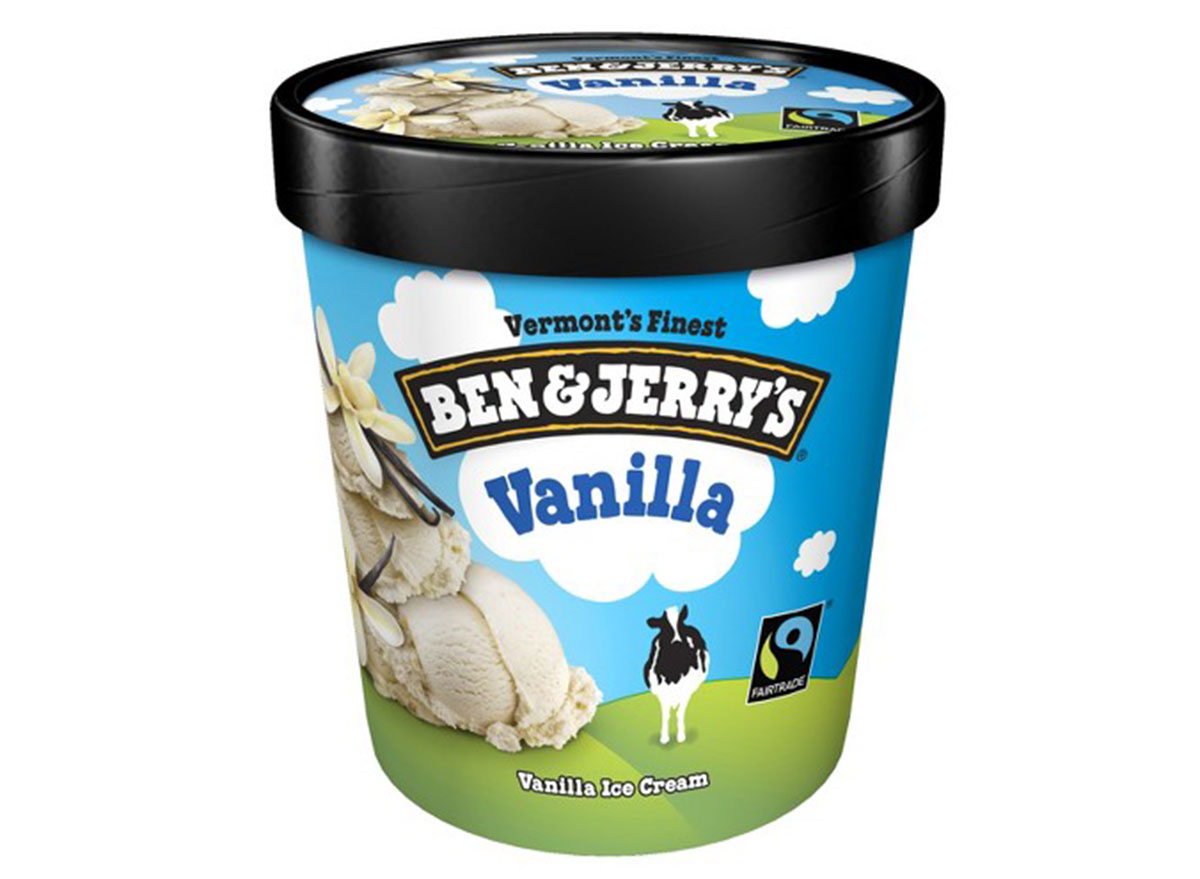 Texture & Taste: We all thought this ice cream had an artificial vanilla flavor and needed toppings. The ice cream's texture was also problematic, a mix between icy and milky rather than smooth and creamy.
Eat This, Not That! Verdict:
We were even more shocked by how disappointing Ben & Jerry's Vanilla ice cream tasted. After all, the Cherry Garcia frozen yogurt was one of our top scorers in our fro-yo taste test. While we praise loaded flavors like Chunky Monkey and Phish Food, the vanilla fell short by a landslide. One editor said that this ice cream "tastes like fake vanilla syrup."
We'll stick to Half-Baked and The Tonight Dough, thank you very much!
Turkey Hill all-natural vanilla ice cream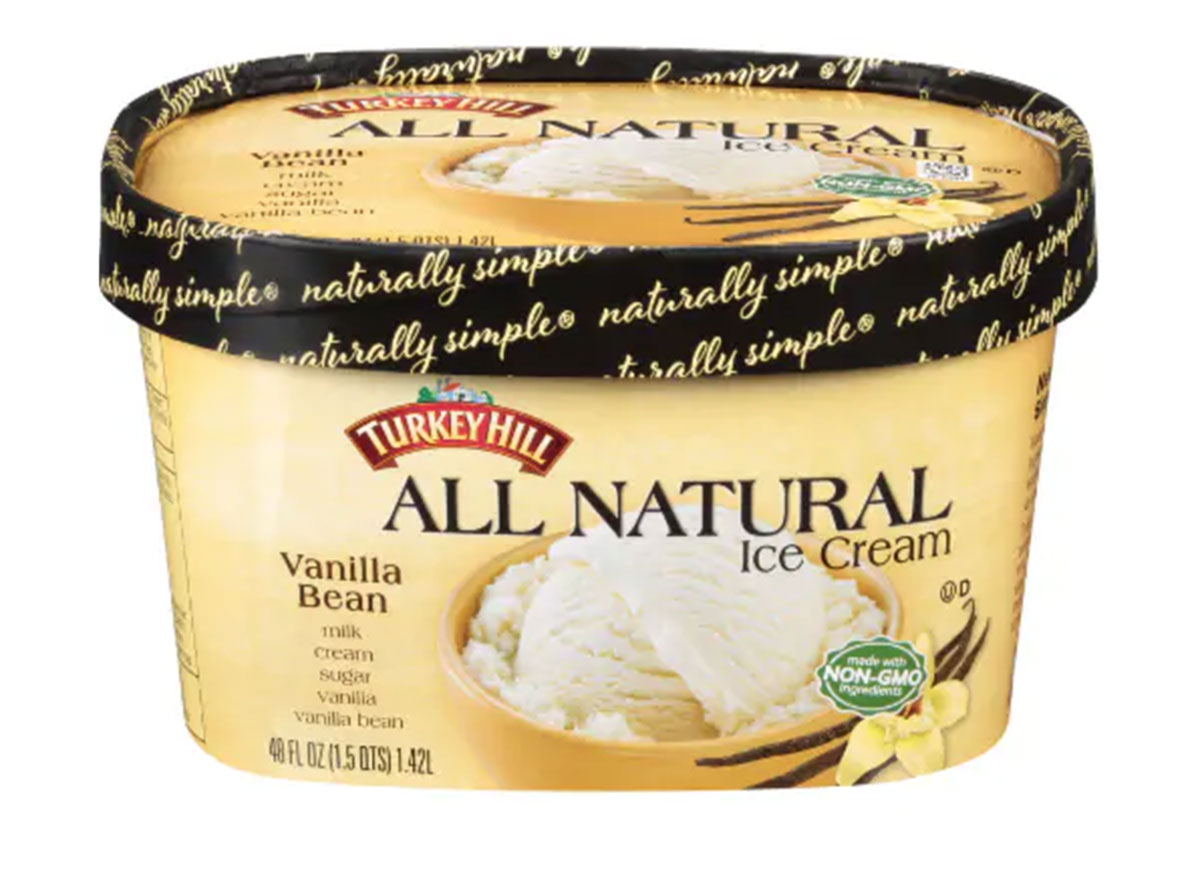 Texture & Taste: This ice cream had varying reviews. You either loved it or hated it—no in-between.
Eat This, Not That! Verdict:
One editor commented that the vanilla bean flavor wasn't as pronounced as she'd hoped it would be. She, along with three other editors, thought this ice cream left a bad aftertaste and weird coating in the mouth. On the other end of the spectrum, one editor ranked it as her third favorite saying, "Strong vanilla bean flavor; pillowy texture. I would choose to have this with pumpkin pie." Another editor who had never tried any of Turkey Hill's ice creams before wrote, "I was very surprised by how much I liked this one—very creamy."
As is the case with any ranking, the majority rules, and the majority of us were not enthused with this ice cream.
365 Everyday vanilla bean ice cream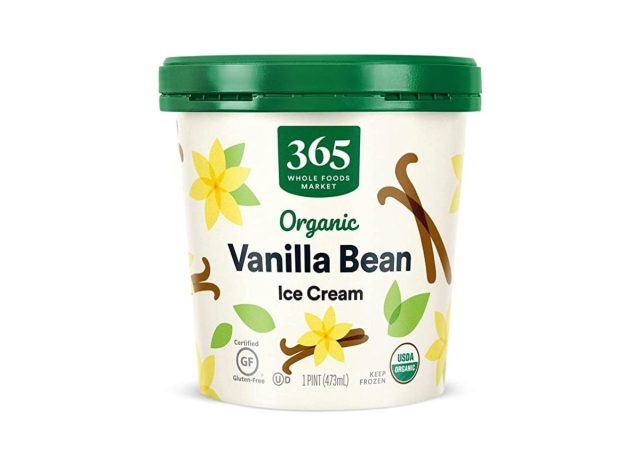 Texture & Taste: This ice cream was almost too rich in vanilla flavor for us to enjoy alone. The texture was creamy, though.
Eat This, Not That! Verdict:
We love that this ice cream is made with organic ingredients, but what we didn't love was the vanilla flavor—it was almost too intense for us to eat without any toppings. One editor jotted down that the vanilla bean flavor was almost overpowering, whereas another one wrote that she was indifferent about the flavor and would prefer to have it in a homemade sundae instead of in a bowl by itself.
In short, we weren't averse to this ice cream, but we wouldn't eat it out of the container like we would for some of the others we tasted.
Friendly's vanilla premium ice cream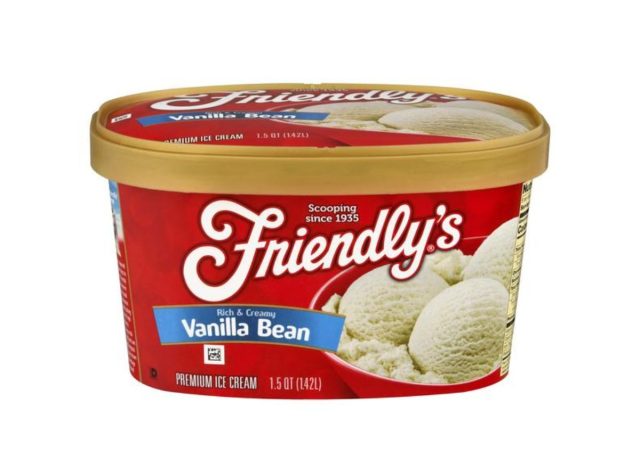 Texture & Taste: Two of us thought this brand of vanilla ice cream tasted almost like coffee, while others thought the flavor was bland. As far as texture goes, one editor described it as "light and fluffy, like a cloud."
Eat This, Not That! Verdict:
While this ice cream didn't have a bad taste, it didn't wow us on its lonesome. One editor explained it well: "This one is OK. It's better than some of the fancier ones, but still not exciting without toppings."
Essentially, we all agree that this ice cream would be a great base for a sundae, which put it almost squarely in the middle of our taste test at the sixth spot.
Breyers natural vanilla ice cream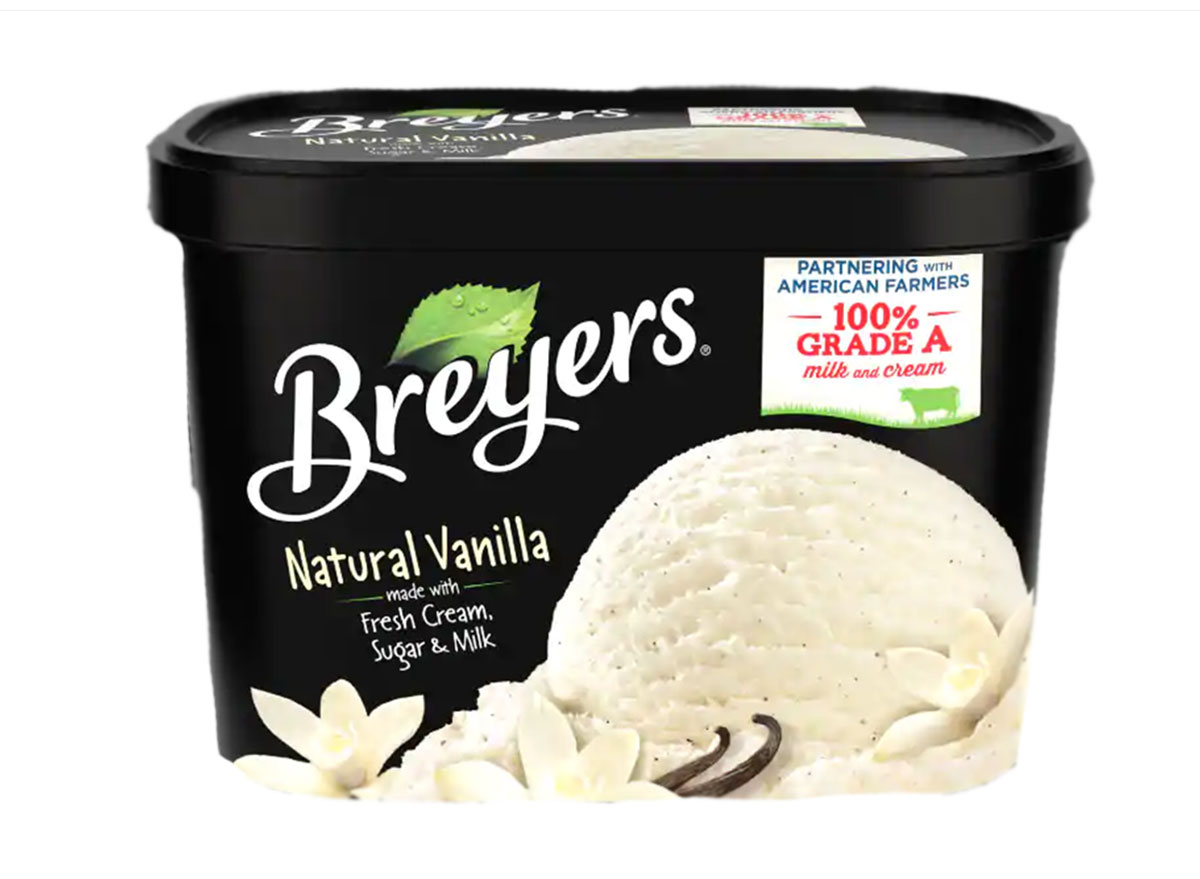 6254a4d1642c605c54bf1cab17d50f1e
Texture & Taste: Sweet and not too creamy was the overall consensus for this ice cream.
Eat This, Not That! Verdict:
Breyer's is a classic ice cream brand, satisfying cravings since 1866. Those of us who grew up with a gallon of Breyer's ice cream in the freezer left positive reviews for this classic. One such editor wrote, "Classic taste. Reminds me of childhood," and another commented, "a classic; still as good as I remember."
While nostalgia seemed to be the driving factor for those who enjoyed the ice cream, others found it to be too sweet, which is why this ice cream falls in the middle of the rank.
Häagen-Dazs vanilla bean ice cream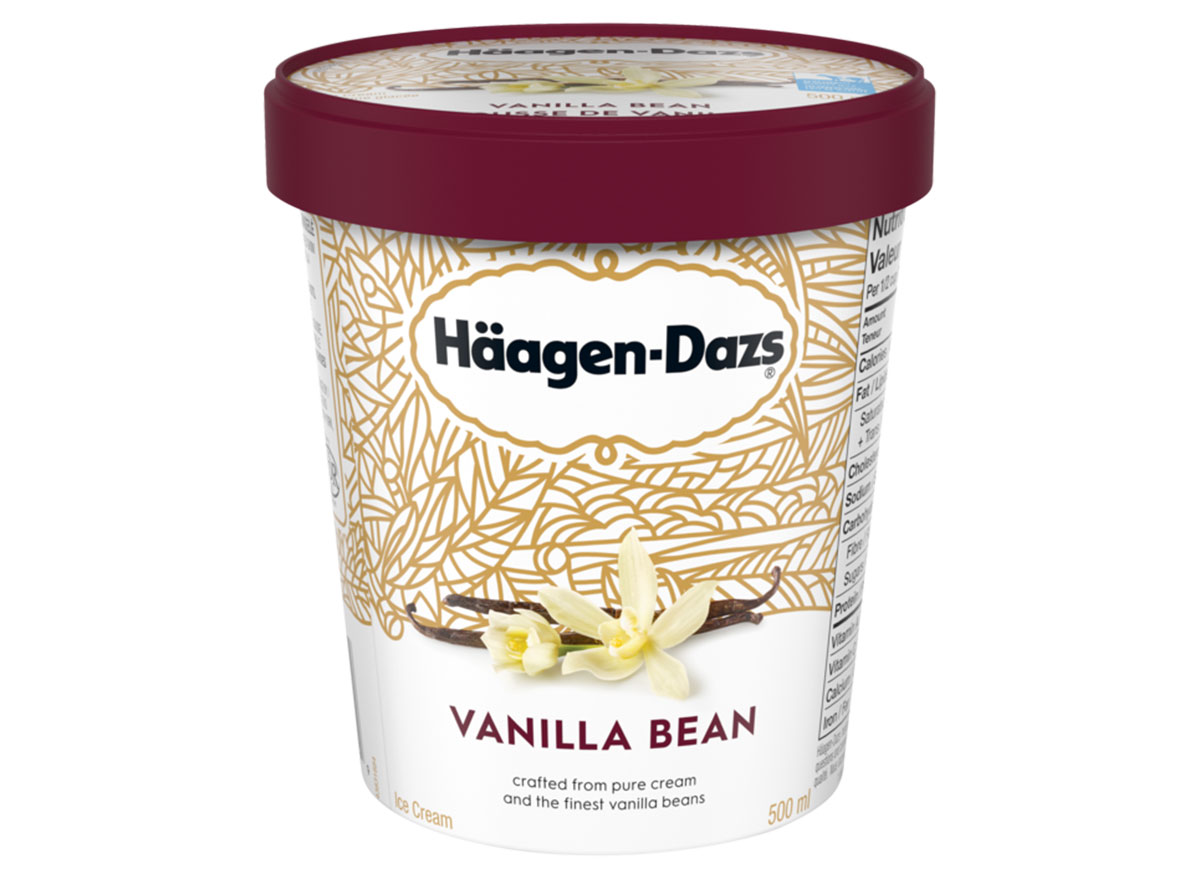 Texture & Taste: Creamy, thick, and pronounced vanilla bean flavor.
Eat This, Not That! Verdict:
Breaking through into our top picks is Häagen-Dazs Vanilla Bean ice cream. This brand is applauded for its luscious ice creams, and the vanilla does not disappoint. What prevented it from getting a higher rank on our list is the fact that did not have a smooth texture. Several editors described the texture as icy.
Overall, we liked the flavor, but the texture could use some work.
Edy's vanilla bean ice cream
Texture & Taste: Soft, creamy, and natural tasting.
Eat This, Not That! Verdict:
Edy's Vanilla Bean Ice Cream pleasantly surprised us all. One editor, who admitted to preferring chocolate ice cream, wrote, "Amazing—appearance is what you expect from a classic vanilla bean ice cream. Soft; high-quality taste. Could eat it by itself." Another taste-tester scribbled, "I was so surprised how soft this was as soon as I stuck a spoon in it! So creamy and delicious—I went back for more."
Edy's was certainly a crowd favorite.
Jeni's honey vanilla bean ice cream
Texture & Taste: This ice cream unleashes a pleasant, subtle honey taste. The flavor is refreshing, and the texture is smooth and creamy.
Eat This, Not That! Verdict:
If you've never had Jeni's ice cream, you're in for a treat, especially with this flavor. This ice cream is widely distinctive from the rest, partially because of the inclusion of honey.
"That honey is a delightful addition. So into it. I would choose to have this in a waffle cone," wrote an editor. Another jotted down, "So delicious! Tastes very artisanal and high-end."
10/10 we would recommend.
Tillamook old-fashioned vanilla ice cream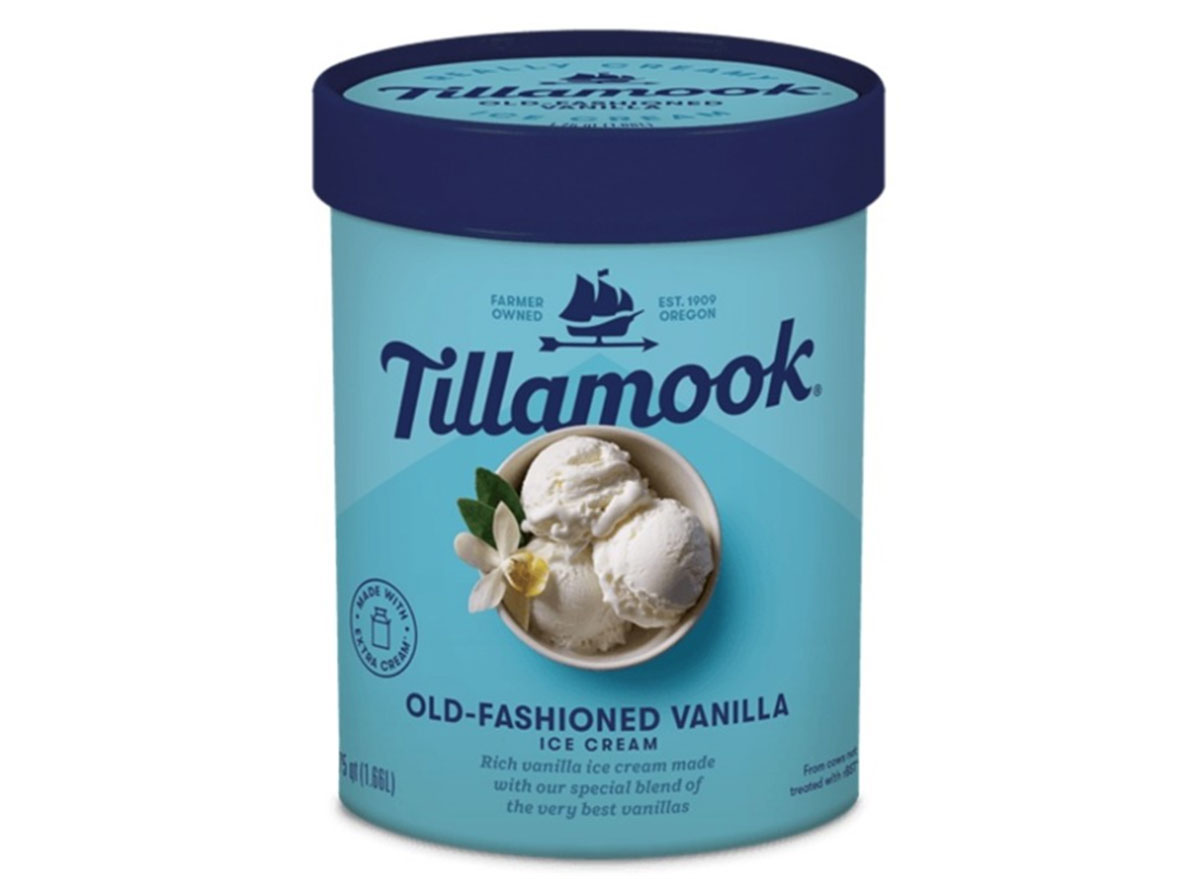 Texture & Taste: Soft, fluffy texture, high-quality taste. Overall, we thought this ice cream was irresistible.
Eat This, Not That! Verdict:
Tillamook, without any debate, was the most well-liked ice cream we sampled in this taste test. One editor penned, "Very soft, cloud-like. Tastes like what you would get at an actual ice cream shop. Could eat the entire tub." Others commented on how light this ice cream tasted. Despite its creaminess, it didn't feel heavy but rather felt like it had been whipped. One editor compared this ice cream to soft serve, whereas another said it reminded her of a fluffy marshmallow.
Tillamook's Old-Fashioned Vanilla Ice Cream takes the cake (er, bowl) as the best store-bought vanilla ice cream in our taste test!