6 Fast-Food Chains That Serve Real Ice Cream—Not That Fake Stuff
Skip McDonald's or Burger King when you're looking for fast-food chains that serve real ice cream.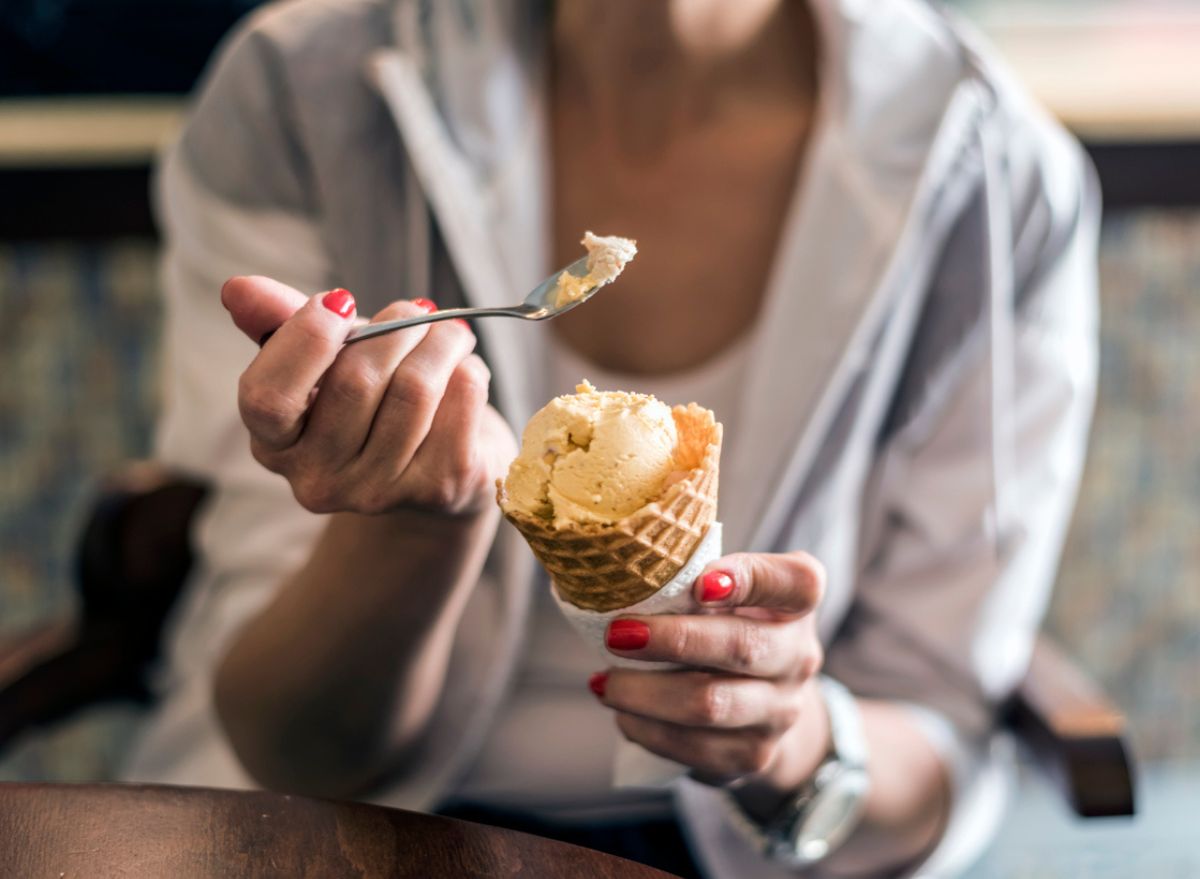 When you're out and about and pop into your favorite fast-food chain, it can be so satisfying to indulge in a frozen treat like an ice cream sundae or a milkshake. But with all of the options for fast-food ice cream products out there, like a McDonald's sundae, a Wendy's Frosty, or a Shake Shack frozen custard, it's tough to know which items are made with real ice cream.
Before going any further, let's look at the difference between two common terms you'll see on fast-food menus: "soft serve" and "real ice cream." According to the FDA guidelines, determining what counts as ice cream really depends on the weight of the product and the ratios of butterfat. They say, "Ice cream contains not less than 10 percent milkfat, nor less than 10 percent nonfat milk solids, except that when it contains milkfat at 1 percent increments above the 10 percent minimum."
To get soft-serve, air is added to the ice cream through a machine (soft serves are sometimes up to 50% air) which creates a fluffier, lighter texture. Even though it starts out as ice cream, it usually will no longer meet the standard guidelines because it will have less milkfat than regular ice cream. It's also often made without eggs, which is a key ingredient in regular ice creams.
To determine whether or not you want to order real ice cream over something like soft-serve, you'll have to decide what your goals are. Soft-serve often has fewer calories since it's made with less milkfat, which may be beneficial to those watching their fat or calorie intake. But if you're looking for a treat that is creamier, denser, and resembles what you'd find scooped up at your local ice cream shop, you may want to stick to one of the following fast-food restaurants that serve real ice cream or milkshakes made with real ice cream. Read on, and for more, don't miss The #1 Absolute Unhealthiest Order at 10 Major Ice Cream Chains.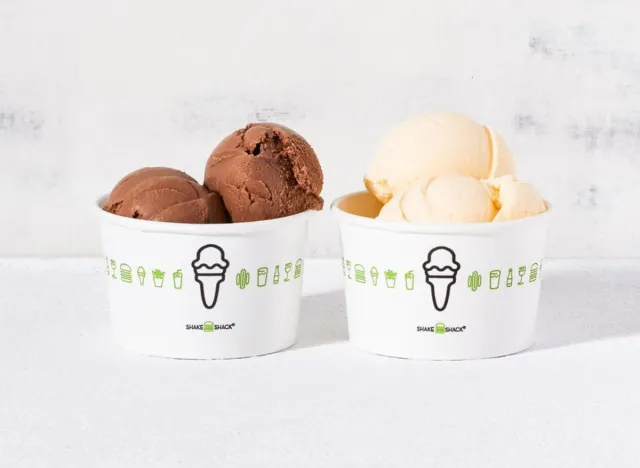 The more you look into Shake Shack's food practices and standards, the more you realize that this fast-food chain really does value quality. For their burgers, the chain uses 100% Angus beef with absolutely no hormones or antibiotics, and their chicken is 100% all-natural and cage-free. And when it comes to their ice cream, shakes, and custards, it's no surprise that they use the best quality ingredients in these, too.
Whether you're opting for one of their specialty or classic shakes, or are just looking for a scoop or two of their frozen custard, you'll get what they refer to as "Soft, premium ice cream, made in-house daily only with the good stuff: real cane sugar and cage-free eggs."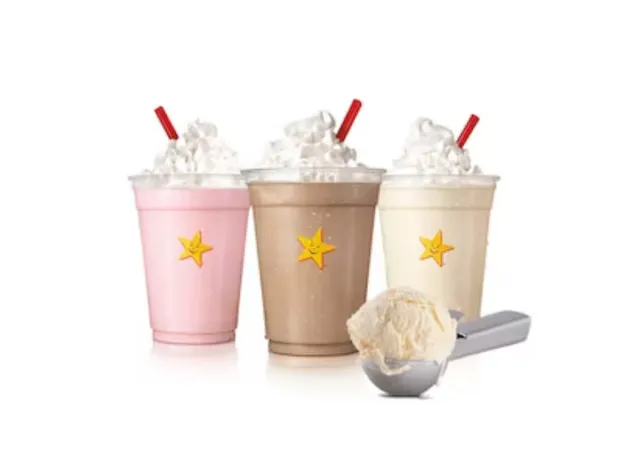 When you're craving high-quality ice cream at an affordable price, you can count on Carl's Jr. to provide creamy shakes made with real ice cream every time—which is why they can get away with the trademarked title of "Hand-Scooped Ice Cream Shakes."
In 2015, Brad Haley, chief marketing officer at Carl's Jr. told Businesswire that "Carl's Jr. is unique in that we use premium, hard-packed vanilla ice cream to make our Hand-Scooped Ice Cream Shakes and Malts, which also gives us the opportunity to make some pretty awesome Hand-Scooped Ice Cream Sandwiches."
Sadly, you won't see ice cream sandwiches on their menu anymore, but you'll still be able to enjoy their shakes, which their website refers to as, "creamy, hand-scooped ice cream blended with real milk and topped with whipped topping. Available in Oreo, Chocolate, Vanilla, or Strawberry."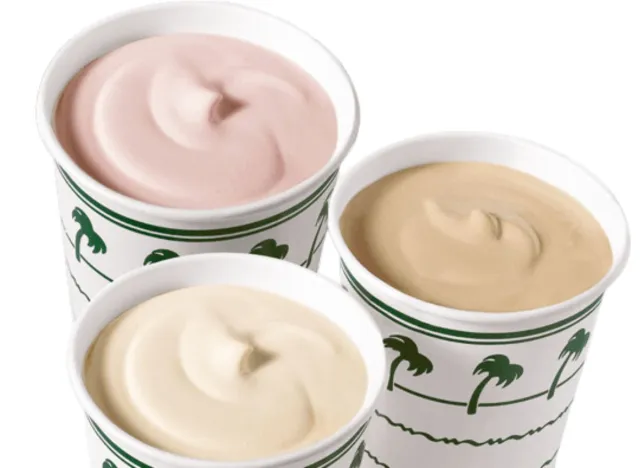 In-N-Out is a beloved west-coast fast-food chain known best for its classic hamburgers, fries, shakes, and Not So Secret Menu, with options like "animal style," "protein style," and their "4×4."
At first glance, their menu may seem limited in comparison to something like McDonald's or Burger King, but this smaller menu is full of quality ingredients. According to their website, "From the first bite of your burger to your last french fry, quality is the most important ingredient at In-N-Out Burger."6254a4d1642c605c54bf1cab17d50f1e
And when it comes to their ice cream specifically, it's about as real as it can get. "Our shakes are just as genuine—made with real ice cream. At In-N-Out, that's the only way we'll ever make them. Because when you like to keep things simple, doing things the old-fashioned way is the freshest idea of all."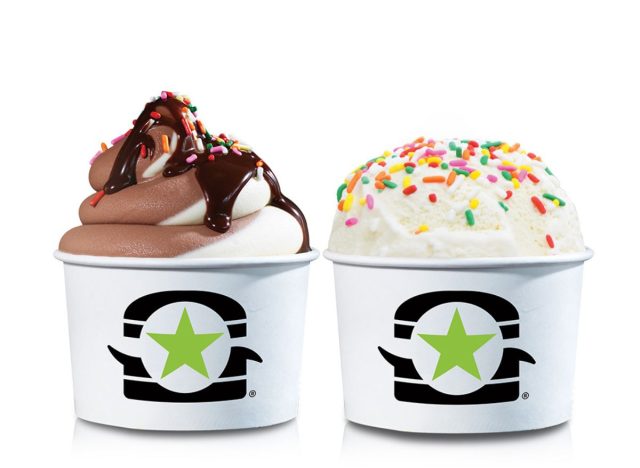 BurgerFi may not have as much hype as a fast-food chain like Shake Shack, but its menu and quality food and beverages are quite similar. Aside from tasty burgers, fried chicken sandwiches, hot dogs, fries, and onion rings, BurgerFi also offers yummy frozen treats like shakes, Custard Cups, and Concretes—which are their custard flavors layered with add-ins.
Not only do these treats provide an array of flavor choices for whatever you're craving at the time, but they're also made with real, high-quality ice cream.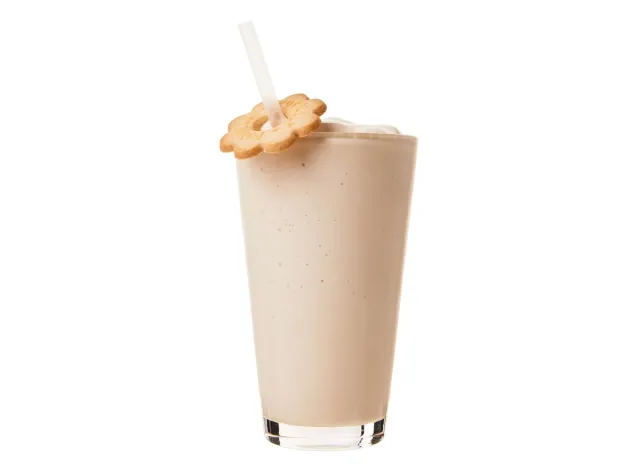 A fast-food sandwich chain found in the northeast and comparable to something like Subway, Potbelly offers sub-style sandwiches, salads, soups, and desserts. When you're in the mood for something sweet after your sandwich, you can choose from cookies, their Dream Bar, or one of their milkshakes—which are "made with hand-dipped ice cream," according to their website.
Potbelly may not have as much popularity as some of the bigger fast-food chains, but some customers have taken notice of the quality of their food, especially their ice cream. One Reddit user commented on a post asking about where to get good milkshakes, saying "Potbelly's has the best milkshakes at a chain. They use real ice cream and real milk to make them."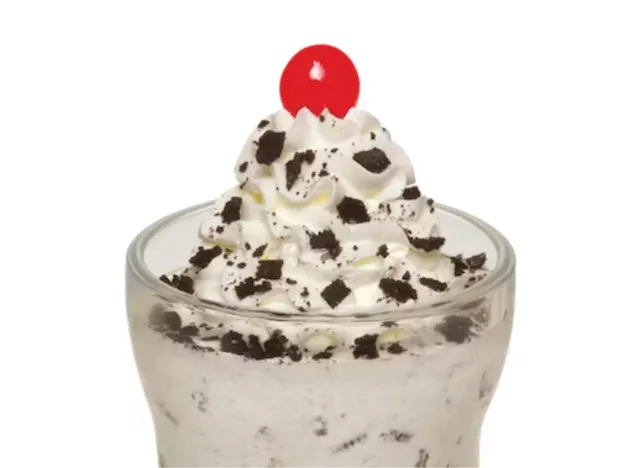 Steak n' Shake is the perfect cross between a fast-food chain and a diner, with classic offerings like burgers, melts, chicken sandwiches, hot dogs, salads, fries, and of course—shakes. While their food and drinks may not be the healthiest or most nutritious, you can at least rest easy that when you order one of their many shake options, you'll be getting real ice cream. "Since 1934 we've been hand-making delicious shakes with real ice cream and fresh milk, topped with whipped cream and a cherry," says their website.
Sources referenced in this article