We Tasted 6 Almond Butters & This Is The Best
Here's the one you should add to your list.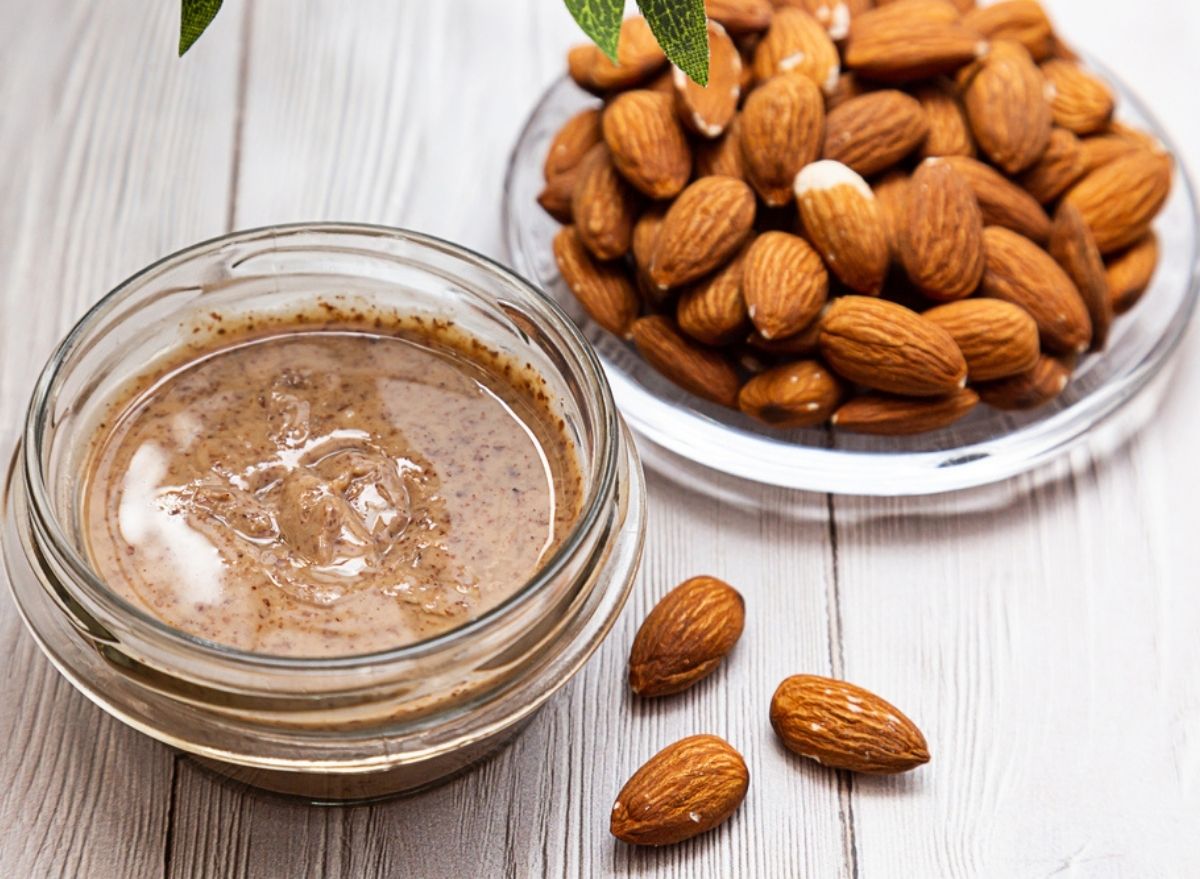 Almond butter and other alternative nut butters have skyrocketed in popularity over the past few years. Just like its peanut butter cousin, almond butter ranges from smooth to chunky and can be found in everything from small containers to large family-sized tubs. As someone who doesn't eat a whole lot of almond butter I was intrigued to learn more about the popular nut butter and to find out which was the best-tasting almond butter.
I decided to go to my local grocery store and pick up what almond butters they had in stock, then scour the internet to see if there were a few more that I might have missed. After recruiting my family to assist me with the taste test I learned that not all almond butters are created equally.
What I tasted:
Barney Butter Smooth Almond Butter
Fix & Fogg Crunchy Almond Butter
Justin's Almond Butter
MaraNatha Creamy Almond Butter
Sam's Choice Creamy Almond Butter
Simple Truth Smooth Almond Butter
Plus, check out We Tasted 10 Popular Peanut Butters & This Is the Best!
Worst: Simple Truth Smooth Almond Butter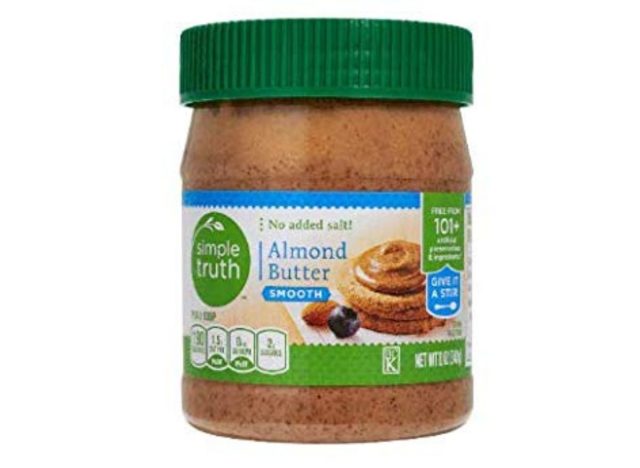 Let me just be really clear here, not only was Simple Truth the worst tasting almond butter of the bunch, but it was also the worst looking. When I opened the jar I noticed a pool of oil at the top, which happens with a lot of nut butters so I wasn't too concerned. That was until I tried to mix it all in, and it was incredibly hard to get combined, and it never actually got all incorporated. When I finally tasted the butter, it coated my entire mouth and had a strange almost burnt almond taste. This almond butter should be a skip if at all possible.
One of the most popular brands of almond butter on the market is Justin's, but it didn't live up to the hype for me. The almond butter was the thickest in consistency compared to all of the other butters, which made it challenging to spread. The texture was a little off-putting as it wasn't quite crunchy but also wasn't smooth. The taste wasn't horrible, but it also lacked any sort of depth, making it a one-note wonder.
Fix & Fogg Crunchy Almond Butter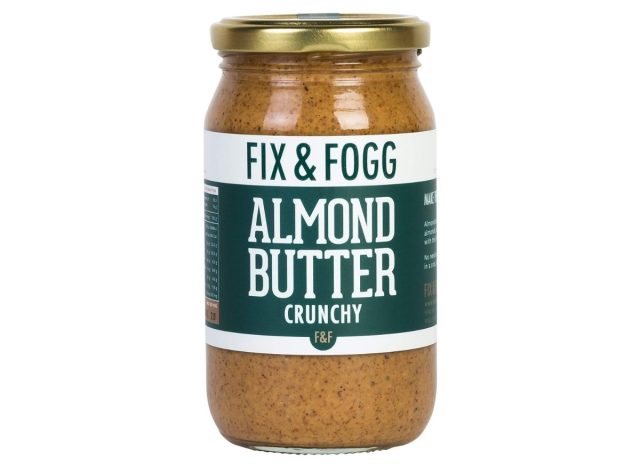 Fix & Fogg is a brand that I had never heard of before, and after doing this taste test I do want to try more of their products. The almond butter was the first that was branded as crunchy so I knew immediately that it was going to have chunks of almonds throughout. The color was the darkest of the group, but not in a bad way. The almond butter did stick to the roof of my mouth a bit, but it wasn't unpalatable. There were noticeable chunks as I stirred the butter, and while it was pretty sticky, I was able to get most of it off the knife with ease. Overall, this wasn't the best, but also wasn't a dud.
Sam's Choice Creamy Almond Butter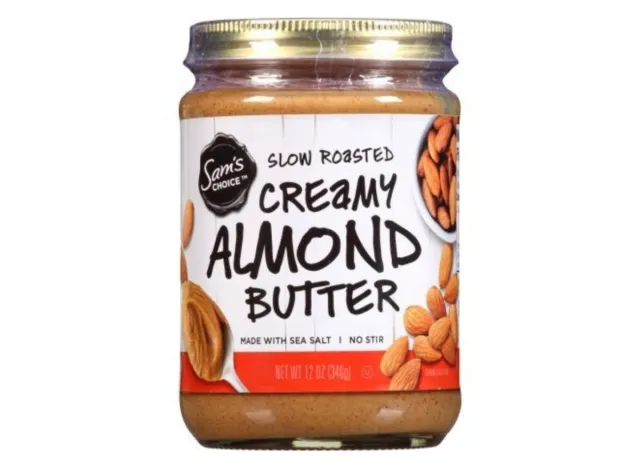 The Sam's Choice Creamy Almond Butter was a surprise from the moment I opened the jar. Unlike all of the other jars, there was no oil on the top of the almond butter that I needed to stir in, which was nice. While the jar claimed the almond butter to be creamy, the texture wasn't truly creamy and still had a bit of grit to it. The taste was pleasant, though a little bland. This isn't an almond butter you would just want to grab a spoon and go to town with, as it definitely needs a second star with it like strawberry jam or celery.
MaraNatha Creamy Almond Butter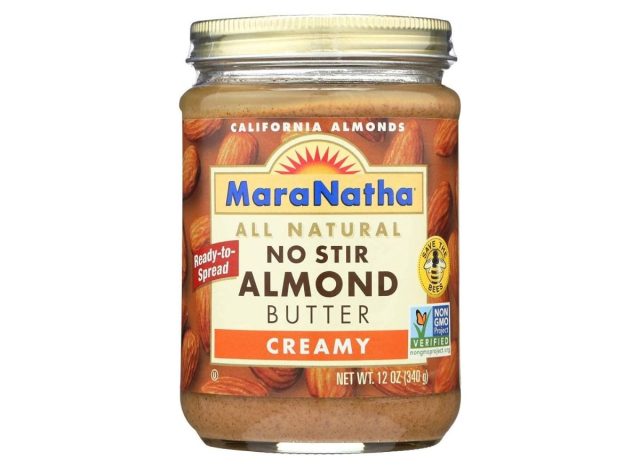 Narrowly missing the top spot is MaraNatha Creamy Almond Butter. The butter looked like peanut butter when I opened the jar, and I didn't need to stir in any oil that had risen to the top. This butter tasted the most like whole almonds but was incredibly creamy without any grittiness. Overall, this was a win, and one I would add to my cart if the number one almond butter wasn't available for some reason.6254a4d1642c605c54bf1cab17d50f1e
Best: Barney Butter Smooth Almond Butter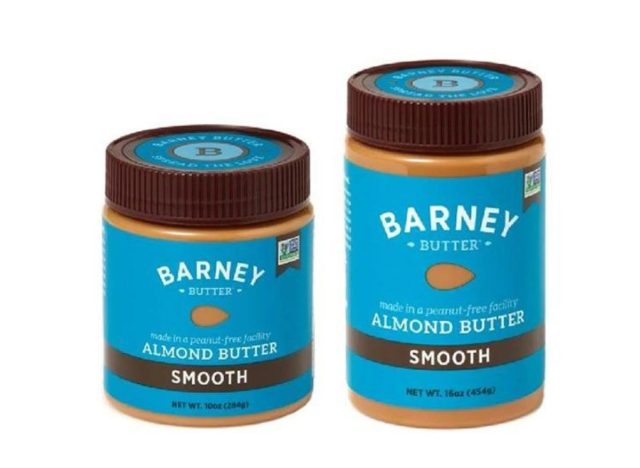 The number one almond butter that we tasted was Barney Butter Smooth Almond Butter. This one looked the most like peanut butter that your kids likely eat a few times a week in school lunches. It was lighter in color than all of the other brands, and there was no oil pool on the top of the butter. The almond butter was rich and velvety smooth, with a nice almond taste that wasn't overpowering. It was slightly sweet but balanced with some saltiness. If you have the option to get this, I would implore you to do so.
READ MORE: What Happens To Your Body When You Eat Almond Butter
Megan duBois
Megan duBois is a travel and lifestyle journalist with bylines across the internet and in print at Delish, Conde Nast Traveler, Travel + Leisure, Yahoo Lifestyle, and more.
Read more about Megan