We Tasted 10 Popular Peanut Butters & This Is the Best!
Peanut butter is a pantry staple. It's great on toast or in a sandwich, and you can throw a scoop in your breakfast or eat it with a spoon straight out of the jar. Plus, it's the perfect addition to so many meals because it's packed with protein.
It's common to want to stick to the brand you grew up eating (for me, that was Skippy Creamy), but now could be the perfect time to switch it up. (Then again, there's a reason Jif is beloved in so many American households.)
At Eat This, Not That!, we challenged 13 tasters to try 10 of the most popular peanut butters, which included a mix of natural and regular options. We then ranked 'em all based on overall flavor, texture, and appearance.
What we tried
365 Organic Creamy Peanut Butter
Good & Gather Creamy Peanut Butter
Jif Creamy Peanut Butter
Justin's Classic Peanut Butter
Natural Jif Creamy Peanut Butter
Natural Skippy Peanut Butter
RX Nut Butter
Santa Cruz Organic Peanut Butter
Skippy Peanut Butter
Smucker's Natural Peanut Butter
Here's how our tasters ranked these peanut butters from worst to best. And for more buying tips, check out 6 Things You'll See at Costco This Year.
RX Nut Butter
One of the newer kids on the peanut butter block, RX Nut Butter seems to still be working out some kinks. Unfortunately, this natural nut butter, which launched in 2013, was absolutely not doing it for our tasters.
A common complaint about this particular peanut butter was the on-the-go container it came in, making it challenging for most tasters to mix and spread. One taster summed it up well when she said, "RX is impossible to mix. You either get a clump of butter or oil—there's no in-between."
Not only was the packaging an issue for our editors, but the taste also just seemed off for many reasons. "This has a very thick texture…the taste was very subtle and subdued," one editor said. "I hate the graininess of RX," another person added. Other tasters noted the saltiness as well as the oily texture as major flaws. Overall, it seemed that tasters had different experiences with this one due to the issues with mixing it properly as a result of packaging—we're sad to say that none of our tasters were fans of RX Nut Butter.
Santa Cruz Organic Peanut Butter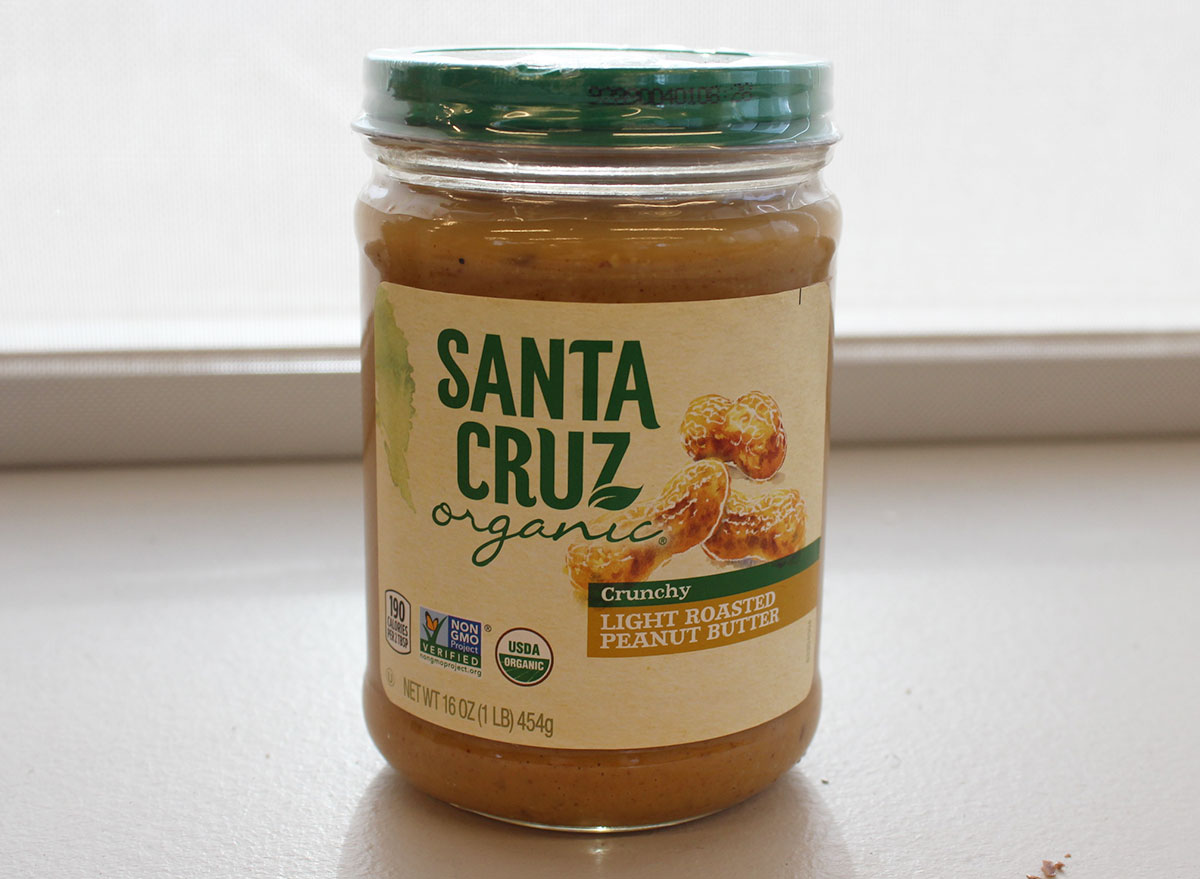 The Santa Cruz Organic Peanut Butter was one that most tasters didn't know before the taste test, and that proved to be for good reason. The main consensus on this one was that it was too liquidy as a result of the oil that concentrated at the top of the jar. There are natural peanut butters that hit the mark, but this one seemed to fall flat with our tasters.
"This one was way too liquidy for my taste—maybe it had to be mixed more, but any peanut butter you have to mix is already a notch down in my book," said one of our tasters. Another along the same lines described the consistency, saying, "Way too watery! This is peanut juice." This is definitely not the peanut butter we'd buy on our next trip to the grocery store.
Justin's Classic Peanut Butter
Even though Justin's seems to do well with their flavored peanut butters, the brand's Classic Peanut Butter did not do it for most editors. When looking for an everyday peanut butter to stock your pantry, you're looking for one that has a flavor that speaks for itself. That seemed to be the main component that Justin's Classic Peanut Butter was lacking—flavor.
The word "bland" came up on four different occasions by tasters when describing this peanut butter. "It's not the kind you can just eat with a spoon. It needs something paired with it," one taster said of this option. That's definitely not what we're looking for in peanut butter.
It also should be noted that even though our tasters did not seem to be a fan of the Classic Justin's, the Honey Peanut Butter was mentioned a few times as being a favorite. Though we didn't have it in the test (we kept all the types of peanut butter unflavored, so as not to skew results), this is an important distinction that might take Justin's up a notch. If you want a sweeter peanut butter, skip the Classic and give the Honey Peanut Butter a try next time.
365 Organic Creamy Peanut Butter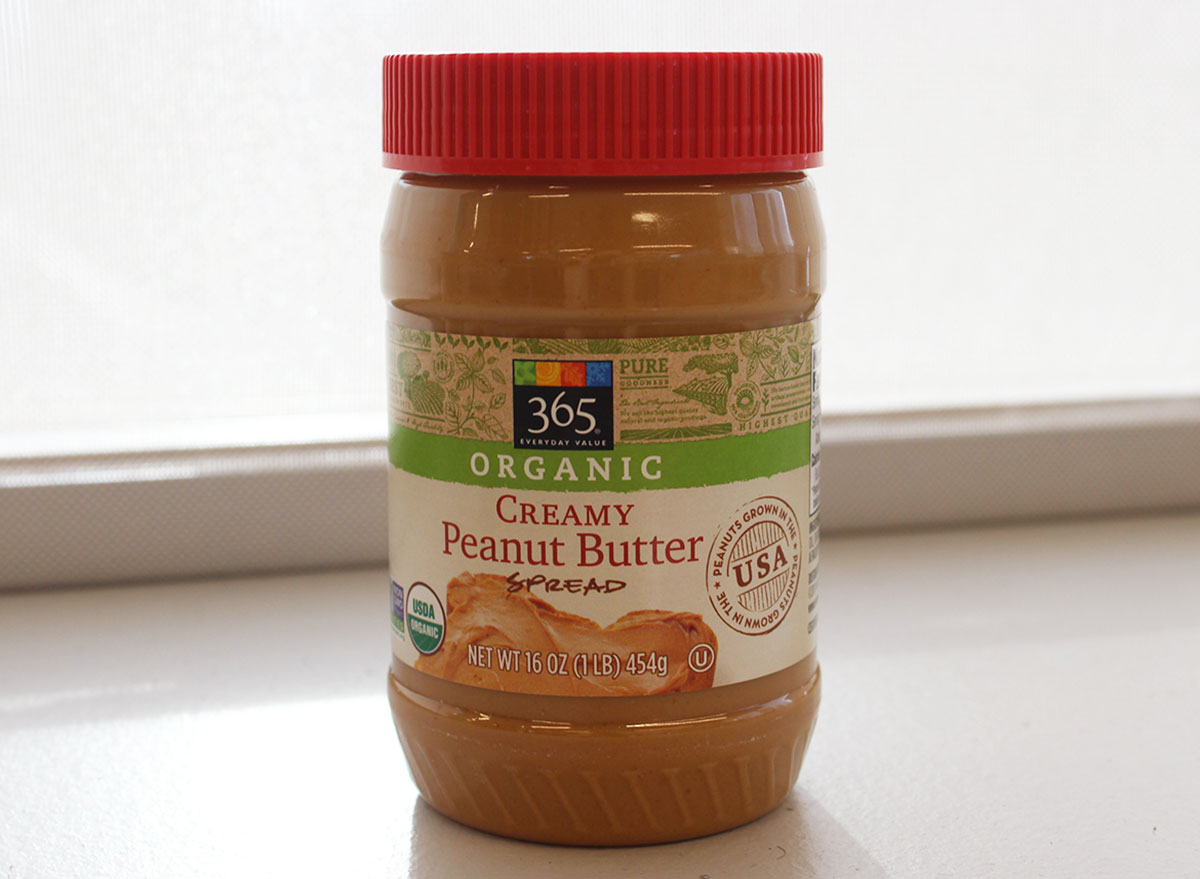 There were slightly more mixed reviews from our editors on the 365 Organic Creamy Peanut Butter. It seemed like most were not a fan of the consistency, but the flavor was what kept this brand afloat in our taste test.
One editor sums it up well by saying, "Even though the consistency is off-putting, the flavor is actually so delicious—it tastes like the peanuts were roasted before turning it into a butter—super flavorful."
Others noted the texture specifically, saying, that it was "gooey, very loose, almost liquid." Another taster said that "the consistency was very runny. Do. Not. Like." It also raised some suspicion amongst our tasters as to how this liquidy peanut butter would hold up on a sandwich. If it would make the bread a wet mess, we're absolutely out.
Skippy Peanut Butter
A good number of tasters (including myself) were raised on Skippy Peanut Butter. As a result, many noted how it brought back all the childhood memories. "Classic lunchbox flavor and consistency—not overly salty," said one taster. Another similarly says, "Classic! Creamy and sweet! Tastes like my childhood."
But those who didn't find Skippy nostalgic didn't seem to be big fans of the brand, saying that it "tastes extremely fake" and has a "bad after-taste." Naturally, due to the split nature of our testers on this one, Skippy Peanut Butter landed almost directly in the middle of our list.
Good & Gather Creamy Peanut Butter
When many of our tasters first took a look at the Good & Gather Creamy Peanut Butter, they questioned whether it was peanut butter at all. It was extremely dark brown in color, looking almost more like a chocolate spread than peanut butter. For some, the color seemed to be a make-or-break factor, but for others, they were able to look past it.6254a4d1642c605c54bf1cab17d50f1e
"The color is disgusting, but it didn't taste that bad. I wouldn't buy it, but if someone had it, I'll eat it," said one taster. On a similar note, one editor said, "The color is a bit off-putting, but overall the flavor isn't all that bad. But it's a bit forgettable—nothing really special." Overall, our tasters seemed to be incredibly neutral on the Good & Gather Creamy Peanut Butter, hence having it land directly in the middle of our taste test.
Natural Jif Creamy Peanut Butter
The Natural Jif Creamy Peanut Butter ranked fairly highly in our taste test, even though our editors felt it was nothing in comparison to the original Jif. Still, this was definitely another natural peanut butter that needed a good stir when we popped it open. One taster says this one was "hard to mix" due to its extremely separated consistency.
The liquidy texture of the natural butter was a turnoff for some tasters, too. "I don't care for the watery texture as it needs to be properly mixed, but the flavor is more peanutty and I would say savory over sweet. Overall, I feel like it's just trying to be 'natural,'" one taster said. If you're looking for a Jif brand peanut butter, you may be better off just sticking with the classic.
Smucker's Natural Peanut Butter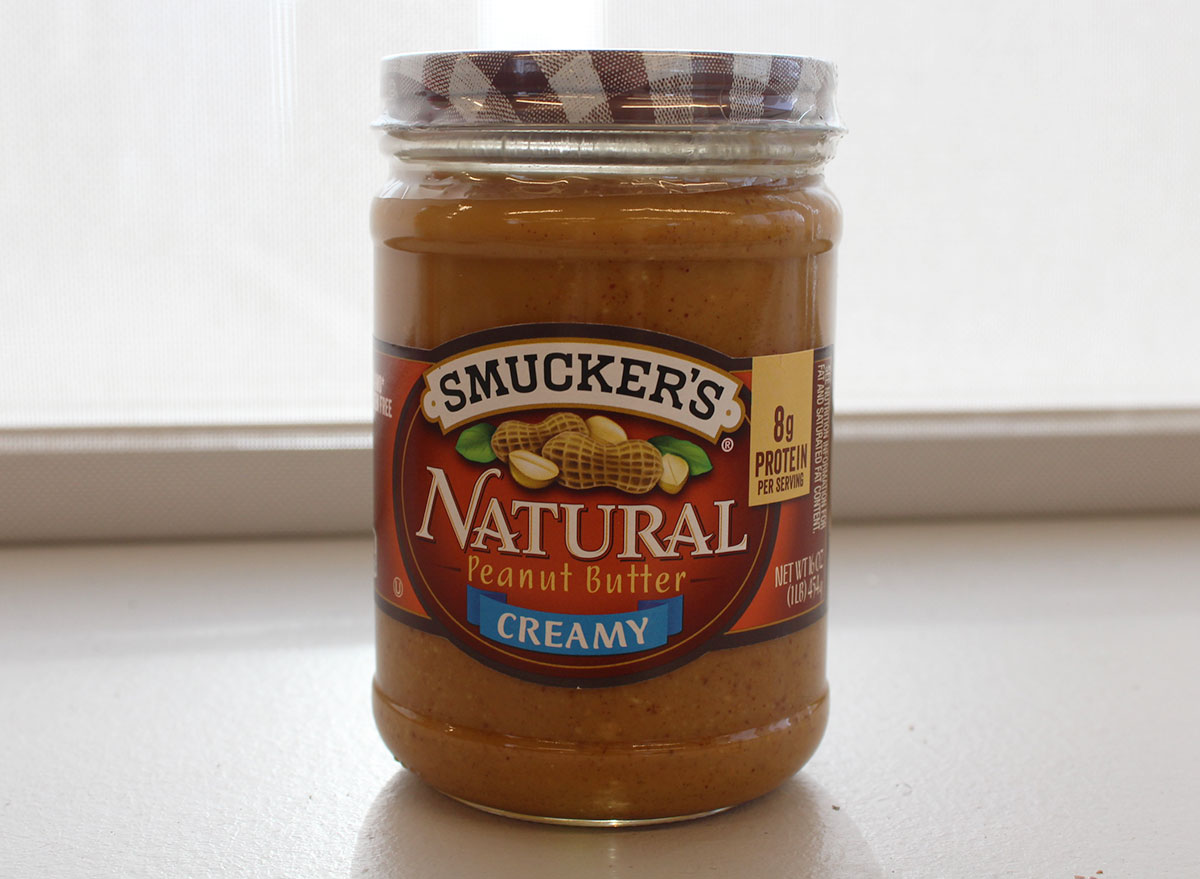 The flavor of the Smucker's Natural Peanut Butter is what brought this natural option so far to the top. Tasters were able to look past its liquidy texture to appreciate the peanut-y and salty deliciousness. One taster says that this option was "the most intensely nutty of the bunch. Its texture makes it unique in that it has small pieces of crushed-up peanuts, which give it a good, fun, crunch."
This was definitely a fan-favorite among our tasters, but note that if you do give this natural butter a shot, it should be kept in the fridge.
Natural Skippy Peanut Butter
A step above all the other natural peanut butters we tried, natural Skippy made it into our top two. We wouldn't have thought that natural peanut butter would rank so highly, but the natural Skippy peanut butter almost made us forget it fit into the "natural" category. The main reason for that was—as noted on the outside of the jar—it didn't need to be stirred. That's right: The natural Skippy peanut butter had the same thick, creaminess of regular Skippy peanut butter.
The greatest part about this one was most people couldn't even taste a difference between the "natural" and the classic Skippy. "This doesn't look or taste much different from the regular."
Some even noted that the flavor of this natural peanut butter was "better than the original." If you're a normal Skippy fan, maybe it's time to swap it out for the natural Skippy.
Jif Creamy Peanut Butter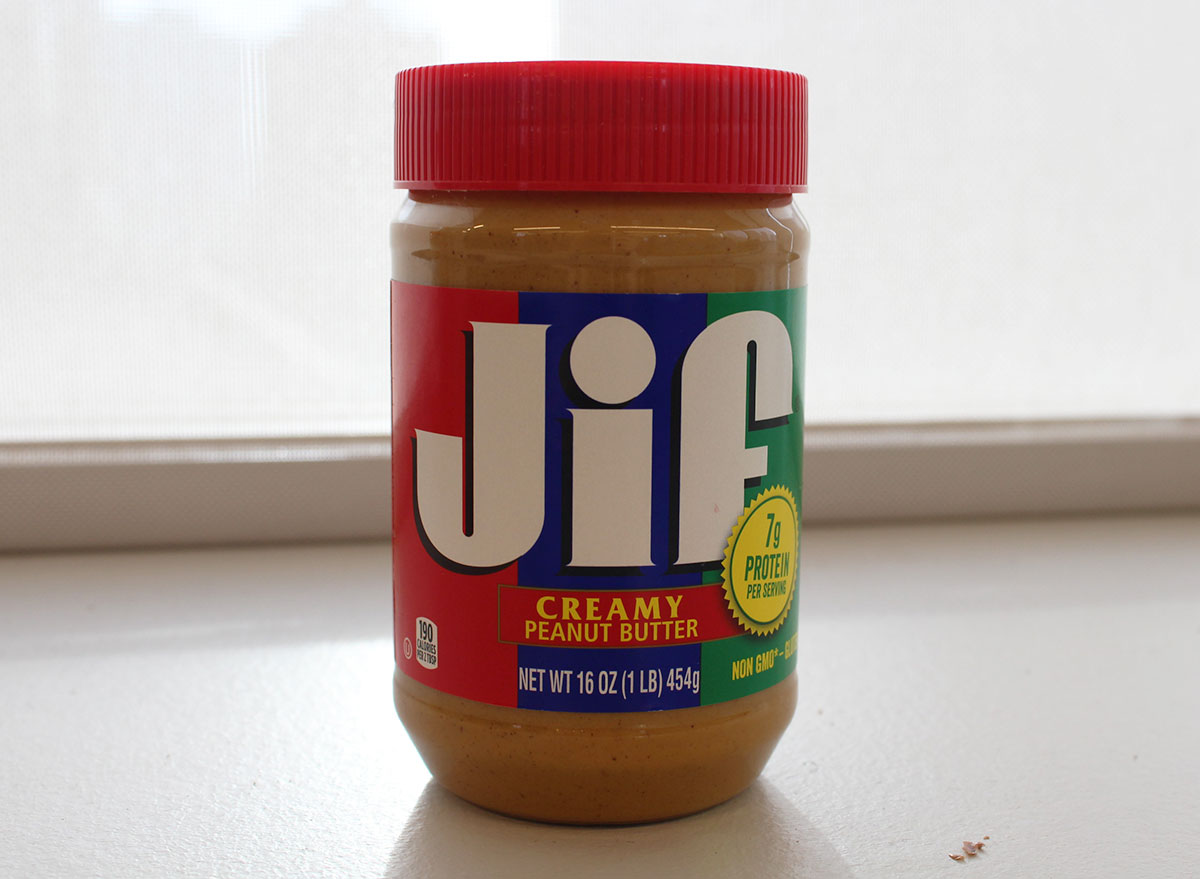 There's just something about Jif that makes it everyone's favorite peanut butter, and our taste test was no exception. In the same way that Skippy Creamy was noted as a "classic" choice, so was Jif Creamy Peanut Butter. "Perfect texture. Nice and thick. I would love to spread this on some toast," one taster wrote. Similarly, another editor said of this peanut butter, "The best of the best. Reminds me of my childhood—I just need some jelly and I'm happy."
If you're looking to throw it back to your childhood days or just enjoy a peanut-flavored snack, there's nothing better than the old standby: Jif Creamy Peanut Butter.
Read more:
10 of Your Favorite Childhood Foods That Quietly Disappeared
19 Of The Weirdest Foods From Your Childhood You Totally Forgot About
Rachel Linder
Rachel is an Associate Editor responsible for compiling the daily Eat This, Not That! newsletter, making TikTok and YouTube videos for the brand, writing articles for the site, creating original graphics and providing direct assistance to the editors when needed.
Read more about Rachel