We Tasted 5 Queso Dips & This Is the Best
Some of the vegan options weren't half bad!
This post contains affiliate links. If you use these links to buy something, we may earn a commission.
Growing up, cheese dip wasn't a condiment you'd generally find in my pantry or fridge, so my early memories of queso are both few and fairly specific. The first involves my older sister and me watching Clueless on the floor of our living room, with a freshly microwaved bowl of cheese dip and a bag of Fritos between us. The others include visions of dunking cafeteria soft pretzels in plastic cups of orange goo. Ah, childhood.
These days, queso is a quintessential element of my regular burrito bowl order. But while I have opinions on which Mexican fast-food joint has the best (Chipotle and Moe's are top contenders), it was high time I crowned the best jarred cheese dips on grocery shelves, in case I ever need to curb a craving.
And for more, don't miss the #1 Popular Order at Every Fast-Food Chain.
Stonewall Kitchen Chile Con Queso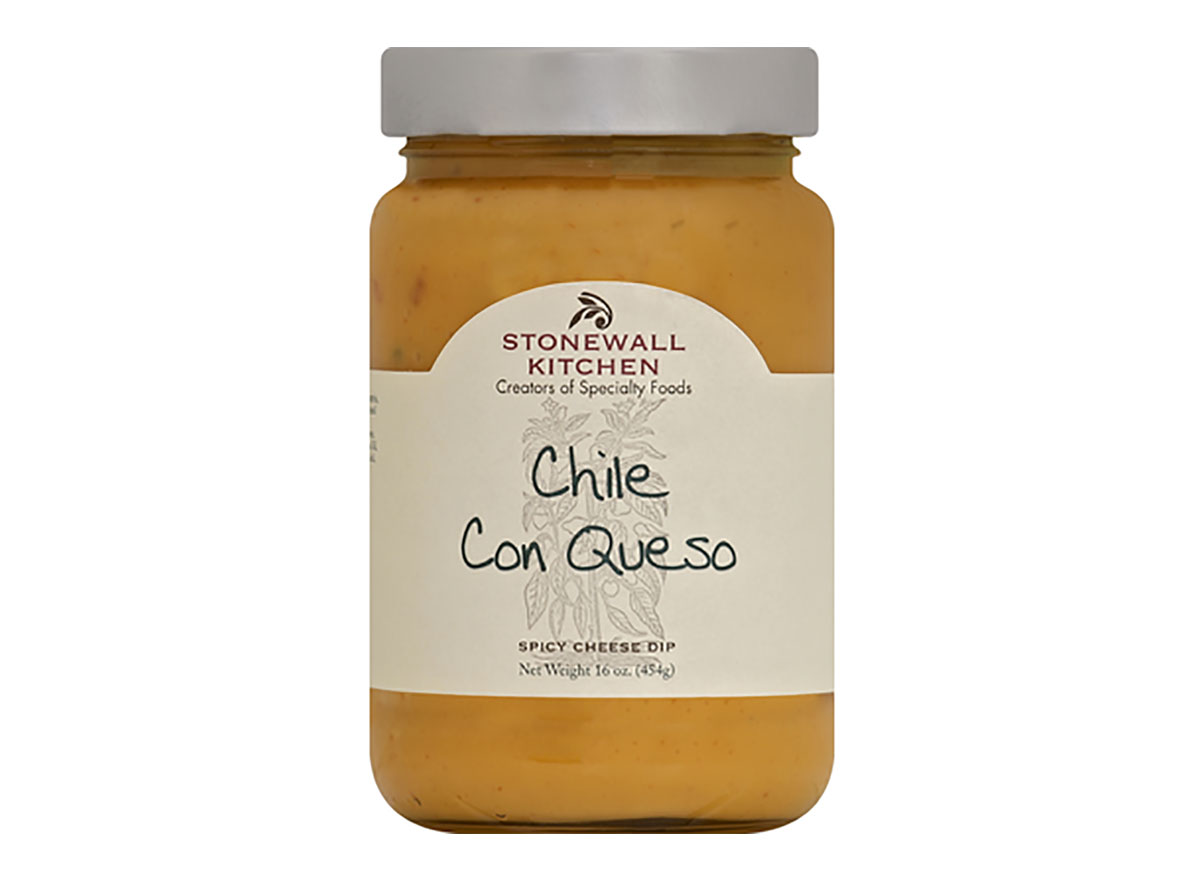 6254a4d1642c605c54bf1cab17d50f1e
Per 2 Tbsp (33 g)
: 20 calories, 1 g fat (0 g saturated fat, 0 g trans fat), 190 mg sodium, 4 g carbs (0 g fiber, 1 g sugar), 0 g protein
Spice, spice, baby! Stonewall Kitchen's Chile Con Queso is packing heat, and I'm still deciding whether or not that's a good thing. Though the ingredients list includes things like dehydrated cheese mix and veggies like tomatoes, onions, sweet green peppers, and sweet red peppers, all that comes through the flavor profile are jalapeño and chipotle pepper. In other words, the cheese in this cheese dip was sorely lacking, which makes me question its high price point.
Siete Foods Spicy Blanco Cashew Queso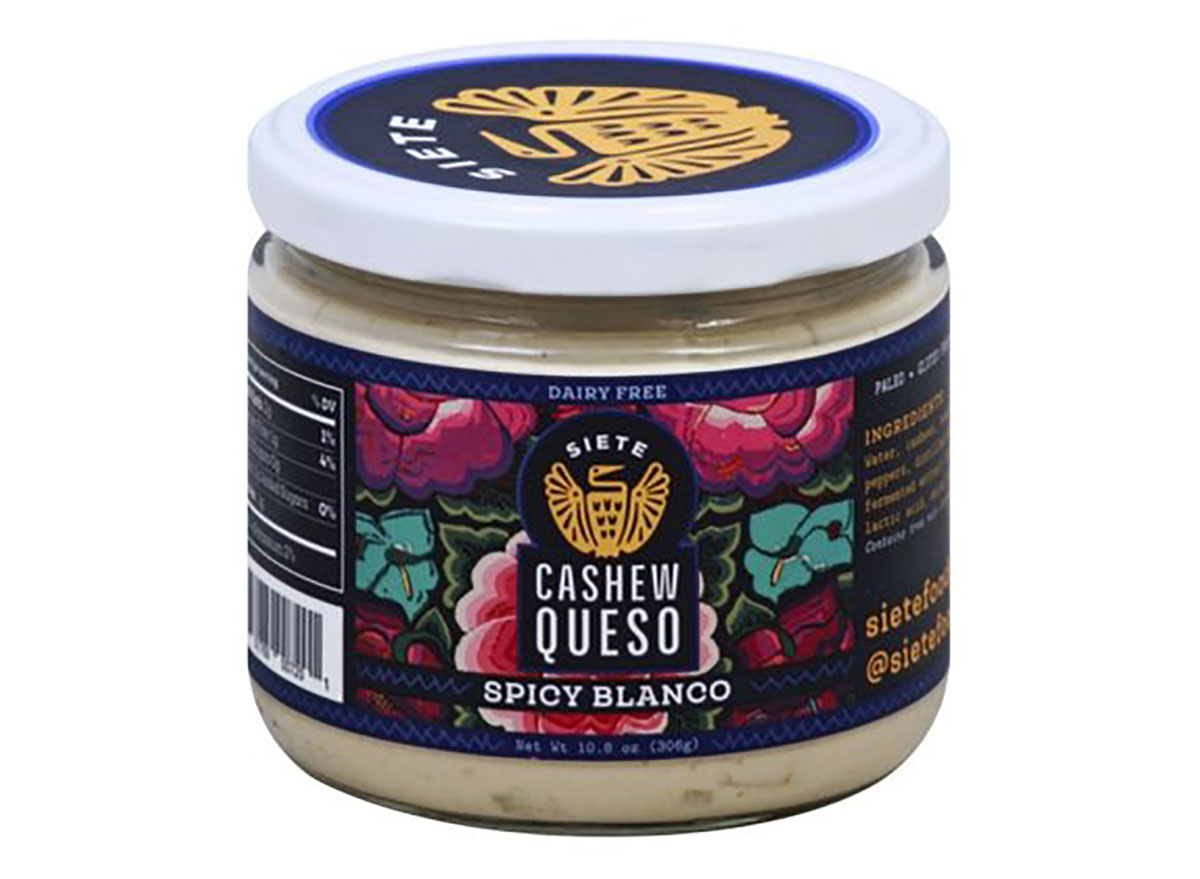 Per 2 Tbsp (30 g)
: 25 calories, 1.5 g fat (0.5 g saturated fat, 0 g trans fat), 170 mg sodium, 2 g carbs (1 g fiber, 0 g sugar), 1 g protein
As far as dairy-free cheese dips go, Siete Foods is a solid contender. The brand's Spicy Blanco Cashew Queso is made with cashews (obviously), tomatoes, nutritional yeast, onion, green bell peppers, white vinegar, jalapeños, and coconut milk powder, plus spices that, when blended together, somehow taste close to actual cheese dip. But while it's delicious, you can tell it's not actually cheese, which is why it doesn't take a top-three spot on the list. (It's still a great alternative.)
LOCA Mild Plant-Based Potato Queso
Per 2 Tbsp (32 g)
: 50 calories, 3.5 g fat (0 g saturated fat, 0 g trans fat), 250 mg sodium, 4 g carbs (0 g fiber, 0 g sugar), 1 g protein
I was a little skeptical when I unscrewed the top of LOCA's potato queso jar for the first time. Its contents looked like creamy, mashed sweet potato, only yellow, and it didn't smell very appetizing. But none of that mattered after I heated a few spoonfuls up in the microwave for a minute or so and took my first bite.
You'd never know this queso is completely void of cheese—it gets all of its cheesy goodness from plant-based ingredients, like potatoes, carrots, tomatoes, green chile, nutritional yeast, and various spices. The mild flavor isn't spicy but is still rich with flavor, and, when warmed, it has the consistency of traditional queso. Drizzle this over nachos, and carnivores will never know the difference.
Good & Gather Salsa Con Queso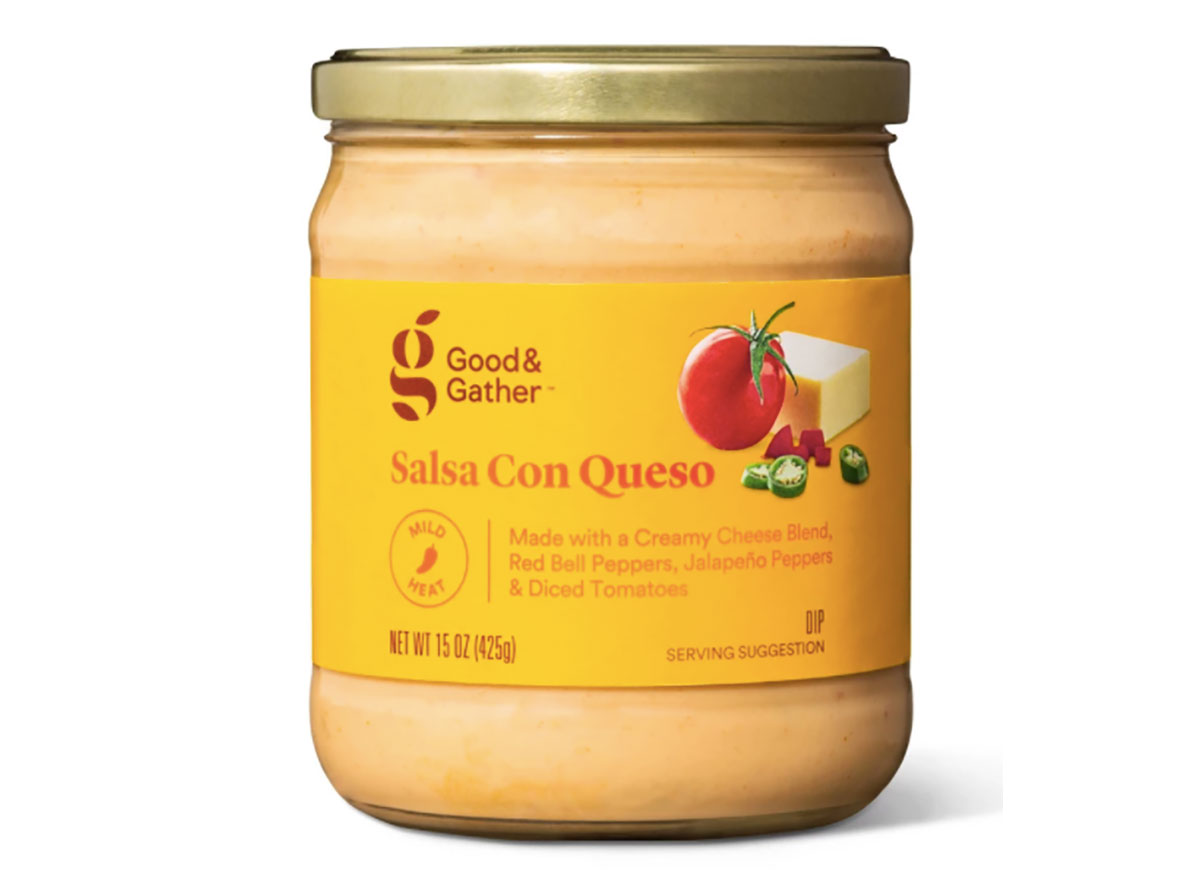 Per 2 Tbsp (31 g)
: 40 calories, 2.5 g fat (0.5 g saturated fat, 0 g trans fat), 280 mg sodium, 3 g carbs (0 g fiber, 1 g sugar), 1 g protein
Target's Good & Gather Salsa Con Queso looks like light orange queso but tastes like white queso. It's very creamy and solidifies at the top when left alone for a few minutes (and when I say "few" I mean two or three at most), which had me reminiscent of the cheese cups school cafeterias serve with soft pretzels.
Though it's mild, the cheese dip does have a spice that hits the back of your throat after the fact and makes your breath feel like a kind of jalapeño-zested smoke. It's also marketed as a "salsa con queso," but it's definitely the other way around. It has a cheese base, with subtle flecks of vegetables like bell pepper throughout. This is an overall solid pick for chip and pretzel dipping. Plus, check out our list of the best and worst store-bought salsas.
Tostitos Salsa Con Queso (Medium)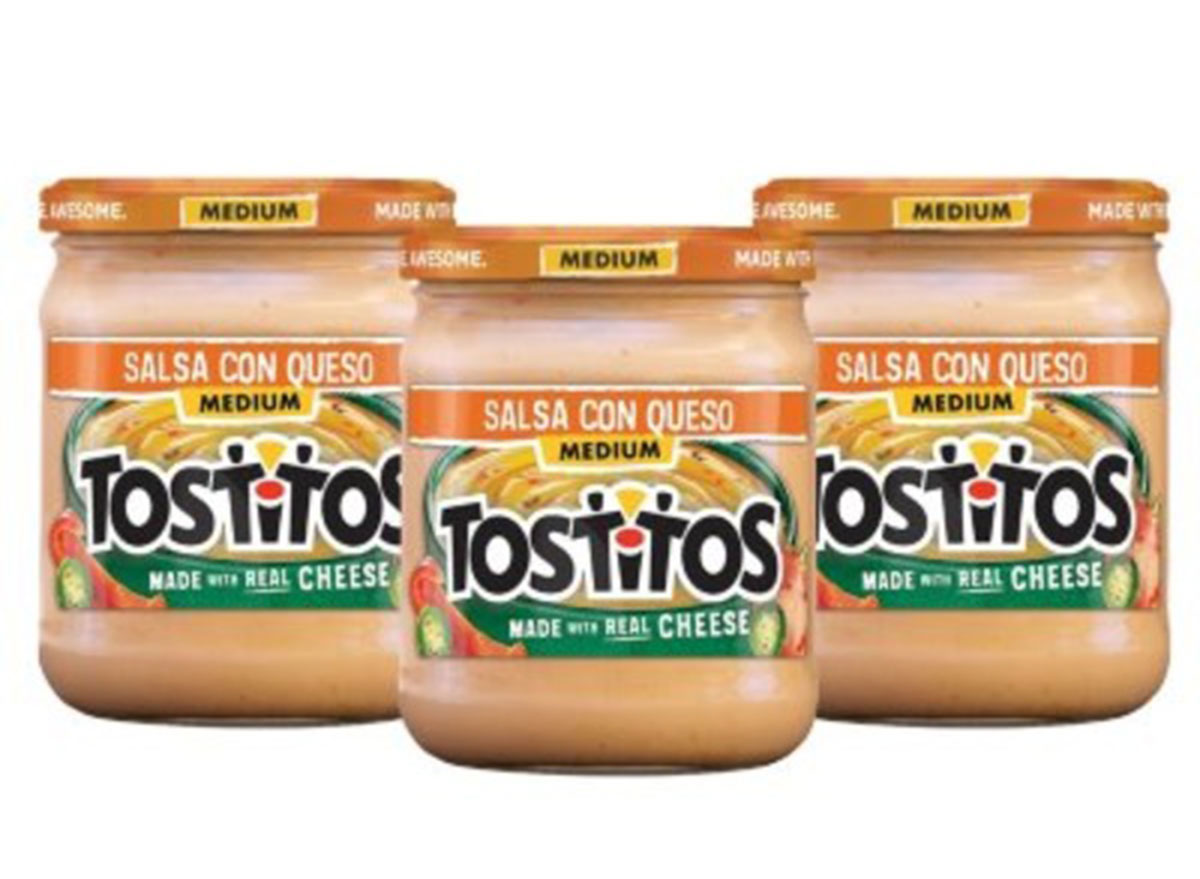 Per 2 Tbsp (33 g)
: 40 calories, 2.5 g fat (1 g saturated fat, 0 g trans fat), 280 mg sodium, 5 g carbs (1 g fiber, 1 g sugar), 1 g protein
When I think of jarred cheese dip, I instantly think of Tostitos, and there's a reason for that: It's delicious. Not too thick and not too runny, Tostitos Salsa Con Queso boasts a bright orange hue. It's made with a Monterey Jack Cheese base (already starting off with a kick), and additional ingredients like jalapeño peppers and chili peppers really bring home the spice. The sauce itself is smooth and rich, but it does contain chunks of veggies that add to the heat. It's not what I was imagining: a cheese sauce with globs of salsa incorporated into the recipe, like Smucker's Goober Peanut Butter and Jelly. It's better.
Read more: