6 Healthy Dip Recipes to Make at Home
Looking for something healthy to enjoy with friends? These dip recipes are easy to whip up!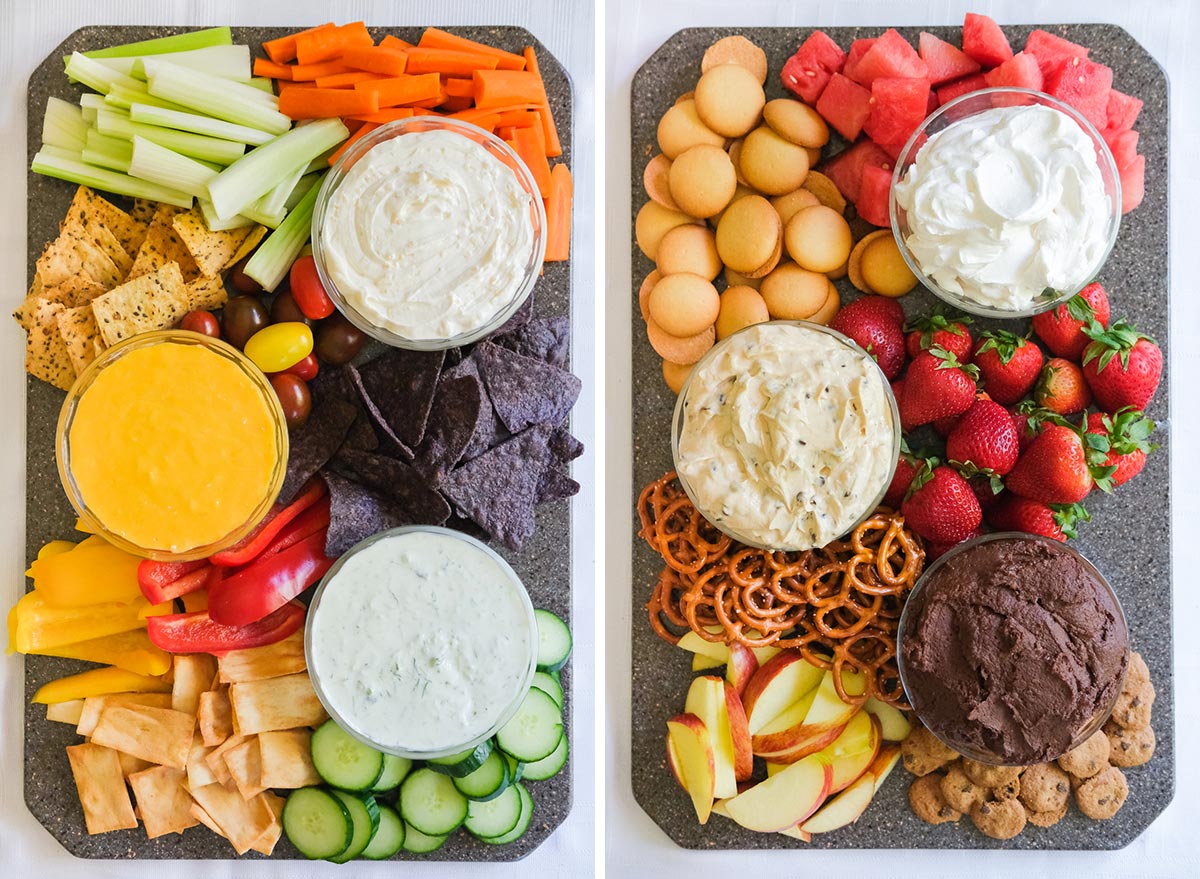 Sure, you could grab out a bag of potato chips and a premade dip from the store and call it good. But what if you surprise your friends at your next gathering and put together a beautiful board of snacks and dips? And not just any kind of dip, but healthy dip recipes that everyone can feel good about?
Below you will find three savory and three sweet healthy dip recipes you can make for your next happy hour, event, or simply a snack to enjoy at home. For the first three savory dips, make a board with your favorite vegetables and salty tortilla and pita chips. And for those with a sweet tooth, make the three dessert healthy dip recipes and pair with fresh-cut fruit, mini cookies, and even some pretzels for those who love that salty-and-sweet combo.
Here's how to make these healthy dip recipes.
There's nothing like enjoying a cold beer and dipping salty chips in a French onion dip after a long day of work. But if you're not careful, that French onion dip can pack in quite a few calories. So why not make a healthier version of French onion dip you can indulge in? This dip is made with a low-fat Greek yogurt base to help you feel full and keep the calories low. Plus by using Greek yogurt, you're getting an extra protein boost during your snack time!
Ingredients:
1 cup low-fat Greek yogurt
1/4 cup whipped cream cheese
3 Tbsp dried onion flakes
1/2 tsp garlic powder
1/2 tsp Worcestershire sauce
1/2 tsp salt
How to Make:
Mix together in a large bowl until all of the ingredients are combined.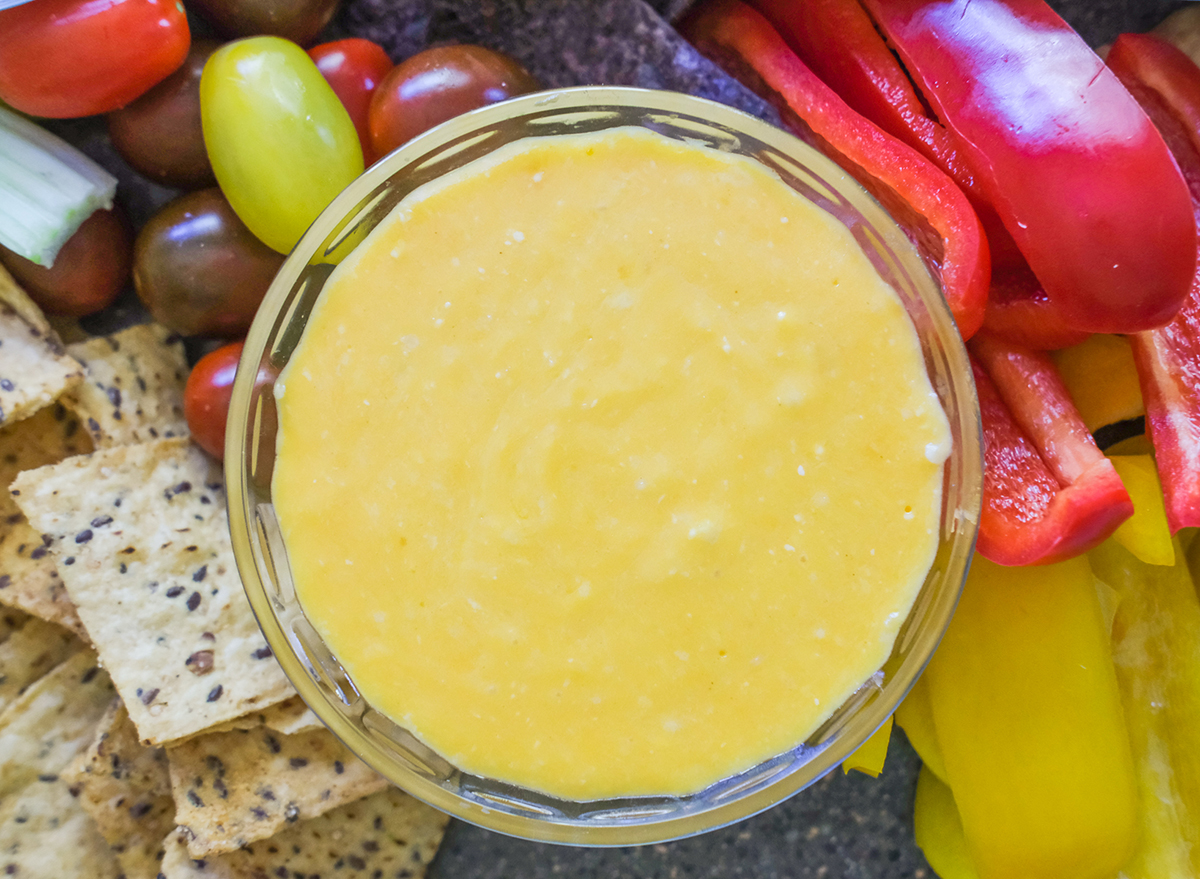 Instead of loading this queso with cream and butter, we turned to a trusty roux to thicken this sauce without packing the calories. By using a little bit of flour, butter, and milk, you're able to make a thick sauce for far fewer calories. Our only hint? Freshly shred the cheese yourself! The bagged shredded cheese is typically sold with cellulose on it to make sure the cheese doesn't stick together. This cellulose will cause a weird separation with your cheese sauce, so if you want it to be really cheesy, skip the bagged stuff and shred up the cheese yourself.
Ingredients:
1 Tbsp butter
1 Tbsp flour
1 cup milk
2/3 cup non-fat Greek yogurt
1-2 cups shredded cheese
1/2 tsp cumin
1/2 tsp salt
How to Make:
Melt the butter in a large skillet. Sprinkle in the flour and whisk. As the flour starts to dissolve into the butter and create brown clumps, slowly pour in the milk while whisking. Once the milk is fully incorporated, whisk in the Greek yogurt and the shredded cheese. Sprinkle in the cumin and salt and continue to whisk until the cheese has fully melted into the sauce.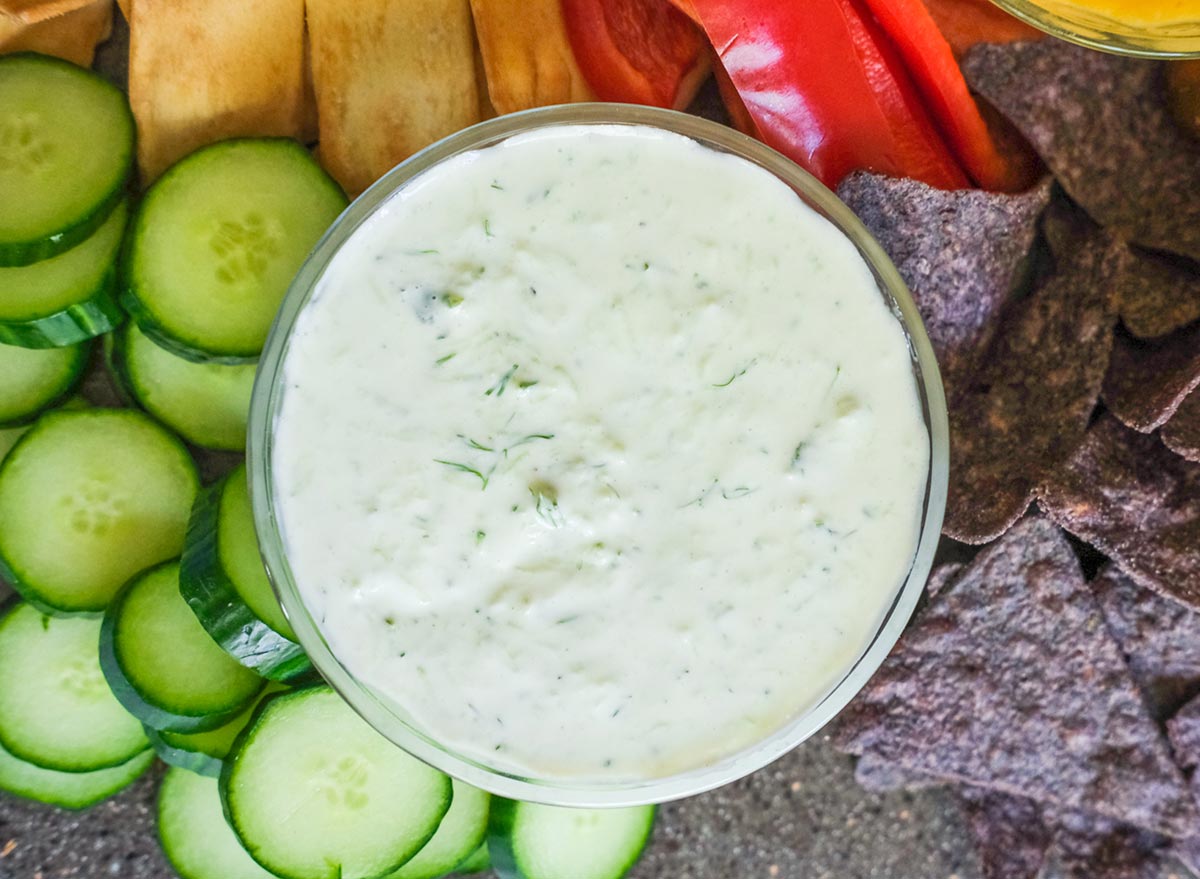 Tzatziki is one of the healthiest dip recipes you can whip together for a crowd, and can basically go with anything. Chopped veggies, chips, pita, you name it, tzatziki is great with it. And if you have a lot of dip leftover, you can always use it as a dipping sauce for kebabs, or as a sauce in a chicken pita or even on a burger!
Ingredients:
1 1/4 cup low-fat Greek yogurt
2 tsp fresh dill
1 lemon, juiced
2 garlic cloves, minced
1/2 cup English cucumber, grated
2 tsp olive oil
1/4 tsp salt
Dash of fresh-cracked pepper
How to Make:
Add all of the ingredients to a large bowl. Whisk together until combined. Chill in the fridge for at least 15 minutes before serving.
Chocolate Chip Cookie Dip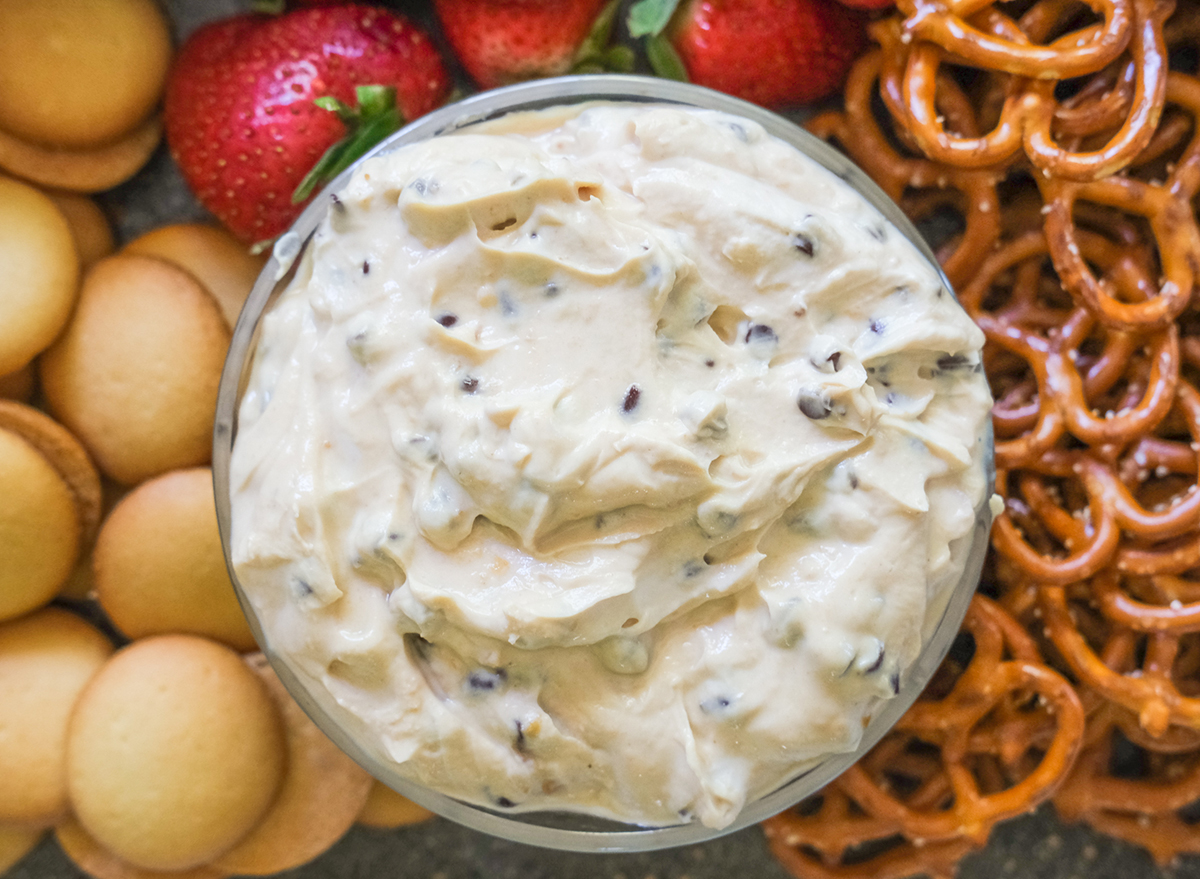 Have a craving for cookie dough? This chocolate chip cookie yogurt dip will satisfy it—promise! Dip any kind of fruit or even some mini cookies and pretzels for a sweet treat in the afternoon. Or better yet, just eat it with a spoon for a healthy dessert!
Ingredients:
1 cup low-fat Greek yogurt
2 Tbsp honey
1/2 cup chocolate chips
1/4 cup peanut butter
1 tsp vanilla extract
How to Make:
Add all of the ingredients to a large bowl. Mix until fully combined.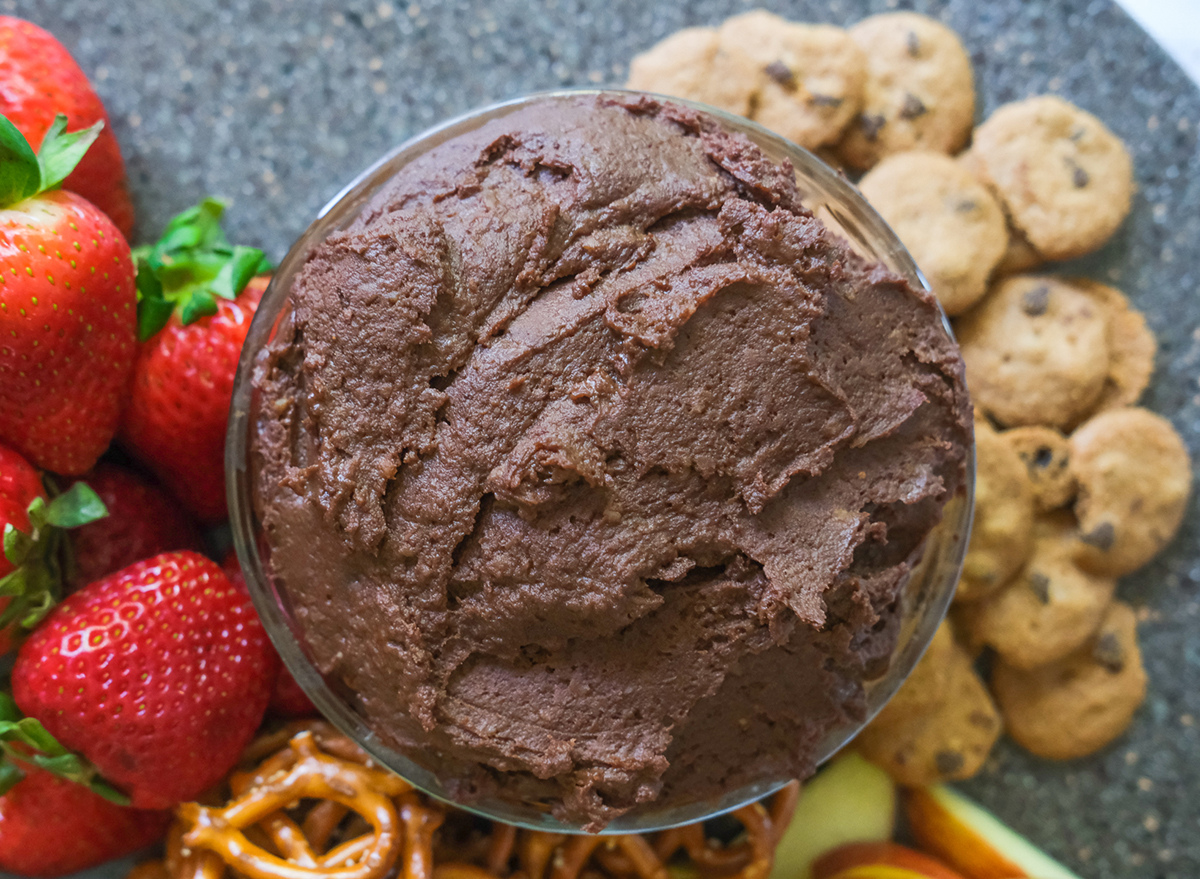 This is by far the best healthy dip recipe to make for dessert. Why? Because this bowl of chocolate, fudgy looking dip is actually made with chickpeas. That's right, you can make a dessert chocolate hummus using a chickpea base. Sub in tahini with peanut butter and add in a lot of cocoa powder to give it that rich, chocolatey taste your craving. Serve with fruit, pretzels, or mini cookies for a fun (and healthy!) dessert to share with a crowd.6254a4d1642c605c54bf1cab17d50f1e
Ingredients: 
15 oz. can of chickpeas, drained
2 Tbsp aquafaba (chickpea water)
1/2 cup cocoa powder
1/4 cup maple syrup
1/2 cup peanut butter
1 tsp vanilla extract
1/2 tsp Salt
How to Make:
Open up a can of chickpeas. Remove 2 tablespoons of the chickpea water (also known as aquafaba) before draining the rest of the can. Add all the drained chickpeas, aquafaba, and the rest of the ingredients to a food processor. Blend until smooth.
This whipped yogurt dip is so versatile, you can make it with an endless amount of flavors. All you have to do is mix a container of Cool Whip with a single-serving container of flavored yogurt for the easiest whipped cream fruit dip ever. For this healthy dip recipe, we used Two Good yogurt because it only contains two grams of sugar—keeping that overall added sugar count low. As for the yogurt flavor, Strawberry, Mixed Berry, and Peach are delicious, but you can honestly use any flavor you like.
Ingredients:
1 container light Cool Whip
1 container Two Good yogurt (flavor of your choice)
How to Make:
Mix the ingredients in a bowl until fully combined.