We Tasted 11 Spicy Chicken Sandwiches & This Is the Best
Just as you thought the dust had settled on the great "Chicken Sandwich War," new contenders have sprung up, seeking a place in Popeyes royal court. For while their great now-classic chicken sandwich proudly wears the crown, rivals still plot in the wings, looking for ways to new and creative ways usurp the throne. Its predecessors skulk in the shadows, wondering "why not me?", and small, regional, and major competitors all seek to imitate or improve upon it.
Today, we test one such method: making the fried chicken sandwich spicy. And we test it thoroughly here just outside of Atlanta, a crossroads and haven of fast food chains from around the country.
We raised the gate for all manner of spicy chicken breast sandwiches however they decided to bring on the heat. Whether it was via knocking off the now tried and true pickles-sweet bun-seasoned mayo combo with their own "secret sauce" or a whole other creative rendition, if it was advertised to be spicy and was on the permanent menu, it was drummed up for review.
METHODOLOGY
Fast food is best fresh—that's a given, as most food is best fresh. However, it's impossible to do a perfect simultaneous taste test when so many brands are included, and hard to rank when you only have only flavor memories to go by, particularly since palates do need to warm up and taste becomes more discerning as you get flavor fatigued. Although there is degradation in quality as subjects are gathered, we chose the former method due to the necessity during these taste tests to go back and re-sample when there's such a wide swathe of options.
The sandwiches we tried are:
Arby's Buffalo Crispy Chicken Sandwich
Bojangles Bo's Chicken Sandwich
Burger King Spicy Ch'King
Checkers/Rally's Spicy Chicken Sandwich
Church's Spicy Chicken Sandwich
KFC Chicken Sandwich
McDonald's Spicy Crispy Chicken Sandwich
Popeyes Spicy Chicken Sandwich
Wendy's Spicy Chicken Sandwich
Zaxby's Kickin' Chicken
Zaxby's Signature Spicy Chicken Sandwich
To keep things as fresh as possible, we plotted a drive-through pick-up route in Marietta, Georgia (just outside of Atlanta) of as small and efficient a radius as possible, and carefully kept each sandwich in its original packaging in a double-insulated zipped bag on a heated seat. Here's how all 11 sandwiches across 10 chains fared and the best tasting spicy chicken sandwich of all time. (For more, check out We Tasted 7 Popular  Chain Cheese Pizzas & This Is the Best.)
Checkers/Rally's Spicy Chicken Sandwich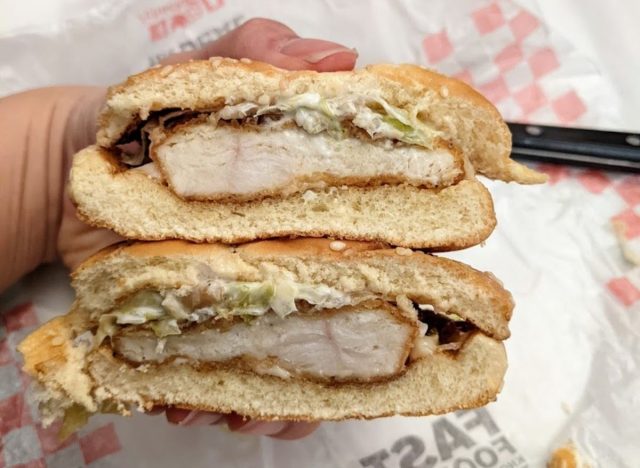 Checkers on the East Coast and South and Rally's in the Midwest, this double drive-through chain is well known for its budget menu. But however many people swap the word "value" for budget, the two are not one and the same, and their puny spicy chicken sandwich serves as a perfect example.
This sandwich is significantly smaller than the others–just a smidge over slider size. This is fine in and of itself, given the price point. This more diminutive sample size proved to be a plus, as there was less to get through and/or throw out.
The chicken itself had the texture of a school cafeteria-formed chicken patty, except with an extreme saltiness that Michelle Obama would never have okayed in her lunch program. That salt hits you in the face immediately, and follows with a punch of heat—not spice, because that would imply complexity—in a one-two combo that essentially shocks your taste buds. It leaves you with a residual burn and a weird aftertaste that's kind of fishy, as if the oil it was fried in had gone partially rancid from overuse. The sesame seeded bun was white bread-boring and not of note; the lettuce and mayonnaise were the same, and as expected.
McDonald's Spicy Crispy Chicken Sandwich
The chicken patty vibes continue with this joke of a "premium" sandwich that comes in a paper and foil bag … and a throwaway effort. Mickey D's knows where it stands in the heart of Americans, and it's not in the quadrant marked for chicken. This sandwich tastes exactly like the participation ribbon it is, as the mega-giant goes through the motions of offering an option in the Chicken Sandwich Wars, but not really caring if it wins any trophies.
The chicken itself is dense and feels formed despite that it's a "Southern-style fried chicken fillet." It may be crinkled to give off that appearance, but that's as far as it goes. It's actually covered in sticky, spongey fine bread crumbs, which sponge up in a gray filler layer close to the pressed meat like unevenly breaded frozen chicken fingers. Other than being toasted nearly to burnt, the potato roll tastes and feels barely any different than their regular buns, and the crinkle-cut pickles, with their distinctly "McDonald's pickles" flavor brings to mind too sharply the burgers they're much better at. The Spicy Pepper Sauce isn't bad—it's sweetly spicy and unremarkable. But the processed feeling and aftertaste are unshakable.
Burger King Spicy Ch'King
The King wants his title back, and decided to come for it with a new kicked-up version of their previously released Ch'King sandwich, clocking in at an outrageous 1,404 calories for the sandwich alone! That's double the Popeyes weigh-in, and I'm glad I didn't find that out until after the tasting. But then again, should I have been that surprised when my first impression was already, "whoa, this is crazy greasy?" Because it was, and unforgivably so. It came in a paper foil pouch, which was normal, but within the bag, it was wrapped again in a layer of paper so covered and stained through with excess oil and fat that it was nearly translucent.
The bun was similarly soaked with oil—enough that I thought the outside was steamed from transit. But nope, it was all grease. The inside of the sandwich was even more excessive, with clumpy lashings of mayo-based "Signature Sauce" congealing thickly against the heat of the chicken and toasted bun.
The saddest part is that, like Marlon Brando famously said, it "coulda been a contender." The chicken portion is enormous, its peppery crust flavorful, with a nice heat signature that's sweet and smoky, thanks to the unique spicy glaze. Sure, the chicken is pressed firm and doesn't shred, and the potato bread has a weird stale flavor toward the end, but this honestly could have been a nice sandwich, particularly with its tremendous size, slow-growing spice build, and monster pickles. If only they didn't make it literally disgusting to behold! As a mayo lover, even I was grossed out by the sloppy generosity of this condiment, as the mayonnaise reacted with heat and oil to thicken, separate, and caused both to soak through everything in an appalling mess.
Bojangles Bo's Chicken Sandwich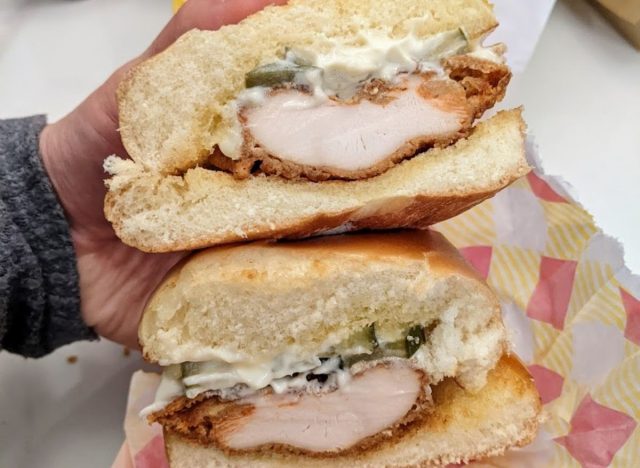 Another fried chicken specialist with Cajun flavors, Southern roots, and lauded biscuits, we were apt to take their knight seriously as they promised that the years they took to enter the battlefield was to more effectively pierce the current champion's armor. The components to do so were there: spices layered into the chicken beneath the seasoned, hand-breaded crust, a "toasted buttery bakery bun," thick-cut pickles, and mayo.
At first glance, it ranked high in aesthetics. It traveled exceedingly well in its rigid box, in which the seemingly unblemished sandwich is carefully nestled in perfect place. However, little misses added up to a major loss in points. The bun was pristine because it was under-toasted and over-firm, bordering on hard. Inside, the chicken, while thick, was much smaller than the bun, with mayonnaise dropped messily in the middle, creating uncomfortably deep wells of it while other areas were desert-dry.
While we liked the nicely crunchy, firm pickles; the subtle buttermilk flavor of the chicken; and the veins of red-tinged spice that run underneath the breading, whether it was good or not wasn't inconsistent from bite to bite, and that made it barely qualify as spicy. This wasn't a bad sandwich… just a forgettable one.
Church's Spicy Chicken Sandwich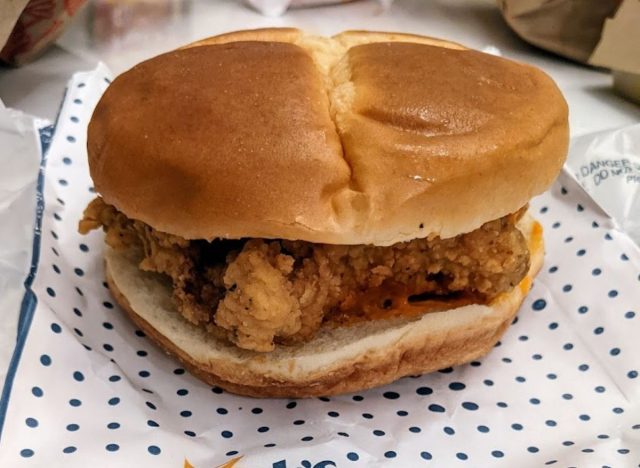 This Texas fried chicken brand is headquartered in Atlanta, so obviously, we had to give them a go. It sounded like it promised the world, upgrading the famous formula with toasted honey butter on the brioche bun, a much more balanced three pickle chips, spicy mayonnaise, hand-breaded chicken, and an extra bonus of a wet jalapeno on the side, which you're expected to squeeze "San Antonio-style" over the sandwich when you're ready to dig in.
But wow, what a series of missed opportunities. This pickled pepper was not packed as promised, and while I appreciate the over-delivery of the (actual) pickles (as mine had an off-center pile of them), it wasn't enough to make up for how thinly they were sliced. The spicy mayo was delicious—it wasn't too thick and tasted more like hot sauce a la Crystal/Tabasco as opposed to overly creamy blends like some of their competitors. However, it could really have benefitted from the honey butter that was supposed to be on the cross-topped brioche bun and the toasting step, omission of which made the roll dry and too firm. And the chicken was more of a dense, fast-food texture rather than shredding like the better-ranked fried chicken breast fillets, and smelled a little greasy despite it being dry. In all, it was okay but would probably have been really good were it actually prepared as advertised.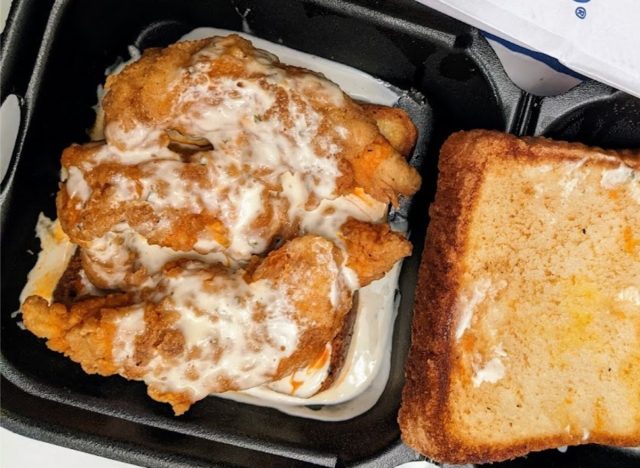 If you're asking, "What is Zaxby's?," don't worry—I asked the same thing when I first moved to Georgia and suddenly saw one every ten minutes. They're regional and exclusive to the South (for now), headquartered in Athens and original to Statesboro, hence the plethora in my metro area. That said, they're more a chicken finger specialist as opposed to bone-in fried chicken—think Raising Cane's, but slightly more refined.
This particular sandwich is their legacy spicy one, featuring three Chicken Fingerz™ between buttered Texas toast with a smooth, creamy ranch and a smoky 'Tongue Torch' buffalo-reminiscent hot sauce. And by "with," I mean "in," because this messy sandwich was literally floating in a pool of the two, swirled together wildly in the styrofoam box.
Unlike the other sauce-heavy sandwiches, though, this very messy one was somehow more forgivable in its excess for the fact that the sauces aren't heat-reactive and so didn't turn into an unappealing paste. Plus, its components were originally meant for dipping, anyway. The craggy fingers were very tender, with real, flaky, meaty chicken that was different from the new fillet (more on that later). The buttery Texas toast was also a unique delight, with a firmly toasted exterior that sealed in the softness and resilience of the interior. This excellent technique and thick cut kept it from absorbing too much of the sauces at the bottom. Still, the pressure's on to eat this fast, before the bread gives in to its naturally sponge-like nature and becomes inevitably inedible.
Arby's Buffalo Crispy Chicken Sandwich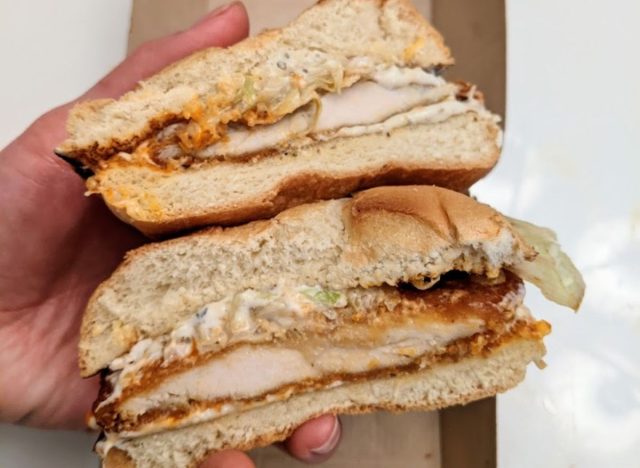 I really appreciate the originality this chain has shown in their sandwich selections, and that they don't just copy what successful competitors are doing. This includes with their Crispy Chicken Diablo Dare, which I tried (and loved!), but excluded from this test since it's a limited-time offer. Lucky for spice-lovers, their once slider-only buffalo chicken has made it into the annals of Arby's history, with a permanent place on their full-size sammie menu.
Opening the little box it came in, I was initially disappointed. The star bun looked brown instead of buttery golden, and kind of dry and monochromatic. And for a chain that boasts "having the meats," the chicken was pretty scrawny, especially in comparison to most of the chicken chains, who cut theirs #thicc. But appearances can yet be deceiving because this sandwich was hard to put back down!
The breadcrumbed, buttermilk-soaked chicken fillet looked like it might fall into the patty camp, but was definitely juicily, toothsome chicken. The crunchy outer layer miraculously remained so despite the full permeation of the zippy, tangy buffalo sauce through it, which had a creeping heat, acidic and delicious. To counter it, parmesan peppercorn ranch sauce, which was creamy, rich, and definitely had a strong hint of cheesiness. Unfortunately, this was in excess in some spots, drowning out the buffalo we're here for and bogging it down. I would have liked more lettuce, and the chicken itself was salty and not as high quality as its competitors, but this was an instance where the whole proved to be greater than the sum of its parts, as it was memorable, interesting, and begged for "one more bite."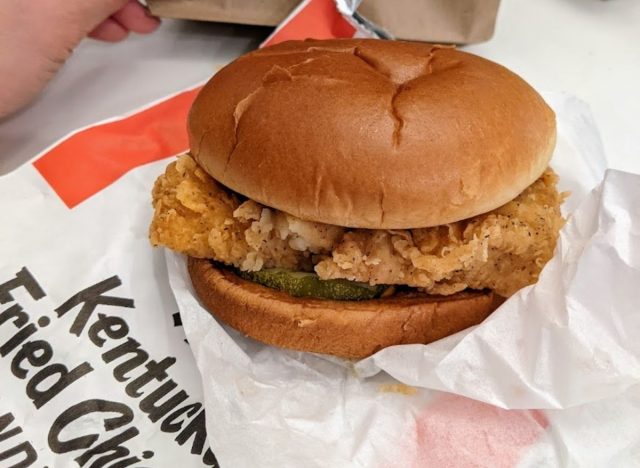 Are you as surprised as me to find that this is a new offering? This fried chicken giant didn't release their champion into the ring until April 2021 … but they certainly did it right. The chicken breast fillet they use for this sandwich is a full quarter-pound, but it definitely feels bigger. It's the lightest in color of all the flour-dredged chickens, and among the lightest breaded, letting the succulent seasoned chicken be the star. The crispy (disappointingly not extra-crispy as promised) coating floated above the surface of the tender meat, which retained its moisture from end to end without being the least bit greasy.6254a4d1642c605c54bf1cab17d50f1e
The brioche-style bun is fluffy and soft, toasted perfectly on the inside to withstand the very satisfyingly wide, fat pickle chips spread thoughtfully and evenly across the sweetly buttery bun and the piquant spicy mayo, which was at once smoky and creamy. Their dressing was unusual in that it didn't develop that off-putting translucence of turned mayo. Although I do wish it was spread on more evenly, I appreciated every bite that had some. It offered a slow burn, and you didn't need a lot to feel it. My lips and the back of my tongue numbed pretty quickly and the heat stays with you pleasantly. And if you like the Colonel's secret blend of spices as I do, you'll find this a real treat.
Wendy's Spicy Chicken Sandwich
This sandwich is extremely divisive. The problem with Wendy's chicken sandwiches is their lack of consistency, but when you get a good one, it truly is great. I have fond memories of eating these in my teen years, when I worked at the chain (R.I.P. stuffed pitas…that's how long ago!), as they came fresh out of the pressure fryer, delicious even before Wendy herself took over and made them more "artisan" with fancier buttered, toasted buns and romaine lettuce leaves.
Luckily, what hasn't been changed are two very important elements of this sandwich: the secret signature super-peppery spice blend that is pervasive through the bright orange, shatter-crunch breading and the fact that it's always been a natural, thick-cut chicken breast fillet, with no fillers and in a generous size. The soft brioche bun is a perfect complement, and I appreciate the tomato slice and two lettuce leaves that add significant freshness to the deeply earthy spice of the chicken. They keep it simple with a reasonable swipe of cool mayo, and let the deep-set flavors in the chicken itself do the talking rather than relying on fancy sauces to convey heat.
Also, can we have a moment of respect for the OG? Wendy's has been doing full-cut fried breast fillets for ages, and doing them well, making it a blooming shame that Popeyes has gotten the credit as if it were a revolutionary concept.
Zaxby's Signature Spicy Chicken Sandwich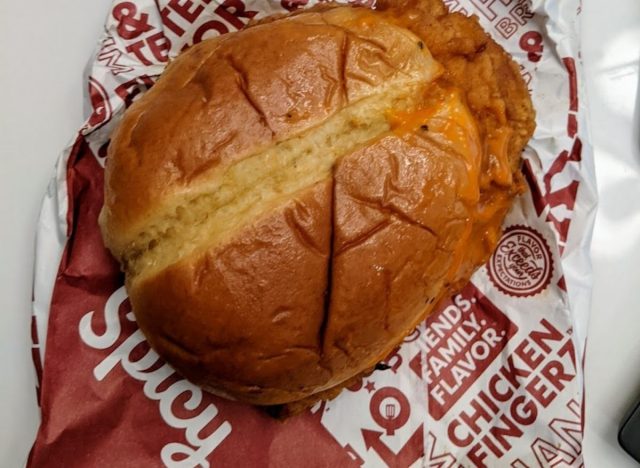 We've been saying (and it's quite apparent) that "The Chicken Sandwich War Ain't Over Yet," but only Zaxby's had the temerity to go right on ahead and trademark it. And although they specialize in tenders, their touch was anything but when it came to their relatively new Spicy Signature Sandwich. This was a direct and aggressive attack on Popeyes, and by golly, are they closing the gap!
Starting with a well-seasoned, double hand-breaded, crispy fillet, the chicken is intensely meaty and remarkably thick. This was one of the most generous sandwiches out there, and priced accordingly. The thick cuts of crunchy pickle provide an assertive sourness that refreshes so well and balances so beautifully against the noticeably buttery and sweet split-top potato bun. And the new Spicy Zax Sauce™ developed just for this sandwich is delicious, featuring jalapeno and cayenne that climbs up with a slow burn, unfurling against the salt, acid, and sugar of the other components. This was—for once!—distributed evenly across the sandwich, making every bite a lovely compounding of spicy heat, juicy meat, and exciting flavor.
Popeyes Spicy Chicken Sandwich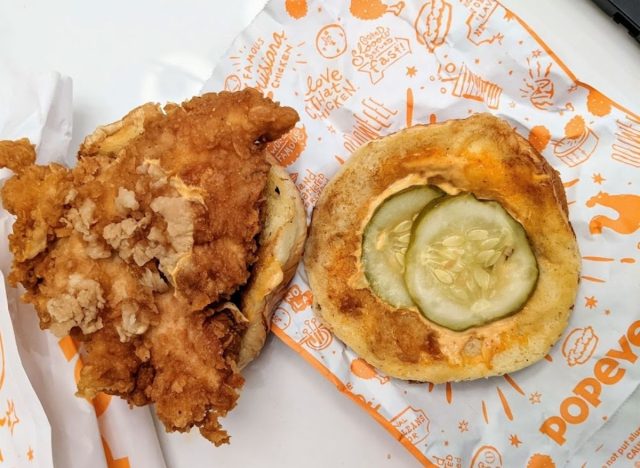 I'm not a contrarian (I swear!) … but ugh, do I hate joining in on a chorus line. However, the people have spoken and, without a shadow of a doubt, the people are right. Even in spicy form, measured against other spicy chicken sandwiches, Popeyes' sando remains the reigning #GOAT.
Because it's undisputedly real chicken—juicy, flaking, and shredding satisfyingly as your teeth tear into it—sometimes your fillet might be smaller than you'd like. But today was my day, and I got one that lived up to its legendary heft. It was so thick that I couldn't even hold up both halves for that Instagram-y stacked shot and cracked my jaw opening my mouth to get into that first bite.
This was absolutely delicious, the signature flavor of Popeyes' frying oil, seasoned by rounds and rounds of their spice blend, peeking out from every crunchy peak of delectable flour breading. Unlike the McDonald's chicken, with its mealy gray spongey layer, every flake of the Popeyes' fillet's coating was light and craveable—it is truly an accessory and not a filler, and a tempting snack on its own. The soft bun was rich and buttery, the pickle chips nice and thick, and was one of the only sandwiches that really, truly ate like a meal. While the heat level wasn't very high and the spice factor subtle, the hint was enough to qualify and not low enough to negate the general excellence of its components.
In such a competitive space, there are far more good than bad spicy chicken breast fillet sandwiches. Only the Checkers/Rally's and McDonald's versions were truly abysmal; others, like Burger King's Spicy Ch'King, Bojangles' Bo Chicken Sandwich, and Church's sandwich have great potential but sadly failed on technical execution—a.k.a. human error.
For those craving a little heat for their birds, it's important to note that the pickle-mayo-chicken-brioche/potato bun formula isn't the only option. You have several choices for a flavor change-up, and they're "original" spicy chicken sandwiches for good (and tasty!) reason. So I say, keep bringing on the heat! Because if other makers are looking to unseat Popeyes, the bar is set nice and high… which is only to our benefit, as spicy chicken sandwiches can only get better from here.
Check out more of our exclusive taste tests:
We Tried 7 Fast-Food Cheeseburgers & This Is the Best
We Tasted 8 Hot Dog Brands & This Is the Best
Su-Jit Lin
Su-Jit Lin is a food and lifestyle writer whose work has been featured in Real Simple, HuffPost, and more.
Read more about Su-Jit