We Tried 8 Spinach Artichoke Dips & This Is the Best
Serve this at your next gathering—it's a guaranteed hit.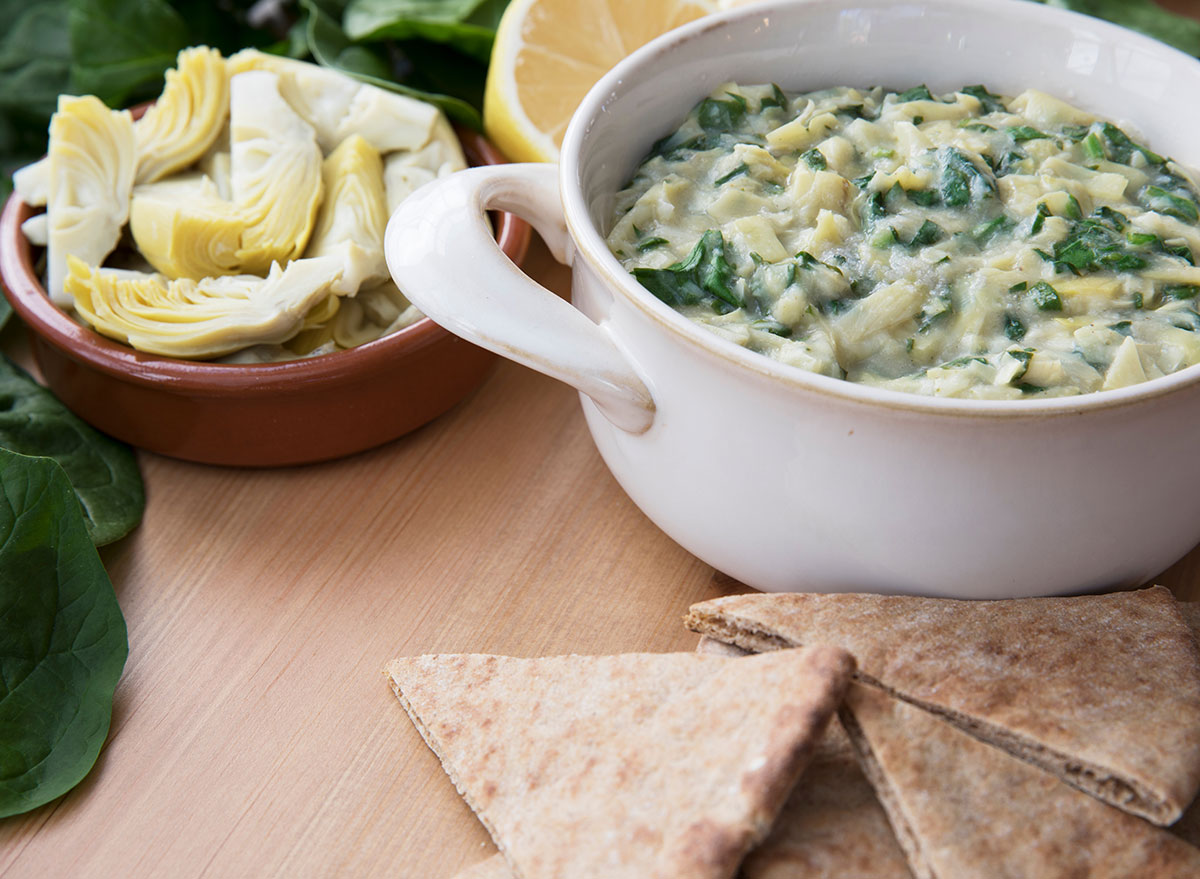 If you go to any American-style chain or hometown restaurant throughout the U.S., there's one thing you're bound to see on the appetizer menu: spinach artichoke dip. The great thing about this favorite food is that it's versatile. Yes, it's an "appetizer," but you could make it a meal. You can have it with tortilla chips, sliced baguette, crudités, or even serve it in a bread bowl. Recipes online abound; you can make it more mayonnaise-y or more cheesy. Or, if you're feeling lazy like I often am, you can purchase it pre-made at the store.
With a mission to find the best store-bought spinach artichoke dip, I hit the grocery aisles and then got to tasting. I tried the eight dips below with tortilla chips, pieces of baguette, pita chips, and crackers. Here they are ranked from my least favorite to the best one.
And for more, don't miss these 15 Classic American Desserts That Deserve a Comeback.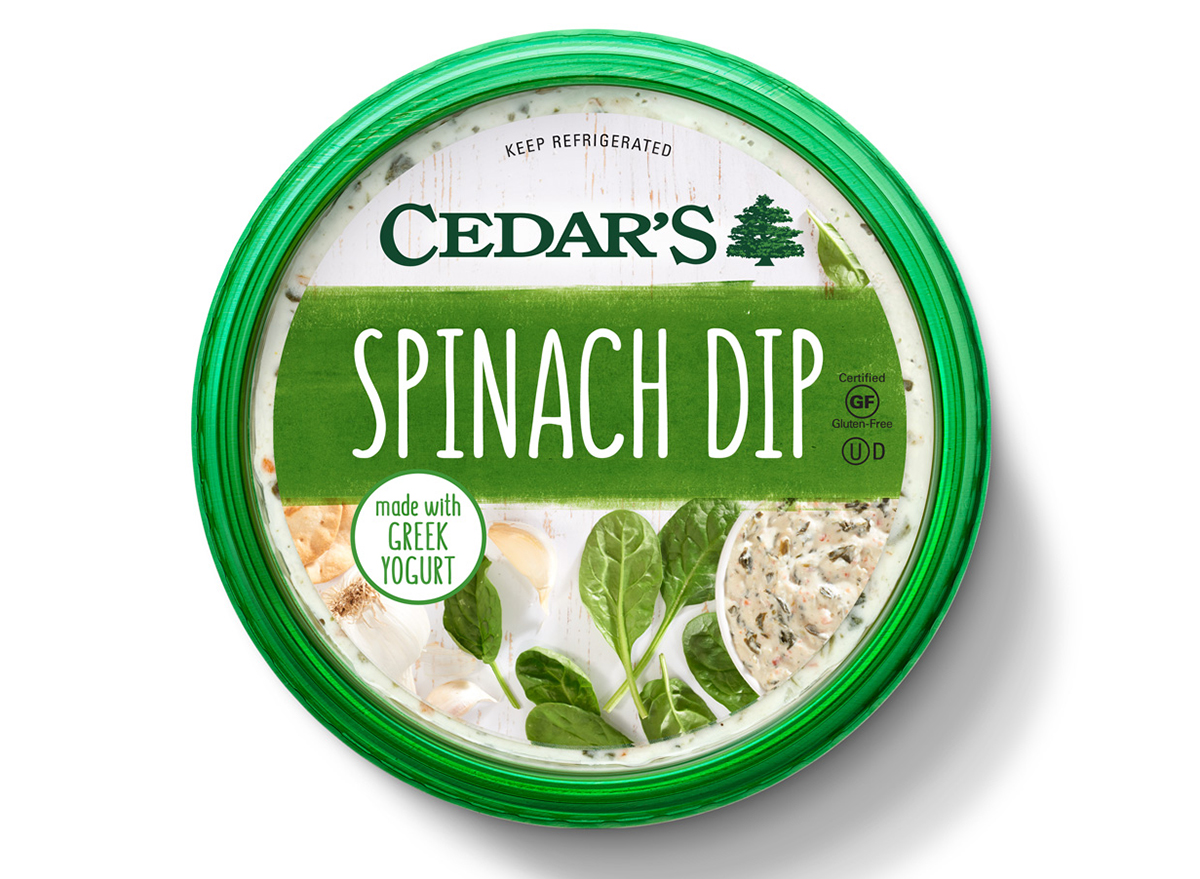 Per 2 Tbsp (28 g)
: 50 calories, 4 g fat (1 g saturated fat, 0 g trans fat), 140 mg sodium, 3 g carbs (0 g fiber, 2 g sugar), 1 g protein
There are two things that every spinach artichoke dip must have: spinach and artichoke. Right from the start, Cedar's is failing in that part of the test. I went ahead and included this option, though, because it's the only dip I could find at Whole Foods that was close enough. It does have the "look" of a spinach artichoke dip, but once you bite into it, you get a strong tart flavor like yogurt. The dip is made with Greek yogurt, which does make it a healthier option than some on this list, but it's certainly less traditional. The second flavor you'll notice is carrot. The dip also has celery, cabbage, and leeks, in addition to the spinach, but those flavors aren't as present.
Philadelphia Dips Spinach & Artichoke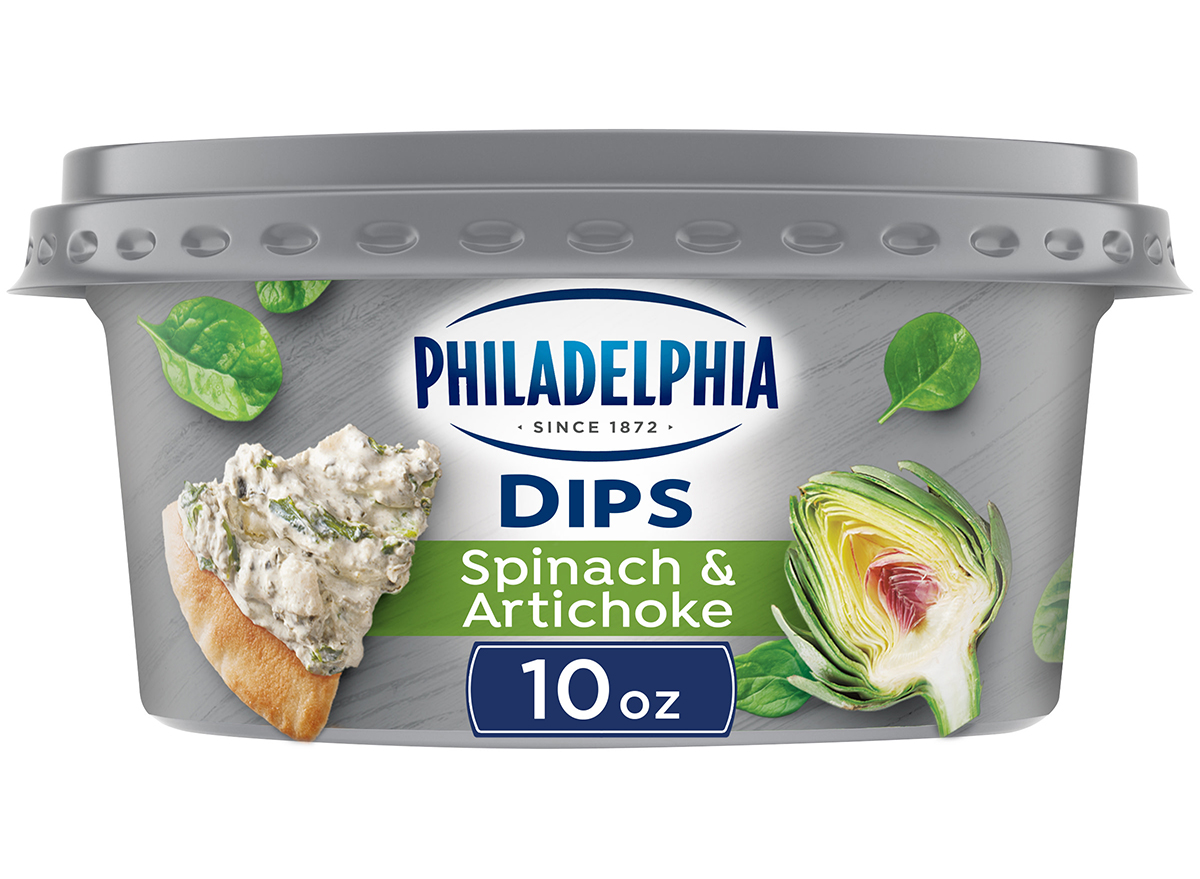 Per 2 Tbsp (30 g)
: 70 calories, 5 g fat (3 g saturated fat, 0 g trans fat), 150 mg sodium, 3 g carbs (0 g fiber, 0 g sugar), 2 g protein
The brand known for its cream cheese, Philadelphia, has a line of dips—one of which happens to be spinach and artichoke. If you love cream cheese, you will love this dip. It's much thicker, basically the same consistency as cream cheese, so you'll need a sturdy dipping vessel, like a piece of pita or a baguette. I tried chips and crackers first, and they just kept breaking off. While I probably wouldn't turn to this again as a dip, I would certainly use it to make a spinach artichoke pizza or even as a bagel spread. The flavor was great, but calling this a "dip" is a bit of a stretch.
Tostitos Creamy Spinach Dip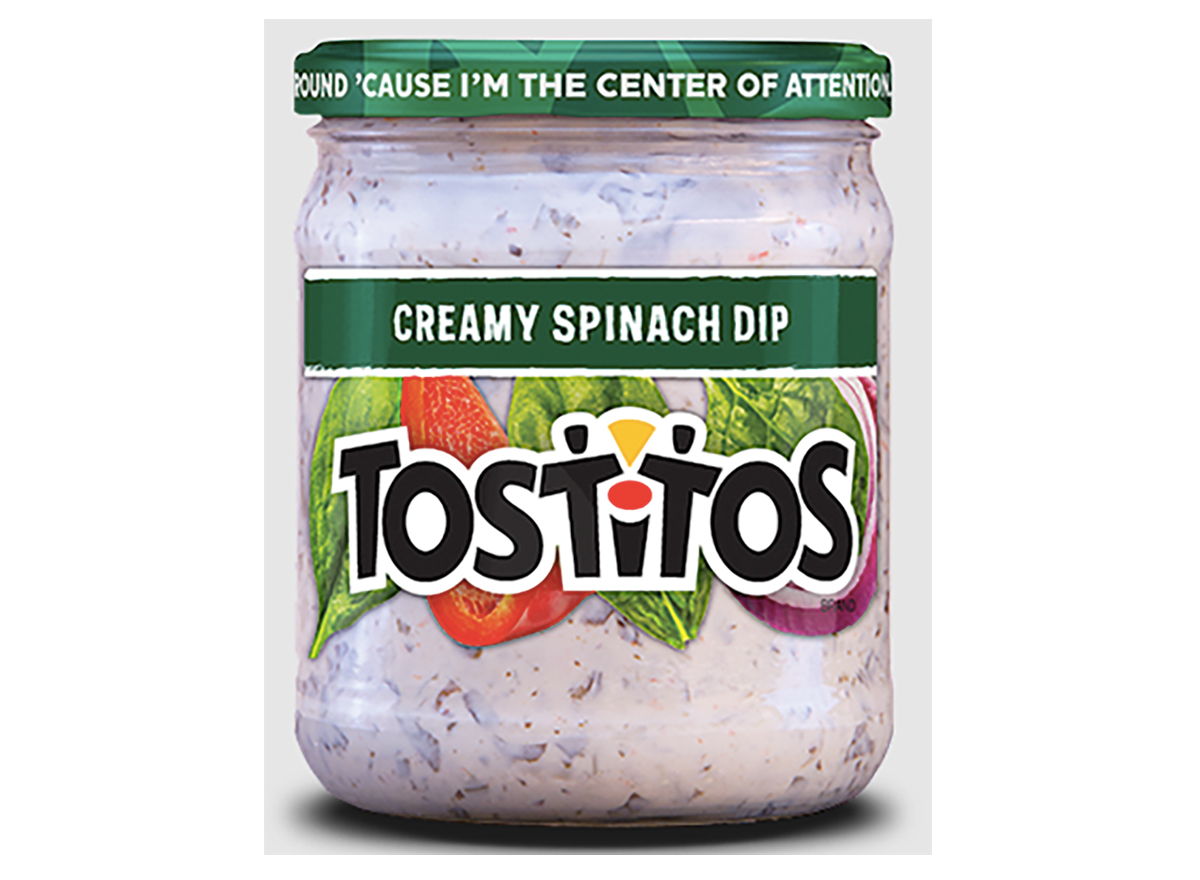 Per 2 Tbsp (32 g)
: 50 calories, 4 g fat (0 g saturated fat, 0 g trans fat), 200 mg sodium, 2 g carbs (1 g fiber, 1 g sugar), 1 g protein
Like Cedar's, the Tostitos dip doesn't feature the key ingredient of artichoke. However, I included here because it looks like a spinach artichoke dip, and it's a common brand you can find on almost any grocery aisle or convenience store shelf. I've eaten this dip in the past, but it was interesting to taste it again with this taste test in mind. There is a bit of a kick from the red bell peppers. But aside from that, you'll taste a more general "vegetable" flavor than a specific "spinach" note. What is most unique about this dip compared to the others is that it has a consistency similar to Tostitos' jarred queso dips. It's creamy but doesn't feel mayonnaise heavy—and that's a good thing, in my opinion.6254a4d1642c605c54bf1cab17d50f1e
Good & Gather Spinach Artichoke Dip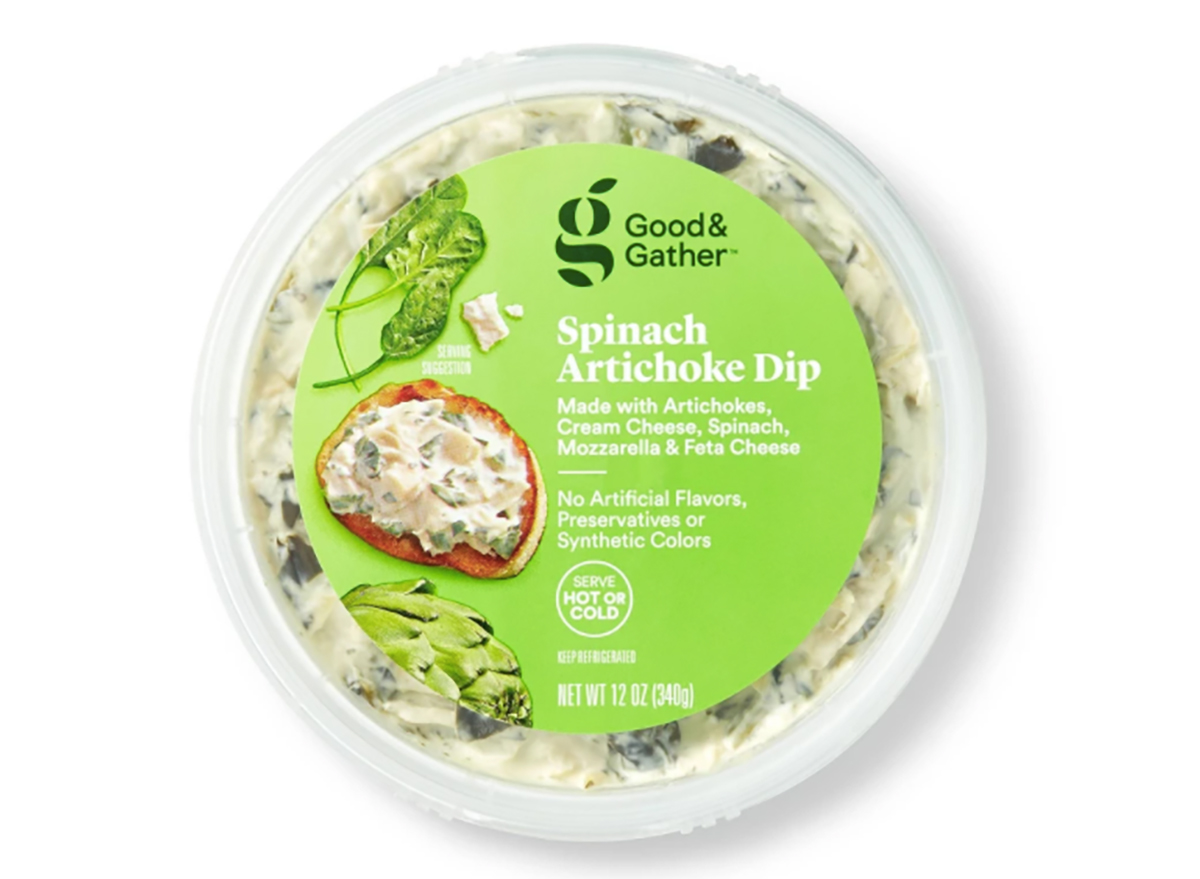 Per 2 Tbsp (30 g)
: 60 calories, 5 g fat (2.5 g saturated fat, 0 g trans fat), 160 mg sodium, 2 g carbs (0 g fiber, 1 g sugar), 1 g protein
Target's food brand Good & Gather carries its own Spinach Artichoke Dip in the refrigerated dairy section. Of all the dips, this tastes the freshest. There are big chunks of spinach—which is the overwhelming flavor profile—to give it an almost homemade feel. However, for being the other main ingredient, the artichoke isn't as present. (But I would say this of pretty much all the dips. Why no artichoke love, dip makers?) This dip probably tastes the least cheesy, but, like the Tostitos dip, it's creamy in a way that's not too mayonnaise-forward. It's a good, solid dip that I would certainly pick up the next time I'm at Target—but I don't think I'll crave it.
T.G.I. Friday's Spinach & Artichoke Cheese Dip
Per 2 Tbsp (28 g)
: 30 calories, 1.5 g fat (1 g saturated fat, 0 g trans fat), 125 mg sodium, 2 g carbs (0 g fiber, 0 g sugar), 2 g protein
When I think of spinach artichoke dip, T.G.I. Friday's is what comes to mind. It was almost a mandatory item to order when I visited the chain restaurant growing up. Even better, you could get that good gooey flavor at home, thanks to this freezer offering. And that's the first thing that sets this dip apart: You have to heat it up. After popping it in the microwave for a couple of minutes, I was left with a plastic container bubbling with cheesy goodness. It tastes just like what I expect from the restaurant. It's smooth and saucy, but after eating the cold dips, it did feel waterier than the others. If I had made this from scratch, I would have been mad at myself for not drying out the spinach first. Like some of the others, it was heavier on spinach and I couldn't even taste (or see!) artichoke in it. But the overwhelming cheese pulls I was getting out of it made me forgive that.
Stonemill Kitchens Spinach Artichoke & Parmesan Premium Dip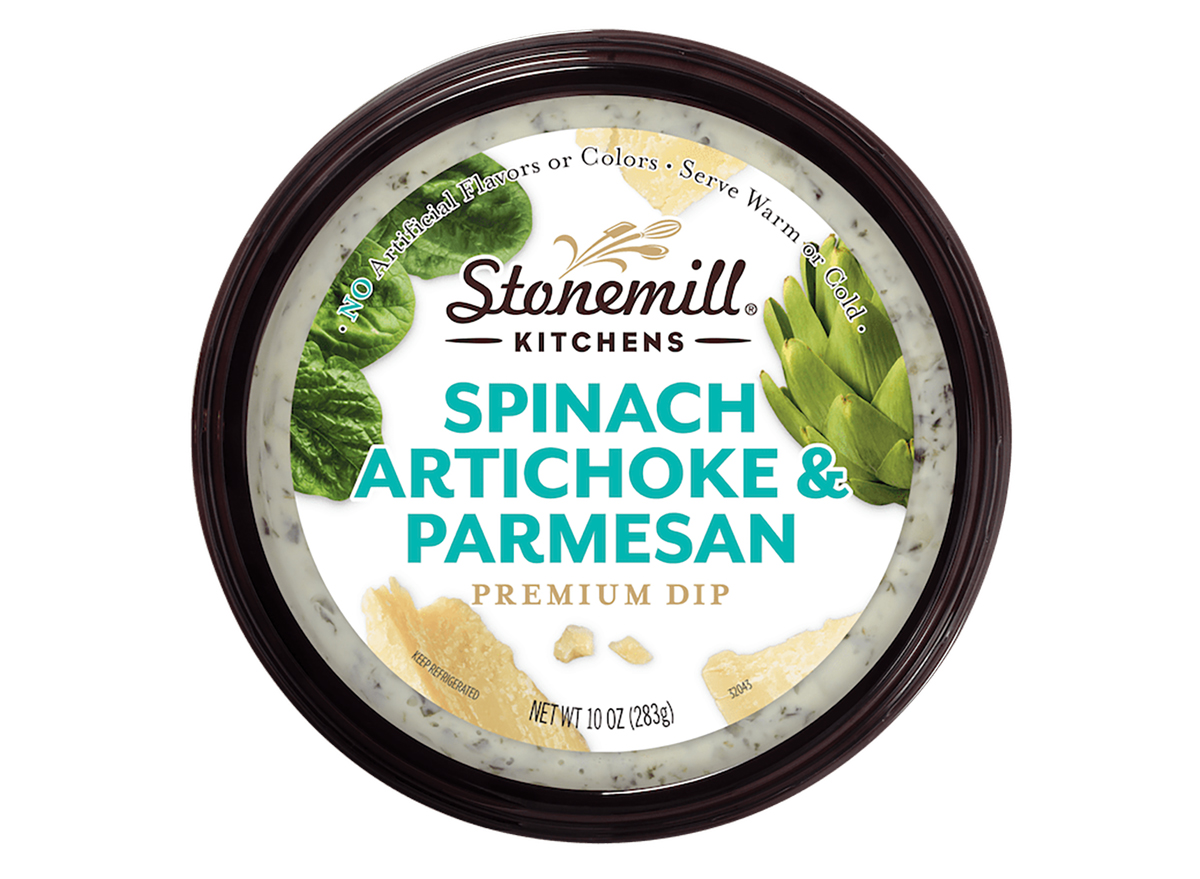 Per 2 Tbsp
: 90 calories, 9 g fat (2.5 g saturated fat, 0 g trans fat), 170 mg sodium, 1 g carbs (0 g fiber, 0 g sugar), 2 g protein
I was unfamiliar with the Stonemill Kitchens brand before doing this taste test, but I'm very glad I included it. It was one of the best on this list—it was chunky because you can actually see pieces of Parmesan and spinach and artichoke. Oddly, the Parmesan gave it a texture similar to crab dip, but that only made me like it more. Because of that, it was very cheese-forward, but not in a way that made the dip feel heavy. It was just perfectly pleasant!
Trader Joe's Creamy Spinach & Artichoke Dip
Although the Trader Joe's dip doesn't have strong memories like the T.G.I. Friday's one, this definitely feels like a restaurant-grade spinach artichoke appetizer. Available in the freezer section, the dip comes in a circular brick that you place into a dish and microwave. (Because it doesn't have its own microwavable container, you could trick your friends into thinking you made this one!) The result is a strong spinach and cheesy contender. It has the best flavor of the microwaveable options here, and it doesn't have the watery feel that T.G.I. Friday's did.
La Terra Fina Spinach Artichoke & Parmesan Dip & Spread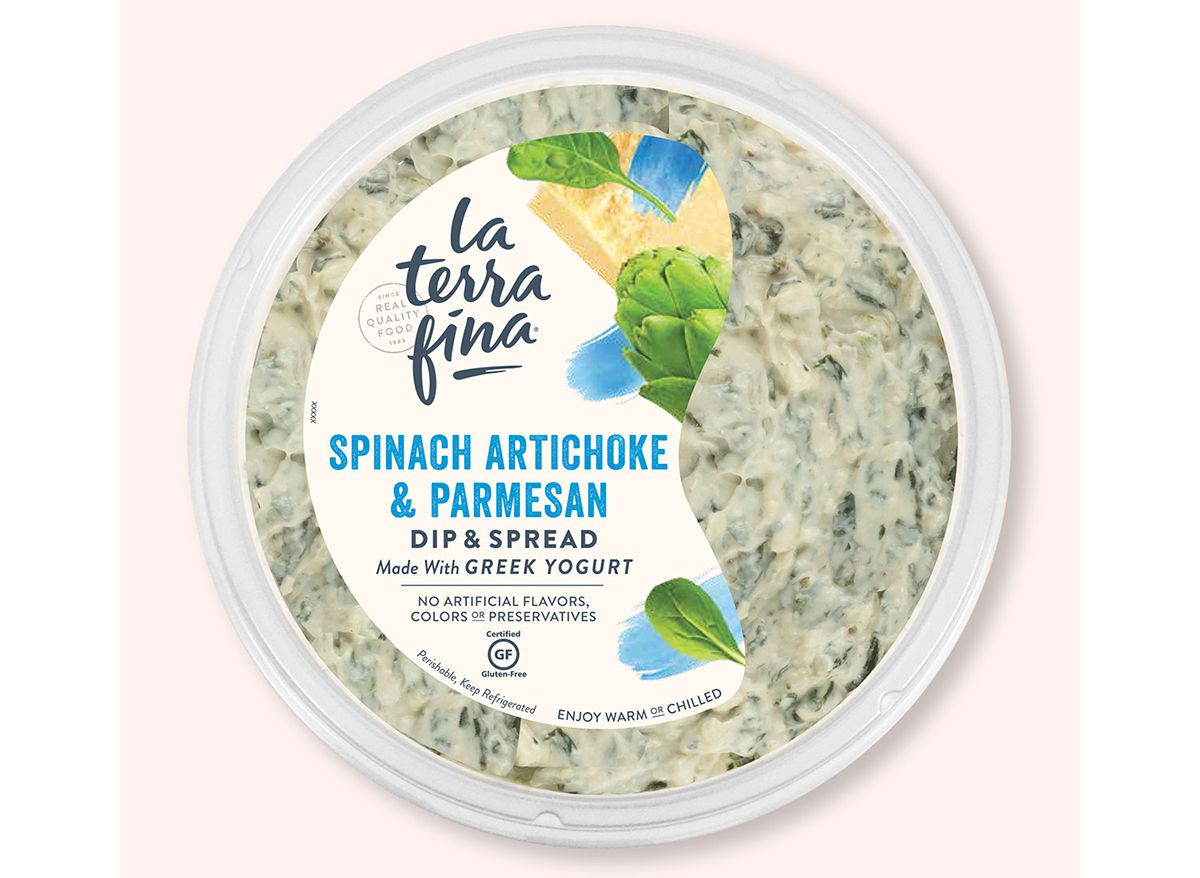 Per 2 Tbsp (30 g)
: 90 calories, 8 g fat (3.5 g saturated fat, 0 g trans fat), 150 mg sodium, 2 g carbs (0 g fiber, 0 g sugar), 2 g protein
Our big winner is La Terra Fina, which is available at many grocery stores, including Costco (pro tip: you can order Costco on Instacart without a membership!). The thing that makes this dip unique is that you can eat it both cold and hot—and it's amazing in both temperatures. Served cold, it has a great texture. It's creamy, but not so thick that you can't eat it with chips. Heated up, the texture just smooths out a bit, but you don't lose any of the flavors. Because I got mine from Costco, it came in quite a large tub, but because it tastes so good, it didn't take too long to take down all 31 ounces.
Dalene Rovenstine
A New York-based freelance journalist, Dalene Rovenstine often writes about food and drink and health, as well as entertainment, beauty, and other lifestyle topics.
Read more about Dalene