We Tasted 10 Frozen Trader Joe's Appetizers & This Is the Best
Looking for a fun, easy appetizer? TJ's has you covered.
Trader Joe's has become a major hot spot for quality, healthy, and affordable foods. But the chain's frozen food selection, in particular, just keeps getting better and better. The store has a wide variety of frozen appetizers to choose from—all from different cultures, dietary needs, and cook time. Cooking a three-course meal from scratch can take a lot of work, so I found some great starters that will take the sweat off your back.
Whether you're dining with company or just looking for more snacks to hold you over until the main dish, these quick and tasty solutions will save the day. There's always a time and a place for finger food, but there are so many great options to choose from, I had to share my favorites. Here are 10 frozen appetizers you can find at your local Trader Joe's, listed from worst to best based on taste.
And for more, check out these 15 Classic American Desserts That Deserve a Comeback.
Brazillian-Style Cheese Bread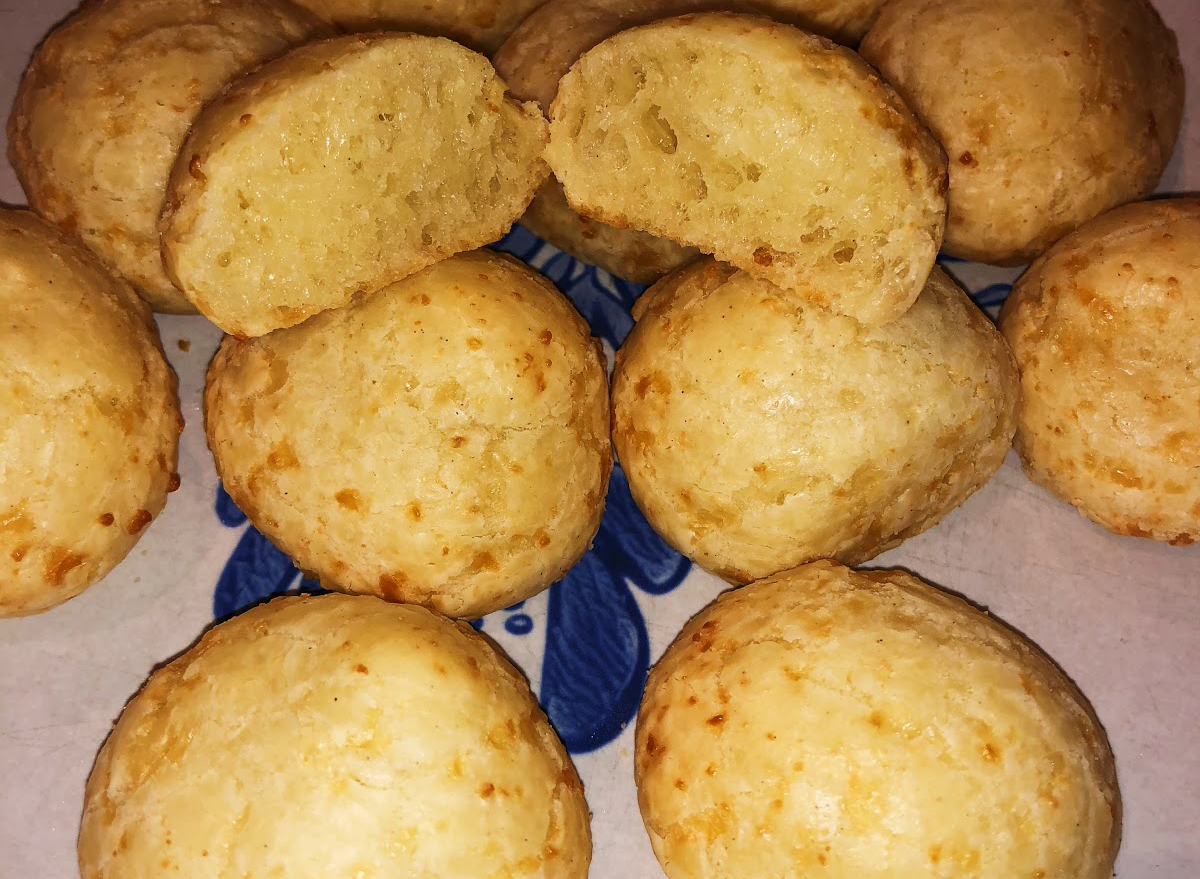 Even though the Brazillian cheese bread wasn't my favorite, it's full of flavor and can be paired with so many great dishes. The cheese was potent in taste, but there was no cheese pull when you opened the bread. With a doughy center and a hard outer shell, the texture wasn't too bad, but it could've been more light and fluffy to fulfill this appetizer's full potential.
Organic Pesto Tortellini
If you're looking for a tasty appetizer for date night, this is a warm conversation starter. This pesto tortellini has the trifecta of cheeses: mozzarella, parmesan, and ricotta. The cheeses were so fresh and smooth; I just wish they had stuffed the tortellini with more of it. Pesto is a staple, but if you like a creamier pesto, this one isn't for you. TJ's pesto sauce has natural basil and nutty flavors, which were light and subtle.
Unfortunately, the noodles dropped the ball. They were a little too far from al dente for my liking and were somewhat thick. I cooked this in the microwave, so maybe try this on the stovetop, and it might come together better.
Chicken Spring Rolls
When you don't want to wait for takeout, give these chicken spring rolls a try. They are filled with a lot of great pieces of chicken, and I love my protein. With the whole-wheat outer crust, I wasn't expecting much, but it was quite delicious. Once they're all crisped up, these spring rolls are crunchy and combine well with the soft chicken. The rest of the filling is chopped veggies and a basil garlic sauce—I just wish the flavor of the sauce was more powerful.
Broccoli and Cheddar Quiche
This broccoli-cheddar quiche was a real winner. The broccoli is freshly crisp and tastes just like it was boiled and seasoned the way Mom does it. The rest of the filling was nice and didn't taste artificial at all. Sharp cheddar cheese was complemented by a mixture of egg and veggies; every bite was the whole package. Personally, I found that the best part of this appetizer was the crust. It was crumbly and a bit dry, but somehow it was still buttery and blended perfectly with its center.
Chipotle Vegetable Quesadilla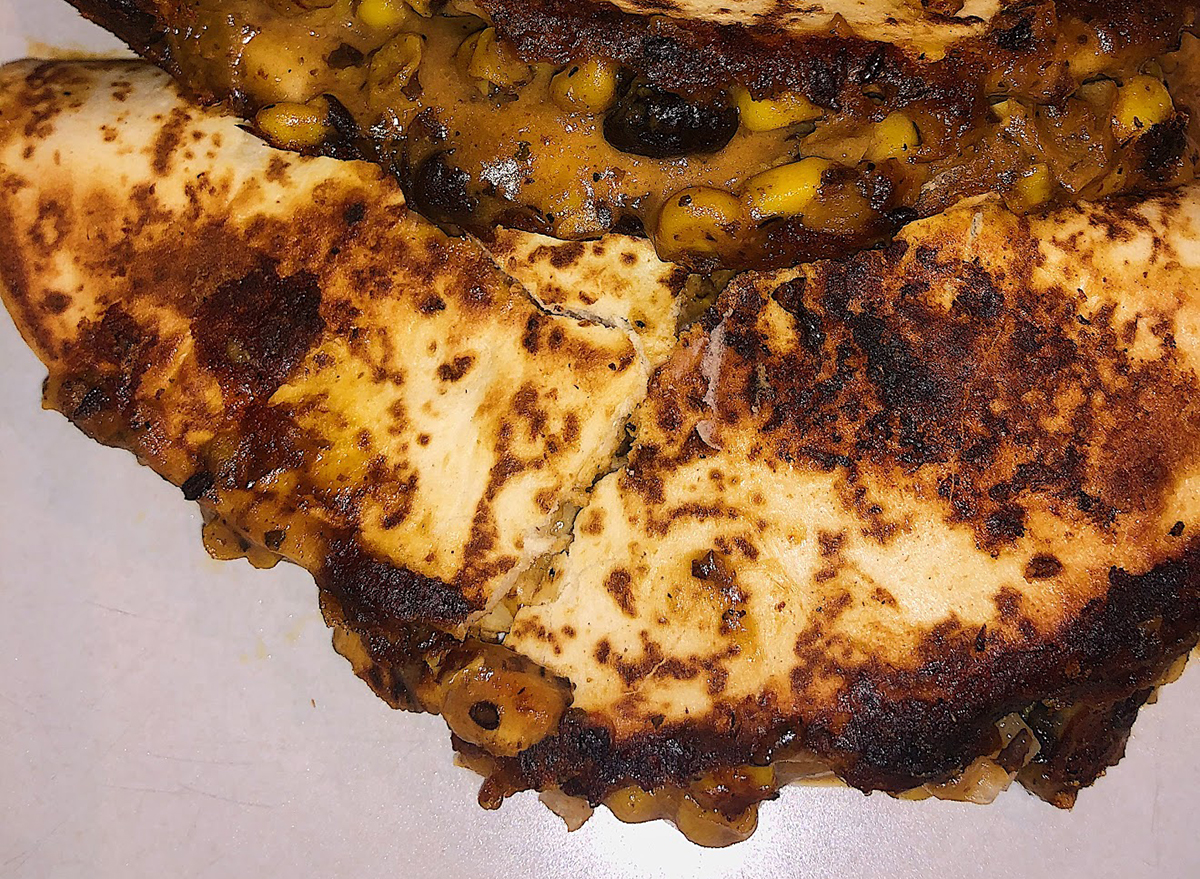 Nothing screams "let's get Mexican night started!" like a cheesy, chipotle quesadilla. I have much love for this vegetable quesadilla and all of its creamy goodness. It has great textures and freshness between the warm cheese, soft black beans, and crisp corn. Whoever created the sweet, mild chipotle sauce in this quesadilla deserves an award. The tortilla is a lot thicker than normal quesadillas, more like a gordita, so it wasn't my favorite. But otherwise, chop this quesadilla up into small triangles, and you are ready to fiesta.
Steamed Chicken Soup Dumplings
These dumplings taste just like a bite-sized ball of chicken noodle soup all wrapped up and ready to go. The outer dough is very thin (so be careful picking them up) but soft, like a warm blanket. Once you take a bite, you get hit with amazing flavors in the smooth and savory chicken broth. The moist chicken has wonderful notes of green onions and ginger. I steamed the dumplings on a stovetop to gather the most moisture, but a toaster oven is also highly recommended on the box.
Parmesan Pastry Pups
Next up is the classic party appetizer and finger food champion: stuffed pastry puffs. These "pigs in a blanket" lookalikes were as good as expected. The pastry was very light and flaky, and the shaved parmesan on top made it all the better. Alongside a juicy mini hot dog, this savory little snack will be a crowd-stopper at your next gathering. I would highly recommend adding a decor of dipping sauces; my personal choices were ketchup, mustard, and BBQ.
Party-Size Mini Meatballs
All you need to do is stick a toothpick in one and go nuts! These mini meatballs are superior to most other frozen meatballs sold at your local grocery store. They are super juicy without a chewy feeling or the artificial taste that many other brands tend to have. Also, the beef has a nice tender taste, and they don't leave you feeling heavy whatsoever. The crispy exterior can get a little dry, so next time, I would try finishing them in a tangy teriyaki or BBQ sauté.
Mac and Cheese Bites
A Trader Joe's hidden gem and possibly a Cheesecake Factory dupe? These mac and cheese balls are everything you could ever want and more. The center of these balls is rich in cheese, but not your average boxed mix at all. The cheese sauce tastes like it was homemade, and the ratio of cheese to noodles is just right. And in little to no time at all, I crisped up these bites very nicely. The outside breading was perfectly crispy, and it never overpowered the gooey middle.6254a4d1642c605c54bf1cab17d50f1e
Mini Beef Tacos
These mini beef tacos were my absolute favorite by a long shot. The seasoned beef is the moistest and most flavor-packed meat you'll find in any frozen food aisle. I cooked these bad boys in the air fryer so that the tortilla shell would be its very best self, and I was not disappointed. The crunch these corn tortillas have is unreal, and they taste so authentic. You might have to stop yourself from eating the whole box—I sure had to!
Jordan Summers-Marcouillier
Jordan Summers-Marcouillier was born and raised in San Jose, California and now works as a writer in New York, NY.
Read more about Jordan